Let's face it. Christmas is expensive. And we don't even do big Christmases in our house. Even so, every year I try not only to save money on gifts; but, to also make a little money on them. Yes, you read that correctly. I actually make money buying stuff that I already planned on. And no, I am not selling the stuff! This is stuff that we need and use! And no, I am not talking about clipping coupons! This is a way to save and make money no scissors required!

Yesterday, we went to visit Santa. I know, I know, it's not even Thanksgiving! I will share the reason for my craziness next week. But, I digress. After seeing Santa, we wandered through the store to go get some lunch, and on the way Bowe was waylaid by the siren calls of Elsa dolls, Cinderella pajamas, Melissa & Doug kitchenware all tantalizingly displayed at toddler height. But, when she asked for it,  I said "no, maybe Santa will bring you one for Christmas." Would I have loved to buy her a toy in the store? Yes, but I didn't for several reasons: 1) I don't want to set a precedent. If I buy her a toy now she will assume next time that she can get another one. 2) I know I can save and even MAKE money by buying it online. So without further ado, here are my top five favorite ways I save and make money shopping online. As of writing this, I have made almost $600 with one way alone!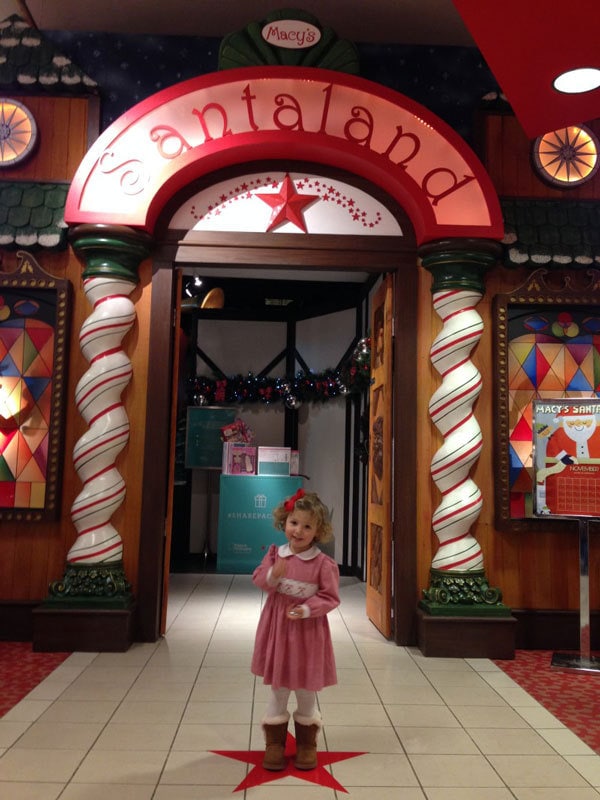 1// Camel What?
First things first, you want to make sure that what you are buying is at the lowest price, or at least a good price. To see this, I go to Camel Camel Camel. This is how I was able to learn when it was historically a good time to buy our BOB Stroller, what the lowest recorded price was, and also, what was concerned a "good price." Just because you see it's discounted 20% or 30% doesn't mean that it's a good deal. Often times the retailer will artificially inflate the price, only to drop if for a sale, tricking you into believing it's a good deal when it is not. Watch out for this with Black Friday! Camel Camel Camel gives you the full price history of a product, you just need to enter the product name. You can even create a price alert for it when it drops below a certain amount. And for the record, they don't know who I am. This is not an affiliate link in any way! So that Elsa doll that she wanted at Macy's? It said it was 50% off, marked down to $12 from $24.95. Well, the same doll is $7.50 at Amazon right now! Thank you Camel Camel Camel! But before I buy it from Amazon, I make sure to go through steps two and three!
TIP: If you are ever in the store and want to know about the Amazon price for an item, you can always download the Price Check app. It is powered by Amazon so it isn't going to give you the detailed price history as Camel Camel Camel but it is good for comparison!
2// Code It!
My second tip is to always buy something with a coupon code. I truly try never to pay full price for items that I know go on sale, or that I can get for at least 20% off. That's why I always try to share here on the blog when there are good sales. Most of the times retailers plan on discounting the merchandise, and are never expecting you to pay full price. So don't do it! I always do a quick google search for the store + coupon before I buy anything. I also am on gobs of email lists, so after I do a search in Google, I will search my inbox for the retailer and quickly scan to make sure I don't have any newsletter/ subscriber exclusive coupon codes. Often times, if you are interested in a product, it pays to sign up for their newsletter. Like Gigi New York? They will give you 10% off for simply signing up for their newsletter! Sign up here.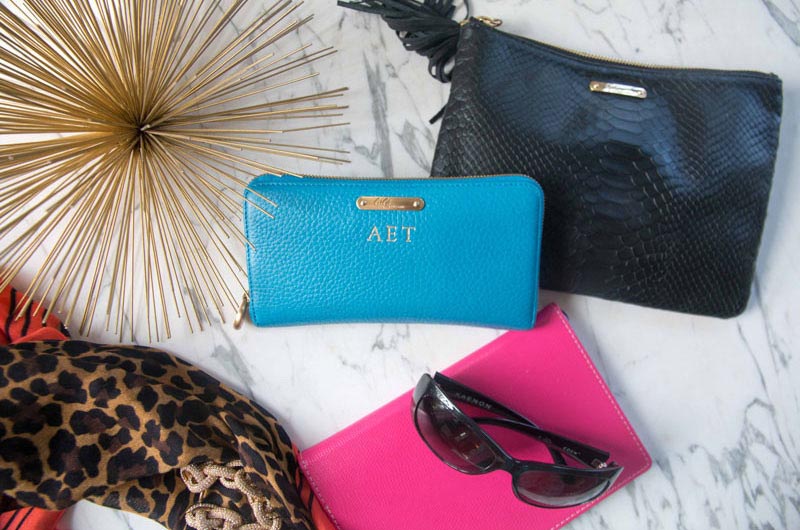 Gigi New York wallet/ Gigi New York All in One Clutch
3// Cash Back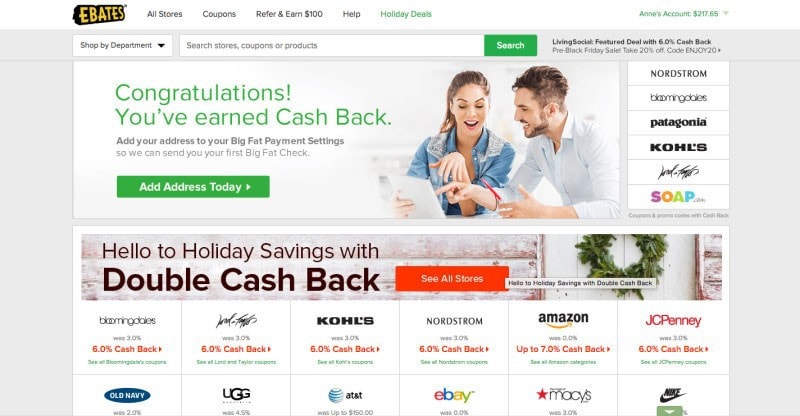 The third step is where I have made some sizable money–$578 to date. Whenever I am buying something online, right before I buy the item, I log into Ebates to see if they have any cash back rewards. It doesn't cost you anythinng to search there and doesn't affect your price in any way. Ebates is an online rebate company that gives you a percentage of the money you spend back in the form of a check periodically. Registering is free, and to be honest, I am a member of Ebates and MrRebates. I am not loyal to one, and will always check both. Whichever one has the higher percentage cash back I buy from. Just register your name, email, and home address (so they can send you a check), sign in, and search for a store. My tips is to do it right before you buy the item because the tracking code is only good for a small period of time. Right now, Nordstrom is having 6% back, so that $100 pair of boots you want, well you can make $6 on them, bringing down the total to $94. Not bad for something that took literally 10 seconds!


4// Credit Card Rewards
Do you use a credit card? Make sure that you are registered for your rewards to maximize your points by signing up for cash back programs. Some credit card companies will do quarterly store promotions or category promotions, and if you know that you can make an additional 5% cash back this quarter on purchasing something that you were already planning on doing, make sure to use that card. Of course, pay it off in full every month! In the past, when our credit card company was doing a cash back reward with Amazon, I made sure to buy 10 bags of dog food right before New Years Day, so I could get 5% off cash back. And yes, we will go through 10 bags (roughly 250 lbs. of dog food in about 10 weeks!) See how I save serious money feeding our huge dogs . Right now, our credit card company is rewarding 5% back on gas, so you bet I use that card to buy gas especially when I have a 40 gallon tank for my Suburban! #welikebigeverything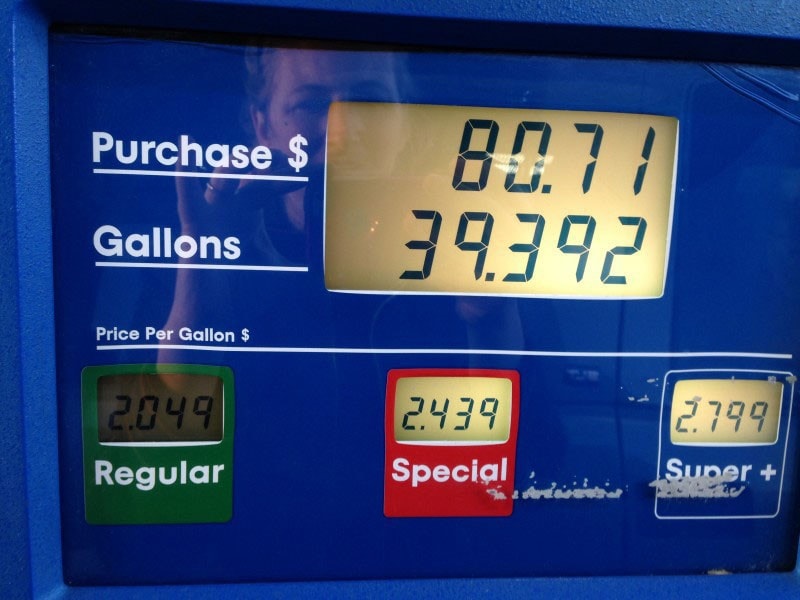 5// Crazy Flash Sales
I do not do Black Friday in stores. Or Black Thursday in stores, or whatever nonsense they are calling it. It is Thanksgiving! I will however, peruse the internet at my own leisure from the comfy couch! I also regularly check sites like Zulily, Haute Look, Rue La La, and One Kings Lane before I buy an item. Because I usually wait at least a few weeks when mulling over purchasing an item, I will see if it comes up on any of those sites. Some of the sites will give you schedules of what companies they are featuring on specific days. Rue La La is always great for more high end brands–think Vineyard Vines, J McLaughlin, Lilly Pulitzer. I have bought some of each.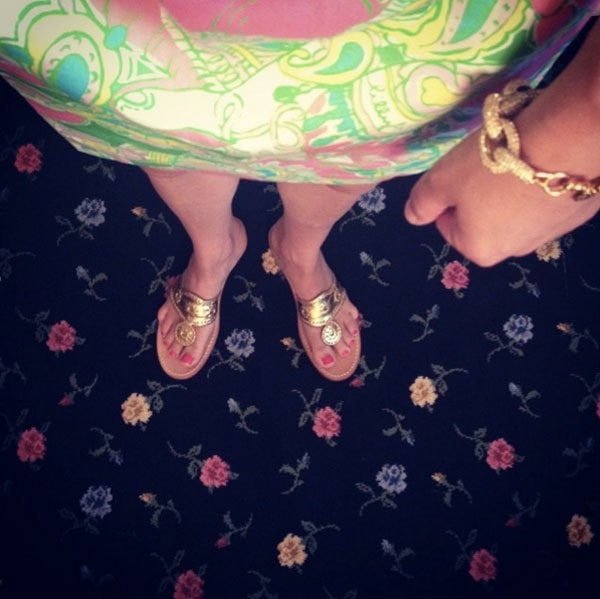 This dress was Lilly Pulitzer for only $75 from Rue La La.
Zulily, seems to be a bit more of a kids and mom website. I have found my best nursing bras there for 30% off what they were charging at Destination Maternity. I also buy all of our smocked dresses from there. Just last night, I received some smocked overalls for Jack for Christmas. I cannot wait to dress him up! You do have to pay for shipping with Zulily, so remember to add that into your calculations. I almost bought something today until I did an Amazon price check and added in shipping and handling. It wasn't as good of a deal as I had originally thought. So I passed on it. But the good deals? They go really fast!
In summary, do these five ways to save and make money online any time you are buying a new item and you will literally be rewarded with some serious money! It is in little chunks but it really does add up. $2 here, $2 here…soon you have a $212 check waiting for you which is a nice unexpected surprise! I am cashing in my Ebates check for some Christmas presents this year!
Tell me, what are your favorite ways to save and make money while shopping online? Do you do most of your shopping online or in store?
And in case you missed my posts earlier this week, here are 5 Steps to Picking out Paint Colors for your Home and my Favorite Busy Mama Blogger Tool for staying organized!
Linking up with Amanda at Meet at The Barre, High Five For Friday with Katie, Tif, Della, Caitlin; Oh Hey Friday with Karli and  Amy; Five on Friday with Liz, and Christina.  Friday Favorites with Andrea, and Erika.
…………………
Let's Connect! Follow me on Bloglovin
Pin with Me on Pinterest, Tweet with me on Twitter and Hang out with me on Facebook!
*affiliate links used