Benjamin Moore Simply White: Want the perfect crisp but cold white paint color for your house? Benjamin Moore's Simply White is my favorite bright and warm white to use for trim and walls in our house when I want a lovely clean soft white paint color! See Simply White compared to other similar popular white paint colors like Cloud White, Decorator's White, Super White, and Dove White. Along with analyzing its undertones, complementary colors, and the perfect color palette!
BENJAMIN MOORE SIMPLY WHITE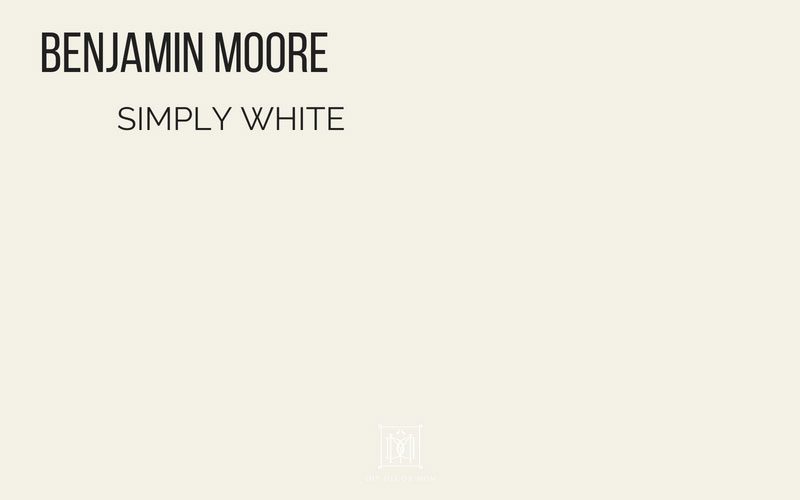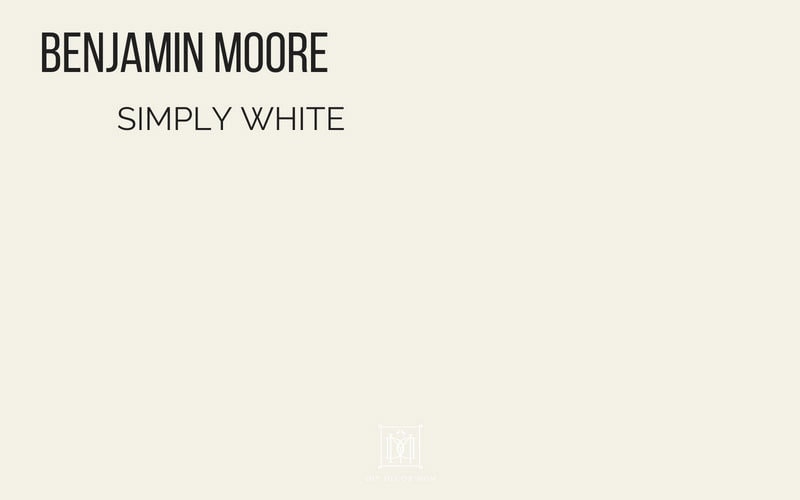 Recently, we painted over our Benjamin Moore Cloud White kitchen and used BM Simply White instead, and it just feels cleaner! The walls are brighter and feel more open. I loved it so much, we actually painted our upstairs hallway the same color (Simply White).
When deciding on a paint color for trim, and even walls, finding the right white color can be hard. That's why I find it useful to compare white paint colors even before I buy any! So here are my favorites, compared side by side so you can see all the undertones in each. I'll compare the most popular warm white paint colors from Benjamin Moore including my favorite, White Dove, and show how to choose!
✅ Want to understand paint colors and undertones? This is a top seller with our readers
How many times have you forgotten a paint chip at the paint store? Save yourself time and understand the colors you are using in your home better with these–plus they're available with free shipping!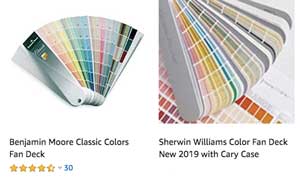 Related: Check out my favorite neutral paint colors here (you'll find a lot of the same colors!)
BM SIMPLY WHITE OC-117 LRV
What the heck is LRV? It's a measurement that paint companies use to measure how much light a paint color reflects. LRV stands for light reflectance value–the higher the number, the more light it reflects.
What is Simply White's LRV?
Benjamin Moore Simply White has an LRV of 91.7–that is a very high LRV, which means it's a fantastic color if you want to brighten up a space. We used it to brighten up our kitchen and breakfast area which sit on the north side of our house and don't receive much direct sunglight during the day. Now, the rooms are crisp and bright!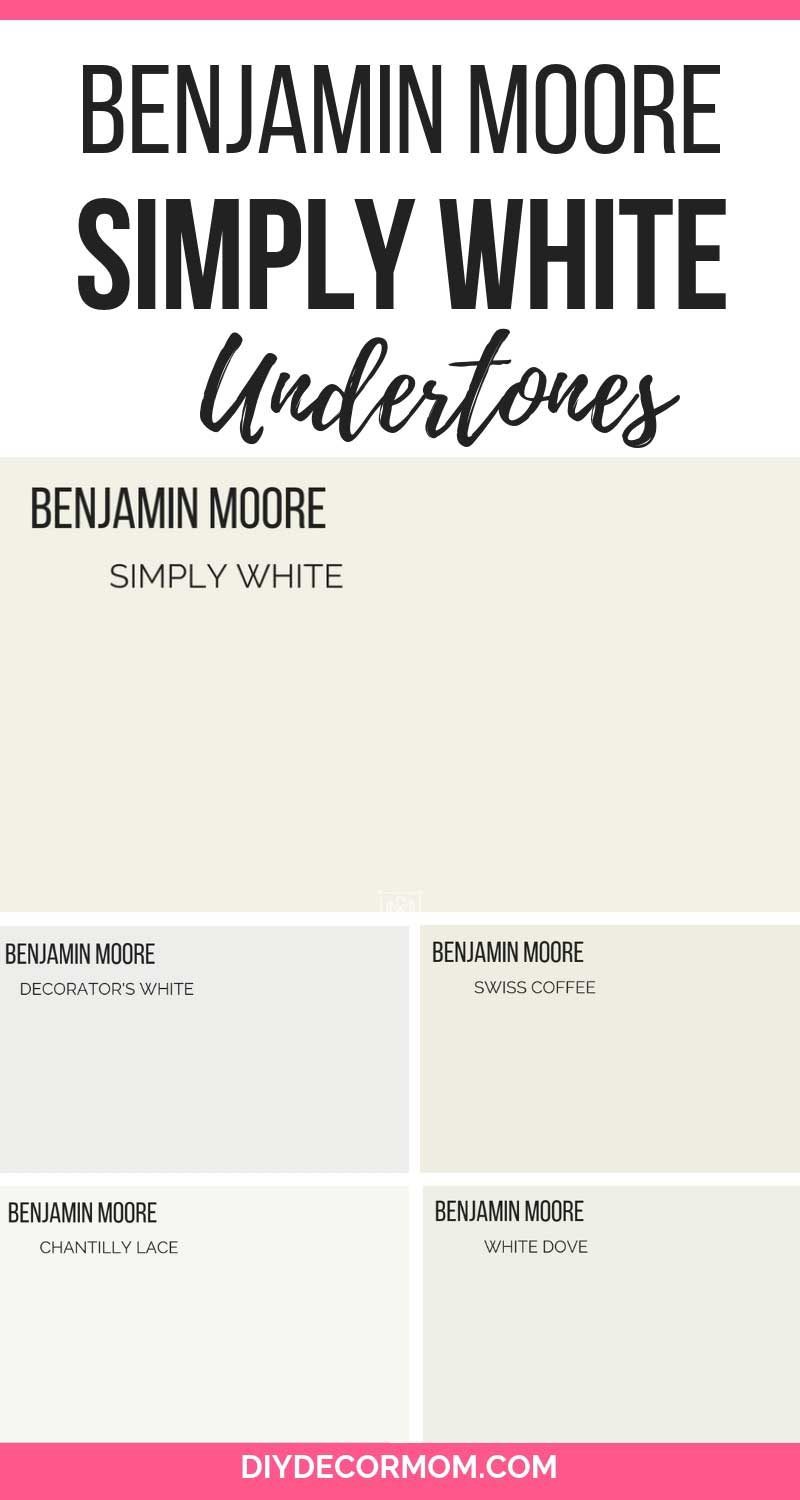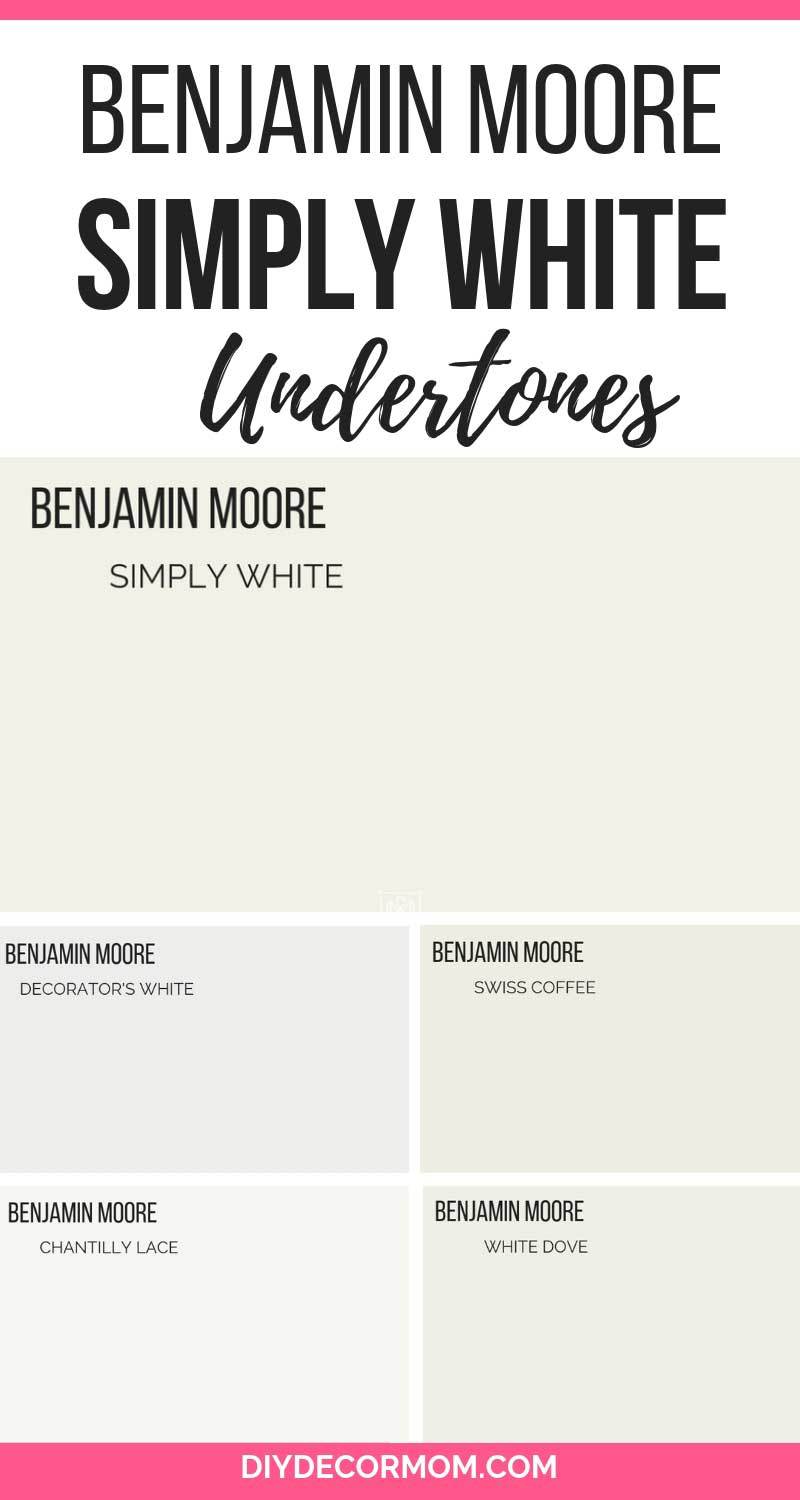 BENJAMIN MOORE SIMPLY WHITE REVIEW
When you want to look at any color, you want to make sure it has the right undertones you are looking for. In this case, many people worry that BM Simply White is too yellow. While it is warmer than other whites, I wouldn't ever call it yellow. It actually has quite a bit of gray and green in it. It pairs very nicely with warm greige colors and light gray paint colors. But, let's compare it to other popular white paint colors–it's the easiest way to see a color's undertones in my opinion.
BENJAMIN MOORE SIMPLY WHITE VS. CLOUD WHITE
Comments: You can see just how similar BM Cloud White and Benjamin Moore Simply White are to one another when they are side by side below–it's hard to see even where the line is! Nevertheless,you can see if you look closely that Cloud White is less green, and has more taupe in it than Simply White. In my experience, Cloud White has seemed warmer than Simply White. To see them side by side in real life, compare the following photos. Simply White is just a tad brighter in real life, and on paper than Cloud White.
LRV values compared:

BM SIMPLY WHITE LRV: 91.5
BM CLOUD WHITE LRV: 87.5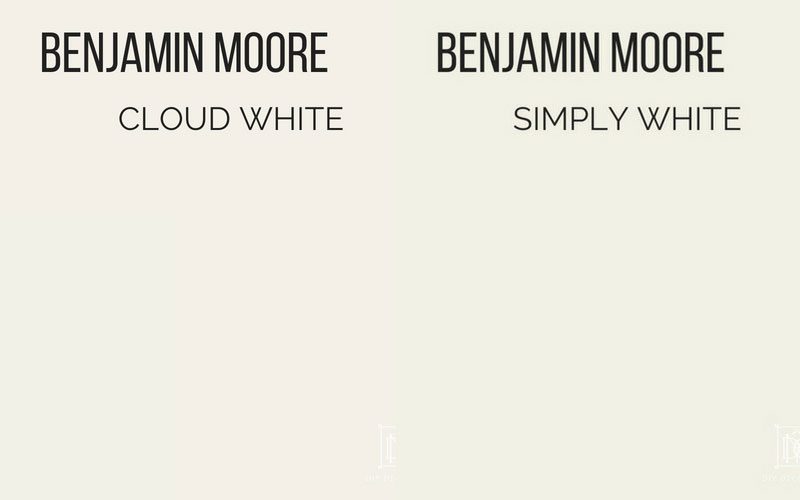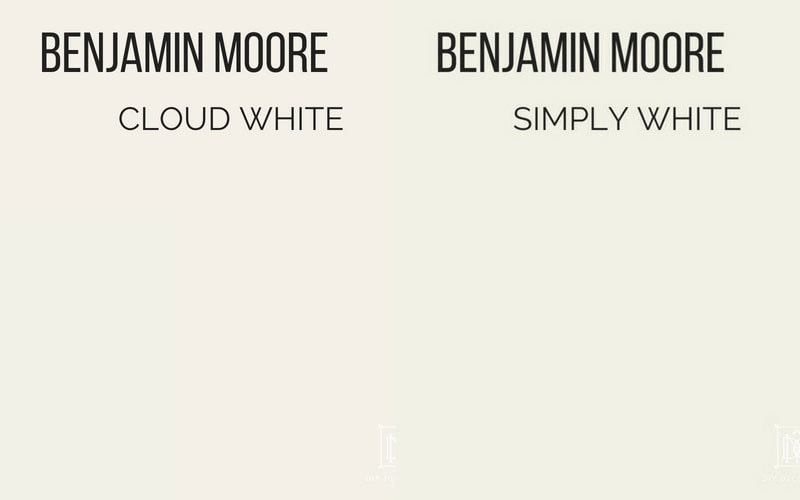 First, see Benjamin Moore Simply White on the white trim in this picture, and Cloud White on the walls. This is our nursery. Four years later, it still looks fantastic. I love both colors, but I think Simply White is better if you want a cleaner look.
SIMPLY WHITE TRIM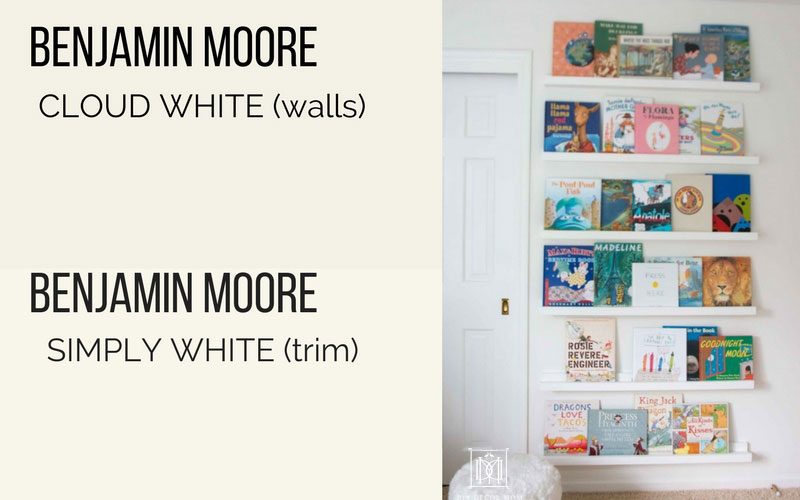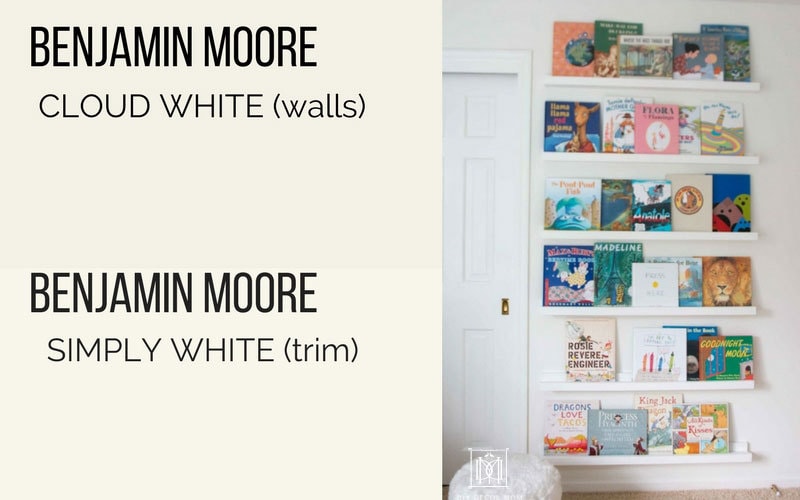 SIMPLY WHITE KITCHEN: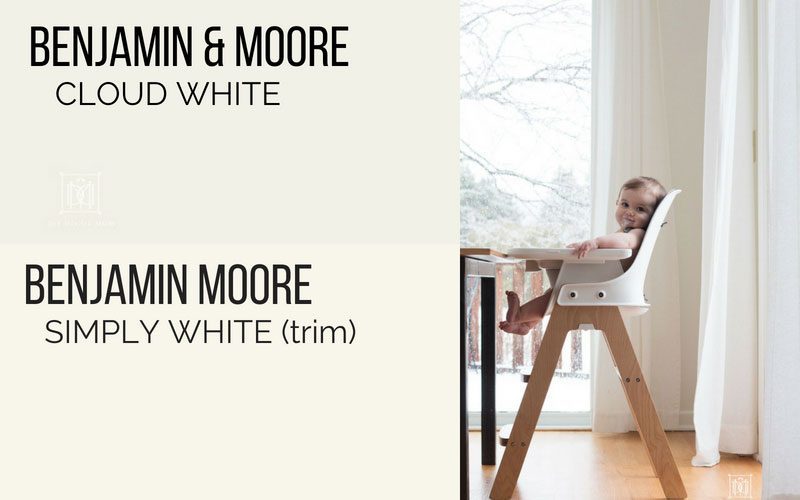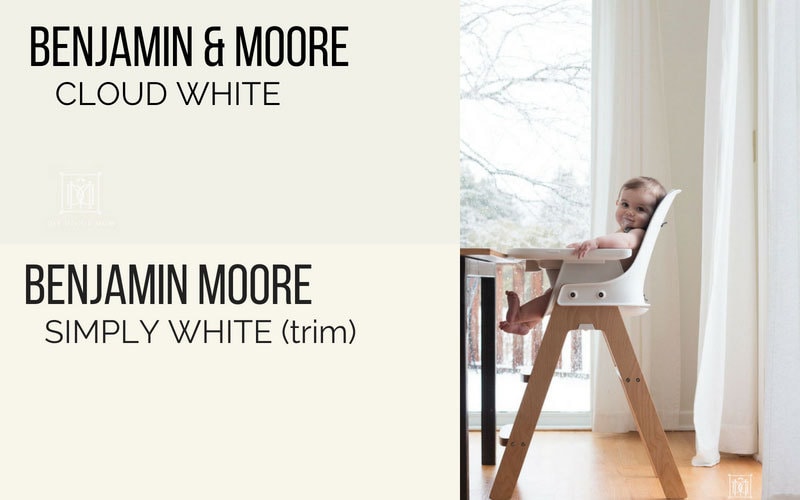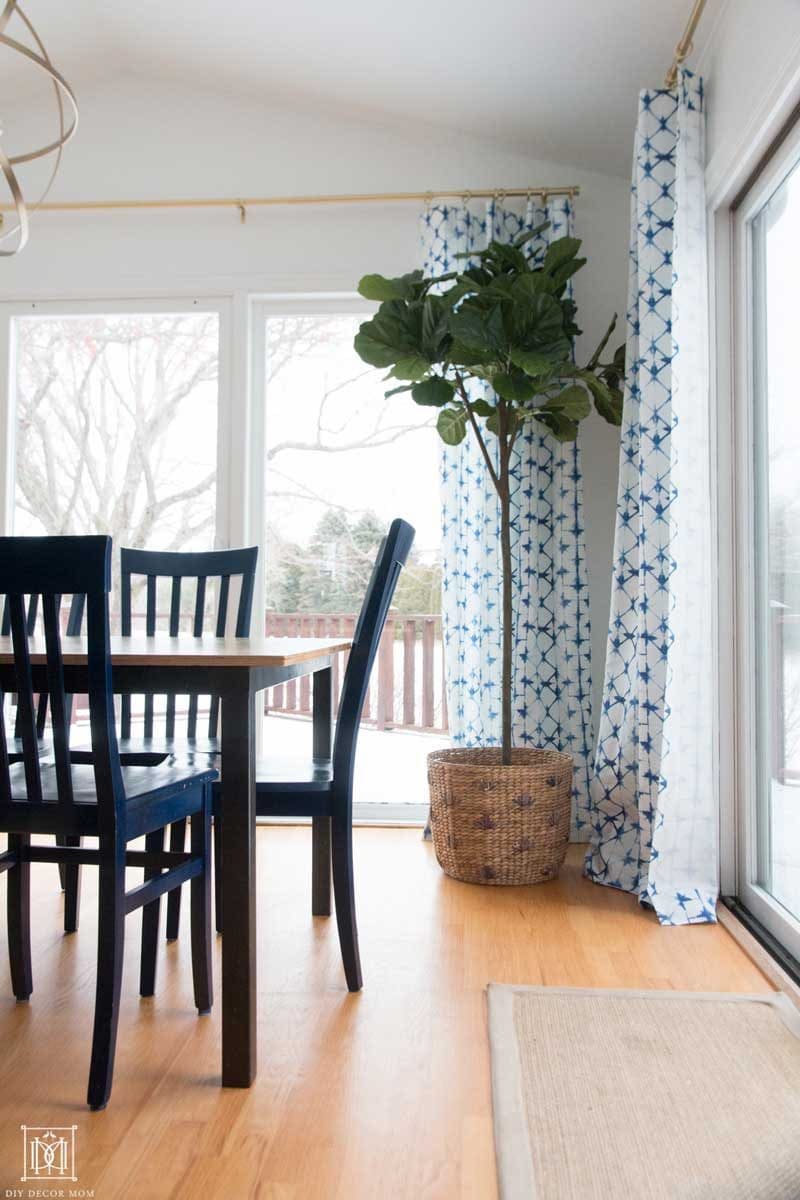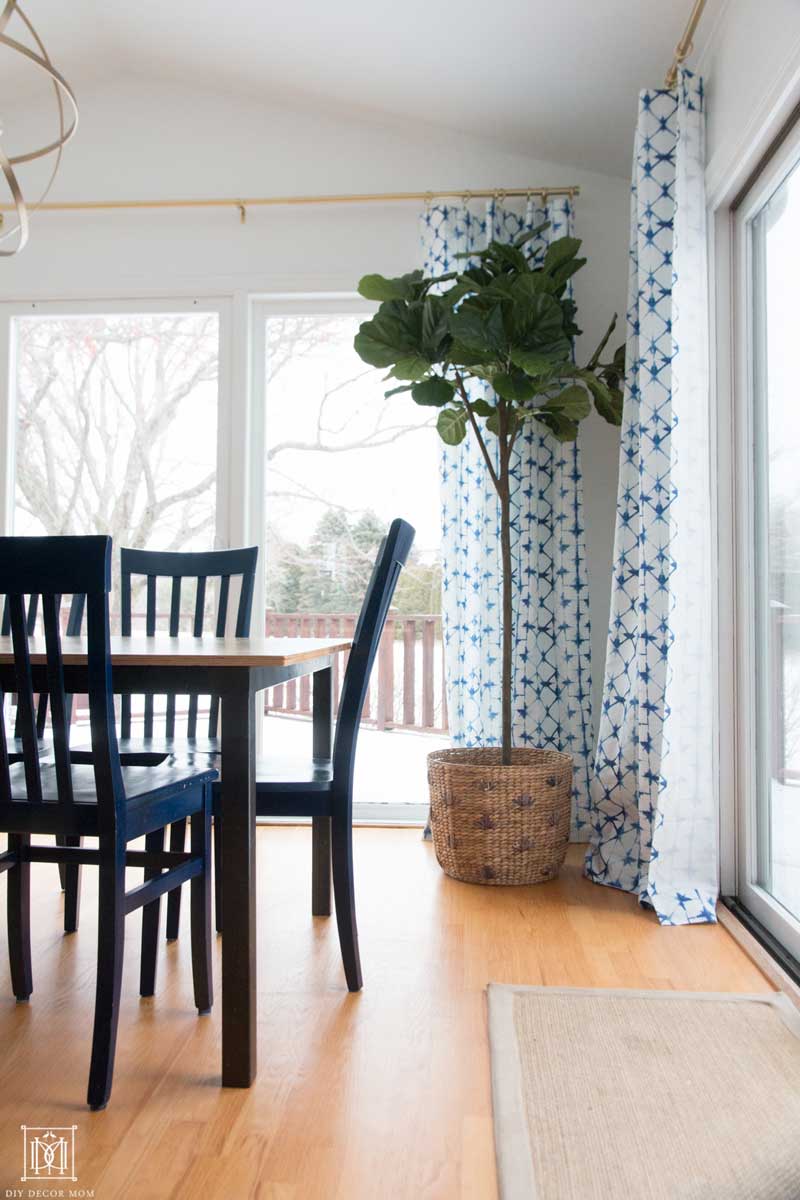 Above, you can also see how Cloud White looks in our kitchen before we painted it (top picture). Below, you can see how Simply White looks in a kitchen after we painted it (bottom picture.) In both pictures, we have Simply White on all of our trim.
Note: We use Simply White in eggshell on the walls and Simply White semi-gloss on the trim ; )
Bottom line: if you want a cleaner looking color, go with Simply White. I prefer to use Cloud White in bedrooms rather than more sterile places like kitchens.
BENJAMIN MOORE SIMPLY WHITE VS. SUPER WHITE
Comments: Benjamin Moore Super White is another popular trim color for paint, and it's no doubt why…it's a nice bright white that gives a clean aesthetic. If you are looking for something cooler that will stand out next to Decorator's White, then I would recommend Super White. However, with our light and the cooler temperatures in the midwest, I like a warmer palette in my house. (See my tips on picking out a whole house color palette here!)
LRV compared:

Simply White LRV: 91.7
Super White LRV: 89.09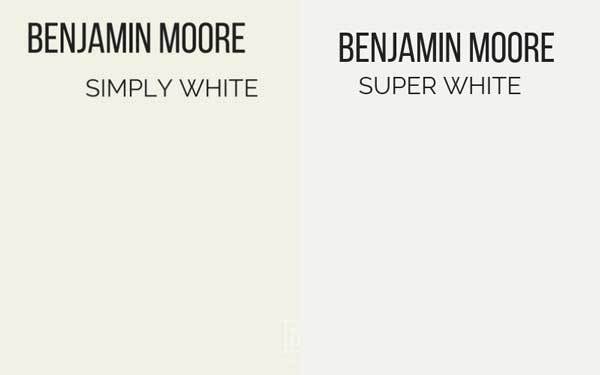 BENJAMIN MOORE SIMPLY WHITE VS. LINEN WHITE:
Comments: In this side-by-side comparison, you can see how beige Linen White is. While it is technically a white, it looks much darker in comparison. My parents have a room painted Linen White at their cottage, and while it is fantastic, I would not recommend painting trim that color. I like a brighter color to look sharper.
LRV compared:

Simply White LRV: 91.7
Linen White LRV: 82.9

BENJAMIN MOORE SIMPLY WHITE VS. DECORATOR'S WHITE
Comments: Simply White and Decorator's White are both fantastic trim colors. If you want a warmer palette, and more greens then go with Simply White. If you want more blues, use Decorator's White.
LRV compared:

Simply White LRV: 91.7
Decorator's White LRV: 87.35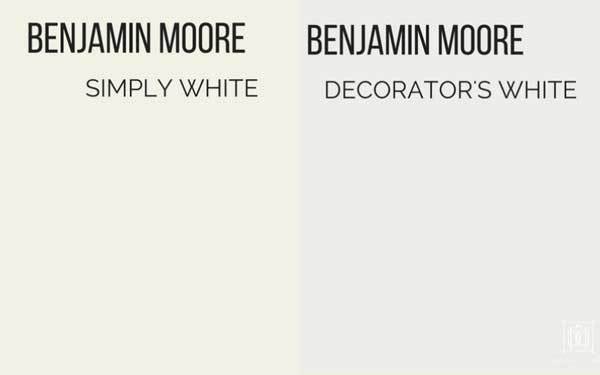 BENJAMIN MOORE SIMPLY WHITE VS. CHANTILLY LACE
Comments: Chantilly Lace is very similar to Decorator's White. You can see how much blue and gray there is in it, compared to how much green is in Simply White.
LRV compared:

Simply White LRV: 91.7
Chantilly Lace LRV: 92.2

SIMPLY WHITE IN HALLWAYS, KITCHENS, AND TRIM WORK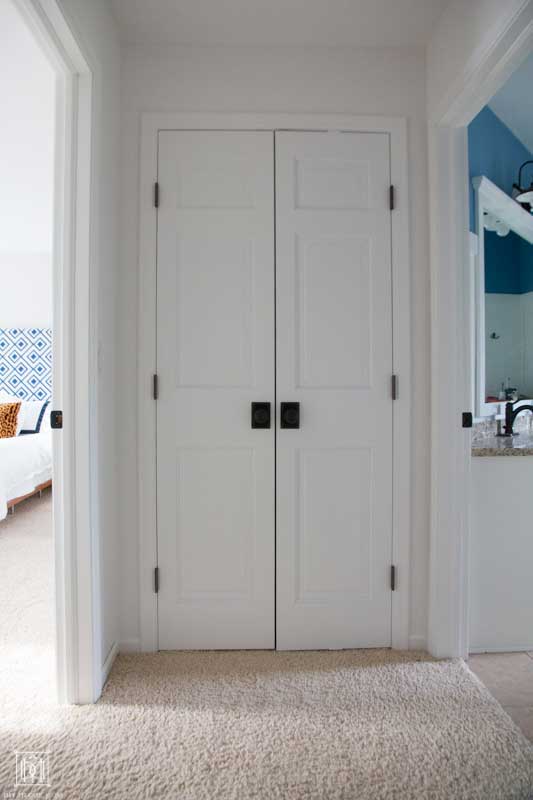 Like I said above, we recently painted our upstairs hallway Benjamin Moore's Simply White, and I couldn't be more ecstatic. The hallway gets zero natural light because it is a center hallway, so it is naturally very dark. With Simply White walls, the entire place is so much brighter and just feels clean! We used Simply White eggshell on the walls and Simply White semi-gloss on the walls.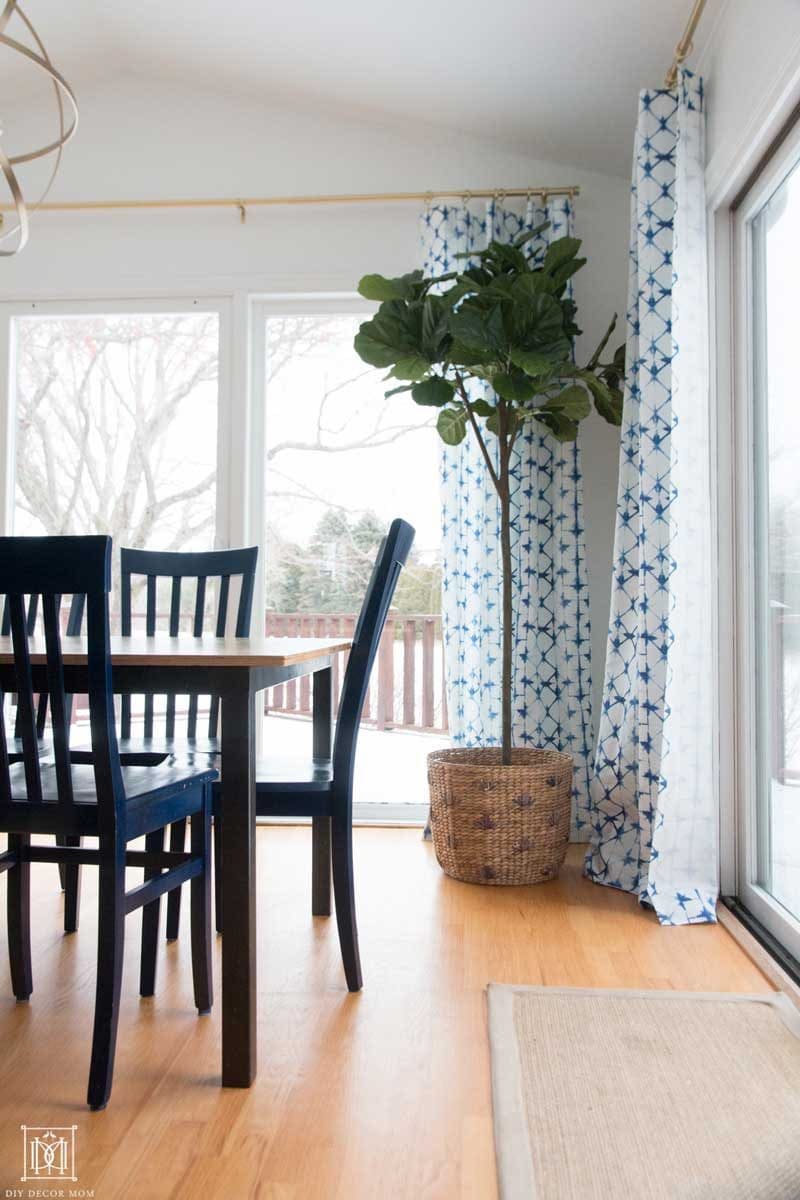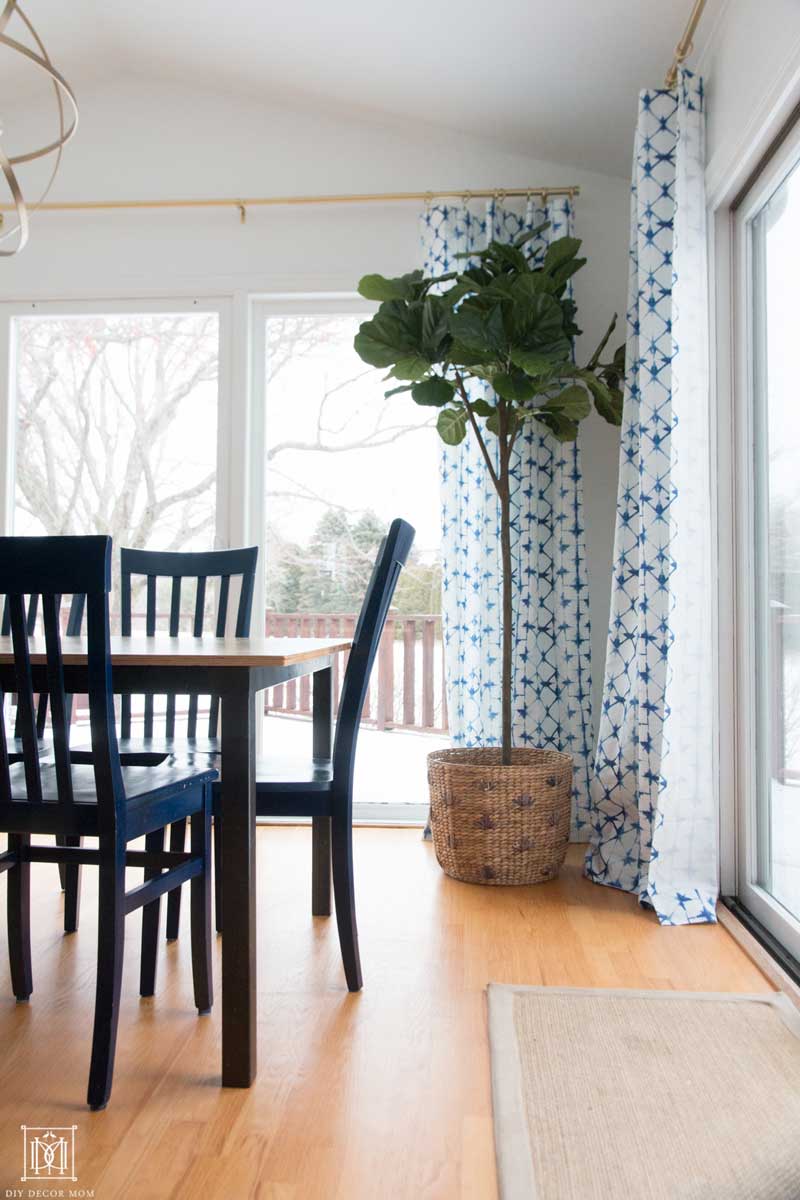 Simply White trim and Simply White walls.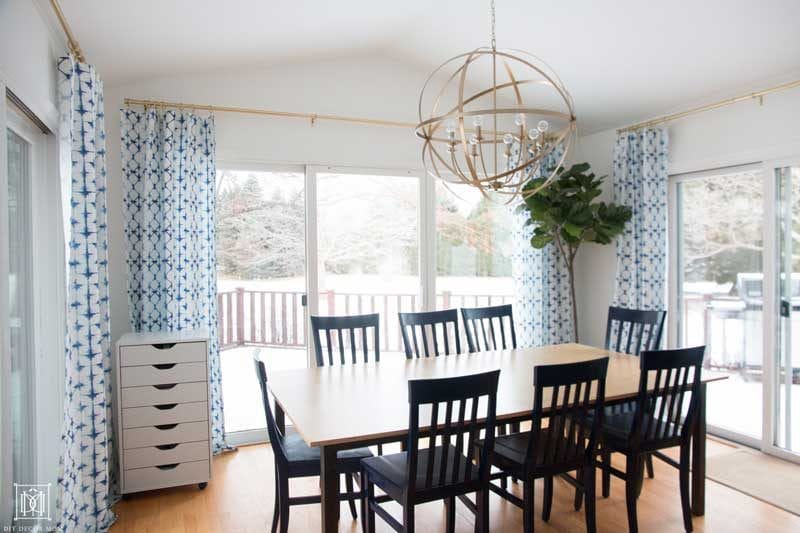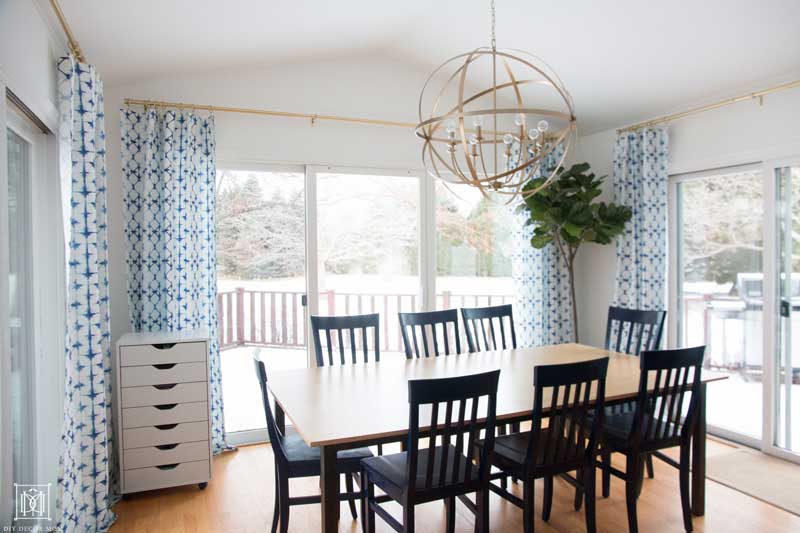 Simply White walls and Simply White trim.
Benjamin Moore Simply White Rooms and Trim
Ready to see Benjamin Moore's Simpy White in real homes? Click on the "read more" button on any of the rooms below to see complete sources and details. Like you can see below, Simply White is a fantastic color to use in your home whether its kitchen cabinets, bedrooms, living rooms, or foyers!
See all my favorite paint colors by clicking the picture below. You will get a print out list of all my favorite light gray paint colors and the trick to picking them out!

Struggling with how to choose an entire house color scheme? See my picks on picking out interior paint colors and how to pick out a whole house color palette.
FREQUENTLY ASKED QUESTIONS ABOUT SIMPLY WHITE
Benjamin Moore Simply White is an excellent exterior paint color.