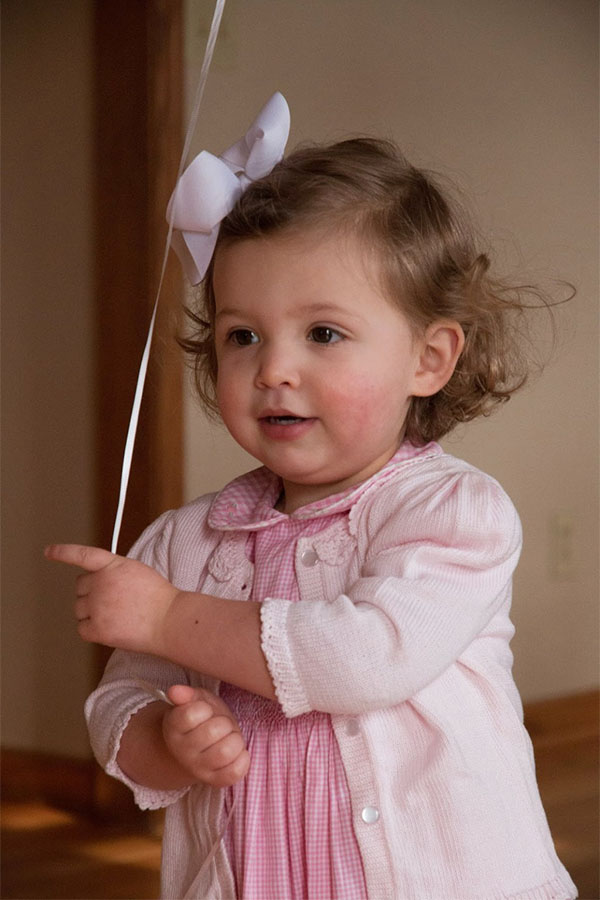 This past Sunday, Little Miss B turned two! We celebrated with some friends and family on Saturday so as not to conflict with the Superbowl. The party turned out great and we couldn't have asked for a better turn out from our friends, or more fortuitous weather–the blizzard waited until Saturday night to get started.
Although B ended up not feeling well on Sunday (poor thing got another yeast infection) and is sick today with a fever 🙁 she was in top spirits Saturday during the party. The theme for the party was a fairy birthday party. B is obsessed with Tinkerbell. We have watched each of the Disney fairy movies probably 10 times at least. They are all on Netflix Instantview if you are interested.
As you know, I am not skilled at Photoshop or any kind of graphic software, so I was thrilled when I found these adorable invitations on Easy. They are
here
if you are interested. Life has gotten so busy the last few weeks with home improvements I never got around to printing and mailing them; instead,  I uploaded the invitation to Facebook and made an event and took pictures of it to text message and email it around. Super easy!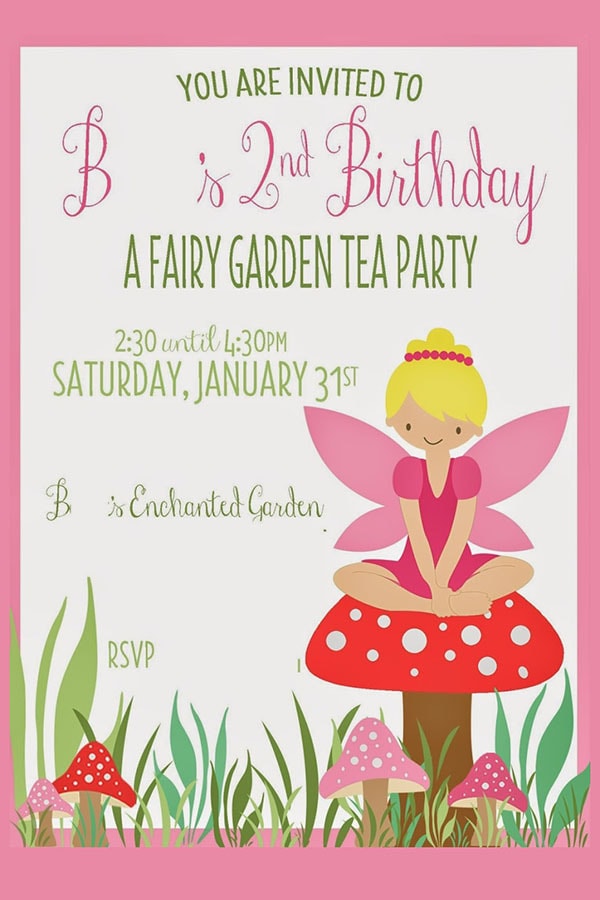 They were very affordable and would be good for people sending out a lot of invitations because you print them yourself (or don't). I am thinking about purchasing the
thank you notes
to send out too!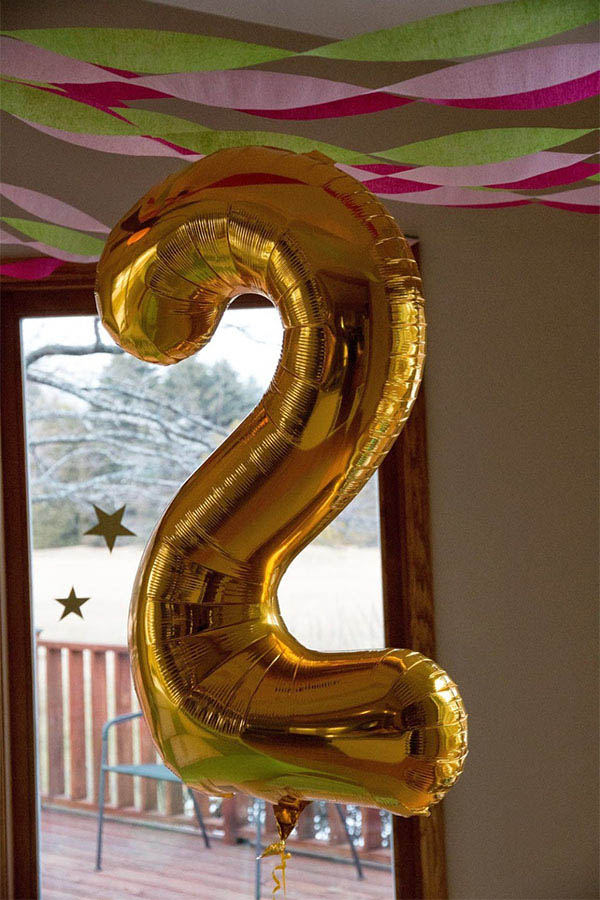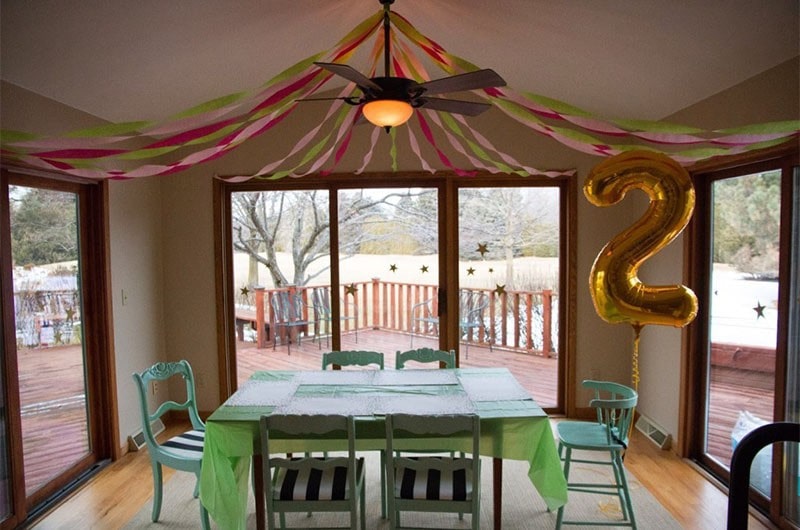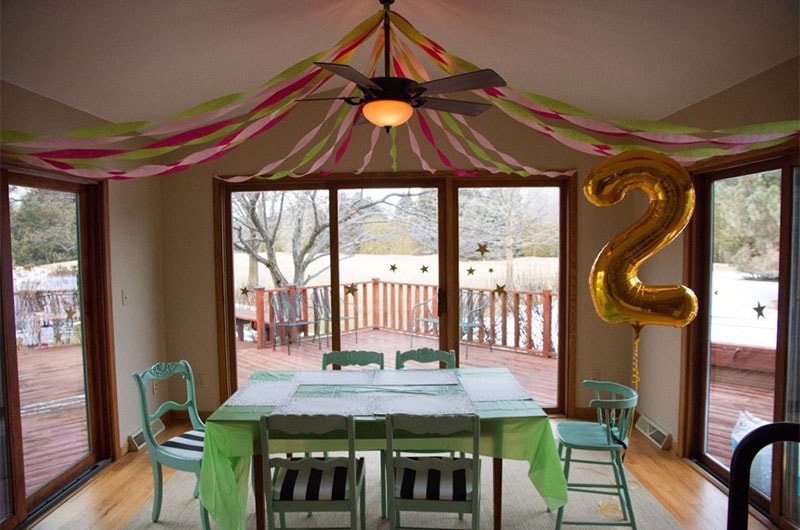 Friday night after B went down, E and I put up the streamers and cut out the gold stars (our version of pixie dust.) And right before the party, we put out the food spread.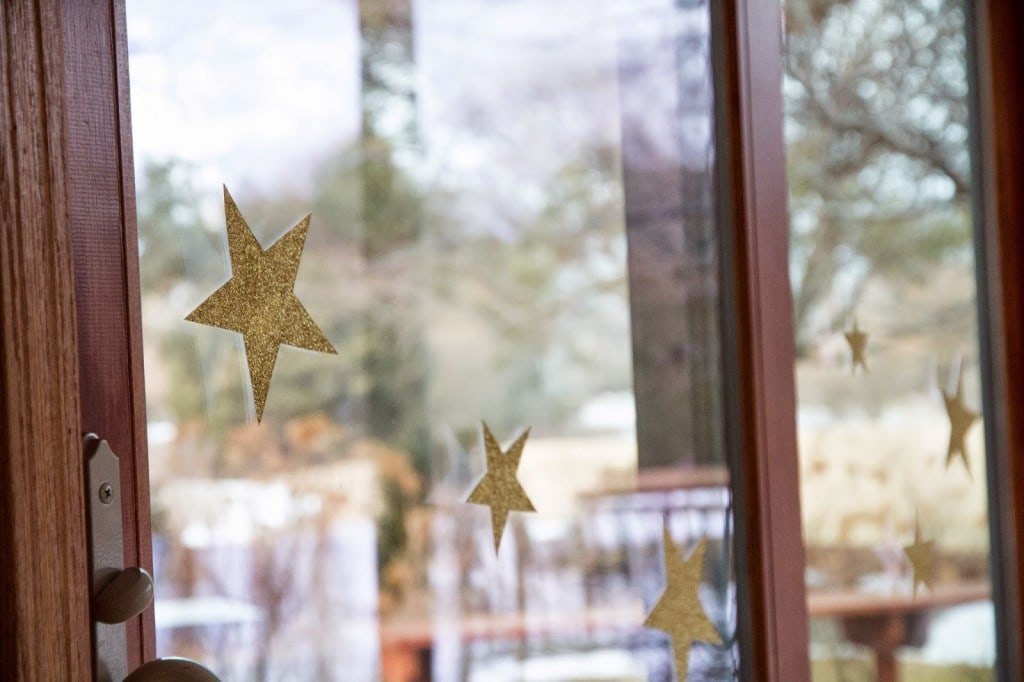 We served veggie cups, sandwich snails (made by my mother-in-law), rainbow fruit wands, twigs (pretzels), butterfly sandwiches, rice krispie treats, and a yellow cake with vanilla buttercream.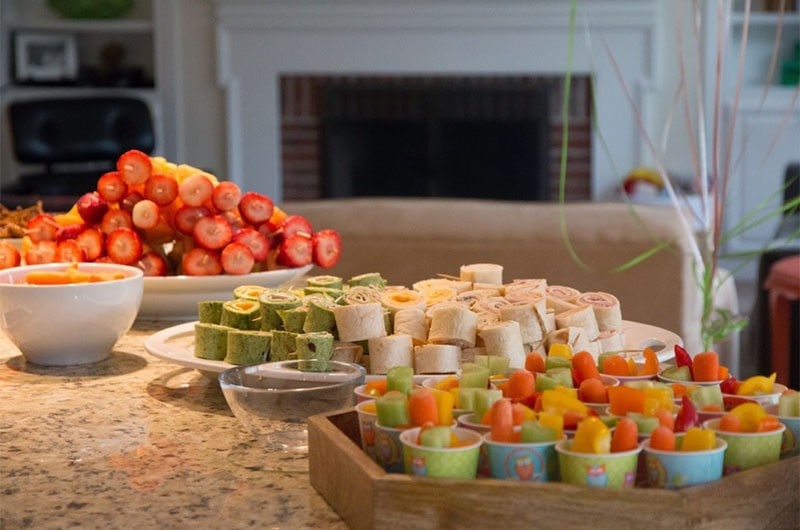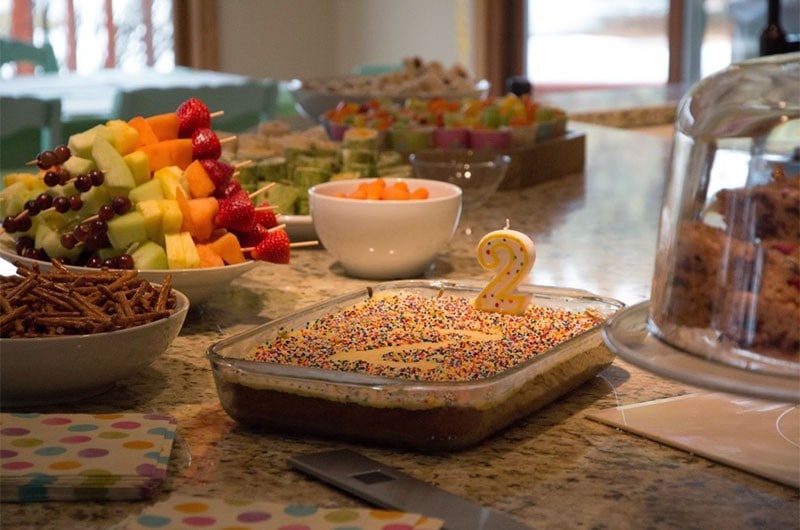 PB&J butterfly sandiwiches for the little ones! They were so easy but warning–they wasted a lot of bread so I saved the crusts and am going to make bread crumbs with it.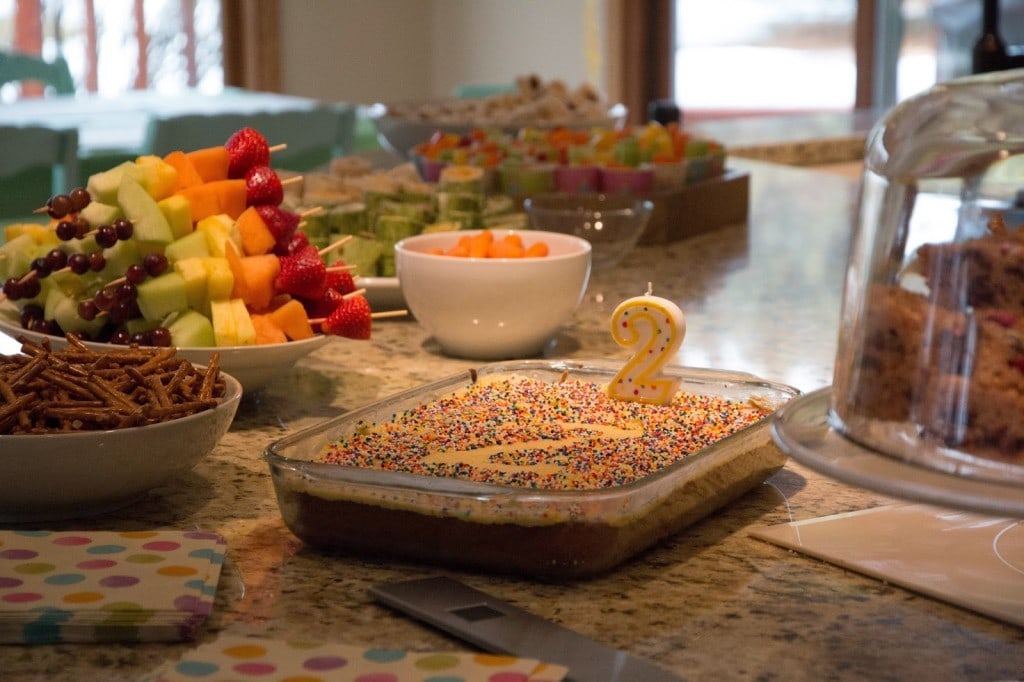 Rainbow fruit wands (skewers,) and our yellow cake with buttercream frosting from Cook's Illustrated recipe.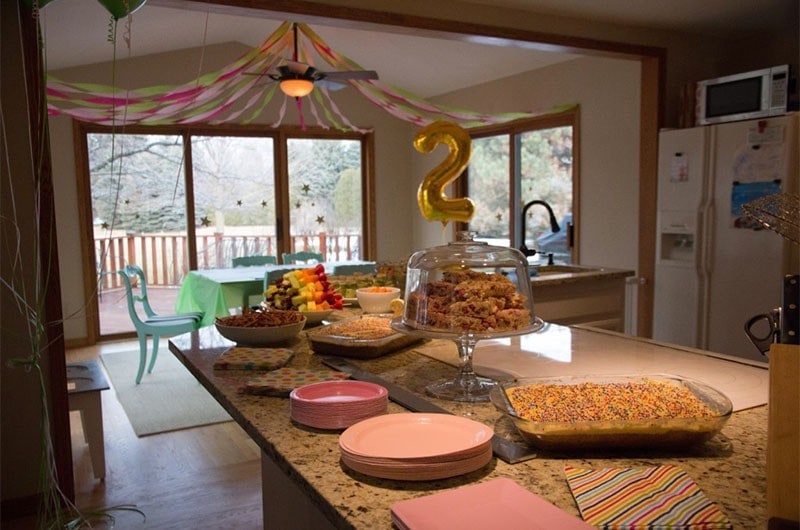 You can see here how our eating area comes right off the kitchen. To the left of the picture is our family room.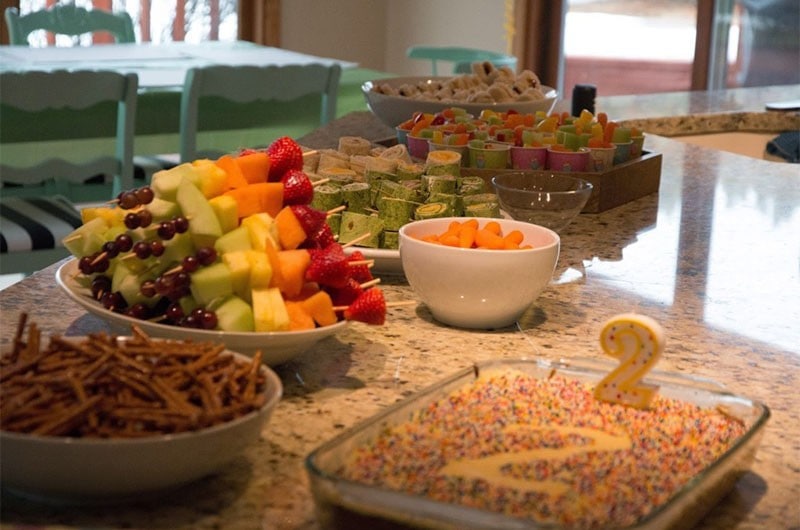 We set up a little table for the kids.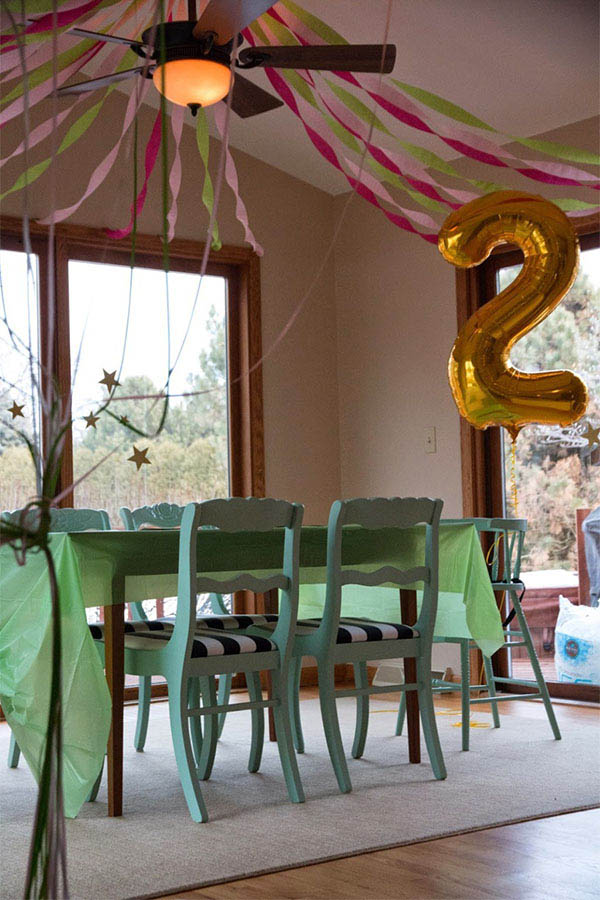 This shot gives you a better idea of the eating area's layout. It opens onto our deck on three sides.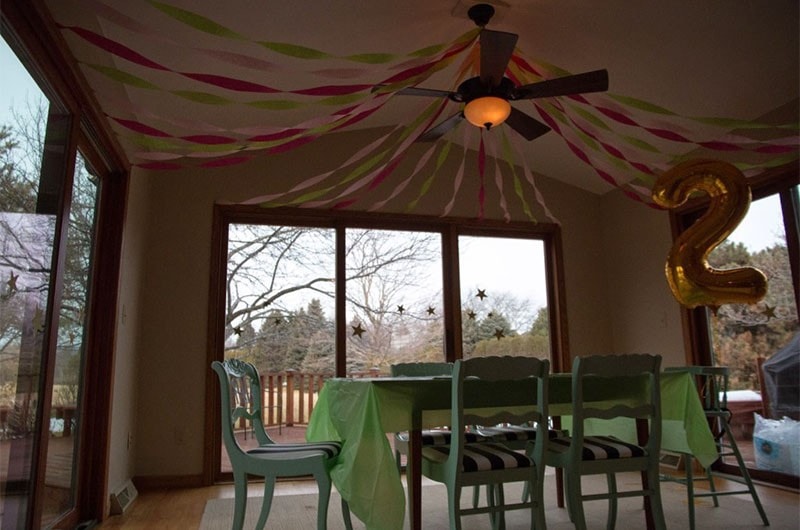 Our version of pixie dust for our Tinkerbell fanatic!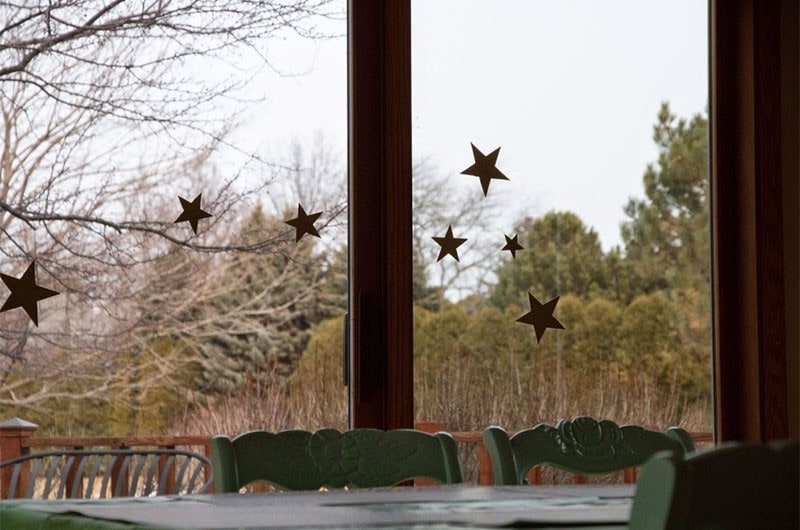 I threw down some paper placemats from Waiting on Martha that I picked up last year for a song!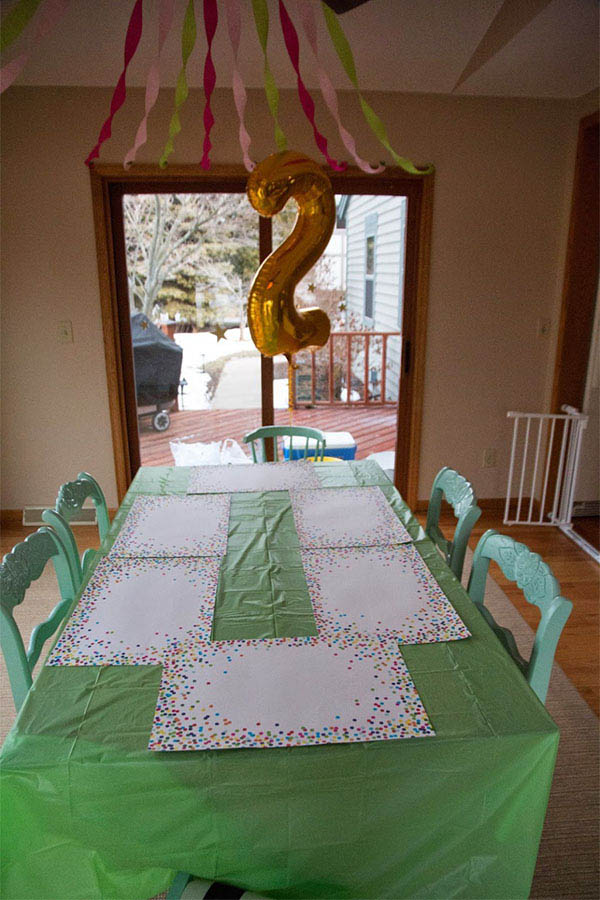 The balloons were the biggest hit of the day!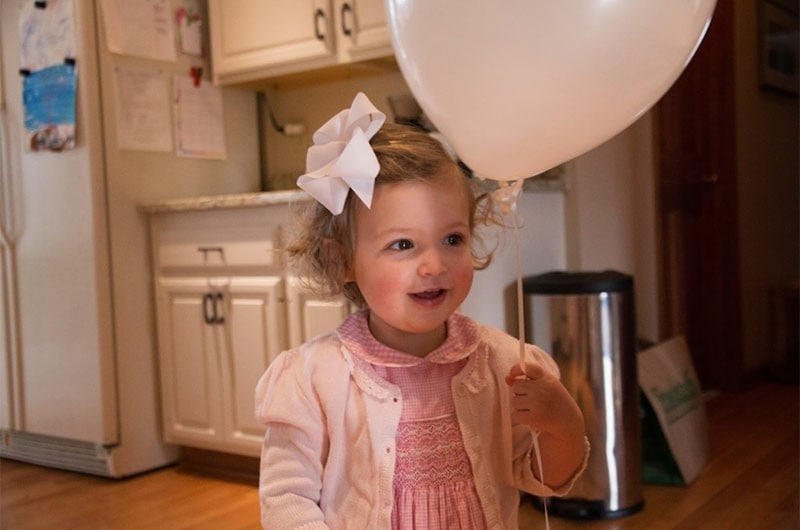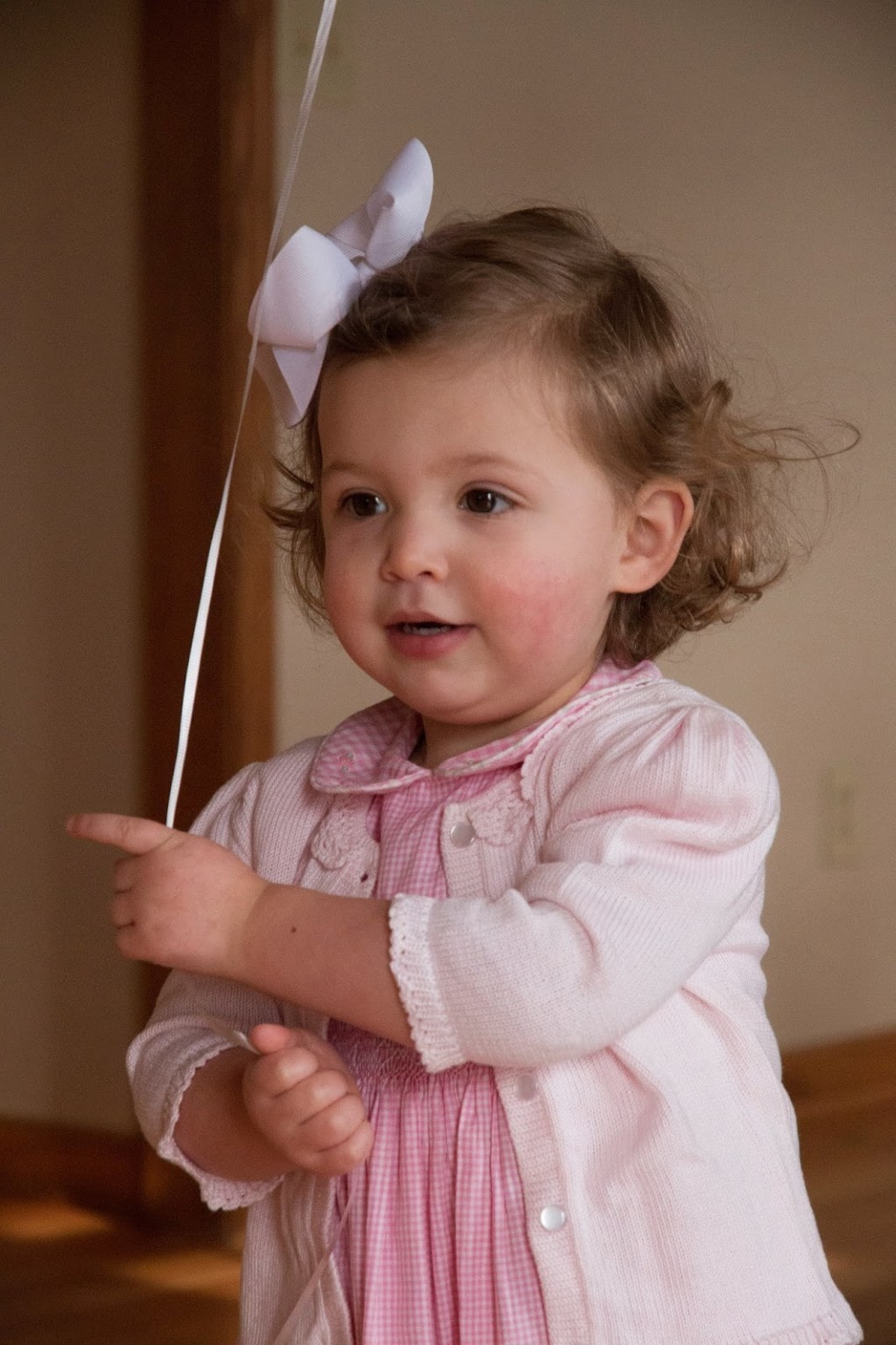 B started digging into the cake right away. Who wouldn't?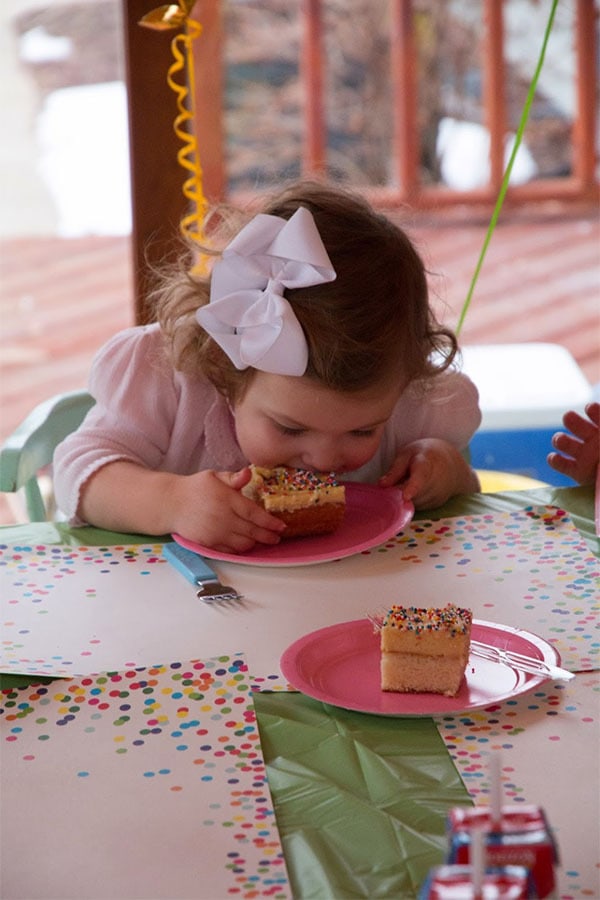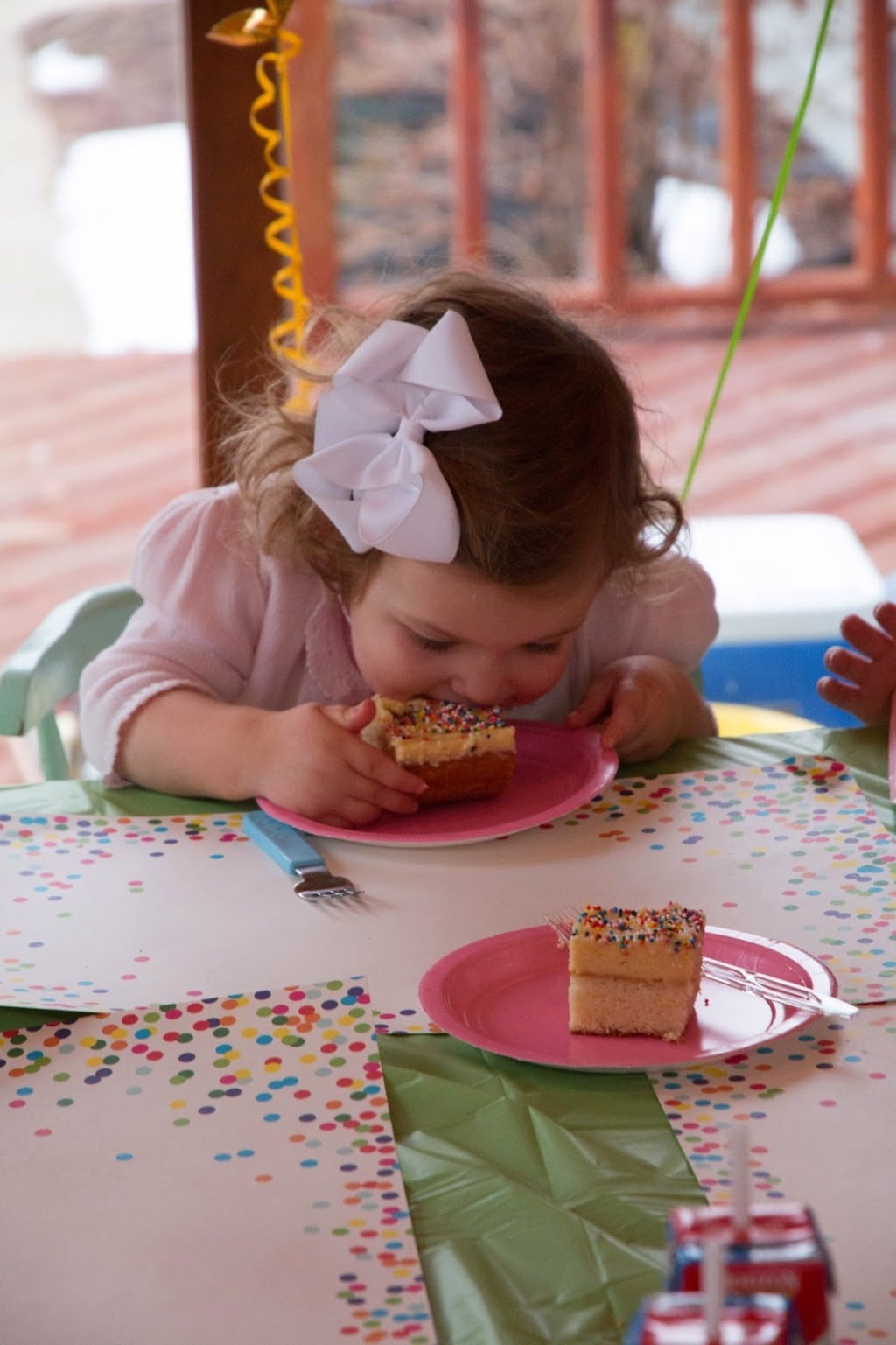 I made sure to get one picture with the birthday girl before the night ended. I cannot get enough of this girl!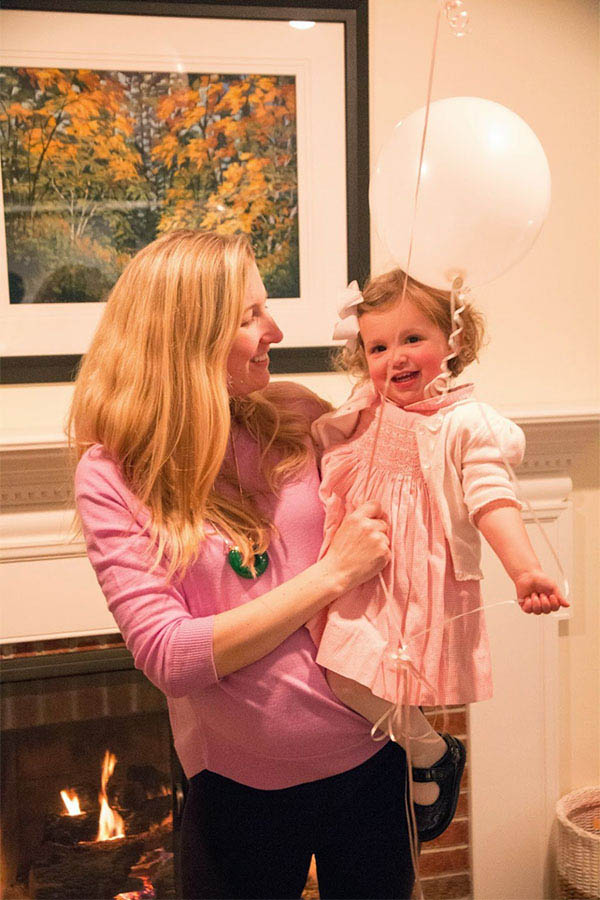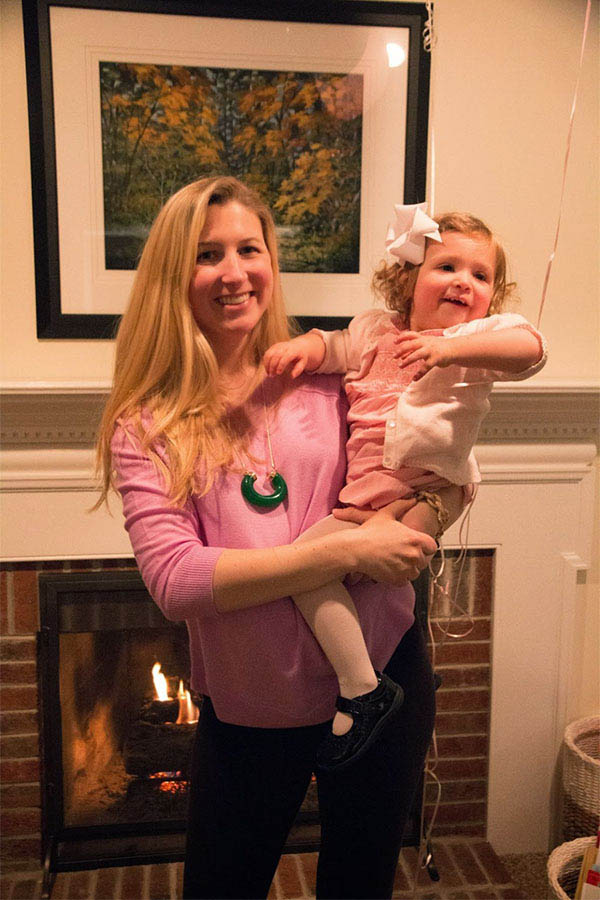 I love the JCrew swing top pictured above. I have it in size S and am hoping that it will last me through the next twelve weeks (I am 28 weeks now)! I have two of the Gap A-line merino sweaters (currently sold out and the website is unavailable right now to link to anyhow) but check back because they were cheaper. However, they run significantly bigger. The JCrew S is probably equivalent to the Gap XS. I ended up getting S all around so the Gap one will definitely still fit third trimester; but, I plan to bring the JCrew Swing top (which is smaller) to the hospital to put on after giving birth.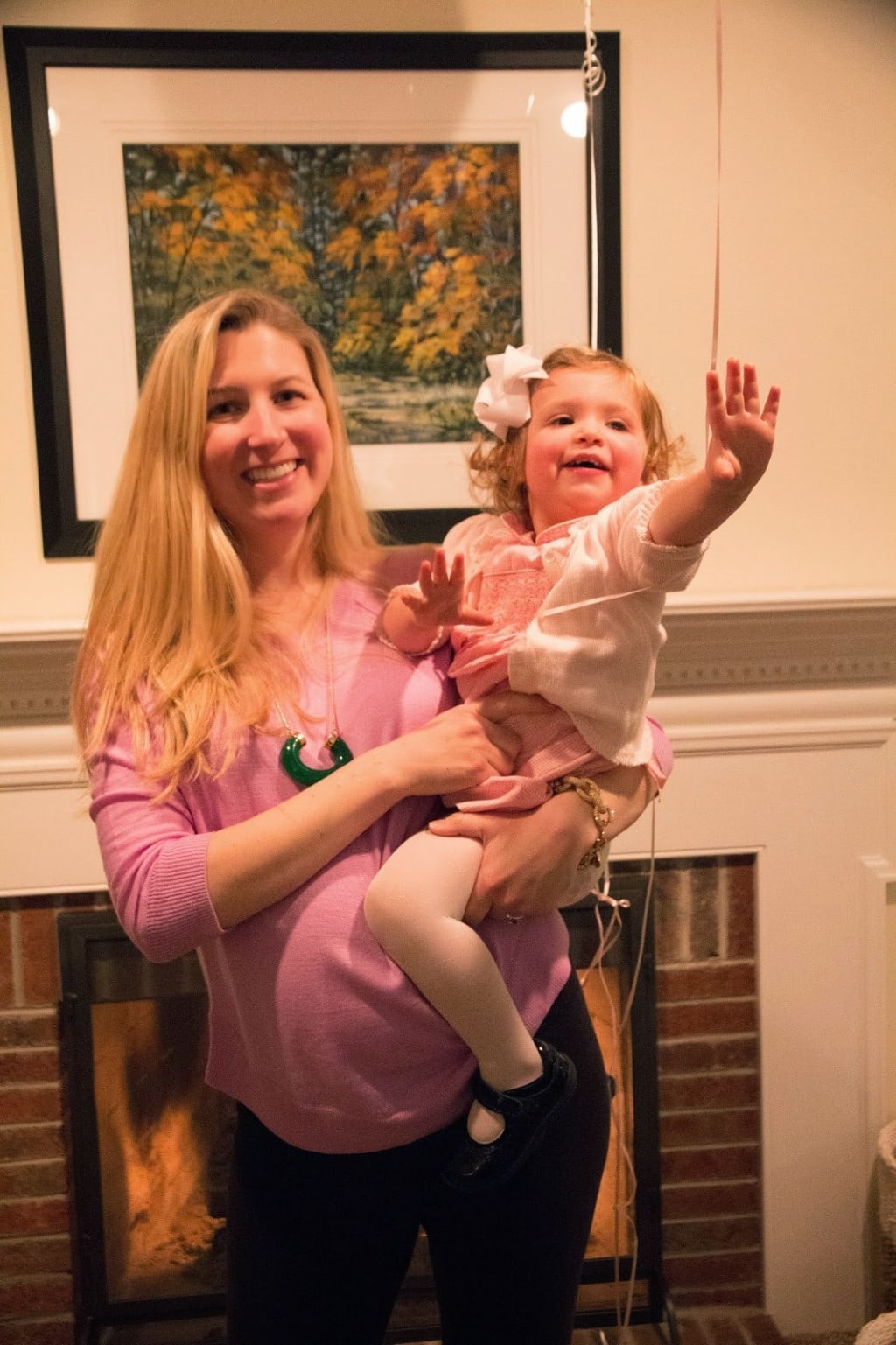 I cannot believe it has been two years since this little one was born! Looking at these pictures make me so nostalgic but also so nervous for Baby Thompson 2! I am not looking forward to the many sleepless nights again because I still don't get them 100% of the time. But that is ok, because they are worth it and there is nothing better than feeling like you can calm their scary nightmares merely with your presence and a hug.