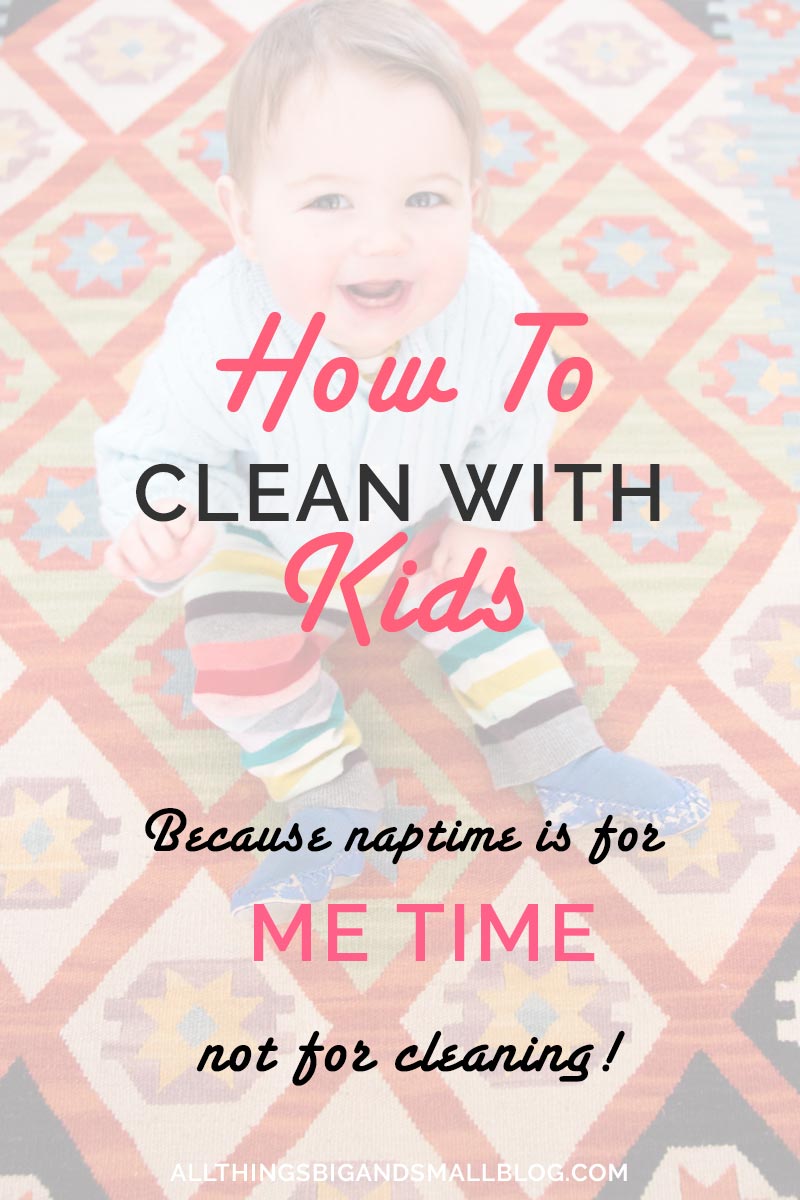 Ok, so you have probably read my post on my cleaning schedule. Then you probably think I am constantly cleaning. Well, you are wrong! I clean like 20 minutes a day (outside of kitchen duties) and one day of vacuuming a week! I may have spent hours cleaning every week in the past, but will not now. I have two kids and a million other things to do each day. I do not have time to waste on cleaning!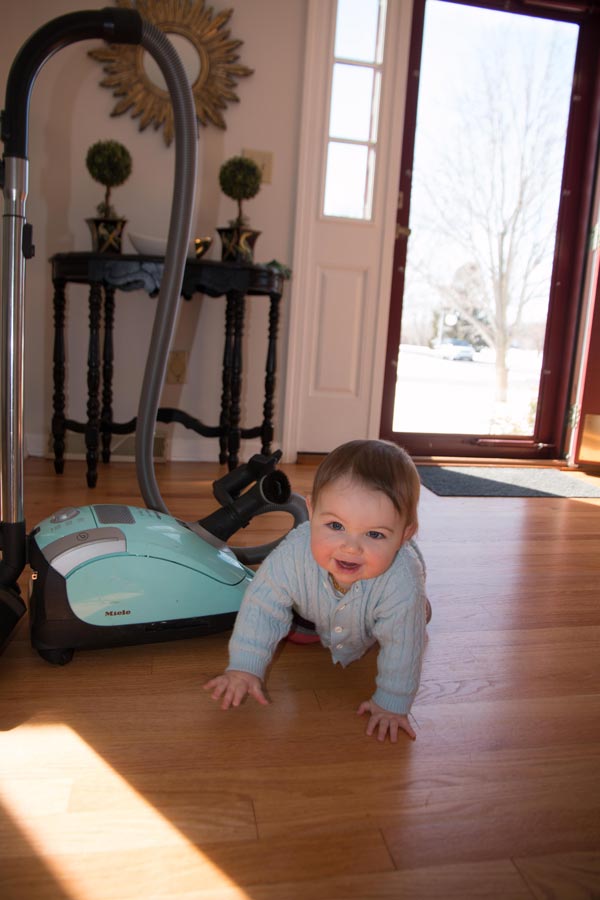 So I have gotten smart. I use these tips and tools to get it done fast with the kids awake. We do not have a cleaning lady or a babysitter, so I do it while the kids are up and they choose whether to "help me" or to play. I do NOT clean when they are napping because that is MY TIME. Yep, that is my time to workout, to blog, or to take a nice long shower. And my Me Time is never long enough, so I am not going to fill it with unfulfilling jobs like cleaning, nor do I try to work when they are up. Do I want my kids to constantly think of their mom as being on the laptop working? Nope, would I rather her see me doing mindless tasks like cleaning and be able to talk to them while I do it! So that is why I clean with the kids awake.
[bctt tweet="Don't spend your naptimes cleaning! Spend it doing something for yourself! @allthingsannie"]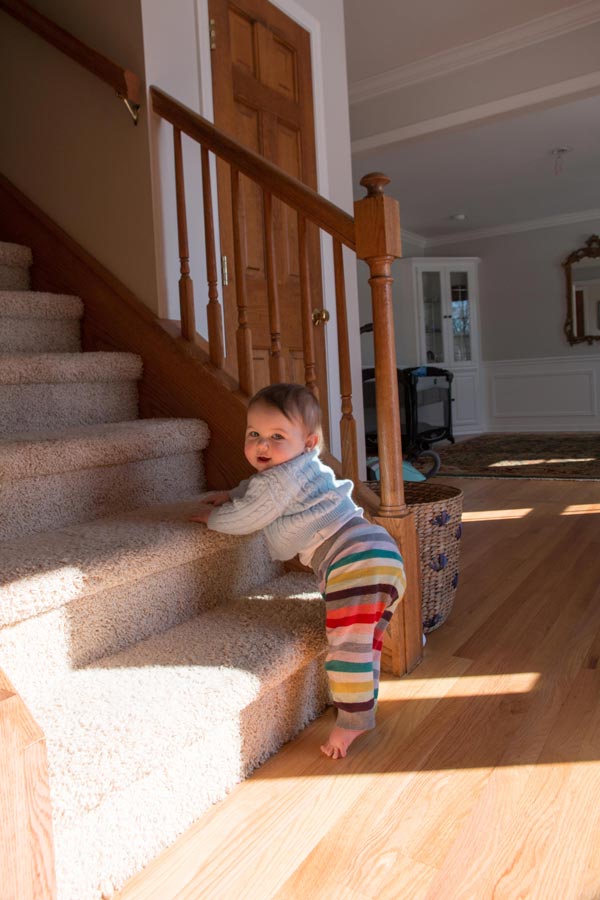 My kids are not perfect. I know that they are not going to behave and occupy themselves for an hour while I clean. So I break it down into quick jobs that can be done in 20-30 minutes a day. With the exception being vacuum and mop day. On that day I either do it while she is in school, or I turn on the TV. And I always clean in the mornings when everyone (including myself is in the best mood.) Because when it gets to be 4 PM, everyone is at their wit's end, and I am trying to get dinner on the table. Anything before dinner that is not helping get dinner on the table is not going to happen!
How to Clean with Kids
Vacuuming:
Alright, for vacuuming in my mind you have two options. I do the first, but my friends with kids also do the second.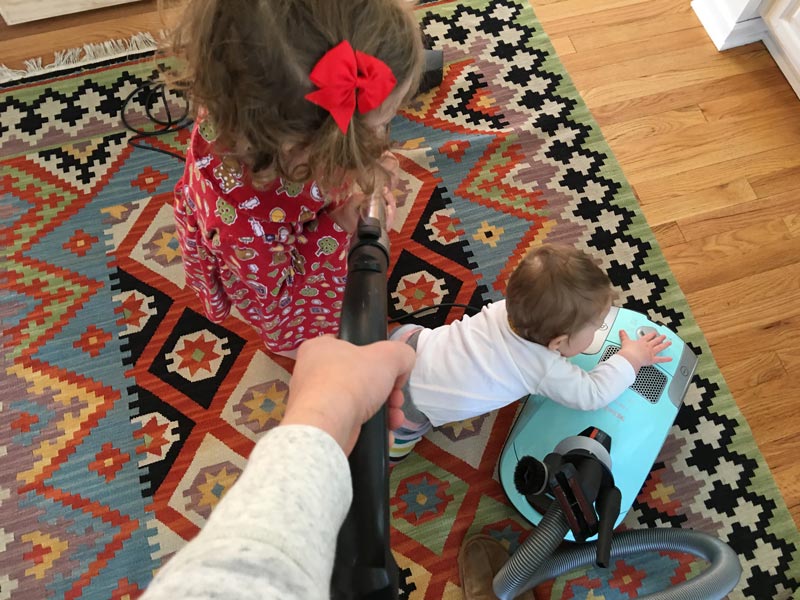 Option 1: I do one big clean 1x a week (whole house gets a once over,) and an optional second time a week for the kitchen/ kitchen table/ family room. The second time a week only happens if it is necessary and I am able to do it. (Like today when Bowie decided to eat shredded mozzarella cheese!) But the good things is that the kids love it when I vacuum. You know why? I let them play with it. I give Bowe the accessories to help me vacuum. Or I let her "help me." I will hold the vacuum and she will hold on. She usually loses interest in "helping" me in less than five minutes. So it doesn't take long or cost me much time. She will then either continue helping me or go play by herself. I give her the upholstery attachments to help with the couches, or the entire canister vacuum if I am using the other one. We do have two vacuums (a canister for the hardwood floors, and an upright for the wall-t0-wall carpets.) If you don't have two vacuums, you can always give them a broom and dust pan. Thanks to Montessori, Bowie loves it. Especially when she gets to use mine! And as far as Jack goes he thinks it is hilarious. He chases after me with the vacuum and wants to play with the air vent. Which, honestly, while not ideal is absolutely fine. I keep an eye on him while I vacuum.
Now, I will be completely honest and tell you this is not a "deep vacuum" like I used to. I used to move each piece of furniture, each cushion, and take like three times longer than I do now. Now, I shoot to do an A- job. I figure that the 80/20 rule is really 90/10 rule when it comes to vacuuming. The amount of stuff that is under each chair or cushion is not sizeable. I am getting most of the benefits (the heavily trafficked areas) by simply doing it. And if I set my expectations to do a deep clean everytime I would be constantly letting myself down. I can always do a deep clean later. I do the routine weekly stuff with the kids up. And because I stay on top of it, it never gets out of hand. And if I had my way, I would also employ Option 2 for the second time a week vacuum.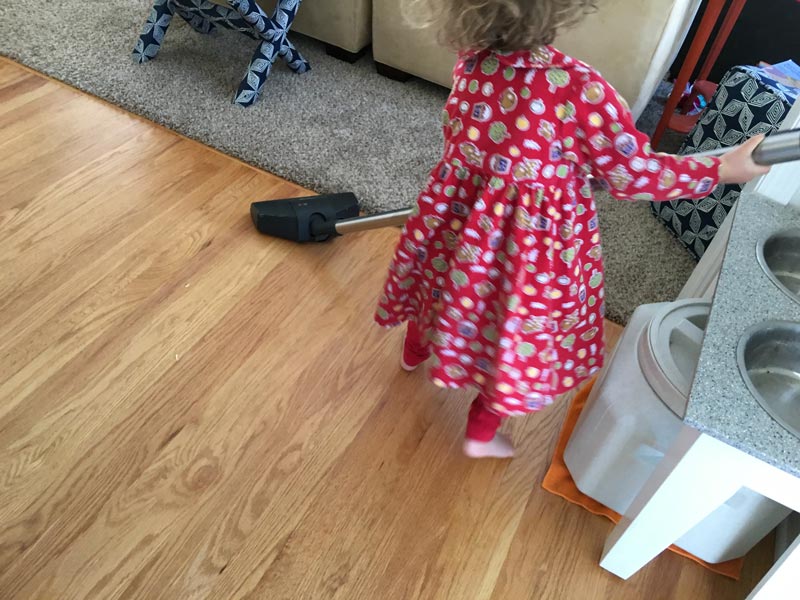 Option 2: Get a Roomba or some other robot vacuum to do the in between cleanings. My friends just bought one off of Craigslist for $90. That is less than it would cost a cleaning lady to come to my house and clean the whole thing one time! They still do a deep vacuum, but the Roomba gets the majority of the stuff from day-to-day living and ensures that there aren't any rogue crumbs on the floor with their little kids. They let it run once every other night. Believe me, this is on my wish list!
Dusting: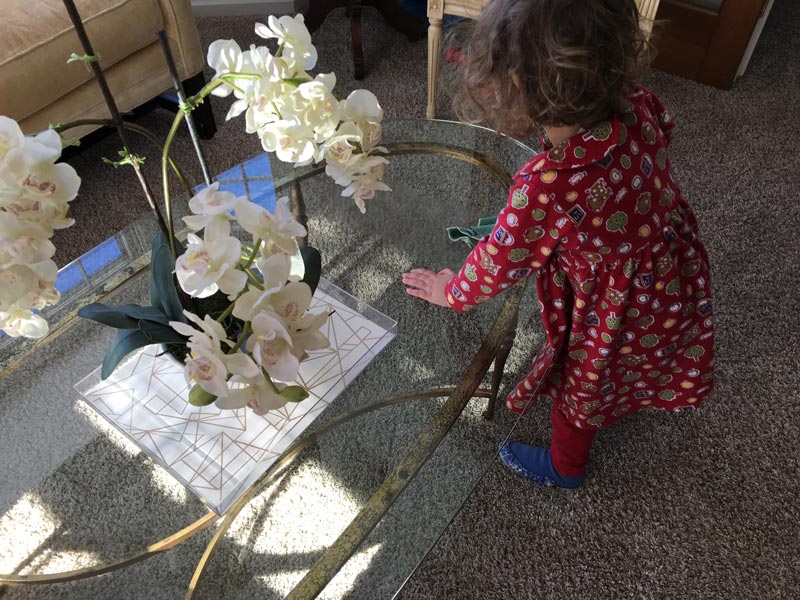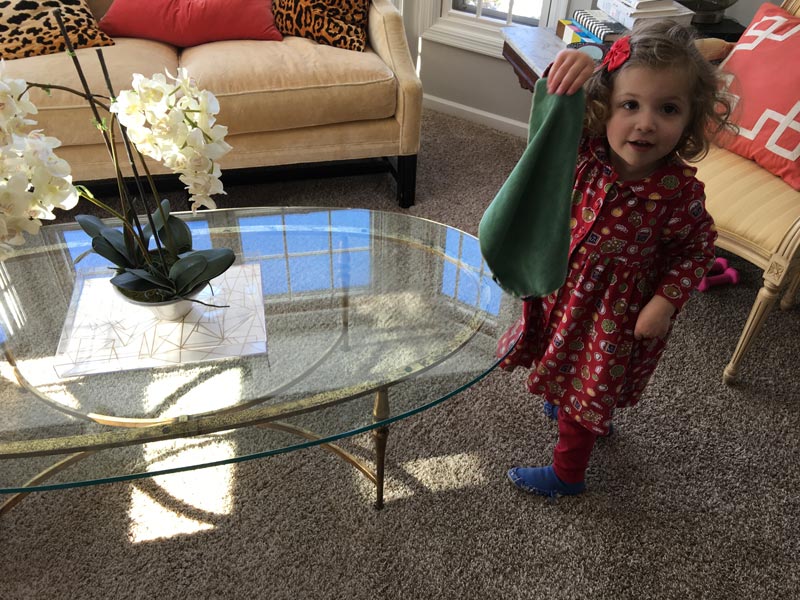 Again, I let my kids help me dust if they want. And heck no, I don't let them near nasty chemicals! I use these Norwex cloths. All they require is a little water. They love these because I use the same exact cloths. You know kids just want what their parents are using? Well, with these I can do it. I have mine, and Bowie has her's (and Jack will have his one day too!) Bowie can dust to her hearts content while singing Cinderella songs. I get what I need to get done  and everyone is happy and healthy. I am not exposing them to nasty stuff, I keep my house healthy, and I can do it while they are awake (and keep naptime for myself!) By keeping on top of it once a week, it never gets gross and it is manageable to do when the kids are awake. And I never worry when someone comes over that they are going to see tons of dust! Dusting literally takes me 10 minutes to do on one floor of the house.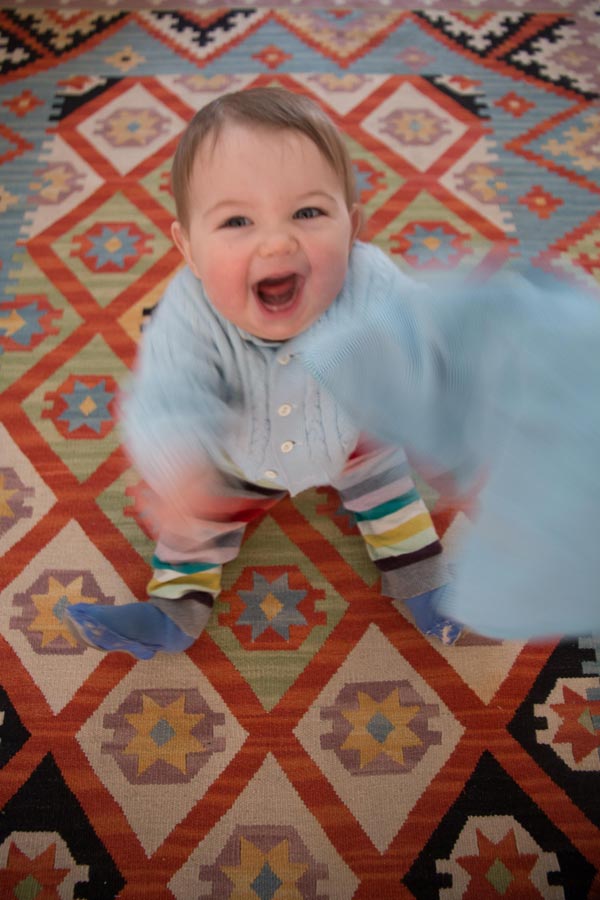 Toilets:
Although I love my kids to "help" I draw the line at toilets. I do not let them help me with the toilets or bathroom. Either I will wash the toilets during bath time when Evan is home at night, or when the kids are playing and occupying themselves and I can do it fast. I very explicitly tell Bowie that cleaning the toilet is only for adults. As good as she is, I don't want her trying to clean it and getting toilet water everywhere. Cleaning the actual toilet is really quick so I can do it when the kids are up. And because I don't use chemicals, I don't worry about the kids being in the house. I clean the toilet and then I wipe everything else down with a Norwex anti-bac (sink, toilet) and I call it a day! I can do this all in three minutes or less once a week per bathroom. I will often use a Norwex cloth on the sink first, and then the toilet last. And then it goes in the wash!
Showers/ Tubs:
I keep a  Norwex bathroom cloth in the bathroom so whenever I take a shower, I give it a quick once over. *If the kids are freaking out or I am running late I do not take the extra minute to do this. It takes like a minute and makes sure that it never gets gross. I do a deep clean about once a month with the cleaning paste; but, by doing a quick wipe down with the cloth two to three times a week it never gets what I would call dirty! Because all I need is the cloth and water, I do it after each shower and I hang it on my shower door to dry. I don't have any cleaning bottles hanging around in my shower or in my bathroom. And because it has silver thread woven through it, it is self-purifying. After I am done with it, I literally rinse it out with water in my sink, wring it mostly dry, and hang it on the door. As far as the kid's bath, I do the same thing. I give it a once over with the cloth when everyone is out of the tub, rinse the cloth with water, wring it and let it air dry.
Laundry:
Are you a fold it on top of the laundry machine (or like me) do it in the family room? It absolutely drives Evan up the wall that I am always folding laundry in the family room or on the kitchen table. He doesn't understand it!  My explanation? I can watch the kids while I do it. And I will not lie, our laundry room is a hot mess most of the time, so doing it on top of the laundry machine is out. Remember that Friends episode where Chandler finds Monica's messy closet? Yeah, that is basically my laundry room. I need to develop a better system. Because there is ALWAYS laundry on the floor, laundry to be folded, laundry waiting to be pre-treated. Laundry in our house is a never-ending process. My organizing and cleaning skills completely fail me in there. So, I fold the laundry with the kids. I do it when Jack is up (and Bowe is at school because she would try everything on.) I fold the piles out of his reach, and I let him empty the clean clothes from the basket. He is at the age that he loves emptying stuff. So he can knock himself out with the laundry! As long as he doesn't mess up my clean folded piles! Then because he is up, I just deposit the baskets with clean clothes at the foot of our stairs so I can put it all away before bed when Evan is home and reading with the kids and I do my ONE trip!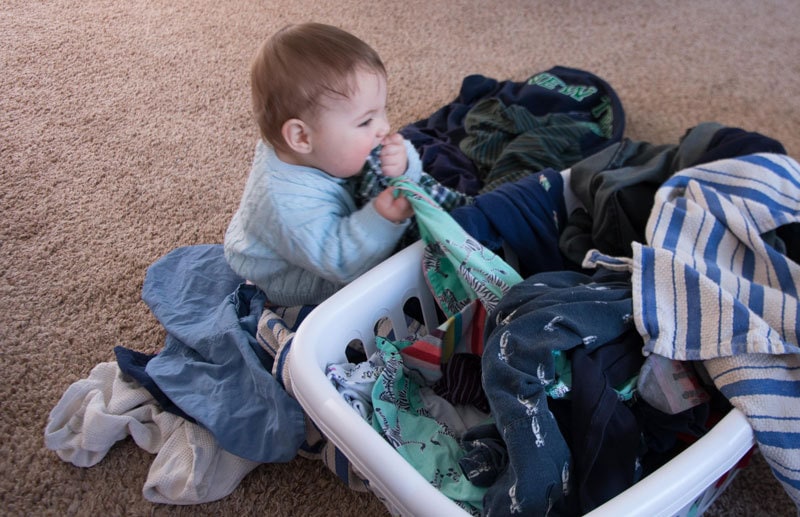 I will confess that on days when my temper is short and stuff just needs to get done, I will turn on the TV to get 20 minutes of cleaning done fast. But usually, they are pretty good.
Ok, so these are my tips and tricks. What do you want to know more about? If you want to know more about Norwex, please email me or visit my site here! I am in the process of writing several more posts, and potentially another blog dedicated to green cleaning. It has been a passion of mine for 9 years and I can tell you which are my favorites! On Friday I am going to go over all of my favorite tools, and will tell you all the cleaning products to skip! Because we have totally tried those products that failed (like Honest Co. dishwashing tablets!) and been so disappointed. So save your money and let me help you!
*I am an Independent Norwex Consultant. I have used the products in my own home for over THREE YEARS and still love all of them!
And if you want to see the other Cleaning Posts check these out, and join the Organize Your Life Challenge (I will send you all the past newsletters with exclusive tips & tricks and you get exclusive access to the Freebie Library) click on the button below.
[wpbuttons ids="1_5″]
A Cleaning Schedule that Actually Works
How to Keep Your House Tidy: The Magic Rule of One
How to Create a Beautiful Organized Nursery that Looks Good Even When It's Secretly Messy