Curb Appeal Ideas: 5 Minute Upgrades for Busy Moms We all know those moms who have the effortlessly clean house, the perfectly manicured yard, and always flawless hair and makeup. Well, I am NOT one of them. I regularly rock the yoga pants (especially because they are the only things that fit at 30 weeks pregnant), messy bun with wet hair, and no makeup.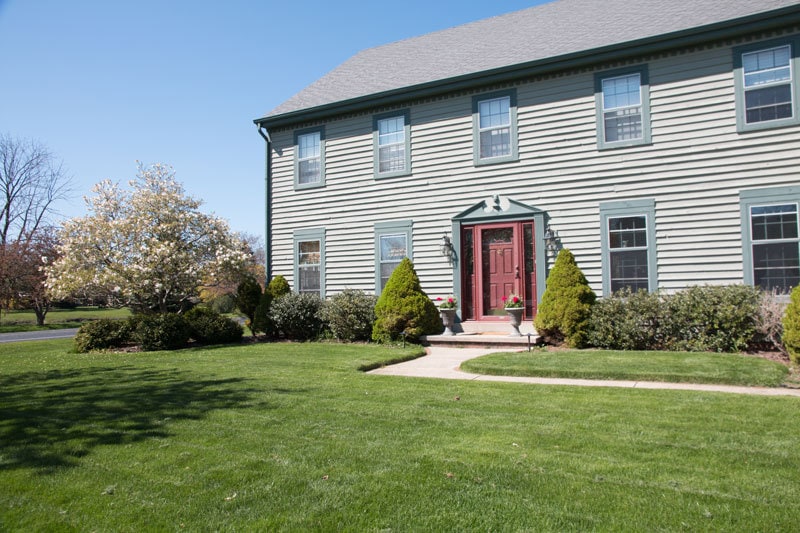 Furthermore, my house is always a mess. Call it two kids four and under whose imaginations far exceed their cleaning skills, and a busy mom who tries to work when they are napping!
But, thanks to my handy husband who mows the lawn every weekend, and who tends to all the landscaping, the grass is always cut and the lawn beds always trimmed! So our lawn looks maintained. But, he doesn't do flowers. And I don't blame him–gardening is intimidating–especially, if you have a black thumb like me and limited bandwidth to remember to water them. Thankfully, free resources like this fantastic exist!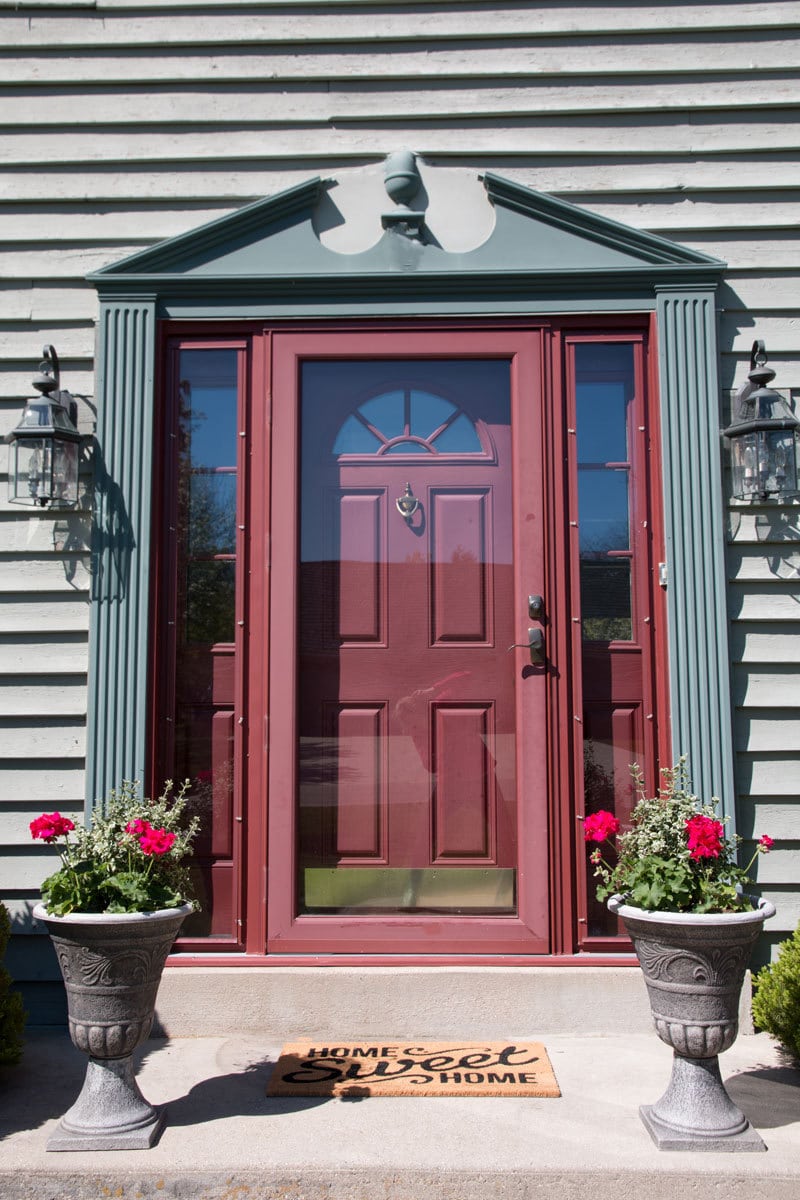 I know I am short on time–my kids don't magically stay within the limits of our yard (Jack is always wandering off into the neighbor's yard, or down the street to see a duck statue someone has.) And we don't have fences, so I am always watching him out of the corner of my eye. So I need quick seasonal curb appeal ideas that add a pop of color and make my house look better in 5-10 minutes!
Furthermore, I need curb appeal ideas that don't cost and arm and a leg! This year, we are hoping to put on a new roof and then next year fix/ replace some of the cedar siding. Can you say a big chunk of change?! With those two improvements needed, you can see how an extra burst of color with flowers on our front stoop, can make a big difference! This entire makeover cost me $42–and will last me all through the summer–and less than $20 a season to keep it going all year round!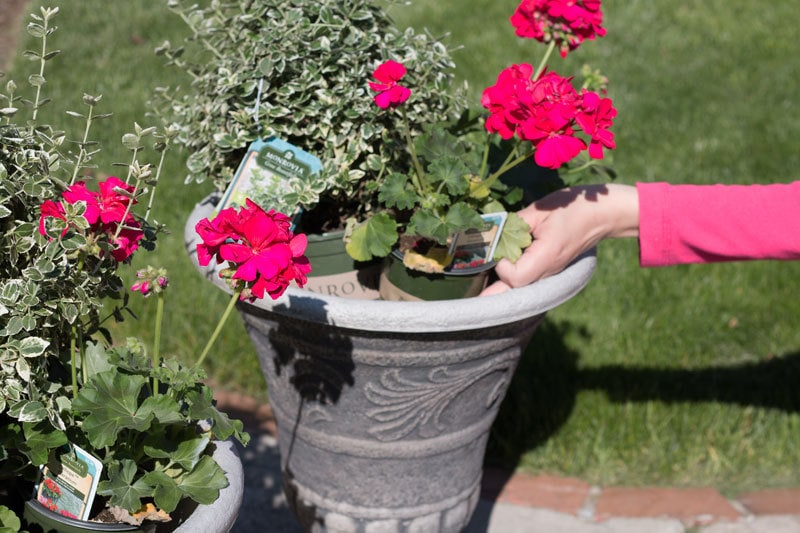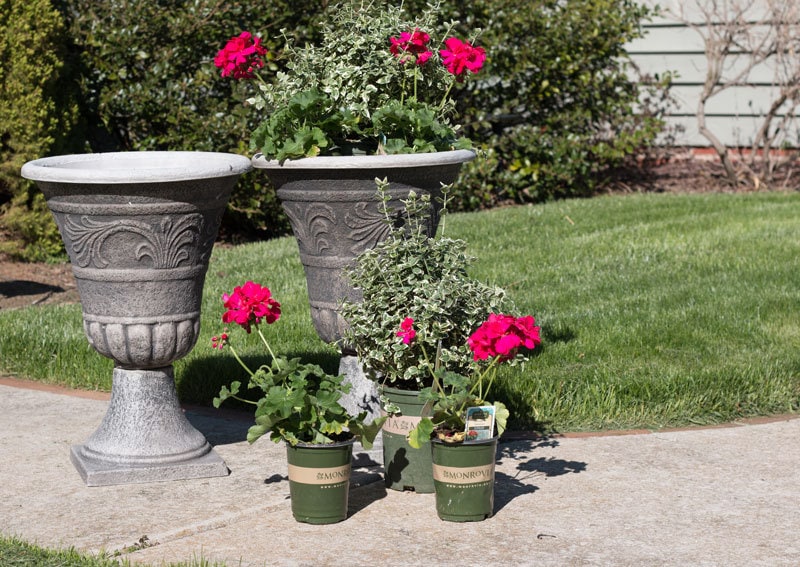 By using inexpensive urns I already had (they look like they are cement but they are plastic,) and picking a large bush to go in the middle, which I can use it year round and rotate colorful plants that are seasonally appropriate for the rest of the year, I stretched the lifespan of this arrangement! I plan on doing pansies in the spring (they are the hardiest plants for our cool springs), geraniums in the summer (pictured), and some hardy mums in the fall! Then in the winter, I can always throw in some evergreen branches and red berries!
You know how I said I have a black thumb, well, I do. I am the only person known to man who can kill multiple Snake plants (one of the hardiest indoor plants there are.) That's why I ALWAYS choose Monrovia plants. They are the best quality and they last longer and grow better with less effort (busy moms rejoice!) Because they are planted in containers, I don't need to worry about tilling the flower beds, weeding continuously, or soil conditions. I can stick them in with some potting soil and I am set!
*Note, although it is not pictured as a step, I did pot them with potting soil! I just recommend mocking it up (like I did) beforehand, so you can see how many plants fit and what looks good!
If you are a busy mom like me who wants to some quick curb appeal ideas to improve your front yard, here are five five minute improvements! (And don't let this post think we are 100% happy with our outside appearance!) We need to weed, add mulch, and obviously do some painting!

CURB APPEAL IDEAS
Add annual plants to containers for your front porch

Containers are the easiest way to add curb appeal and are almost maintenance-free! Just remember to water them and plants plants that are specially designed for your climate and lighting conditions. Watering them is a great job for young children (especially because if they spill it's outside!) Find more all types of beautiful flowers here that are appropriate for your yard.

Replace outdated and dirty door mats

Your front door is people's first impression when they come to your house. Short of painting your front door (something we need to do but it takes much longer than five minutes!), replacing old dirty door mats with a fresh new one is an easy curb appeal idea that takes minutes–and mine cost about $10.

Hang a seasonal wreath on your front door

Who says you have to wait until Christmas to hang a wreath? Hang one for each season that adds a nice pop of color!

Remove all children's toys from the front yard

Our children's toys go back into our garage every single night. We don't even leave them out during the day. The kids know they need to "park" their cars, bikes, and scooters; and I carry in our plastic slide. In their mind, it's just part of cleaning up and taking care of their toys. The front yard always looks well kept then (and not like a daycare!)

Sweep your front porch and walkway

It's amazing how much better your front exterior looks when it is all swept up! Bonus points if you can teach your kids how to do this! While the kids are playing in the front yard, I can easily sweep our front stoop and our front walkway. We have a small broom for the kids and one for me, so they can "help out" and I can get the job done!

Show your patriotism! Fly a flag!

On sunny days in the spring and summer, we almost always have our flag out. It is an inexpensive and easy way to show your pride in your country (and add some color to your front yard!)
As you can see, adding just a little pop of color to our front porch makes the whole house look better! Monrovia has plants of all different colors and for different conditions. Go to your local Lowe's to check them out like I did with Jack! They have plants for full sun/ partial sun/ shade and with a huge assortment of different colors, so it will go with any color your house is!