DIY Fire Pit Bench: Looking for an inexpensive way to add seating to your fire pit area? These DIY curved fire pit benches are the most versatile and inexpensive way to add flexible extra seating that's perfect for enjoying those summer nights around the fire! With three possible configurations–three benches, two benches, or six chairs, the possibilities are endless!
DIY FIRE PIT BENCH
This post has been sponsored by Krylon® Brand. All thoughts and opinions are mine alone.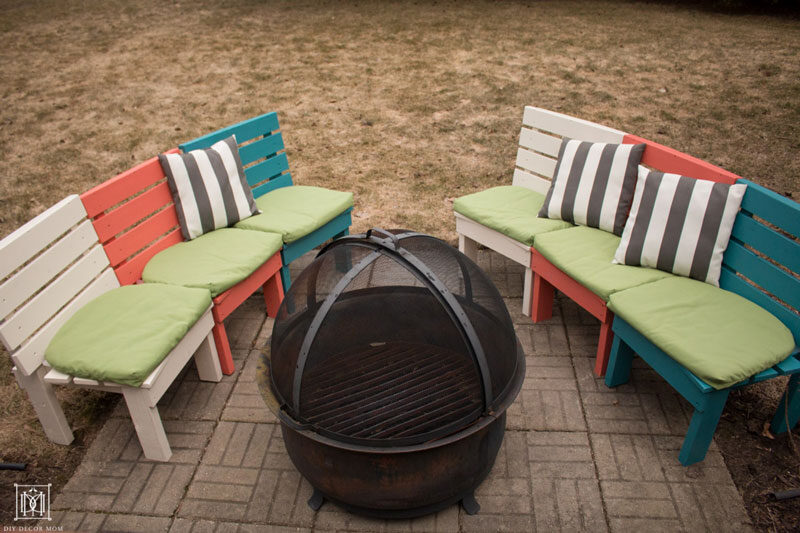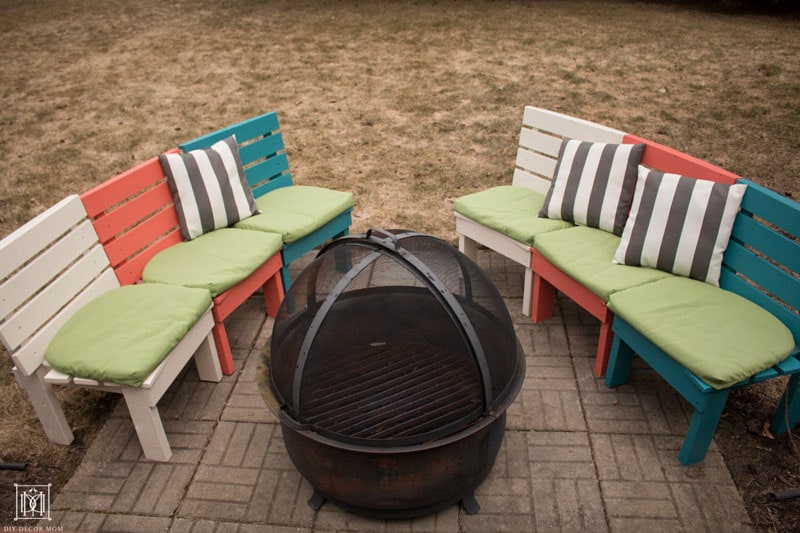 For the last couple years we have been wanting to upgrade our fire pit patio with curved wooden benches but never found just what we were looking for. There are some very nice curved wooden benches out there, but they are generally very expensive because they have complicated curved joinery and are made of teak to last a lifetime outdoors. We also wanted something colorful and fun but we couldn't stomach painting an expensive teak bench.
So we set out to design something ourselves that checked all the boxes but was easy enough to DIY and didn't cost a fortune.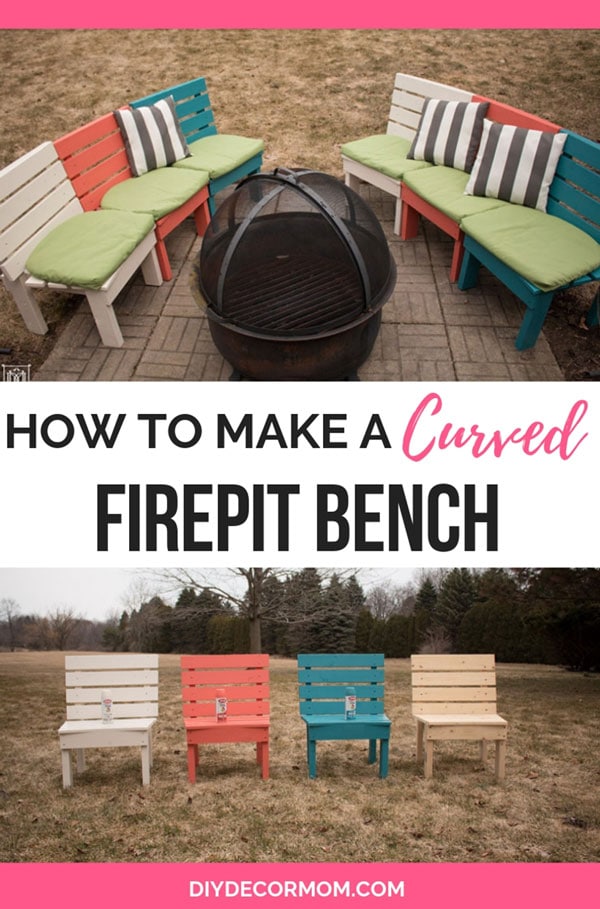 The benches we came up with are made entirely out of 2×4 and 1×4 lumber – and can be built using nothing more than a circular saw, jigsaw, and drill. You'll see that we used a few extra shop tools that we have at our house to speed things up a little, but it's 100% doable with very little in the way of special tools or skills.
In addition to simplicity, using standard 1×4, and 2×4 lumber means these benches can be built very inexpensively. All the lumber for our six benches came to $67 at our local home center. Add in a couple of boxes of screws, and spray paint, and you're looking at a full set of outdoor furniture for around $100–not too bad!
A word about lumber selection. This lumber is cheap for a reason –most of it is low quality– so plan to spend some time sorting through your local home center's lumber to find the straightest and clearest boards you can find. We probably spent an hour carefully checking boards for straightness and knots and other defects. For every 5-6 boards, we looked at maybe one we ended up buying. There's no shame in finding the best boards you can – just don't leave a huge mess for the home center employees to clean up after you leave.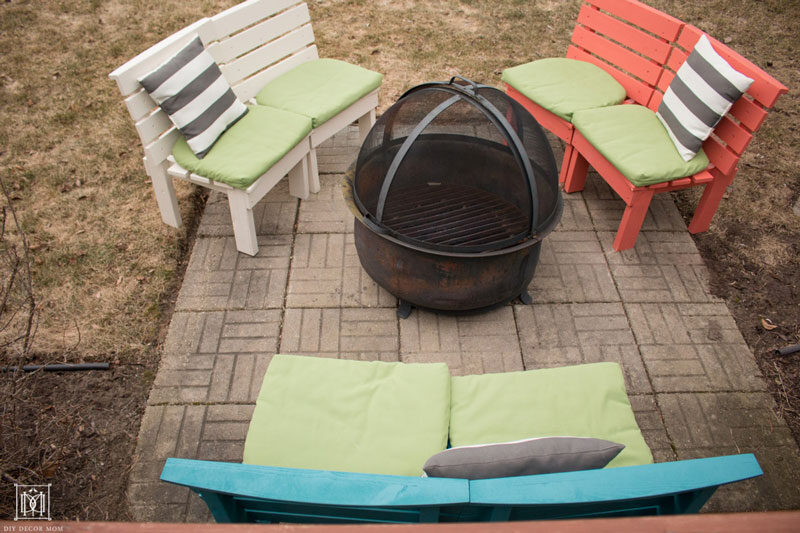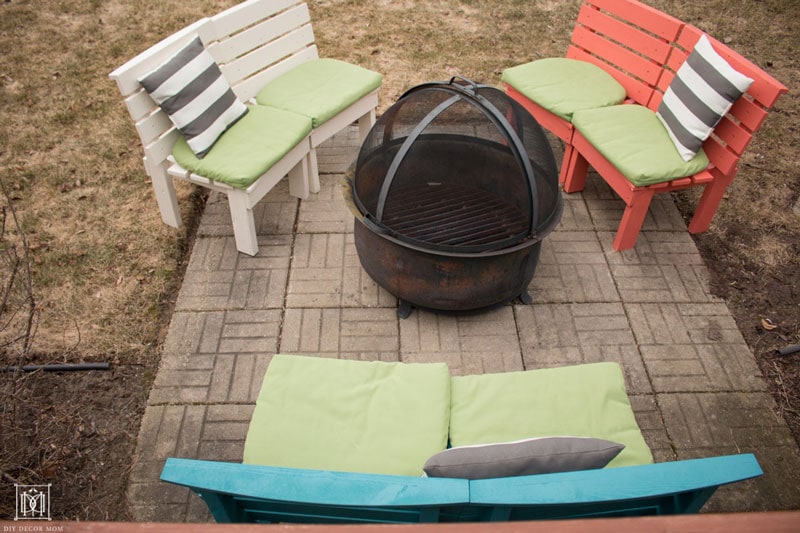 One thing about curved benches that makes them expensive and difficult to build is they usually require complicated curved joinery.
What makes this bench design unique is it uses 100% right-angle joinery which is easy to cut and build – but some carefully placed angle cuts and curves give you the illusion of it being a curved bench when the pieces are nested together. This modularity also gives you some flexibility in how you arrange the seats!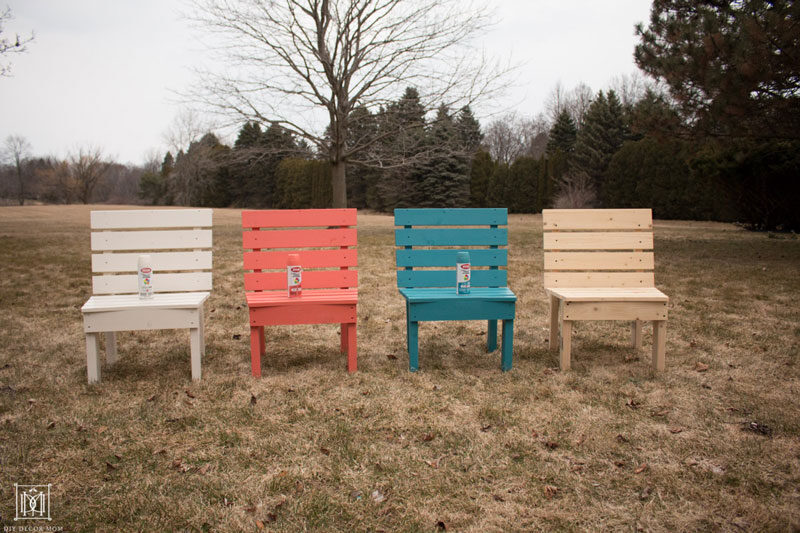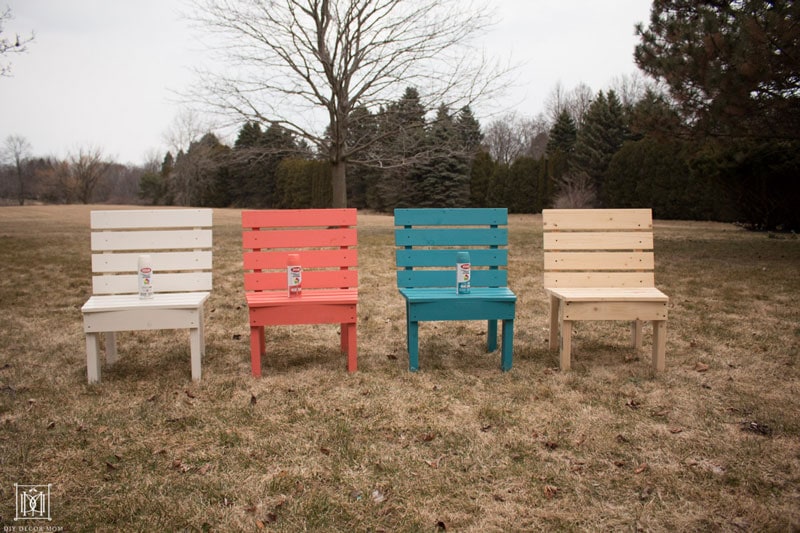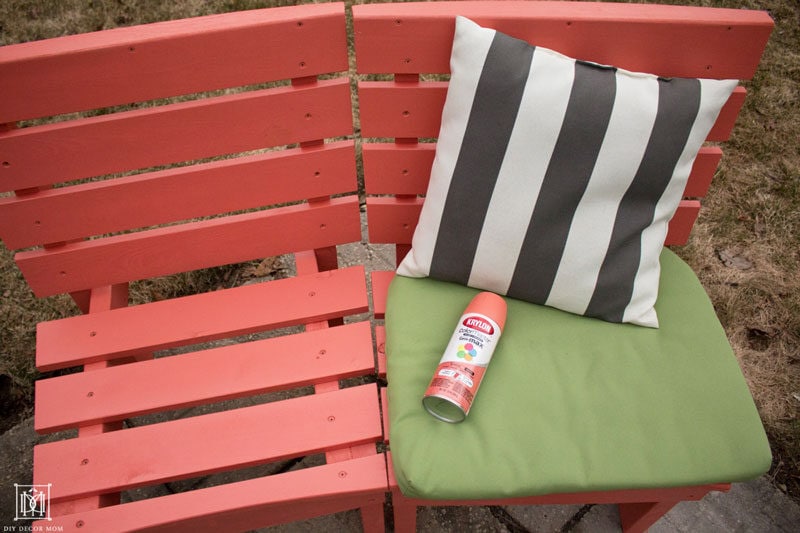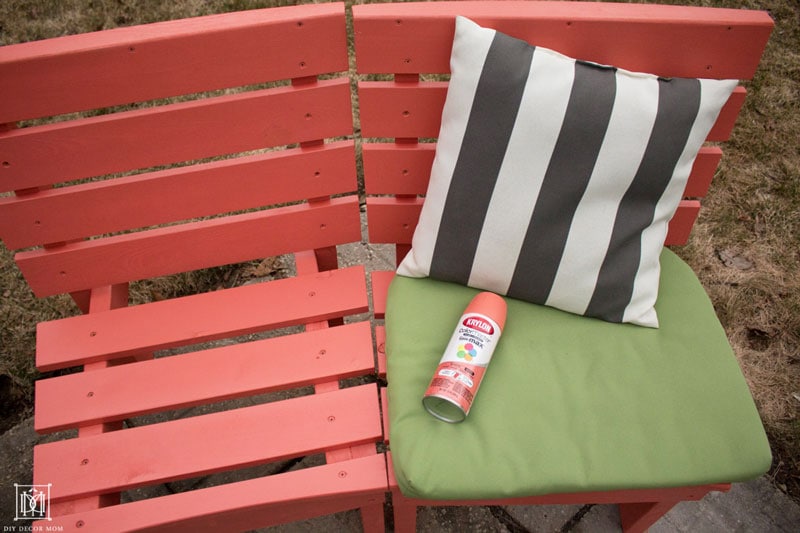 The benches themselves are built as square seats, and then we cut angles into the sides and back so they nest together at an angle. The front seat slat and top back slat get curves cut in them that match the radius at which the benches nest with each other – this gives the illusion of a big curved circular bench when you're done!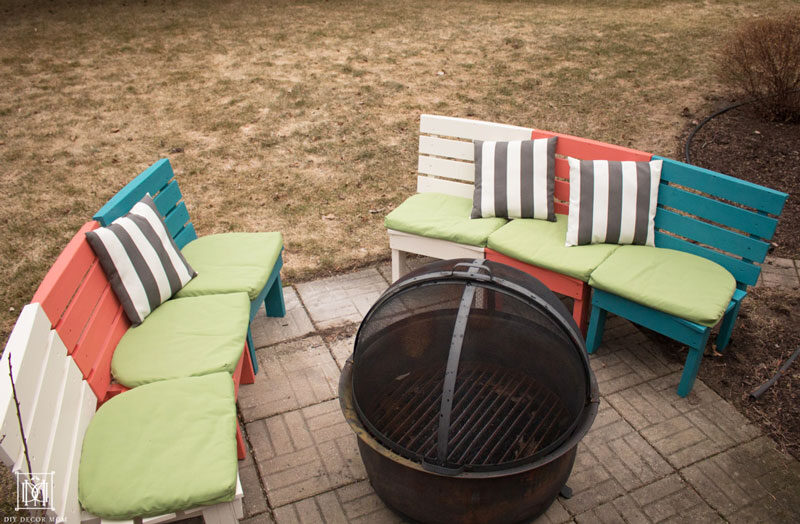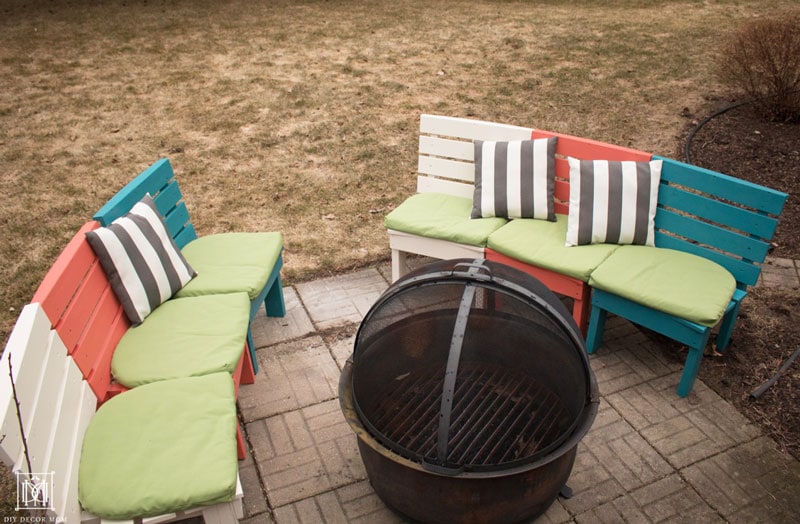 MATERIALS FOR DIY FIRE PIT BENCH:
(15) 1x4s and (10) 2x4s

(3) cans Krylon

®

ColorMaster

®

Paint + Primer Matte Surf

(3) cans Krylon

®

ColorMaster

®

Paint + Primer Matte Sunrise

(6) cans Krylon

®

ColorMaster

®

Paint + Primer Matte Modern White

1 box of screws

miter saw with a stop block OR a circular saw or hand-saw

sandpaper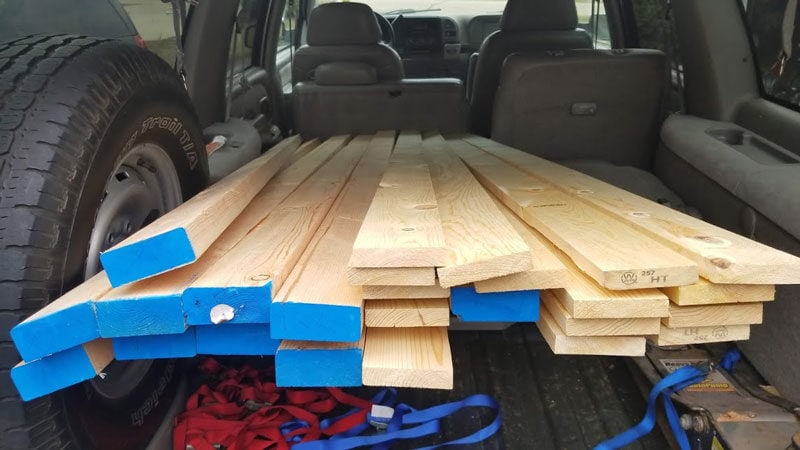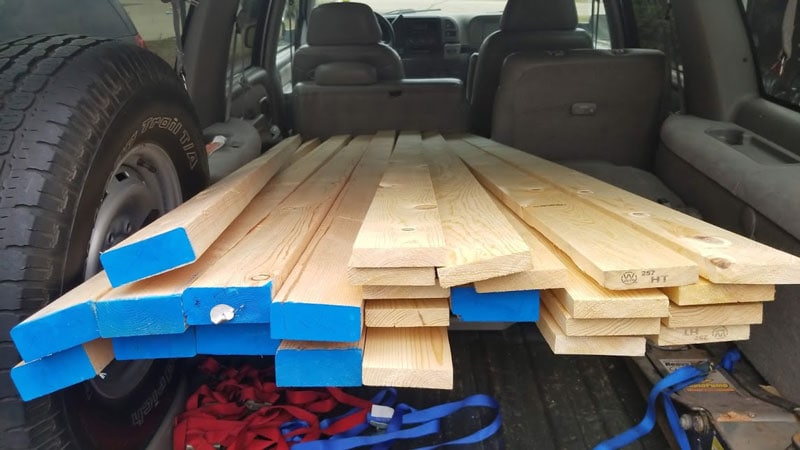 DIRECTIONS FOR CURVED DIY FIRE PIT BENCHES:
STEP ONE: Cut all the lumber to length per the cut-list below. We used a miter saw with a stop block to make repeated cuts–but a circular saw or even a hand-saw could work.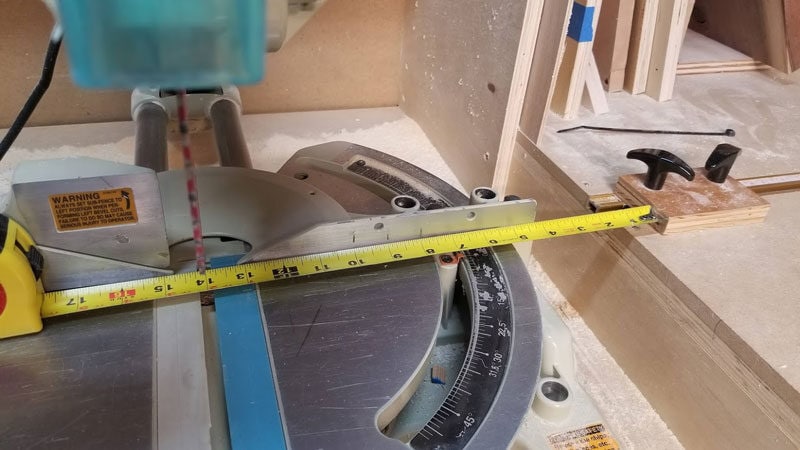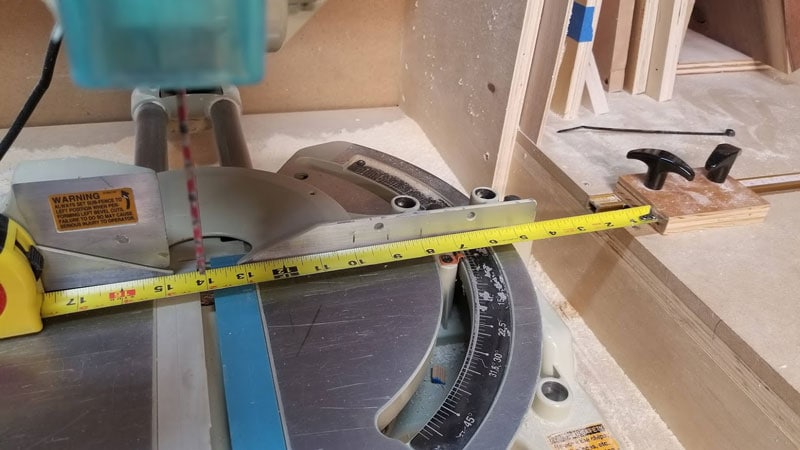 CUT LIST:
Back leg/stile (2 per chair, 12 total) – 2×4, 30"

Front leg (2 per chair, 12 total) – 2×4, 14"

Stretchers (2 per chair, 12 total) – 2×4, 20.25"

Aprons (2 per chair, 12 total) – 1×4, 19"

Seat Slats (9 per chair, 54 total) – 1×4, 24"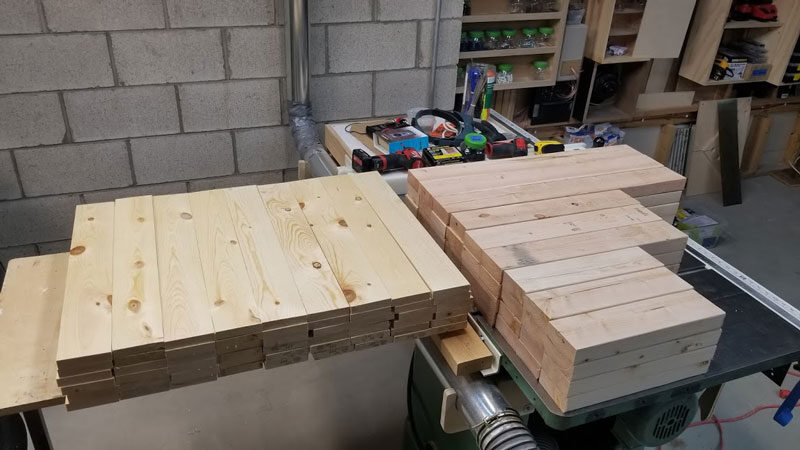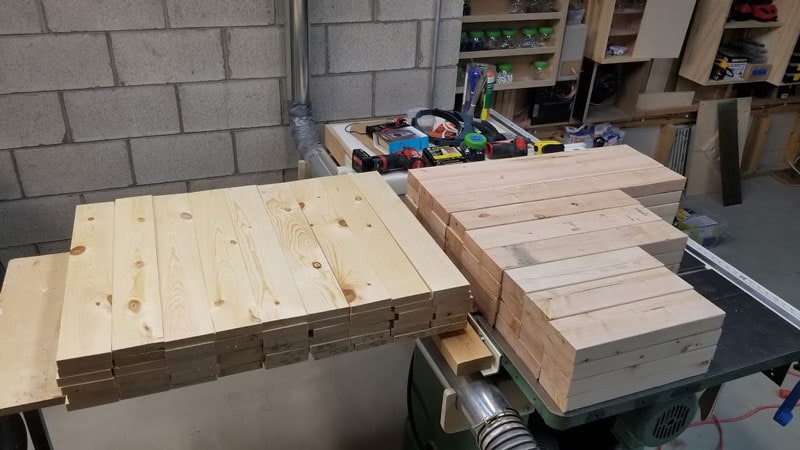 *The back legs (or stiles) need a taper cut in them so the back of the chair will lean back and be more comfortable to sit in. This taper starts 14" from the floor, and ends 3/4" from the back edge at the top of the stile. This can be measured and marked out with a pencil and cut with a saw. We made a simple tapering jig for the table saw out of some scrap plywood to speed things up.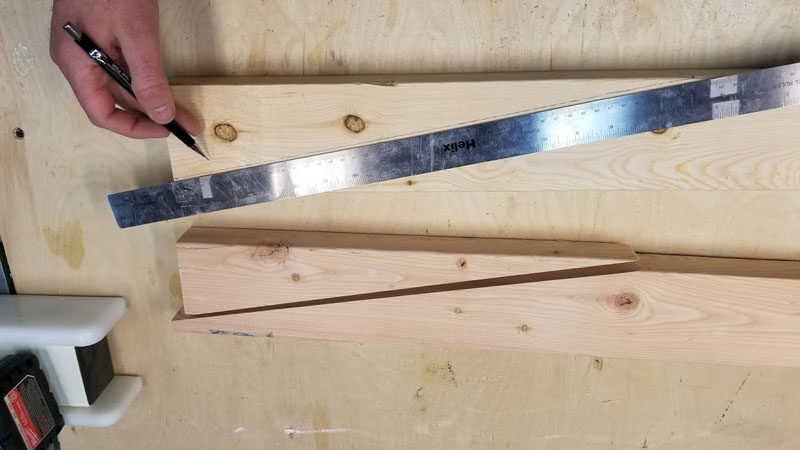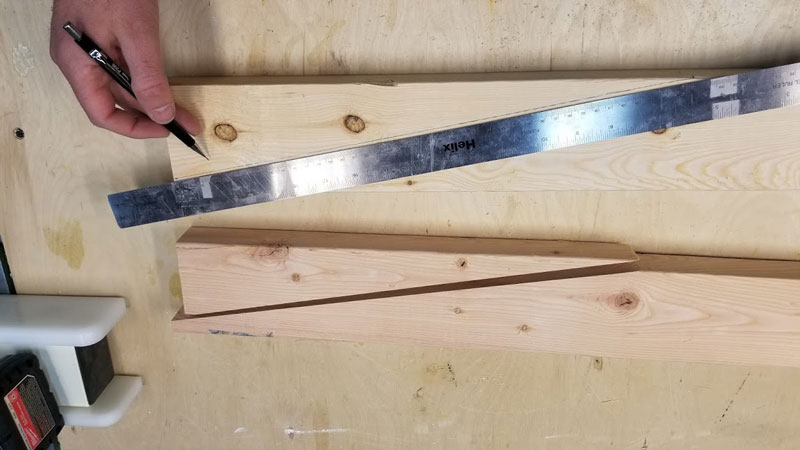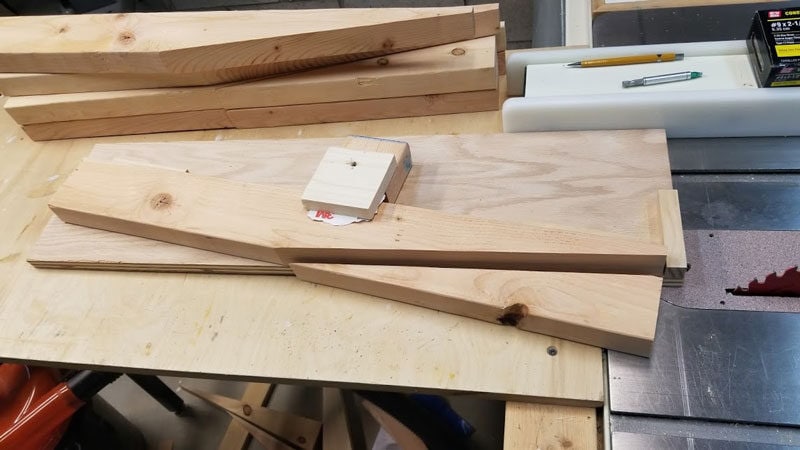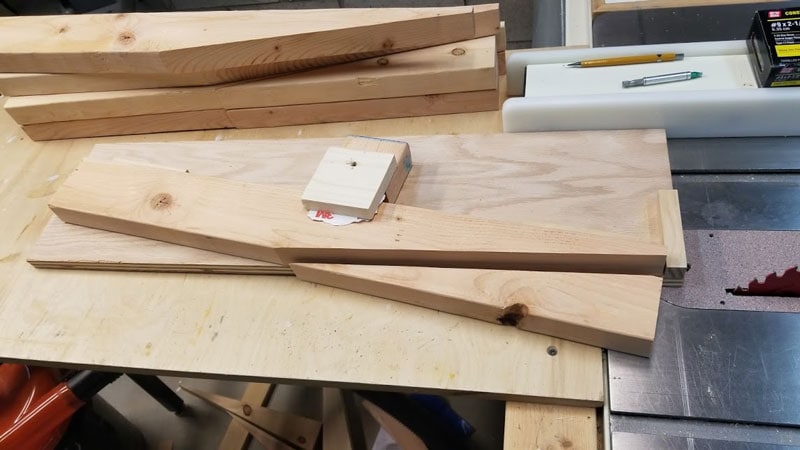 STEP TWO: Build the leg assemblies.
Start by laying a front leg and back leg on the ground and connect one stretcher 14" from the floor using glue and 2.5" deck screws. Be sure to make 6 left-hand assemblies and 6 right-hand assemblies. Here, we made a quick jig out of plywood that helped hold the pieces at right angles while gluing/screwing. This is totally optional; but, it made the repeated work go a little faster than checking each joint for square one by one.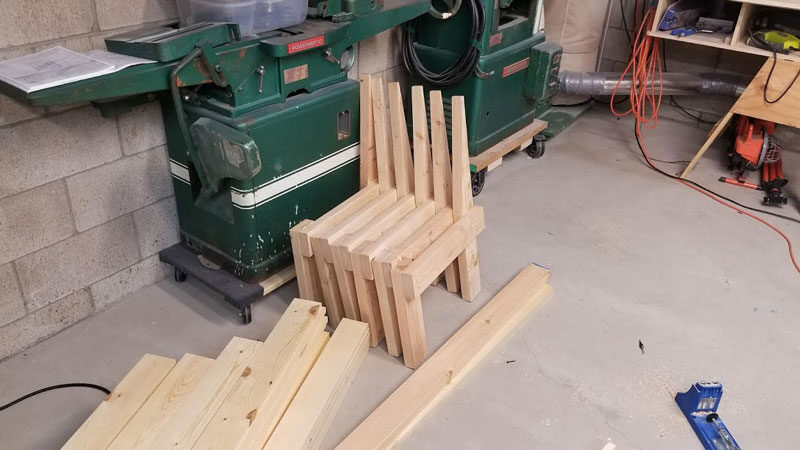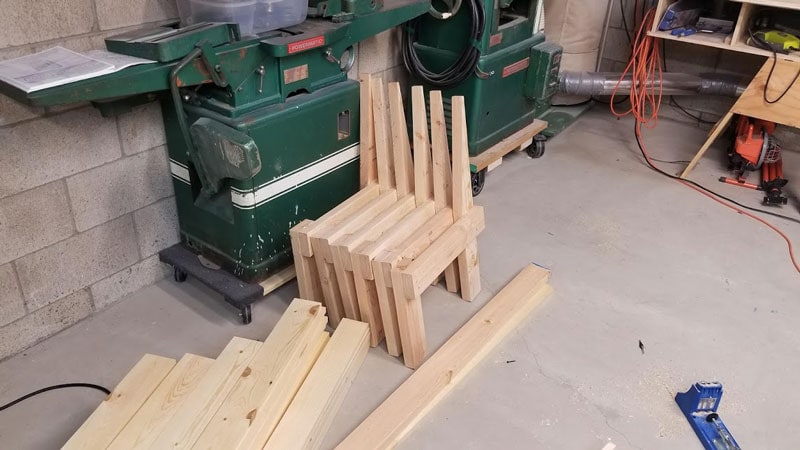 Next, take a left and right leg assembly and attach the aprons. Again, glue and deck screws here. It helps to do this on a flat surface so you know the legs will sit even once the chair is assembled. Again, we cut a scrap of plywood to clamp to the left and right leg assemblies to hold them in place, but this is optional.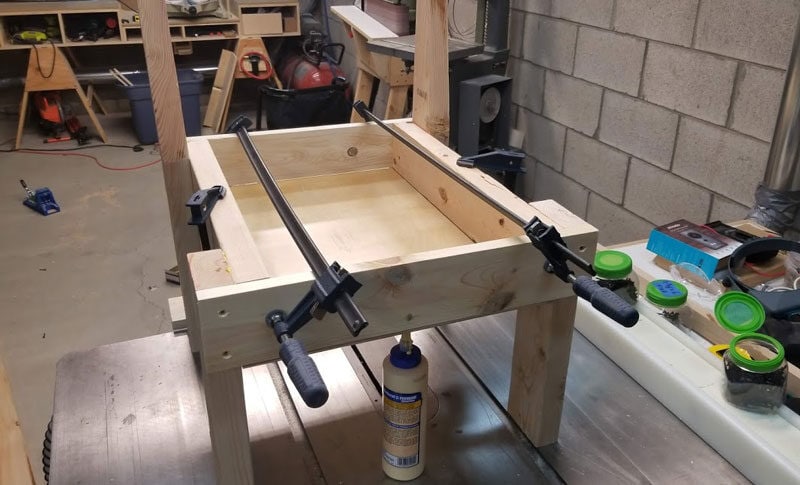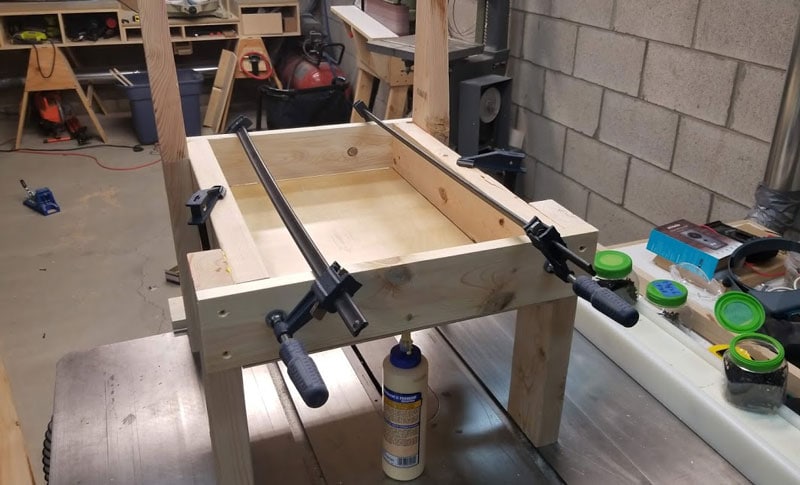 Cutting the curves in the front seat slat and the top back slat is probably the trickiest part of the project. We made two templates that we then used to trace the curves onto the slats. The front seat slat gets an 80" radius curve and the top back slat gets a 100" radius curve.
To mark these we tied a string to something immovable and measured-out the radius we wanted and tied a loop. We then used this loop to hook the tip of a pencil and drew the curve like a giant compass. We made these out of some scrap hardboard; but, cardboard or heavy paper might have been easier as you can cut it carefully with scissors. Once the templates were cut-out we traced the curves onto the respective slats and cut these out carefully on the band saw and sanded them smooth.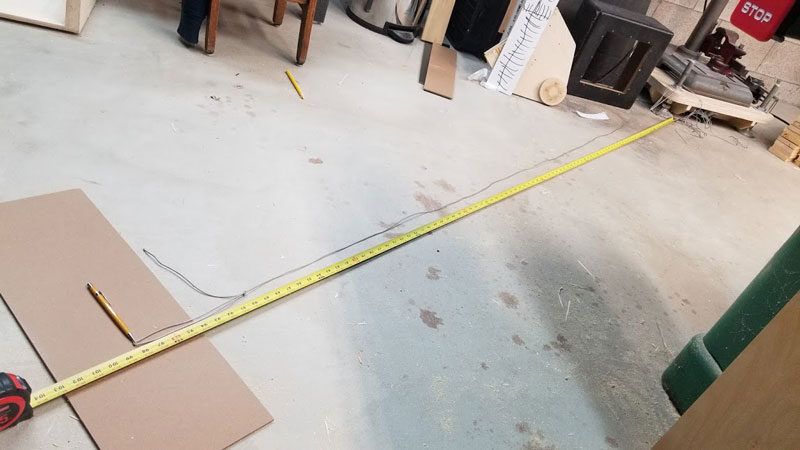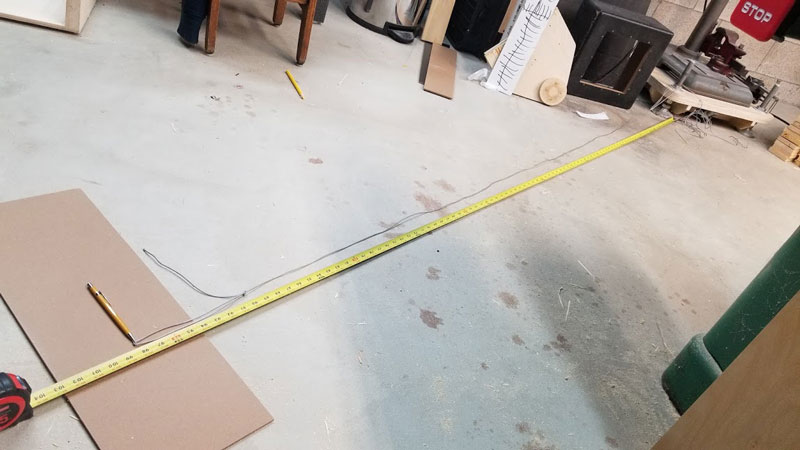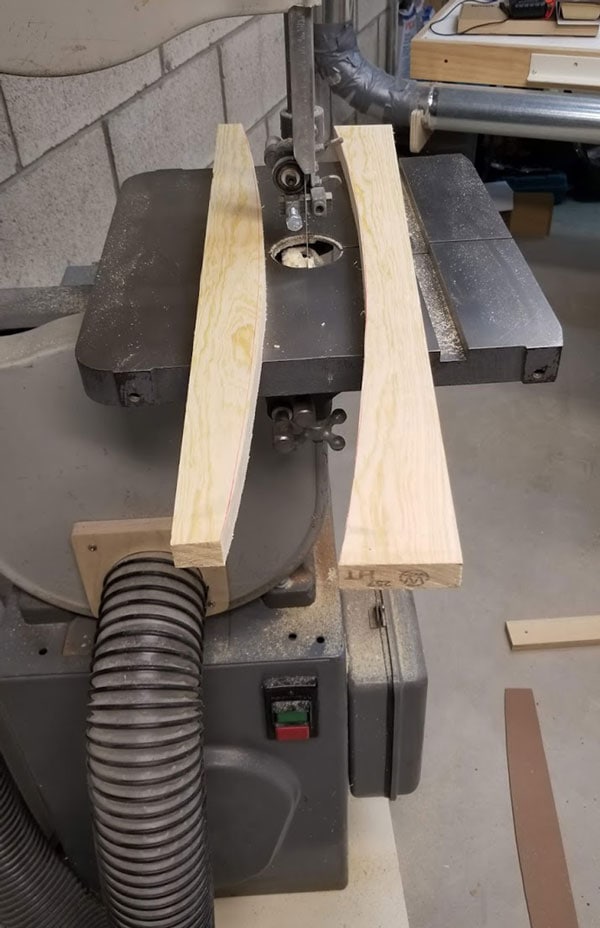 The curved back slat gets screwed and glued to the topmost back slat as shown. Then attach all the slats to the chair frame spacing them evenly and centering them on the chair.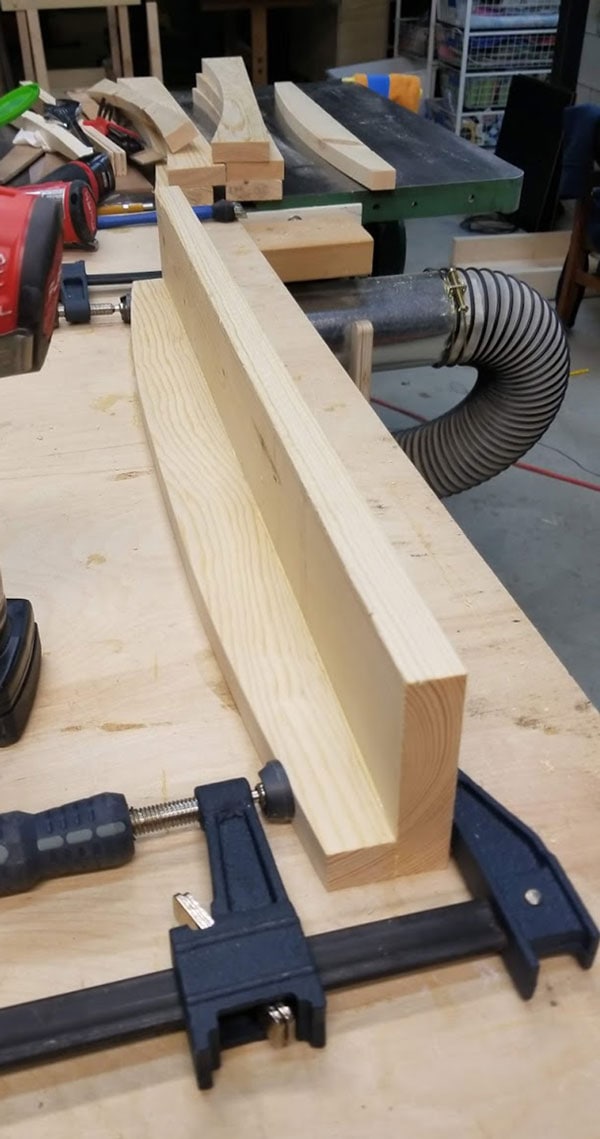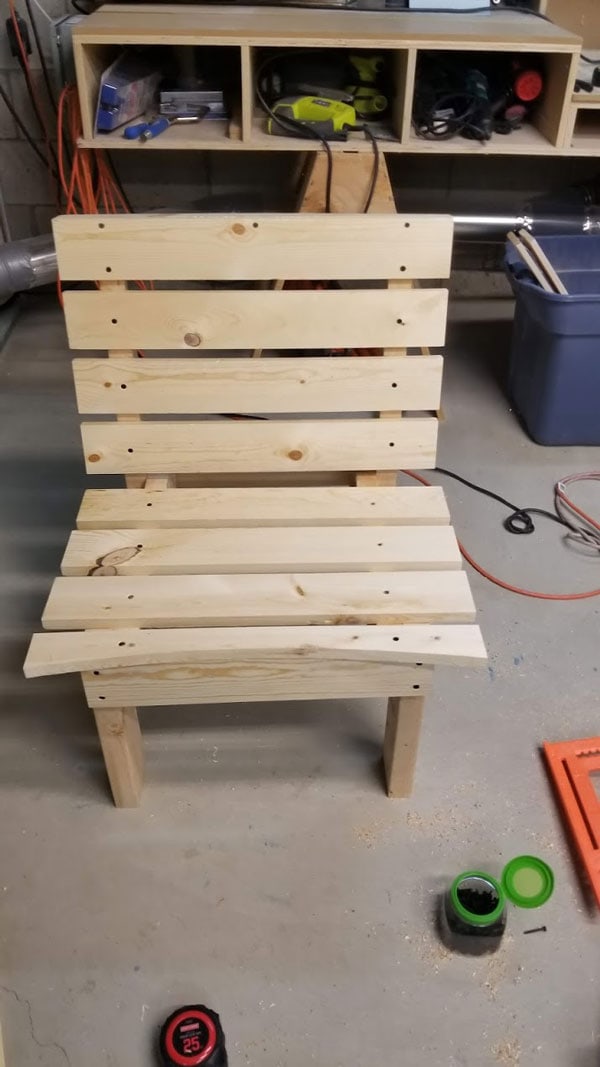 The last step is cutting the angles into the slats so the chairs nest at an angle. This involves marking a few careful marks on the slats, connecting those marks, then cutting those lines with a circular saw:
The first set of marks is on the front curved seat slat. Make a mark 1/8" outside the legs on both sides.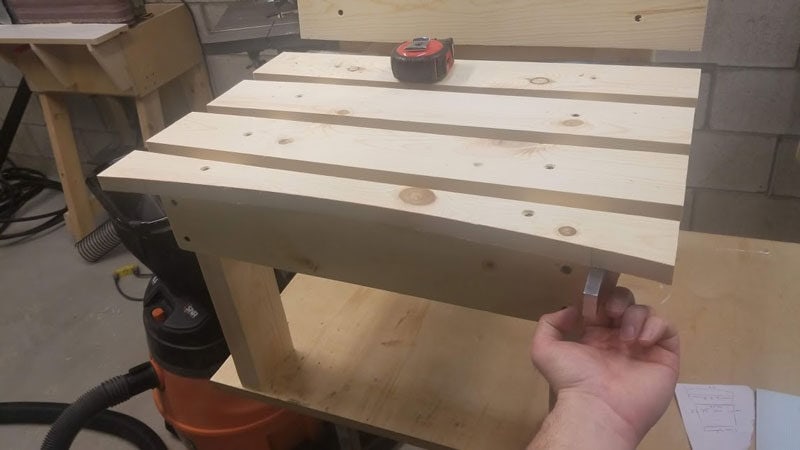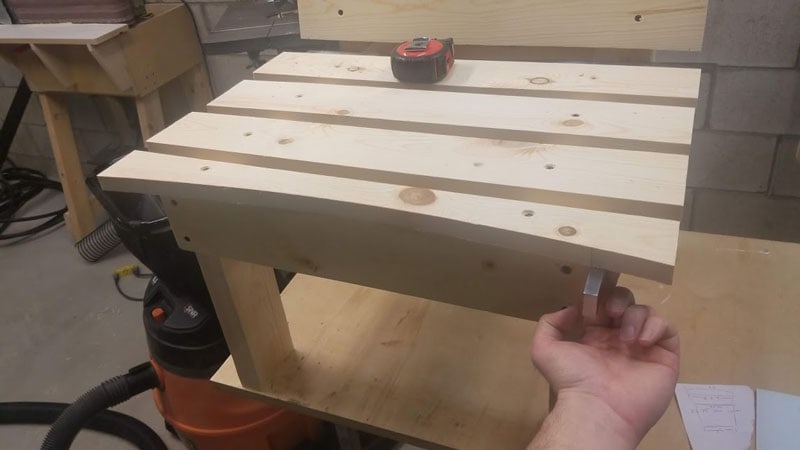 The second set of marks is on the top back slat. Make 2 marks, 23.5" apart, centered between the back legs.
The third set of marks is on the lower back slat. Make 2 marks 22.75" apart, centered between the legs.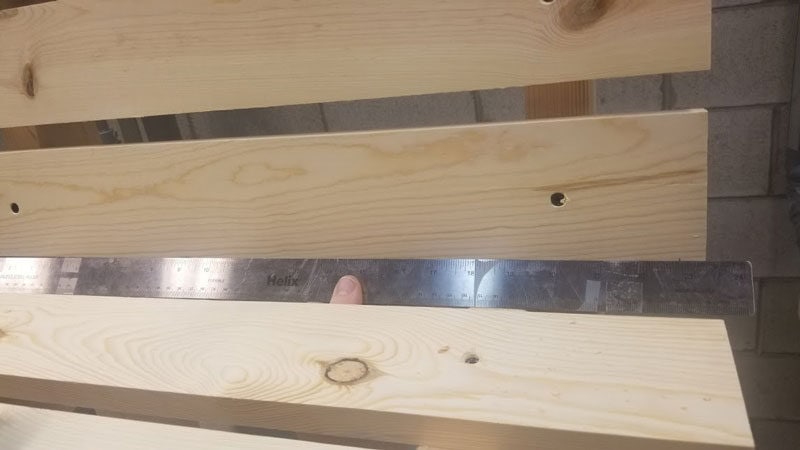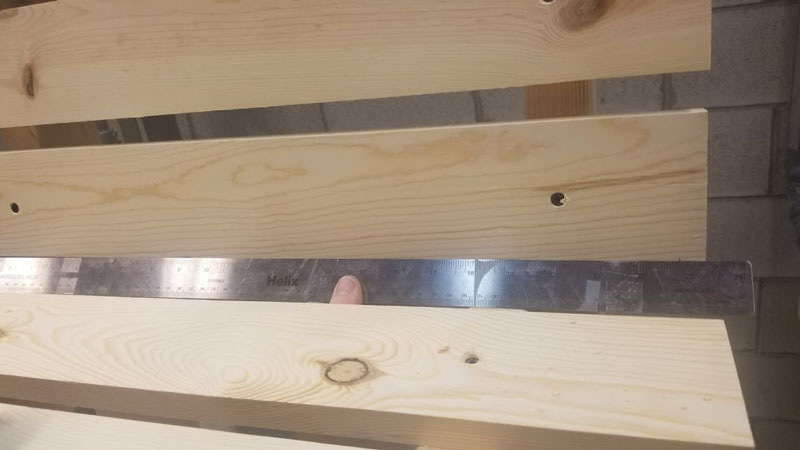 Now connect these marks on both sides of the chair seat and back with a straight-edge and pencil.
To cut the seat slats simply cut along the lines you marked with your circular saw set at 90 degrees. I used a scrap of wood as a straight edge and two clamps to help guide the saw for a straighter cut. Note: I had to remove the lower two back slats to fit the circular saw to make these cuts– no big deal, I just put them back in place after making the cuts.
Finally, to cut the angles in the back, you follow the lines you drew but you will need to tip your saw blade to 6.5 degrees to match the angle you just cut in the seat. This sounds complicated, but it's really not. Again, here I removed two seat slats to make room for the circular saw and used a straight edge to guide the saw.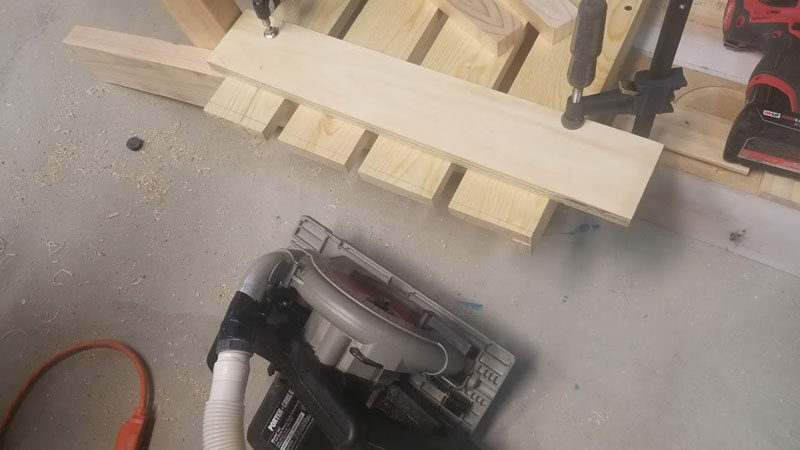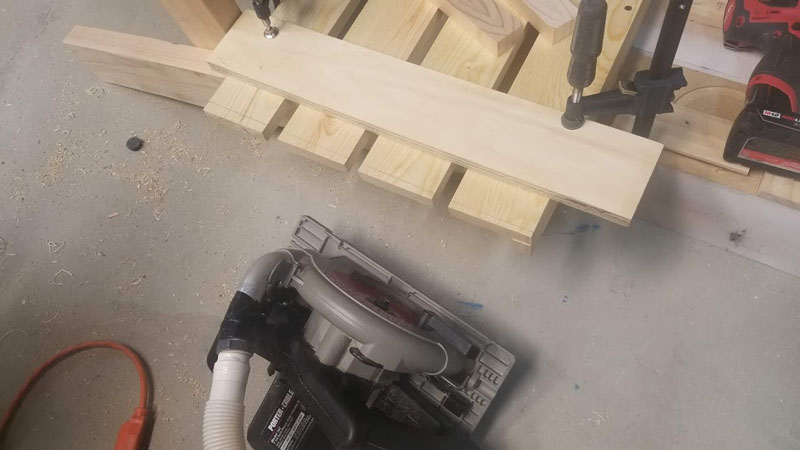 And that's it! Just sand down any rough edges and you're ready to spray paint!
STEP THREE: Spray paint your chairs whatever color you choose!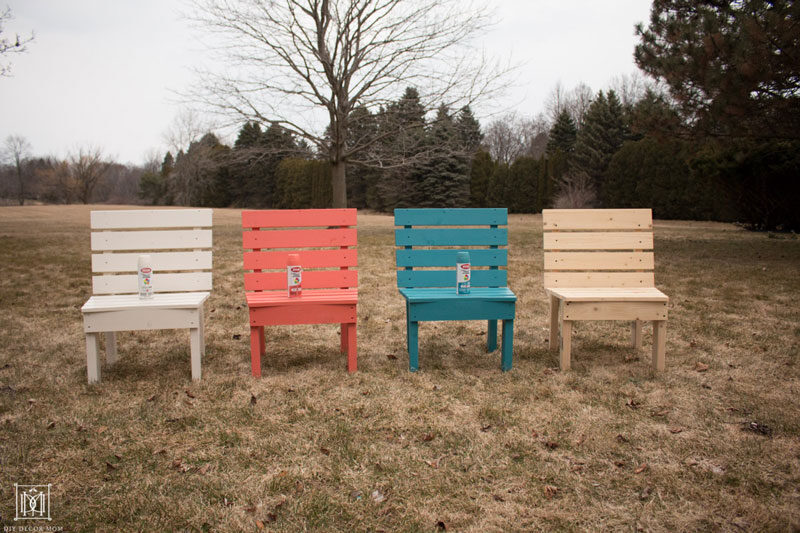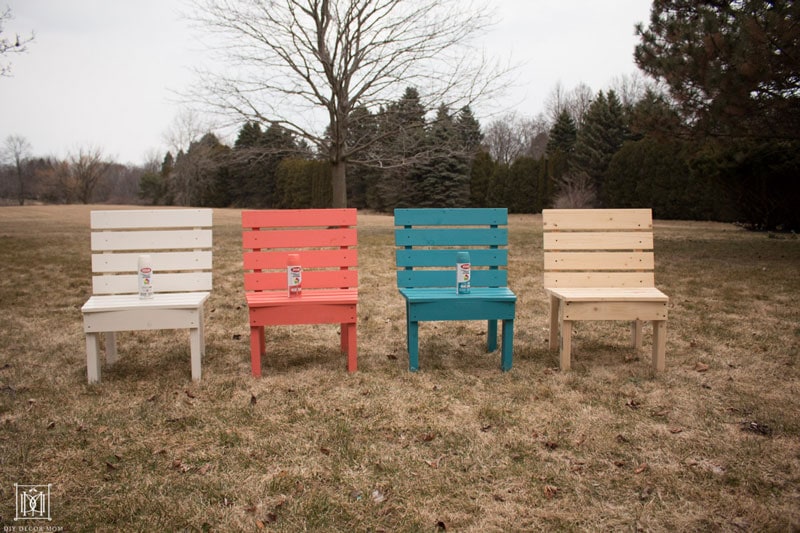 My favorite part of this was getting to choose which spray paint colors I would use. Every room in my house is colorful, so why shouldn't our backyard hangout resemble our style? With all the choices of Krylon® ColorMaster® Paint + Primer, I was able to come up with a combination that was perfect for our style!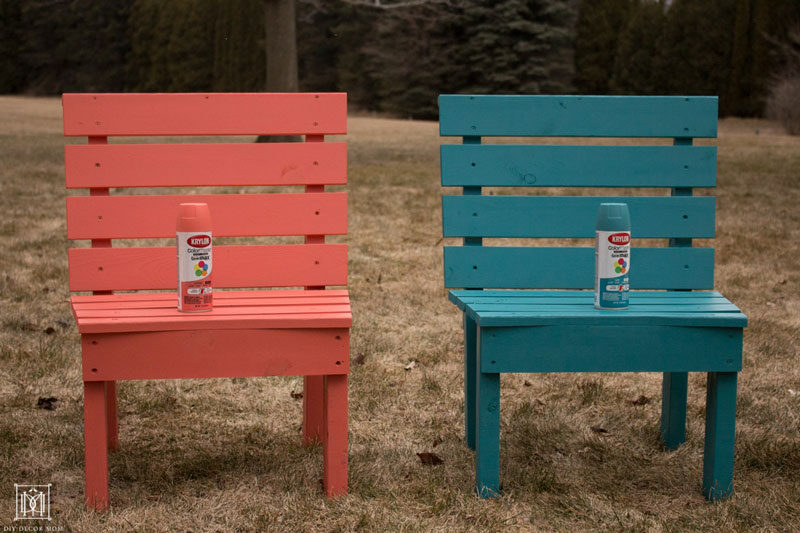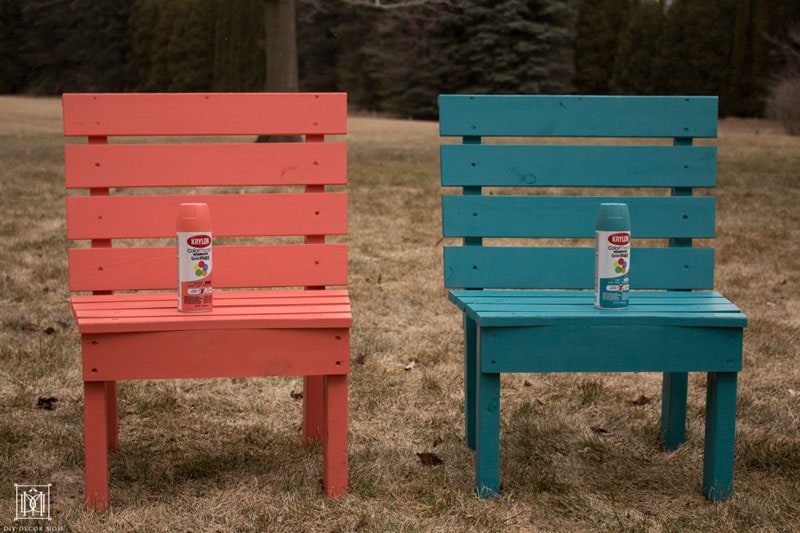 By using Krylon® ColorMaster® Paint + Primer, we were able to use only three cans for both the teal (Matte Surf) and coral (Matte Sunrise) benches because it covers so well! And with Krylon® ColorMaster® Paint + Primer we didn't have to spend any time priming the wood–it was ready to go!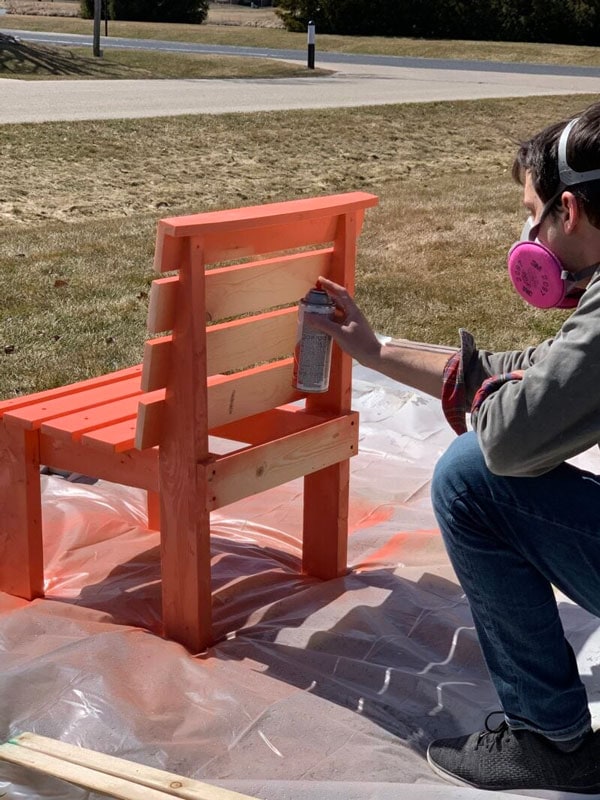 Now, before you spray paint anything, remember to read the spray paint label for safety and application instructions before beginning to spray paint–and always spray paint in a well-ventilated area. We usually put down a plastic paint sheet and spray paint outside in our backyard.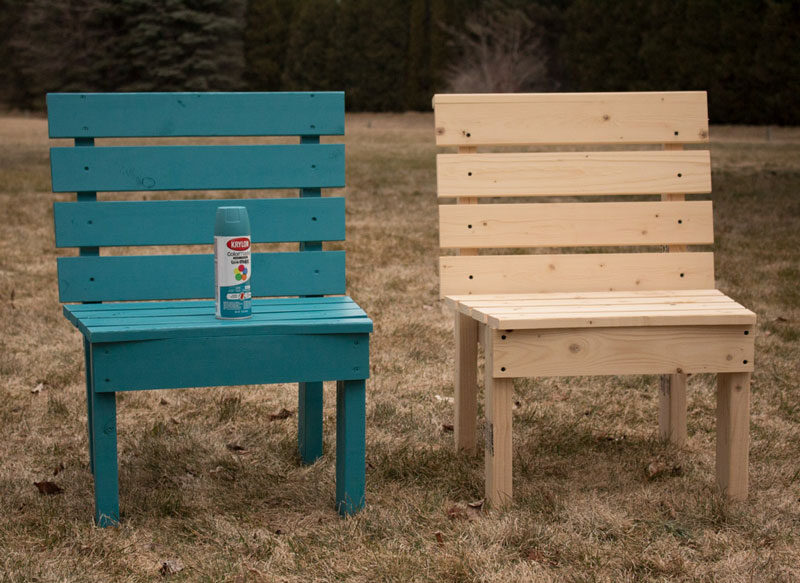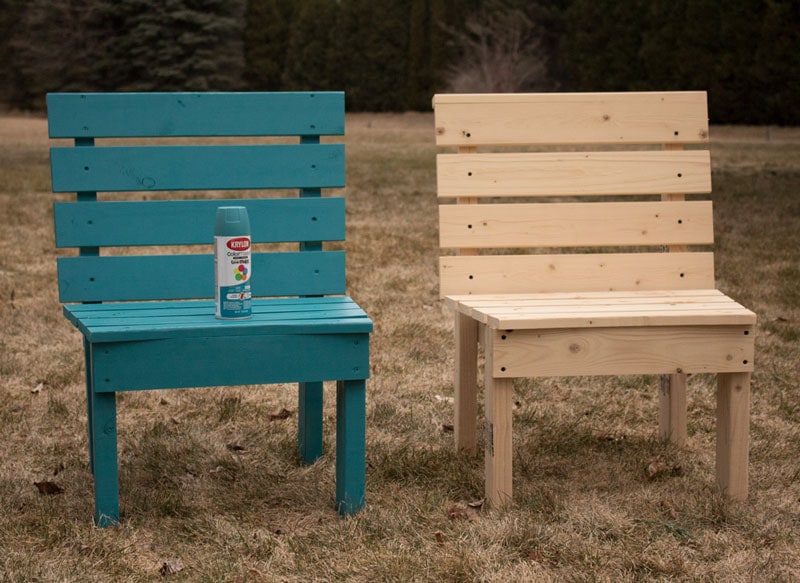 With two light coats on everything, we were able to spray paint all six chairs in less than 30 minutes. The chairs were dry to touch within 10 minutes and hard enough to handle within one hour!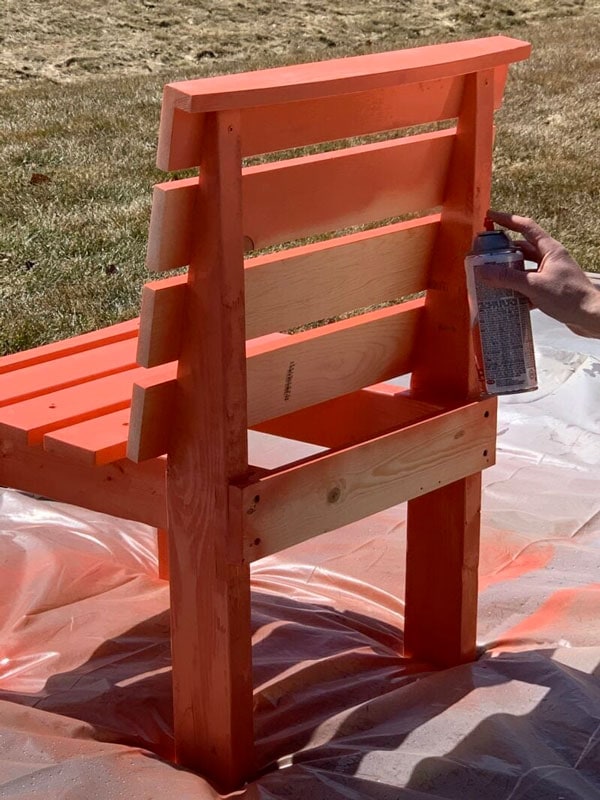 All in all, we couldn't be happier with the result—two benches (or six chairs) for under $100! And we can't wait to enjoy using it all summer long with the fire pit! I foresee many nights of making s'mores over the fire pit and sitting on our new comfortable fire pit benches!