This is a sponsored post in partnership with DockATot. All thoughts and opinions are mine alone.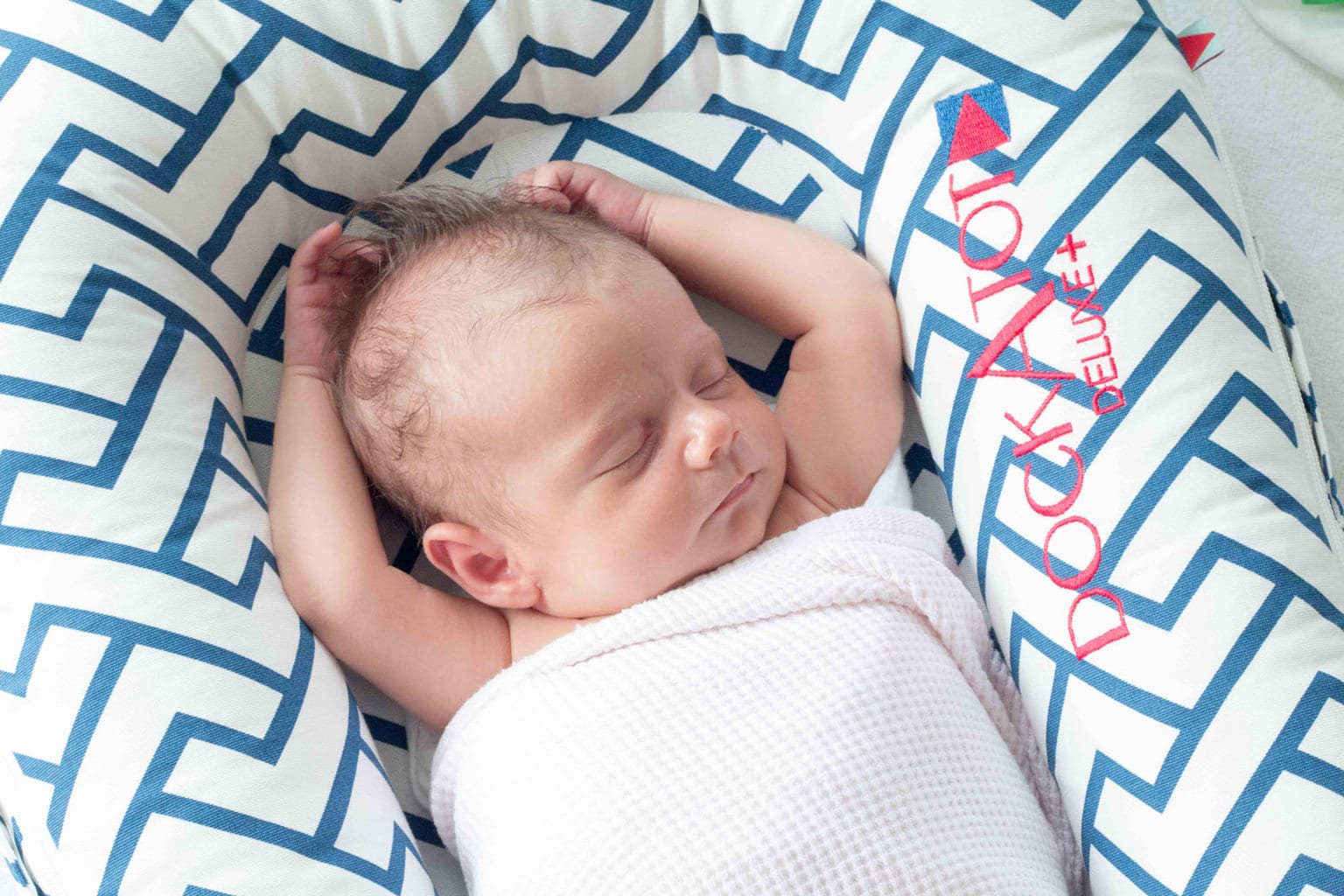 My kids are notoriously bad sleepers, so when I had Brooke, I did not expecxft to get several hour long stretches of sleep before she was 12 weeks–I mean, Jack still was waking up every hour and a half at six months! But, so far (it's only been three weeks), she has been my best sleeper yet! She even went five hours one night, and will regularly give me one four hour stretch.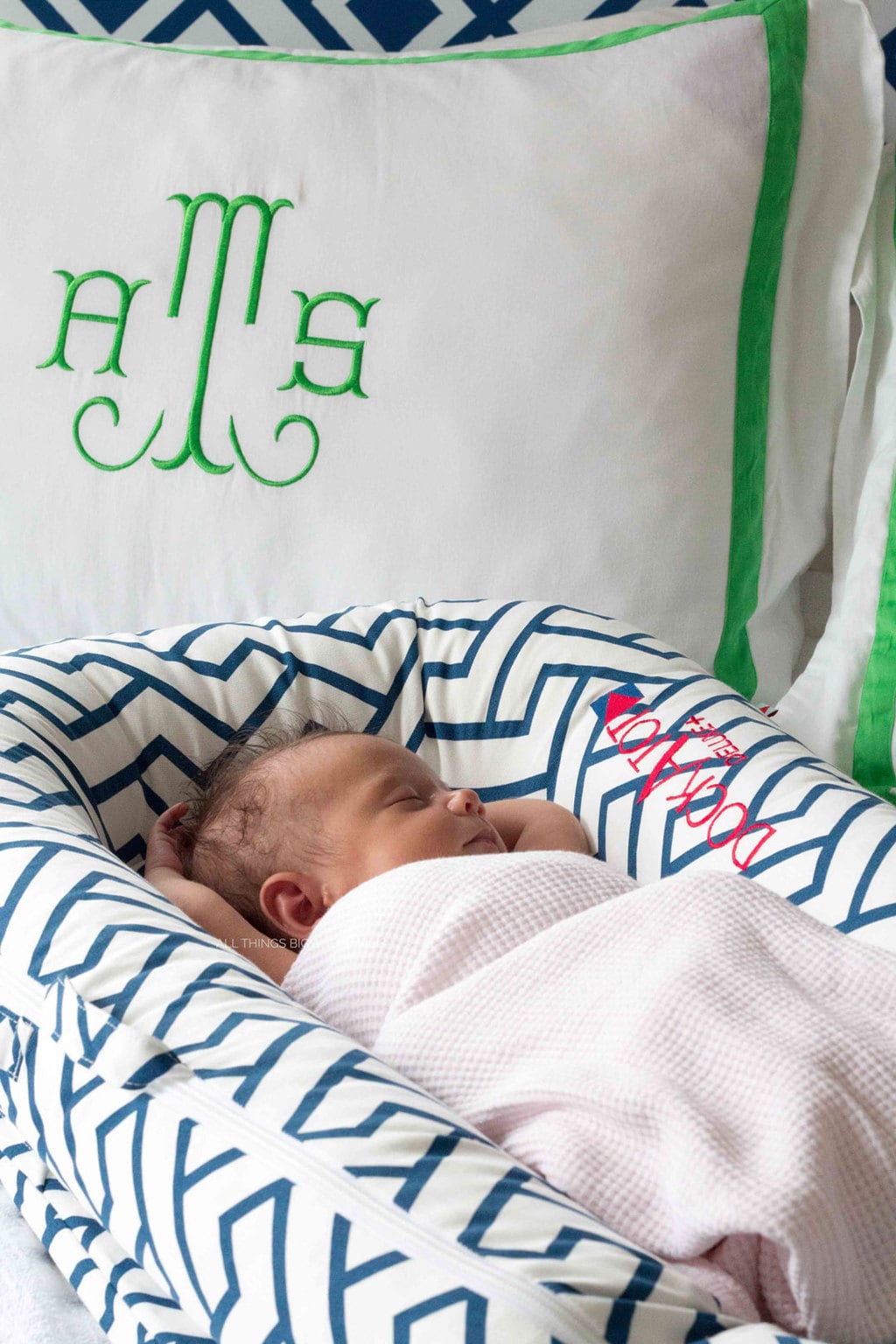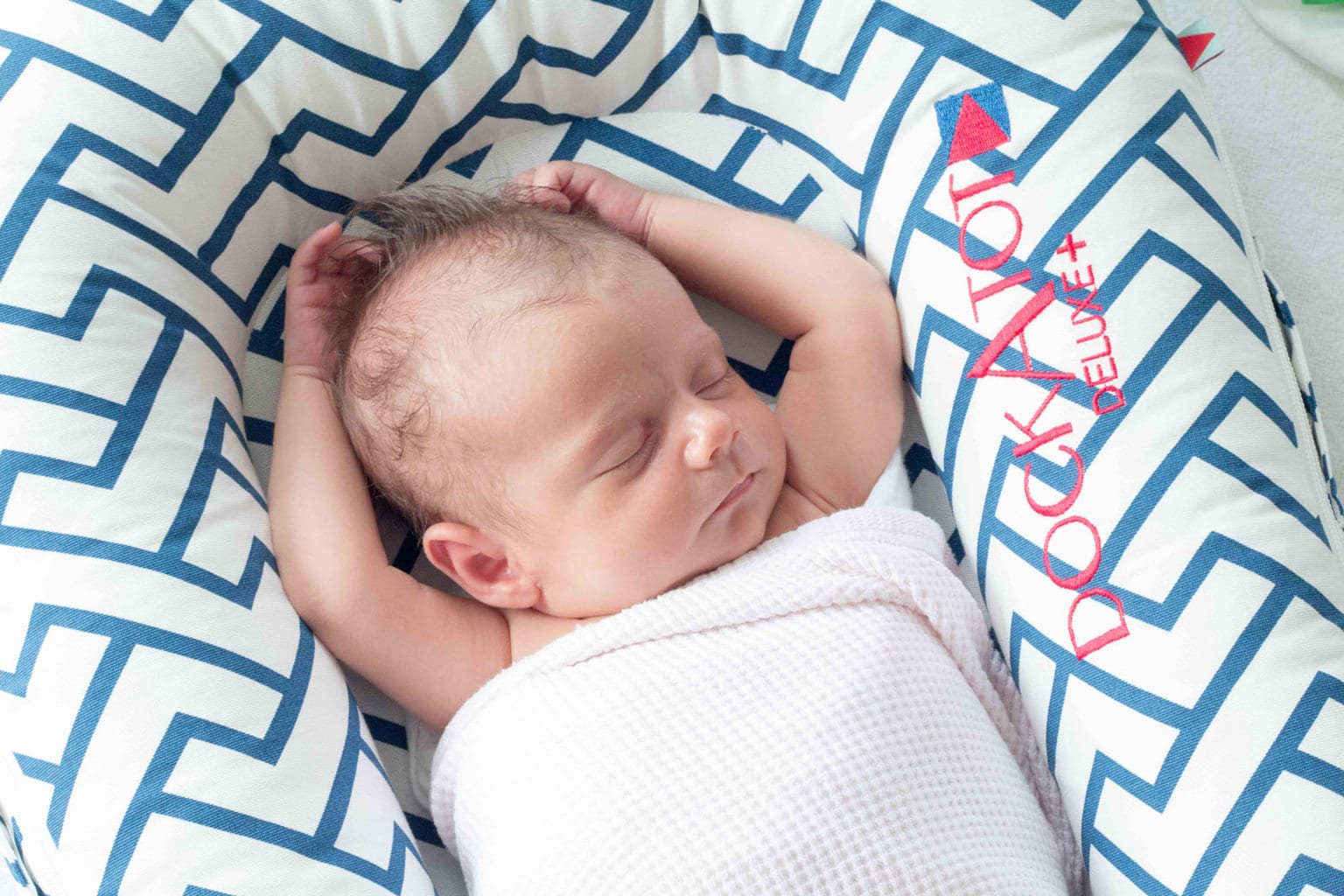 In all honesty, I think some of this is due to her laid back personality. She is a very different baby than my first two. My first, Bowe was much more challenging as a newborn. My second, Jack was a constant nurser (probably one of the reasons why he gained over a pound a week!) But Brooke is just content as long as she is fed and changed (keep your fingers crossed for me that it sticks!)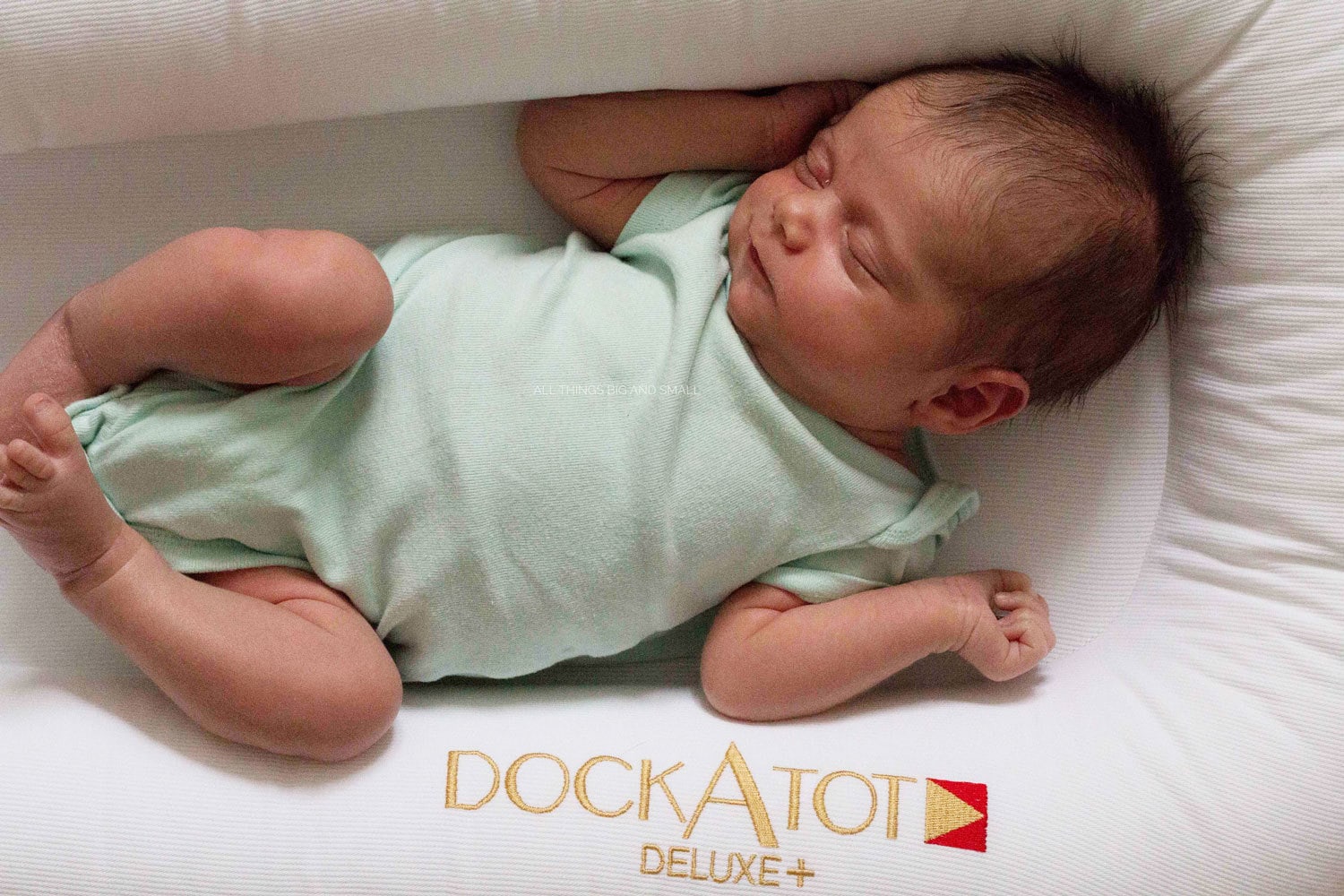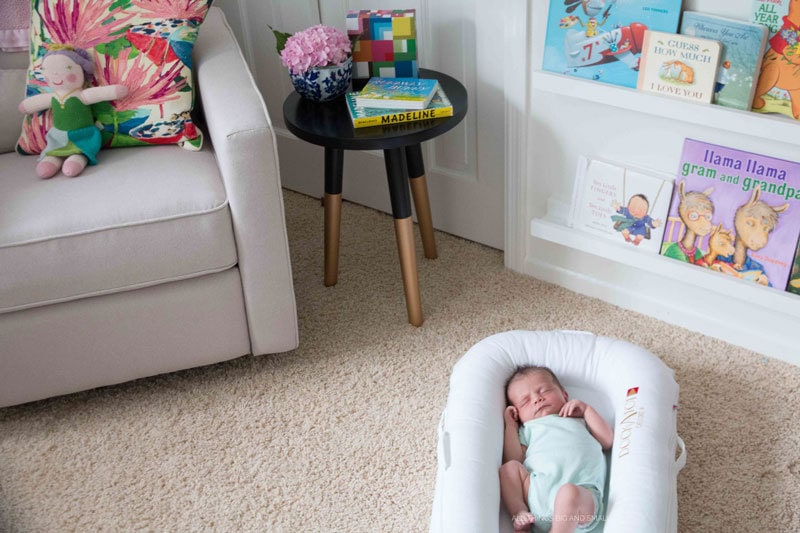 *affiliate links have been used at no cost to you. To see my complete disclosure policy see here.
But, I also know that with our new DockATot, (we didn't have one when Jack or Bowe were born) Brooke is more comfortable than either of my first two babies were. And I am convinced that it is going to help her sleep through the night earlier than the others. The DockATot provides a snug and soothing environment for babies, similar to the womb. Its fabric is OEKO-TEX certified (a test for harmful substances), 100% cotton and all natural, which puts my safety-conscious mind at ease. Plus, the fabrics do not harbor heat–which makes for a hygienic microclimate.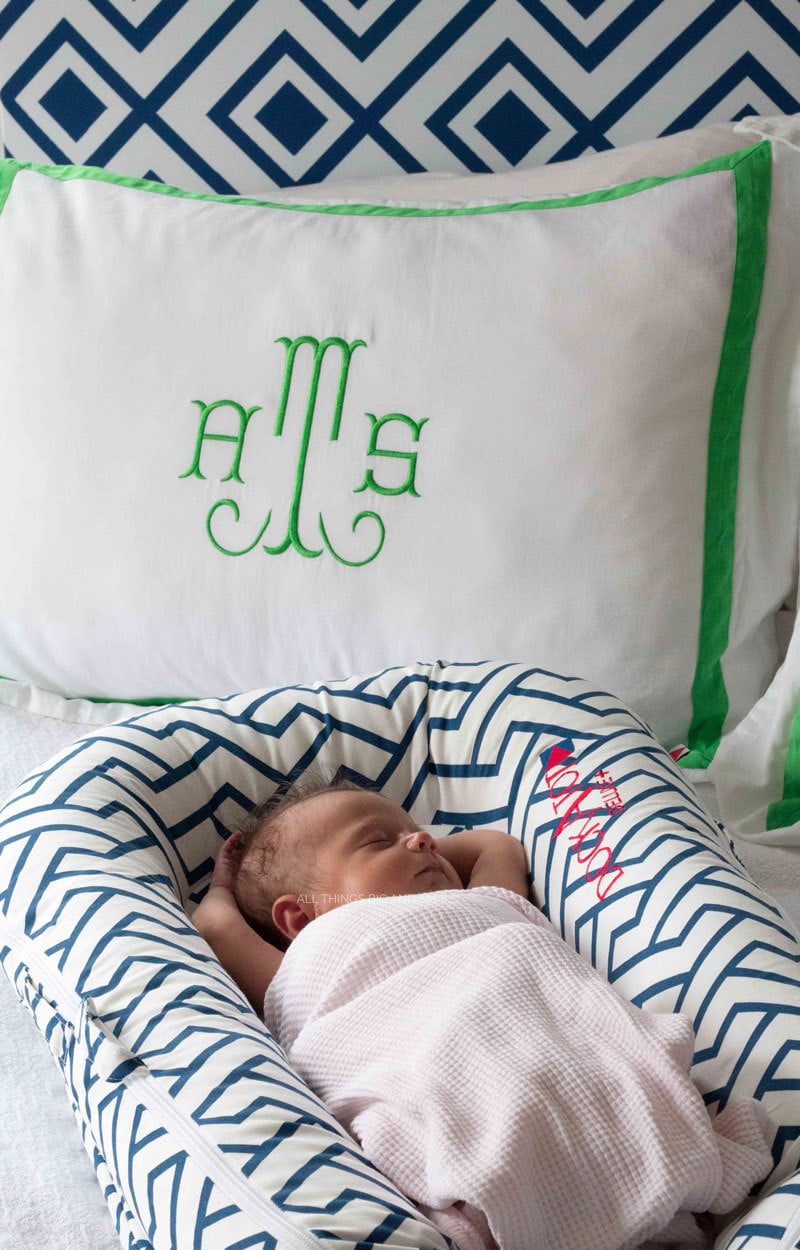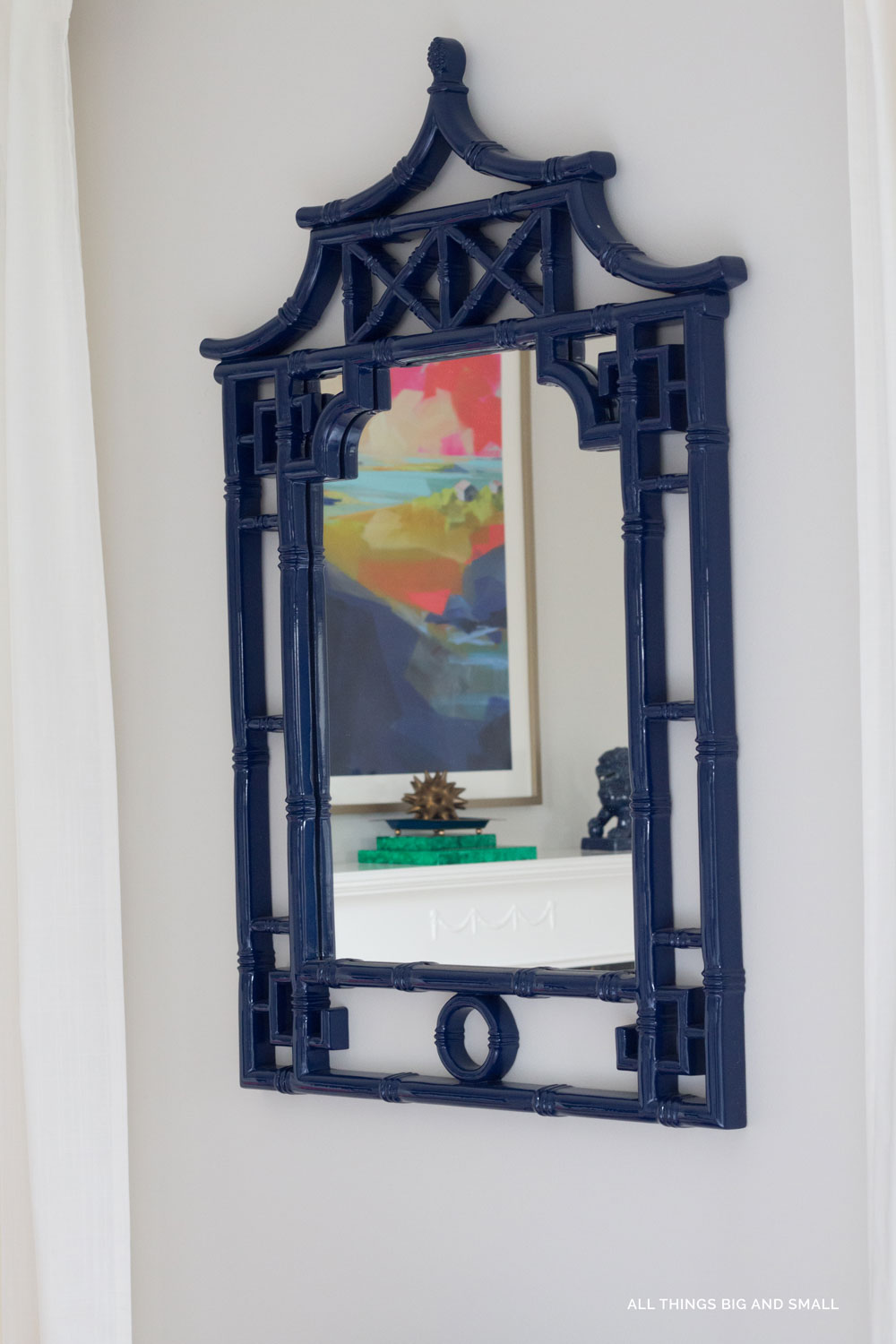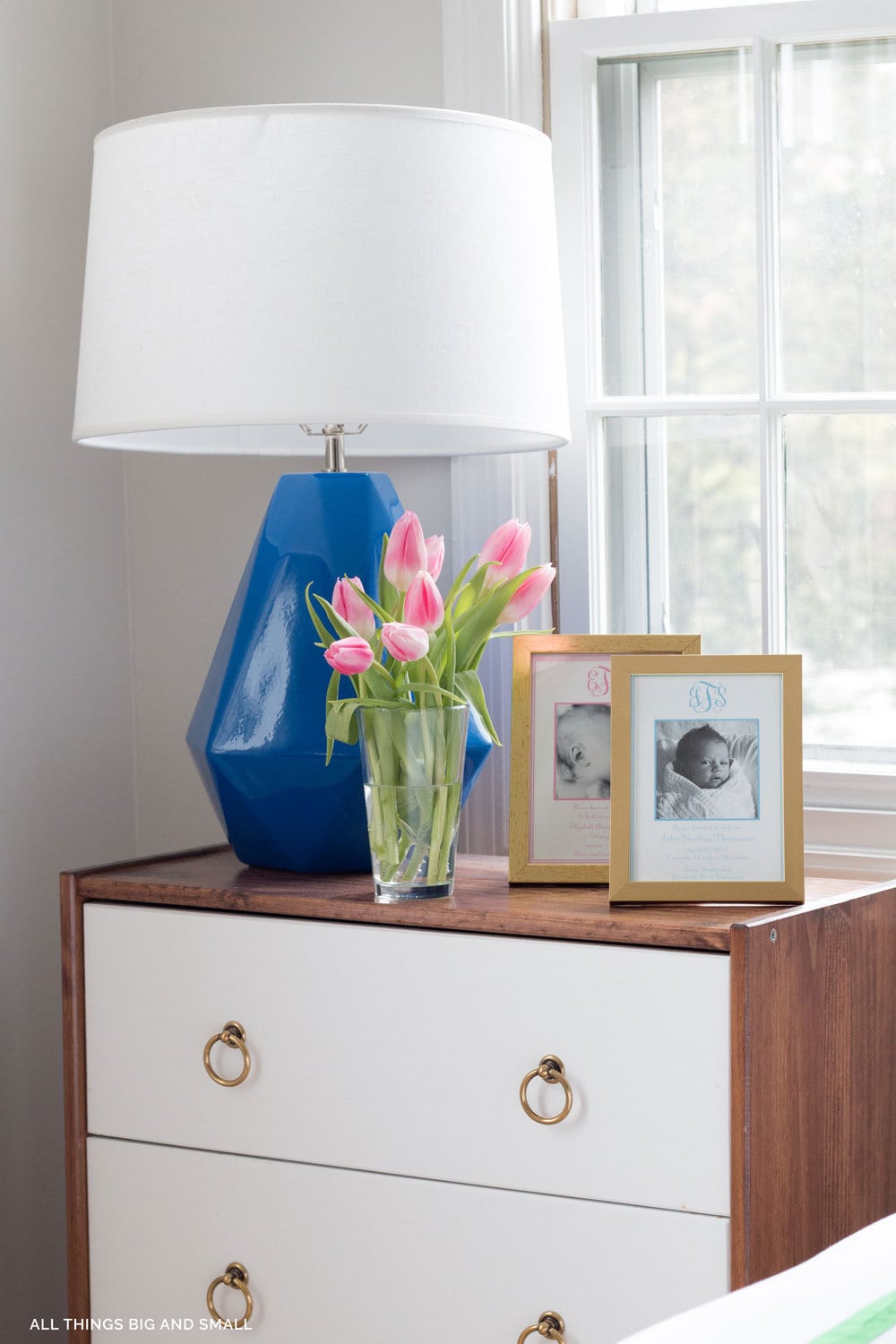 (you can see the blue and white print goes perfectly with our master bedroom decor!)
I love that it provides a safe and stylish multi-functional lounger and co-sleeper for the baby. Unlike other products on the market, she is completely horizontal–allowing her head to move from side to side. Plus, it's stylish! It fits really well with our decor (see it in our master bedroom above, and our nursery below.)
Right now, as Brooke mostly just sleeps (probably 21 hours out of the day), we are using it as a co-sleeper/ lounger. I love to have her right next to me while I work on blog posts late at night, and during the afternoon while Jack naps. And for the first two weeks we used it as a co-sleeper. Only this past week did we move her into the nursery.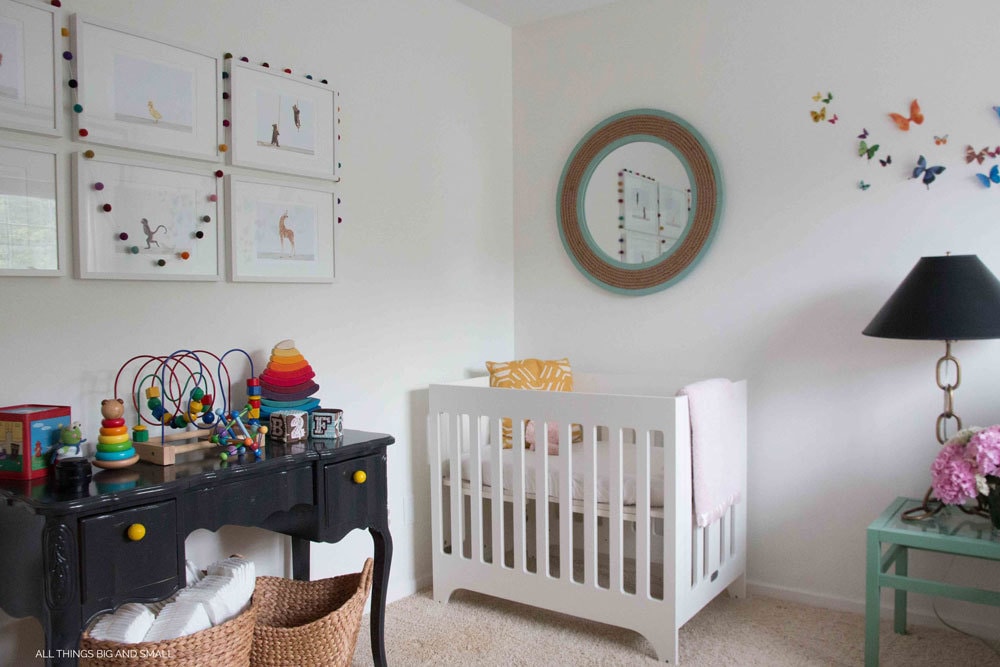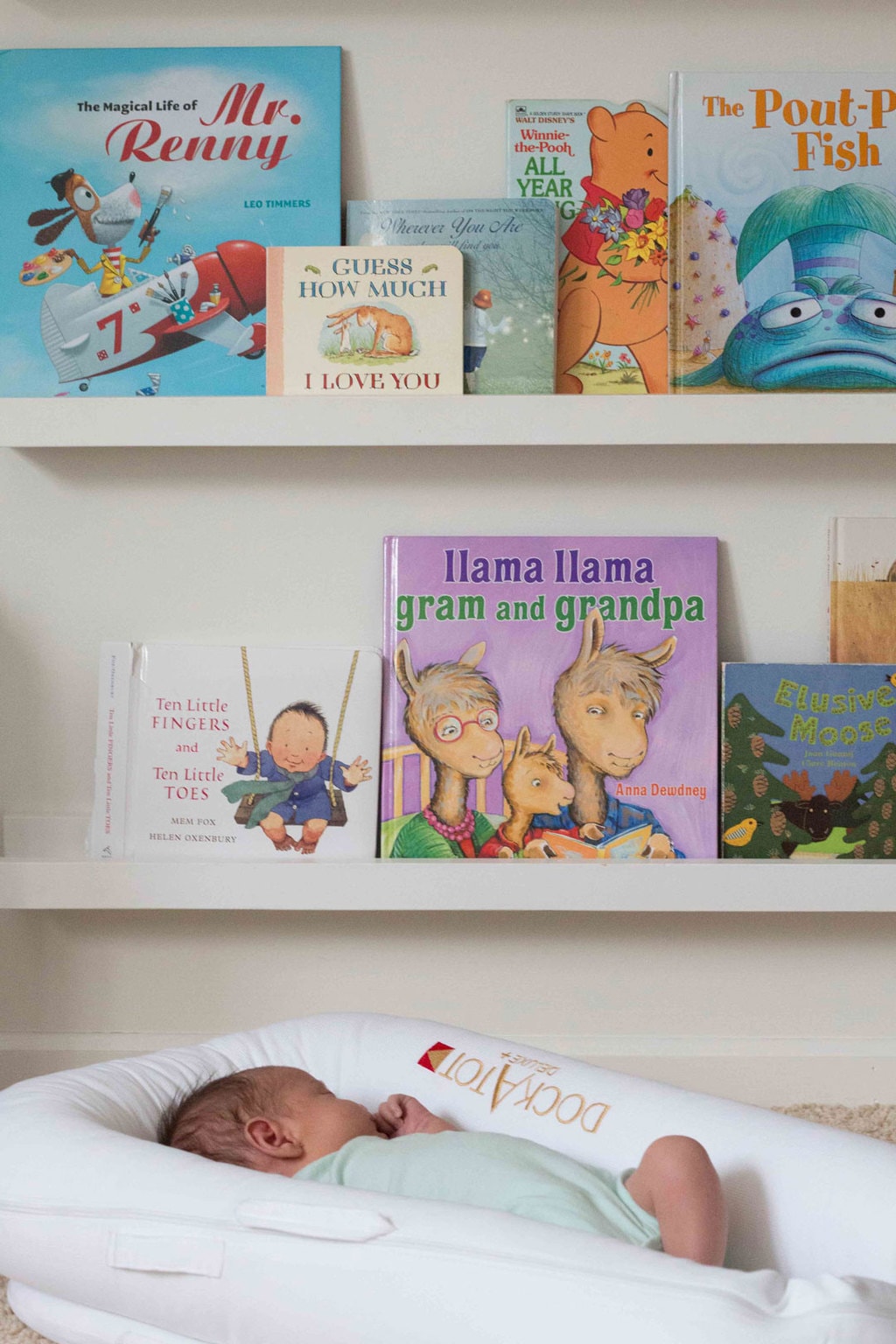 Even though she is mostly asleep, when she is awake, I attach the toy arch and toy set. She loves looking at the black and white shapes, and the older kids have loved naming the animals. When she gets a little bigger, I know we will use it a lot for supervised tummy time.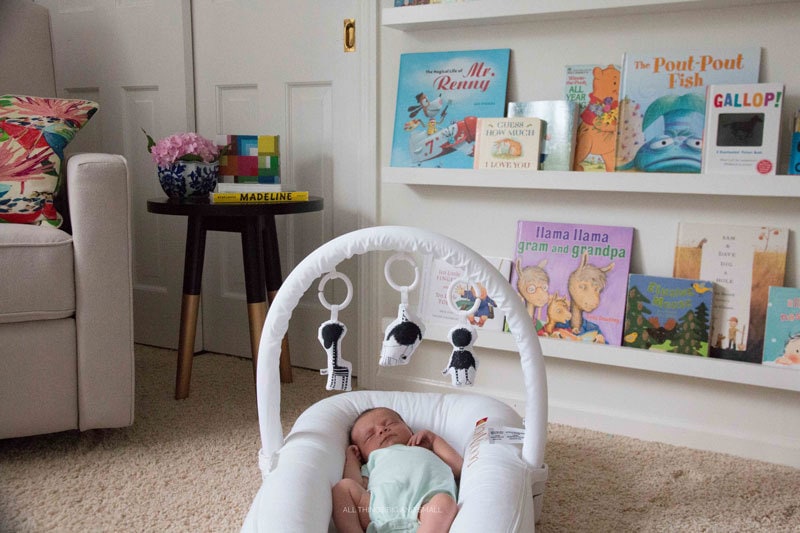 There are two sizes of DockATots–we have the Deluxe+ which is suitable for kids 0-8 months. The Grand is for kids 9-36 months, and it's perfect for toddler bed transitions. The toy arch and toy set attaches to the Deluxe+. We also have a travel bag so we can easily transport the DockATot when we travel. It is super light, so I can also easily move it around the house and from room-to-room. I would highly recommend getting an extra cover if you can because my kids tend to spit-up and make messes! On day two of using it, we had to strip it and wash the cover (thankfully, we have an extra so we just put it on.) Thankfully, its very easy to machine-wash the covers!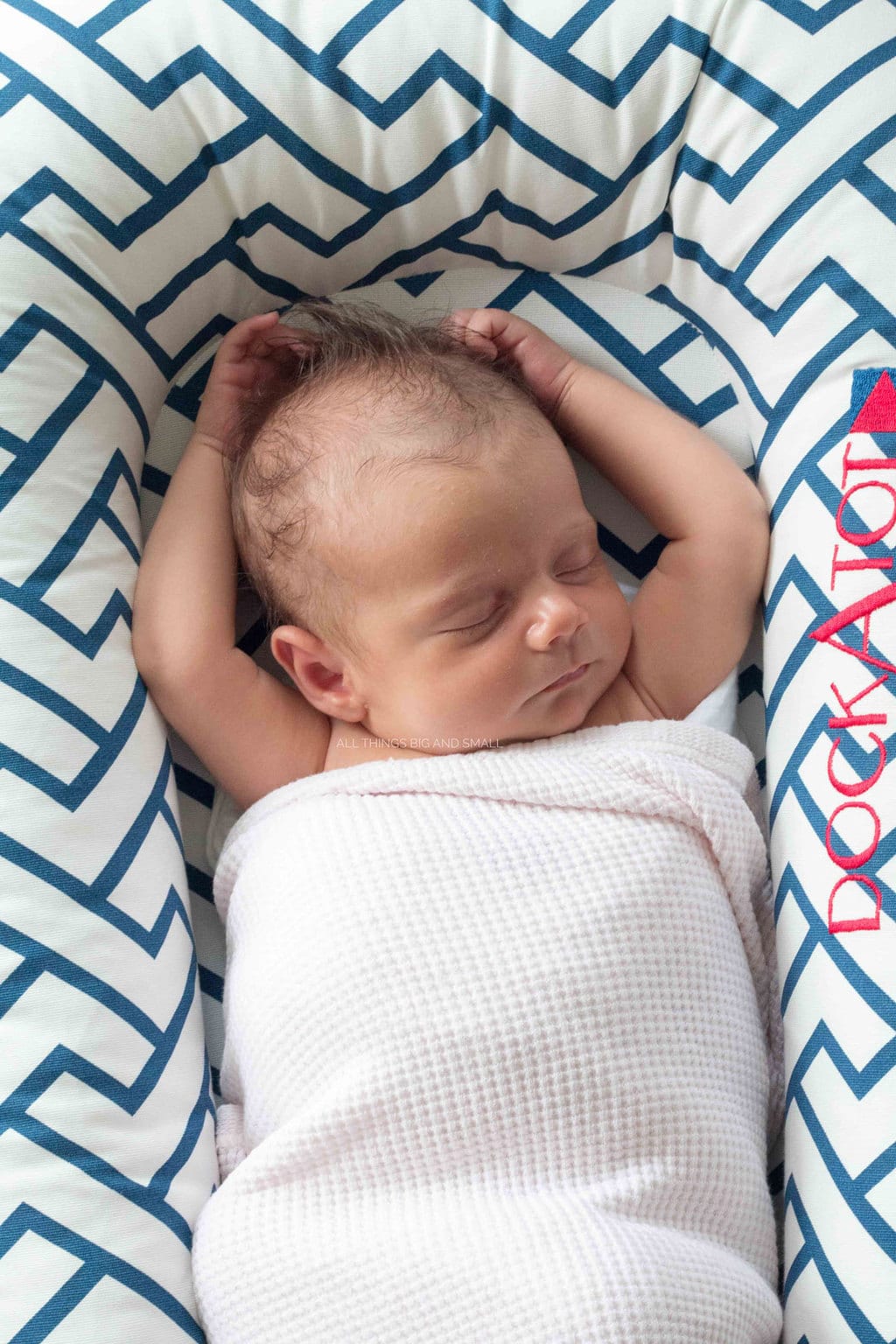 Like I said earlier, I know that Brooke is going to be my earliest sleeper through the night thanks in part to this! Of course, we are still practicing other safe sleep practices like using swaddles, soothing white noise makers, and dark rooms which all help. But, I know that this soft yet firm womb-like sleep lounger has been great in helping her stay asleep for longer periods of time–and what parent doesn't want more sleep earlier? Plus, it is really stylish so it's perfect for design-conscious parents! So tell me, what helped your kids sleep through the night? At what age did they start? Do you have a DockATot? Save $10 off your DockATot by using this link!