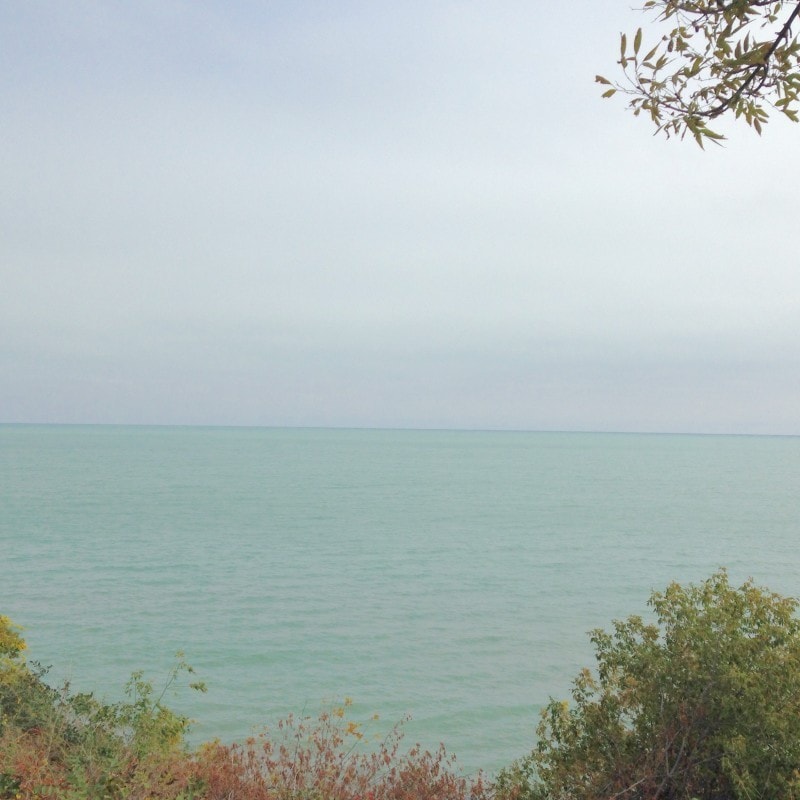 So you get me twice today! I wanted to swing in and give you my five favorites from the week! Make sure to check out our hallway reveal as well! Isn't that picture of Lake Michigan pretty? I snapped it on the way home from picking up Bowe from preschool this week. It was an ugly overcast day and I was feeling so blah but when I saw the lake, it made me feel so much better!
ONE// We Cut the Cable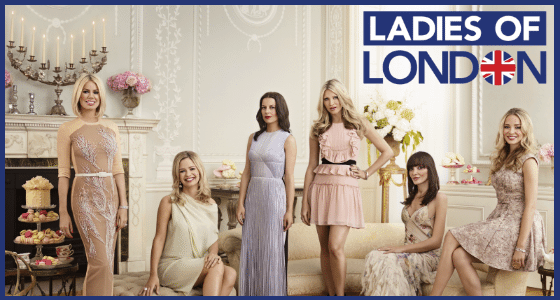 Yep, after spending an hour on the phone with AT&T we decided to cut it after our bill went up 80%. Even after haggling with them for 20 minutes, I was done. We don't watch that many shows and the lowest they could give us was probably two to three times what it would cost for us to BUY episode by episode that we wanted on iTunes. And you know what, it was totally liberating when we sent the DVR back in. Our internet bill is 60% of what cable + internet was! My biggest pet peeve with cable companies is that you pay for so many channels that you don't need or want. And you have to pay extra to get HD programing that is free over the airwaves. So I was happy to feel like we had a small victory against them. Obviously, I still watch TV. We plan on doing Hulu for prime time TV recordings, and we have our Fire TV stick that I purchase my Ladies of London shows through. We might eventually get the new Apple TV when it comes out so we can listen to our music on it too, but for now Amazon Prime TV and Netflix have us covered!
TWO// Done with Painting for now
After what has seemed like forever. We finally finished painting the front half of the first floor. In the past three weeks, I have painted the living room, the front hallway, and the dining room. The house feels like a totally different home! I shared our transformation photos on the blog earlier this morning because I didn't want to wait until next week! It is absolutely amazing what a little paint can do. Last weekend, we added a chair rail and picture moulding to the dining room and it looks  awesome!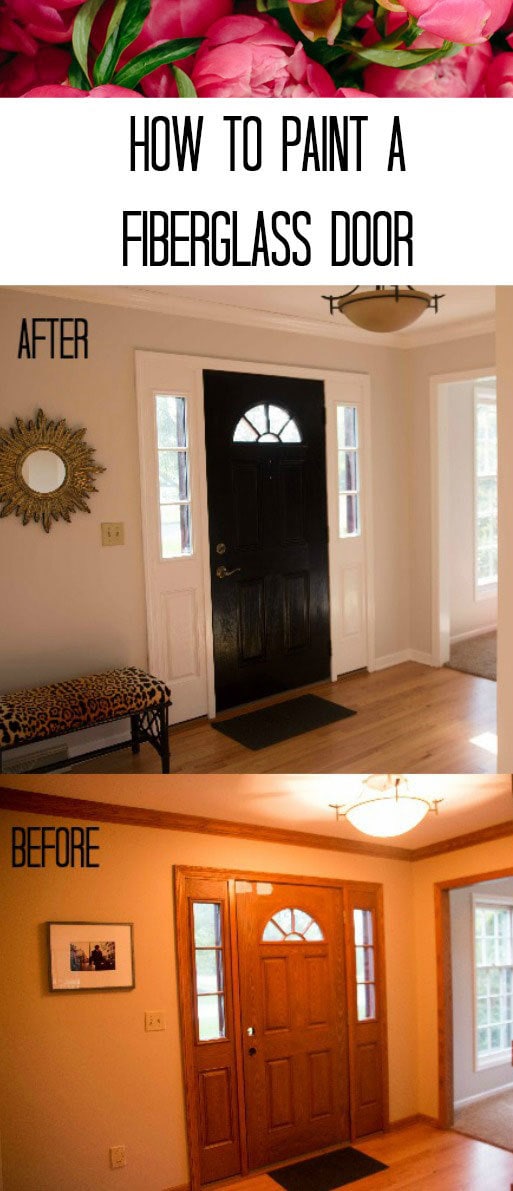 THREE// Roll Over Roll Over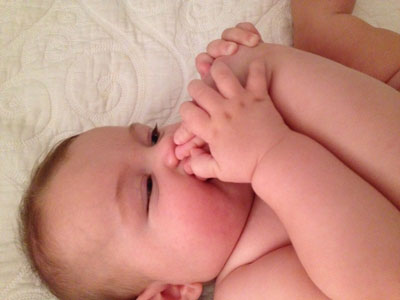 Jack also found his feet this week!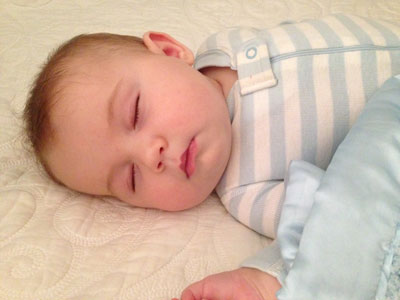 After being nursed to sleep. Pure bliss!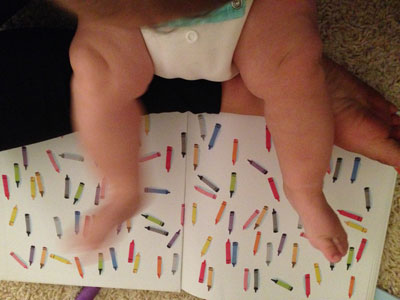 I mean those thighs. I cannot get enough!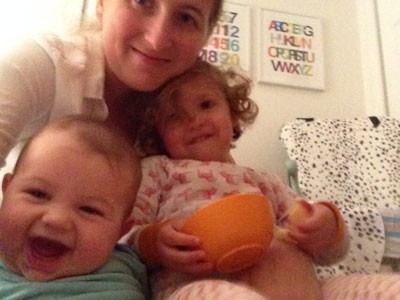 A typical weeknight reading stories in the Nursery
Jack is a roll over monster. Boys are so different than girls! He constantly rolls over and then is super pissed when he can't roll back. The kid just wants to crawl already! Oh, and we had our first temper tantrum. My mother-in-law was holding him and she wouldn't give him her seltzer water. Because you don't give a five month old seltzer water. He didn't understand though. This will be interesting starting solids! I have a feeling it will be totally different from my experience with Bowe.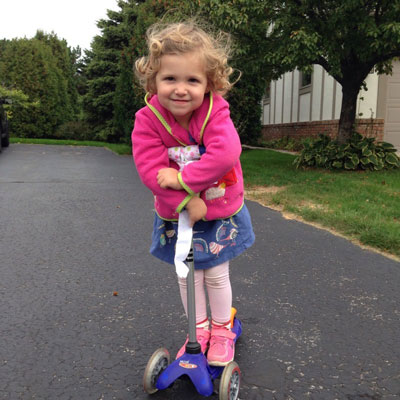 Bowe has started to interact with Jack a lot more which makes my heart swell even bigger. He thinks she is the funniest person ever. Lately, Bowe has been singing and then will bow and say "thank you, thank you!" And he CRACKS UP! Although always kind to him, she hasn't shown that much interest until now. She even brought him a few toys this week so he could play with her.
FOUR// Exercise
I have a confession to make. With all the DIYing (seriously, every spare moment has been painting) I have completely let my exercise regime slip. I need to get back on the saddle and start feeling good about myself these days. I have so much more energy when I am exercising, but I know the first two weeks back are always rough. For some reason, two weeks seems to be the magic number for me when workouts become a little easier. I am going to start doing Tone It Up again because all of their workouts I can do at home.
FIVE// Fall Stuff
I am the worst fall blogger. There is no beautiful fall home tour in this house (although there are freshly painted walls :). And although it is Bowe's first field trip ever (to a pumpkin patch today) I opted not to go. Is that bad? I savor my time when she is at school to get stuff done. Furthermore, there were 36 other adults going for maybe 40 kids so I didn't think they  needed extra help. Hopefully in the next week, we will get to a local pumpkin patch as a family or go apple picking. Maybe then I will redeem myself as a rightful blogger.
Have a wonderful weekend? Do you have any quintessential fall activities planned? Pumpkin beer? Pumpkin patches? Punkin chunking (Modern Family fans?)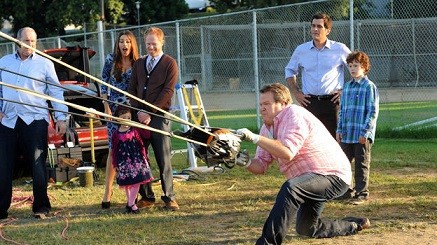 P.S. Don't forget to check out my post on Looks for Less Home Decor and My Favorite Wallet & Clutch on Sale!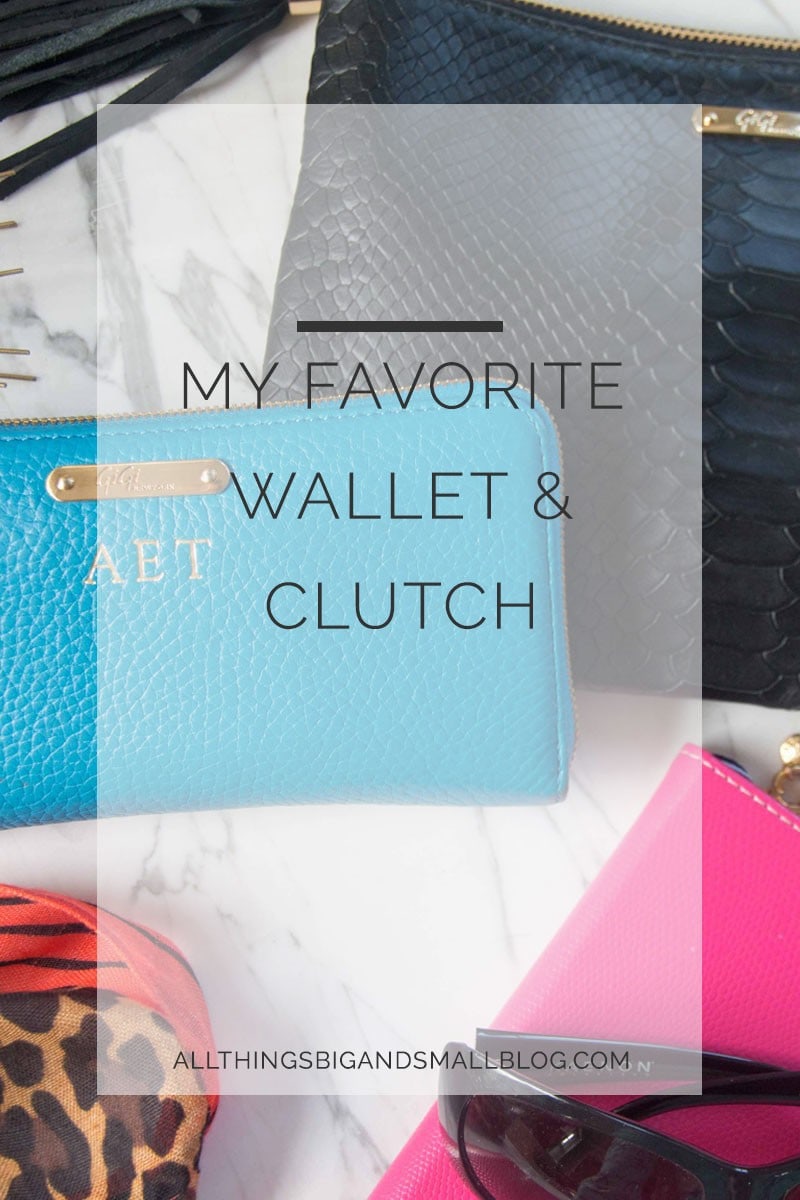 Linking up with Amanda at Meet at The Barre, High Five For Friday with Katie, Tif, Della, Caitlin; Oh Hey Friday with Karli and  Amy; Five on Friday with Liz, Christina, Natasha, and Darci. That Friday Bloghop with Rebecca, Fab Friday Favorites with Lauren,  Friday Favorites with Andrea, Erika, and Narci.