ONE… To Ikea we go?
Today I am off to Chicago with B for a cut & highlight (way overdue) and my 38 week OB appointment (NOT overdue). Technically, I have only seen midwives and will continue to if no complications arise, but it is easier to say OB. I am debating stopping at Ikea for this lamp and some extra Ribba frames. I am thinking it would look nice behind the rocking chair in the nursery. There is no overhead lighting in there (which is nice, but eventually I would like to add something.) And the only light we have in there currently is the little bedside table. I am thinking we are definitely going to have to add at least one more light source, at least by the rocker so I can see at night. Maybe sconces later above the changing table.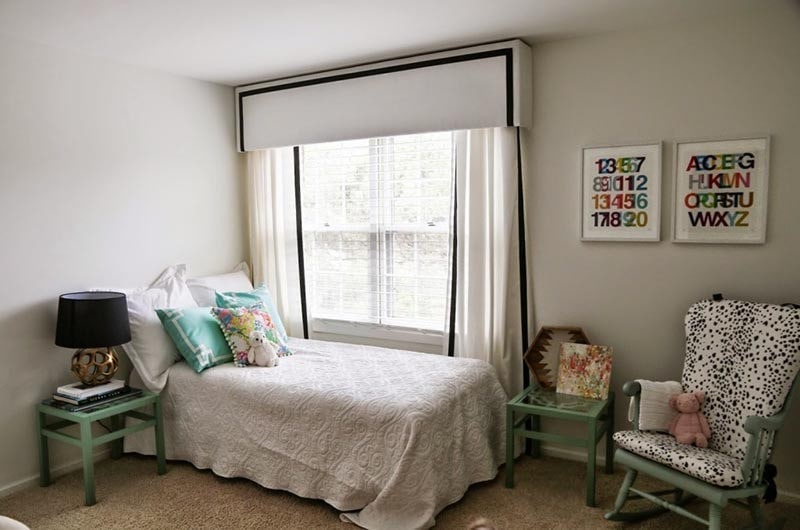 See only lamp above left, and location for floor lamp behind rocker at right.
But do I brave IKEA with a toddler and push my luck for an entire day out? We will leave the house around 8:30, get to Ikea at 10, spend (let's be honest at least 1 hr) there, and then I will drop her off at my mother-in-law's house for lunch/ play/ and nap. She will be staying with them when I go into labor as well, and she is very comfortable there thankfully! Then it is time for me to book it to 1:15 OB appointment, and a 2:45 cut and highlight, then return to mother-in-law's to retrieve B and head home (at least 1.5 hour drive) at rush hour on Friday….hmmm oh, and I want to stop at HomeGoods on the way too because the closest one is 45-55 minutes away from our house and on the way to Chicago. I am still on the hunt for a mirror for the nursery. Not too grown up and not too childish. And one for B's room as well. Ahh, the list goes on forever! Don't have a heart attack E!
TWO…Pregnancy Update
Finally in the home stretch with hospital bags packed. Heartburn every night and tons of Braxton-Hicks contractions plus some more contractions when I overdo it. I feel the baby constantly moving, it likes to party rock I swear!
My only exercise these days besides running after B, cleaning (I swear it is a workout!), and DIYing is what I consider High Intensity Interval Training (aka running to the toilet when the baby steps on my bladder.) The baby is ruthless and demands great speed, and is constantly shortening the intervals 😉 Like Dwight said when Pam was pregnant (on The Office,) "Pam is constantly throwing up because of the pregnancy. If she eats something the fetus doesn't like, she is screwed. It's amazing: a three ounce fetus is calling the shots! It's so bad ass."
Ahh, I miss that show, and this baby did control my morning sickness as well in the trimester but has progressed onto Dictator of the Bladder. Onward and upward in titles!
THREE… Amazing Idea or Lunacy?
Birth announcements. Since we obviously do not know the birthday of the baby, or the gender, we can't do much in terms of planning or getting birth announcements printed. I know which ones I want, both for a girl or a boy but cannot order them because of aforementioned problems. Which got me to thinking, why don't they have a two-part shipment one of the envelopes and one of the birth announcements. It may sound crazy, but that way, you could pre-address all of the envelopes when you are still sleeping mostly regular hours before the newborn comes. We did invest in a self-inking stamp, and I am overly excited about using it! Are you with me of am I completely insane? Both are equally likely options at this point in the game.
FOUR… Toddler Teething and Tricky Vegetables
B looking out from our yard. Of course with fairy wings on (we had to leave the tutu inside.)
FIVE… What I'm Reading
This week, I have linked up with a bunch of amazing women, so make sure to check out their blogs and the rest of the link up parties!  The Diary of a Real Housewife,  Meet @ The Barre, Five on Friday at Carolina Charm,  Friday Favorites at Momfessionals, and Oh Hey Friday with September Farm, High Five for Friday with a Cup of Tea