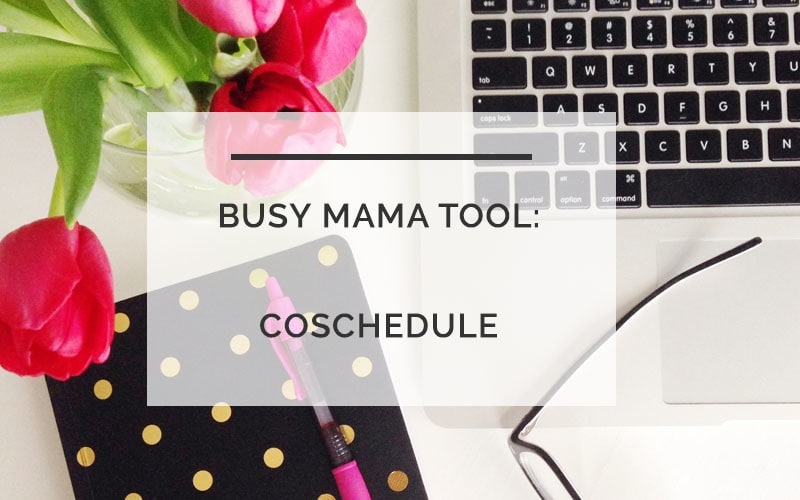 As a a busy mom and a blogger, it's incredibly hard to always remember what you were planning on writing about when you sit down at your desk. I don't know how many times I have been bursting with ideas all day to write about, and then when I finally get to sit and write at 9 PM, I am staring at a blank page wondering what to write about. Well, today's I want to talk about a tool that I have been using that has been really helpful with not only helping me plan and write blog posts; but, also it helps me remember to publicize each post on social media! Coschedule is a productivity tool that helps me organize my editorial calendar, and my social media outreach all from my WordPress dashboard! No more going to each social media site separately to upload each post headline and image. I know I have mentioned that lately I've been trying to get better organized to increase my productivity, and this has been key!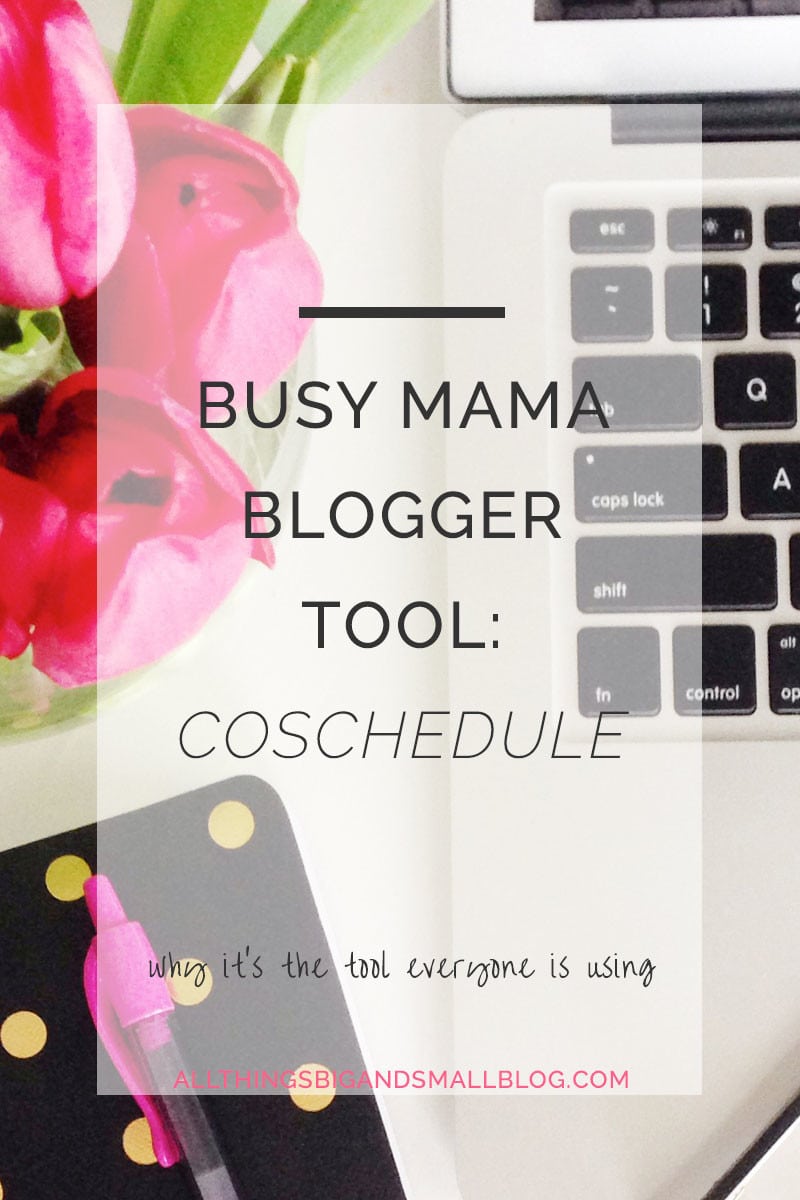 I first heard about Coschedule from a Smart Passive Income podcast with the founder, Garrett Moon. I was listening to the podcast while painting, which is something I often do to help pass the time of doing four plus coats of paint. I was intrigued by the ability to not only plan out your posts, but to simply create all your social media messages from inside WordPress. When you scroll down to the bottom of the page in WP on your post, you see the Coschedule calendar, like this.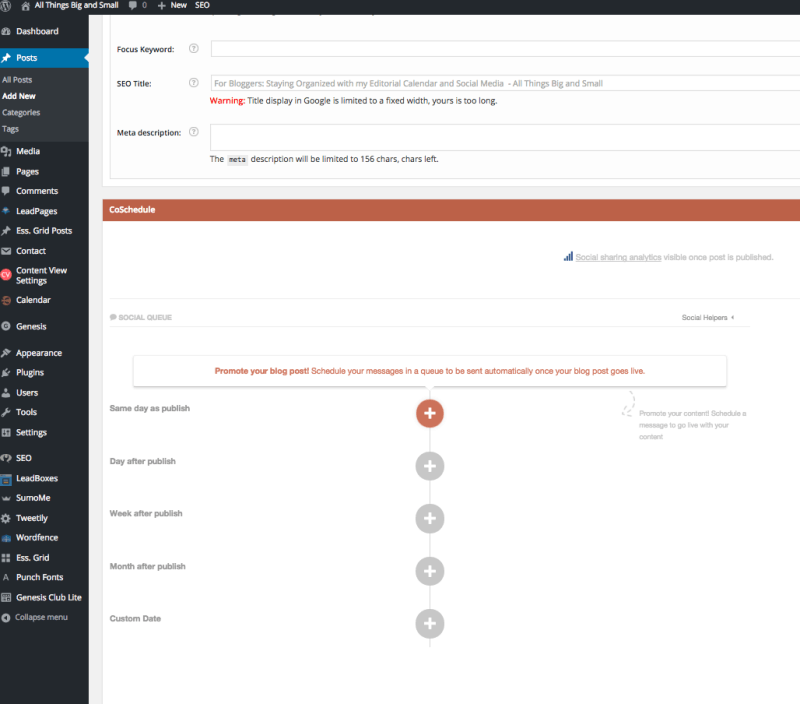 To add a post, simply click the + sign and select which account you want to post to. Below, you can see my post for my Facebook Page as well as a Tweet.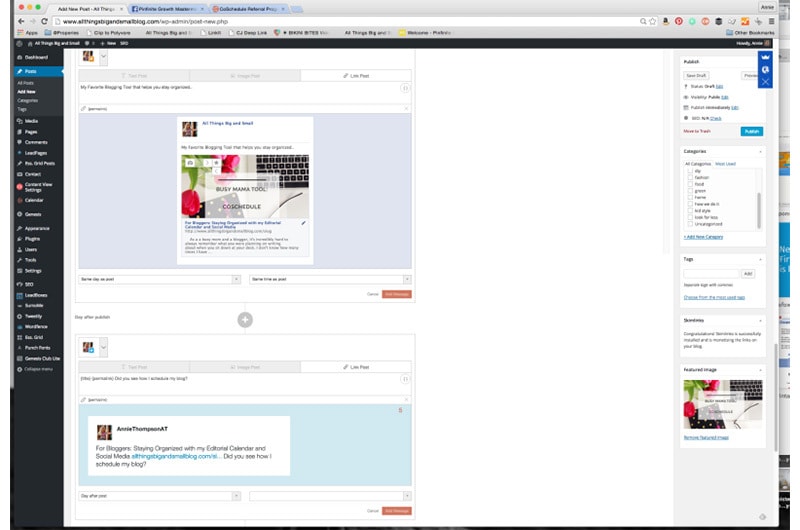 Coschedule reminds you to post multiple times on each platform, and gives you options to post day of, the next day, in a week, in a month, or at a custom time. Because only a small percentage of people see each of your social media messages, it is important to repeat it, especially on Twitter. This tool also allows you to decide which type of post you want to make depending on the platform. Generally, I like posting images best along with a title and a message because I respond so much  more to images than just text. I have found that composing my social media messages is much more intuitive using Coschedule in WordPress than composing in other sites like Buffer or even Facebook! It always gives me a share preview so I can see what my message is going to look like. Above I show a picture of the post going to facebook and a tweet going out.
Another thing I love that Coschedule does is shows me what my most popular posts have been, how many times they've been shared, and how month looks. Below, you can see that my most popular post has been How to Paint a Fiberglass Door. I guess a lot of people have ugly front doors like me! This helps me visualize what content is doing well, and what my audience likes.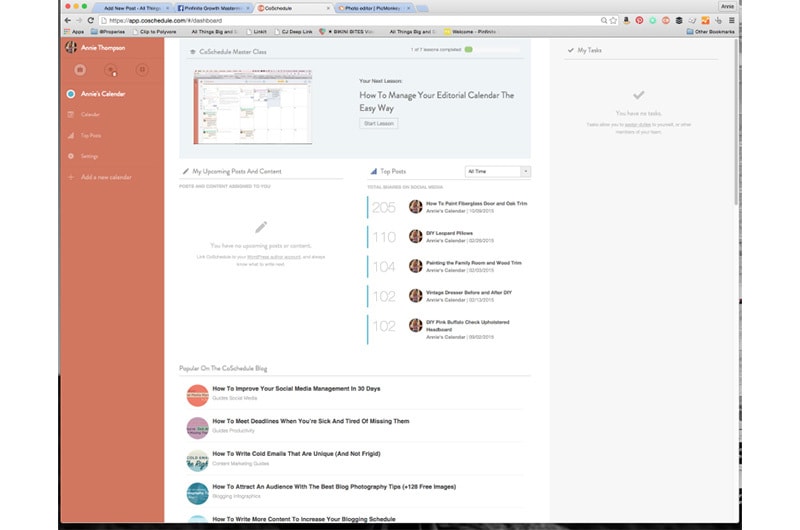 You can also look at your Editorial Calendar as a month. You can see that most of the time, my posts are on Tuesdays, Wednesdays, Thursdays, and Fridays. So I need to get better about making sure that I have more social media outreach on the other days. This is my past month, but going forward I can drag and drop post ideas and see which days I am promoting which posts.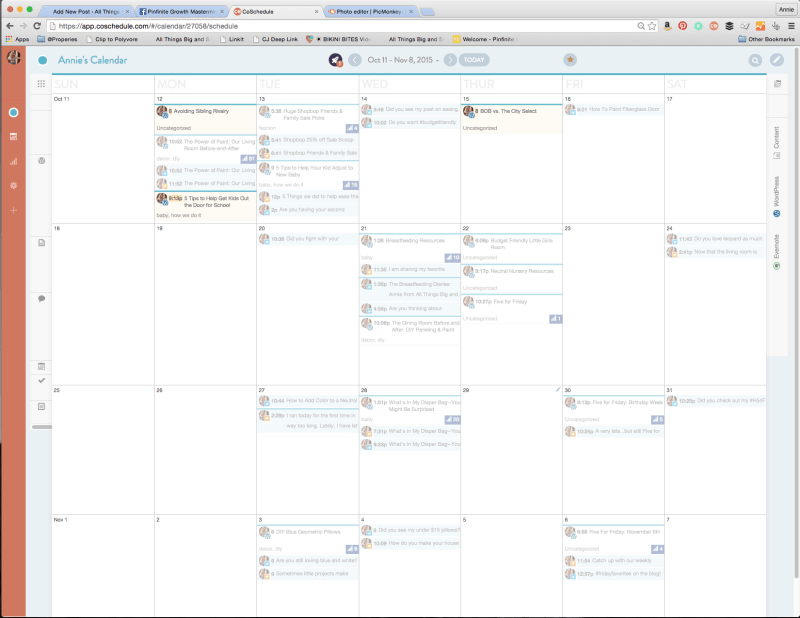 Coschedule integrates with all of my social media profiles, including Buffer, which I use in addition! The ability for these two tools to communicate with each other and sync is amazing!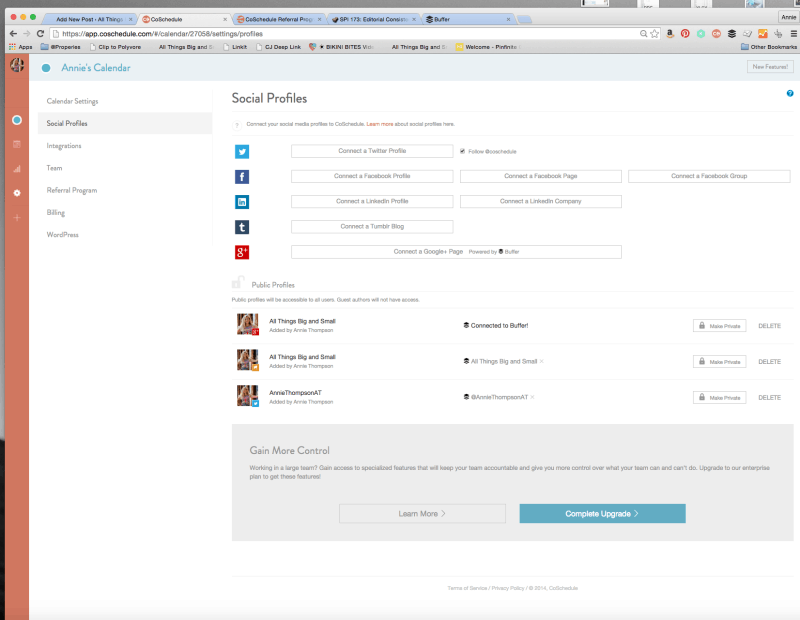 Lucky for you, Coschedule is currently offering a 14 day free trial (this what I did to make sure that I loved it before committing!) Try it out, see how you like it, and keep using it if you do! There is even a tutorial that helps you get the most out of all the features. I absolutely love using it and cannot think of not using it! Because, let's be honest, this busy  mama needs as much help as she can remembering everything! Now, if only Coschedule could help me remember where I put my car keys! I seriously searched for them for 30 minutes the other day, as I was just about to leave. Both kids are in their winter coats, I have my diaper bag ready, and yet, I cannot find the keys. Fortunately, I finally found them in a coat pocket that I had forgotten. Thank goodness for tools like these that keep me sane (or somewhat sane!)
*affiliate links used
Linking up with  Friday Favorites with Andrea, Erika, and Narci!