This shop has been compensated by Collective Bias, Inc. and its advertiser. All opinions are mine alone. #BetterBreakfast #CollectiveBias
How To Get Your Kids to Eat Breakfast when they aren't a "breakfast person:" Little Miss B could not care less about eating breakfast, whereas on the other hand hop out of bed in the morning so I can eat breakfast! Having a kid who just isn't that interested in breakfast has been a bit of a challenge, especially with her going to school five mornings a week. Breakfast is so  important for kids to eat before they go to school–they can't learn on an empty stomach! So today I rounded up three of my TOP TIPS to get your kids to eat breakfast before school–even if they aren't usually breakfast eaters plus, I get to show you a great wholesome breakfast that is packed with nutrition!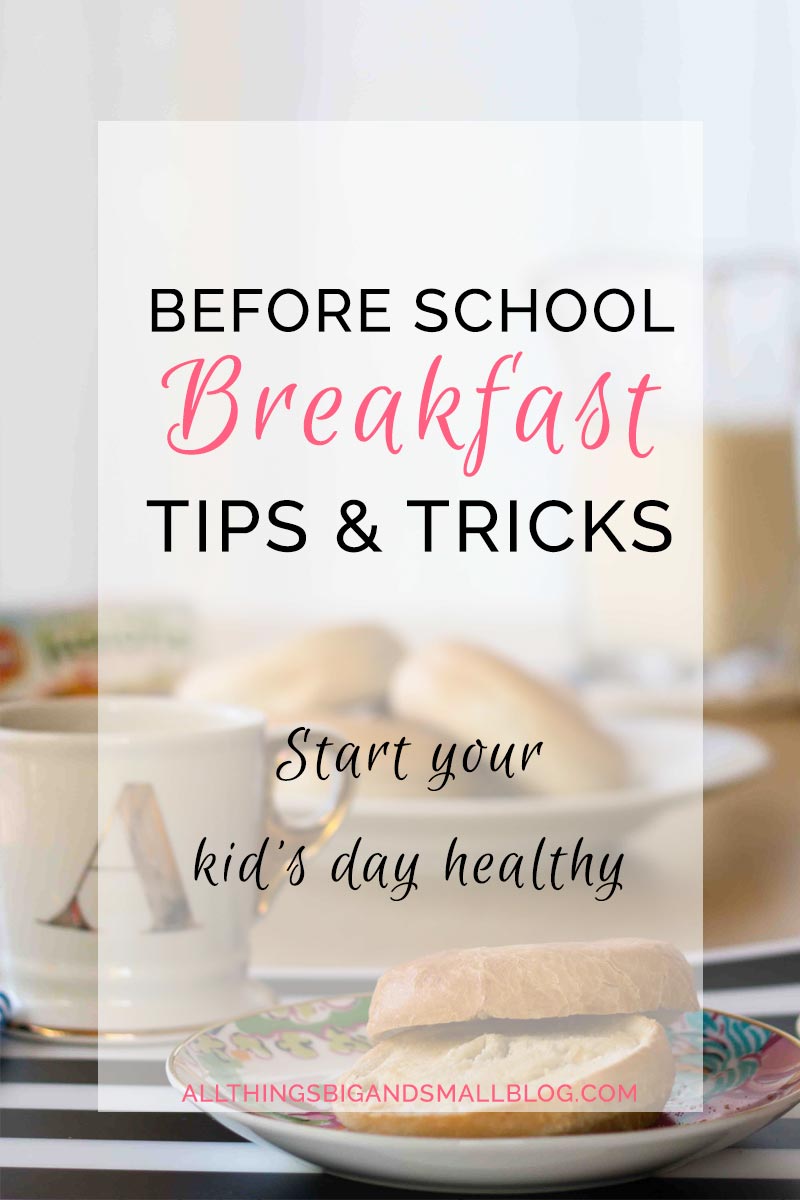 To nurture our kids' growing minds, it is imperative to start the day off on the right foot with a wholesome breakfast, the backbone of which is Great Value Milk (we buy the 2% variety from Walmart). We go through probably three gallons a week of milk, my kids love it so much, and I don't mind paying for it because I know how good milk is for kids. Milk is naturally nutrient rich–its nine essential nutrients, including 8 grams of high-quality protein per 8 oz. serving, ensure that kids have the potential to play, learn, and grow!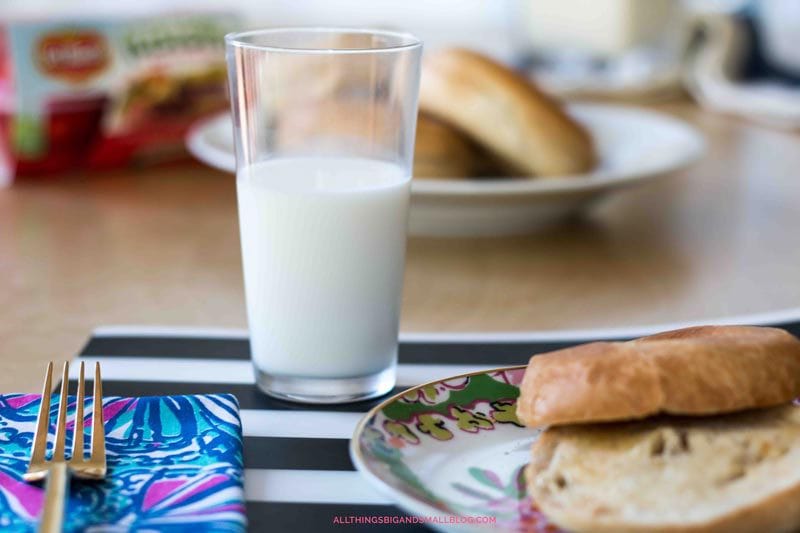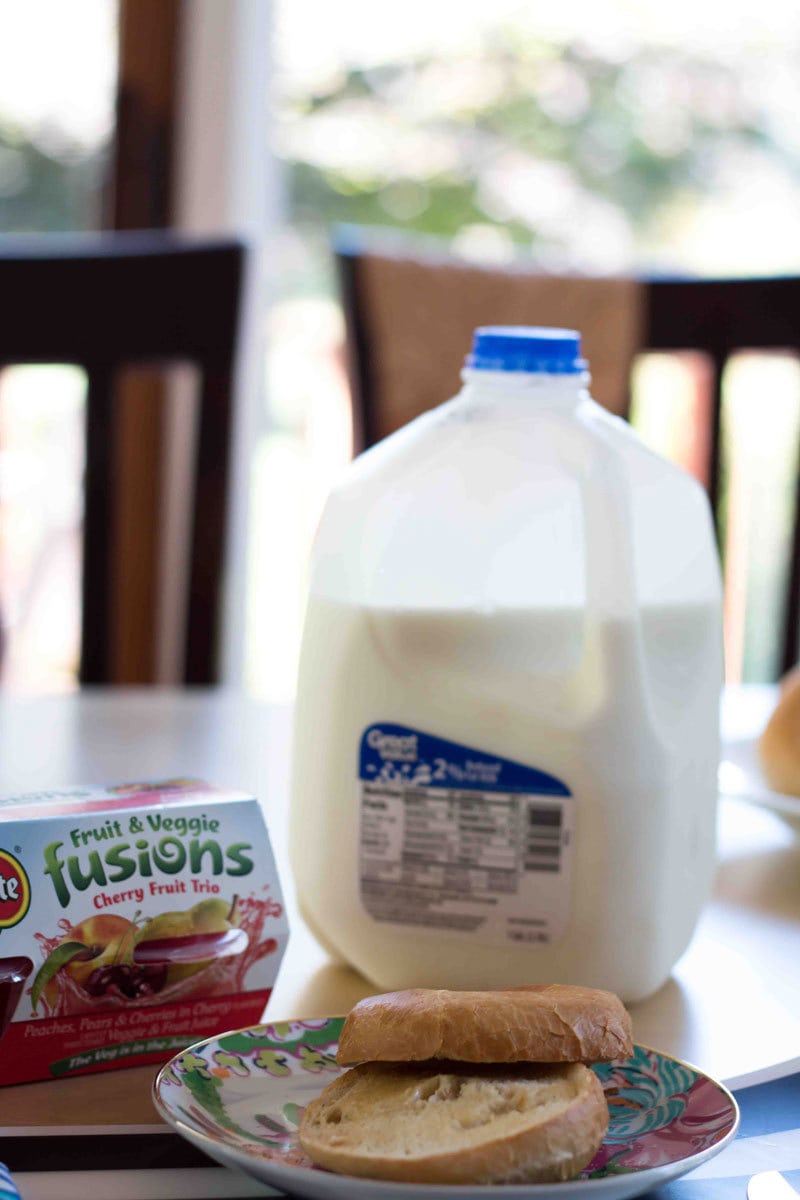 We are incredibly lucky in our family never to have to worry about our kids going hungry, not having enough money for milk, or enough food on the table. However, many kids do not have that luxury. Childhood should be filled with playing, learning and growing; but for many children who face hunger, even basic staples like milk – and the nutrients that help power childhood activities – are missing. Hunger is a real problem. More than 46 million Americans–including 12 million children–rely on Feeding America food banks each and every year. And unfortunately, milk is one of the most request but least donated items–meaning that children are missing our on essential nutrients and high-quality protein. On average, food banks are only able to provide the equivalent of less than one gallon of milk per person per year–we go through one gallon in our family every two days!
That's why I am so excited to partner with The Great American Milk Drive and join in delivering nutrient-rich gallons of milk to hungry children and families who need it most. With this first-of-its-kind initiative, over 14 million servings of milk have been delivered to food banks throughout the United States!

Now, you can help feed a childhood when you shop at Walmart – by purchasing 1 or more of these products, you are helping Feeding America provide nutrient- rich milk to kids and families in need. Visit The Great American Milk Drive to learn more.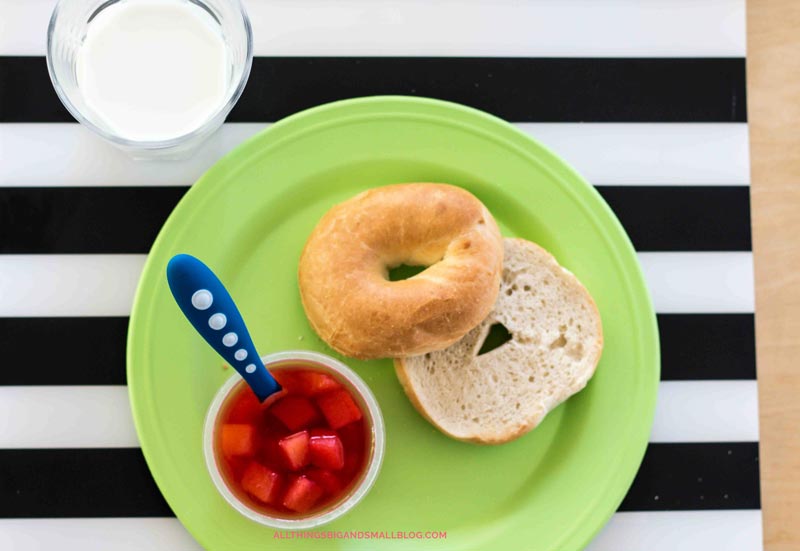 TIPS TO GET KIDS TO EAT BREAKFAST BEFORE SCHOOL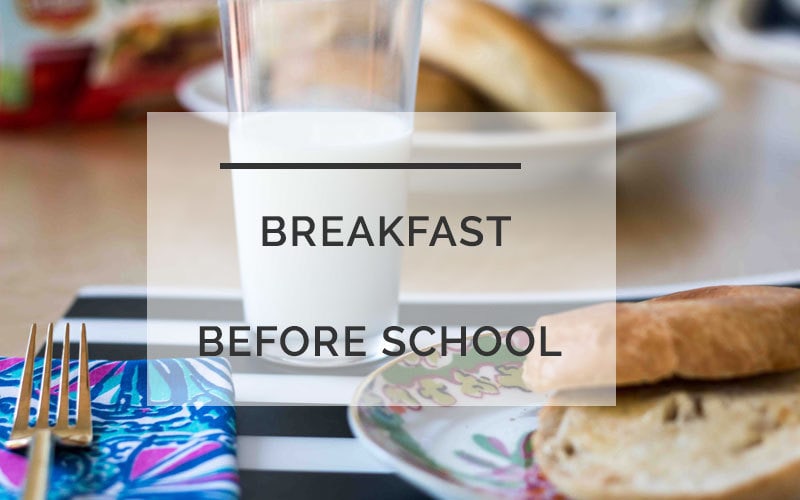 1.) Recruit them to help!
B is now old enough to help me set the table, and Jack is working on it. We use plastic cups for them (BPA free), and stainless steel utensils, so they can easily carry it over from their drawer (which is kid accessible) and set the table. Furthermore, with this wholesome breakfast, B can grab the Lenders' Bagels  and the Del Monte fruit cups out of the fridge.  Involving the kids in preparing breakfast (even when it as simple as opening the refrigerator) gives them a sense of ownership and independence!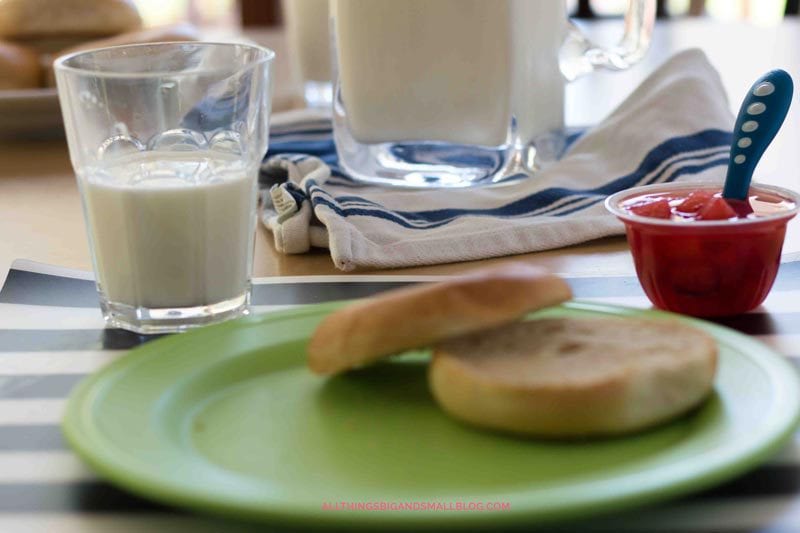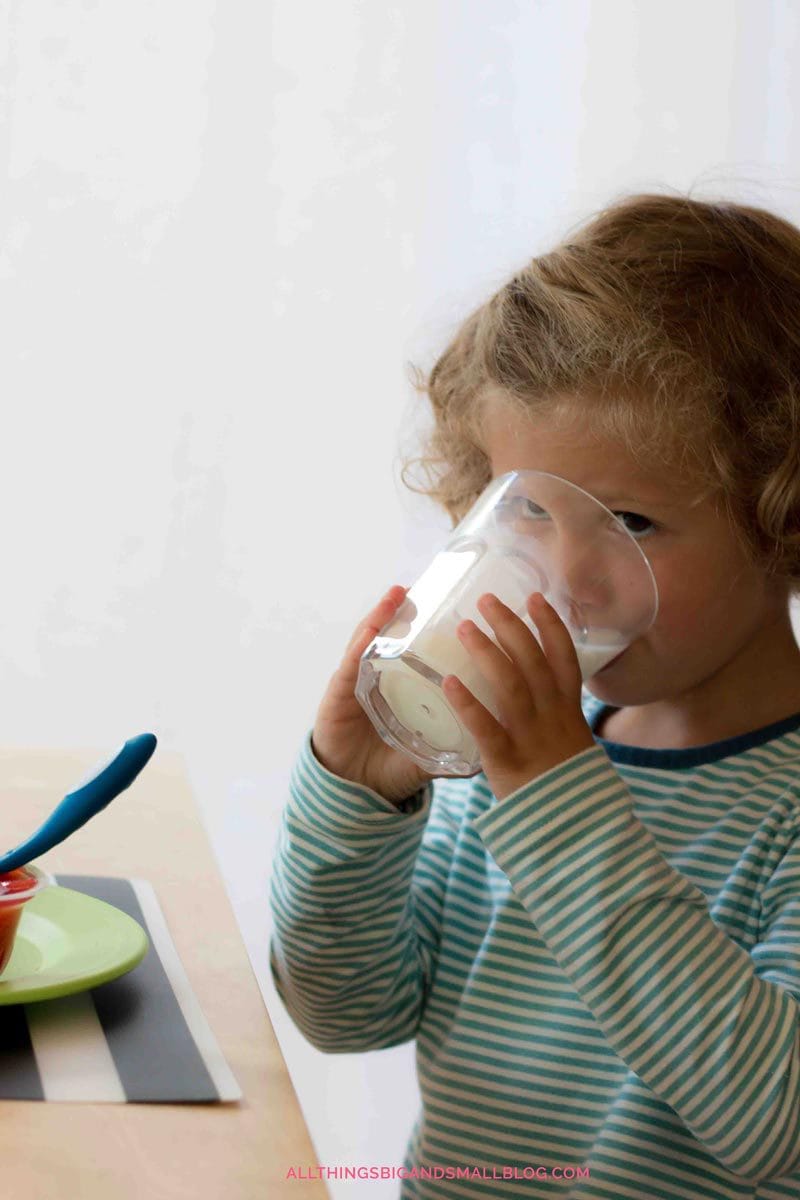 My kids even have to help me pick up the milk at Walmart (I pretend I don't know where it is!)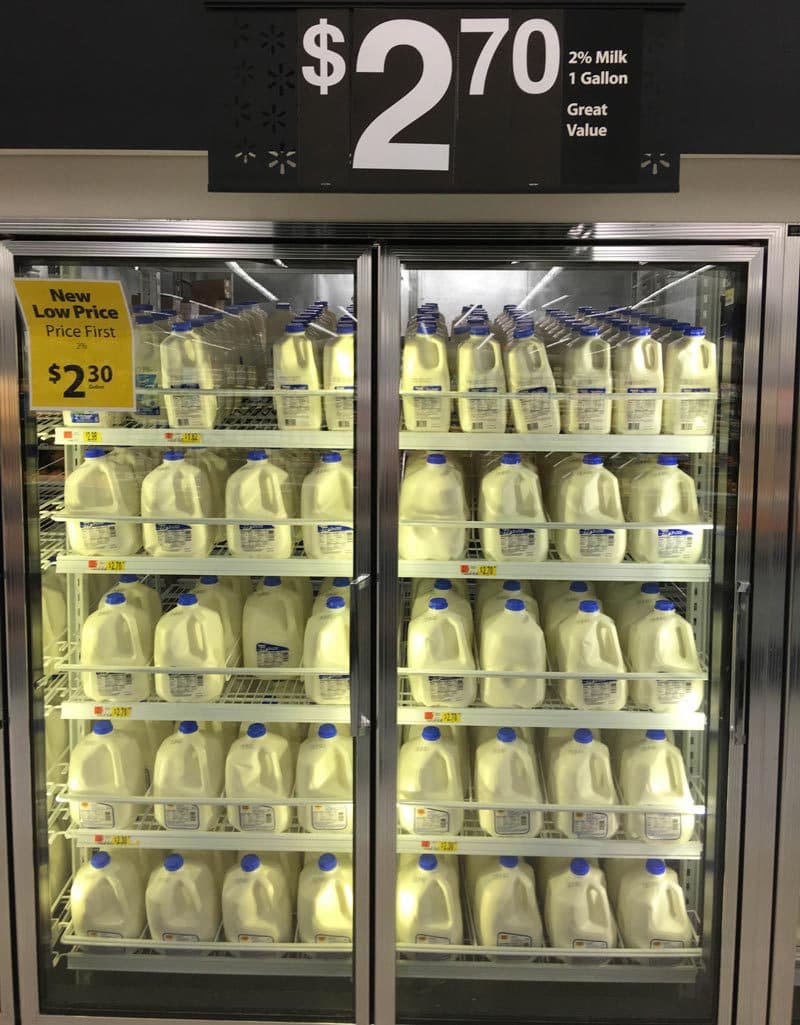 2) Make Milk Front and Center! And KISS!
I let the kids pick out their favorite cups that they will use all day. Then I pour the milk (and sometimes B will pour her own from a mini pitcher) at the table. After breakfast is done, if they have any leftover milk, the cups go back into the fridge. Yep, I said KISS: Keep It Simple Stupid 😉 breakfast in our house doesn't have to be made from scratch everyday! We just focus on what is important and realistic. We are often time-pressed to try to get to school on time, so finding a nutritious and simple breakfast meal is the best! All it takes is pour a glass of milk, grab a bagel, and open a fruit cup and the kids have a complete breakfast! Plus, the Lenders' and Del Monte products have so many flavors, you can let your kids choose! But, the combination is the best–milk, bagels, and fruit cups supply protein, carbohydrates, and Vitamin C–giving them lots of energy to learn and grow at school!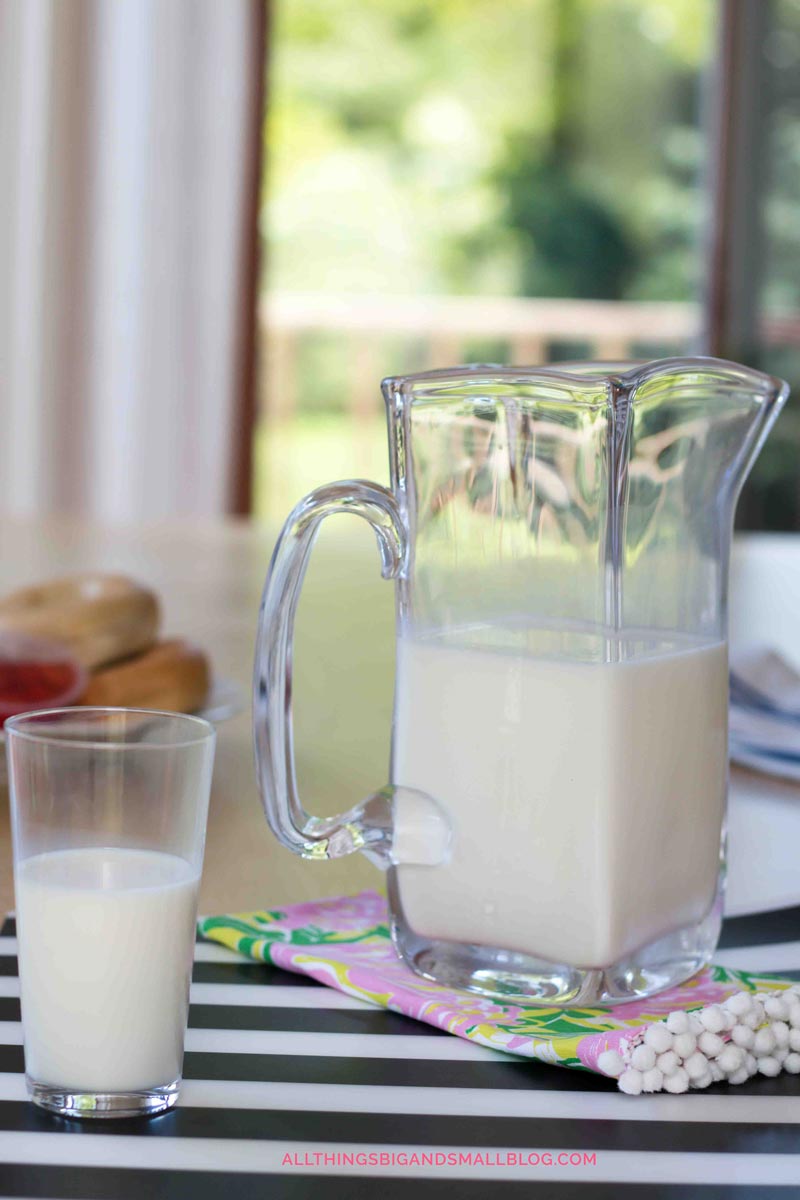 3) Sit Down!
I try to sit down with my kids even for a few minutes in the morning. Even though it is tempting to try to unload the dishwasher and do everything else on my to do list, instead of sitting down, I always try to make a point of eating with them. I drink my coffee and I ask B about what she wants to do that day at school! Also, modeling the behavior that I want them to emulate helps set a good example: I don't want her on her iPhone at the table in ten years! Nor do I want him skipping breakfast! So I eat with them–and I drink up my milk (even if it is in my coffee!)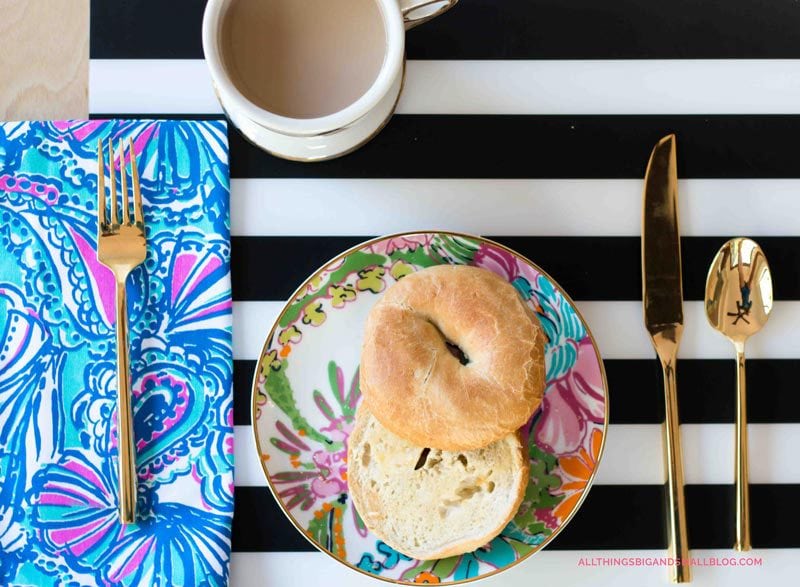 Now, you can help feed a childhood when you shop at Walmart – by purchasing 1 or more of these products, you are helping Feeding America provide nutrient- rich milk to kids and families in need. Visit The Great American Milk Drive to learn more.