*Sorry for the late start! My whole post was lost accidentally so I had to rewrite it this morning! EEEKS!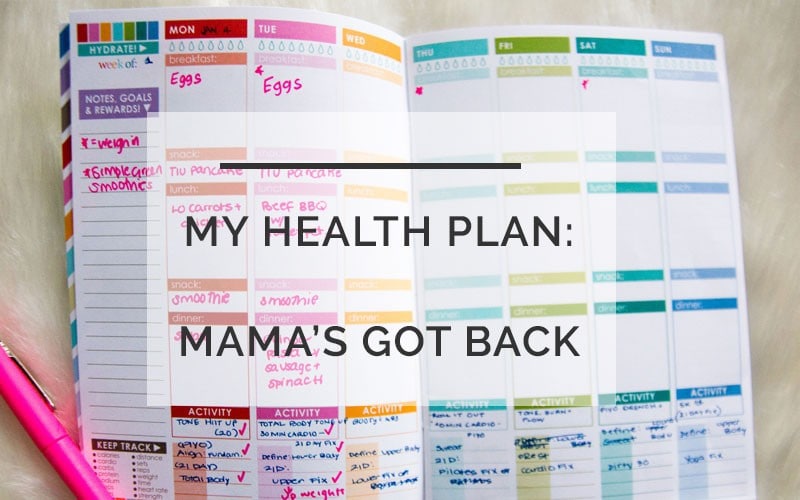 How is everyone doing on their New Year's Resolutions? We are barely one week in (I am on Day 4 of my Fitness Challenge!) and I am still going strong! As I explained on Monday, this year I want to be my healthiest year. I want to feel good about my body again and get in really good shape. It isn't just about losing weight; but, if I set a measurable goal then I have a better way to monitor my progress. For me, a healthy mama is a happy mama. When I am eating healthy and exercising, I have more patience with my kids, more energy to play, and more focus when I am working. I also have a better body image, and I want to make sure I pass on a healthy body image to my daughter. I never want her to think about it in terms of being thin; instead, I want her to think about being healthy. For the month of January I am going to do a Healthy Mama Happy Mama series on Thursdays for accountability and support so we can all check in with each other on the progress on goals, whether or not they are fitness related!
[bctt tweet="A healthy mama is a happy mama! #mamaainthappyaintnobodyhappy"]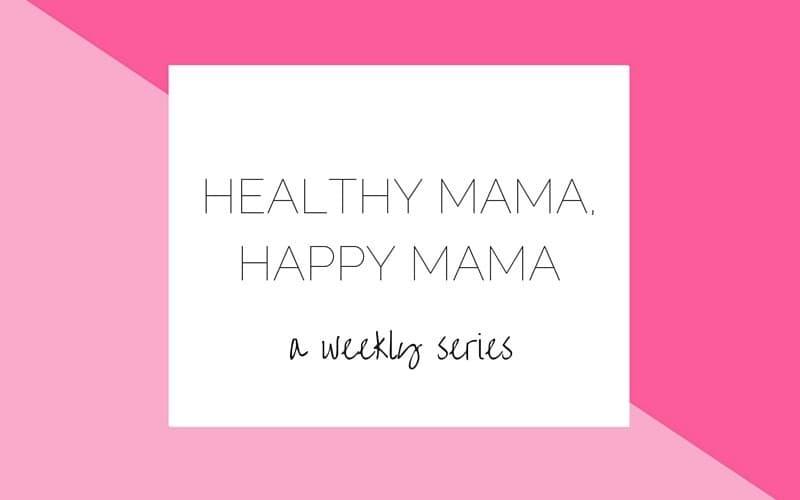 As promised, here are all the details on my January/ February Fitness Challenge. I am doing the Tone It Up Challenge. If you don't know who the Tone It Up girls are, they are two California girls who started out offering a ton of free videos online (thats a link to their free Youtube channel,) and now have an entire business of workout videos, workout equipment, and nutrition plans, protein shakes. Personally, I like them because their workouts don't require a gym membership. They are super cheerful, their videos are beautiful, and their workouts are all short. The longest workout I have ever done from them is 34 minutes, which makes it easy to fit it in when the kids are napping or watching a TV show. But my favorite part is that they post a weekly schedule of all of the workouts you should do on each day, and although they push their exclusive (paid for) videos, they always link to their free ones as well. Anyone can and use them and it is a great comprehensive exercise plan for free.
At the same time, I am also doing PiYo and 21 Day Fix. I always wanted to try out the PiYo, and Beachbody currently has an OnDemand program in Beta that is really cheap (around $10/ month and free for the first 30 days.) For someone like me, who wanted to try out the workout programs before I made a significant investment in buying the DVDs, and has no interest in Shakeology it was a good choice. Sidenote: Shakeology is really expensive specifically, around $4 a serving and I don't have the money for that! With regards to Piyo: I have done lots of yoga in the past and am a bit of a yoga snob, so there are some things I don't like about it. However, I do think it is a good workout. I try to do it everyday, to fill in for cardio on days that Tone It Up (TIU) requires you to do extra cardio (they usually say either do Spinning, Yoga, or Cardio/ Run.)
When I am done with PiYo, I then try to squeeze in a 21Day Fix workout as well to round it all out. 21 Day Fix is a workout and diet plan that has really gained popularity recently. I have talked to some other moms who have done the 21 Day Fix and had good results. Now, I didn't purchase the eating plan or the Shakeology. But, I did do significant research on it and have read through the eating plan (just google 21Day Fix Eating Plan and you will find the pdf.) The diet is based on portion control and limiting sugar/ carbs. You can pretty much eat anything, given it is in the right amounts, and fits in your allotted calorie requirements. 21 Day Fix has portion containers that guide you with what amounts of which food groups you should eat each day. It emphasizes lots of lean protein, veggies, and fruits, and like most diets limits carbohydrates and fats. You can purchase the from BeachBody through Amazon which is by far the cheapest way to do it (and what I did.) One thing I have noticed about 21Day Fix (well all of the BeachBody programs) Is that they all push Shakeology. Like I said earlier Shakeology is not for me because of its pricing which I think is inflated. Instead, I use the Tone It Up Perfect Fit Protein which is only $2/ serving (still not cheap but I limit myself to one a day.) It isn't a meal replacement like Shakeology but I prefer to eat my food anyhow and am not looking to replace a meal with it. I am not being really strict with the 21Day Fix, as I am also trying to incorporate smoothies from the Simple Green Smoothie 3o Day Challenge (another free challenge with tons of free recipes.) But, in general, I am just trying to eat healthier, minimize carbs and sugar, and make sure that I eat plenty of protein (especially first thing in the day!)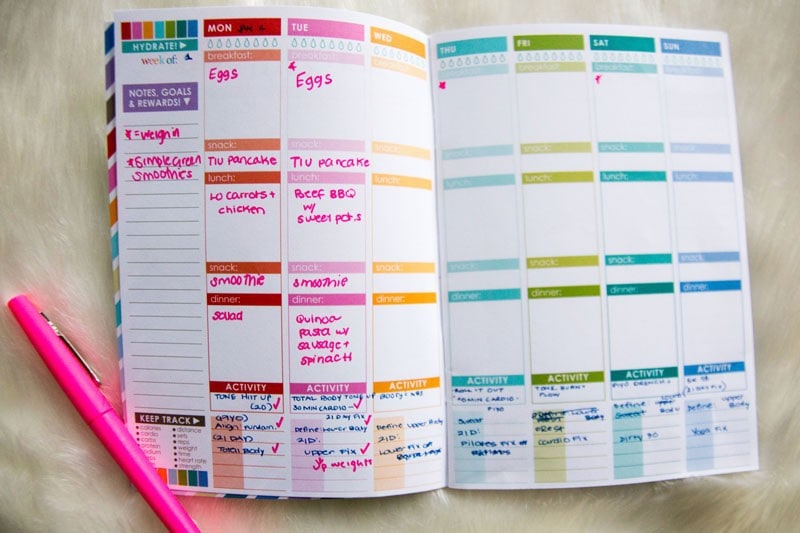 To keep track of my progress and my workouts, I am using a scale that tracks my weight and body fat % (although I do have my doubts about its accuracy), and a FitBit I received for Christmas (I am currently having trouble with it recording my exercise though), and a good old fashioned planner. For the next eight weeks, I have all of my workouts written down in my Erin Condren Wellness Journal pictured above, I write in my breakfast, lunch, snack, and dinner; as well as all the exercises and any notes I did that day. This is helping keep me accountable, and when I feel discouraged, I can look back to see everything that I have been able to do. Like yesterday, I was only able to do one of the exercises because I didn't have time to work out in the morning and could only do it in the afternoon. Looking at what I was able to accomplish made me feel better about falling short, which is a reality as a busy mom. Yesterday morning was spent entirely doing preschool drop off, returning items, and grocery shopping, and I didn't have time for a workout; but, I made sure to fit one in the afternoon! I will confess that this week, unlike most weeks, my cleaning is a bit off and I didn't do the regular Monday whole house vacuum. I have had to piecemeal it into our days, which has not been bad and is a sacrifice I am willing to make for a better booty!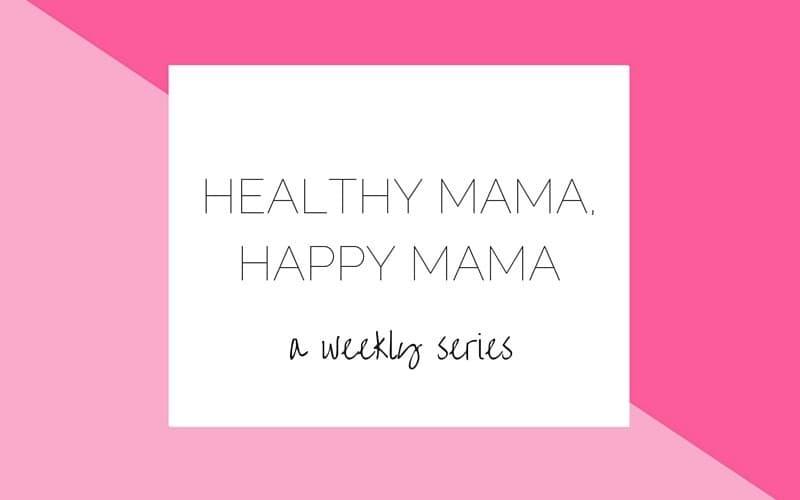 As promised on Monday, in order to maximize my chance of success I will be checking in here every Thursday to report my activities, progress, and encourage all you other awesome ladies who are embarking on their own resolutions! I will share my weight progress next week because it's only been three days. However, I will always share some things I learned this past week to help others:
Three Things that Helped Me This Week:
-Ask yourself everyday if your choices are helping you make progress. Believe me, all I want is some french toast, a coca cola, and a big chocolate chip cookie. But not all at once! So every time I think about breaking my diet, I ask myself it is helping me move towards my goal. If it is not, I try to skip it. I will admit to periodically scarfing down a few chocolate chips. My Costco size chocolate chips are not helping my willpower!
[bctt tweet="Before doing something, ask is this getting me closer to my goal?"]
-Don't compare yourself to others and be prepared to do modifications. My upper body strength is pathetic. I can lift a lot of weight (I consider myself pretty strong in regards to lifting heavy objects) but I can't do pushups or pull ups well. I have to do modifications with pushups and tricep pushups. I also tend to use lower weights with my tricep exercises. Hopefully, in time these will improve.
-Recognize that there is only so much time in a day and you have so much energy. Prioritize what you want to do. For me right now, that is exercise. It won't always be 1.5 hours a day but for January, I want to kickstart my butt in gear! Like I said earlier, my house is clean but not as clean as it usually is. That's ok.
[bctt tweet="Let the dishes sit. Do what is important to you first."]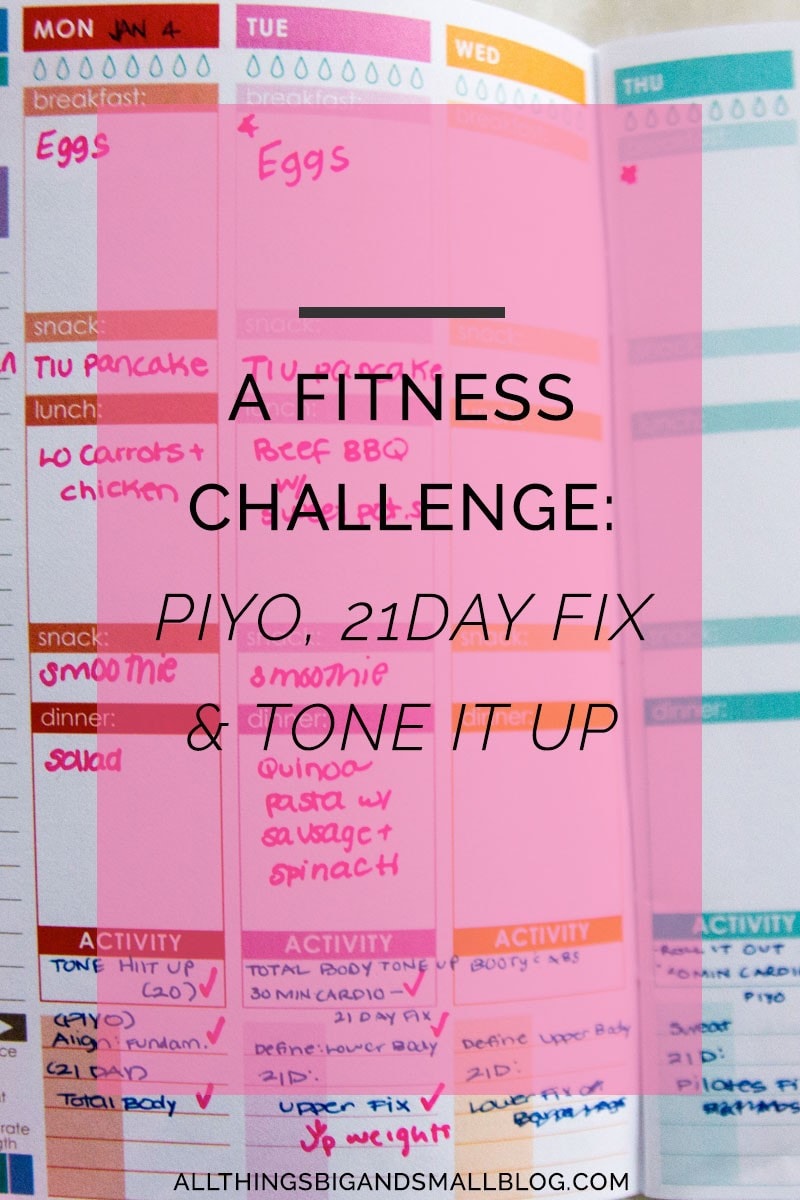 My Progress this Week:
Weight down 1.7 pounds since Sunday, .2 pounds since Monday 🙁 but it's going downward and that's good.
Monday
1.) Tone HIIT Up (Exclusive Workout) but you could do this free one instead
2.) PiYo Sculpt (substituted for Align Principles which was too slow and basic.)
3.) 21 Day Fix Total Body
Tuesday
1.) Tone It UP Body Tone Up  & 30 minutes cardio (filled by the activities below)
2.) PiYo: Define Lower Body
3.) 21Day Fix Upper Fix
Wednesday
1.) Tone It Up Booty & Abs (exclusive workout) + Hustle & Sweat (free)
Thursday
1.) Tone It Up: 40 minutes of cardio (filled in with activities below)
2.) PiYo: Sweat
3.) 21Day Fix: Lowe Fix
What are you working on this week? What were your resolutions for 2016? I will share mine tomorrow (oh, yes there are more!) But if you really want to keep them, make sure to check out my top tips in this post! Please share your goals below. Writing them down is such an important part, and we can help each other by checking in each week for the month of January (and beyond if you like!) Let's help each other!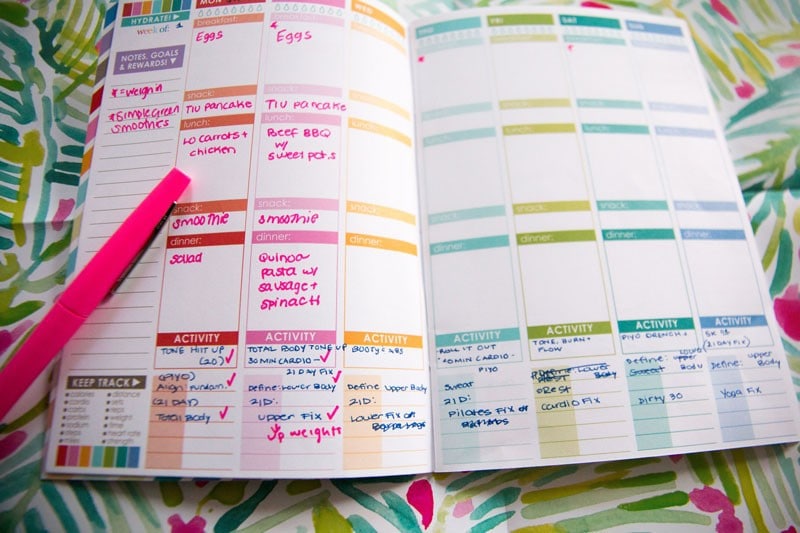 *affiliate links were used for the Amazon products and Erin Condren journal. This does not affect your price at all, but gives me a small commission if you choose to buy it.
Also, I am linking up with Thoughts for Thursday today with Natalie and Annie!