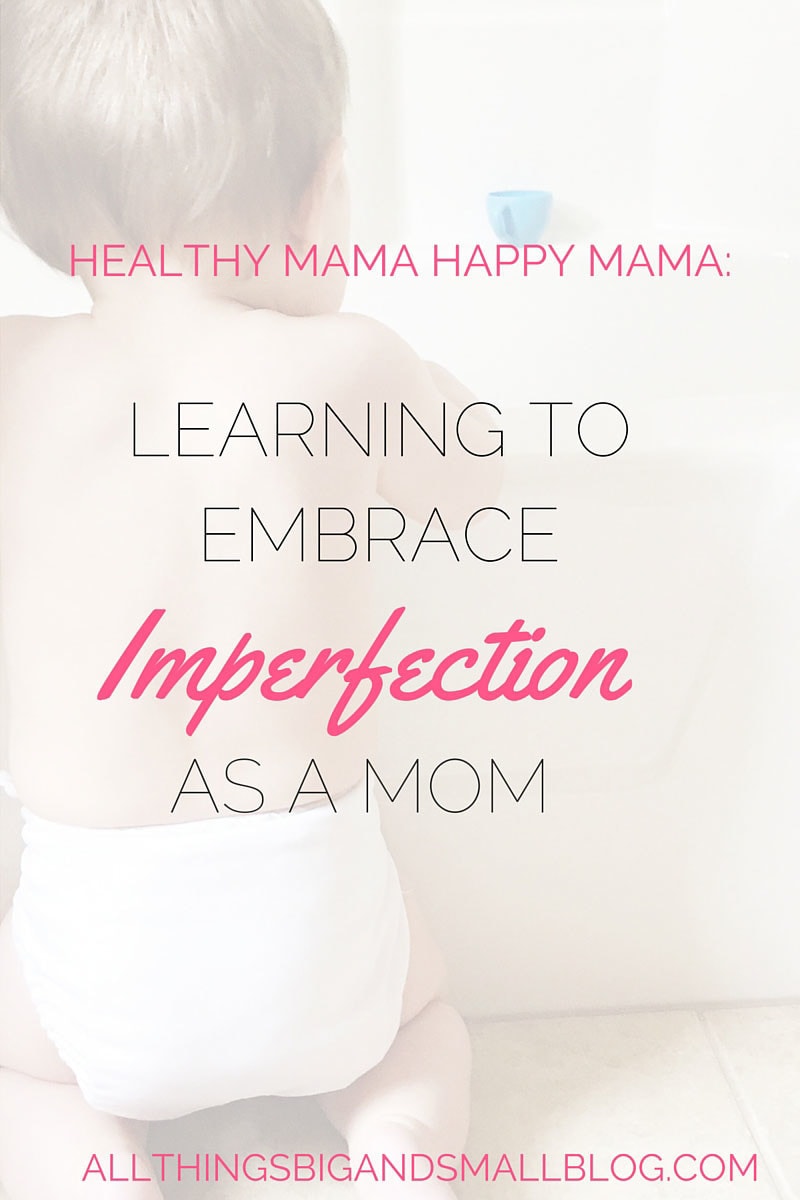 Alright guys, I have to be honest with you. I have fallen off the Fitness Challenge. I am still working out several times a week, by squeezing in Barre workouts and TIU workouts whenever I can but there is no way I could keep up with exercising 1.5 hours a day on top of blogging, and being a mom, and maintaining the house. Just getting blog posts up and the house sorted takes up most of my free time! Up 'til now, I have hesitated in sharing this because, well, I felt like I had failed. I felt like I was a fraud. But, I have always wanted to share the good and the bad on the blog, and to learn something from it. And I have always been completely honest with you guys and my struggle. I just haven't written about it in a couple weeks. What I realized was that, being a healthy mom isn't about working out to excess. Being a #healthymamahappymama is being a balanced mama. This is something I continue to work on, and have to every single day.
[bctt tweet="Being a healthy mom isn't about working out to excess. Being a #healthymamahappymama is being a balanced mama. "]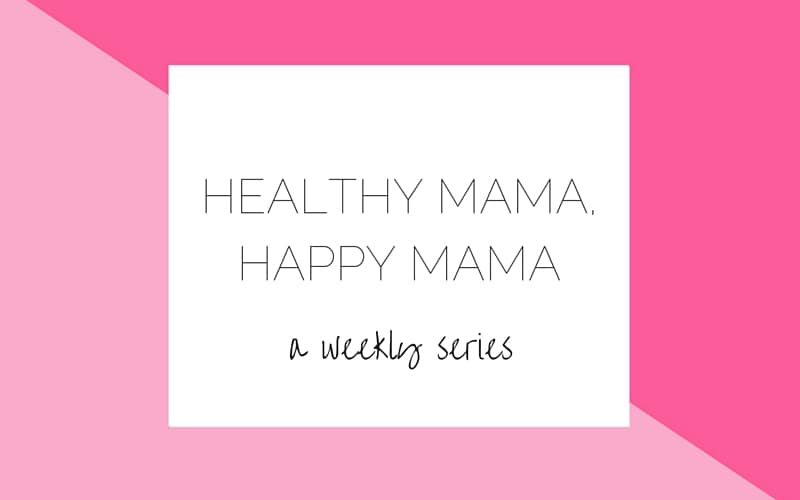 I exercise to gain balance mentally and physically. And by trying to do it all and push myself to achieve such crazy standards was UNHEALTHY. I am all for working out, and think that it is truly important; but, the level that I was holding myself to (1.5 hours/ day) was unrealistic for me to maintain. If it was my number one priority (and it was for awhile) that was one thing. But my priorities shifted, and I chose to prioritize other things over fitting in extra exercise. And for awhile I beat myself up about it. I chastised myself for not waking up an hour earlier to make time to exercise (which is easier said than done when you have sick kids up all night). I would beat myself up for not prioritizing it, when I deliberately chose other things to do. Or when I was desperately trying to fit it in, and exercising with the kids up, I would lose my temper. One day I was attempting to do a particularly difficult Barre workout, and Bowie was resisting napping. So she wanted my attention, and started climbing on me during a challenging pose (suffice to say I was struggling by myself, I surely didn't need an additional 33 lbs!) I found myself at my wit's end. And I lost my cool. By trying to achieve this unrealistic goal, I was driving myself crazy and being the opposite of a happy mom. I was a mad mom.
[bctt tweet="In my extreme effort to be a healthy happy mom, I was making myself a mad mom. "]
"Oh, sorry Mom!" she quickly said and those three words broke my heart. I never wanted her to feel like she needed to apologize for just wanting some attention or being a kid. I stopped the workout and sat down on the floor and called it a day. I apologized to her for losing my temper and explained that it wasn't her I was frustrated with.
And it hit me, I realized that I can't have it all at the level that I was shooting for. I can't and never will have a bikini body like the TIU girls (that is their job for goodness sake!) I am not going to be able to work as many hours as a professional blogger, because my kids are my job. I can't hold myself to these unreal standards. I am working on it and am still trying to accept it. I can't be a perfectly present mom, blog and work on the side, maintain a clean and tidy home, feed my family well, and exercise at such levels. By trying to do everything, I was driving myself crazy, and taking it out on my family. I felt like the absolute worst mom and cried to Evan that night about it. And I am one of those people that hardly ever cry.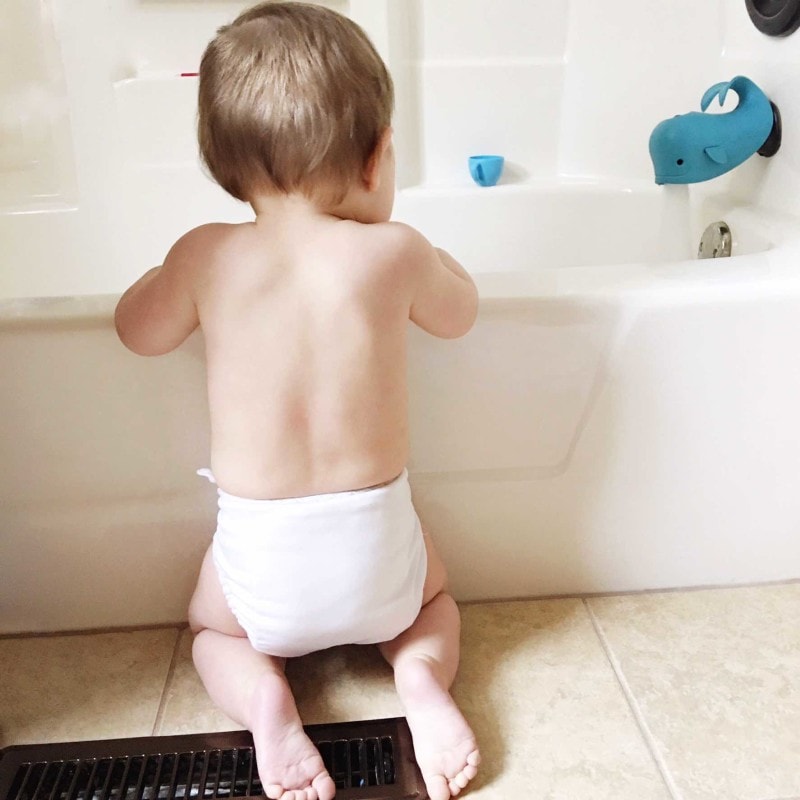 And then I remembered this wonderful podcast I had listened to several months ago. It is an old one but it spoke to me on so many levels. If you are trying to do it all and beating yourself up or you are a perfectionist like me, then you need to listen to it. I need to listen to it again. It is a Lively Show episode featuring Jessica Flannigan, of Live the Fancy Life. A fellow Type-A Mom trying to do it all, she realized that she couldn't and she put it in words that are far more eloquent than mine:
[bctt tweet="You can do everything perfectly, but can't do it all at once -Jessica Flannigan from @jessclively"]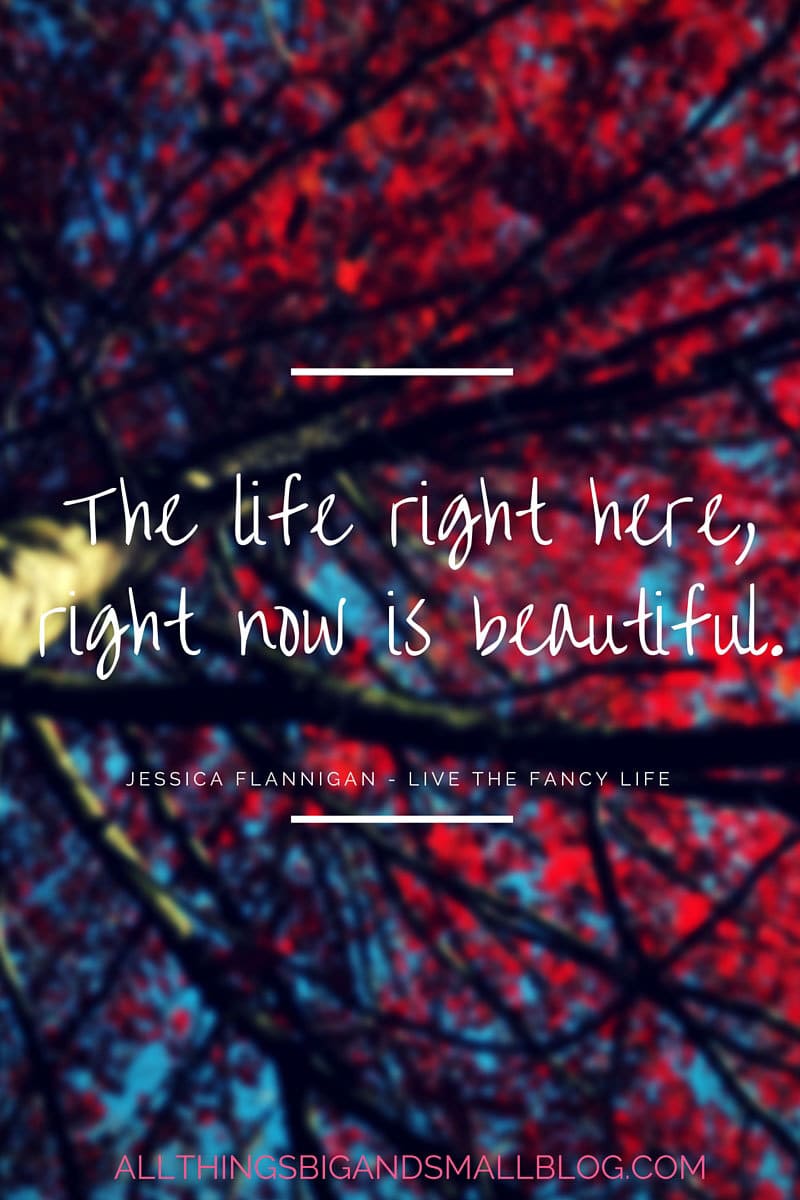 I am working on being fully present with the kids because when I try to do too much, I find myself resenting the fact that they require so much attention. Which is unfair to them. I am their mom, I am a stay-at-home mom. They are my number one priority. I don't want to find myself in a few years regretting that I didn't savor the little moments with them, and enjoy them more. I don't want to miss being present with them and teaching them the little joys of life, when my mind is elsewhere trying to analyze my to-do lists. What I need to accept is that yes, one day I might be able to achieve those things, but not all at once and not in this season of my life. I need to come to peace and remember that "The life right here, right now is beautiful." Another wonderful quote from Jessica. *And just a disclaimer, please don't think that I ignore my kids. Anyone that knows me would tell you I am a wonderful mom, but I do hold myself to incredibly high standards, and with my kids that is one area I don't think you can sacrifice. I do think I am a good mom, but I always try to better!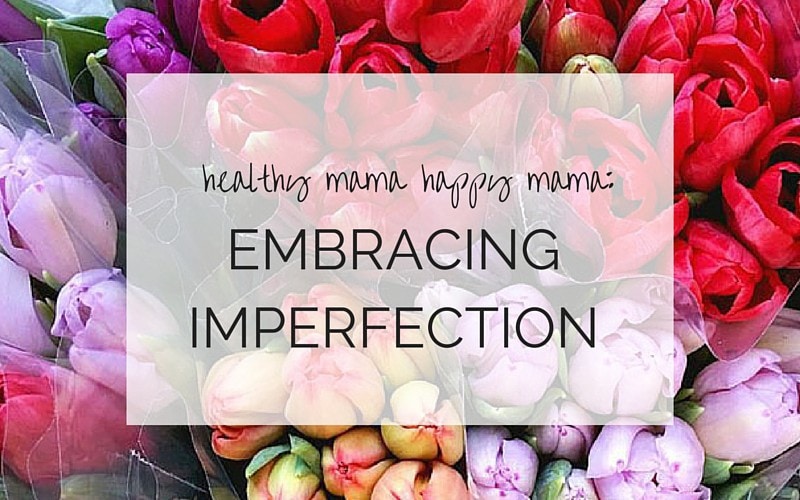 I am going to continue to post on fitness and wellness posts every Thursday (or as many as I can manage). And I even have some exciting blogger interviews with inspiring ladies lined up! So make sure to check back in next week again! I am really excited with the direction these Thursday posts are headed and feel that it is a much more accurate and healthy view of life. No one is perfect, but we can all learn something! Every week we will share actionable tips and tricks for a healthy and balanced lifestyle with a greater range of topics. Of course we will cover exercise: how to fit in exercise and balance priorities, but we will also talk about health and wellness in one's home and family. Please join me on this journey. I am excited and hope you are too!
Linking up today with Jess for Confessions and Annie & Natalie for Thoughts for Thursday!