One of the things that makes a house feel like a home is carefully placed accessories. Beautiful bookshelves, don't look as pretty without carefully curated objets d'art. Do you love the latest blue and white ginger jar trend? Me too and I was so bummed looking at other people's homes and feeling like it would look so nice but I couldn't afford to buy them. Well, I spent less on ALL of my blue and white ginger ceramics that one single ginger jar from Williams-Sonoma. All 17 pieces came in under what ONE costs elsewhere. So today I am sharing my favorite tips on buying home accesssories and my favorite stores to source them.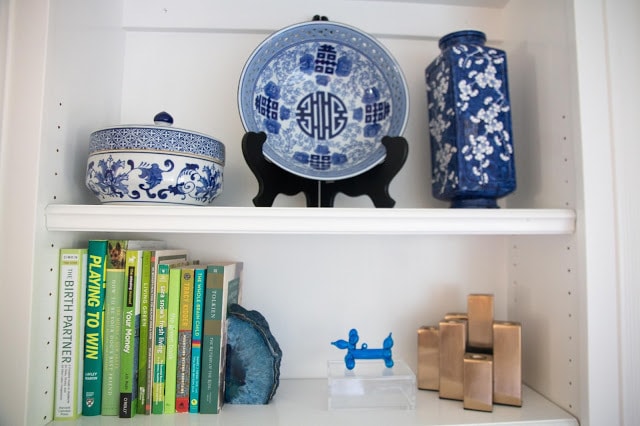 sources: top row two left blue & white ceramics from HomeGoods, right vase family heirloom, blue agate- TJ Maxx, DIY lucite box with Target Christmas ornament, brass candlesticks-Target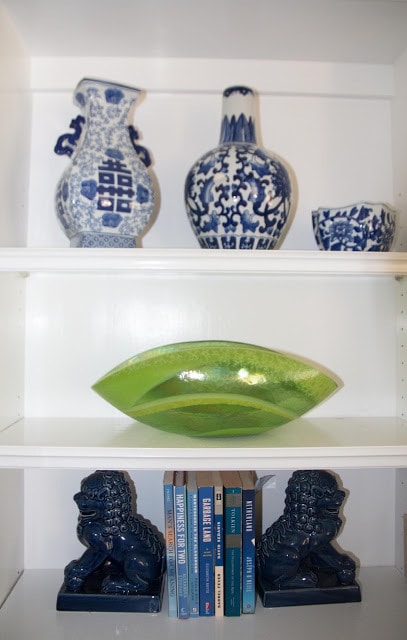 sources: top row all HomeGoods, middle row- Crate & Barrel, bottom row- Target
Tips for Scoring Great Accessories at Low Prices
1.) Check the end-caps
Clearance accessories are always a good bet at Target. They usually are reduced at least 40%, and with some hunting (clearance end-caps seem to always face a wall of merchandise and are opposite the center aisle). Limited edition items like Nate Berkus' collections often will have items that sell out, but many times there will be excess inventory that they sell at a steep discount. Because there is such a quick turnover at Target, you may have to go quite often to check.
2.) Avoid the weekends
Try to go shopping on a weekday. The shelves are less picked-over mid-week. Better yet, if you are lucky and you get to the store on a day they have just stocked then you have first pick! Go first thing in the morning on Saturday if you have to go on a weekend.
3.) Join email subscription lists
Are you dying for a particular item from a website like Waiting on Martha, Zhush, Biscuit, or Furbish? On most of the major holidays, those stores will launch a promotion ranging from 10-25% off your purchase. Subscribe to their emails to be notified of the sales and shop early! Popular items often sell out by the end of the weekend. Even better, wait until they have sales on sales.
4.) Check out Amazon
There are several products that I know are carried at these lovely boutiques that are available for a lot cheaper on Amazon. For example, this set of python trays retails for half of what a high-end boutique might charge.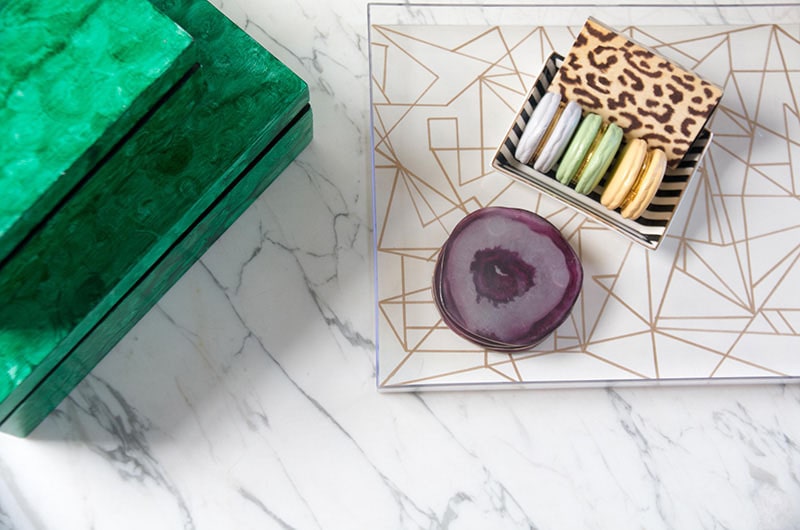 5.) DIY it!
If you love something and it isn't too intricate, try doing it yourself! I was totally lusting after a gold and lucite tray but couldn't swing the $75, so I made one for $15. I loved the faux malachite boxes but again, couldn't swing it, so I DIYed it. Make sure to check out my Projects Gallery which houses all of most past DIYs. I am not a serious crafter by any means but just try and you might surprise yourself! If it turns out horrible, usually you aren't out that much money.

My Favorite Stores to Shop
Although it is fun to browse high-end boutiques, my wallet can't make it fly. So instead, I peruse HomeGoods, TJ Maxx, Target, and Ikea. I have found that HomeGoods and TJ Maxxes can vary quite widely location to location. Drive around to a few in your area and then check back. Often the really popular ones in your neighborhood will be the most picked over. In these stores, make sure to check the Clearance aisle as well. Home Goods and TJ Maxx both usually have an aisle at the back of the store with clearance items. If you are looking for blue and white ginger jars, the minute you walk into the store check out every aisle with a "blue" scheme. Also check the china section, as sometimes items can be mixed in there if they fit the color scheme.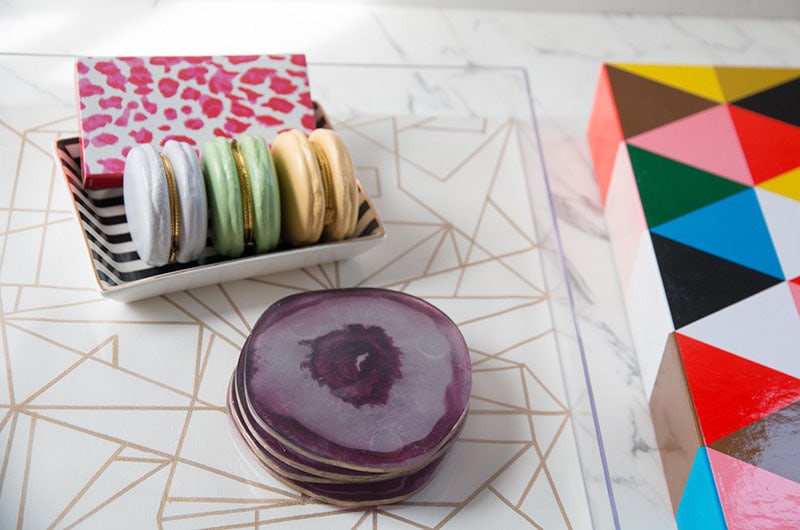 sources: DIY Gold & Lucite Tray/ macarons– Waiting on Martha/ black and white tray- JCrew Factory/ leopard matches- Furbish/ faux agate coasters- Target with DIYed gold pen edges/ Eames Beautiful Details 
What are your favorite tips? Where do you get most of your accessories?
Remember to enter to win $200 PayPal cash at September Farm. If you are already a subscriber to my blog on Bloglovin, follow me on Instagram, Facebook, or Pinterest then you already have four entries! What would you do with $200? I can think of a few things!
I am linking up today (albeit late) with the lovely ladies from Thoughts on Thursday! Thank you Annie and Natalie!