This shop has been compensated by Collective Bias, Inc. and its advertiser. All opinions are mine alone. #SummerCarCare #CollectiveBias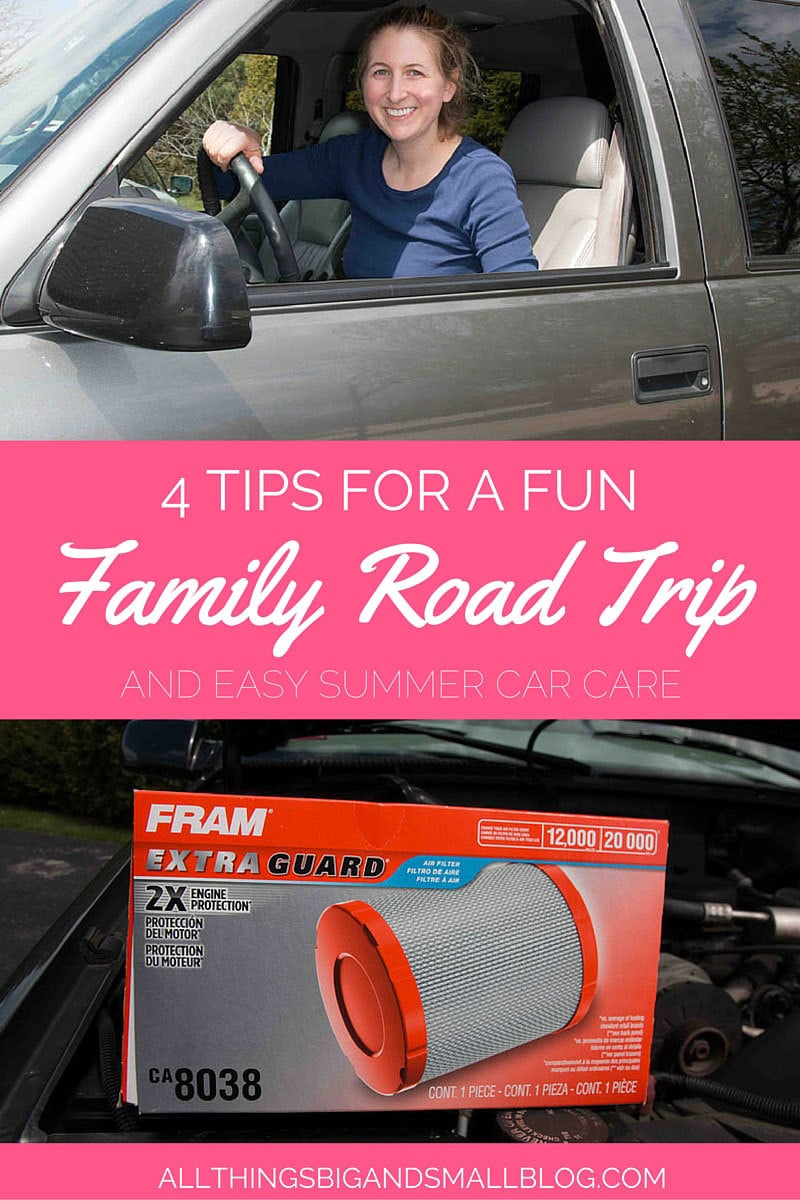 Even though we drove over 80 hours last summer as a family, it doesn't mean that it was always smooth sailing. We learned our lessons quickly on how to make a road trip enjoyable and what to avoid doing!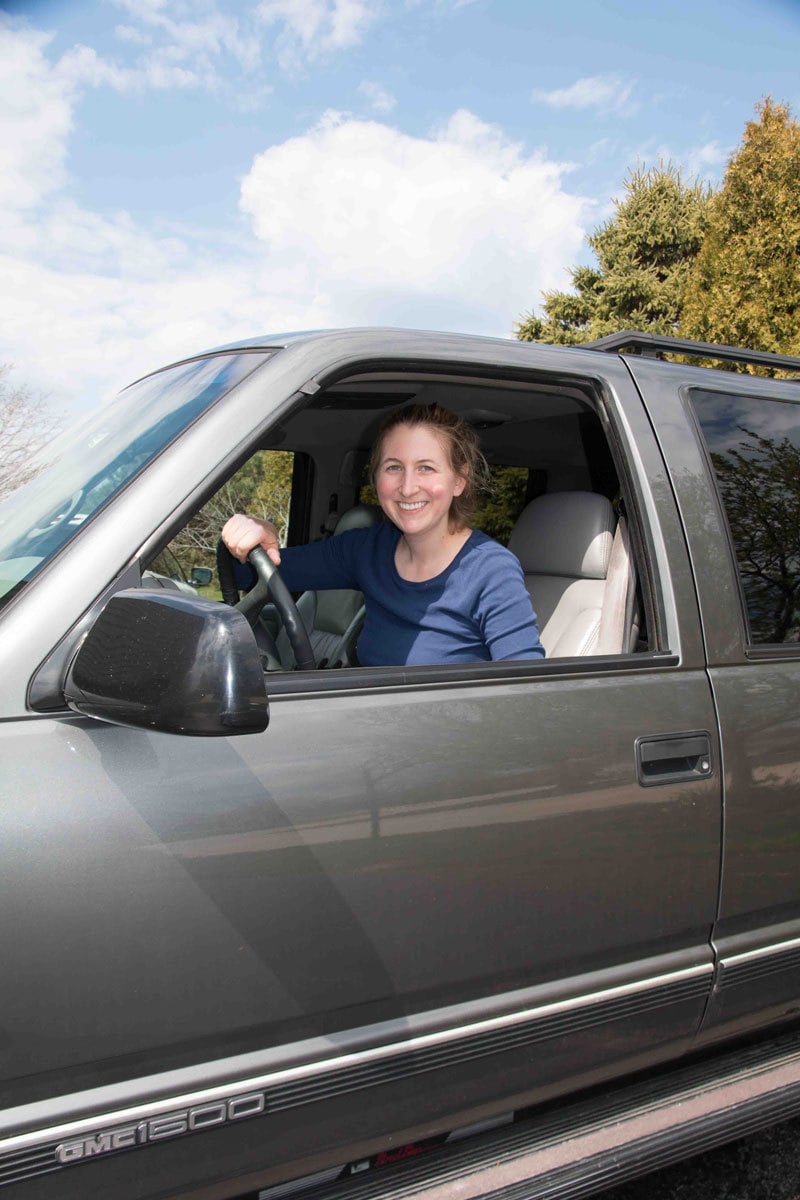 At the beginning of the summer, we drove to Michigan with the kids (now remember, Jack was all of 4 weeks old) as our first voyage as a family of four (plus our two Great Danes.) Well, our AC ended up going out and needed to be recharged in Indiana, and the entire trip took us 7.5 hours (it should have taken 5.5). At one point, I was so overwhelmed and at my wit's end with everything, I started crying (which really helped 😉 You see, Denali, our boy Great Dane at that point had been panting behind me for two hours (from anxiety and heat), Jack was crying (he wanted to be fed every 20 minutes), B was bored and hot, and Ella (our girl Great Dane) was just hot. I was sitting in the back seat of our Suburban getting drooled on by the panting dogs, sweating, and cramped in between our two children's car seats. I was exasperated, exhausted, hormonal, and hot. In the craziness of having a newborn, my having recurrent mastitis, and E having to travel for business, we hadn't had time to do our normal pre-trip car care.
Luckily, we were able to make a quick stop at an auto supply store and picked up some AC coolant to recharge it (and fix it, thankfully within 10 minutes it was back to working!) But, it wasn't a fun experience. And since then, we ALWAYS make sure to double check our systems before any big trips; in addition to doing our routine maintenance so we can have fun! It is just part of our regular car care. After that trip, we successfully drove another 68 hours and not only lived to tell the tale; but, we enjoyed it because we learned from our bad experience. So today, I am going to share with you some quick routine car maintenance you should be doing as part of your #SummerCarCare and four tips on how to make a road trip enjoyable as a family! And believe me, it is so easy you can do it during nap time by yourself!
Now before, we ever go on a road trip (even little mini-ones like our short trips to Chicago (1.5 hours), we always make sure that our car is in tip-top shape. We check the air pressure in our tires, get an oil change, and check our AC, and change our air filter annually. FRAM recommends changing your air filter every 12,000 miles or annually. *Follow recommended change intervals as noted in your vehicle owner's manual.
This is all just part of our annual #SummerCarCare. Air filters can improve overall engine performance because it improves air flow and prevents dust and dirt from getting into the engine and damaging it. Think of an air filter as your engine's first line of defense. When your air filter is dirty (and ours was!) you can experience decreased horsepower, acceleration and general engine performance. And don't think you have to go to a specialized car store for these parts–I picked my up my FRAM air filters at Walmart with both kids in tow!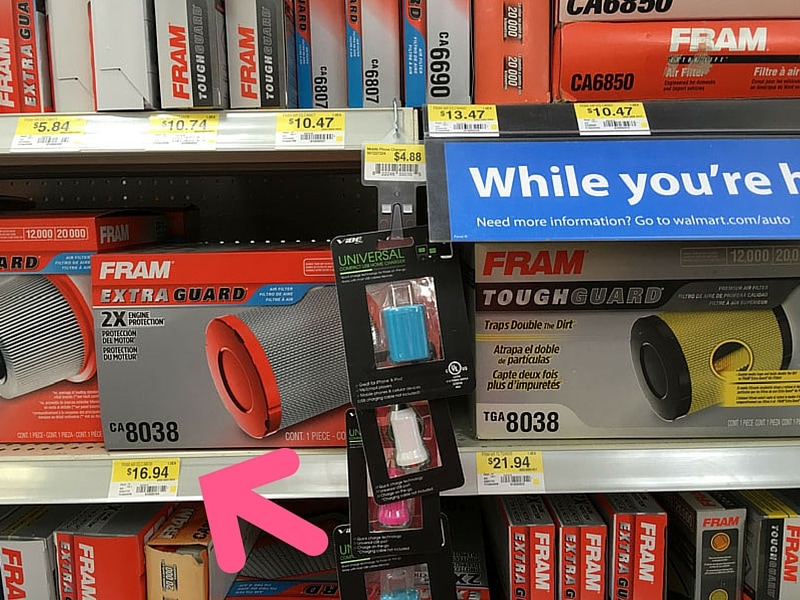 And guess what! I did this project ALL ON MY OWN! Yep, although E usually does all of the car maintenance projects at our house, I decided to do this one all on my own.  This did not require any special knowledge or special tools, and I did it during nap time in under 5 minutes! It was super easy! And if you do it, your husband will be super impressed too and your car will be ready for summer road trips!
I even made a cute printable with instructions on how to change your car's air filter for you, and if you want to watch a quick tutorial click here! I cannot emphasize how easy and cost-effective this was! To have this done at the dealer would have been at least three to four times the cost! We choose FRAM Extra Guard air filters for our cars because we trust them and they are the best!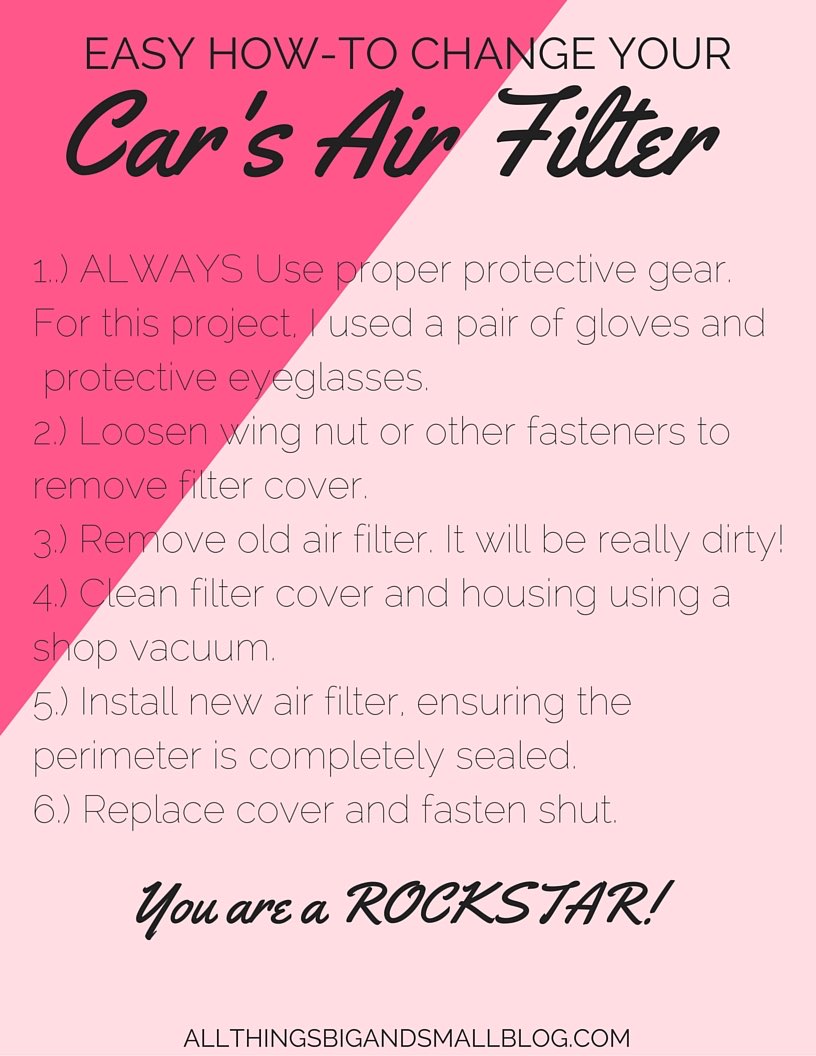 How to Change Your Car's Air Filter (printable instructions)
How To Change Your Car's Air Filter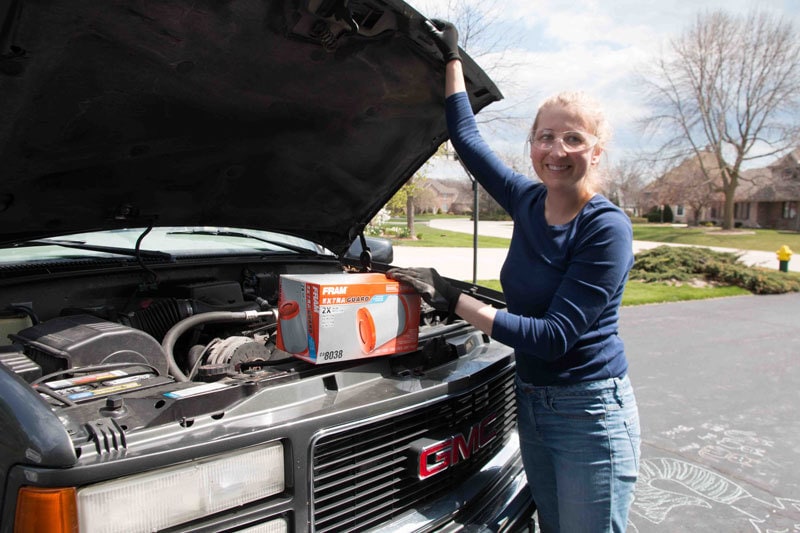 1.) First, you want to put on your protective gear. For this, I wore my eye glasses and my gloves. I know, I look good 😉 Next, open up the hood and locate your air filter. It was right behind our battery and said "air filter" on it.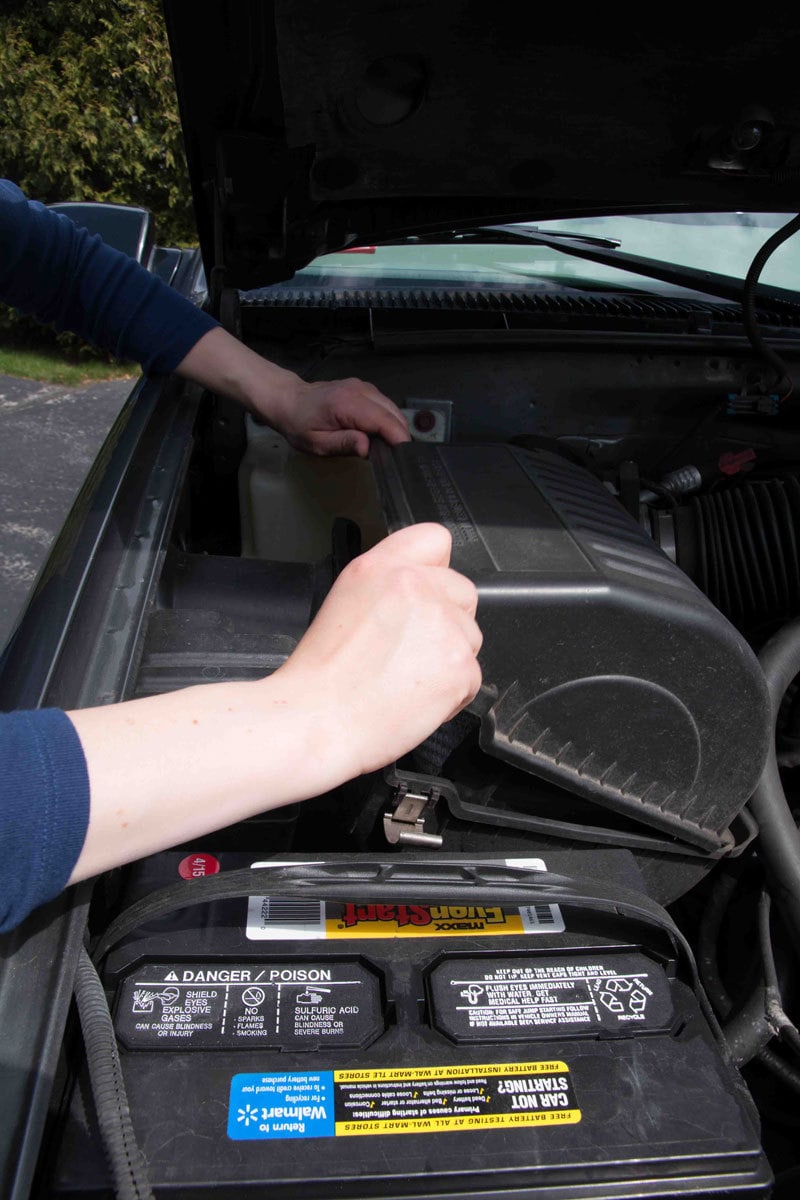 2.) Open up the air filter cover (loosen the wing nuts or any other attachments.)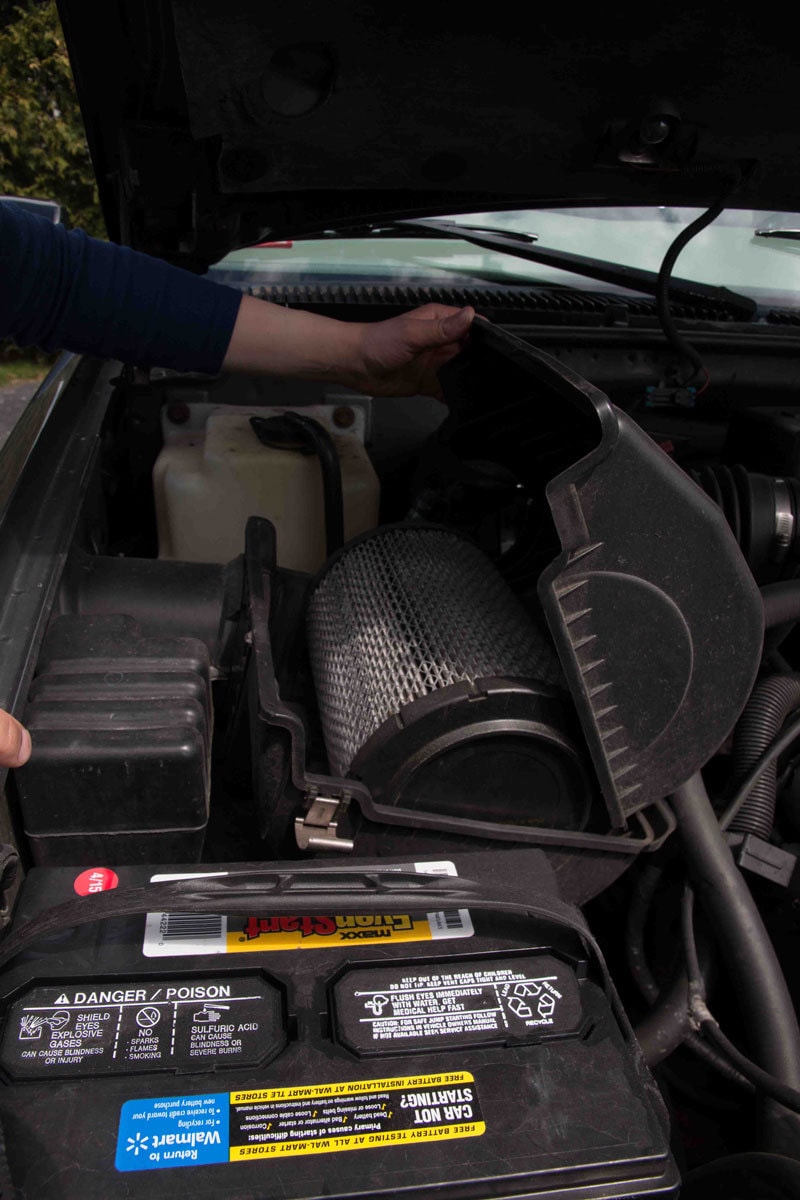 3.) Remove the old air filter (it will probably be really dirty!)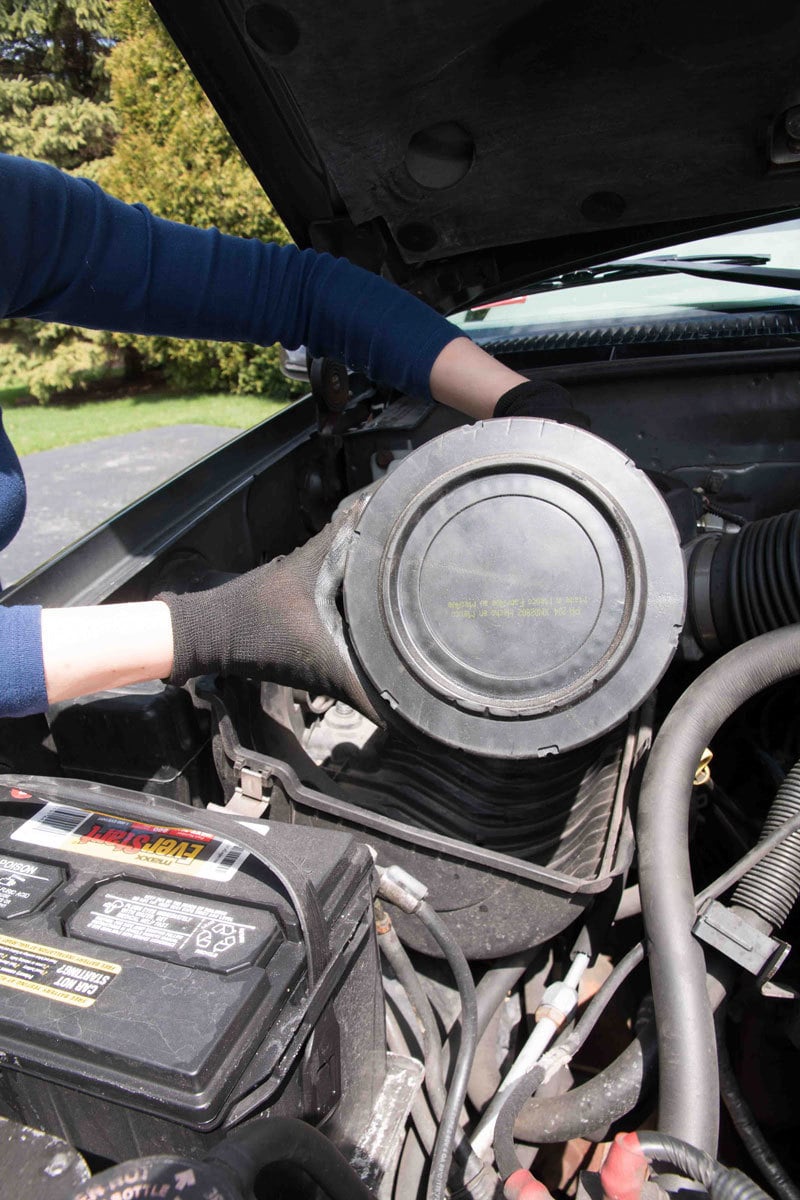 Look at all that dust and debris it saved from entering your engine!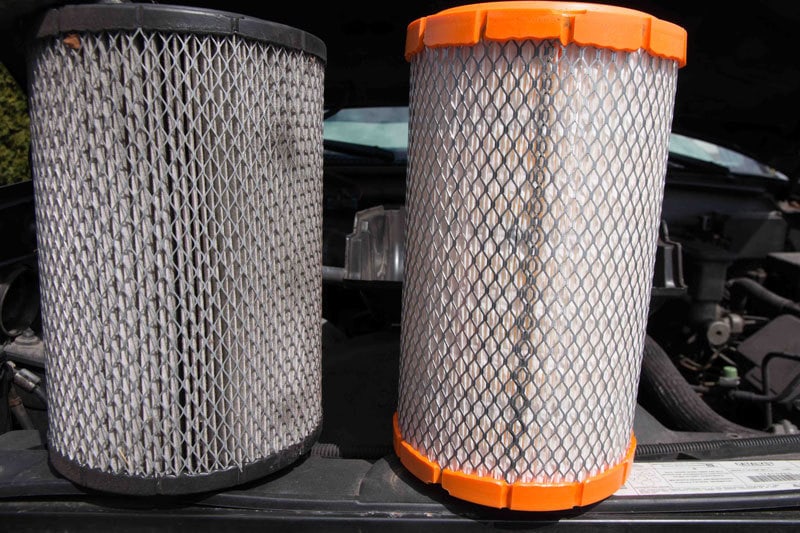 (old one vs. new one!)
4.) Next, vacuum the air filter cover using a shop vacuum.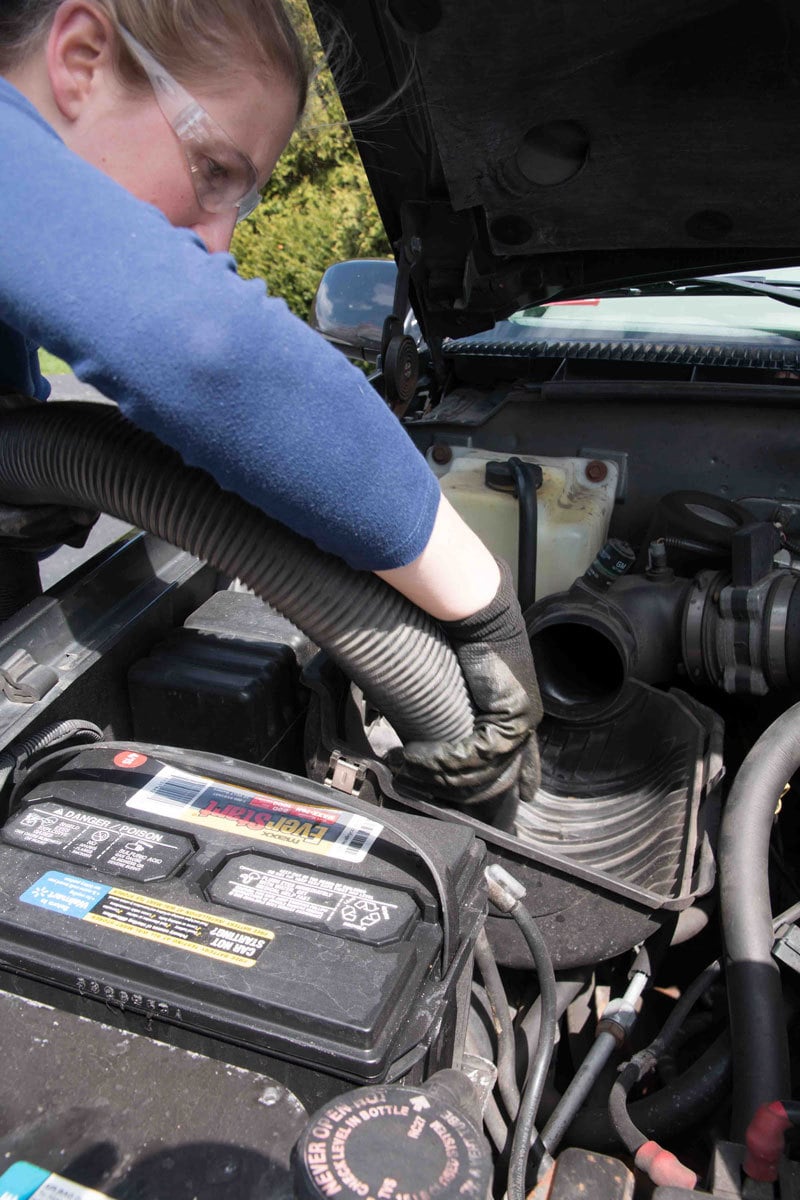 5.) Install the new air filter ensuring that the perimeter is completely sealed.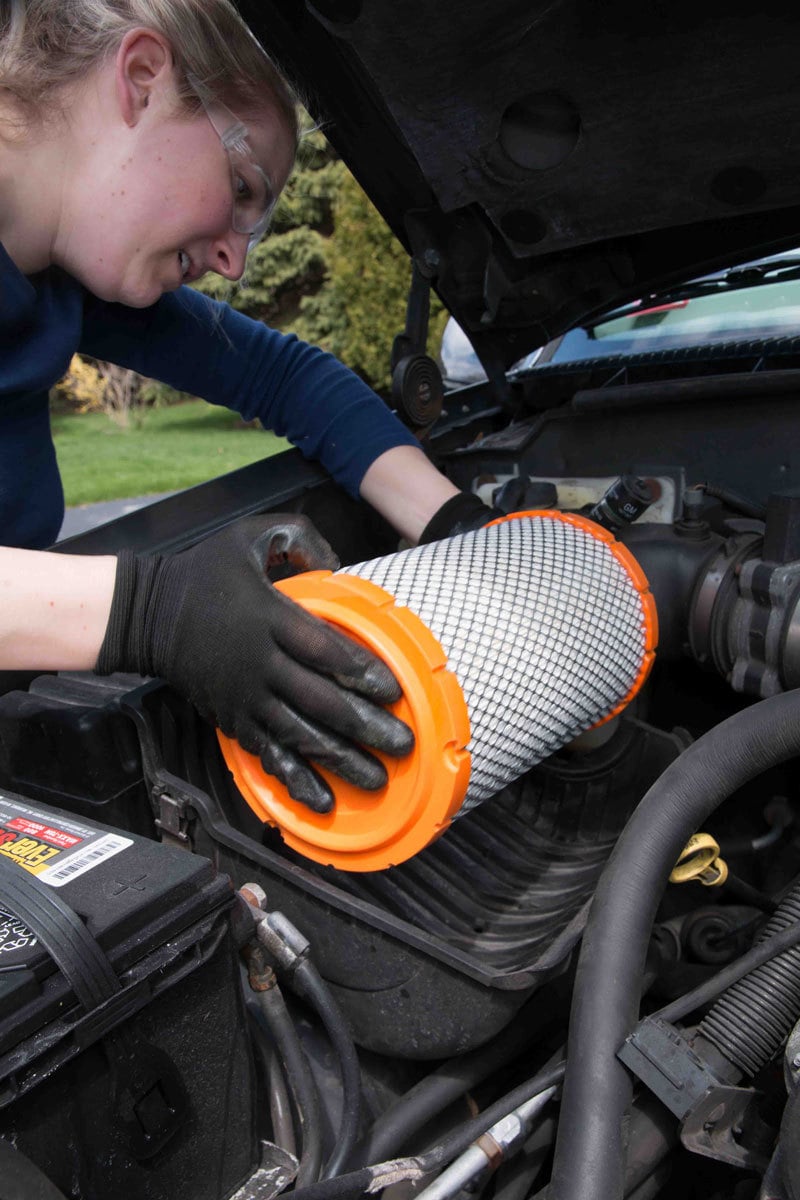 6.) Replace the air filter cover and fasten it shut.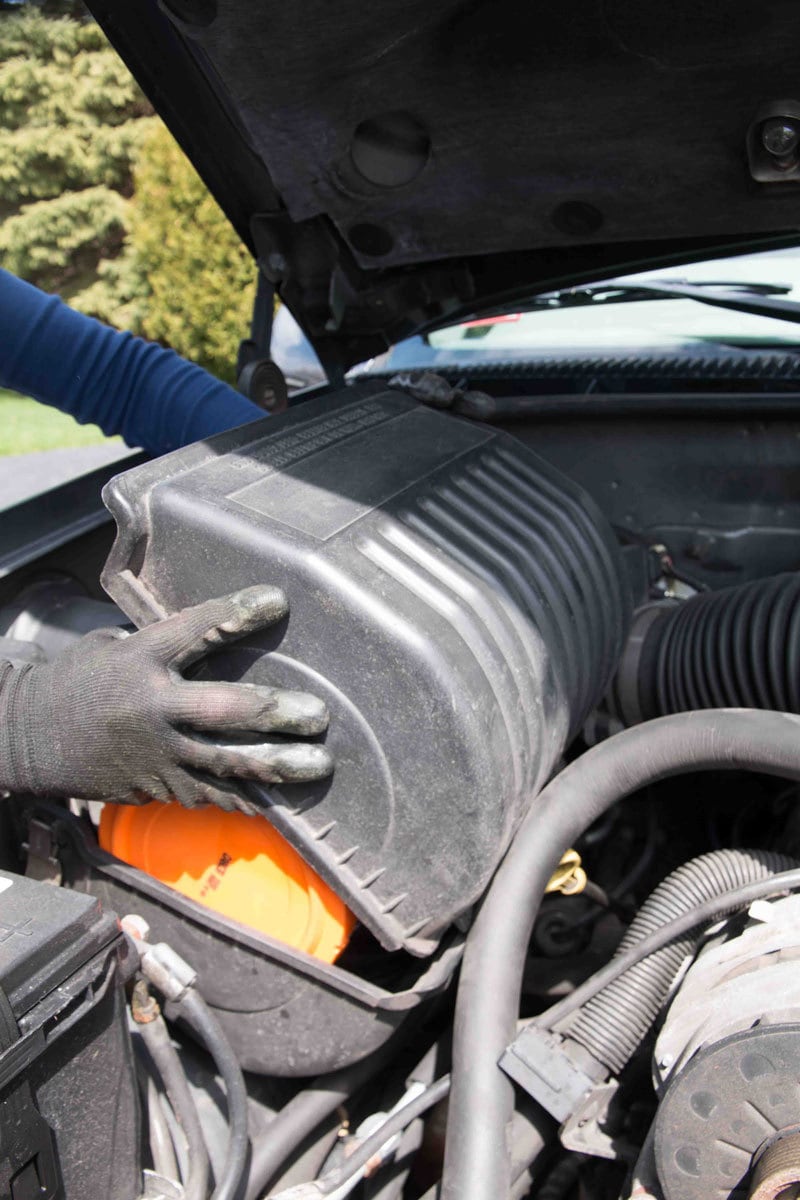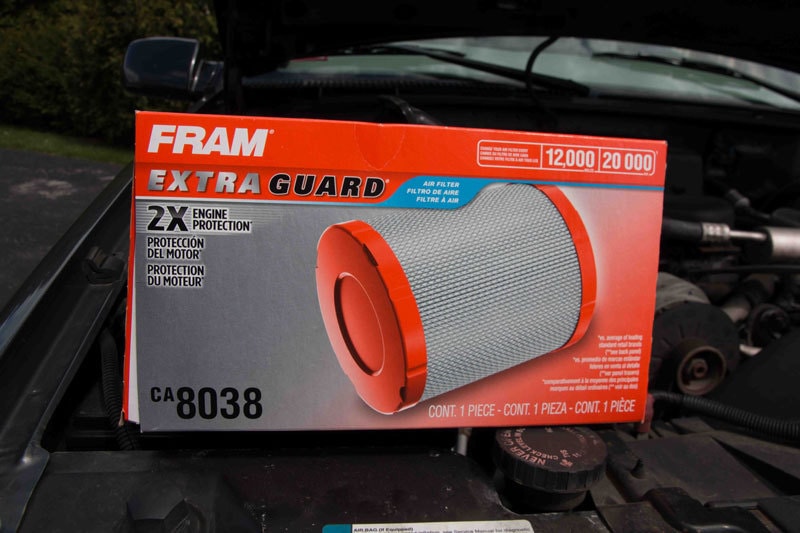 You are done! I told you it was easy! And remember, just swing by the automotive section of your local Walmart to pick up your FRAM Extra Guard air filters on your next trip! (They even have a handy machine to help you figure out which model of air filter you need to buy!) By regularly replacing our car's air filter and keeping our car in good shape, it allows us to have a ton of fun on our family road trips (and skip the waterworks 😉 Now other than good car care, here are some great pointers to keep in mind when you embark on a family road trip with little ones!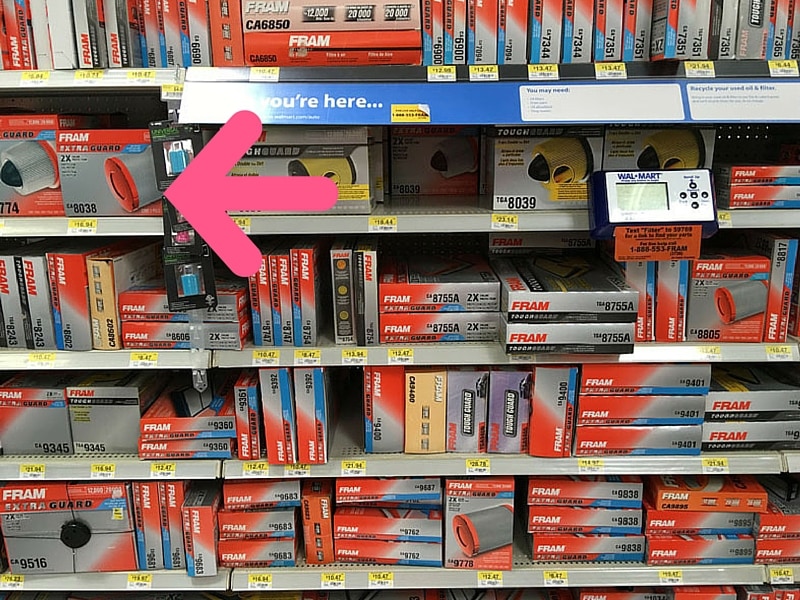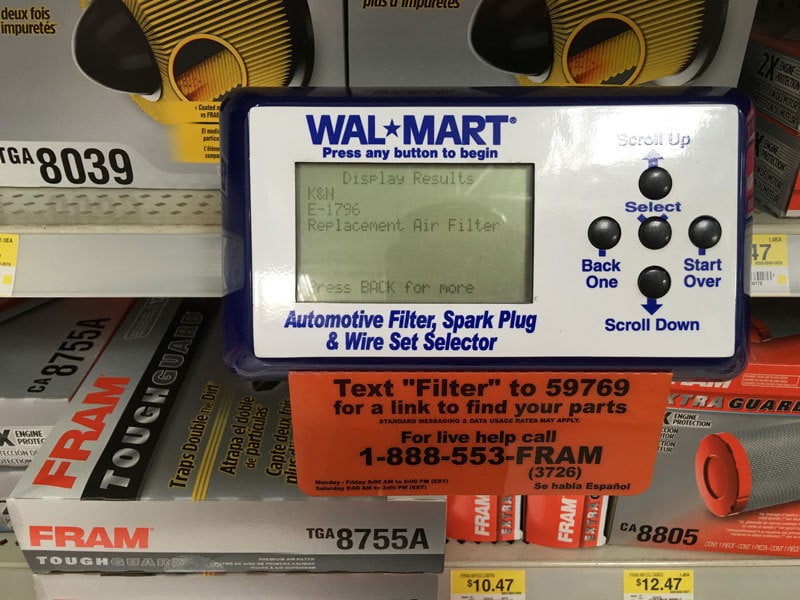 TIPS FOR HAVING A FUN FAMILY ROAD TRIP
1.) Prepare Your Car and Pack Your Lunch!
Ok, well we already talked about it but remember to prepare your car with regular maintenance! And second, food on the road is nasty and although it tastes good going down, it isn't going to taste good sitting in your stomach. We save money and eat healthy on the road by packing two food bags. We bring a cooler with cold items (water, milk for the kids, yogurt for breakfasts, cheese sticks, vegetable snacks, and drinks), and a separate grocery bag for non-perishables (crackers, bread, peanut butter.) By eating healthy, we keep our nutrition in check, our energy up, and don't feel crummy!
2.) Special Car Bag!
Yes, we have special "only car" toys. These are toys that are either new or are only played with on long road trips, which ensures they will keep their attention. These don't need to be expensive toys just ones that will be "new." I love throwing in some crayons, a pad of paper, a coloring book, a flashlight, an animal figurine, and a couple of books. Shakers are always a popular toy for Jack!
3.) Tech Head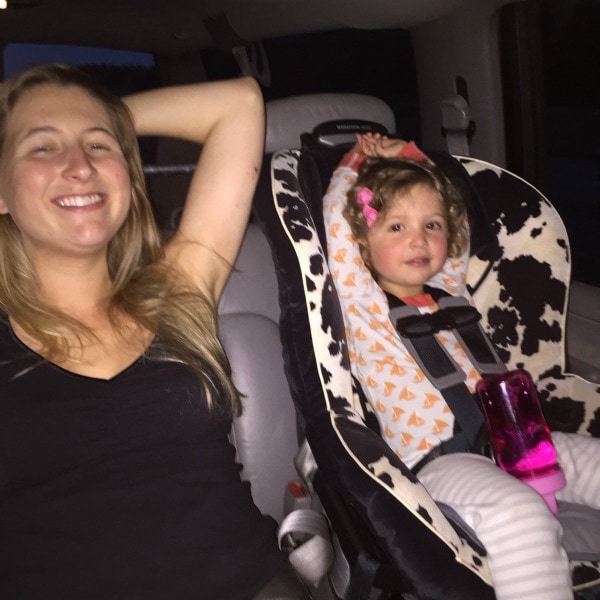 When you are on vacation is not the time to be a Scrooge about kids watching TV. Although, we won't let them watch hours on end of programs, we will let them watch a movie in the car on a long trip. It helps break up the time and gives them a change of pace. For the adults, load up your iPhone with audiobooks or podcasts to pass the time! I love listening to podcasts anytime I drive! I will usually put one on in the front seat and let B read her books in the back (Jack always falls asleep!) And for long road trips, I will get the kids changed in their pajamas and hop in back and watch the movie with them!
4.) Wiggle Worms!
Kids have lots of energy and when they are confined to a car for hours and hours, their physical energy sometimes gets bottled up and comes out as…whining and nagging. So, instead, whenever you stop for a bathroom break take an extra five minutes and run around. Play a quick game of tag or peek-a-boo around the building at a rest stop. Or even just get out a stretch. B loves watching me stretch and usually will try to do the same things.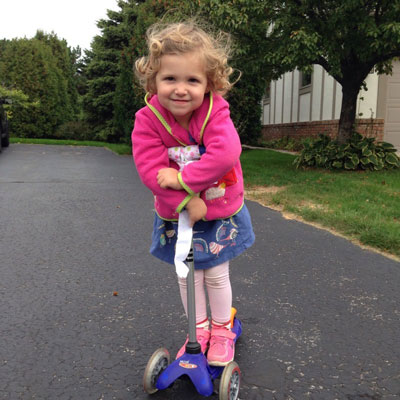 Alright, so those are our tried-and-true road trip tips with kids. But, remember, the MOST IMPORTANT one is to practice regular car care like replacing your air filter regularly! FRAM Extra Guard air filters make it really easy anyone can do it (even during nap time!) You can find FRAM air filters at your local Walmart and tell me where are you going this summer! We are driving to New York and to Michigan again. How about you?
[bctt tweet="Make your family road trips fun and prepare your car with @FRAM_filters #ad #SummerCarCare" username=""]