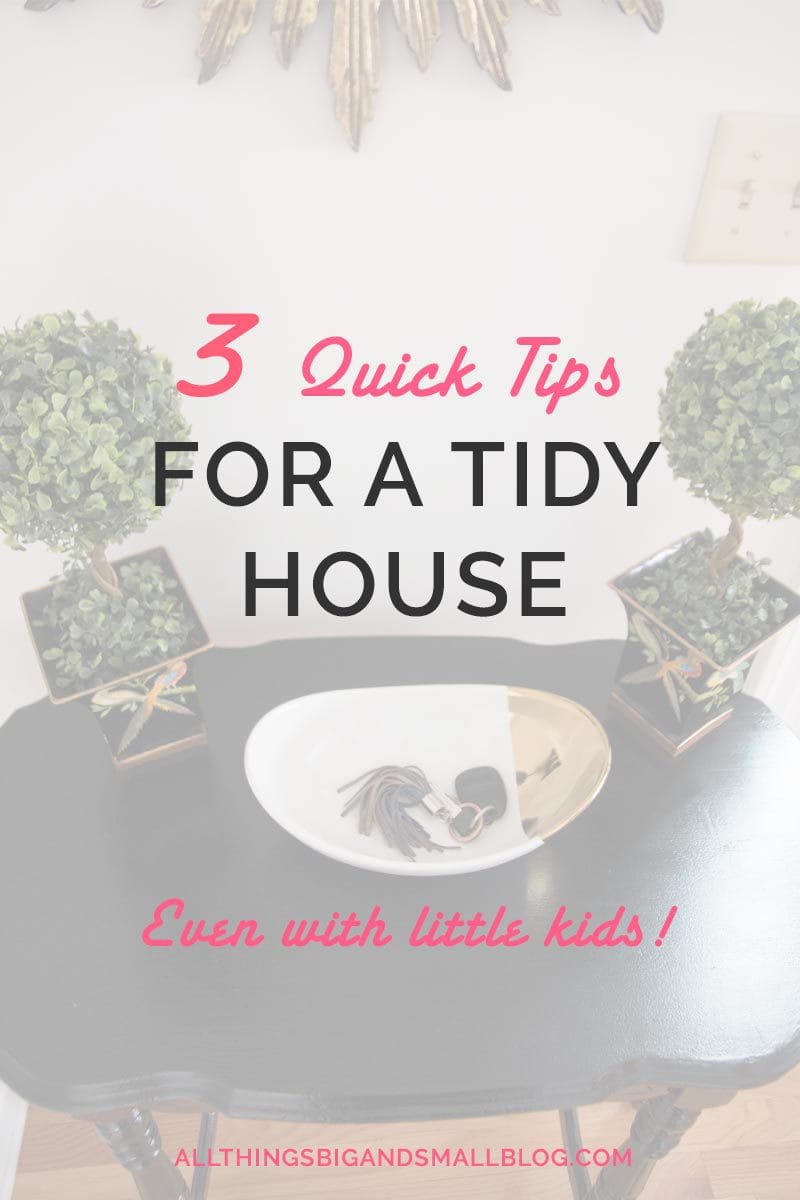 Let's be honest, keeping your house tidy as a mom of two young children is like Sisyphus rolling the rock up the mountain. It is a constant battle. No sooner do you completely organize their drawers, do you find that ten outfits have been tried on and the entire contents strewn around the room. So later this week, I will share not only my cleaning schedule; but, how I teach my kids to clean up as well (it is a work in progress!). UPDATE: Links to later posts added below! But today, I wanted to share with you two tips that have seriously helped us keep our house sorted. We have now been practicing this for 7 weeks and I have to tell you, it has been a game changer. Being disorganized has cost us so much time (and money in duplicate purchases) in the past. And the general untidiness has led to I don't even know how many mommy meltdowns. Is it just me or can you not relax until things are picked up? Now, of course there are those nights where you come downstairs from putting the kids to bed and you are just too plain exhausted to do one more thing; but, those are generally outweighed by the angst I feel when I see mess. Tell me I am not alone! This week in the Organizing Challenge, I am going to divulge all my cleaning secrets–I am talking favorite tricks, tools, and rules!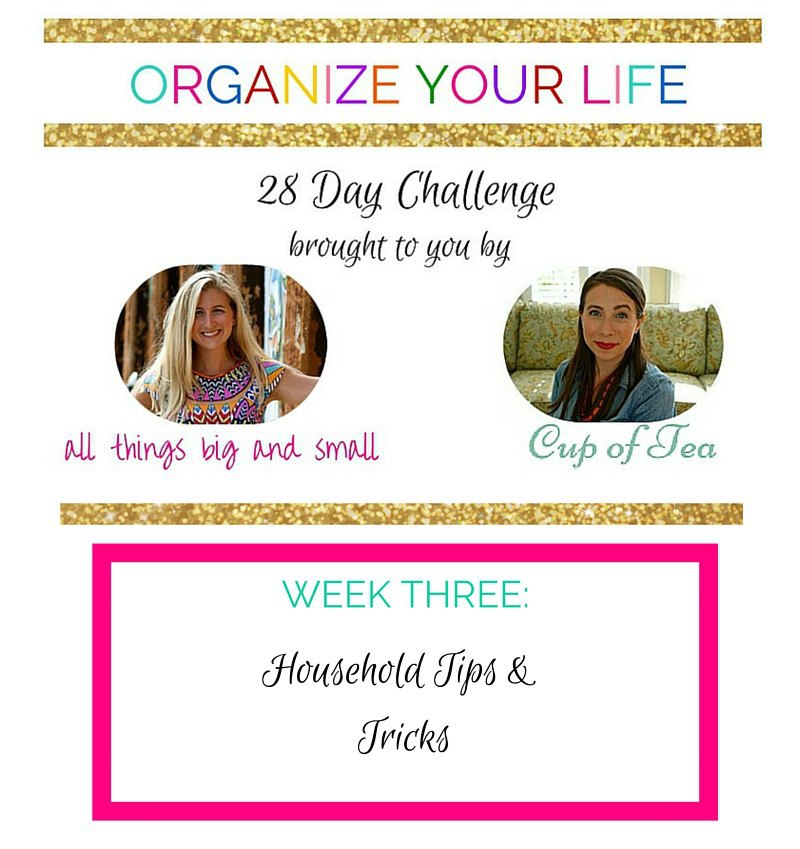 [wpbuttons ids="1_5″]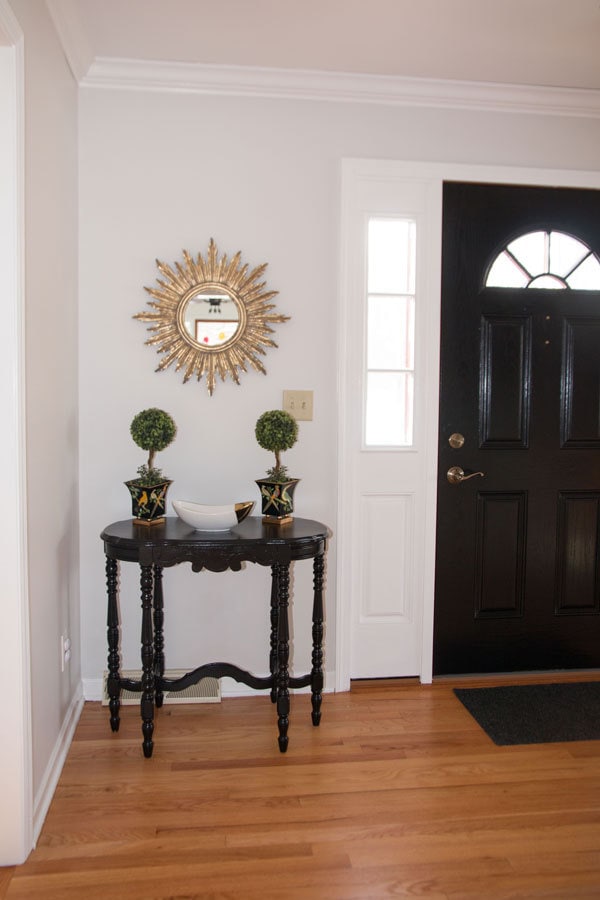 Alright, so here are my two tips to  keep your house tidy with minimal effort:
3.) One Place:
Creating one place for everything has been huge. No longer are there multiple areas for everything. In the past Evan would ask where is this piece of paper, and I usually say, "I don't know. Try the desk in the kitchen" Then he would go to the kitchen and tell me it wasn't there. Then I exasperatedly yell "I don't know! Try the desk in the office, or the bookshelf!" Both of us would be frustrated that not only could we not find things, but because of our own disorganization. So this past holiday, we tried to break down the typical processes in our house, one of which is bills/ mail. Now we have a system: mail comes in. Junk is thrown out. Bills are put in the "To Be Paid" folder. All bills and important documents are put in there. They are not stuffed in my daily planner or put in a drawer to be dealt with later. There is one place for them and they will all be dealt with at the same time. This saves you so much time!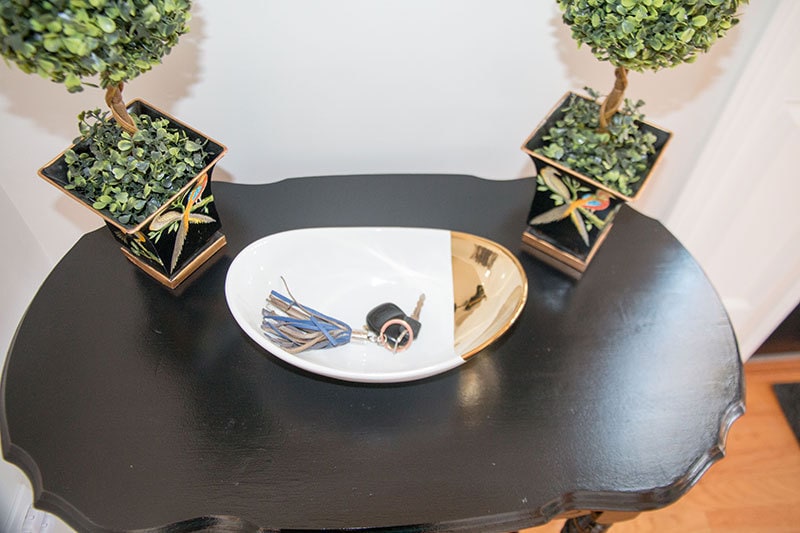 [bctt tweet="Designate One Place for items! Only one place! @allthingsannie "]
Things that have one place are: the diaper bag (closet shelf), coats, shoes (back hall), bulk supplies (laundry room), spot cleaner (laundry room cupboard), library books. All of the toys in B's room go in her closet (Barbies, dress up, puzzles). Each has its own place. There is one box for Barbies, one shelf for puzzles, one bookcase for her books. There are none stored outside the closet. The one place for toys on the first floor is the family room where there is one cupboard and one basket. If it doesn't fit there it has to go to the basement! If it came from upstairs than it needs to go back upstairs! There is only one place for them!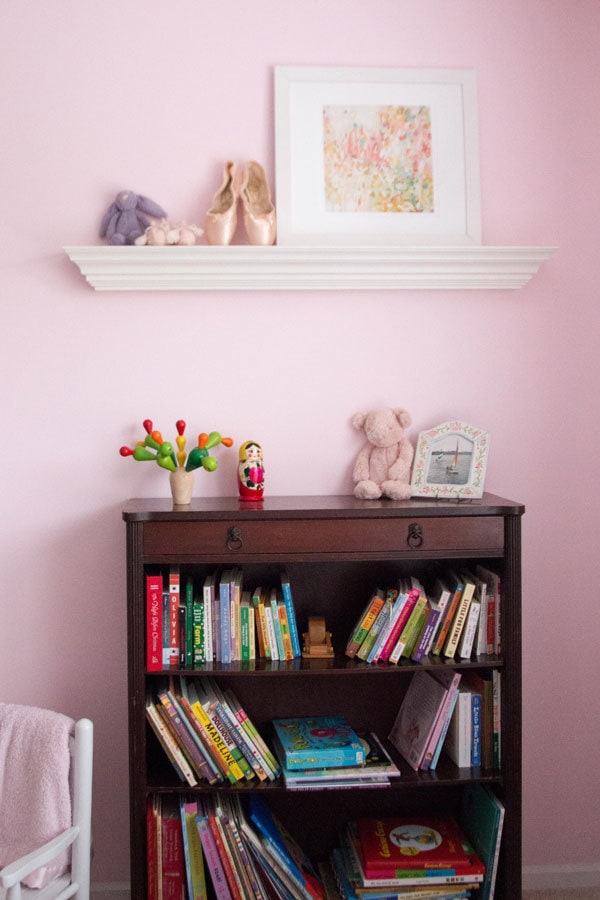 4.) One Touch:
In this same vein, certain items are to be touched only once. This is called the "one touch" rule. If it takes 1 minute or less to do, then it needs to be considered a "One Touch" item. Throwing junk mail out is one of these, as is walking the bills to the "to be filed" folder, hanging up coats after being outside, putting away shopping bags, and throwing dirty laundry in the hamper (and not on the floor).
[bctt tweet="If it takes 1 Min or less to put away, then it needs to be a One Touch Item! @allthingsannie"]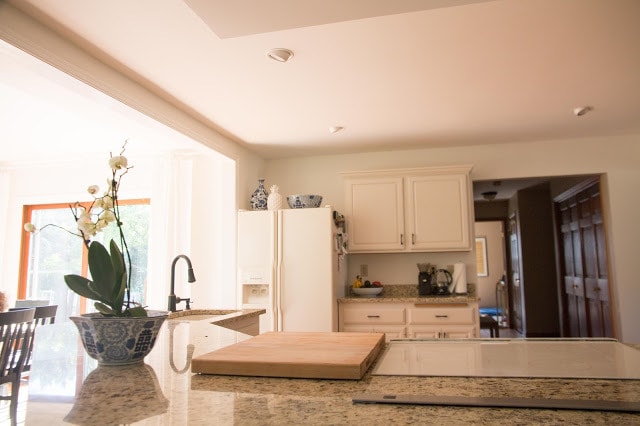 This has to happen every single time. There are no excuses. If I touch it, I need to touch it only once. Of course sometimes life gets in the way, and I forget (or have my hands full with babies/ bags/ screaming toddlers.) But by trying to do it every single time, it will eventually become second nature. No longer does mail sit on our kitchen desk for weeks on end. It is handled the minute it comes into the house, and any bills that need to be sorted are sorted. These are little things that add up. Things are sorted, the flat surfaces are clean and clutter free. Try doing this for a day and see what a difference it makes in your house! I swear it helps!
This also applies to putting stuff away. Don't just move the stuff, put it away! By employing the one touch so much stuff will vanish from sitting on your counters! Don't empty the dishwasher only to let stuff dry on your countertop. Take the extra 10 seconds and dry it off and put it away.
5.) One Trip: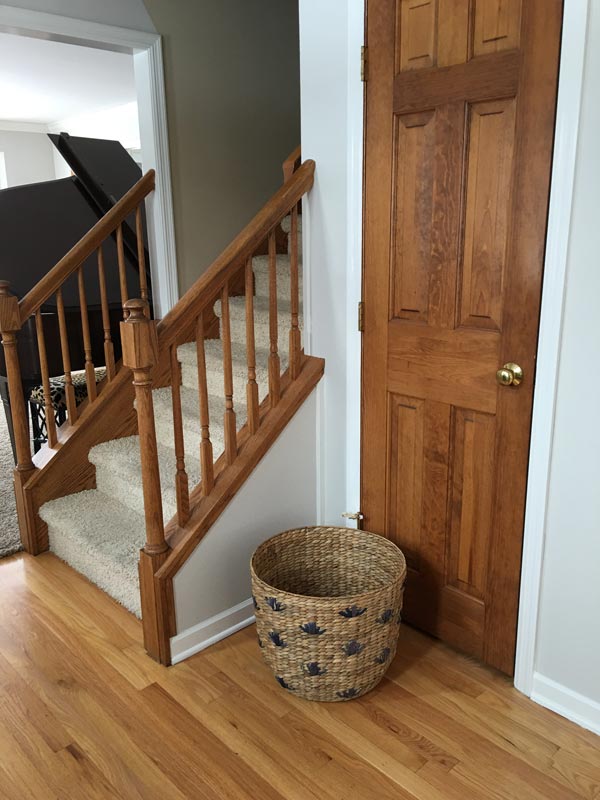 Ok, so I realize that with this one tip might seem to contradict the previous two tips. But it doesn't! Some stuff is "one touch" and other stuff is not. Stuff that resides on the second floor (like her Barbies and books) are not one touch! If I were to employ the "one touch" rule for the stuff on the second floor, I would have to be running up and down the stairs a million times a day. Not going to happen! So anything that needs to go upstairs goes in the ONE basket by the stairs. I empty out the basket ONE time a day in ONE trip. This saves me time shuttling stuff up and down. I will put stuff in there all throughout the day when I am tidying up, but I won't go through the whole action of putting stuff away. Getting both kids up and down the stairs with a basket of stuff is too much effort. So when Evan is home and reading to the kids before bed, I bring the basket with me and go room to room and put stuff away. Barbies go back in the Barbie box, B's clothes go back in her drawer. It sounds crazy but by giving myself permission to only do it ONCE a day it is so freeing! The house get's tidier in seriously 5 minutes. I take the basket around the house and throw in anything that doesn't belong downstairs (like the million and one baby socks that we have littered around our house, the three dresses B has worn, the five Barbies and their dresses.) Then once a day I will put everything back in its spot. If we have a playdate instead of running around the house like a madwoman trying to put away everything, I just stuff it in the basket. Any  mom that comes over knows how much stuff gets taken out during the day and understands.
[bctt tweet="Instead of running up and down the stairs. Do ONE trip ONCE a day. Saves time and energy. @allthingsannie "]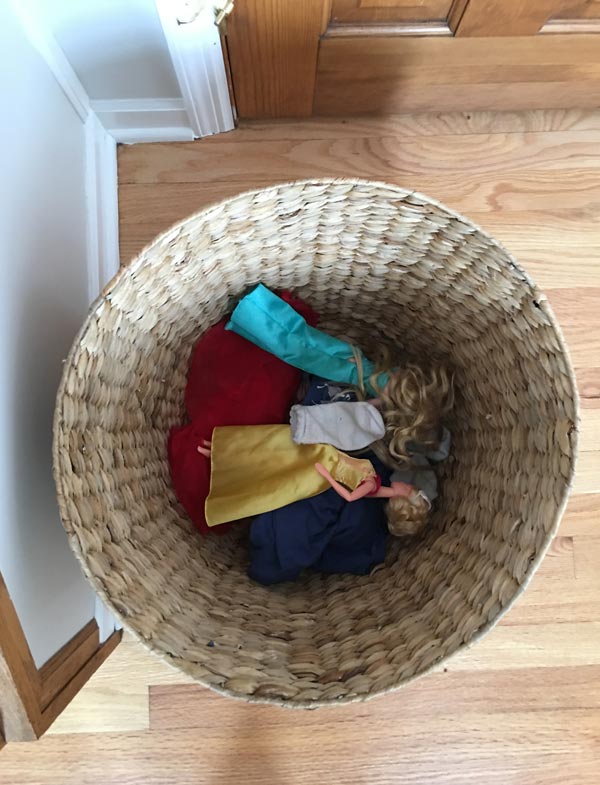 Seriously, these three "One" tips have saved us so much energy and time in organizing our house. Although it takes a little upfront work in deciding what is going to be a One Touch item, where the One Place is going to be, it will save you a lot of headache in the future. So tell me, what is your tip for keeping your house tidy? Every time I go over to a mom's house, I ask her what her secrets are and these are a combination of all the best tips I have found over the years (and have tried out and worked successfully in our house!) So spill! And if you want to still join the Organize Your Life Challenge, just click the button below! I will send you the previous weeks' newsletters full of tips & tricks and exclusive printables!
[wpbuttons ids="1_5″]

And if you can't get enough household tips & tricks, and want to read more, check out these posts:
How to Clean with Kids: And Keep Naptime for You–Tools and Tricks
A Cleaning Schedule that Actually Works
How to Create a Beautiful Organized Nursery that Looks Good Even When It's Secretly Messy!