This is a sponsored post written in partnership with BabbleBoxx. All thoughts and opinions are mine alone.
Welcoming a new baby is full of lots of surprises–who knew one little human could produce so much poop? How can a baby need to learn to sleep? And I need what??? New and amazing products are always coming out that make our lives easier as new moms, so when BabbleBoxx reached out to partner with me and share some of the newest and best products on the market, I was game!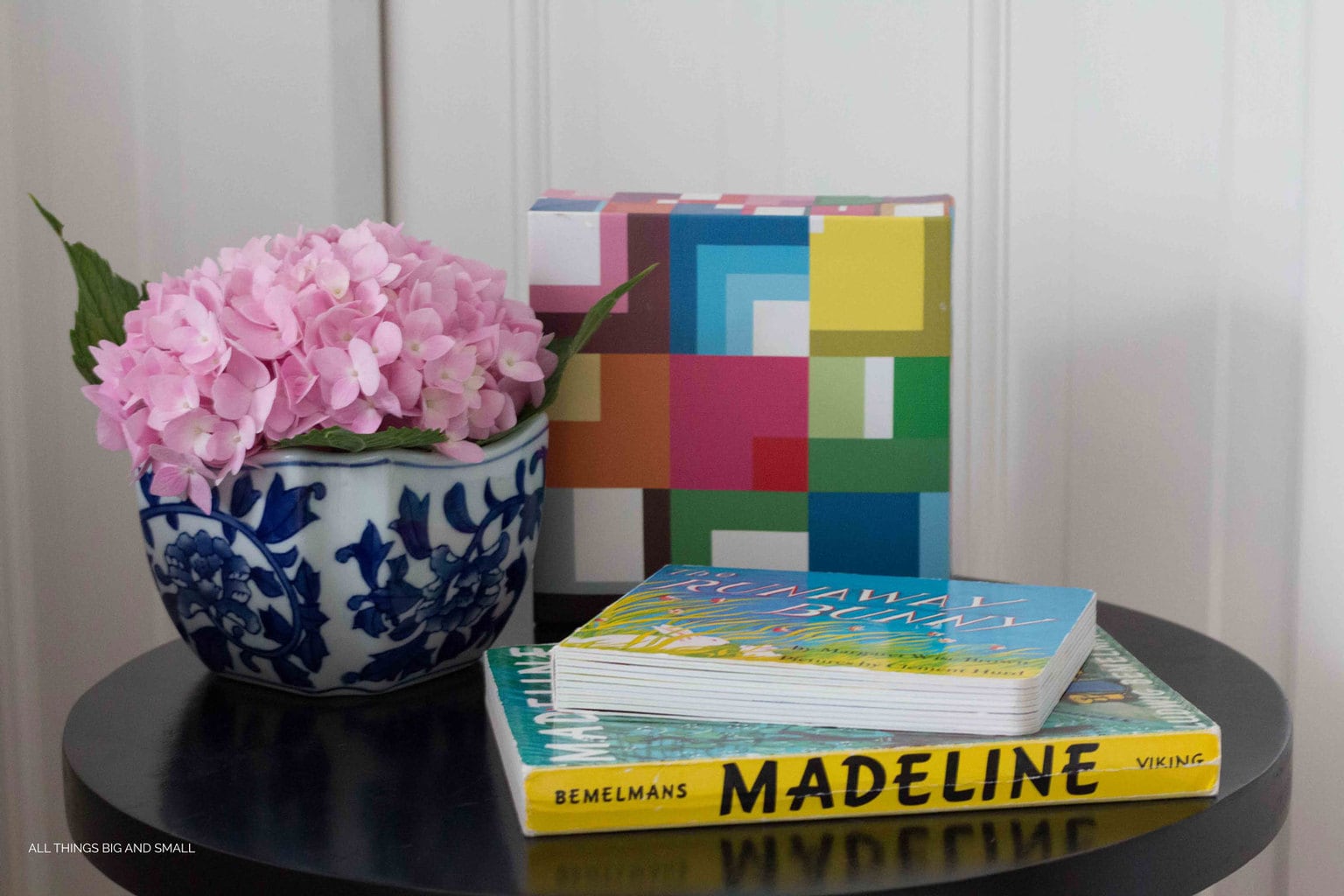 THE COMFIEST BRA
Nursing bras are your new best friend–especially nursing bras that are comfortable. I am a tiny bit embarrassed to admit that I have been wearing nursing bras for pretty much the last 4 and a half years. Between nursing each kid 14 months (hello nursing boobs!) and then being pregnant (hello pregnant boobs!) three times my old bras just don't fit! So I was more than ready for a new nursing bra. I had heard so much about Playtex Nursing Bra I was excited to try it out. What I loved about it is its supportive stretch fabric–it spans two cup sizes and one band size so it will fit you throughout most of your hormonal (and size) fluctuations–I go from a 34B regularly to a 34C when pregnant all the way to a 34DD when nursing! It is really comfortable with higher sides, deeper cups, and comfortable straps, and Cool ComfortTM fabric. You can buy your's here.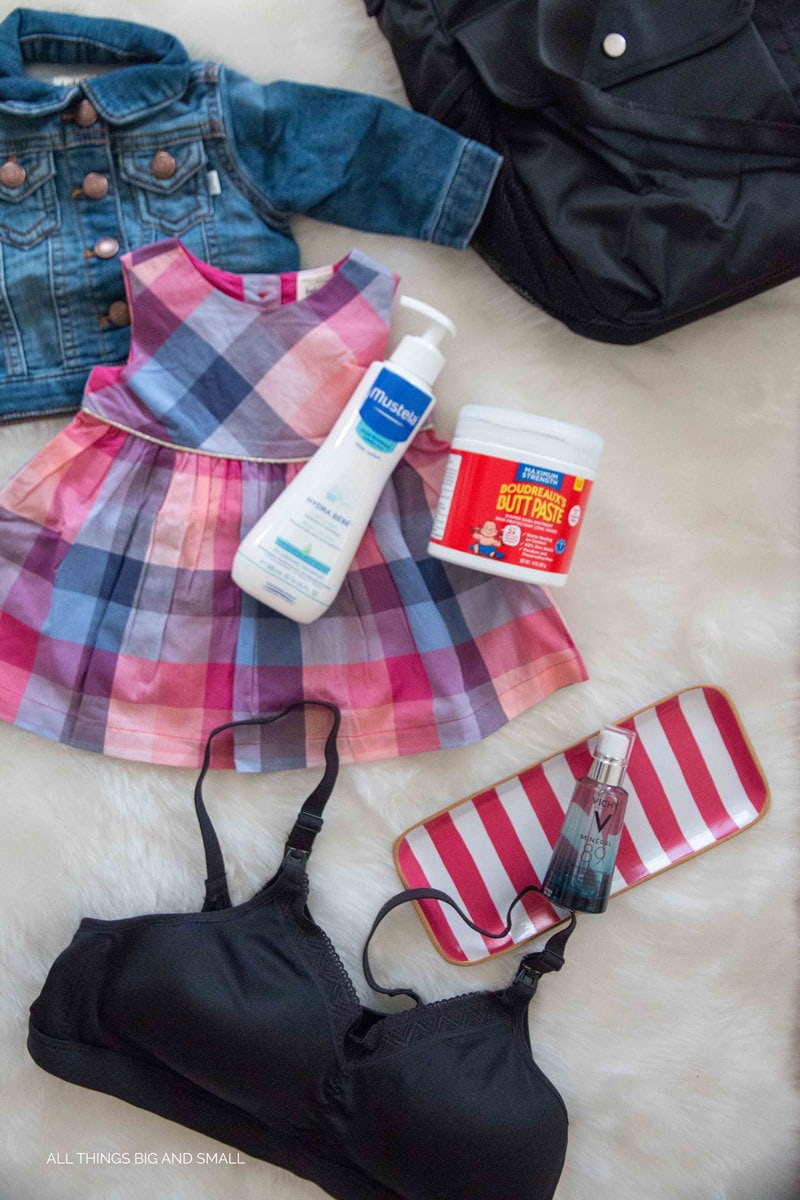 WHEN YOU JUST NEED A THIRD ARM
If you have ever gotten frustrated that you didn't have three hands, then you need to consider the Mumbrella because it is a lifesaver. Have you ever been out and about with your stroller when it suddenly starts to rain? The kids thankfully stay under their stroller visors but you are absolutely soaked. Well, the Mumbrella stroller umbrella is the answer! It easily attaches to your stroller shielding you from the rain and sun, leaving you both hands to push the stroller/ readjust pacifiers, hand out snacks or do anything else moms do on a daily basis. I tried it out myself and loved the ease of use and the two points of adjustability which easily covered me and the baby. Let's just say it's a lifesaver for moms who always forget to check the weather forecast (obviously not me 😉 Pick up your's here and use the code BABBLEBOXX for free shipping!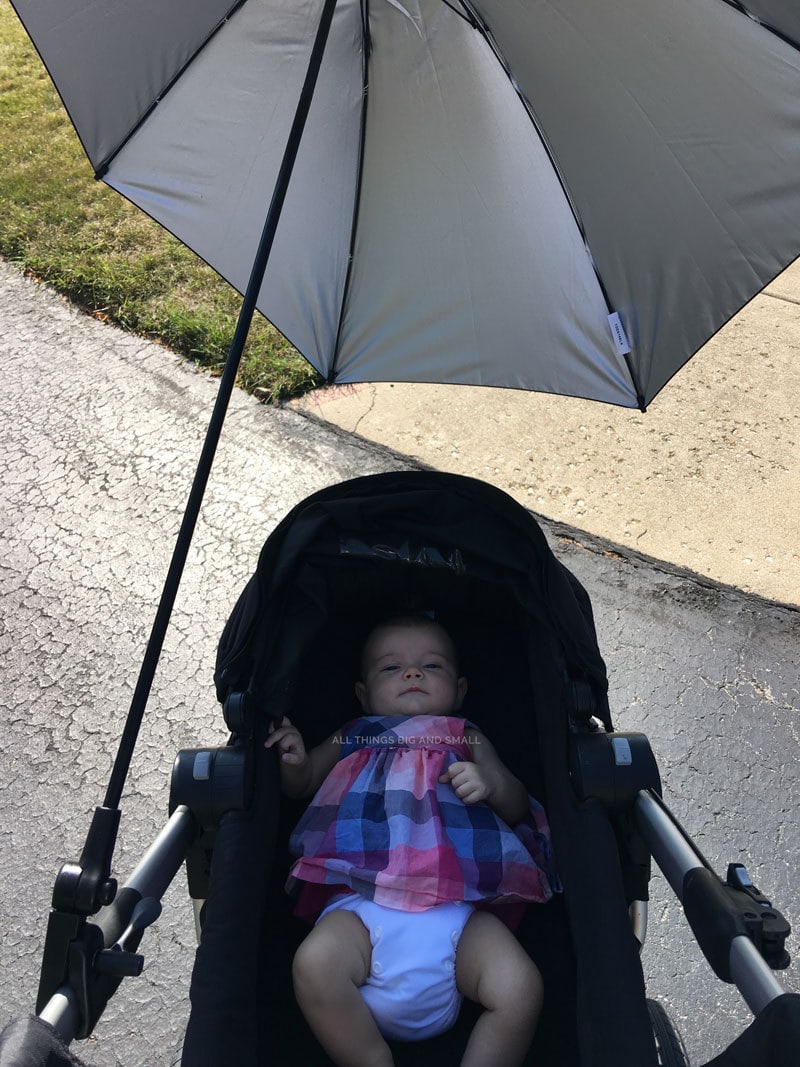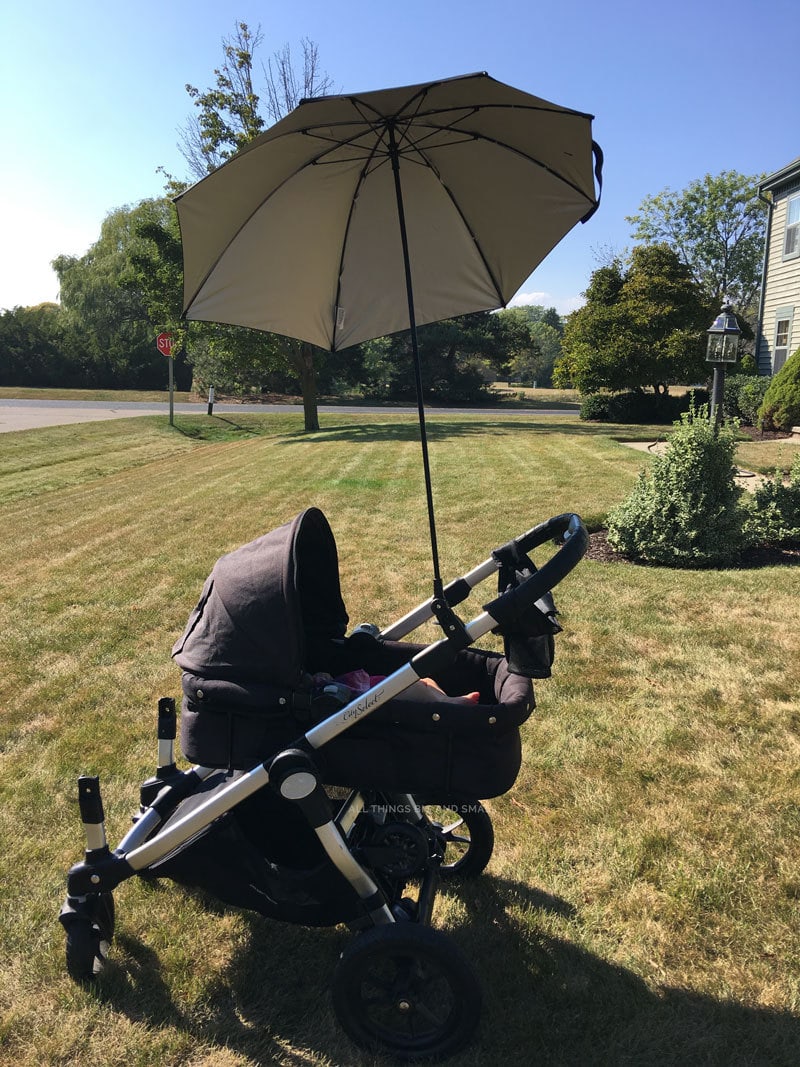 THE SOFTEST SKIN
You might not know this about me, but after graduating from college I was a nanny. I graduated at the worst possible time in the middle of the recession and didn't know what I wanted to do with my life. Even though I had a 3.98 GPA in neuroscience and had worked in a lab for two years on traumatic brain injury it did nothing to help me get a job. So I gladly took jobs as a nanny and I loved all the time I got to spend with the children. I truly believe it helped me prepare for being a mom, and I learned so many valuable things from those families. Why am I telling you this? Well, because it was when I was a nanny that I was first introduced to Mustela. I love Mustela baby lotion because it is hypoallergenic, and preserves baby skin's cellular richness. Every time I smell Mustela products I think of that baby that I watched and smile. I love that I can now use it on my baby. You can buy it here and use this code to save 20% BABBLEBOX17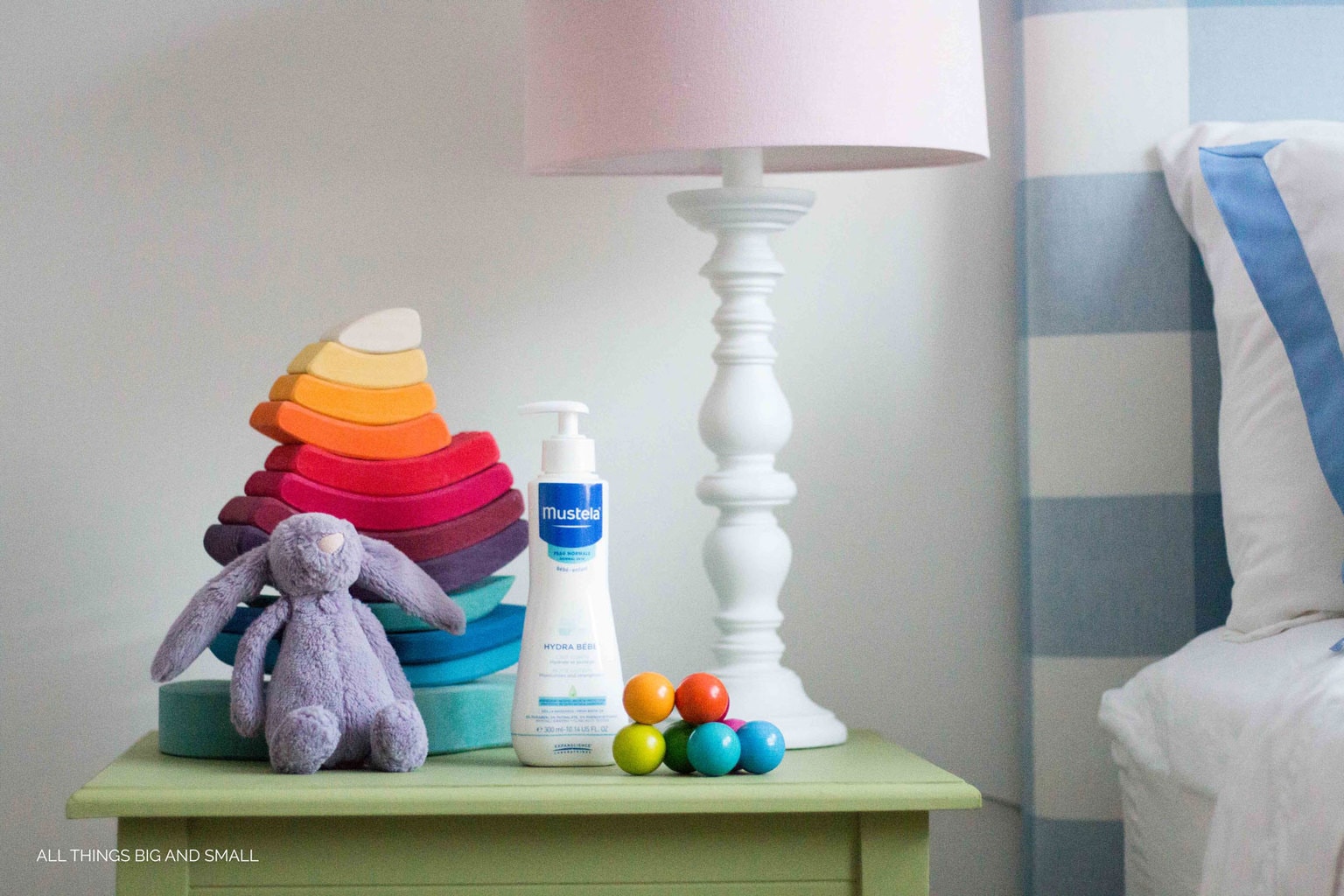 A PRODUCT FOR YOU–VICHY
New moms know that their skin has been through the ringer with the massive swings of pregnancy and postpartum hormones. Since Brooke was born, I have been really bad about taking time for myself and it is something I am actively working on. Taking a few minutes in the morning to get myself ready for the day instead of simply racing out the door is a challenge, as is making sure to take five minutes before bed to wash and moisturize my face. Vichy Mineral 89 face moisturizer helps strengthen skin against internal (umm hormones) and external aggressors (stress, pollution) with its mineralizing thermal water from french volcanoes. Pick up your's here and use the code BabbleBoxx for 20% off and free shipping through 11/30/2017.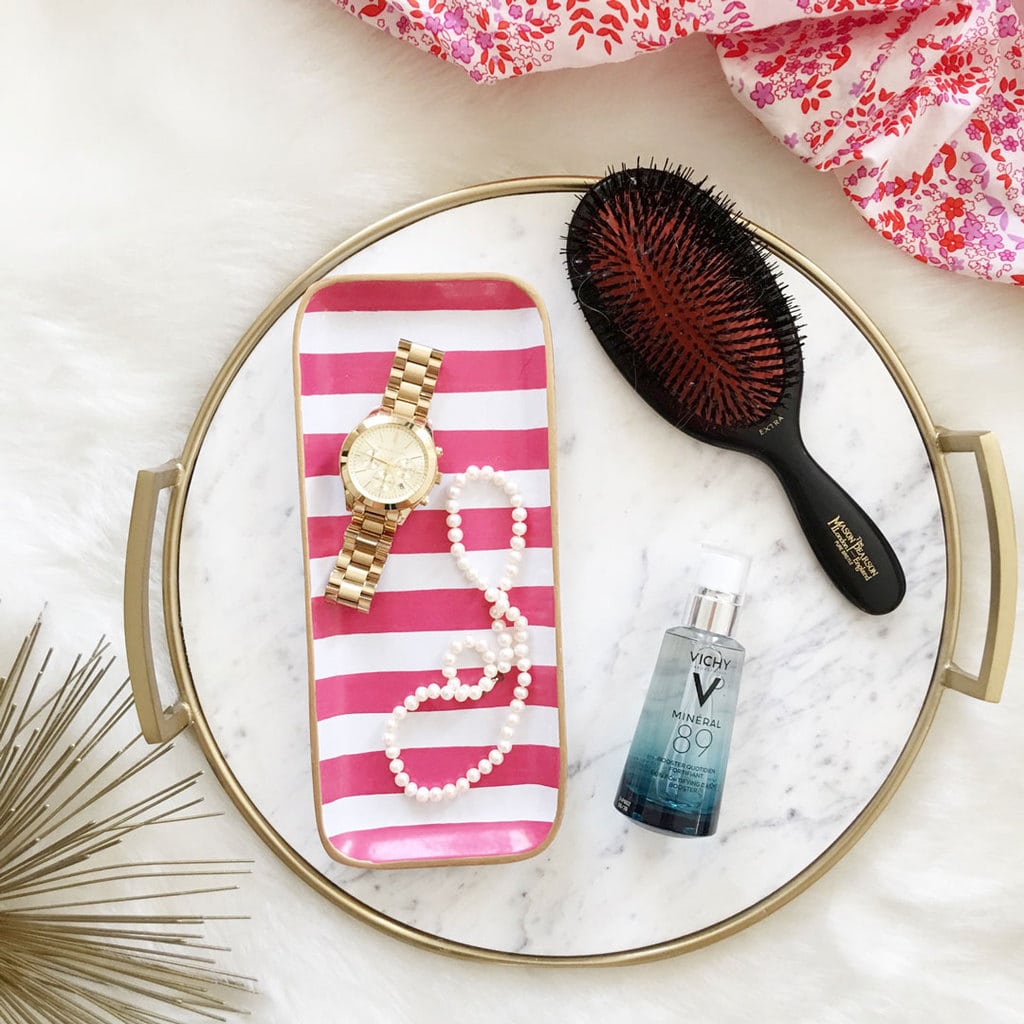 A DIAPER BAG THAT IS COOL ENOUGH FOR DAD
You already know how I feel about diaper bags–I feel like most of them aren't stylish and are too bulky for my liking. But, this Land's End bag is the perfect baby gift for new dads and moms because it is so versatile. It is lightweight and durable and even has a webbed strap that is adjustable and designed to loop around the stroller handle. It is the perfect diaper bag for dads to take out plus, it is durable so you don't have to worry about it getting dirty. You can grab one here.
BOUDREAUX'S BUTT PASTE
We don't mess around with diaper rash in our house. I cannot fathom how uncomfortable it must be, so whenever we see a it starting I grab Boudreaux's Butt Paste. Our pediatrician recommended it back when Jack was a baby and had horrible diaper rash as a newborn. He would scream every time I changed his diaper. It was awful. We love it because it is effective without the harsh ingredients. It also has one of the highest concentrations of zinc oxide which forms a barrier between the skin and the diaper. We use both the Natural version and the Maximum Strength. You can pick up some here–it is truly a nursery essential!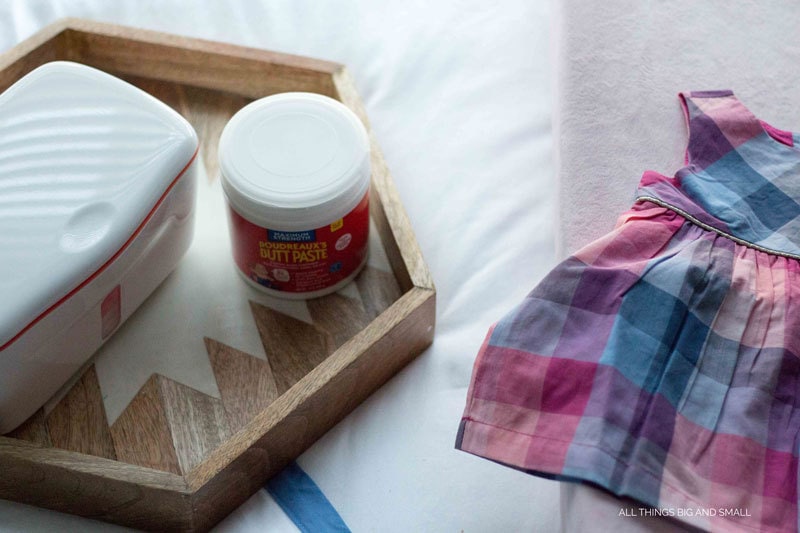 DRESSING BABY
Being a third child, Brooke hasn't gotten many new clothes. So when I saw this adorable ensemble complete with a jean jacket I was thrilled. Baby B'gosh is one of our favorite brands. They make toddler clothes, baby clothes, and you might remember dressing in them as a kid under the name OshKosh B'Gosh (my mother-in-law recently handed down some overalls for Jack that are too cute and are the exact ones E wore 32 years ago!) The fabric used for the outfits is super soft–even the waistbands, and sizes with Baby B'gosh go up to 5T. Take a look at all of their adorable baby and toddler clothes here and get 20% off $40+ purchase with the code OKBG3352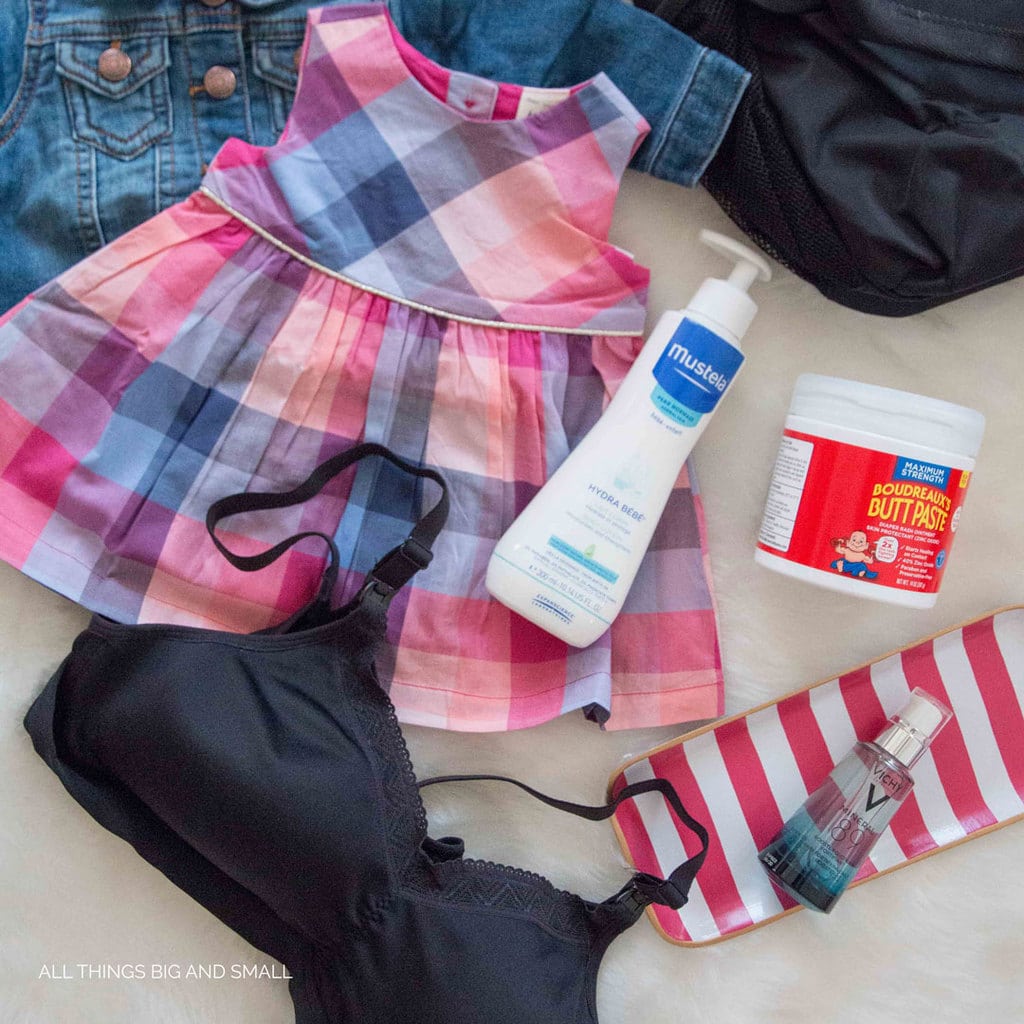 Tell me which is your favorite new baby product?