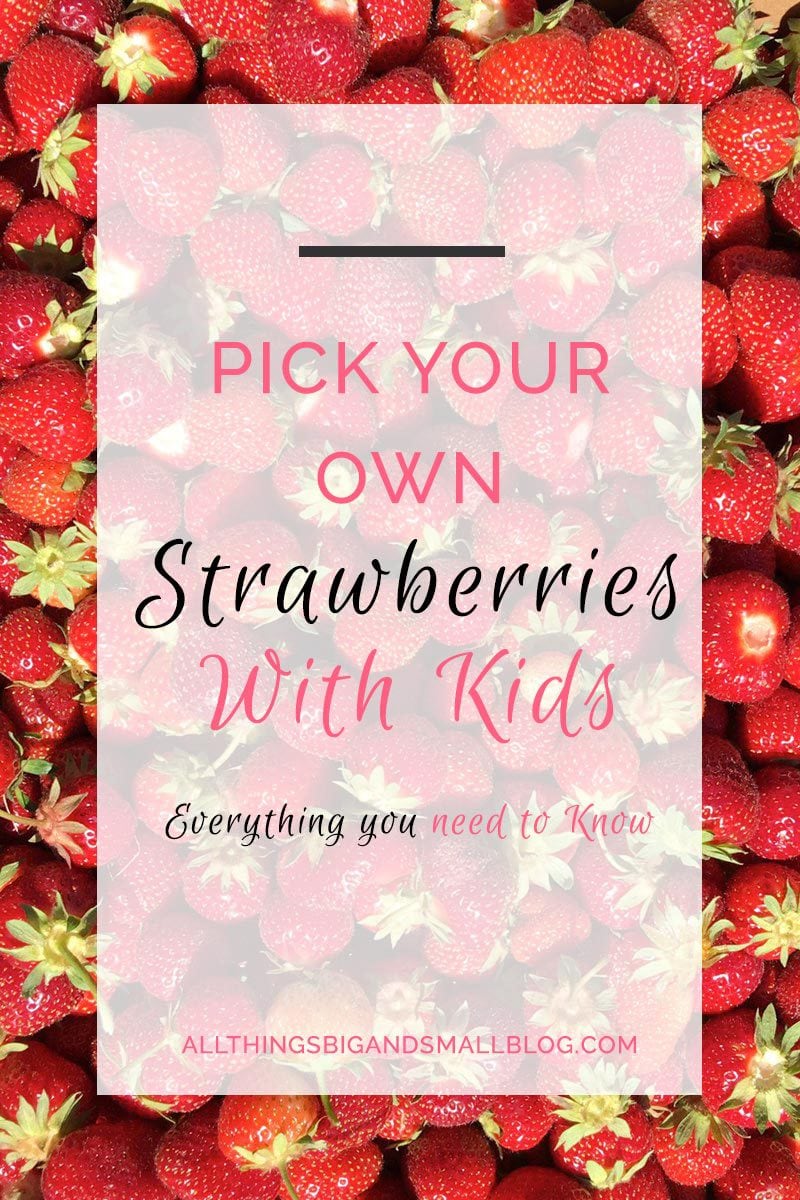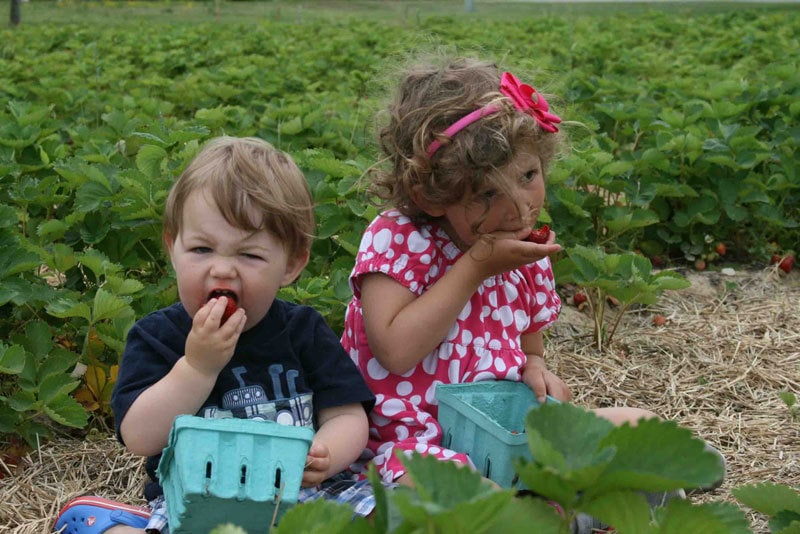 If you have every wanted to go strawberry picking with kids; but, wanted to know where to find U-Picks, how to pick, and how to keep kids happy, and finally, what to do with 30 pounds of strawberries then you are in luck! I plan to share all of the following in this blog post! In the past two weeks, we have frozen over 55 pounds of fresh fruit–just under 30 pounds of strawberries and 25 pounds of peaches! Peaches and strawberries are both on the EWG (Environmental Working Group's) Dirty Dozen list, with strawberries topping it. So finding a local farm that minimized spraying the strawberries as much as possible was very important to us. And believe me, we will go through it. My kids cannot get enough fruit. We easily go through a pint of strawberries per meal!
Click Here to Download DIRTY DOZEN & CLEAN FIFTEEN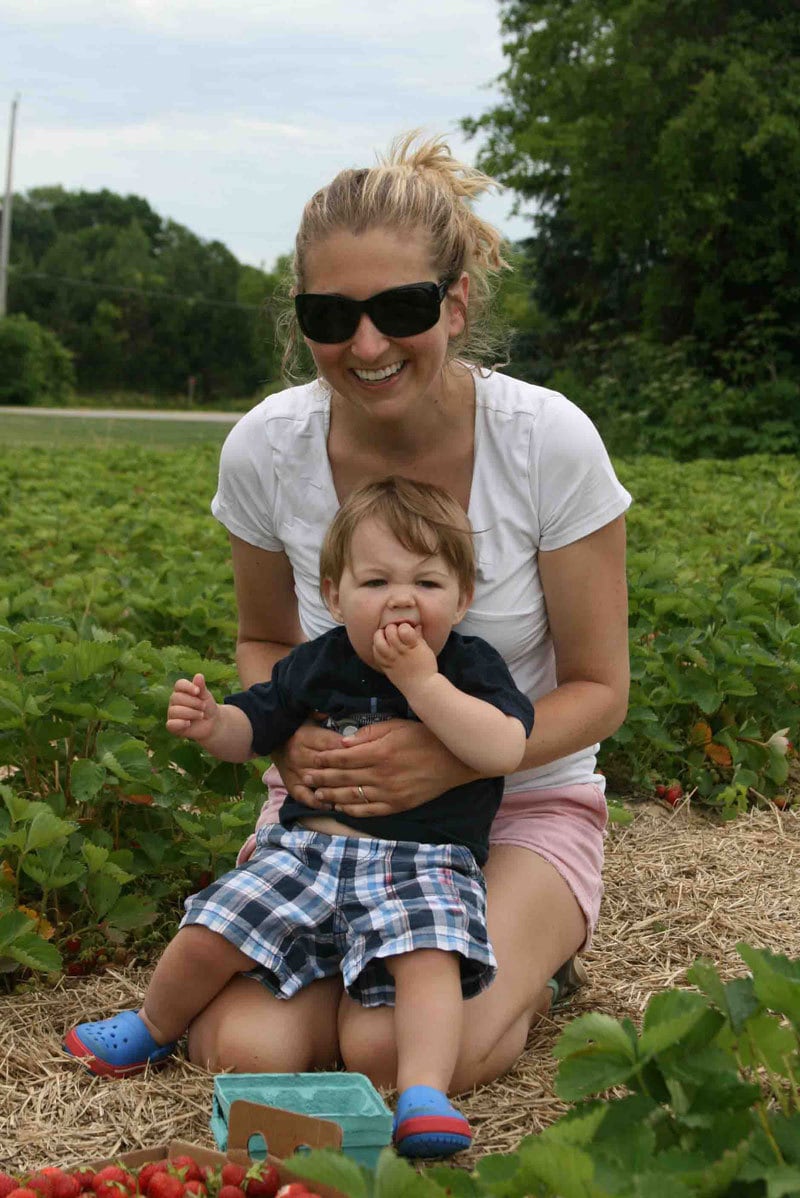 In the past three years that we have been doing U-Picks, I have found that finding an USDA Organic U-Picks is incredibly hard. After talking to some of the farmers, I have gleaned the following: first, it is hard and expensive to attain USDA Organic status and, second, it is difficult to grow a reliable crop without any pesticides on a small scale. So, we have found a medium ground. I buy only organic strawberries at the grocery store but after talking to several local farmers, I found one who had sprayed the least, at least a few weeks ago (with a lot of rain in the meantime), and who allowed us to pick our own. And pick our own we did–we went two times in two days and picked just under 30 pounds.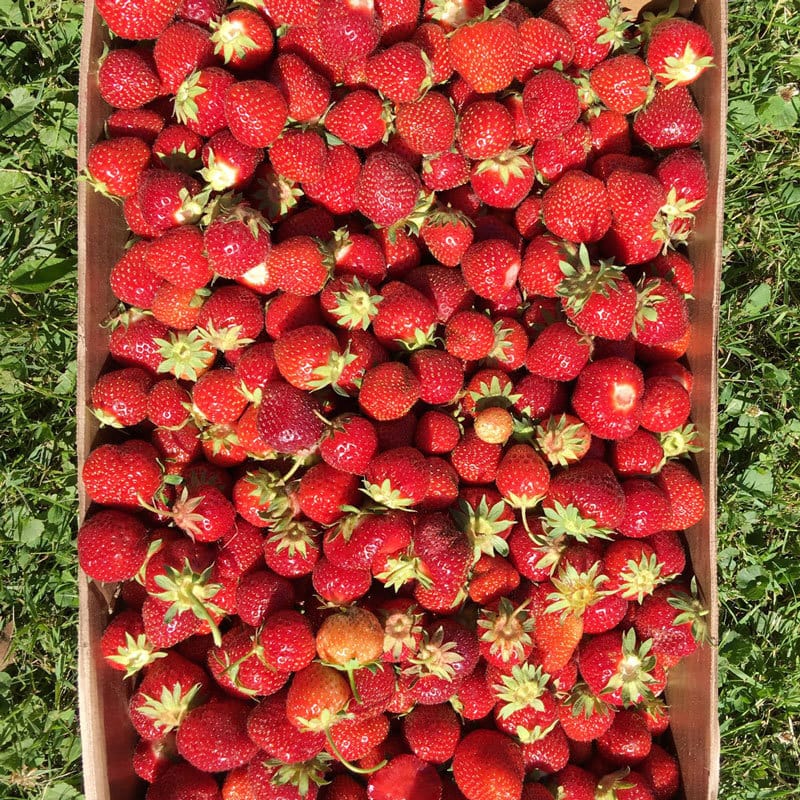 (just under 15 pounds)
As you can see, Jack obviously hated the experience 😉 This little guy couldn't get enough! So when I went to pay, I told the farmer to charge us extra for the strawberries the kids had eaten; but, he just smiled and said that it was just part of the experience and he was thrilled that the kids had so much fun!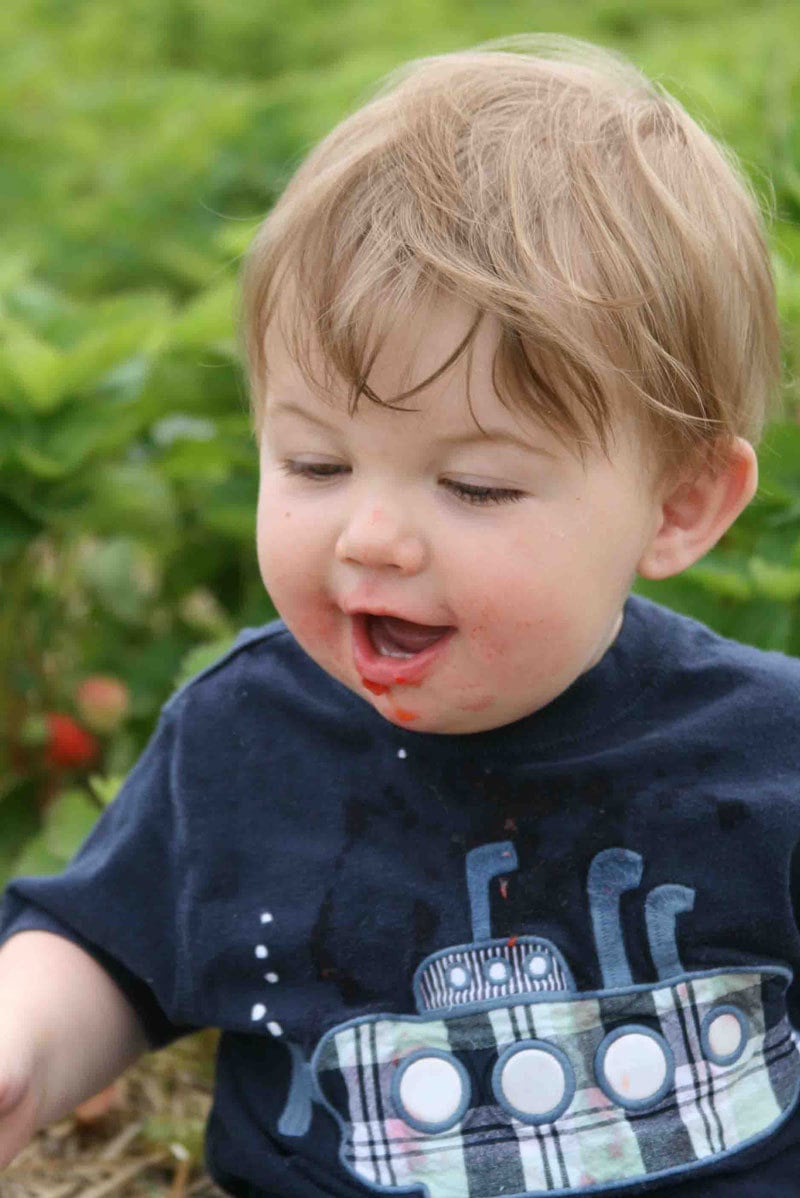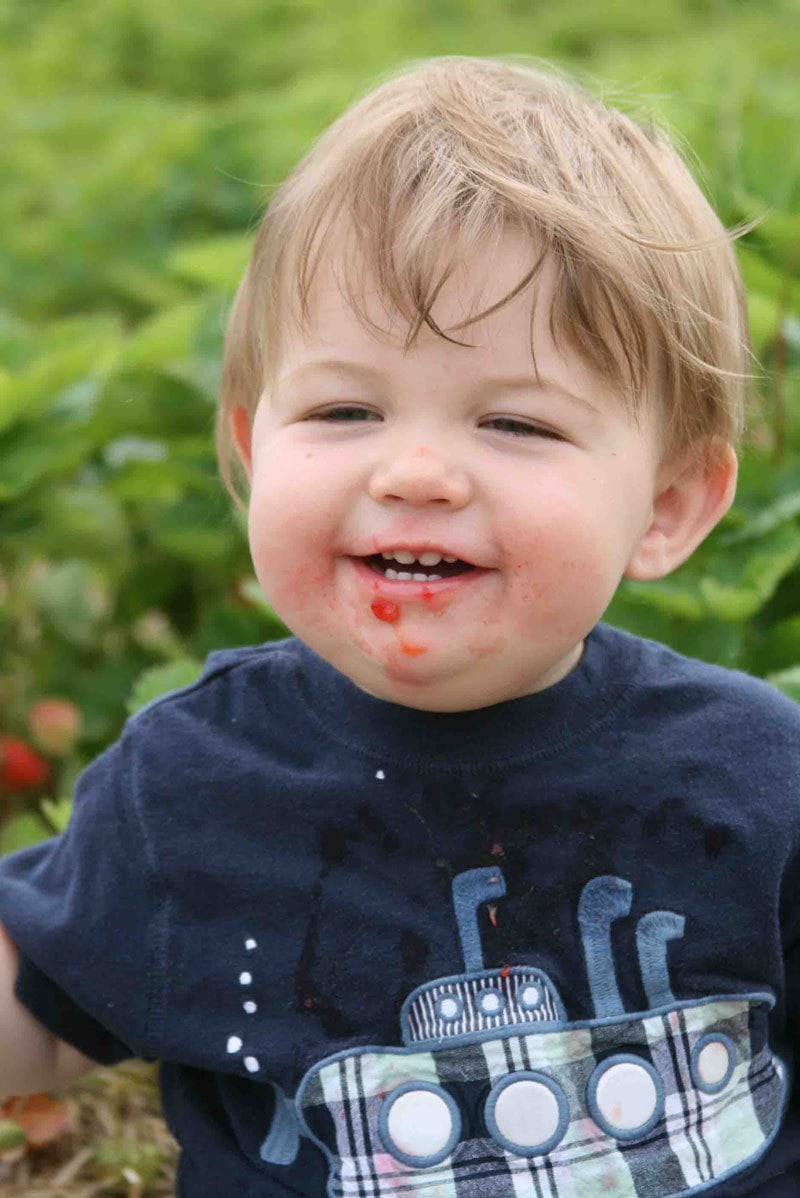 Strawberry everywhere! Momhack: if you are looking to take pictures of your children, plying them with endless strawberries will guarantee they sit in place long enough for you to get good pictures!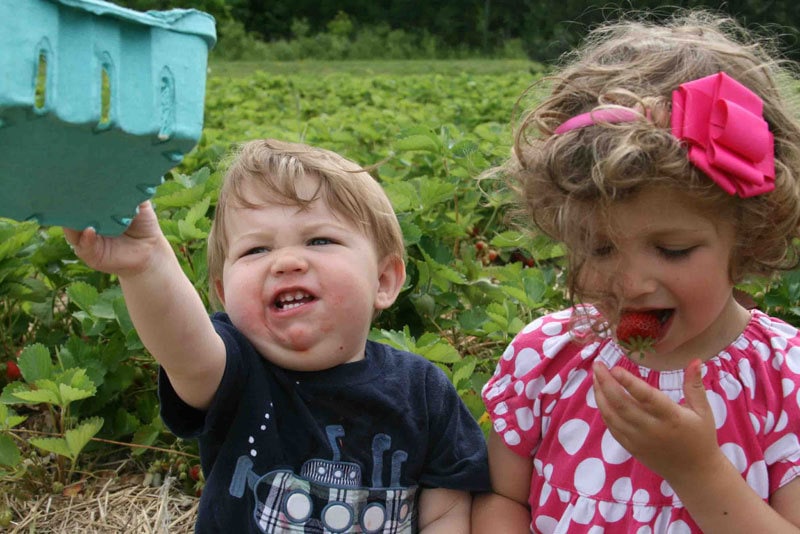 B was a little less patient with the photographs. It was her second day at the farm but she was happy to oblige and sit down and eat some strawberries for a few minutes.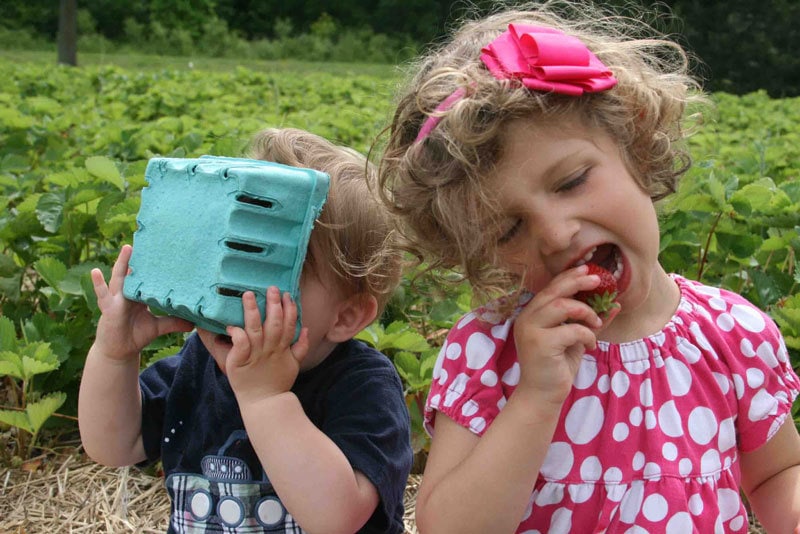 Alright, let's get down to the details:

How to Go Strawberry Picking with Kids: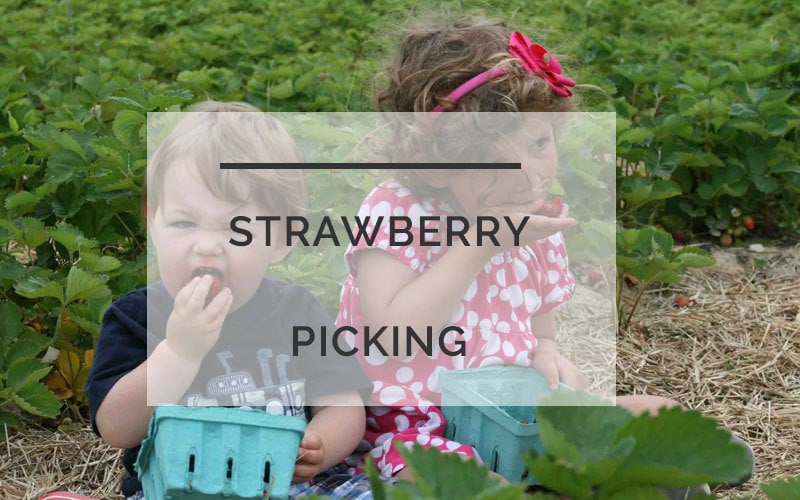 1.) Find a U-Pick Farm:
Ask around or google "you pick strawberries" or "u-pick strawberries" this website is a great starting point for finding farms in your state although not all of them are listed. To find out about pesticide use, just call the listed phone number. Every farm that I spoke to was small enough that I was able to talk to the farmer. I simply asked what kind of pesticides they use and when was the last time they sprayed.
2.) Ask when to Come: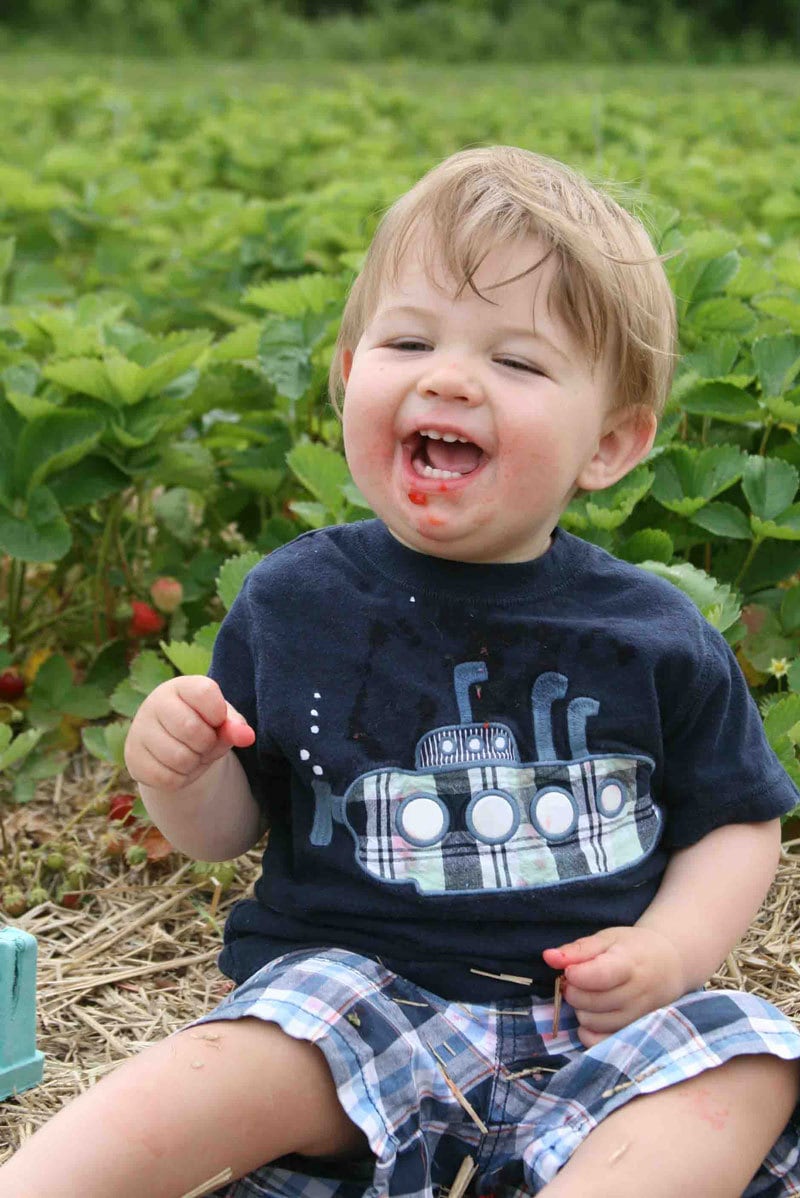 Ask the farmer when he thinks is the best time to come. If you can't speak with the farmer, try to find the facebook page of the farm you are going to. I follow ours and was able to find out exactly when they opened the season for picking, the status of the berries, and their hours! If you follow them, then the following year you will be alerted when the season opens again!
3.) Kid Management
We went twice over the course of two days because I know my kids aren't going to last three hours. Luckily, we found a nearby farm that was only 20 minutes away and went twice over a two-day period. If the farm isn't close by, then try to bring snacks and plan for the kids to have a break midway. It will replenish everyone's spirits and energy! Also, make sure to bring sunscreen! The second day, Jack fell asleep so I wheeled him out in the field in our stroller! He slept for about half the time, and B picked her own strawberries.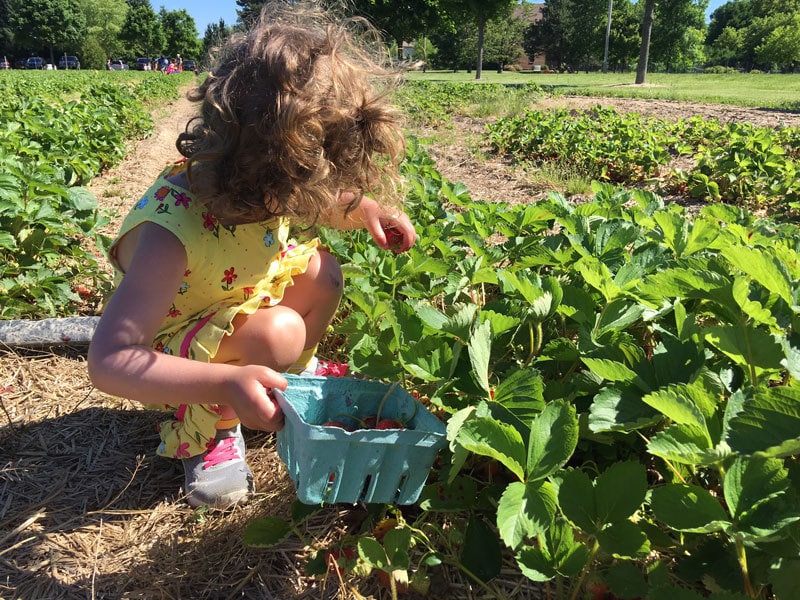 To encourage B to not step on the strawberries, I told her that the rows were rivers and she had to jump or find a route around them. This seemed to finally click with her, and she enjoyed her "adventure" in the field.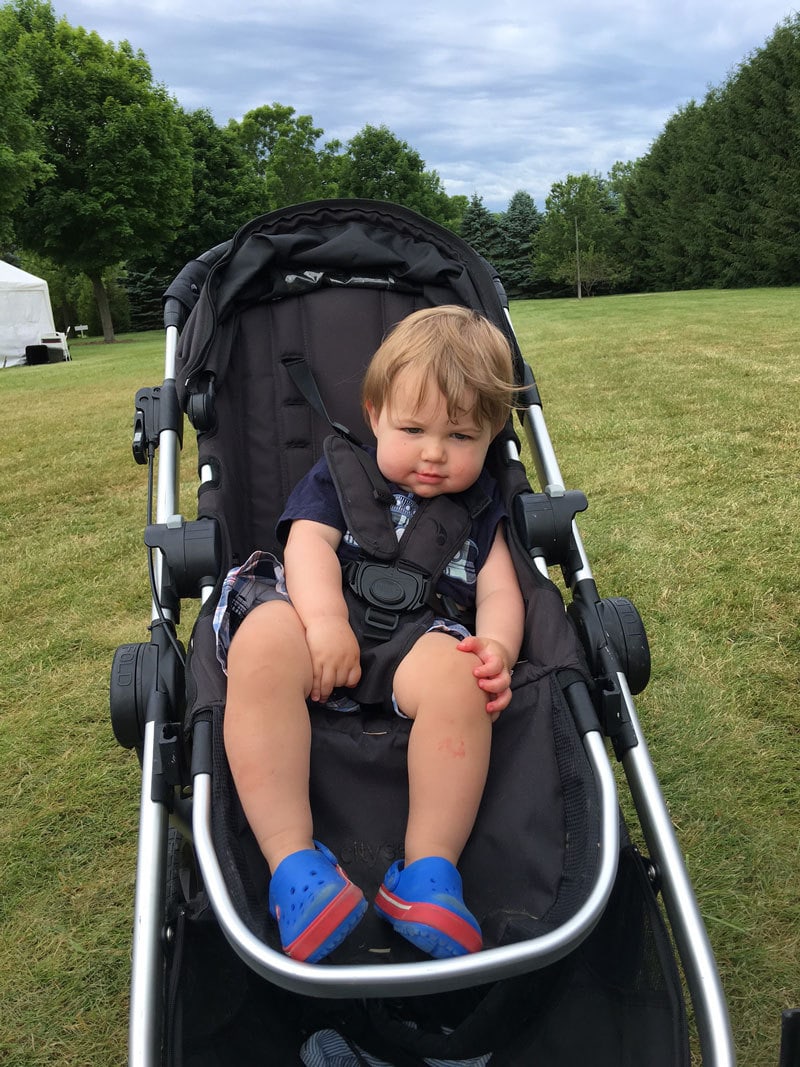 B actually picked a good deal of strawberries, and I think that's because I took the time to tell her exactly what to look for and how to pick them. She didn't do it perfectly; but, telling her to find the reddest strawberries that weren't too soft, and showing her examples helped her understand. She took a small container and would come and regularly dump her strawberries in my big crate.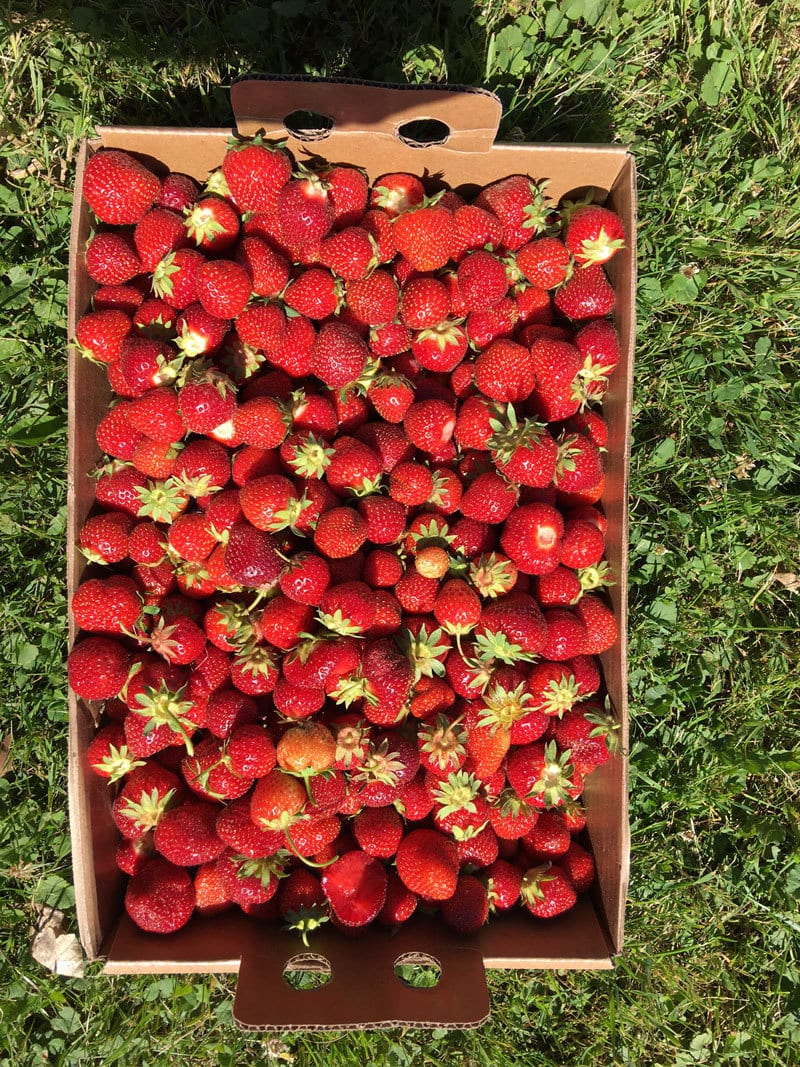 4.) Pay and Take 'Em Home:
The best part of picking your own other than eating them–the price! They were only $1.75/ lb. which is a great price! It seems pretty consistent to pay between $1.47-$1.75/ lb depending on the fruit you are picking. Remember to bring cash or check, because most small farms don't accept credit!
5.) Portion and Freeze:
Do not wash them! Washing them prior to freezing will soften the skins and will result in soggy and not so good strawberries! This applies to all the fruit you freeze. Portion out what you are realistically going to eat in the next few days (we were very generous and gorged ourselves on them because we wanted to) and then freeze the rest! To prepare the strawberries for freezing, hull the core out with either a huller (my friend swears by this one) or a paring knife like I did.
Spread them out on a cookie sheet, and freeze overnight. Then scoop them off and pour into a gallon size bag. One cookie tray makes about 1 gallon. And we ended up with six gallons total.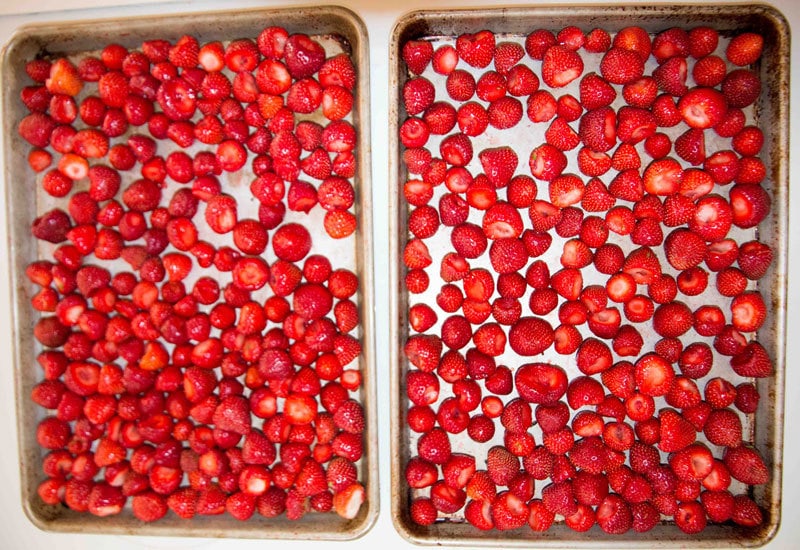 Wash the berries right before you eat them. I like to wash them with warm water to thaw them. Now, you can enjoy them all winter long in your smoothies, yogurt, or just plain!
Just this week, we finished the last bag of our 30 pounds of blueberries from last year. So I am excited to go blueberry picking in a few short weeks! We also froze about 25 pounds of peaches that we bought for $1.47 from a farm truck. If you want to read more on how we eat green on a budget, make sure to check out this post and this one!