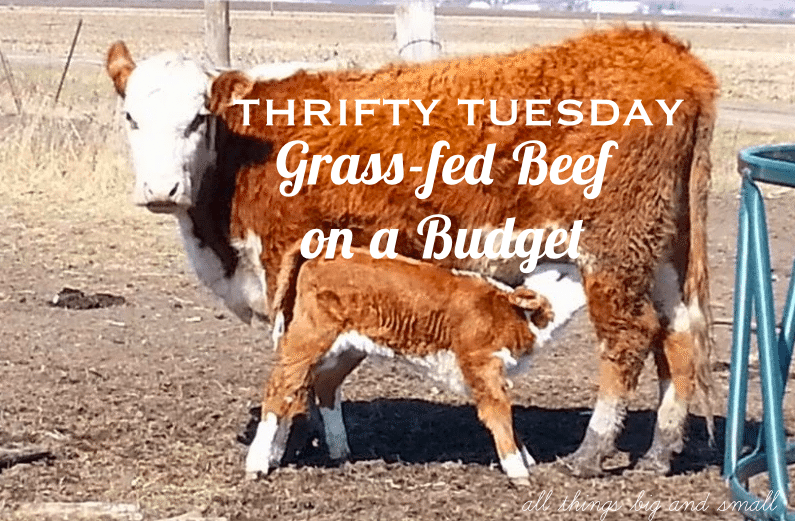 So I am obviously a day late on this…Thrifty Wednesday we'll call it. I will give you a full run down but we have been keeping busy the last 36 hours with the pacifier fairy who visited Monday night. Sleep is getting better but still is really rough. And all of her crying has been stressing the heck out of me creating nonstop Braxton Hicks. So yesterday we just had to have a chill day with no work or blogging. But, we are all feeling much better and are better rested! So on with a thrifty tip.
Even with a budget, eating antibiotic and hormone free, grass-fed meat is always a priority in our house. I can skip the organic vegetables; but, I don't skip the free-range meat and organic dairy (grass-fed if possible) even though they are considerably more expensive. My reasoning is this: Think of a food chain. The more pesticides that are ingested by the cow, are more concentrated in what we eat. And pesticides and chemicals and hormones are all fat-soluble which means that the fattier the meat, the more likely it contains a higher percentage of pesticides and nasty chemicals. Then consider the life the animal you are eating had. CAFO animals have horrible lives. In my opinion, giving an animal the best life you can before you eat it is the most respectful.
Now, that said we certainly could not afford to buy grass-fed meat exclusively from the supermarket. Even with sales, the grass-fed ground beef (arguably one of the cheapest cuts) from Whole Foods would seldom be down past $5-6/ lb. Forget altogether the steaks which regularly (from any grocery store) even without being grass-fed organic cost $25/lb.
Instead, for the second year in a row, we have bought a quarter of a cow from a small family farm that we have grown to know. This year, we added a half of a pig from them as well because pasture-raised pigs are really hard to find. I mean, have you ever even seen it as an option in the pork even at Whole Foods much less a traditional supermarket? And let me tell you, their meat is the best I have ever had.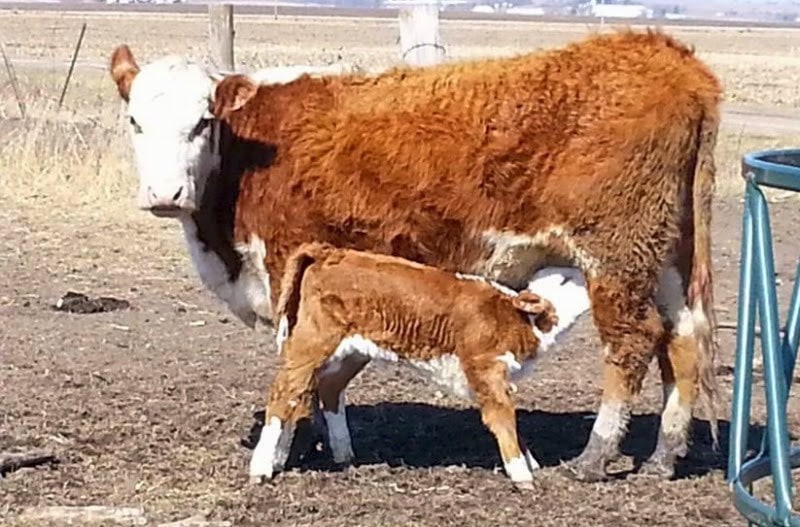 The animal pictures shown are from Riemer Family Farm, the small farm we purchase our meat from. Their animals are raised free of antibiotics, hormones, steroids, and animal products. They give them pasture whenever possible (they eat grass in the spring/ summer/ fall and hay in the winter), and the animals always have access to the outdoors. The feed they give the animals is literally made from grains they themselves have grown and are non-GMO. And they process the meat at a small family owned butcher. Although they aren't certified organic, they make efforts to be as close as possible. And for us, the certified organic is not as important as knowing our meat came from a really responsible farm. Knowing that our meat has had the best life possible is a huge relief to my conscience and my worries.
I won't go into all of the benefits of eating grass-fed beef, pasture-raised pork, free-range chicken, and organic milk (we buy it from the supermarket) here because lots of other people will do it better than me, and this post is about how we afford it on our food budget (not the ethics or rationale about it.) Just remember, that every time you buy meat you are showing people your values and telling the manufacturers what you think is important (whether it is strictly cheap meat meaning that money is important, or organic if that is important to you.) They call it voting with your dollars, and although I am not very political, I do believe in this. And please don't think we always eat grass-fed organic meat. When we go out at restaurants (seldom but still) I won't only eat at a place that has organic meat. Nor, do I go without if I can't find it at the store. From time to time, we have to supplement our meat stash with store-bought products like Italian beef sausage or chickens. For chickens, we buy the organic thighs from Trader Joe's ($4.99/lb) instead of organic boneless-skinless chicken breasts ($7.99/ lb). Or we will buy a whole chicken from Trader Joe's making sure it is organic for about $3.50/ lb which is the same price if you buy it from a farmer. But most of the time, we try to buy local and support small responsible farmers, like the Riemers.
Anyhow, here is the cost breakdown for what we buy. We store everything in our deep freeze which we bought probably four years ago for $400. It allows me to bulk buy meat, cheese, frozen veggies and fruit, and back in the day, dog food. It costs approximately $40/ year to run according to the manufacturer.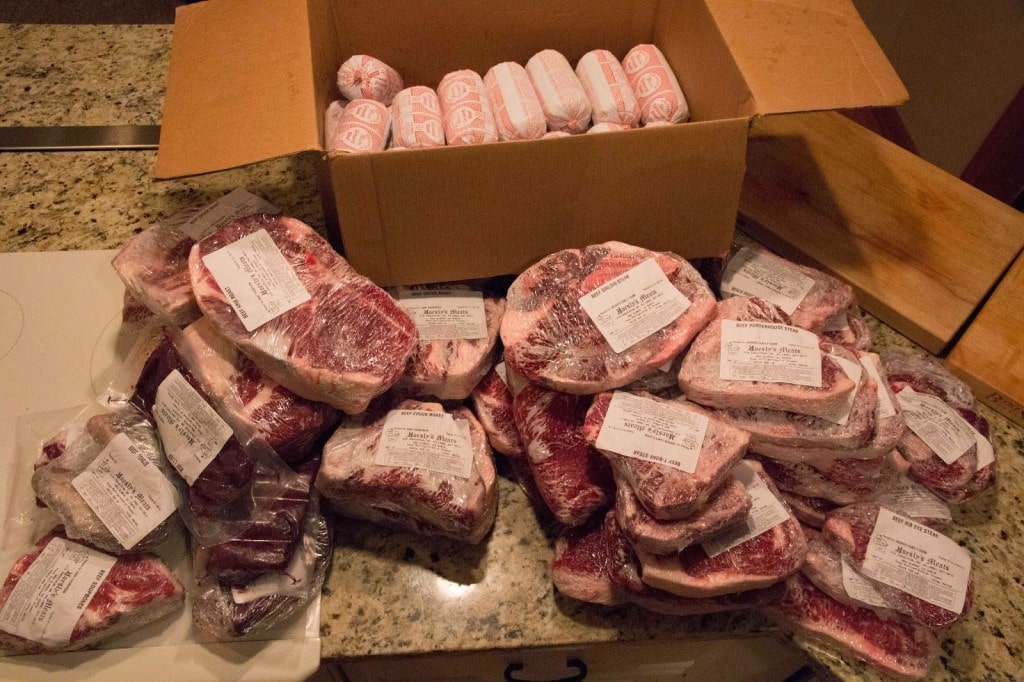 our quarter of a cow on our countertop before it is organized and goes into the freezer.
This year, we bought a quarter of beef 170 lbs hanging weight at $3.65/ lb. From the hanging weight, we typically have received about 55-70% of the hanging weight, which comes down to about 115 lbs. of meat processed by the butcher. For this we have paid, $620 between $6.63/ lb and $5.21/ lb. We didn't weigh everything this year because our scale broke. But I am comfortable knowing that for an average of $5.92 we have almost 40 lbs. of ground beef, and about 60 lbs. of steak and roasts, and 15 of soup bones, oxtails and other stuff (heart, liver, tongue). We eat like kings for a fraction of what it would cost from the grocery store. Even though it hurts to write out that check once a year, knowing that between that and the pork, we are pretty much set up for meat for a year is a huge peace of mind.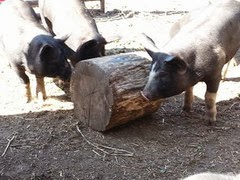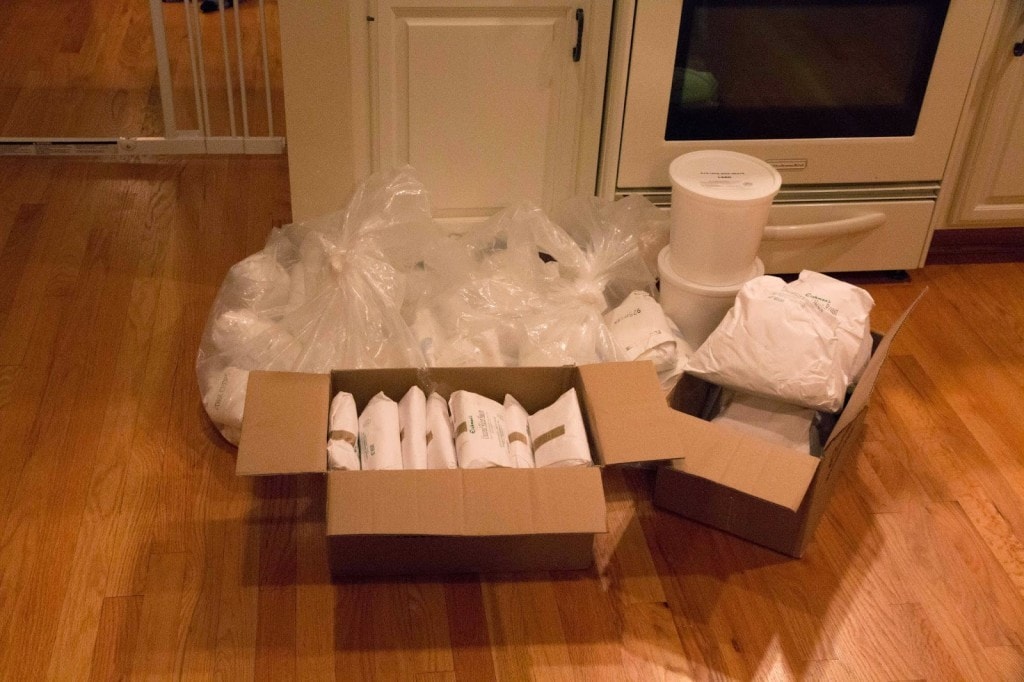 What a whole pig looks like processed. Each bag is one half of the steaks and ground meat. Then the box in front is all of the bacon (to be divided between our family and my in-laws), four shoulder roasts in the box to the right, and two 10 lb. jars of lard (great for baking!)
The pork came in slightly more expensive because I think there aren't as many of them and with a pig you don't have quite the mass of a cow (hence the savings is not quite as much.) We bought 98 lbs. of hanging weight pork and received about 60-68 lbs. We paid $4.10/ hanging weight which when you take into account how many lbs. you actually receive it comes out to between $6.70 and $5.90/ lb. Again, we weren't able to weigh the pork this year but we are happy with the average price of the meat being $6.28. This includes ground pork, pork chops, lots of bacon, pork shoulders, and ham all nitrate free. For more information on how to buy a pig, check out the Riemer Family Farm website which has a ton of information on how to specify your cuts to the butcher, the numbers, and how deposits work and what hanging weight is.
These are the excerpts from the invoices from our beef and pork respectively this year. To protect our privacy (addresses, payment information) I just took screen shots of the pertinent information.


If you are interested in learning more about the benefits of eating grass-fed beef, I recommend you to read some of Michael Pollan's work. I have only read The Omnivore's Dilemma, but I hear Food Rules is very similar and a bit more condensed. *affiliate links used
Although it takes a bit more organization and discipline to make sure you use everything in your freezer (sometimes you just wish you could say you have absolutely nothing in the house and want to eat out), the cost-benefit is substantial enough for us to do it year after year. And one of the great conveniences is always having meat on hand. Often times, if I don't have anything else planned for dinner, I will grab some pork chops or some ground beef to thaw on the counter or in the sink. With potatoes in the pantry or sauteed carrots (two things I almost always have) we can almost guarantee we have something to eat every night.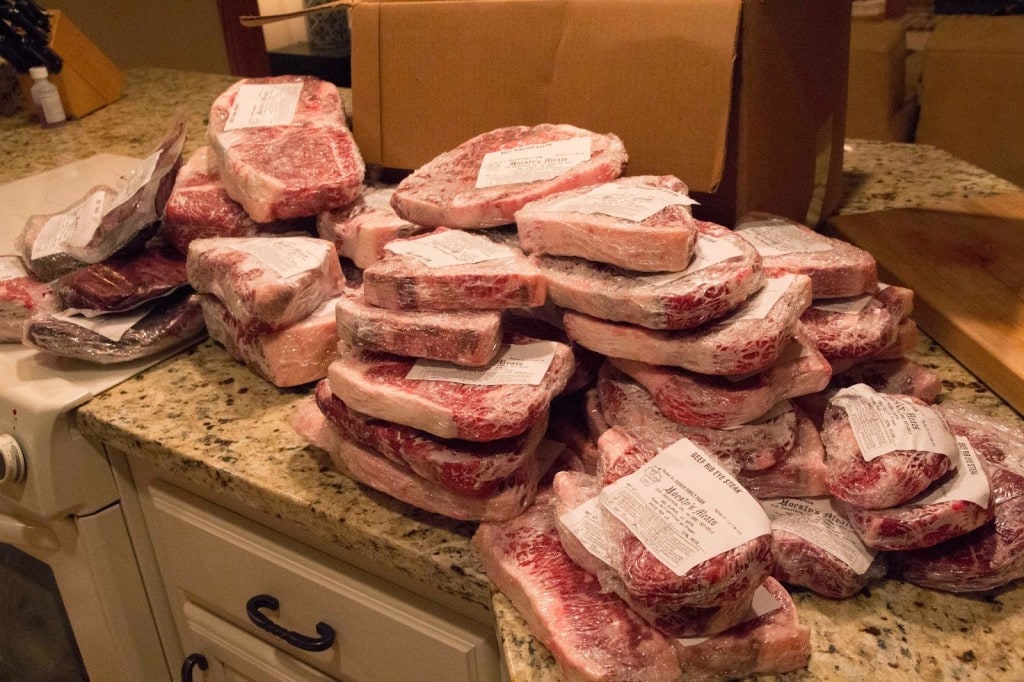 Another shot of our beef
What are your tips for eating healthy, real food on a budget? Do you buy meat in bulk either from the supermarket or straight from the farmer?