How to Decorate Your Fireplace for Christmas: Easy decor ideas you can personalize for your mantel! Make your fireplace look holiday-ready vignette with these quick tips!
*This is a sponsored post in partnership with JOANN Stores. All thoughts and opinions are mine.
HOW TO DECORATE YOUR FIREPLACE FOR CHRISTMAS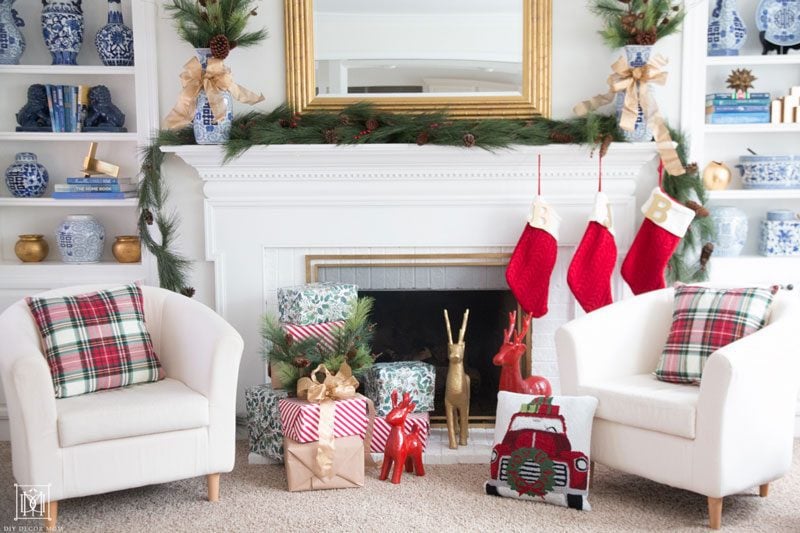 MATERIALS FOR DECORATING YOUR FIREPLACE:
(2) cans of Krylon Spraypaint- Red and Brass (Krylon Metallic Spray 8 oz.)
(3) rolls of wrapping paper

Pro tip: buy three different patterns of wrapping paper–one floral, one graphic, and one solid

(1) Gold Spiral Floral
(1) Truck Pillow and (2) Plaid Pillow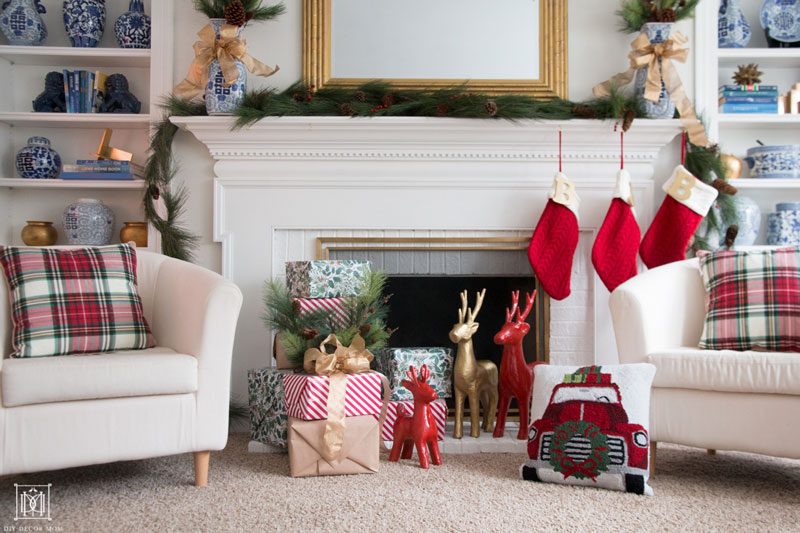 DIRECTIONS TO DECORATE YOUR FIREPLACE FOR CHRISTMAS:
1.) Pick an overall color palette for your Christmas fireplace. We chose red, gold, and green for our fireplace to keep it cohesive. I recommend sticking to three colors or fewer. Next, I perused the seasonal decor aisles at JOANN to get inspiration and pick out decor accessories. I made sure to pick out pillows, wrapping paper, decorative accents, and stockings that all coordinated.
Pro Tip: Choose three colors or fewer for your color palette!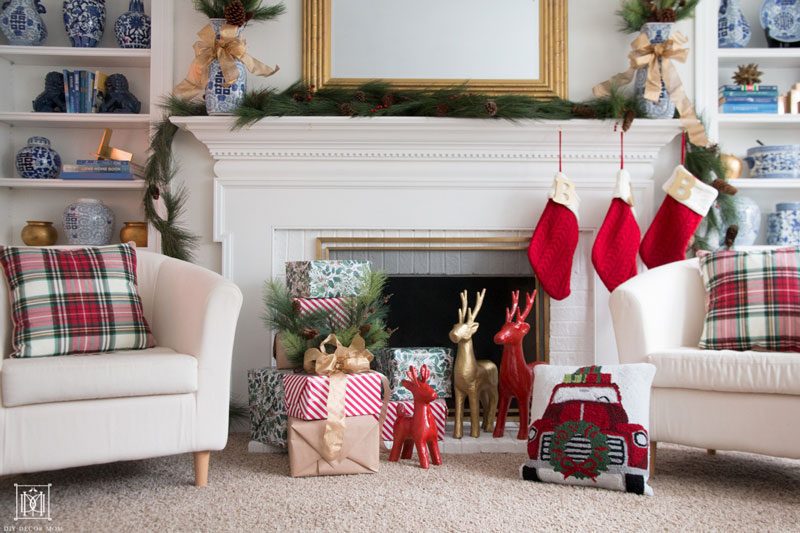 2.) To decorate your mantel for Christmas, you are going to want plenty of garlands–I used four garlands for our mantel. I staggered them so they were balanced in width across the entire span of the fireplace–it's big! Pro Tip: Gently wind them together to create one thick garland, and alternate the direction to make it look natural. You can use Command strips to keep your garlands in place, or use heavy blue and white urns as I did here. Create height by adding evergreen springs to vases and mixing in the gold spirals. Then, I tied a bow using gold ribbon from JOANN around the vases! Now, my yyear-roundmantel looks festive and ready for the holidays!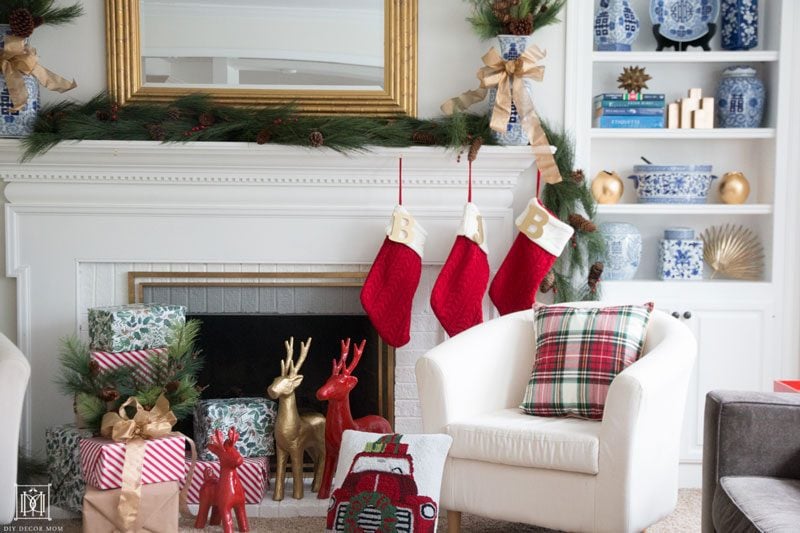 3.) Now it's time to personalize those stockings! The great thing about JOANN is you can buy everything you need to DIY and make your holiday decor exactly how you want it! I picked up three inexpensive wooden letters, each with the first initial of my children's names. Then, I spray painted them using Krylon metallic spray paint. After letting them dry, I used a simple needle and thread to loop around the wooden letter and attach it to the stockings–everything you can pick up at JOANN!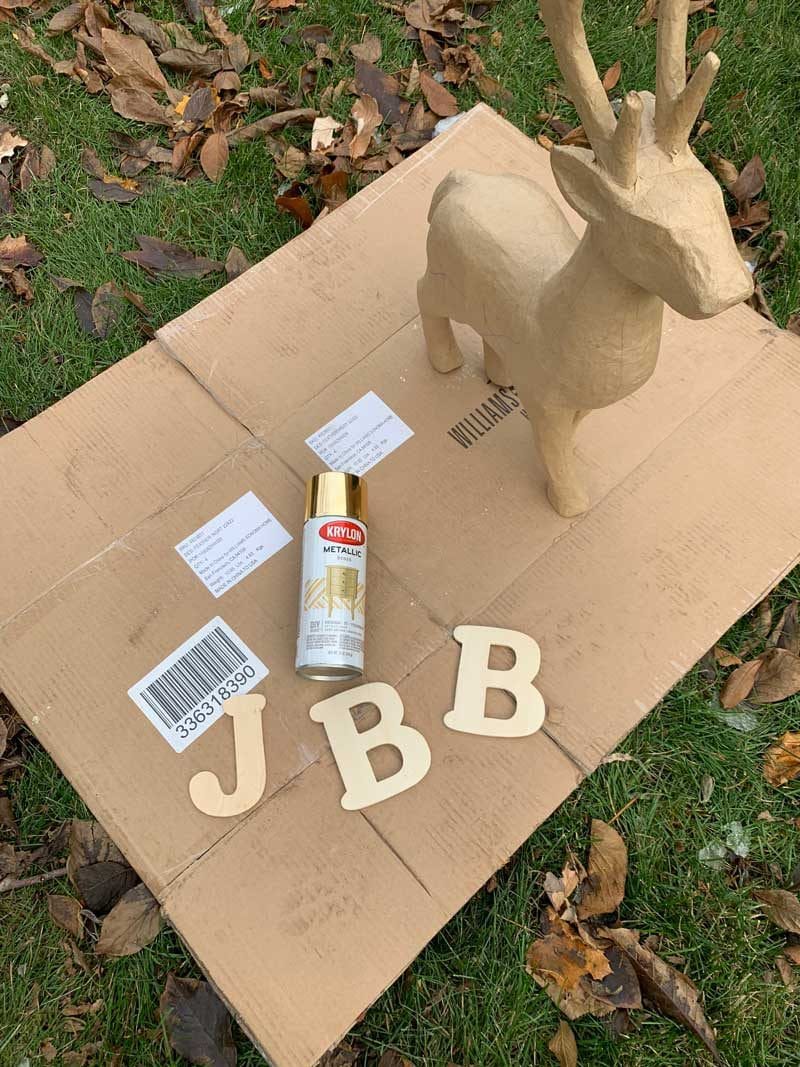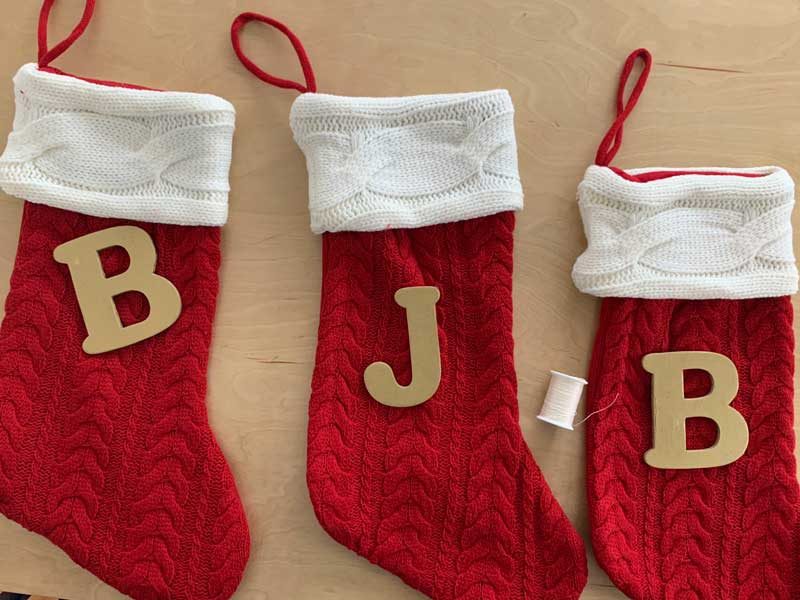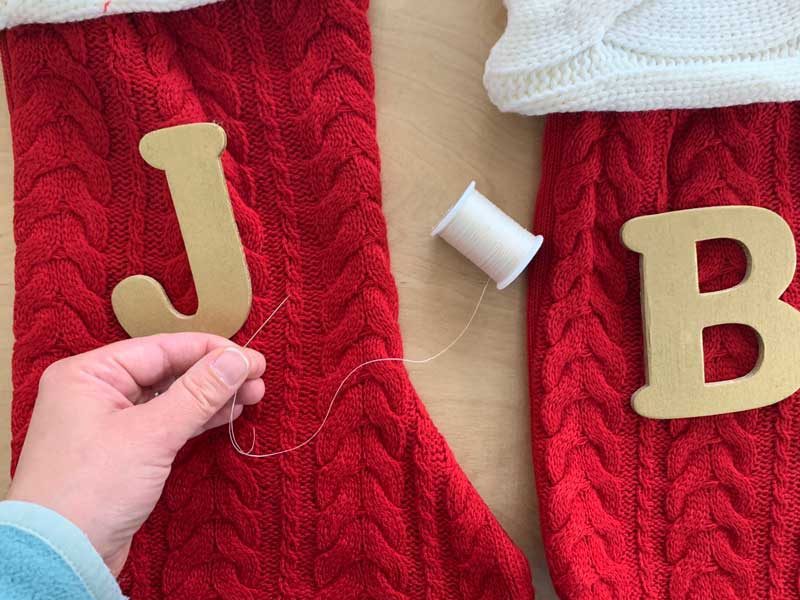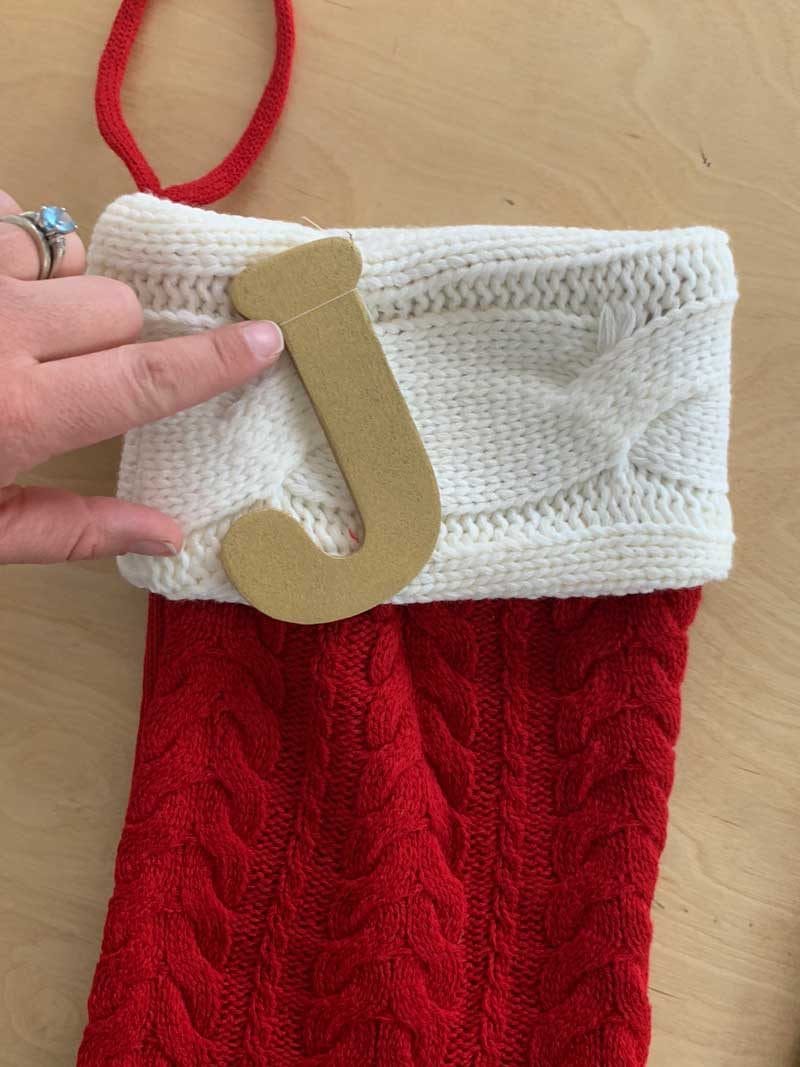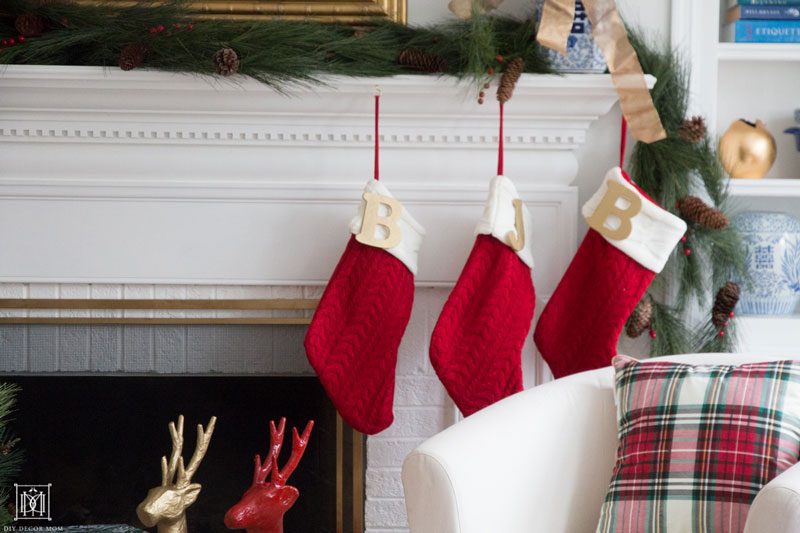 4.) Add something unexpected with paper mache reindeer! The paper mache reindeer are the perfect thing to personalize to your color scheme–you could go green and gold, red and gold, or white and gold to match your holiday aesthetic! The only disclaimer I have is they are a big draw if you have kids 🙂 My kids love playing with them! For our Christmas fireplace design scheme, I chose two different colors (red and gold.)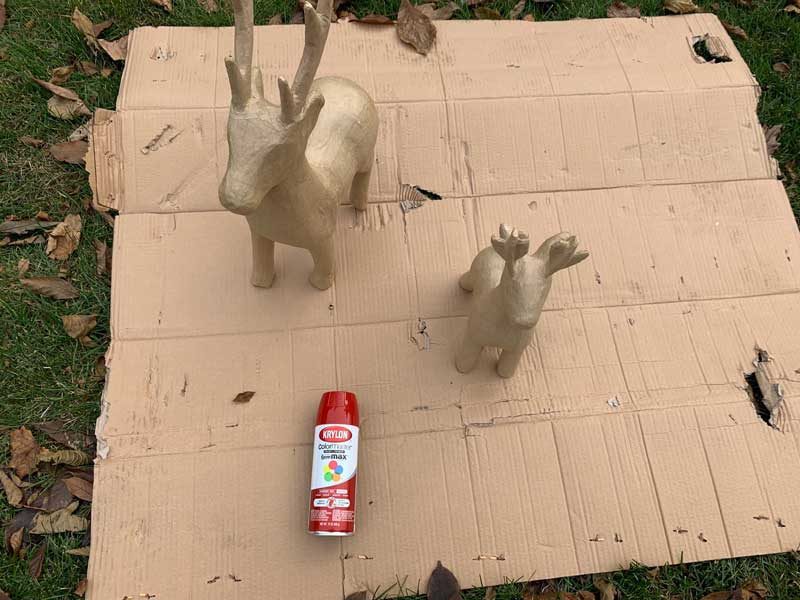 5.) Finally, let's wrap those presents and stack them! Pro tip: Wrap empty shipping boxes and set them out under your tree! I chose three different types of wrapping paper–one geometric pattern, one floral pattern, and one solid to create a holiday vignette. Pro Tip: To mix patterns always vary scale and content. I like using one floral, one geometric pattern, and one solid in all my rooms!
With this easy DIY Christmas fireplace scheme, you'll be able to decorate your Christmas fireplace and mantel in no time, and enjoy the holiday season!