Kitchen Renovation Inspiration and Design Scheme: See why we're planning a kitchen renovation (even with a newborn), our design scheme, and what I'm loving with mixing and matching finishes with new kitchen appliances and hardware!
This is a sponsored post in partnership with Café Appliances and Van Vreede's. All thoughts and opinions are mine alone.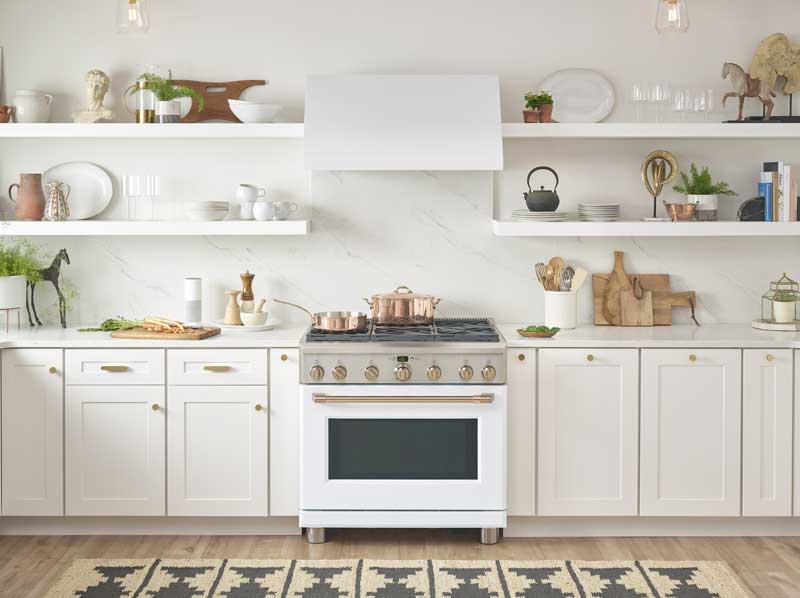 WHY WE NEED TO RENOVATE OUR KITCHEN
First, let's deal with the why: Although our current kitchen functions alright, and by most accounts is a "nice kitchen" (we have a large open concept kitchen with granite countertops, and stainless steel appliances)–in reality, it is incredibly inefficient and poorly designed.
We are constantly tripping over each other in the work triangle. You can't wash the dishes at the sink, empty plates into the garbage, and load the dishwasher at the same time because it is so poorly laid out. Ironically in our huge kitchen, we are constantly tripping over one another because the usable space is so small!
Plus, all of our current appliances are on their last legs–our current fridge even leaks water so much that I have to mop it up weekly with a beach towel, our 30-year-old dishwasher is a bit temperamental! And I will just say it–I am not a fan of our electric stovetop!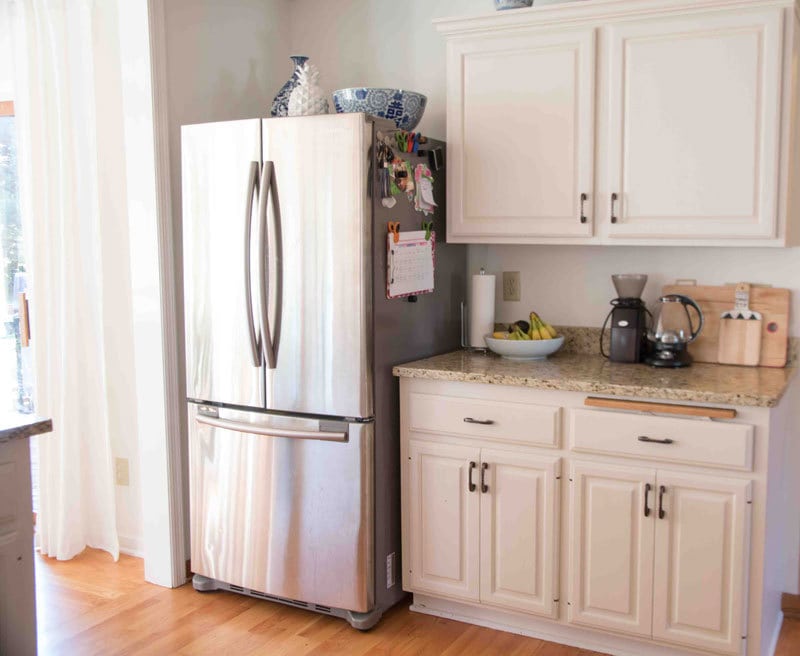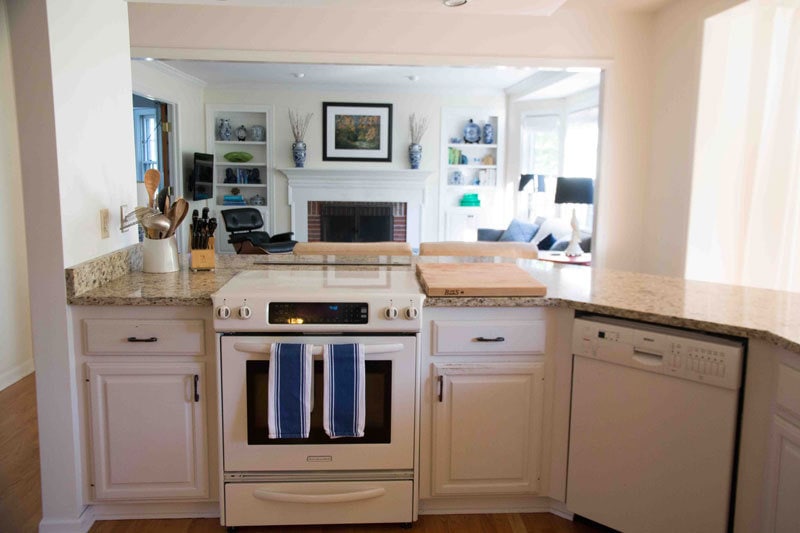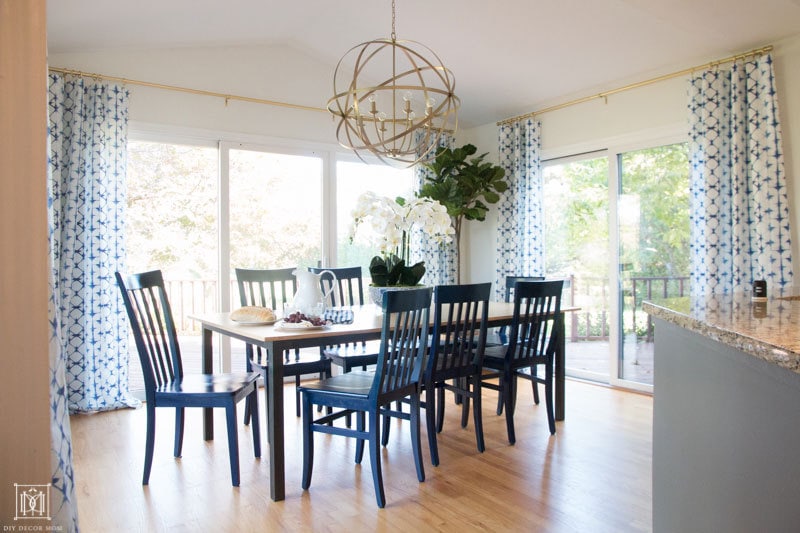 INSPIRATION AND INITIAL PLANNING
Because the current floor plan is going to be turned on its end, and we are going to create one large center island that goes in the opposite direction of the current orientation, we are going to work with an architect and/ or kitchen designer. We are still planning on doing all of the work ourselves, though. Hence, we don't have all of the specifics yet.
To get a better idea of what we want for our kitchen, we headed to Van Vreede's to look at their selection of appliances. Although I like buying things online, there are certain things like appliances that you really should see in real life before buying (one of the many reasons, I always advocate shopping locally!)

Initially, I was determined to have a 48" range in our kitchen, until I saw how large it was in real life, and I realized that a 36" range would be a much better fit. You see, I had fallen in love with the Café 48" Dual-Fuel Professional Range–I mean who doesn't love that griddle in the middle (perfect for making pancakes and french toast every weekend!)
But, after seeing it in person, I realized that the Café 36″ All-Gas Professional Range would be a better fit in our kitchen. The only way I figured this out was seeing it in person, and talking to one of their appliance experts.
Designer Tip: You should always go in-store and look at the appliances you are thinking about using–even in the initial planning stages.
When we arrived at Van Vreede's, we were greeted by their amazing team of appliance experts. We told them what we were looking for, and showed us all the options for our kitchen, and helped us choose which formats, styles, and finishes would be best for us. Van Vreede's has been in the business 68 years, so they know what they are talking about! They have three convenient locations in Appleton, Green Bay, and Oshkosh. Plus, we were able to see all the beautiful Café appliance finishes I had been dreaming about in person.
After going to Van Vreede's we had a better idea of the kitchen we wanted. And while we still aren't exactly sure of the specific cabinets and countertops we are going to use, we do know the aesthetic we want to achieve, and the appliances we want–and that's arguably the most important part of any room makeover! Before you start any project, you should know the overall feeling and function you want to achieve.
We want a lighter, brighter kitchen that is more functional and better laid out. We want our kitchen to reflect our tastes–out with the dark ornate oil rubbed bronze finishes and cream-colored cabinets, and in with clean white and brass accents! We are a young family who loves classic aesthetics with a modern twist, and I want our kitchen, the center of our home, to reflect that!

THE DESIGN SCHEME
We plan on using a mix of Brushed Bronze hardware, lighting, and appliances with Matte White fronts for our kitchen renovation. I love the look of Matte White appliances because they seamlessly integrate with the cabinets. Your eye doesn't see a long stretch of cabinets and then jump when it hits the dishwasher. Luckily, we found high end kitchen appliances that fit our specific aesthetics–Café Appliances from Van Vreede's.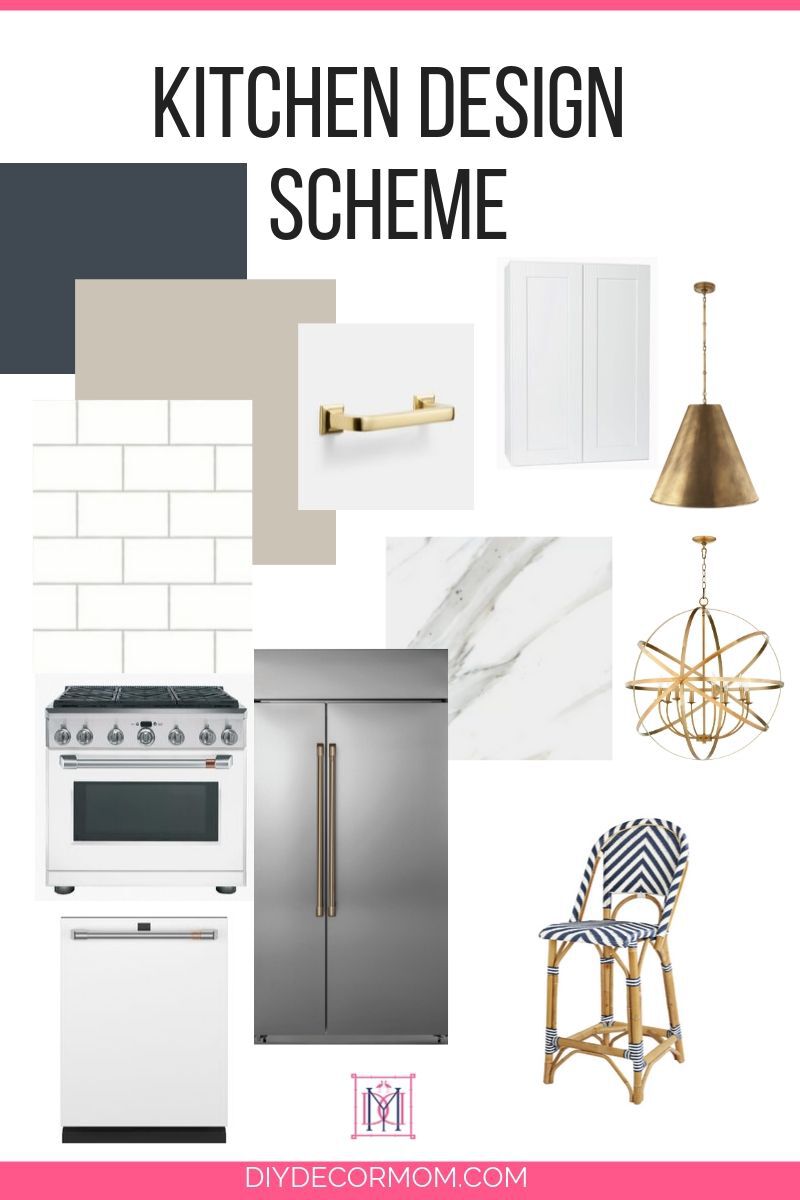 dishwasher/ side-by-side refrigerator/ 36″ range
Café Appliances are unique in that they are completely customizable, so you can design whatever specific combination of finishes you want–whether you want a Matte Black refrigerator with a Brushed Copper handle or a Matte White refrigerator with a Brushed Stainless Steel handle, you can get it! And you don't have to sacrifice function for fashion–Café Appliances are incredibly well-rated and reviewed!
Because, let's be honest–no matter how good my dishwasher looks, at the end of the day it has one job to do–to wash dishes, and if it doesn't do that I'm not happy. Lucky for me, Café Appliances achieve both–I can have my stylish finishes and have a high-performance appliance.

I love that I am not necessarily married to any one finish. I can mix and match finishes. While I want the Matte White for the dishwasher and range, I want the built-in side-by-side refrigerator in a Stainless Steel finish front. We plan on moving the refrigerator to where our current kitchen desk is–ideally, we'll have a 48″ built in one. The Stainless Steel finish will be a nice accent alone on that wall, and the Brushed Bronze handles and hardware will tie it in with the rest of the cabinets and appliances.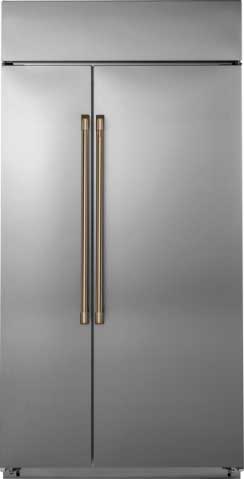 Café 48″ Built-In Side-by-Side Refrigerator
I also love that they offer a 36″ gas range in my dream finish! The six burners would make cooking a breeze for our family! And because Van Vreede's offers both the Café 36″ All-Gas Professional Range and the Café 36" Dual Fuel Professional Range, I can choose whichever type fits our kitchen better (and our ability to hook up a dual fuel range.)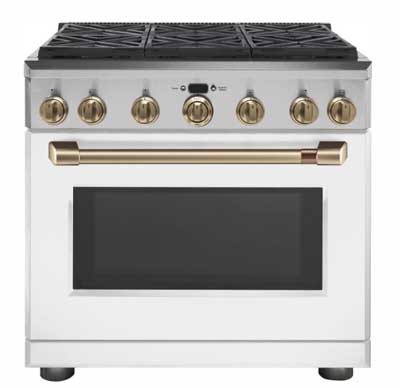 Café 36″ All-Gas Professional Range with 6 Burners (Natural Gas)
We plan on installing an industrial style vent above the new range that vents outside. Our current downdraft vent is pretty much non-functional so we never use it. Instead, we currently use the technique of opening every door and window in the downstairs when we sear meat 🙂 You think I'm joking, but I'm not!
To avoid setting off smoke alarms, we currently have to throw open two sliding doors, open several windows, and prop the front door open. I'll never forget the day we had friends over for dinner, and my husband was searing steak on the stove. We had to open the front door, and Jack who was about 18 months at the time, decided he wanted to go outside, so out he went unbeknownst to us! A few minutes passed and I asked where Jack was. He had us so scared! We finally realized he had walked out the front door and we found him standing in the driveway playing in his little pretend car. As you might understand, we rarely sear meat anymore on the stove!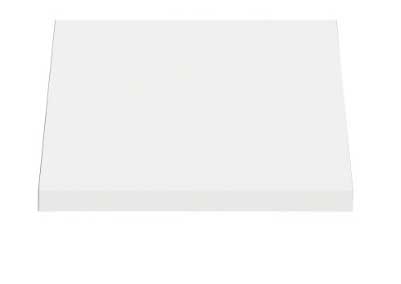 Café 36″ Commercial Hood
See how good the industrial vent looks in the amazing white and bright kitchen below! You bet they don't have to open their doors when they sear a steak 🙂 I love how clean and modern it looks!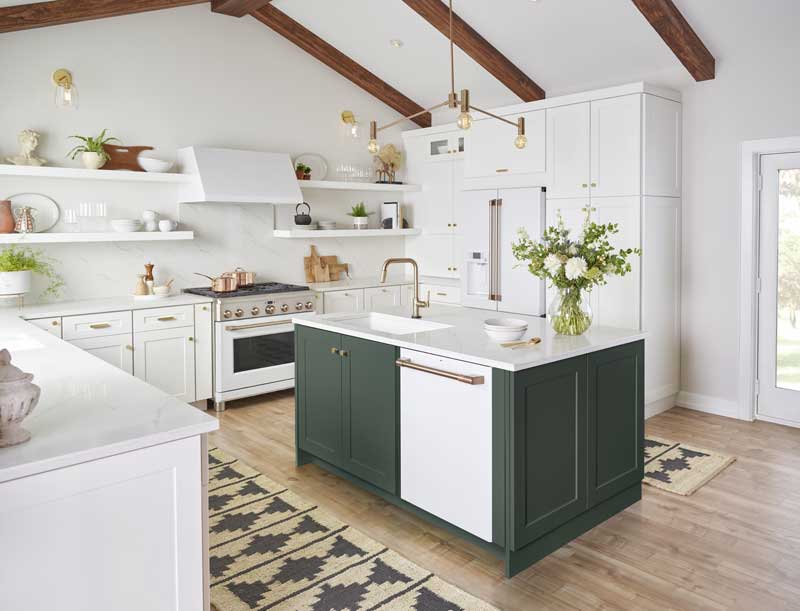 How we plan on doing it
Obviously with four kids six years old and younger, it's going to be a lot of work. My husband has a full-time job, so our DIY hours are limited to weekends and after bedtime. Luckily, in the middle of the winter, there's not a whole lot to do in Wisconsin but sit inside. So we'll be keeping busy DIYing all winter long.
While the kitchen is torn apart, we will most likely set up a makeshift kitchen either in the breakfast area or the playroom, and plan on using the first-floor laundry room as a dishwashing station (we have a big countertop in there and a large utility sink.) It'll be a lot of hard work; but, we are ready to finally make the kitchen of our dreams. We spend so much time in the kitchen (like any parents of small children), I want it to work better for us and to reflect our values.
We plan to shop locally for all the appliances. Whenever possible, I love partnering with local family owned businesses. And lucky for us, Café Appliances are available with all the personal service and attention you expect from a family owned business at Van Vreede's. We can sit down with their retail specialists and they can help us choose exactly which appliances will fit. You can go to any one of their three Wisconsin locations in Appleton, Green Bay, and Oshkosh.
So tell me, what is a non-negotiable in the kitchen of your dreams? What Café Appliances finishes would you want for your appliances in your dream kitchen–Matte Black, Matte White, Stainless Steel? And which Café Appliances finish would you choose to go with it: Brushed Bronze, Brushed Stainless, Brushed Black, or Brushed Copper?