Houseguest Ideas and Tips: With the holidays quickly approaching, now is the perfect time to spruce up your house ready for guests! Having guests can be as stressful or as stress-free as you make it–it's all about the systems you have in place ahead of time that will save your sanity. Having the right supplies and the right routines help make having company much easier and enjoyable–and that's what the holidays are about!
HOUSEGUEST IDEAS AND TIPS
This is a sponsored post in partnership with Serena and Lily. All thoughts and opinions are mine alone.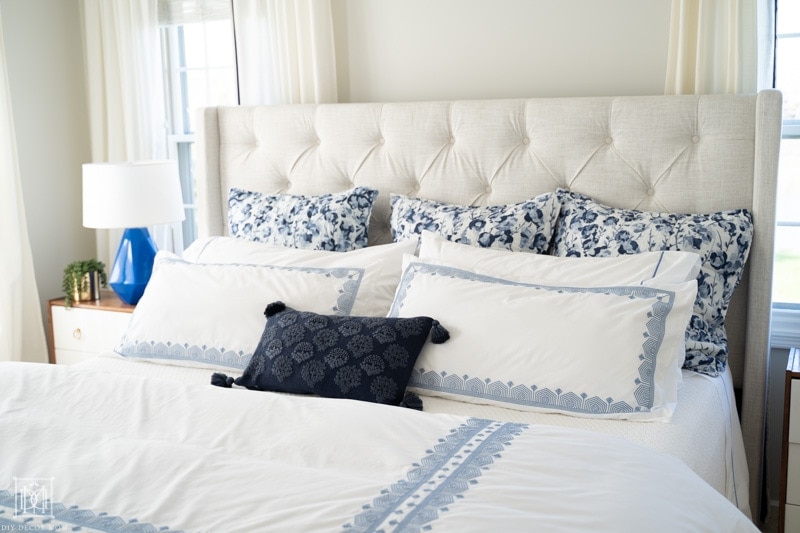 duvet cover/ navy blue throw pillow/ euro pillows
Having my grandparents spend Christmas with us is one of my fondest memories from childhood. I'll never forget running into their bedroom to tell them that Santa came! But now as an adult, I know firsthand all the hard work that goes into having houseguests and making them feel comfortable. My mom made it look easy! She would host dinner for 30 and put up my grandparents in a full house; but it isn't effortless! There's a lot of prep work that goes into having guests so they feel welcome, and you can enjoy their company and not stress. The key is doing things ahead of time so you can enjoy spending time with your guests!
After hosting Christmas for a few years, and watching other family members host, I've come to make a sort of system that helps us manage all the prep work for having guests. By doing these simple things regularly, it's no longer stressful when we have overnight guests–expected or unexpected. And there's no running around the house trying to clean before guests come (or not much anyway!)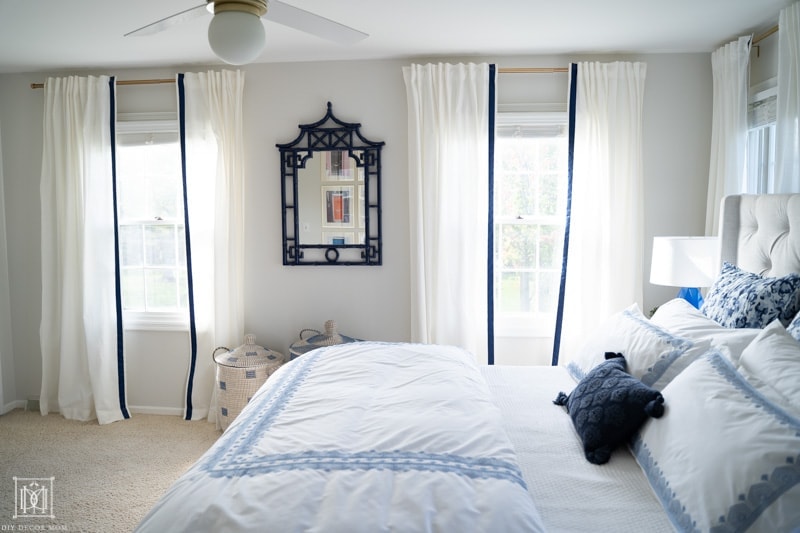 duvet cover/ navy blue throw pillow/ euro pillows/ quilt/ basket
HOW TO GET YOUR HOUSE READY FOR HOUSEGUESTS:
The following things help me keep our house ready for guests, even at short notice:
Daily Cleaning schedule: The house is always pretty clean because I do one cleaning task every day. This means that the guest bathroom is ready to go aside from cleaning the toilet and putting out some fresh towels and hand towels! (Read more on this below!)
Extra Set of Guest Sheets: I store our an extra set of guest linens in our linen closet (see how to organize your linen closet here); but, I always enjoy putting out beautiful new linens so our guests feel welcome (and sleep well!)
Guest bath towels, hand towels, and guest goodie basket: The easiest way to always make sure your guests have fresh clean towels? Hide them from your kids 🙂 Kidding, but I do put aside our nice guest bath sheets, wash cloths, and hand towels so my kids don't cover them in toothpaste. The kids have their own daily use and bath towels.
Wi-fi password: No one wants to have to ask about your wireless password. Put it on a card in their room (or in the guest goodie basket)
In case of emergency forms filled out (in case they need the house's address for anything including food delivery)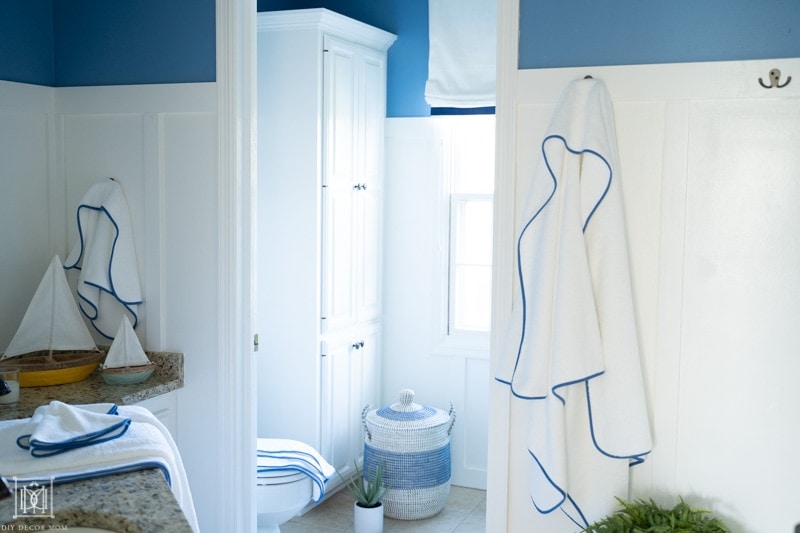 hand towels/ washcloths/ bath sheet/ basket
CLEANING FOR GUESTS:
No one wants to have to scrub their house from head to toe before guests arrive. You have a million other things on your mind, the last thing you want to worry about is scrubbing the guest bathroom shower! That's why I rely on having a cleaning schedule.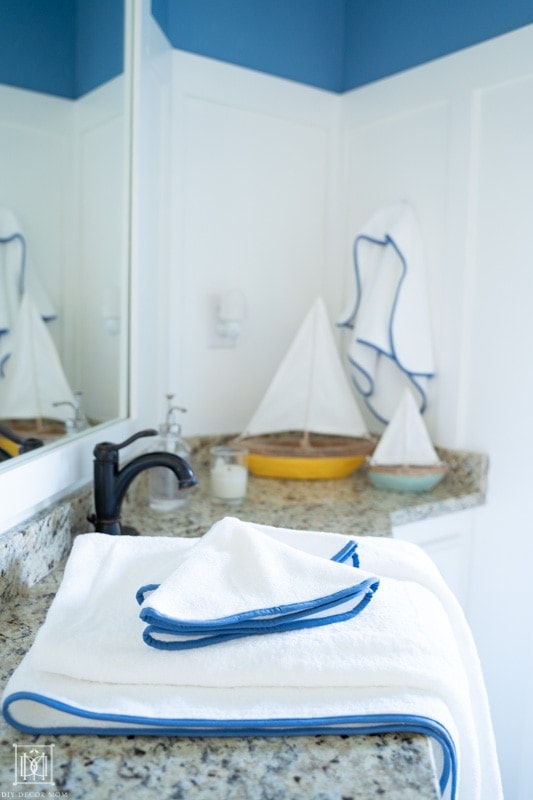 Guest bath towels and hand towels
We used to have a house cleaner; but, I found it even more stressful cleaning for the cleaning lady. And anyone who has young children knows that it's mighty hard to have the entire house clean at any moment. That's why I prefer doing one cleaning task a day, and just keeping our house reasonably clean and tidy. If you want to learn more about our daily cleaning schedule, you can read the post. But here is the succinct schedule.
Monday: FLOORS
Tuesday: SHEETS
Wednesday: BATHROOMS
Thursday: DUST
Friday: SWING

Wipe down refrigerator, microwave, and oven/ stove top
Vacuum couches and chairs
Dust banister and wipe baseboards- this is also a chore I give my 5-year-old
Wash windows
Because the bathroom is clean, all I need to do when I know guests are coming over is give the bathroom a quick wipe-down and put out the guest towels (more on that below!)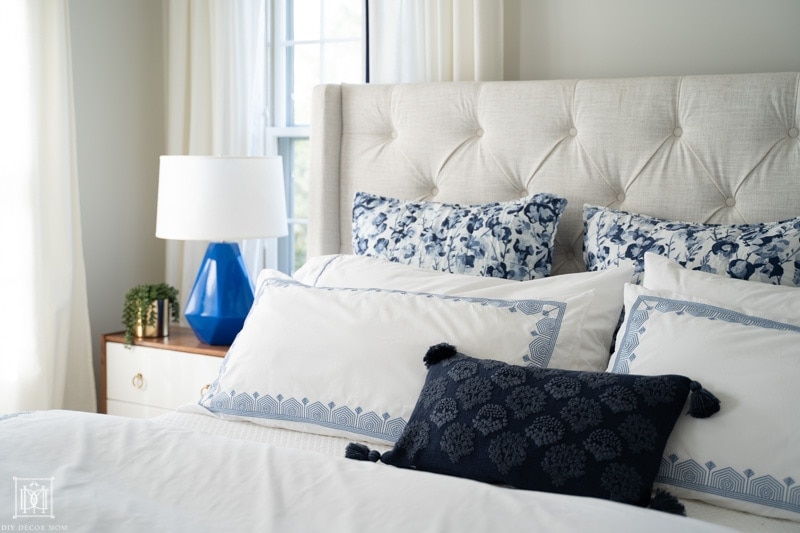 sheets/ quilt/ duvet cover/ king sham/ euro shams
EXTRA CLEAN SHEETS FOR GUESTS
Whenever we go out of town, my amazing in-laws babysit the big kids and stay at our house (god bless them!) While we could have them stay in Jack's room (technically the guest room,) we prefer to put them in the master bedroom because a) it's nicer and b) the kids can maintain their routines and sleep better while we are gone.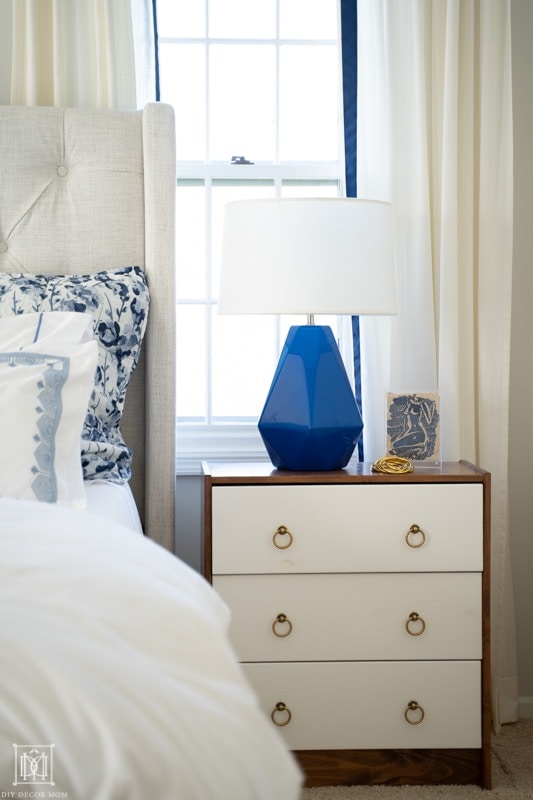 sheets/ quilt/ duvet cover/ king sham/ euro shams/ similar bedside table
The only problem was, that we only had one set of sheets for our king size bed. Every time we knew we would be having guests, I had to hurry to get the sheets washed, dried, and new ones put on. So when I had the chance to partner with Serena & Lily for some new guest linens, I knew just which bed would be getting a makeover–the master bed! I want our guests to be as absolutely comfortable as possible (after all, they are doing us a huge favor!) And there are no sheets more luxurious than Serena & Lily.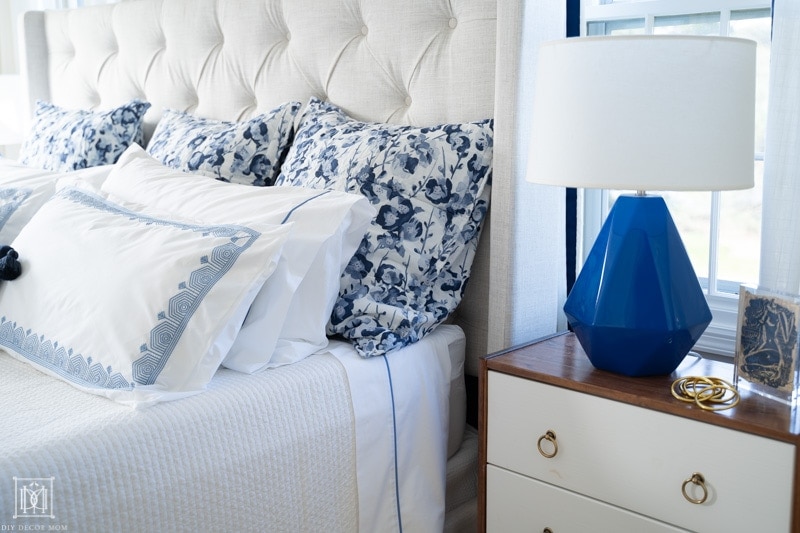 sheets/ quilt/ duvet cover/ king sham/ euro shams
The new Fairfax Euro Shams pull all the blues in the room together: the blue ribbon on the curtains, the blue on the new duvet cover, the french blue sheets, the blue bedside lamps, and even the blue new woven baskets from Serena & Lily.
After sleeping on them, our guests raved about how soft and luxurious they are! And I know from experience (we have Serena & Lily sheets in every other room in our house) that they hold up incredibly well over time! Bowe's bed has Serena & Lily sheets from five years ago and they still look new!
How to make a bed that your guests (and you) will love:
(2-3) Euro pillows
(2) King size shams (if you have a king) or standard size (if you have a queen or double)
(2) King size sleeping pillows (if you have a king) or two standard size if you have a queen or double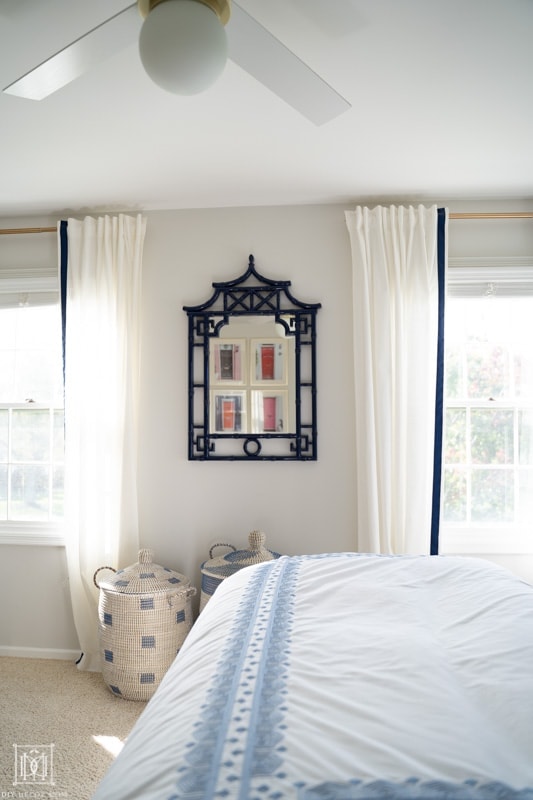 La Jolla basket/ duvet cover/ DIY Curtains/ similar mirror
Things Your Guests Need (or any bedroom for that matter!)
A bedside lamp close to the bed
A bedside table for holding necessities like clocks, lamps, and cell phones
An extra wall charger for cellphones–make sure there is an empty outlet!
A basket for storing extra pillows or dirty laundry
Necessities: body wash, shampoo, conditioner, deodorant, toothpaste, tooth brush
Wi-fi password
Tissues
Ibuprofen or tylenol, antacids, and/or benadryl (no one wants to ask their host for medicine!)
Band-aids
Sound machine
Nightlight (we use a salt lamp plug-in that gives a soft amount of light at night)
A mirror
Here are my favorite items that will make any guest feel at home!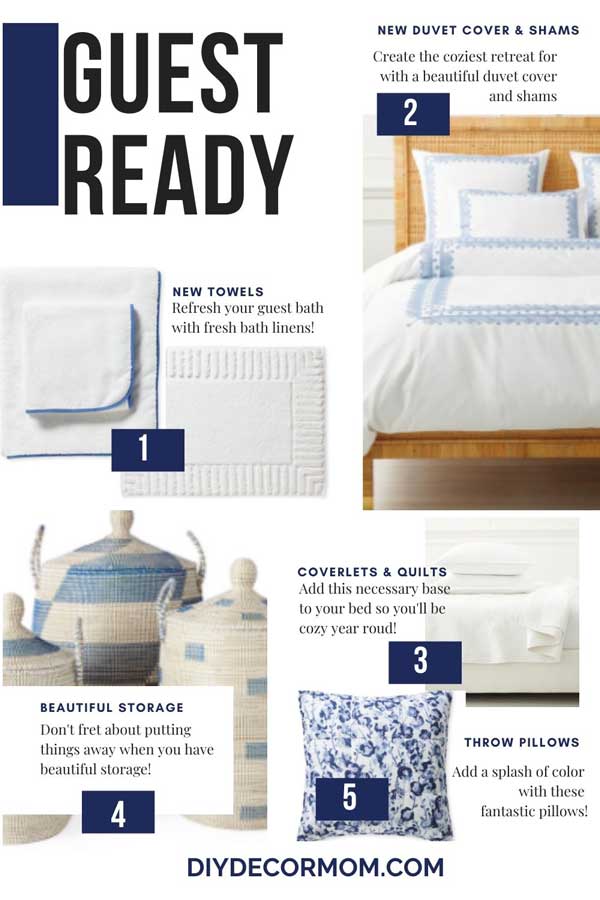 HOW TO GET YOUR BATHROOM READY FOR GUESTS:
Alright, so let's be honest. All your guests really care about is a nice place to sleep (which you've already done if you followed the checklist above), a clean bathroom to use (see below), and having enough food and drink. So now it's time to talk about the guest bathroom. Our guest bathroom also doubles as our kids' bathroom; but, our kids seldom use the bath/ shower (they bathe in our jacuzzi master bathroom).
So when guests come over, I just need to give a quick wipe down to the sink and countertop (get rid of any toothpaste), and wipe down the toilet. I also will pull out the fresh guest bath linens: two hand towels, two washcloths, and two bath sheets (they are so luxuriously big and soft you'll be wanting them for yourself!)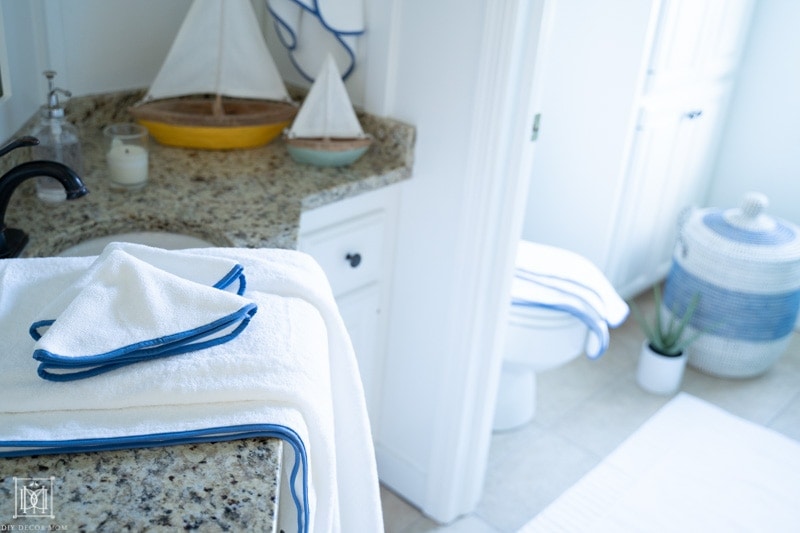 bath mat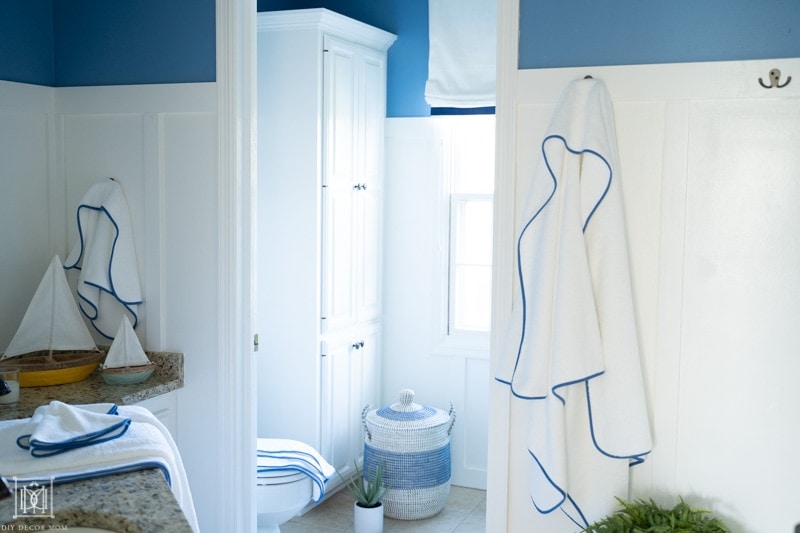 hand towels/ washcloths/ bath sheet/ basket
Sometimes I'll leave them nicely folded in the guest bathroom, and sometimes I'll leave them out at the foot of the bed. Either way, I make sure my guests know they have clean towels. And don't forget a soft and cozy bath mat! No one wants to step out on a cold tile floor! Since most of the necessities they might need are in their guest goodie basket (toothpaste, toothbrushes, medicine, shampoo, conditioner, body wash), they don't need much else in the bathroom.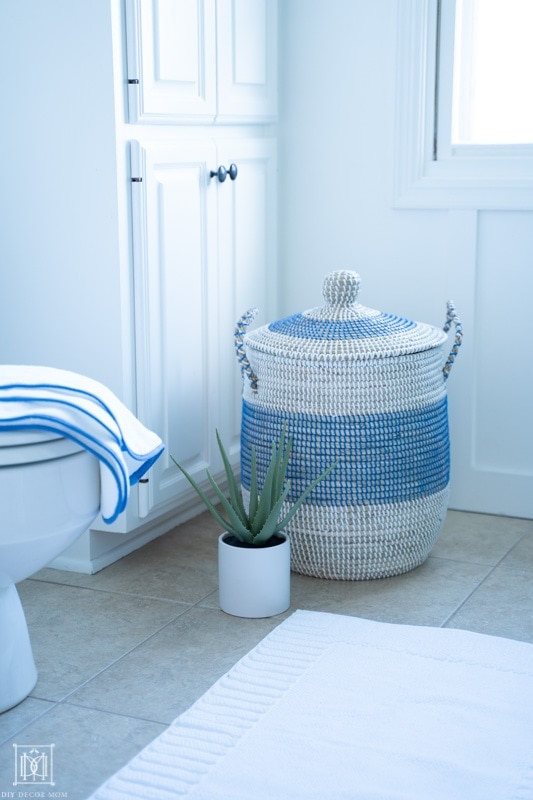 bath mat!
Except toilet paper…so I always make sure that there is extra easily visible for guests! I keep a couple extra rolls in our Serena & Lily La Jolla basket. It's out of sight for the kids, and easy to find for the adults. Below the wink, I leave the necessities like a toilet plunger, a toilet bowl cleaner, and my cleaning supplies. I also make sure to leave a candle out in the bathroom for our guests to use.