Travel with Baby: 10 things you need to fly with a baby from a mom of three including traveling with baby checklist and tips for flying with an infant on lap!
This is a sponsored post in partnership with Buy Buy Baby. All thoughts and opinions are mine alone.
TRAVEL WITH BABY
Are you crazy? Isn't it hard to travel with an infant? I can tell you with certainty that after five years of traveling with infants, toddlers, and preschoolers there is never an easier time to travel than when you have a baby! Once they start walking and talking it gets harder (but is still totally doable), so take that trip you've been dying to take while they can still sit in your lap for free!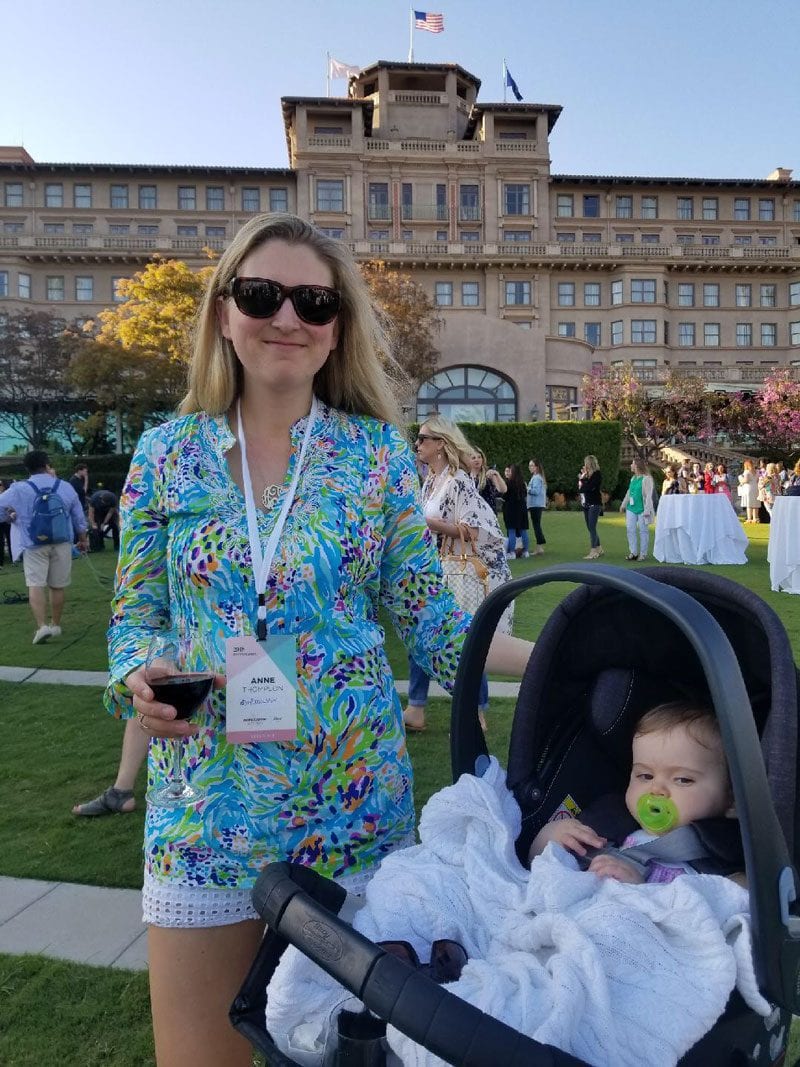 With all three kids, we have managed to take at least one to two trips a year, either flying or driving. We've even driven 18-hour road trips with a seven week old and a two-year-old. Just this year alone, we've traveled thousands of miles with our youngest from the time she was 8 weeks old, up 'til our last trip when she is 10 months old.
Basically, having a baby (or kids) isn't going to stop us from traveling!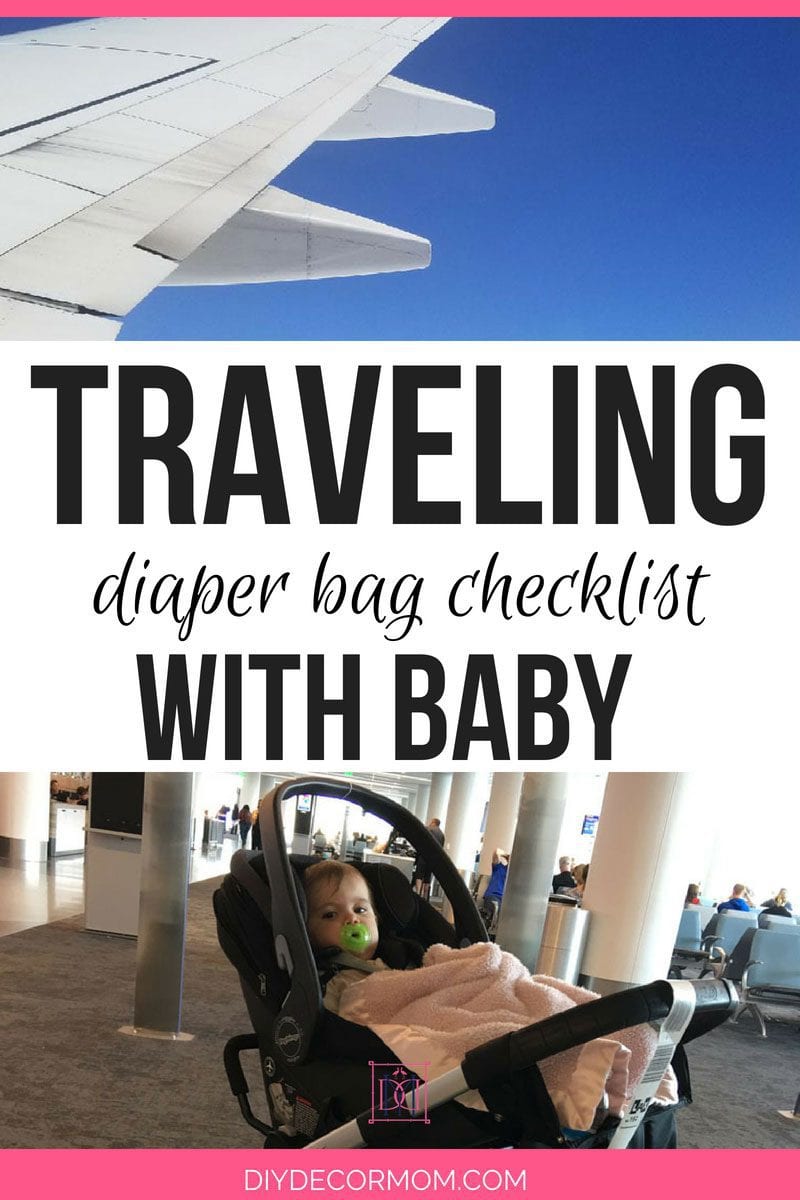 TIPS FOR TRAVELING WITH BABY
TIP #1: TRAVEL WITH YOUR STROLLER
Yes, traveling with a big stroller can be sometimes cumbersome; but believe me, you are going to want it if you are traveling anywhere with a car seat! We always take our stroller all the way to the terminal and gate check it with our infant car seat. It's the easiest way to carry all the necessities (diaper bag, infant car seat, bags). Plus, we always like walking wherever we go so having a stroller is easiest.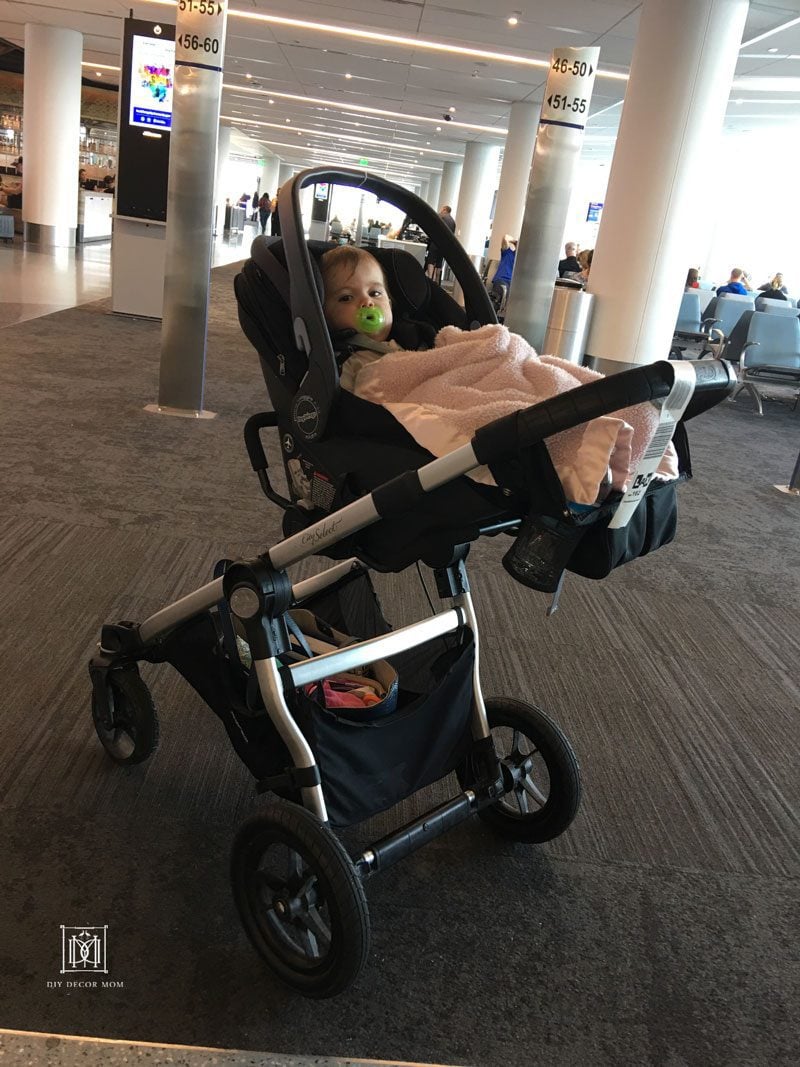 If you don't want or (need) a car seat (maybe you aren't planning on driving anywhere) and prefer to baby wear, then make sure to pack your baby carrier. It's easy to wear your baby on the plane! I like to travel with my two favorite carriers–our baby carrier (although, if I were to buy a new one today I would buy the Ergo.) I also like having a wrap carrier when I am traveling with a tiny baby because it's more flexible.
TIP #2: THINGS YOU NEED FOR FLYING WITH AN INFANT
Forget reading magazines and books on the plane. Sorry, I said it. You are going to most likely be holding the baby the whole time (or half the time if you have a helpful husband.) For personal entertainment, I always load up my books on my phone for the downtime I do have during baby naps.
Now, don't overpack your bag. I like to pack as many diapers as I need on a given day (just in case our luggage is lost).
DIAPER BAG CHECKLIST FOR TRAVELING WITH BABY
2 books and 2-3 toys for baby (you can always get creative on the flight with entertainment with ice cubes and cups, walking up and down the aisle, looking out the window) don't overload your diaper bag with toys you won't end up using. These are my favorite books because they are washable and indestructible.
diapers and wipes for the day (just in case your luggage gets lost)
baby snacks and/or bottles and formula (you are permitted to bring baby formula and food) in your carry on–I always put our's in a quart size bag just to be safe. Squeeze packs and puffs are perfect and easy to clean up!
sanitizing wipes and spray for hands, to clean your seat, window, tray (and everything else your baby will want to put her hands on!)
light blanket to cover up baby when sleeping, it also helps to have something absorbent in case of accidents or spit-up. This light blanket can double as a nursing cover as well.
bottles and/or formula (I don't have first hand experience with this as I have breastfed all my babies until 14 months but I know formula and bottles are permitted)
Pacifier Clip – this one is great because you can wash it (yes, I wash everything!)
One extra pair of comfortable clothes for baby
Bib
Baby's birth certificate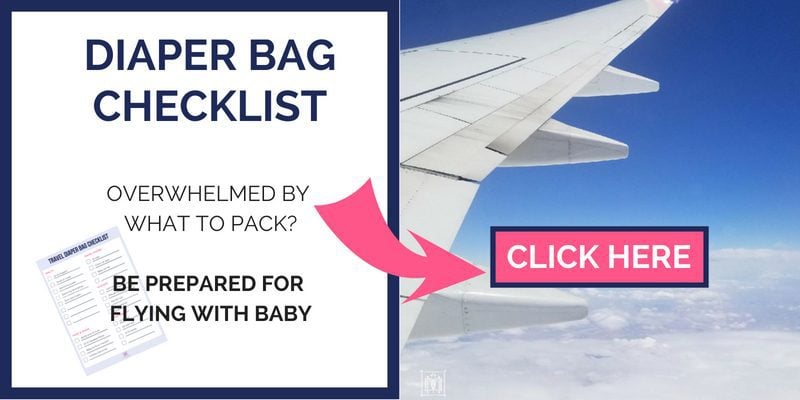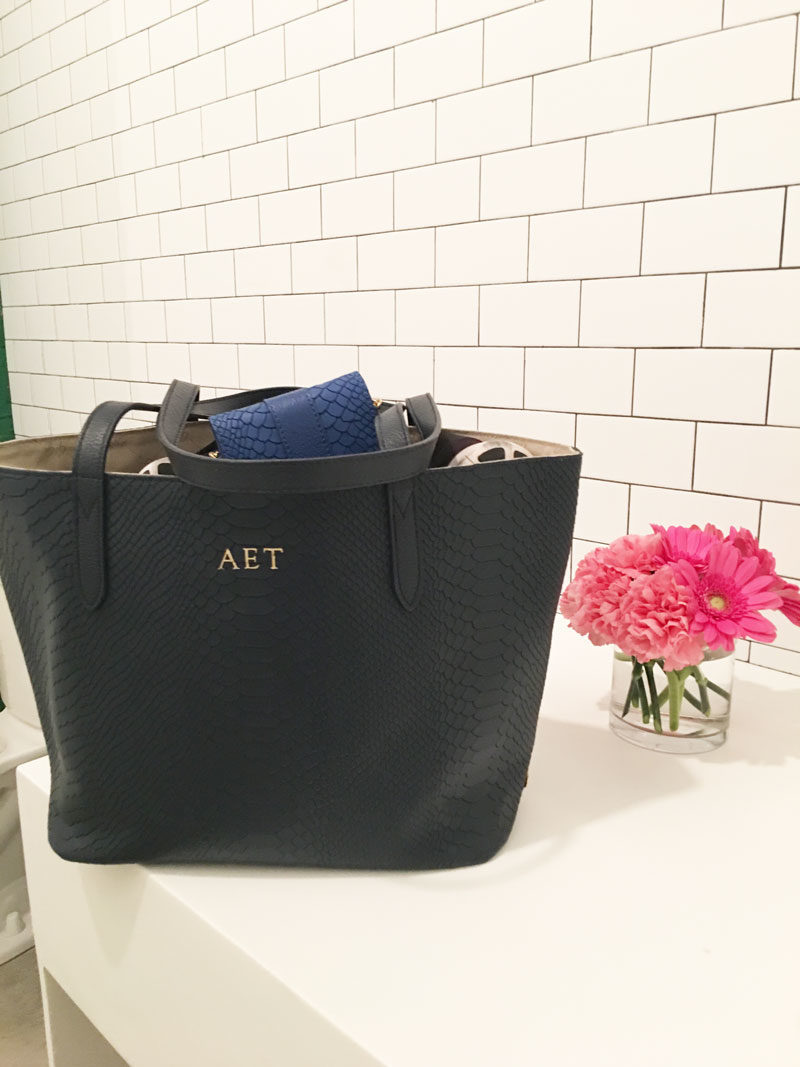 TIP #3: NURSE AND/OR BOTTLE FEED (or use a lollipop) DURING TAKEOFF AND LANDING
You want to have your baby actively sucking during take-off and landing. I always nurse during these times but having a pacifier will work, or a lollipop for an older child.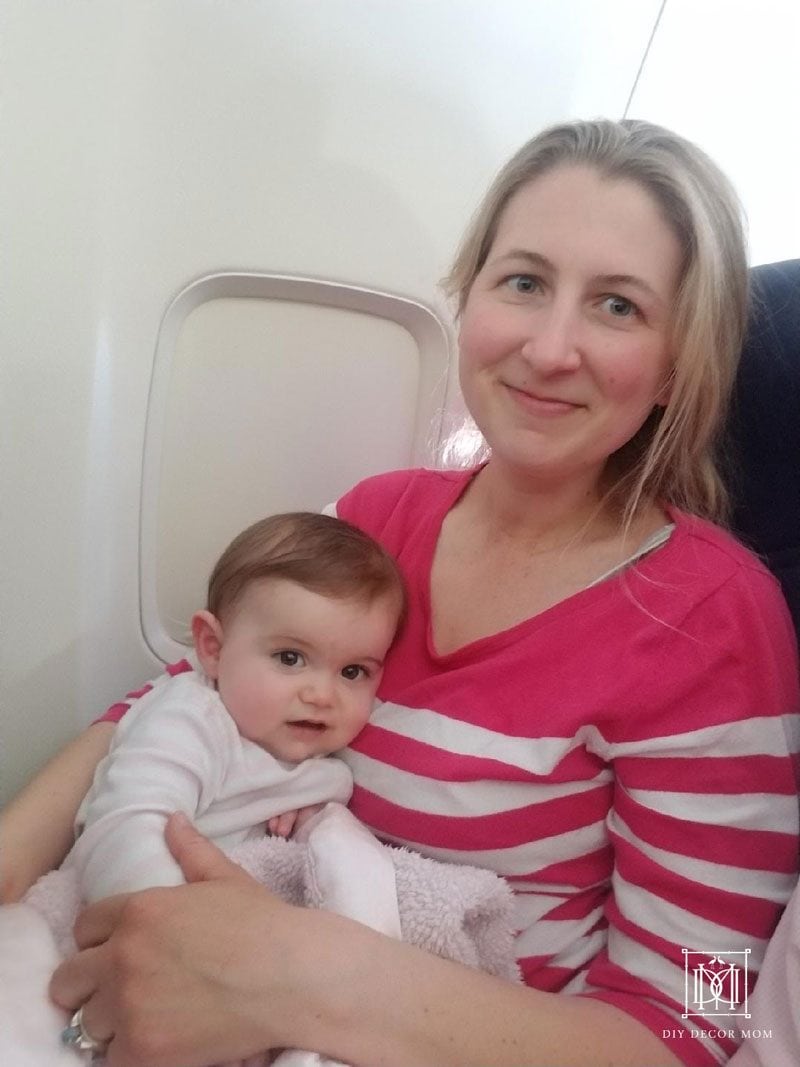 Excuse the no makeup, messy hair, and tired look. This was a real photo from right before take off. We had been up since 4 AM with only 3 hours of sleep the night before. But traveling with a baby is still so worth it!
TIP #4: FUSSY BABY? WALK IT OFF!
Listen, as much as people don't like crying babies, they get it. Most of the people have been there and if you're nice and trying to fix the situation as much as you can, most people understand.
Chances are your baby will enjoy getting up and the change of scenery.
TIP #5: CHECK YOUR BAGS WHEN FLYING WITH BABY
I never ever used to check bags, but now that we have kids, we always check a bag. We use this travel sleeper because it's so light and it fits in our extra large travel bag. We've had it for five years and it still looks and works like new! I also, always pack my extra wipes, diapers, and squeeze packs in there if we are only going for a few days. Otherwise, I can order diapers online and have them delivered to our destination if we are there for a longer time period.
TIP #6: FLYING WITH AN INFANT ON LAP
This might be an obvious one, but under two years of age, kids fly free because they can sit on your lap. It makes traveling so much more affordable when you don't have to pay for their ticket!
Make sure to bring their birth certificate to check-in to print out their lap infant boarding slip. You will need their birth certificate when you check into the airline (and check your bags), and you will need it for the security check point, but then it is safe to put it back into your carry on.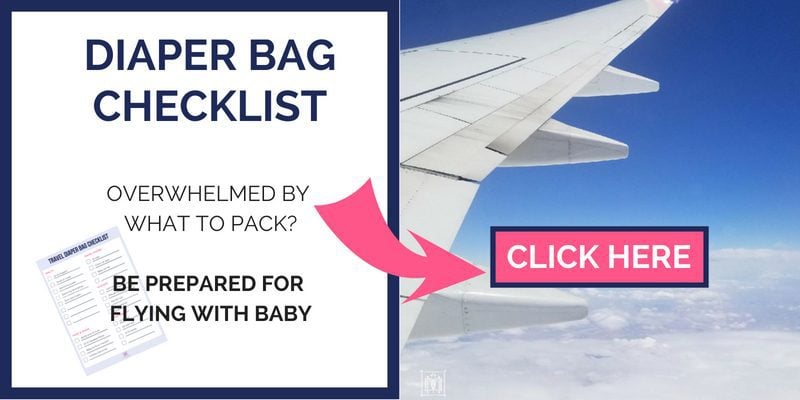 FREQUENTLY ASKED QUESTIONS FOR FLYING WITH BABY
How soon can you travel with a baby?
There are no hard rules as far as traveling with a newborn. Personally, I wouldn't travel anywhere on a plane with a baby younger than 2 months old if I could avoid it. Planes have all sorts of nasty bacteria on them that make my head spin, and even with breastfeeding and the antibodies that accompany it, I would be hesitant to fly. That said, we have flown with our 10 week old, and we did drive cross-country with our seven week old. Here we are in Newport, Rhode Island for my cousin's wedding at the New York Yacht Club. Brooke was 12 weeks old.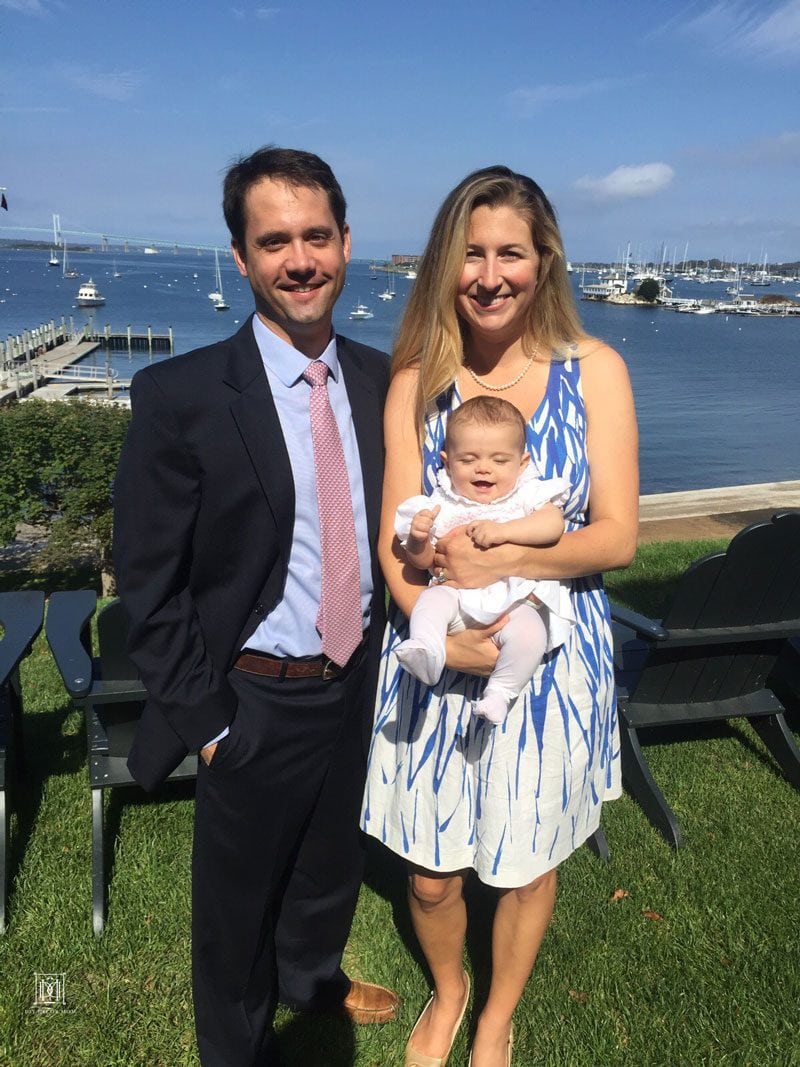 Can I take my baby's bottle on a plane?
Yes! According to the TSA website, formula, breast milk, and juice for infants are permitted in reasonable quantities through the security checkpoint. Formula, breastmilk and juice in quantities larger than 3.4 ml are allowed in carry-on baggage and need not fit into a quart-sized bag.
TSA officers may ask you to open the container or have you transfer a small quantity of the liquid to an empty container. You can inform the TSA officer if you do not want formula, breast milk to be X-rayed or opened–additional steps will be taken to clear the liquid.Ice packs or gel packs (and other accessories required to cool formula and/or breastmilk) are allowed in carry-on but if they are partially frozen or slushy they are subject to the same screening.
We always remove these items, put them in a clear quart-sized bag (if they fit), and always notify the TSA officers at the beginning of the screening. They are X-Rayed along with the rest of our carry-ons, and we have never had a problem with it.
What stroller do you bring traveling with a baby?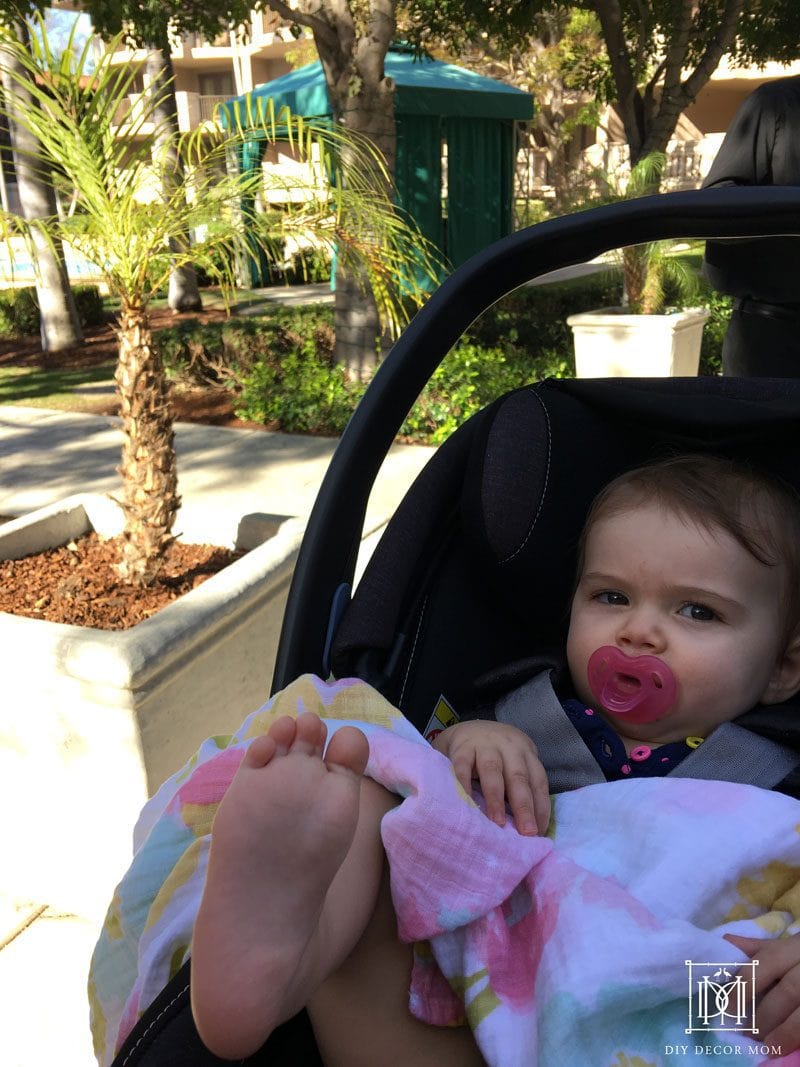 Because we like to travel with our infant car seat we typically use our Baby Jogger City Select because it can carry the car seat. It is the smallest stroller we have that carries an infant car seat (our other bigger stroller is my double jogging stroller.)
When the baby is older, and we don't need the infant car seat (and travel instead with their convertible car seat) we bring our collapsible stroller.
Now, we bought our strollers five years ago when there weren't quite as many options as there are now. If we were starting over, I would buy this highly collapsible stroller because it can hold a carseat and is suitable from birth on.
My in-laws who just had their first baby live in England and plan on traveling a lot purchased this this highly recommended lightweight stroller which even fits in a carry-on! They absolutely love it and use it all the time! So I would consider that one too.
THE BEST BABY GEAR FOR FLYING WITH BABY
Like I've said before, the best place to buy all the things you need to fly with an infant is Buy Buy Baby. Being able to go in-store, compare all the different strollers, carseats, travel cribs, and travel accessories makes the biggest difference in selecting the best baby products for traveling with a baby.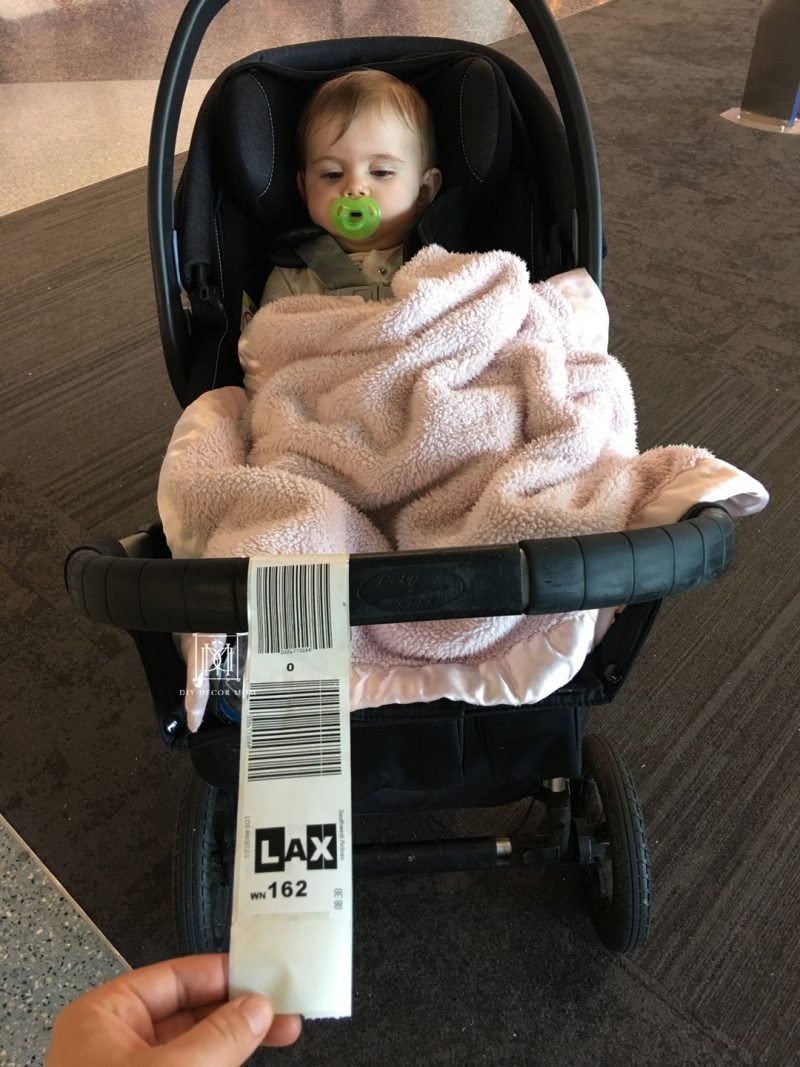 When you register with Buy Buy Baby, there are so many amazing registry benefits including: free shipping rewards, great samples, coupons, and even a Goody Bag when you register in store. They have the best assortment of all the baby brands of any store–all of which you can compare side-by-side! Buy Buy Baby's online tools like Quick Picks and Copy a Friend's registry make it easy to add entire curated lists in a couple of clicks!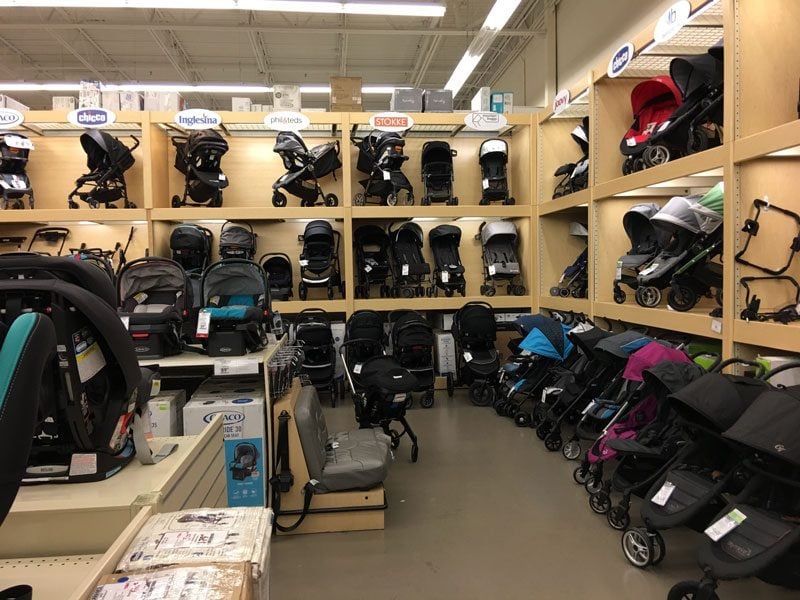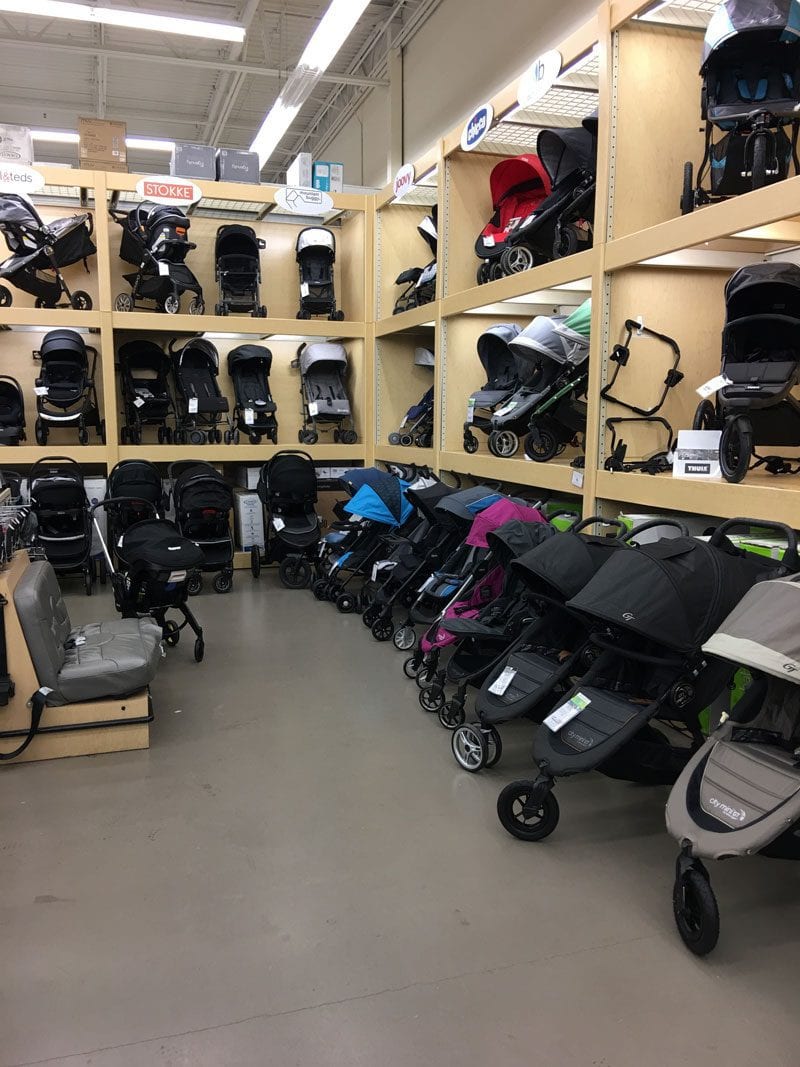 Here are just a few of the many strollers you can test out for yourself at Buy Buy Baby. Go in a store, push it around, test it out. You can even see how infant car seats compare by seeing how they fit on a real car bench seat (see it in the aisle in the photo above.)