Toys for 2 Year Old Boys: Do you have a two year old boy who needs a present? Here are our best toys for 2 year old boys! All of these are toys that kids will play with for years to come and would make great gifts for 2 year old boys!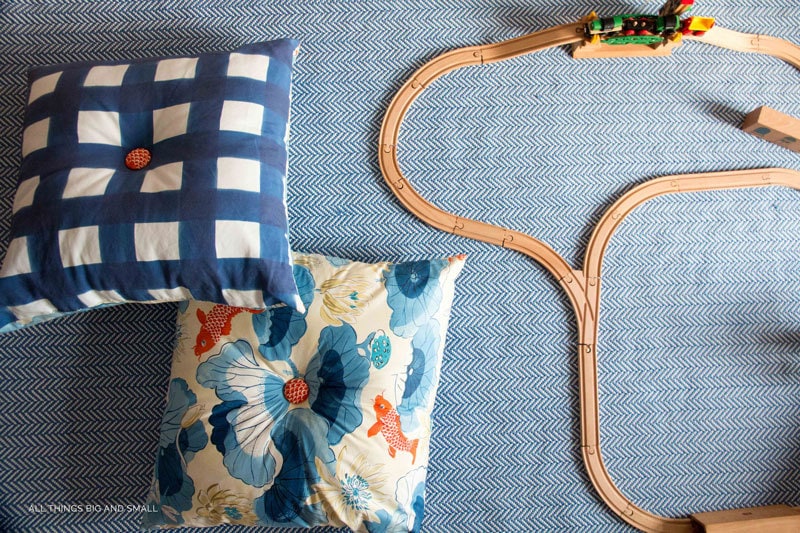 BEST TOYS FOR 2 YEAR OLD BOYS
*this post contains affiliate links to see my complete disclosure policy read here
Coming up with gift ideas for two year old boys can sometimes be challenging–they are true babies but they aren't "kids" yet either. They are stuck at this odd age when things still need to be quite safe because they are a toddler, yet they want more exciting toys than baby toys. If you're looking for a list of great gift ideas and the best toys for two year old boys then, this post is for you. From experience, these are all the best toys out there that kids will love!

LOVE THIS? SAVE THIS FOR LATER!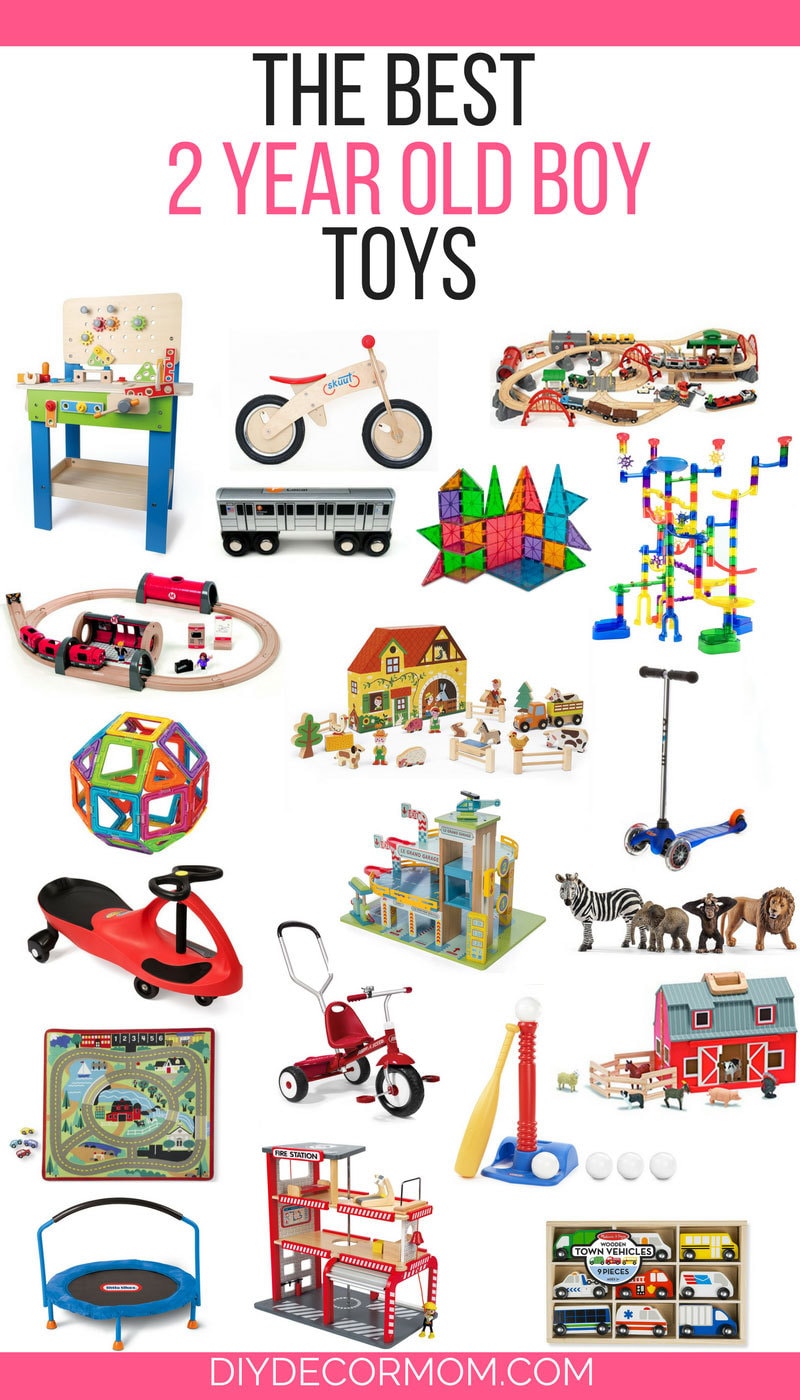 tool bench/ balance bike/ subway car/ magnatiles/ train set/ marble ramp/ basic train set/ wooden farmyard toys/ mini-scooter/ magformers/ plasma car/ parking garage toy/ realistic animals–Jack's absolute favorite toy!/ road carpet/ tricycle/ tee-ball/ wooden barn/ trampoline/ firehouse/ wooden vehicles
BIG BIRTHDAY GIFTS FOR TWO YEAR OLD BOYS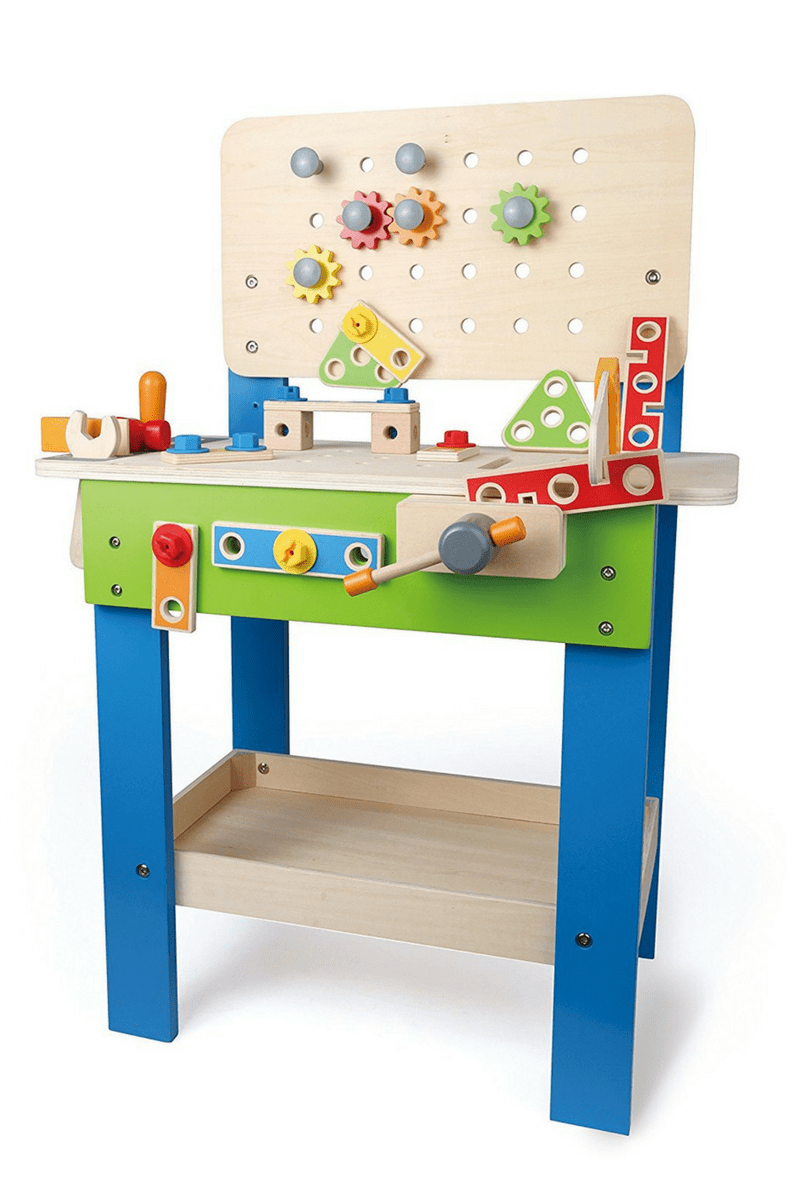 Tool Bench–the perfect toy for the two year old who wants to be just like daddy
I don't know a two year old boy who wouldn't want this tool bench! We have a hand-me-down tool bench from a cousin and oh my gosh, it is the most popular toy when little boys come over. This tool bench is super cute and would be perfect for the two year old boy who wants to be just like his daddy! My kids' favorite tool accessory is this one–it has even made cameos in the "operating room"–let's just say some limbs needed to be amputated 😉 But if you are looking for something a little smaller, this smaller wooden tool set was a big hit for Jack's two year old birthday too!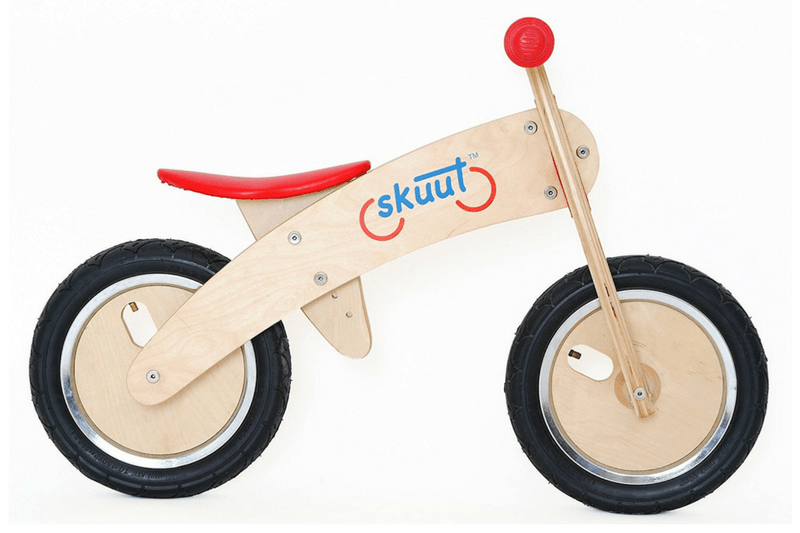 Another great option for good gifts for two year old boys is a balance bike. We got this for my older daughter, Bowe, for her second birthday and she couldn't have cared less. But Jack found it around 18 months and has been a balance bike fanatic ever since! When our friends come over and their older boys ride their bikes in the driveway, Jack loves to keep up (or try to) with them on his balance bike! Unlike other ones, this one is really good quality, doesn't have issues with flat tires, and I like that it is wooden! It would be the perfect two year old boy birthday present!
TRAINS: ONE OF THE BEST TOYS FOR 2 YEAR OLDS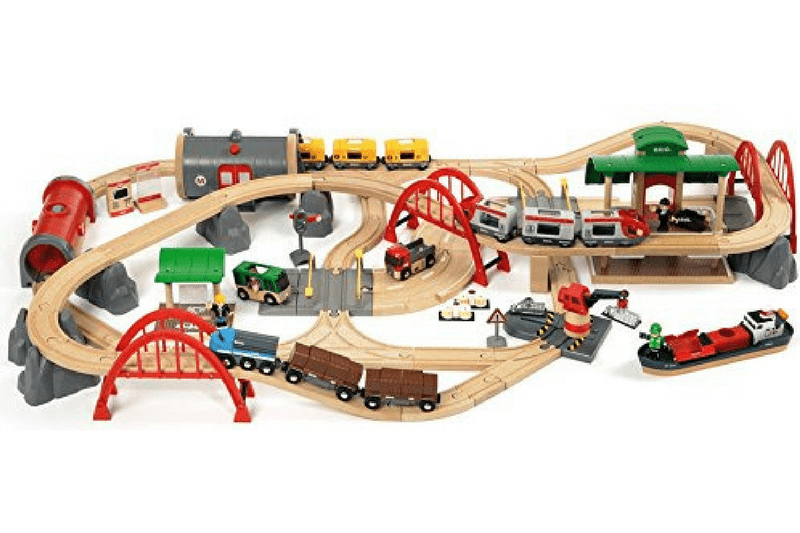 My brother handed down a huge train set to us, which will go to his kids when he has kids; but, in the meantime, we are enjoying making all the train tracks and towns we can! This is a classic toy that never goes out of style and will last for generations, it tops every list as one of the best toys for 2 year old boys! Depending on how large you want the gift to be for the two year old birthday boy, you can always buy an train set accessory add-on (like the one below) or a huge train set–both are perfect gift ideas for two year old boys!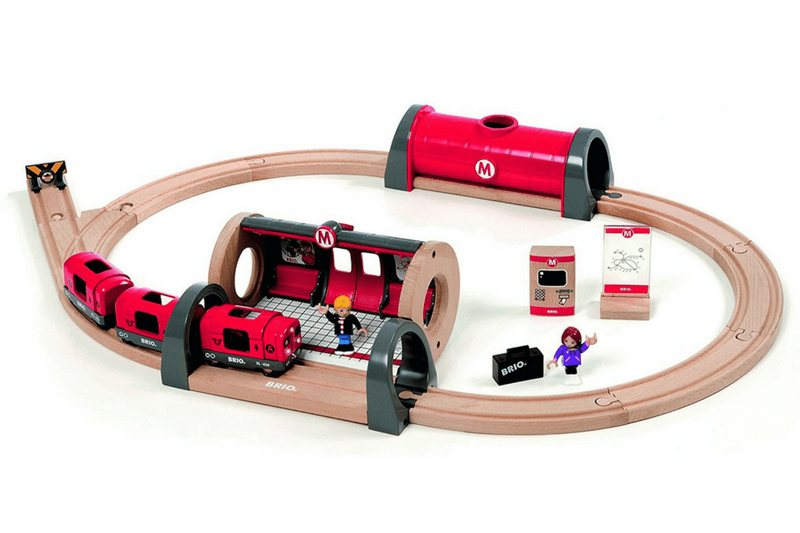 I couldn't get over how cute this little metro set was! It is perfect for any kid that loves the metro system especially if the two year old is a city kid! And you can complete the set with a special metro train from whatever city they live in! When I nannied, I bought the little boy who I sat for four of these–one of them for every line in Chicago that he knew and took! It's definitely one of the best toys for 2 year old boys around and can be an easy gift to personalize!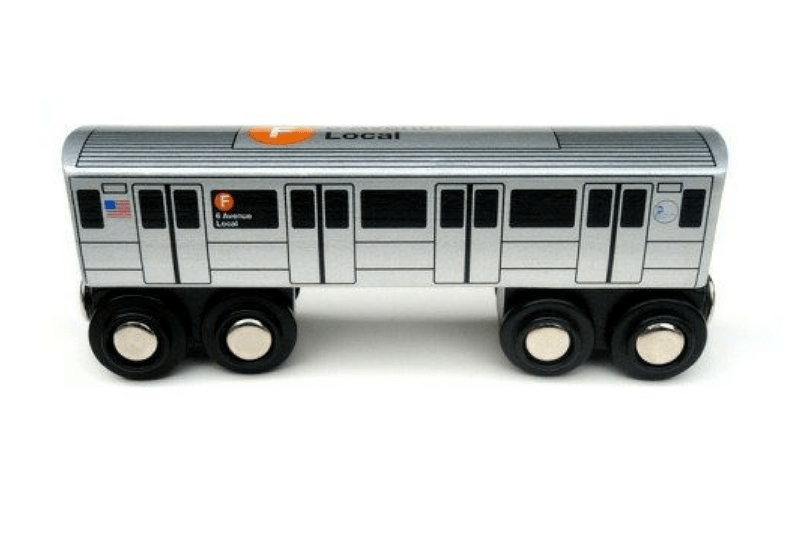 BUILDING TOYS FOR 2 YEAR OLD BOYS

We don't have this yet, but I am thinking Santa might bring it! A marble tower set is a great toy for two year old boys who love building and even for older siblings! I know when we visit children's museums, the kids love the marble stations, so having one at our house would be amazing! The kids can get creative building different ramps for the marbles, and experimenting with gravity. This is definitely one of the best toys for two year old boys!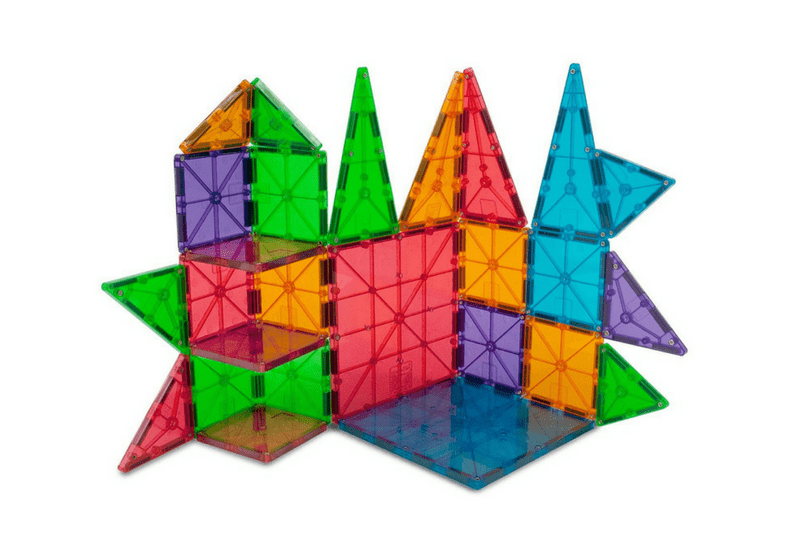 This is another one of those toys that it is always popular when we have kids over, and it gets regularly played with at least three times a week with my own kids. Not only is it one of the best toys for 2 year old boys, but it is one of our best toys PERIOD. It is perfect for two year olds, but also is loved by kids up to six years old as well! Santa brought us this kit a couple of years ago, but I think he might have to bring more. The kids LOVE building with them! Update: Santa did bring several more sets of them and they continue to be a huge hit!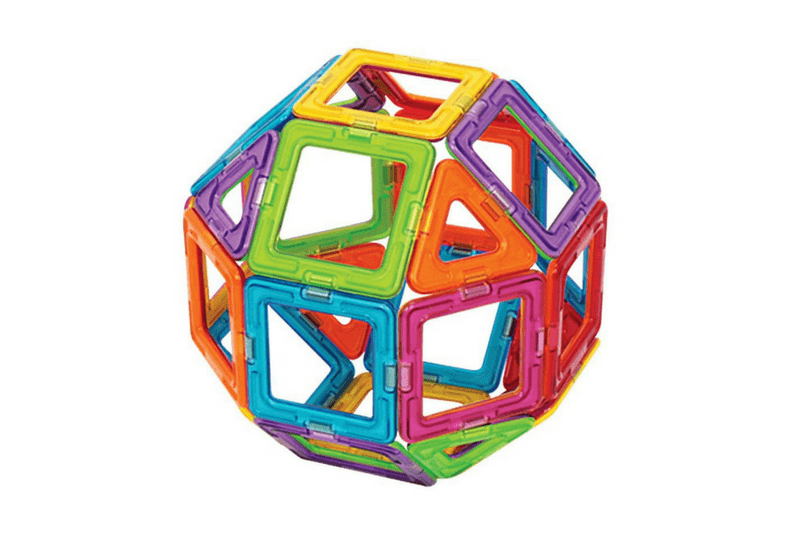 We don't have this yet but I know my kids would love it! Our friends with twin boys have these Magformers and they are the most popular toy at their house, and Jack won't let it out of his sight when we are there! Different than Magnatiles, Magformers are hollow in the center and are magnetic on the sides. You can make tons of 3-D shapes with them. These are a fun twist on building blocks and are a great toy for 2 year old boys.
GROSS MOTOR SKILLS: BEST TOYS FOR 2 YEAR OLD BOYS


This is another one of those toys that we bought for our daughter, Bowe, when she was two and she couldn't care less. But, yet again, Jack started riding this at 12 months and is crazy about it at age two! We now have two of them because Bowe decided she really liked it at age three (just when Jack started playing with it!) This is a really well-built scooter, and we have even considered getting an adult version! And funny thing, when I was in London this past spring I noticed that all the kids were riding these! I saw zero kids riding bikes; instead, all of them were riding this mini scooter! Update: Now at age three, Jack continues to LOVE his scooter and is almost good enough to go places on it!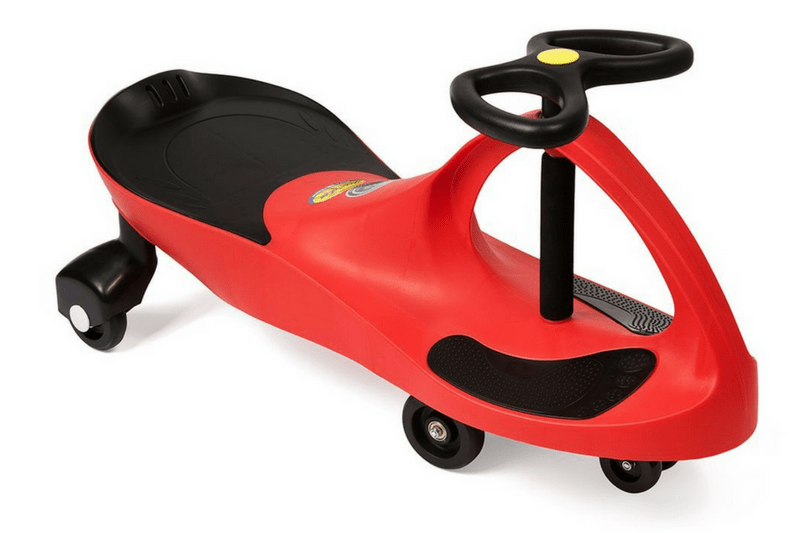 This is another one of those toys that is really fun for the kids AND the adults. Not even kidding! Santa might be bringing my kids (and me) one of these! Adults can ride it too but it is really made for kids. Two year old boys will love being able to scoot around the house by pedaling with the handlebars. There is a good reason it is continually ranked as one of the best 2 year old boy toys!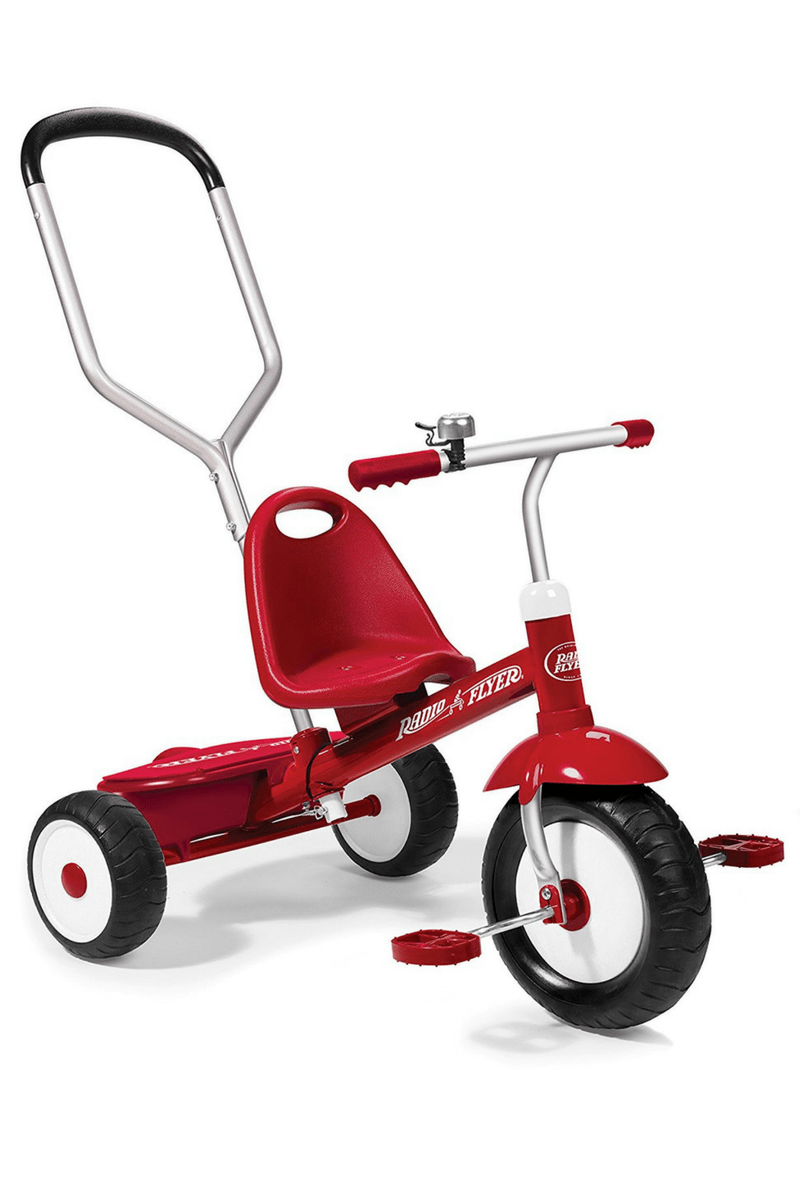 As much as Jack loves his balance bike, when we actually want to cover some distance, we put him in our tricycle. The key with buying a tricycle for a two year old boy is that it has a comfortable handle for you to push. This one fits the bill and is a classic toy. I love it when one toy will be used by many kids, and because this is gender-neutral, it would be great for any two year old! See more of our favorite outside toys for kids here.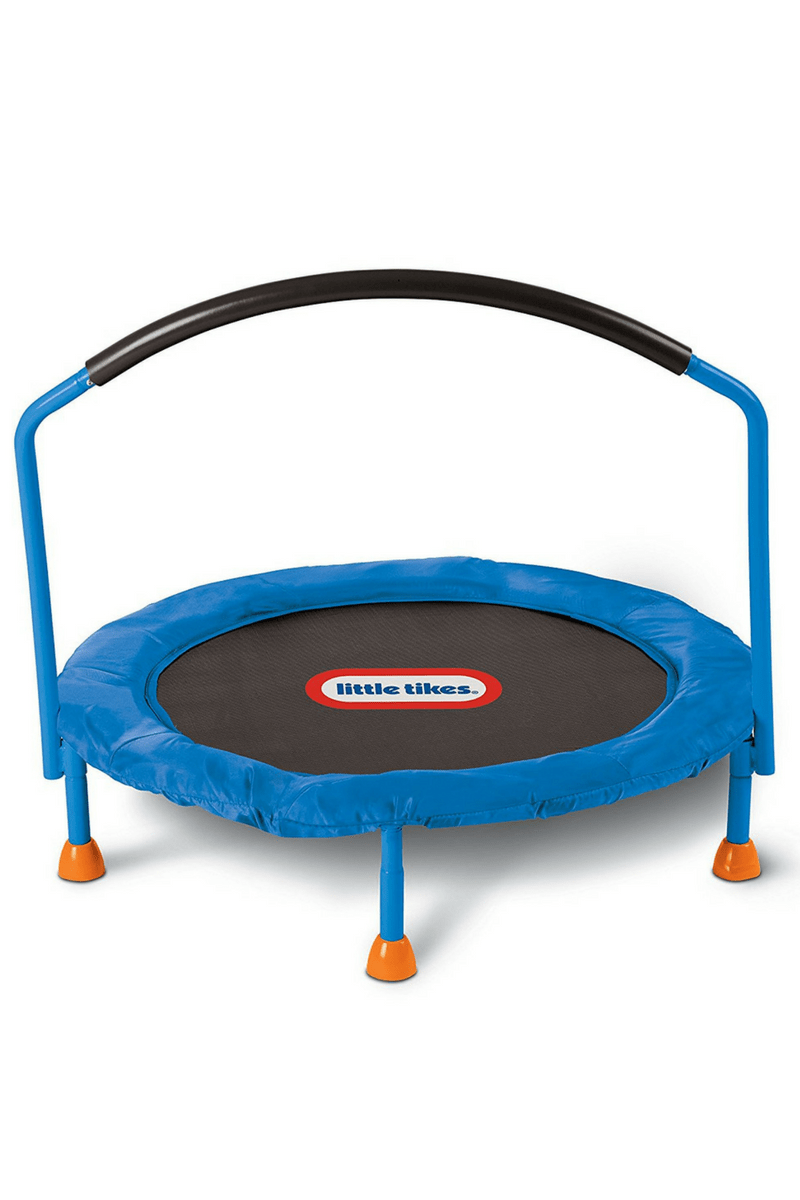 With a horribly long winter staring us down, this trampoline might be making an appearance at our house–specifically our basement. On those winter days when you cannot get the kids outside for the wiggles, this trampoline will get their crazy jumps out! (for more toys that are great for long winters–see this post on Best Toy Ideas Winter)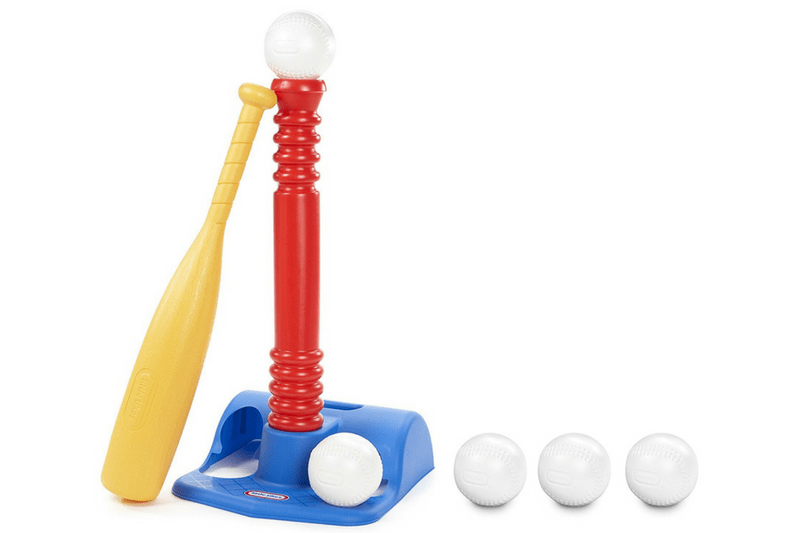 Tee ball is big with little boys for good reason–boys love hitting things and hitting a ball is a fantastic exercise in gross motor and fine motor coordination! This tee ball set is inexpensive and is a toy that is perfect for any two year old boy!
IMAGINATIVE PLAY: BEST TOYS FOR TWO YEAR OLDS
ANIMAL FIGURINES



Santa brought this wooden barn for Jack last year and this under $50 toy was the biggest hit! We keep it in our family room at our house because he uses it so often! It comes with Barnyard animals but we like using our better quality animal figurines that are stocking stuffers for the kids (see below!)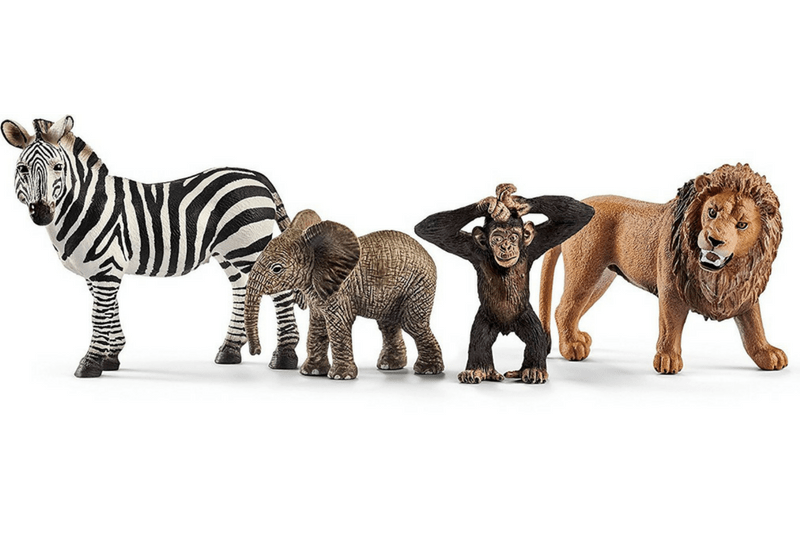 If my two year old boy had to have only one toy, it would be his animal figurines! This is by far one of the best toys for 2 year old boys–and quite possibly #1! These animal figurines go EVERYWHERE with us, and these are the best quality! They are beautifully painted and are a very solid plastic. Because they are a little pricey, we space them out and the kids will each get one for each holiday in their stocking, and for birthdays, and other holidays (like Easter, Valentine's, and Halloween!)
My grandmother has a huge box of them at her house, and I know that even thirty years old, they are in good condition. One day we too will have a big ol' basket of them too! UPDATE: We have since added lots of dinosaurs to our collection and they too inhabit the barn! Got to love two year old boys and their toys! See all my picks for the best dinosaur toys here!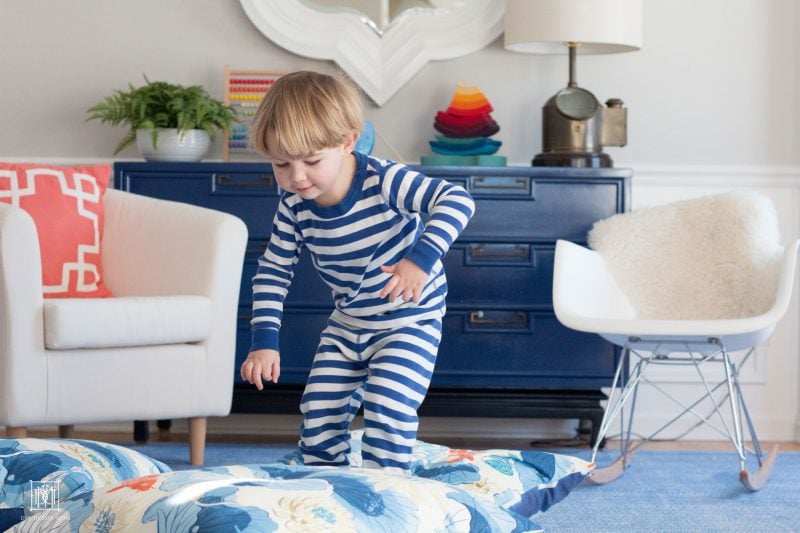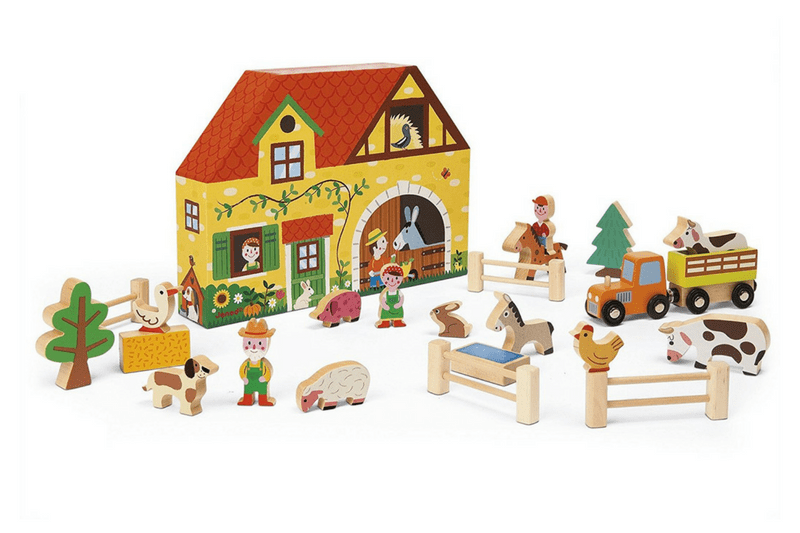 A dear friend gifted this wooden farm toy set to Jack when he turned two and he has loved it ever since! There are several different sets from the same company online, so it would be a great gift for a two year old birthday and then another set for Christmas or another holiday! Definitely a top contender as one of the best toys for 2 year old boys! UPDATE: At three years old, he continues to love this and we have since added a few accessories to the collection–there is a safari edition that could easily be considered one of the best toys for 2 year old boys too!
TRANSPORTATION: BEST BIRTHDAY GIFTS FOR TWO YEAR OLD BOYS
WOODEN CARS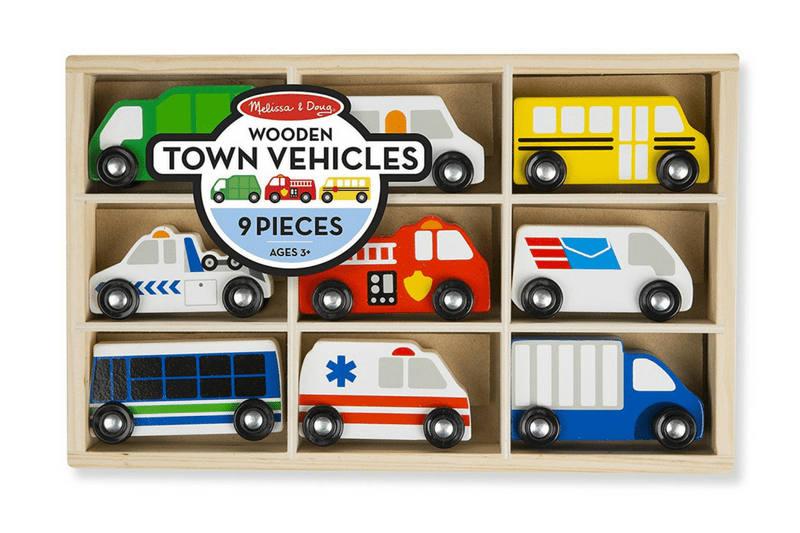 My mother-in-law gave Jack these wooden cars for Christmas last year and he loves them! Two year old boys can never have too many transportation vehicles, and I love that they are reasonably priced and wooden! They work great as a stand along gift for two year old boys, or as an accompaniment to a bigger gift like the rug below!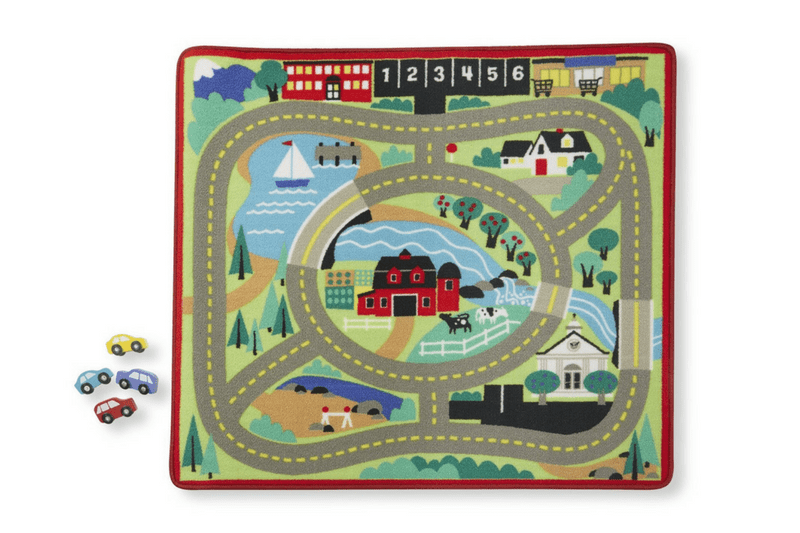 Road Carpet great for playing cars
I love this road carpet! It is the perfect toy to be able to roll out and then put away when you aren't using it. Every house with boys has one of these mats, and it is not a coincidence it is such a popular toy! Any two year old boy will enjoy playing with all his toys on it!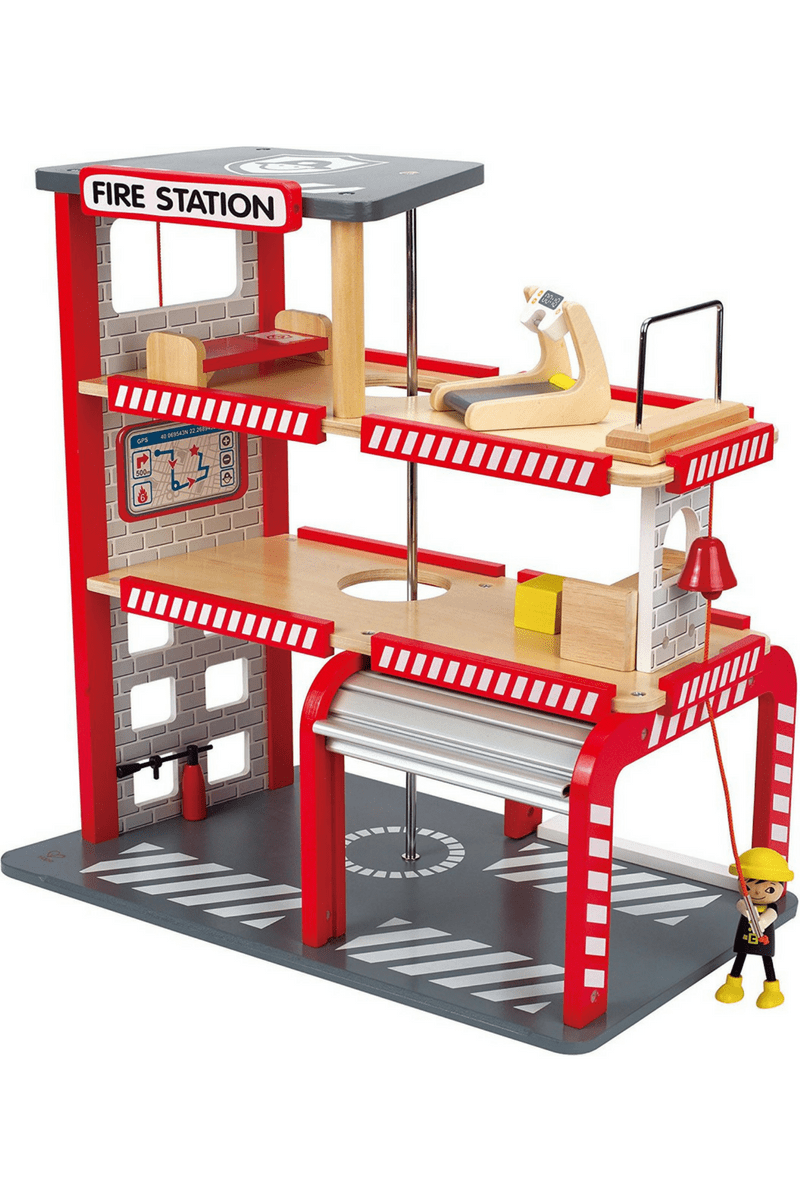 Back when we lived in Chicago, I saw one of these fireman houses for sale at a garage and I literally jumped out of the car and snagged it before anyone else could! It is a great unisex toy but, boys will really enjoy it! They discontinued our specific one, but this fireman house is made by a wonderful company and to be honest, probably superior in quality than our's. I love it as a different type of dollhouse for boys, and it is easily one of the best toys for 2 year old boys!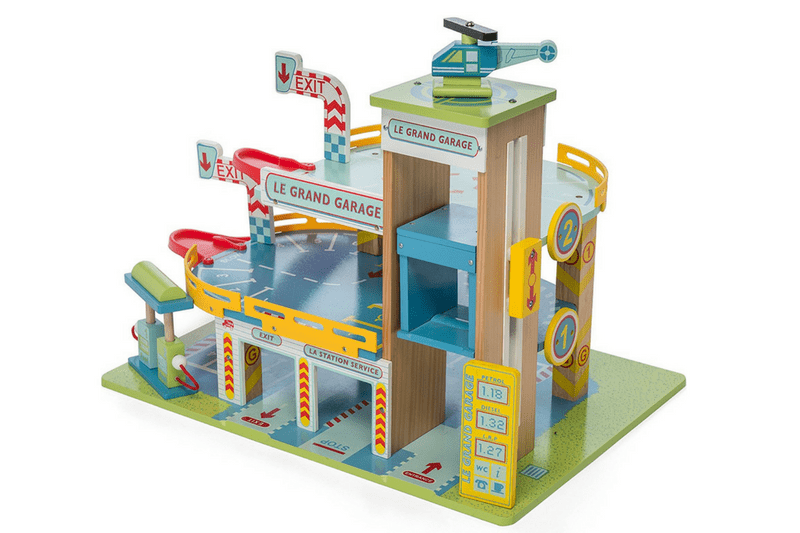 A local playspace has this car park set and Jack is enthralled! I love how it has add-ons like the helicopter which comes with the set. The different levels would make it interesting for any two year old to play with!
PIN ME PIN ME PLEASE 🙂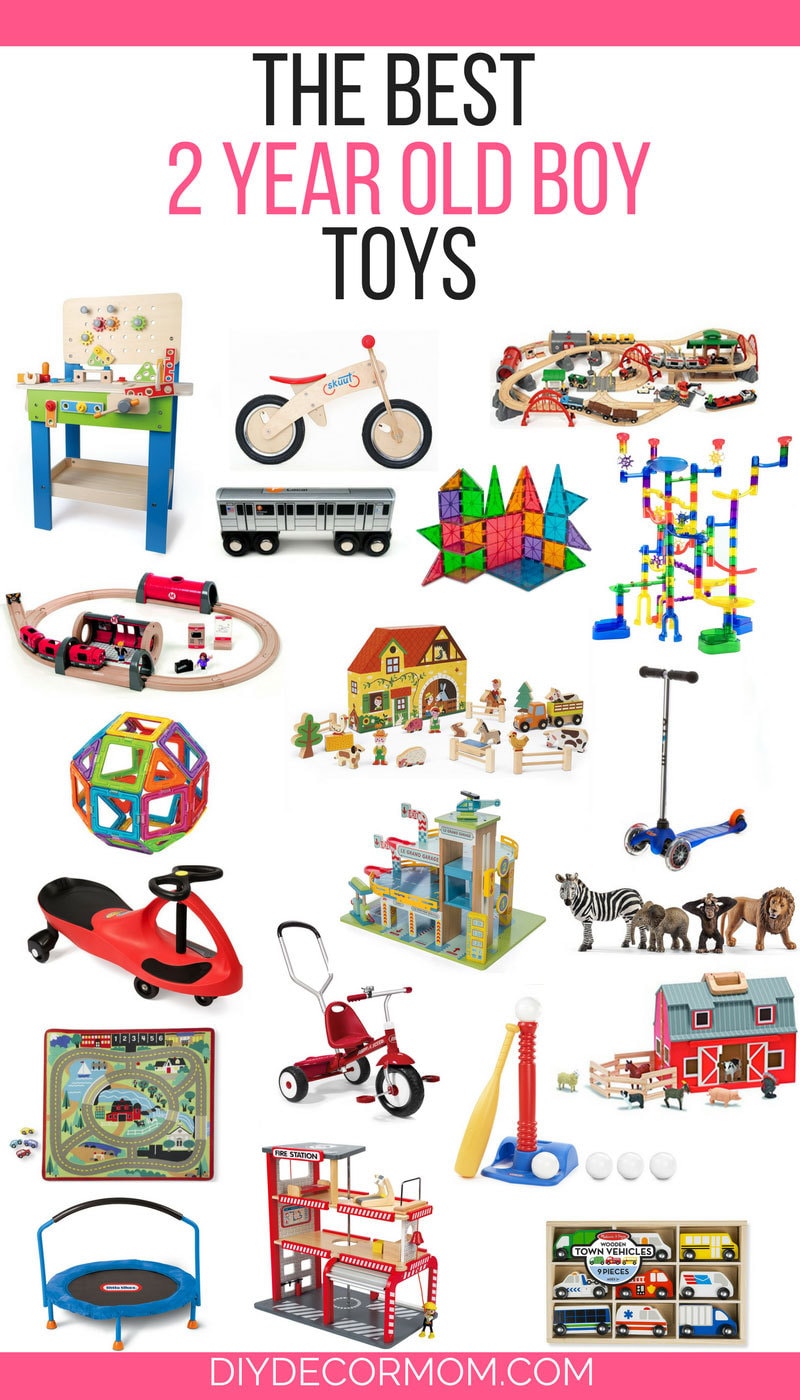 Alright, so that's it! 20 best toys for 2 year old boys that are perfect for any little boy on your list! Plus, NONE of them have annoying sounds, lights, or batteries so parents will be happy too!
IF YOU LIKE THIS, YOU'LL LOVE THESE POSTS!!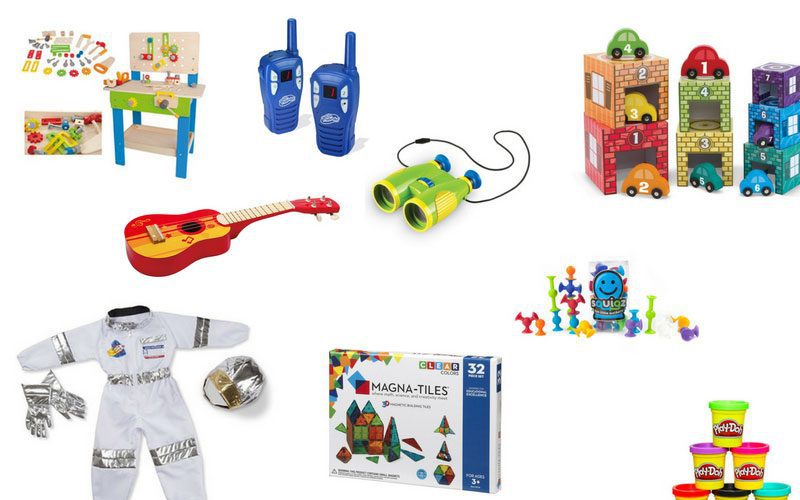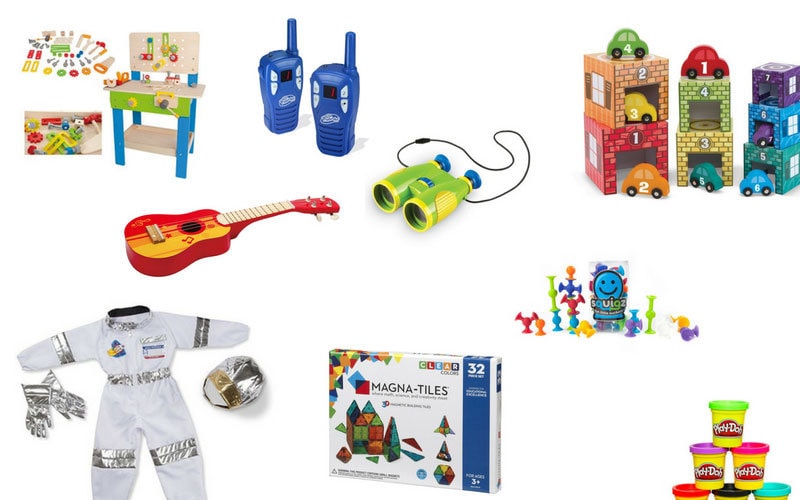 BEST TOYS FOR THREE-YEAR-OLD BOYS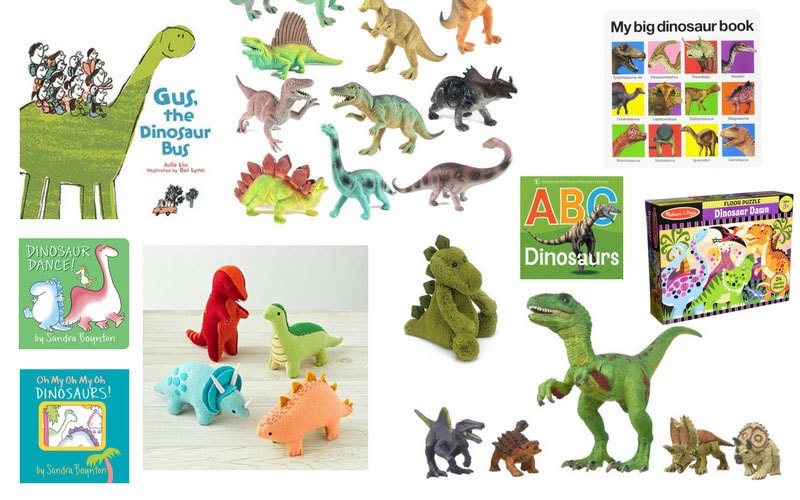 BEST DINOSAUR TOYS FOR DINOSAUR LOVERS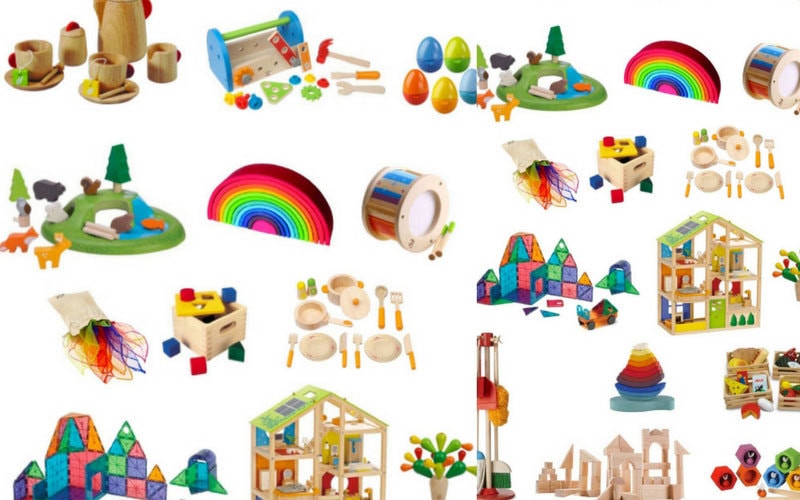 BEST MONTESSORI TOYS KIDS WILL LOVE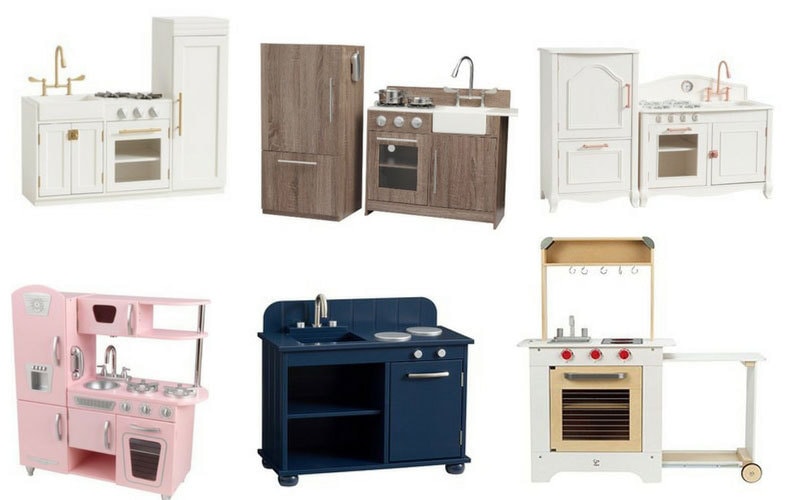 BEST PLAY KITCHENS IN EVERY PRICE RANGE