Where to Buy Wallpaper Online: Want to know the best place to and source wallpaper for your home? Installing wallpaper is one of my favorite ways to immediately improve any space and add some color! Here are my favorite places to source it, how to save money on it, and what you need to know before you buy (learn from my mistakes!)
WHERE TO BUY WALLPAPER ONLINE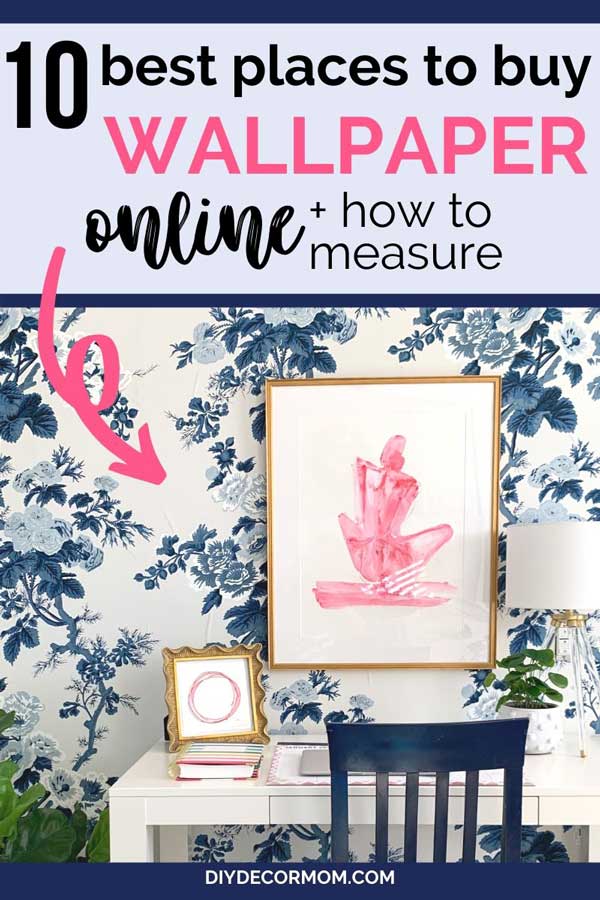 *This post contains affiliate links at no cost to you. See my disclosure policy here.
One of my favorite, if not my favorite home decor company is Serena and Lily. We have so many of their pieces in our house and even more planned for our office makeover! Out of all of the wallpaper purveyors listed below, installing Serena & Lily was the easiest for the unpasted. AKA you will need to apply wallpaper paste to the back. In a way it is easier because you have more control over the paper–there is less stretching and shrinking than with water.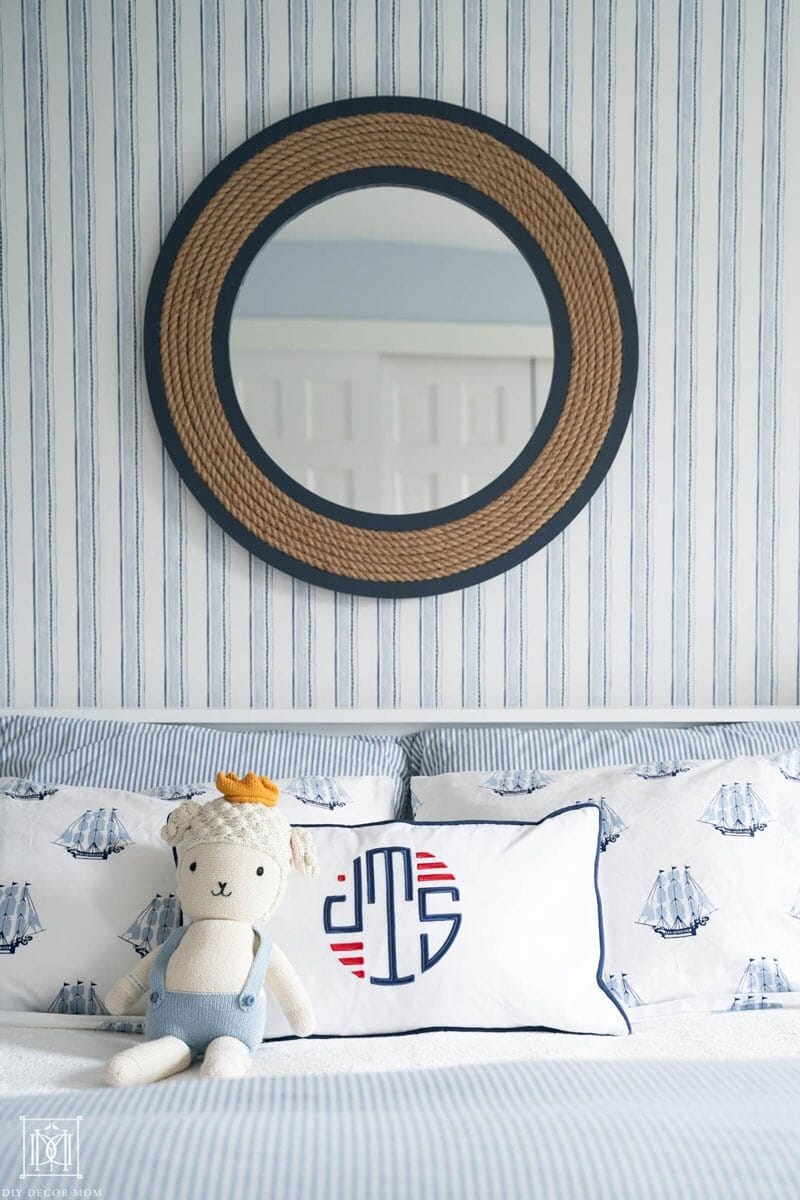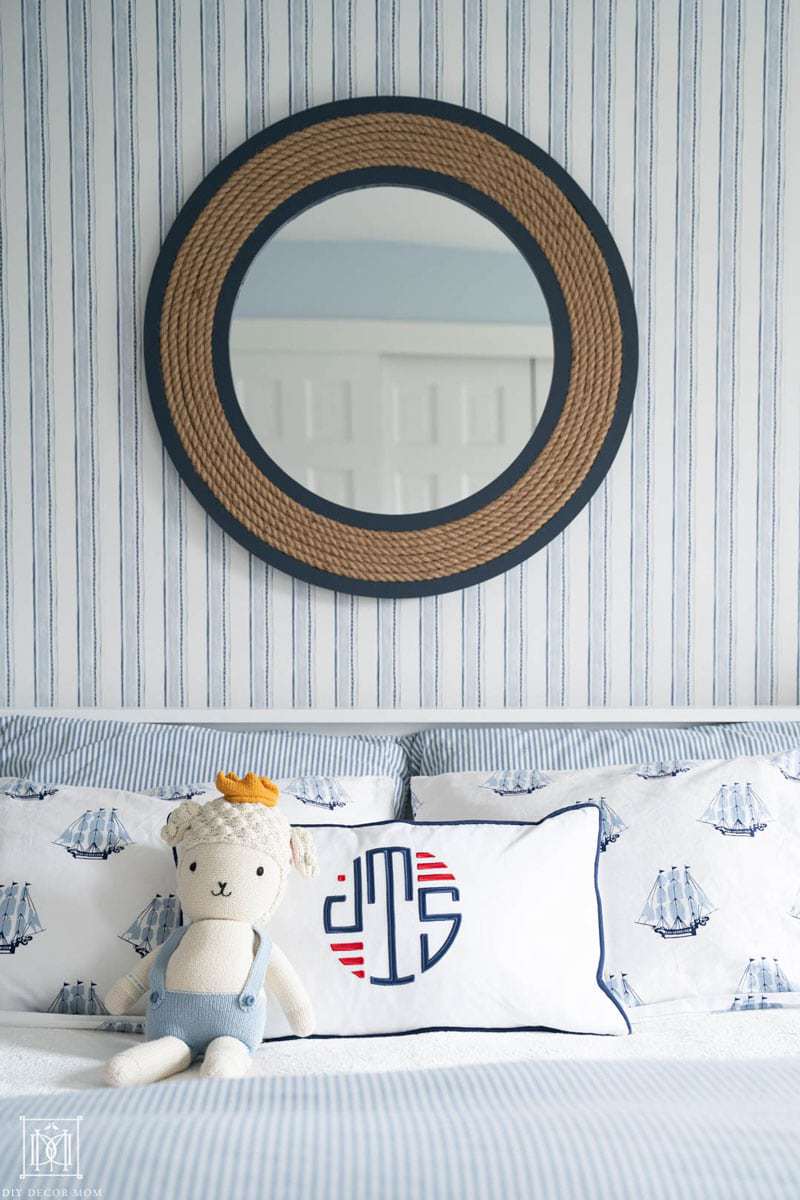 Buy Wallpaper HERE
Their paper comes pre-cut so it's easier than working with Schumacher paper like we did in our master bedroom or Annie Selke (which also comes untrimmed.)
Here are my favorite Serena and Lily wallpapers that look good anywhere!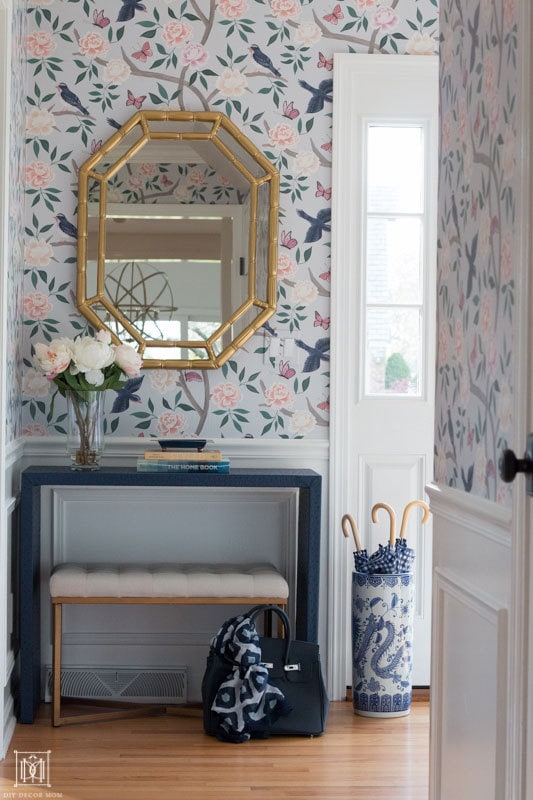 Buy Chinoiserie wallpaper here
Caitlin Wilson is another one of my favorite online decor stores. I pretty much could buy everything she makes. After pinning this wallpaper for over a year, I took the plunge and we bought it for our foyer. It was an investment for sure but because the space is so small, it only took a couple of rolls of wallpaper (the total came out to $382) which is a steal for a room makeover!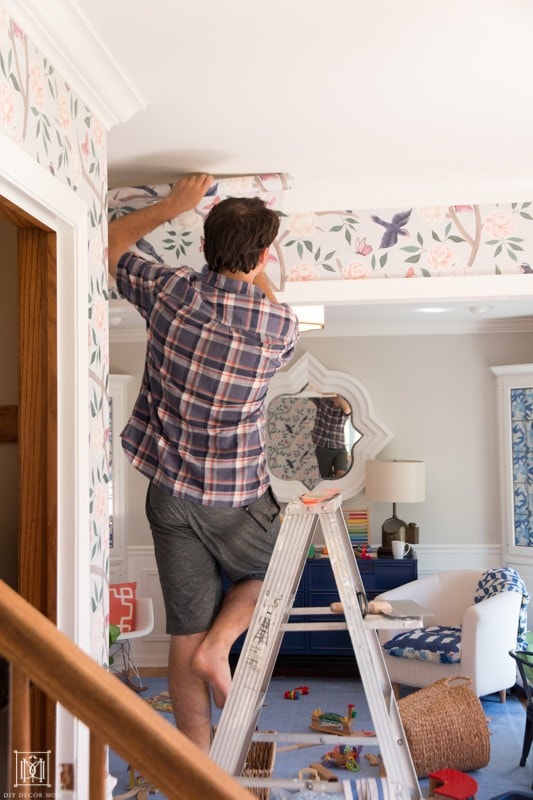 We've also installed her wallpaper in our girls' shared bedroom. It is somewhat pricey wallpaper (less than Schumacher but more expensive than Serena & Lily) so it's a great choice for an accent wall. Working with it was pretty simple. It was higher quality than the Spoonflower wallpaper we installed in our nursery, and it was already pasted, and was trimmed to length.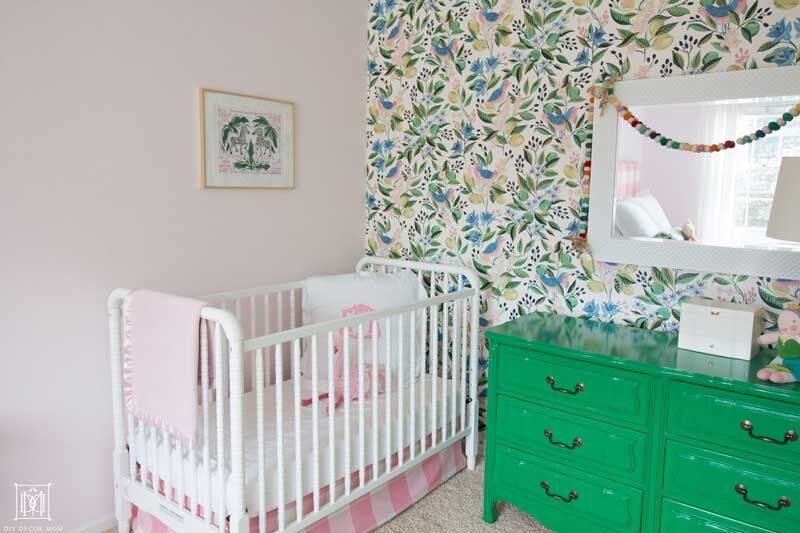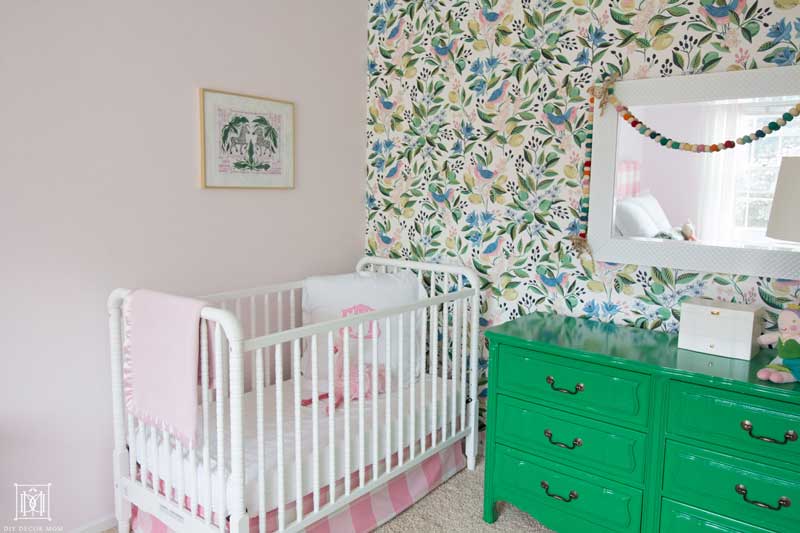 Buy Green and White Wallpaper HERE
Here are my favorite CW Designs papers:

Yes, this might be surprising. When I think of HD or Lowes I don't really think designer wallpaper. However, their online selection is fantastic. It's a little tricky to compare prices from retailer to retailer (they often charge by the foot while other retailers charge by the roll,) so it might take a little math; but, you can easily save money if you shop around.
Here are my favorites:

Anthropologie is known for their curated collections and their wallpaper collection is amazing. If you want an easy place that isn't overwhelming to choose wallpaper, then head on over to Anthro! It is worth mentioning that you should wait for one of their sales.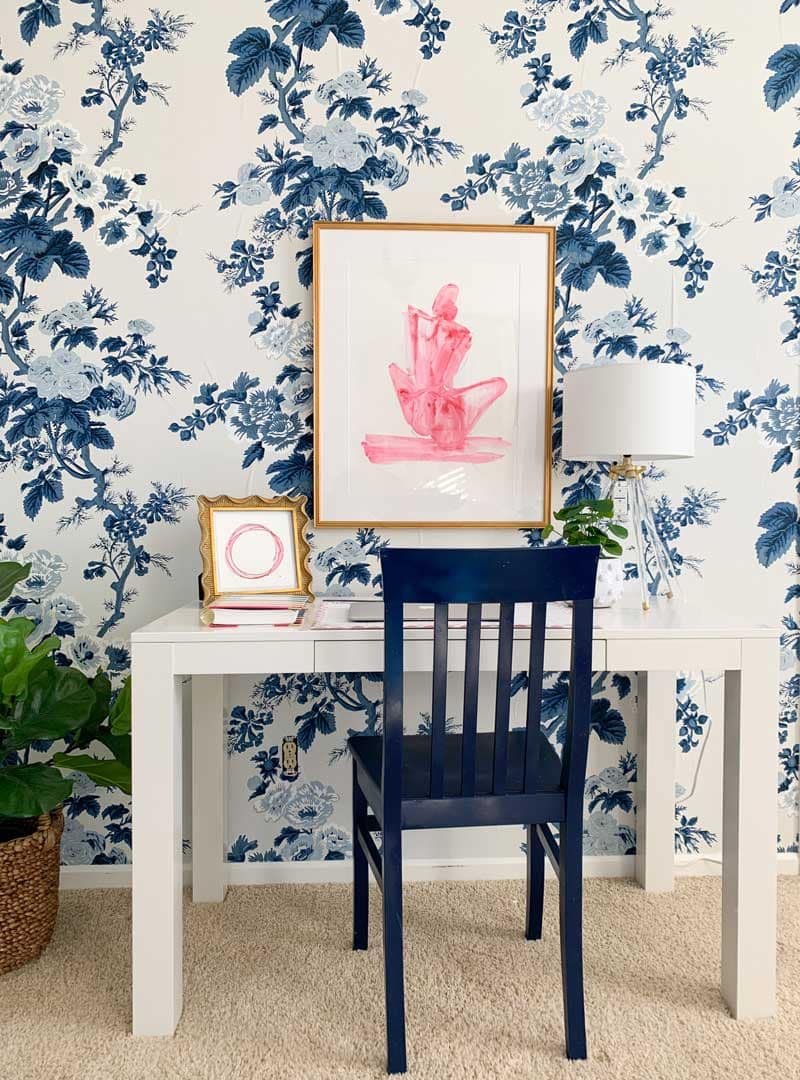 We purchased our Schumacher wallpaper for our master bedroom from Wayfair, and while it was nice to save some money, this paper really should only be installed by professionals. My husband has installed almost all the wallpaper in our house (including when it recommends professional only installation) and has never come across such hard-to-work-with paper as it.
Now, this isn't anything against Wayfair, it is just a word of caution if you are going to buy Schumacher paper. We think the creasing and airbubbles were due to unequal weight of the wallpaper caused by the large white spaces of the pattern.
Here are some of my favorites wallpapers available on Wayfair currently: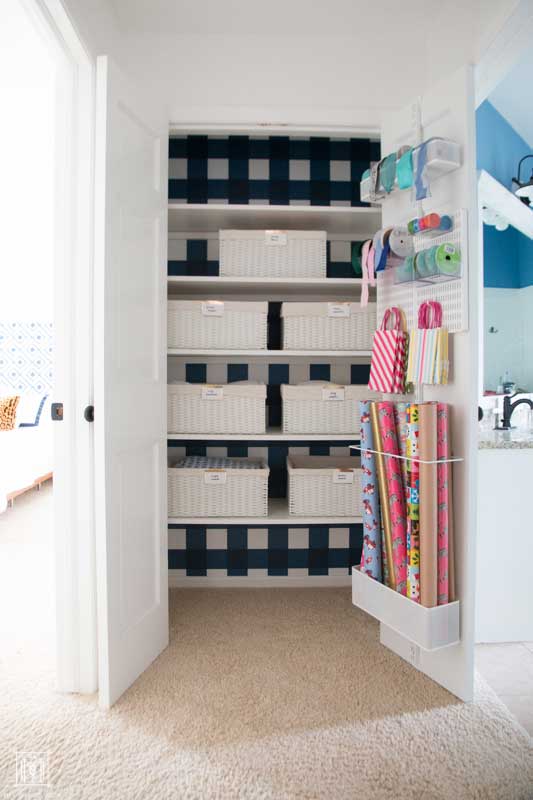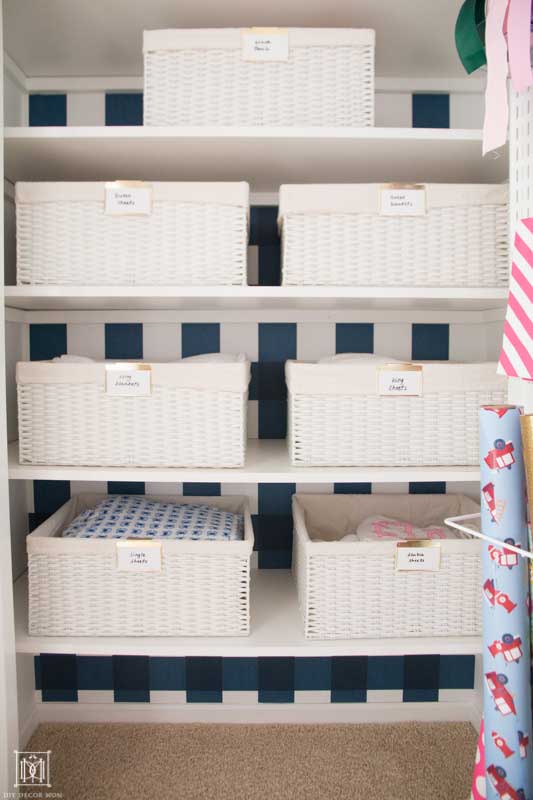 Navy Blue Wallpaper here and see the whole linen closet here
Etsy may surprise you. When I think of Etsy, I think of handmaid small artists or at least monogrammed pillows–not wallpaper. But, it is a fantastic place to buy wallpaper. Just make sure to read the directions. Because it varies shop to shop, it's best to look closely at the directions.
Questions to ask before buying:
Is it pre-pasted paper?
Is it pre-trimmed paper?
We had great success with removable wallpaper for our linen closet. It was easy to work with and had a nice hefty weight to it. Now, I haven't removed it, so I can't speak to that!

7. Spoonflower
My first experience installing wallpaper was for our nursery (then our baby boy room) and now still visible in our baby girl nursery! I still love the wallpaper to bits and would wallpaper all four walls if I could (the print is no longer sold by Spoonflower) but I linked the wallpaper that's available on Etsy below.
Related: How to Install Wallpaper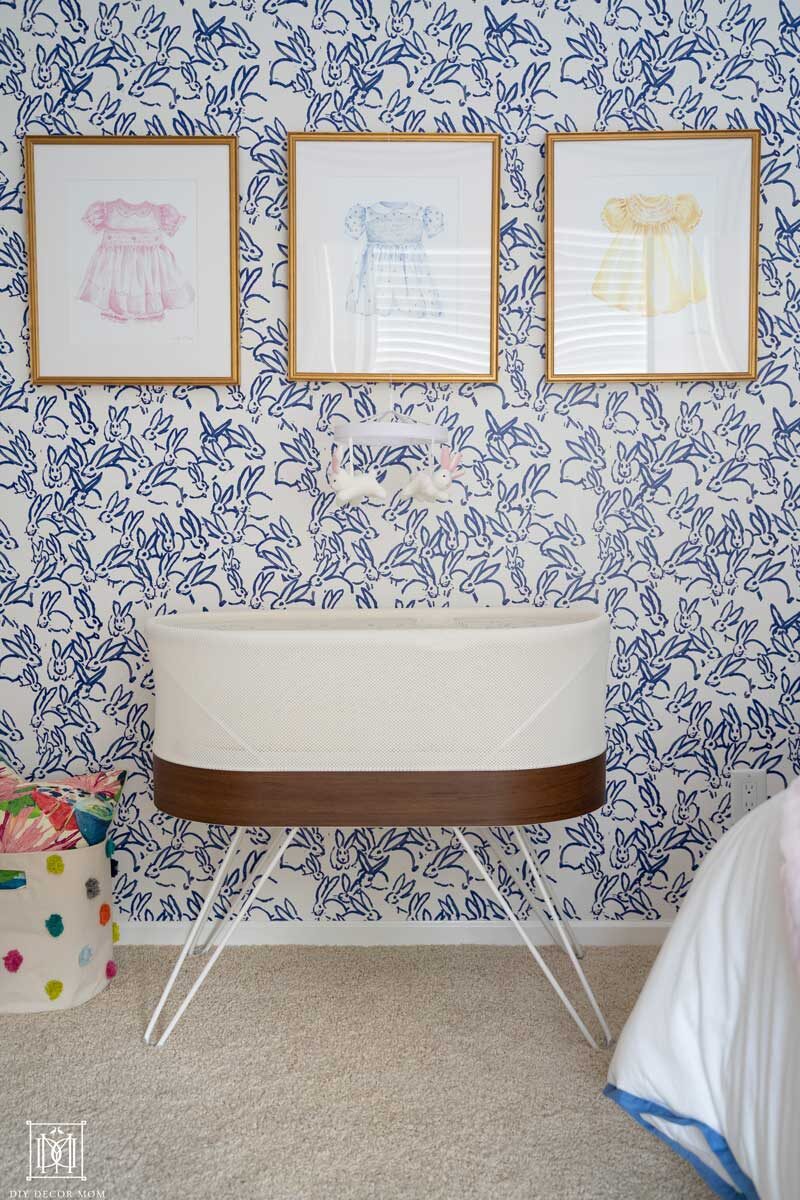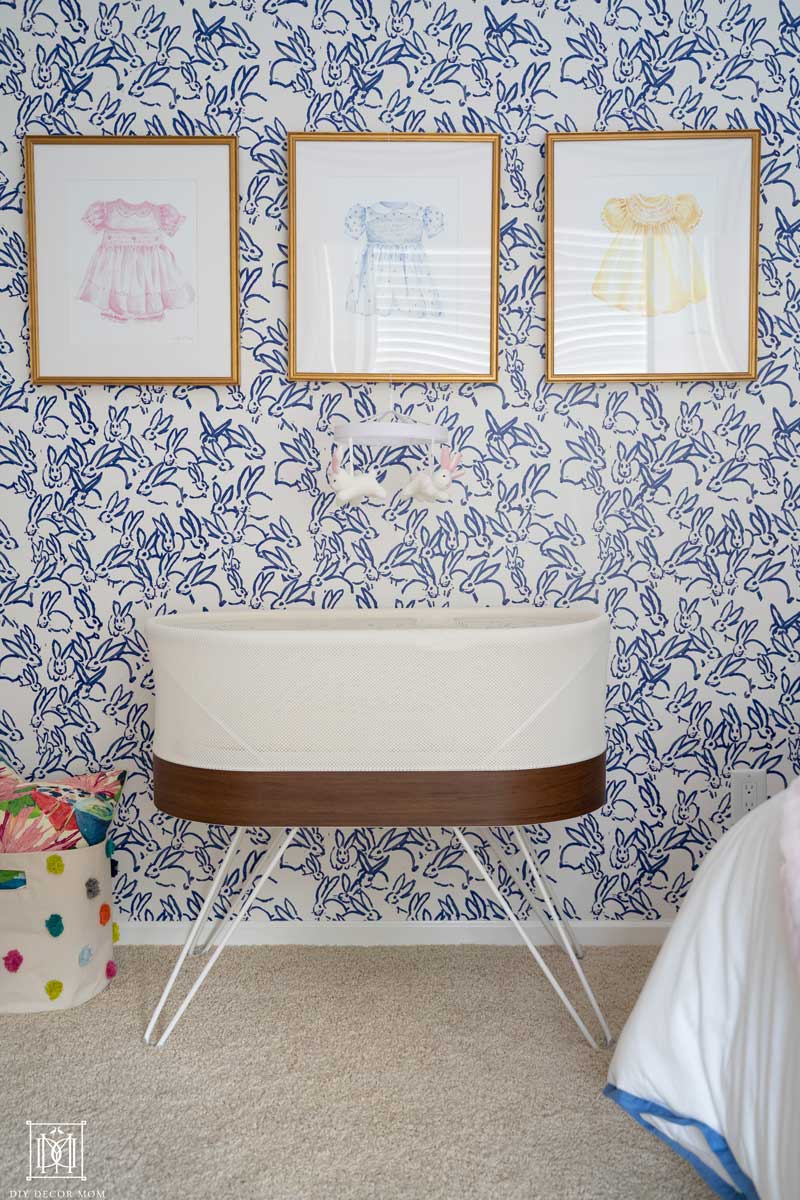 Spoonflower has several options for pre-pasted/ un-pasted/ removable/ traditional (water-activated) paper. We used traditional pre-pasted wallpaper–meaning, we had to use water to activate the paste. It was very easy to work with and it only had minimal stretching.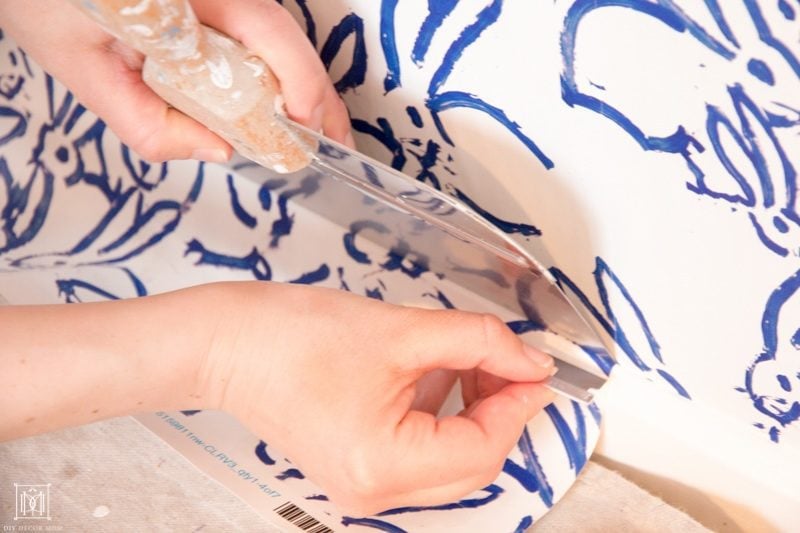 The lovely thing about Spoonflower is that pretty much anything in your head is available in a design. Seriously, there are so many unique designs on there, it gets a bit overwhelming.

8. Chasing Paper/ Walls Need Love
I have not personally used either in my own house; but, I've seen them used in a number of houses.
9. Inside
One of my amazing followers on Instagram shared her makeover with me–drop dead gorgeous Thibaut wallpaper in one of my favorite patterns. I wasn't familiar with Inside before, but now I stalk it daily. They have very affordable options for designer fabrics and wallpapers.
10. Decorator's Choice
Yet another often overlooked purveyor of usually only to the trade wallpaper and fabric choices. Their designer prices are pretty similar to Wayfair's, and they often offer deals for 10% off but they don't apply to many of the brands like Schumacher, Scalamandre, or Thibaut.
Where is our wallpaper in our house?
Foyer- Caitlin Wilson- prepasted & trimmed
Girls bedroom- Caitlin Wilson- prepasted & trimmed
Master bedroom- Wayfair- unpasted and untrimmed
Linen closet- Etsy- removeable or peel and stick
Nursery- Spoonflower- prepasted and untrimmed
Jack's bedroom- Serena & Lily- unpasted and trimmed
Office- Serena & Lily- unpasted and trimmed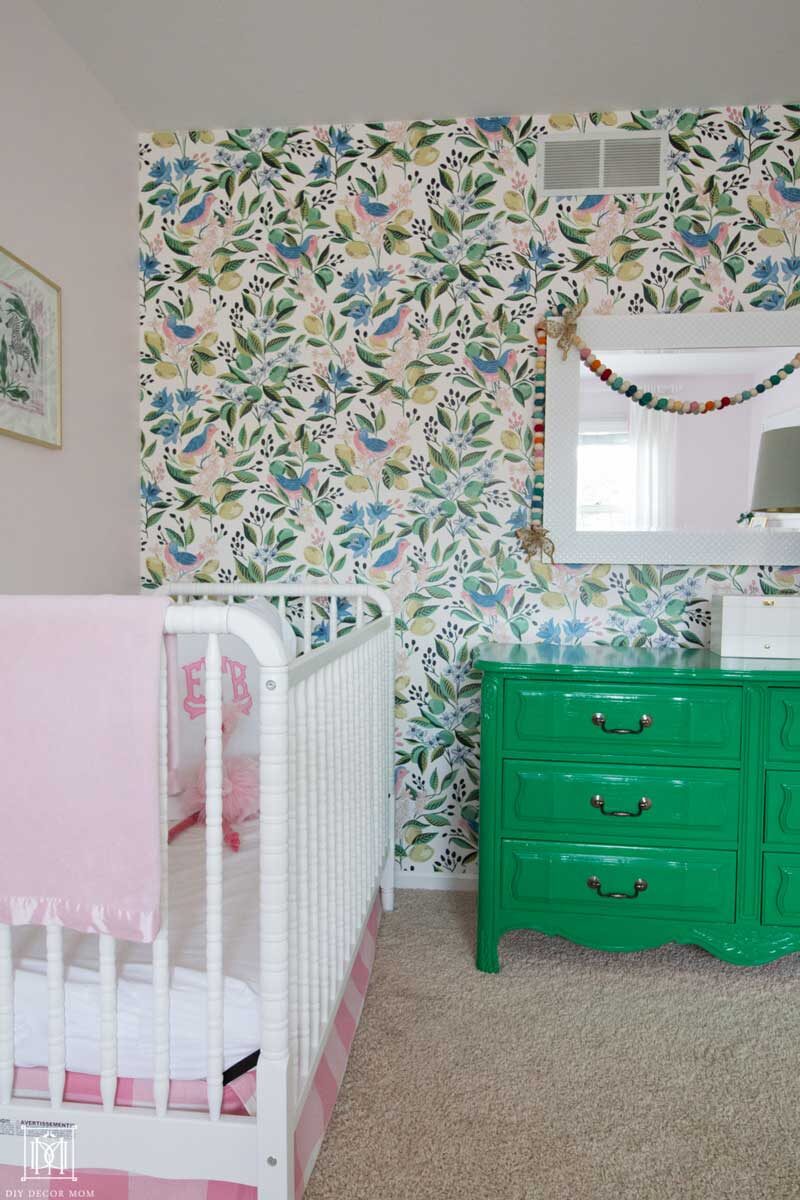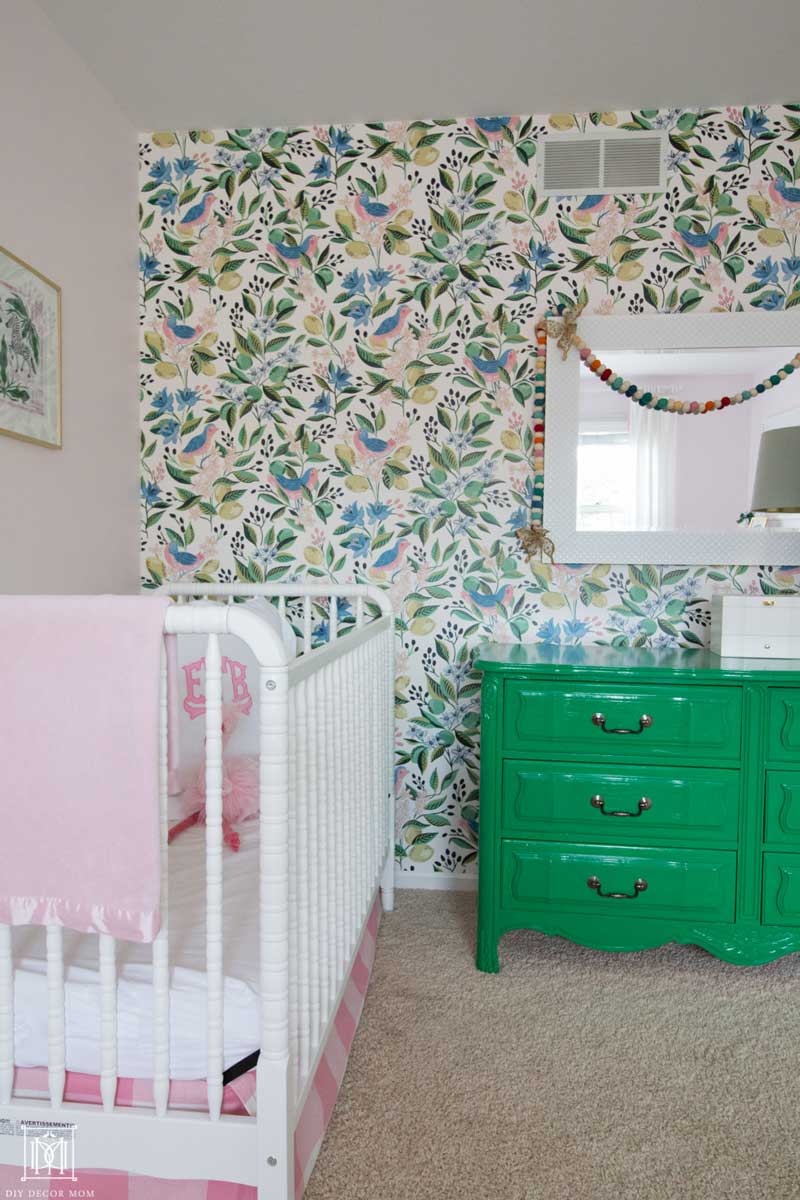 What type of wallpaper should I buy?
Pre-pasted vs. Unpasted:
Strangely enough after using prepasted and unpasted, we don't really have an overwhelming preference. Prepasted is simpler to put up; but, unpasted you have more control. If you are beginning to wallpaper, I would recommend starting with prepasted. But don't worry if you really want a Serena & Lily wallpaper that comes unpasted. Just buy a gallon of this.
Peel-and-stick or removable vs. traditional
We've only used peel-and-stick (removeable) wallpaper in one of our makeovers. Why? Well, to be honest, it's easier to work with traditional wallpaper. You have more wiggle room and time to make sure the wallpaper is lined up perfectly. However, I think for small spaces peel and stick is best.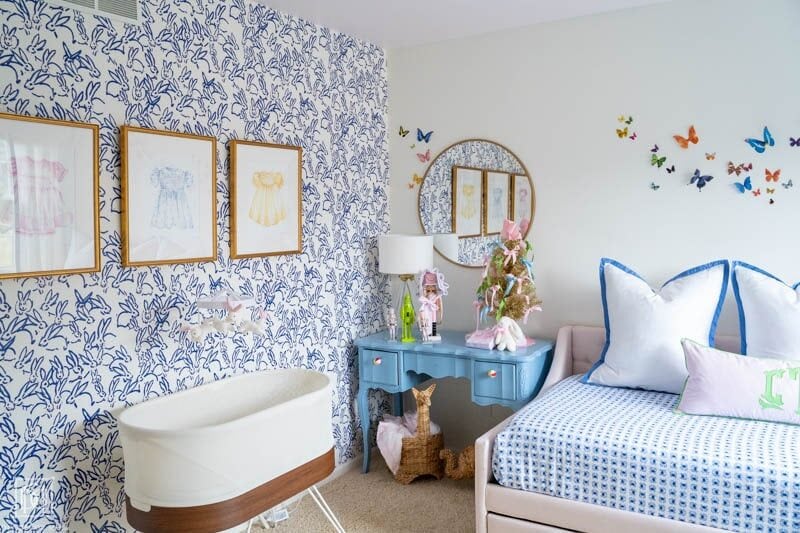 Pre-trimmed vs. untrimmed
Pretrimmed ALL THE WAY. We didn't know what we were getting into with the master bedroom wallpaper. Given, the trimming wasn't the most difficult part–it was the air bubbles and creases with the finicky paper; but, if you want to simplify the wallpaper process, use pre-trimmed wallpaper (which most retailers offer.)
What wallpaper glue should I use?
We did a lot of research on what type of wallpaper glue to use and even talked to our local paint store owner, and he recommended this. We bought an entire gallon because we planned on using it for both the wall in Jack's room, the entire office (or 3/4 walls), and one wall in the master bedroom.
How to calculate how much wallpaper should I buy?
One of the hardest things about buying wallpaper online is calculating how much you need. I won't lie…wallpaper is expensive and when it comes to buying enough, it can be stressful. We have never run out but we have been INCREDIBLY close. In our foyer, we have one small section that is 6″x10″ and we call it our $200 piece. Why? Because we were luckily able to get that small piece from remnants of the trimmings from the other walls. Otherwise, we would have had to buy another $200 double roll (they only come in double rolls.)
First, you want to measure your wall. Standard ceilings are 8″ tall, and most rolls are for 9″ walls. You will want to look at the width of the paper and then estimate how many rolls you are going to need. The larger the pattern, the more waste there will be.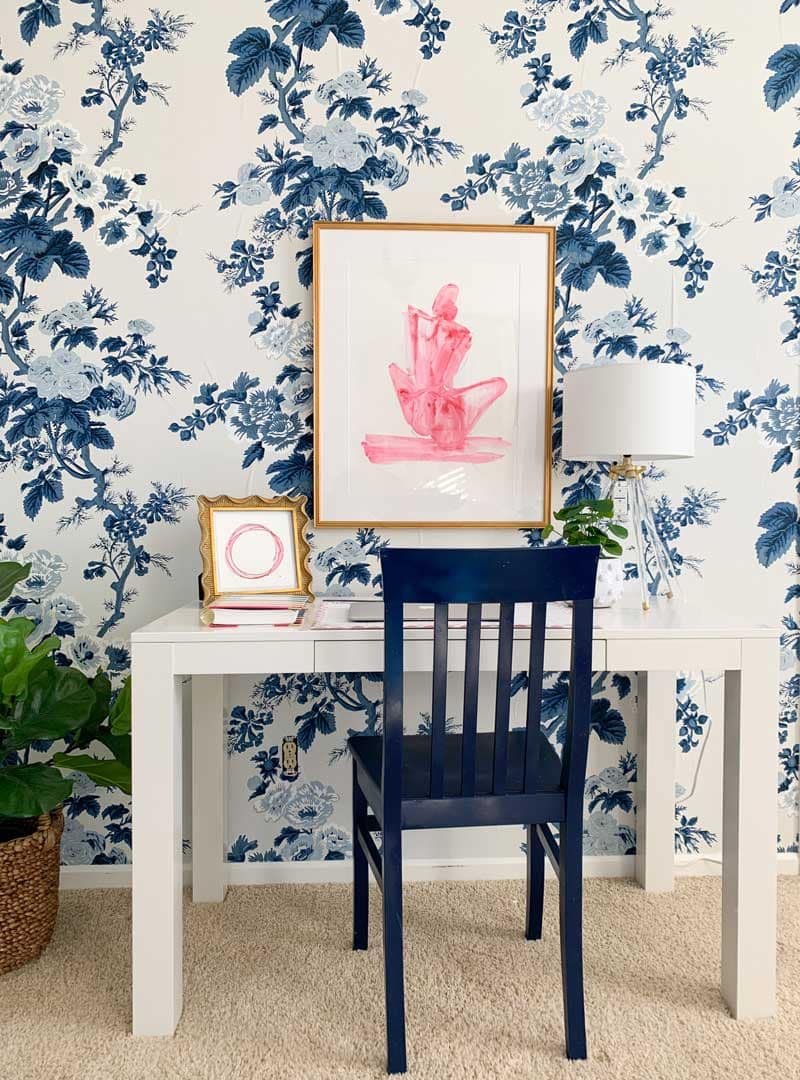 In our master bedroom, approximately 1/3 of the wallpaper was a waste because it didn't line up. Whereas in Jack's room, we hardly wasted any because the pattern was just vertical stripes. Account for up to 1/3 waste, so add that to your calculations and get roughly a bit more than you expect.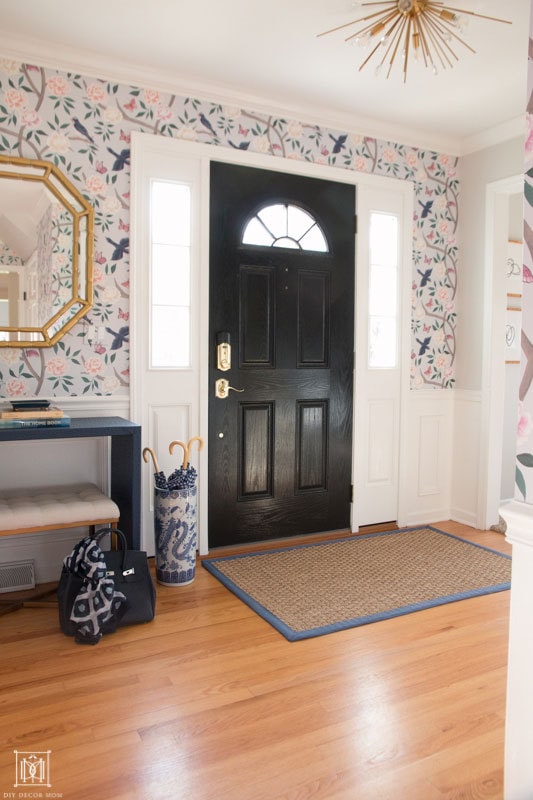 Hallway Chinoiserie wallpaper here
Here is how I figure out how much wallpaper I need:
Measure height and width of walls in inches (convert from feet to inches.)
Find the width and length of the rolls of wallpaper. Many companies use double rolls which are 2x as long. (e.g. Serena and Lily).
Divide the width of the walls by the width of the rolls of wallpaper. This will be how many rolls you will need to cover the width. Multiply this by .10 to .3 if you have a pattern. The larger the pattern, the more waste you will have.

With our Serena and Lily Acadia wallpaper, it was such an easy striped pattern, we had practically no waste.
With our master bedroom wallpaper, we had about 30% waste because it was such a large pattern.
Will there be wasted wallpaper?
Highly likely…yes. What can you do with it? Save a bunch in case you need it down the road. However, you can always line the inside of a cabinet with it which would look lovely. And you can use the extra to cover your lightswitches.
How can I save money on wallpaper?
Wallpaper isn't cheap. But I consider it large-scale art for my walls. It brings a level of finish to a house that is usually only possible in professionally designed homes (which mine certainly isn't!) Now, you know I like to save money so here are my favorite ways to save money on wallpaper.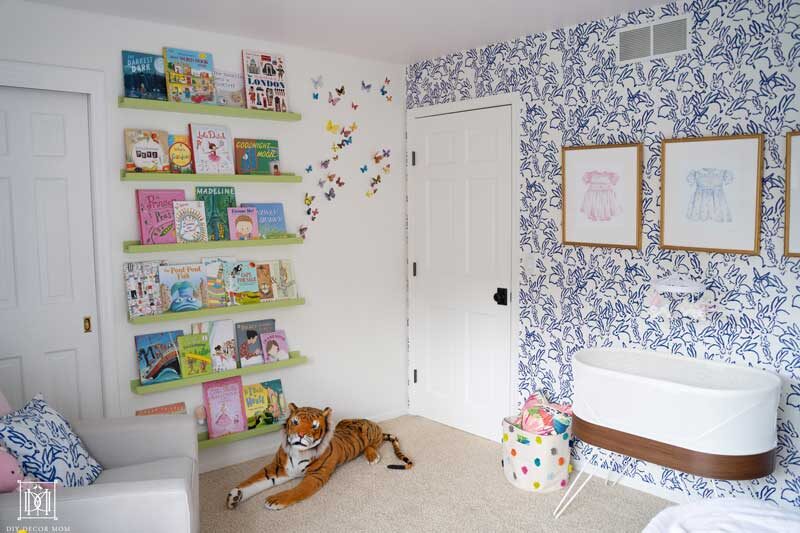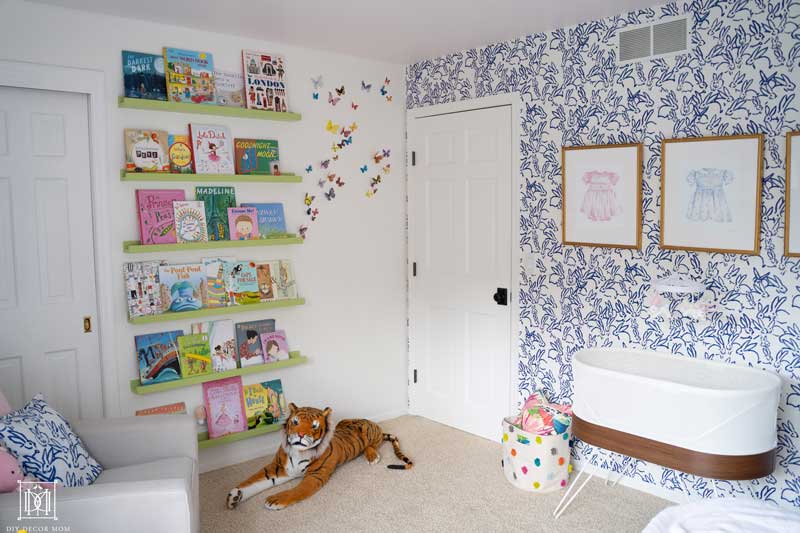 1. Accent walls
If you notice, we only have one room that has wallpaper on each wall, and it's the smallest one–our foyer. While I love our master bedroom wallpaper (and would have wallpaper all four walls if it wouldn't have cost of 4K and my marriage) it was obviously a lot cheaper to just do one. To make your accent wall cohesive with the rest of the room, try to bring the pattern in elsewhere.
TIP: Use the wallpaper pattern elsewhere via fabric, throw pillows, drapes, or even a reflected view with a mirror to bring it in other palces around the room.
In the girls shared room, my mother-in-law made a custom bolster for Bowe's bed that brings in the fabric. And down the line (if they ever bring it back) we plan on making some drapes or a pelmet box with the fabric to repeat it on both sides of the room.
In our master bedroom, instead of wallpapering everywhere (for the reasons mentioned above LOL) I used a small mirror above our bed to reflect the beautiful wallpaper on the opposite wall. I also brought the same pattern of the wallpaper in a fabric bolster that looks lovely and is much more affordable than a roll of wallpaper.

2. Use online coupons and shop sales
Holidays are a great time to make those home improvements you've been waiting to pull the trigger on. Serena & Lily and Caitlin Wilson often have a sale going around Labor Day, Thanksgiving, or their Friends & Family Sale (S&L) so it's possible to score their wallpaper for 10-20% off which can make a huge difference when decorating a rooom.
I purchased our office wallpaper last year during one of these sales, as well as Jack's bedroom wallpaper. It's pretty much one of my rules to never pay full price!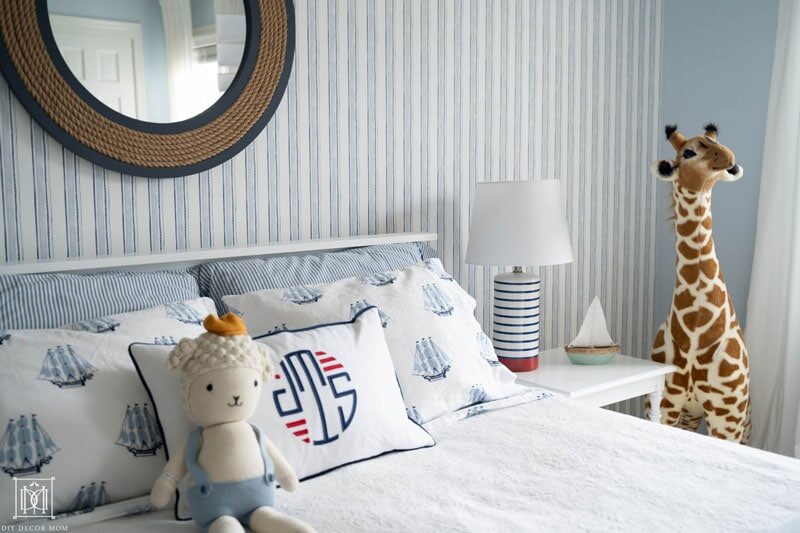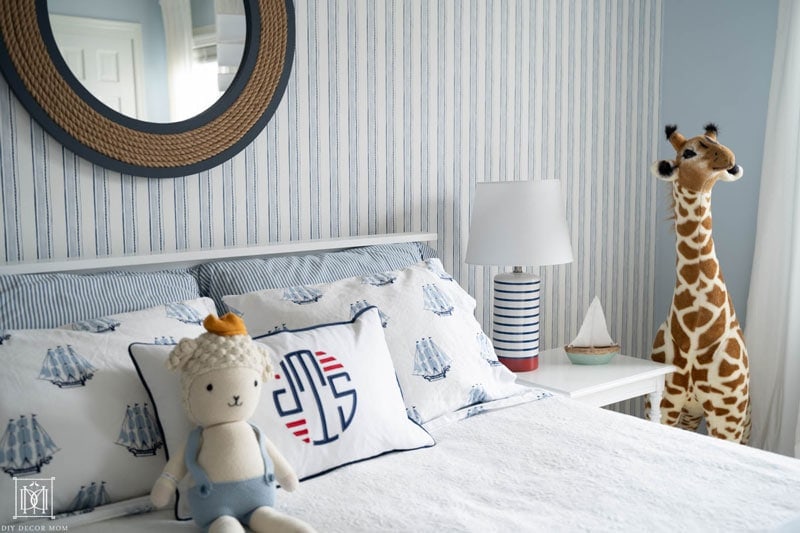 3. Shop around for sales on wallpaper
Like I said above, I always shop around for sales, coupons, and the lowest price. Now, a lot of bloggers won't tell you this because it hurts their affiliate commissions (how many bloggers make money.)

Affiliate sales give a small percentage of their product price as a finder's fee to the blogger. It doesn't cost the consumer anything, and is a nice small commission usually for the blogger. But it's usually last click. So if I recommend a mirror, and you look at it, think about it, and then look at another blogger's website and click on it and then buy it, the last blogger you click on will get the commission.
So, when I tell you this, know that it's truly just to help you save money! You can often double click on an image and say "search google for image." It will search the internet for that exact image. It works well on some purchases and less for others. Joss & Main, Wayfair, and Hayneedle all carry many of the same products at various price points and this is one way to get the lowest price.

A second way that works for Wayfair, Hayneedle, and Joss & Main is to use the SKU search. Find the SKU number of a product and then search each website for that SKU. It will often help you find the lowest price.
Of course, another way is just to use the designer name and do a Google search. This works well for some products and not for others (One Kings Lane, Joss & Main, and Wayfair often will have the same product with different names.)
Money-back sites: Ebates and MrRebates often offer money back on main retailers but less so for boutiques like Serena & Lily. Wayfair is sometimes on there but it's generally only 1-2% which honestly isn't worth much. I'd rather give someone else the $ if they help me find a wallpaper I love!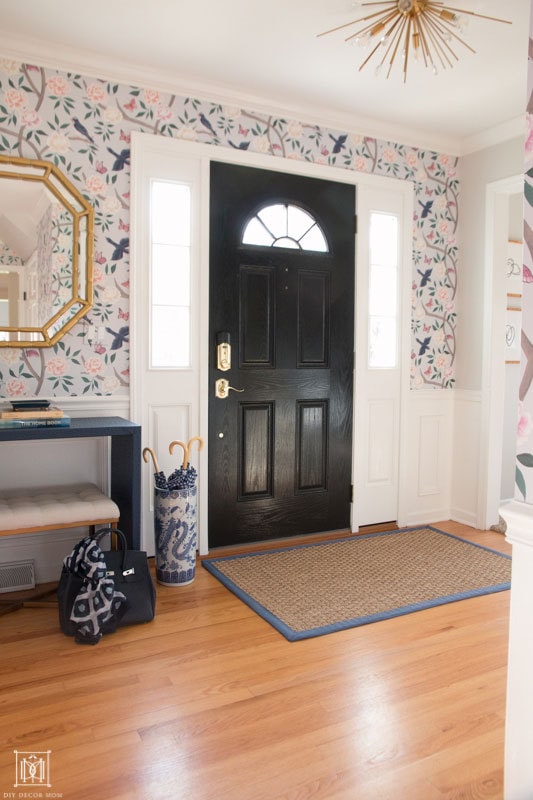 Shop All My Favorite Wallpaper Below: