DIY Wall Art: Fun and Easy DIY Wall Art Canvas even Beginners Can Do! Looking for DIY wall art ideas or budget-friendly large abstract artwork on canvas for your living room wall? See how I was able to make this creative and fun DIY Wall Art Project for just under $40!
DIY WALL ART

I've always wanted a big piece of artwork to go on the wall in our family room. The problem was that all the paintings that were big enough (large enough to stand next to this painting in the kitchen, and the gorgeous abstract painting in our formal living) were really expensive!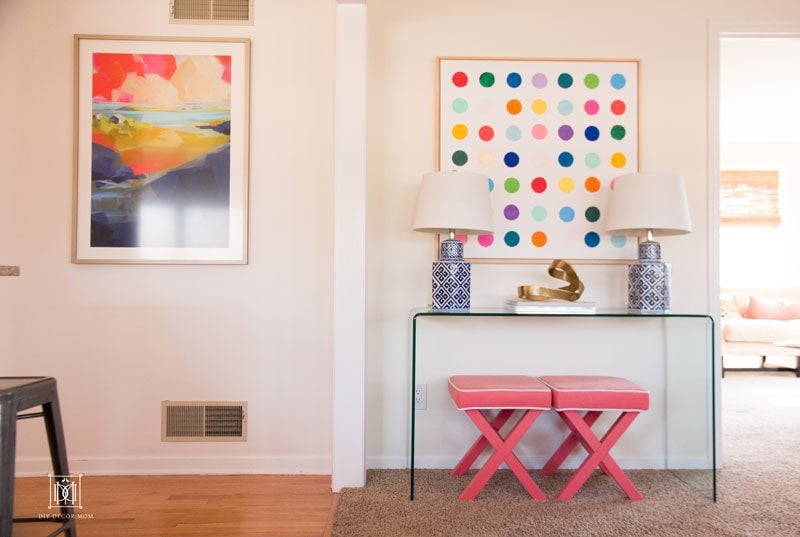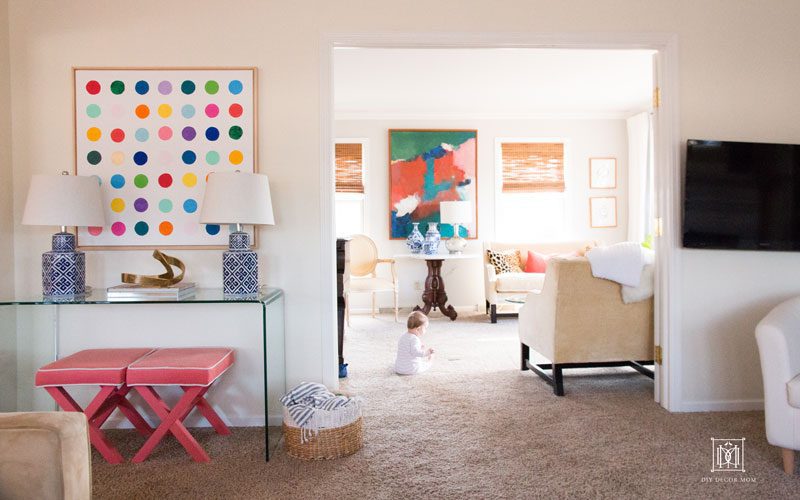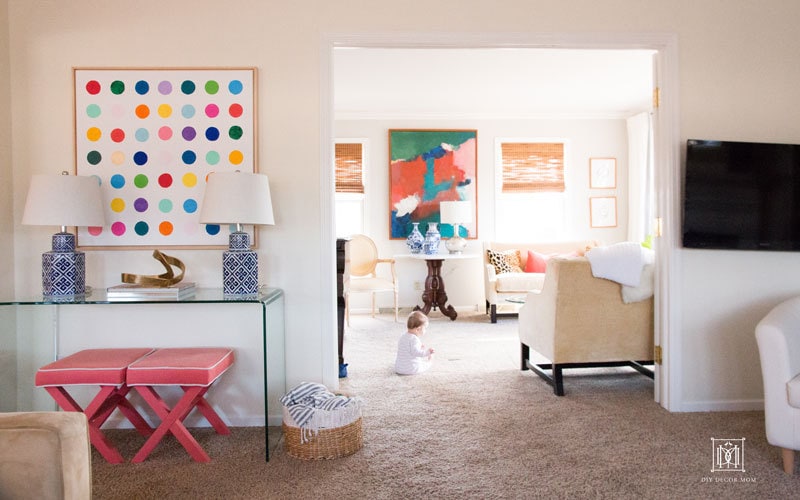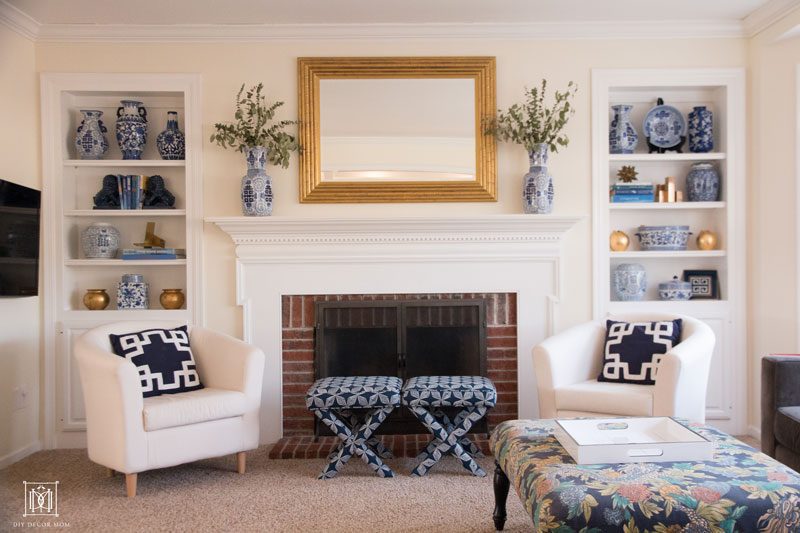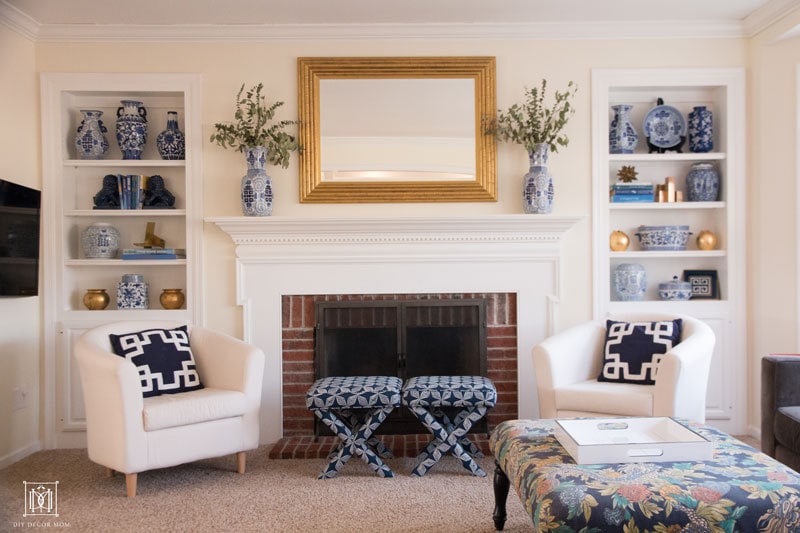 So after seeing the inspirational artwork of Damien Hirst when I took art history in undergrad, I decided to DIY my own! Here's how I did it. All told, it took about four hours one Sunday. I painted the canvas Saturday afternoon and let it dry overnight. I swear, it was easy! Creating large abstract wall art for your living room doesn't have to be scary, believe me, even a beginner can do this simple wall art project–heck, you can even use a stencil for the design if you like!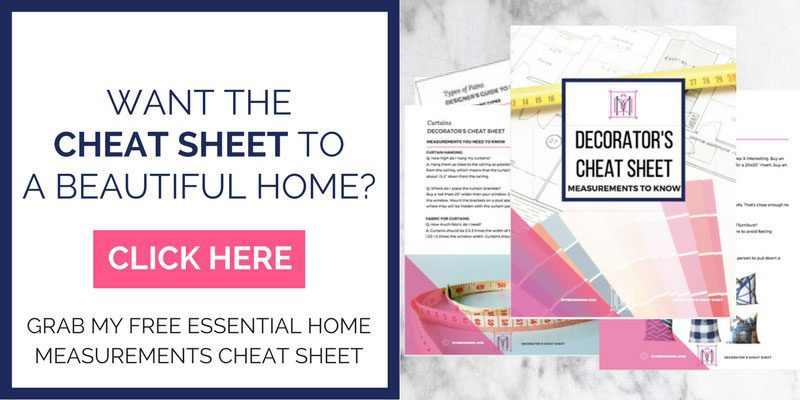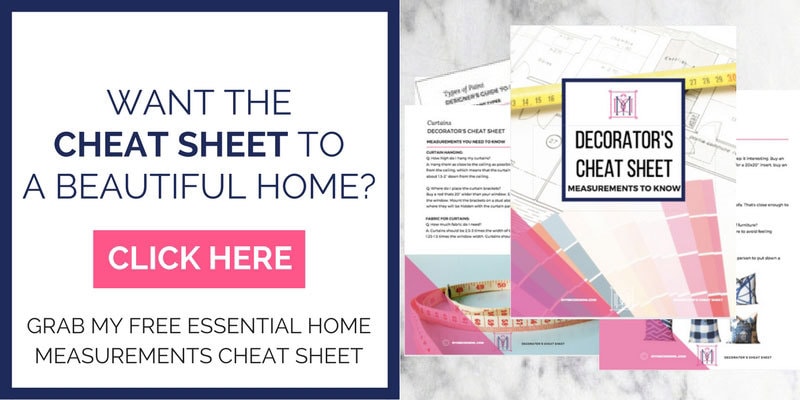 HOW TO MAKE MODERN DIY WALL ART
*links may include affiliate links at no additional cost to you. see my complete disclosure policy here.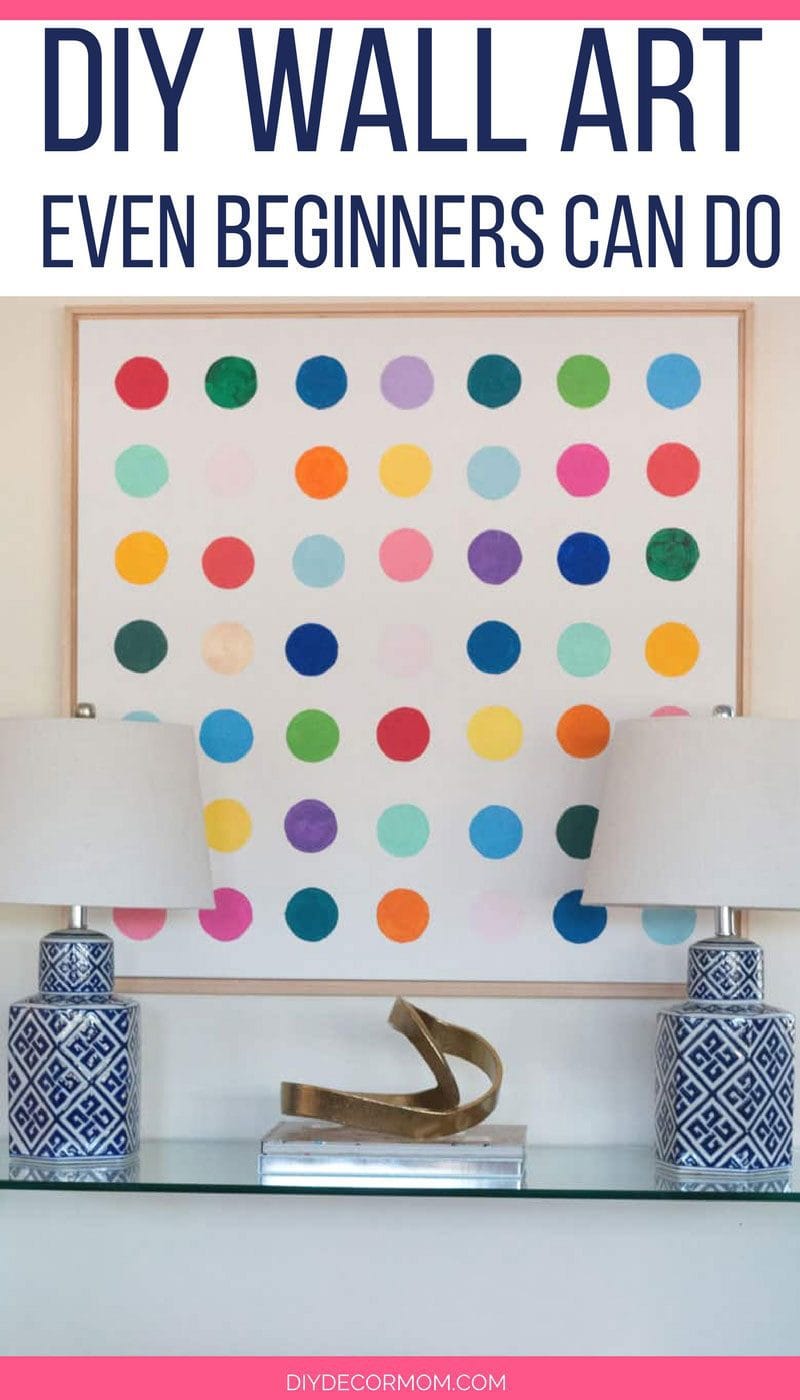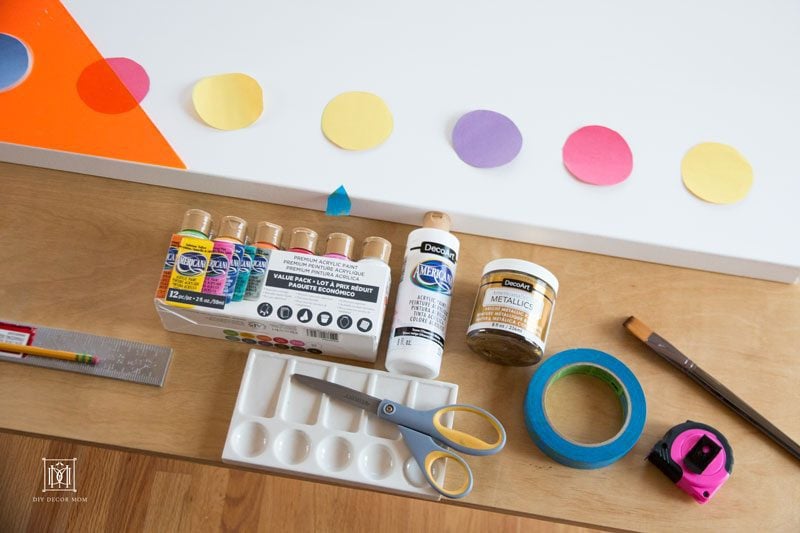 DIRECTIONS:
Come up with the general idea you want. For this project, I wanted to use multi-colored polka dots in a grid similar to Damien Hirst's famous paintings. To do that, I first had to determine the size of the dots I wanted, so I prototyped several sizes using colored craft paper and several drinking cups. With the prototyped circles, I also played around with the spacing of the circles and determined how many rows and columns I wanted.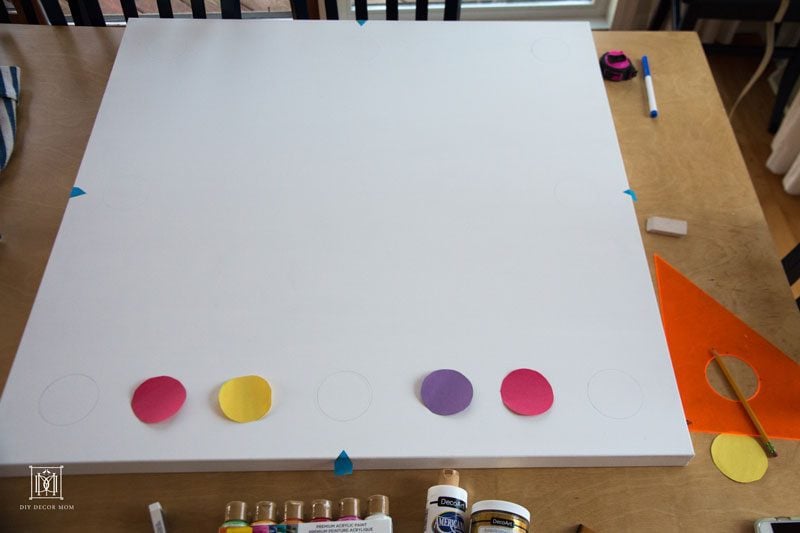 2. Next, I painted the back of the canvas with plain white acrylic paint. By sealing the canvas in this manner, the back of the canvas is protected from dirt and smudges. Also, it will be easier to correct any mistakes. Let the paint dry completely (I waited 14 hours.)
3. Measuring time: Now, it is time to measure out and trace the circles onto the grid. This was the most time-intensive step of the entire DIY Wall Art Process. I found the easiest way to create the grid was to measure to the center of each circle and then trace a stencil (I used the inside of my right angle but you could also use a cup, a Mason Jar top, or a condiment top–anything with the right diameter you desire!)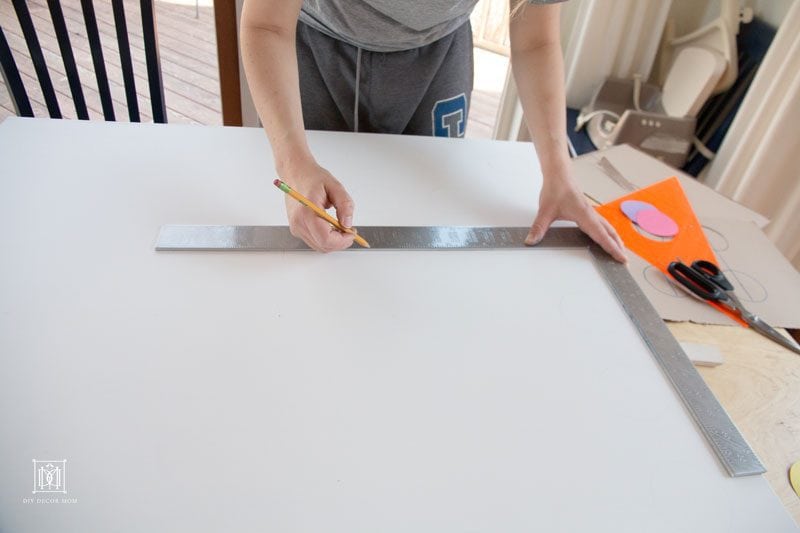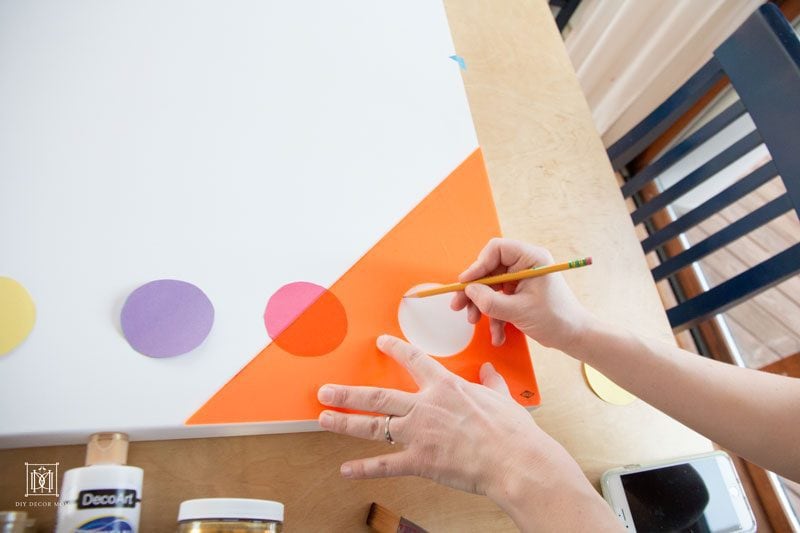 4. Color in the circles with various colors of acrylic paint. I wanted to have a couple circles of each color represented in the abstract DIY Wall art, so I started by picking a color, painting two circles that were pretty visually balanced and moving onto the next.
Using a thin paintbrush, I was able to do two coats of paint which provided enough coverage over the white canvas background paint.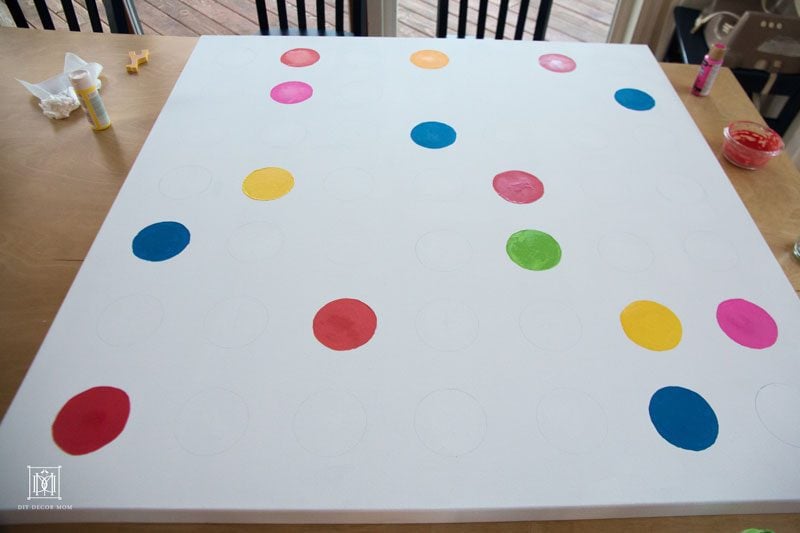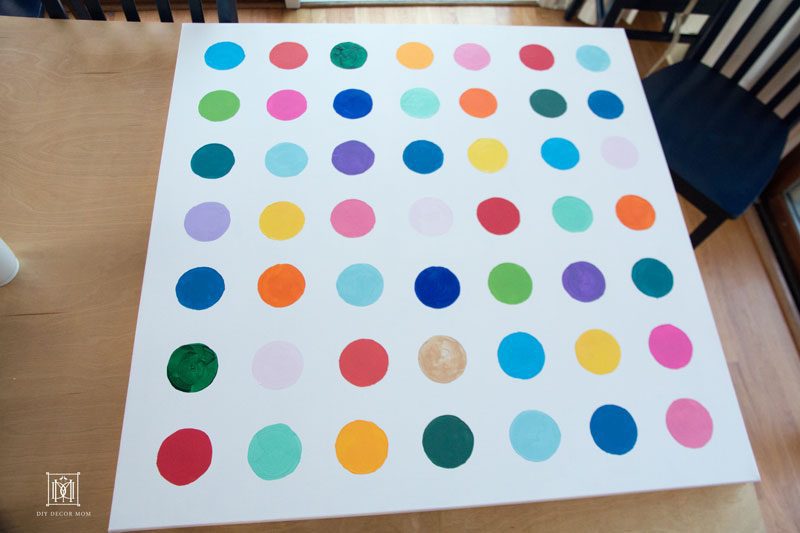 5. Wait for the paint to dry for 12 hours and frame the DIY Wall Art Canvas. My husband was able to make a custom wood frame for my canvas which was very inexpensive. (tutorial coming up!)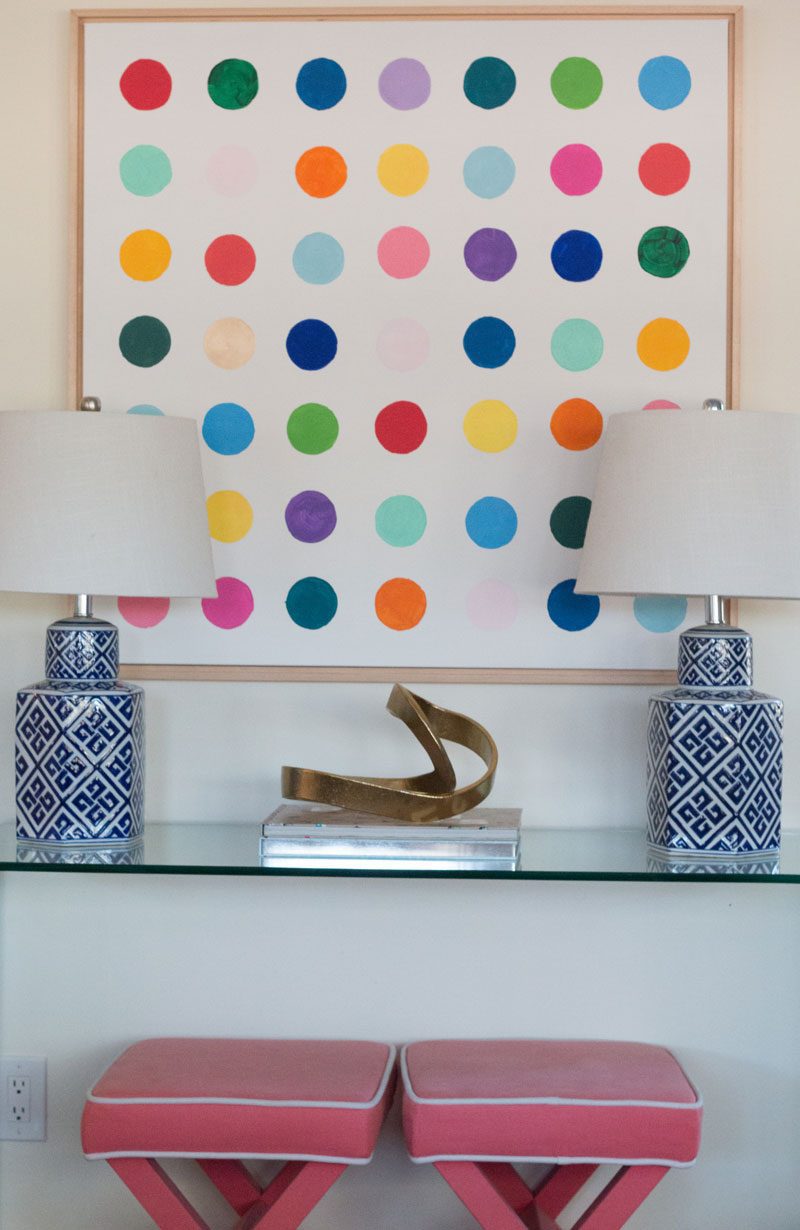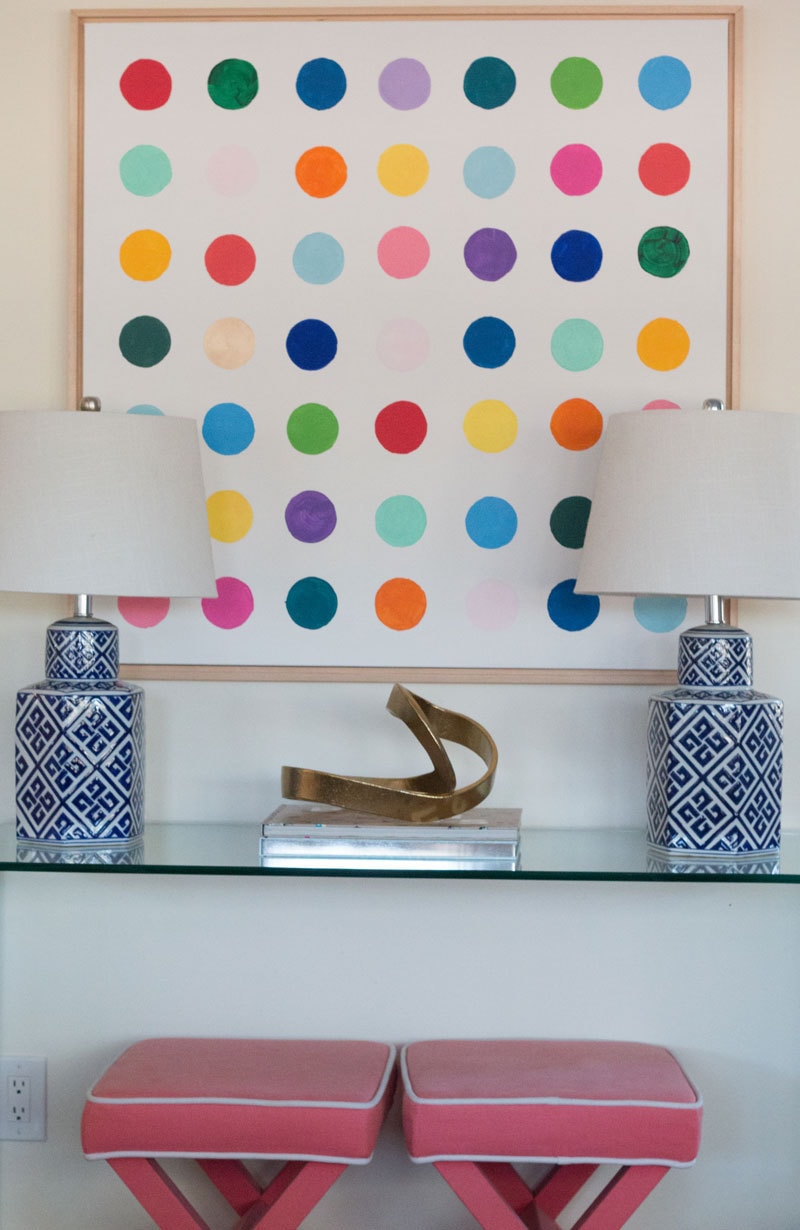 All in all, it was a straight-forward easy project that is perfect for the beginner artist! For about $36 I was able to purchase a canvas and some extra acrylic paints. With the use of a stencil, you could easily design your own painting like this one, or do something completely different!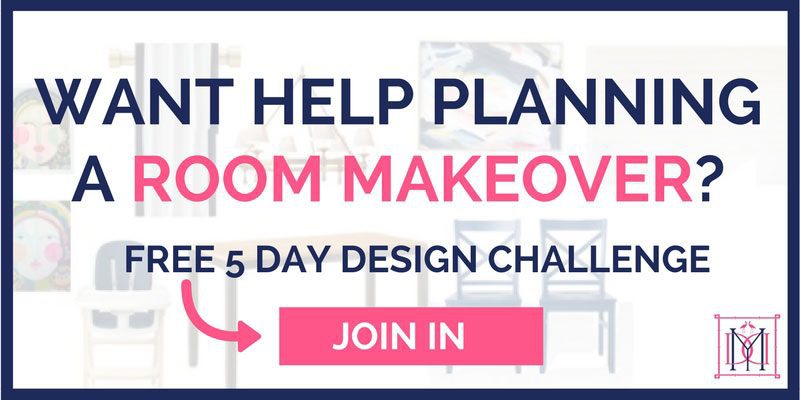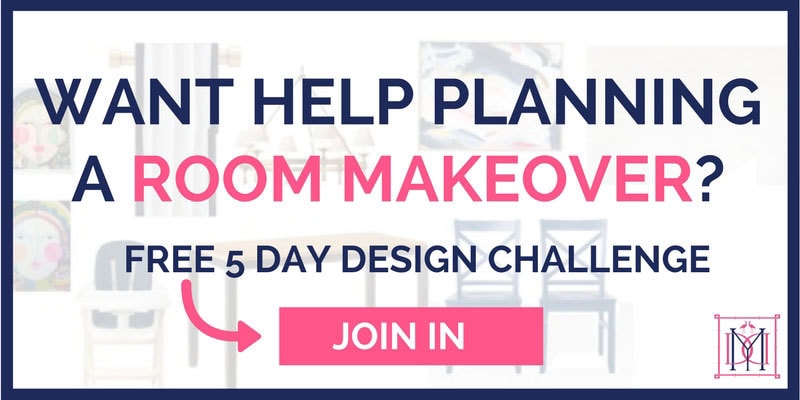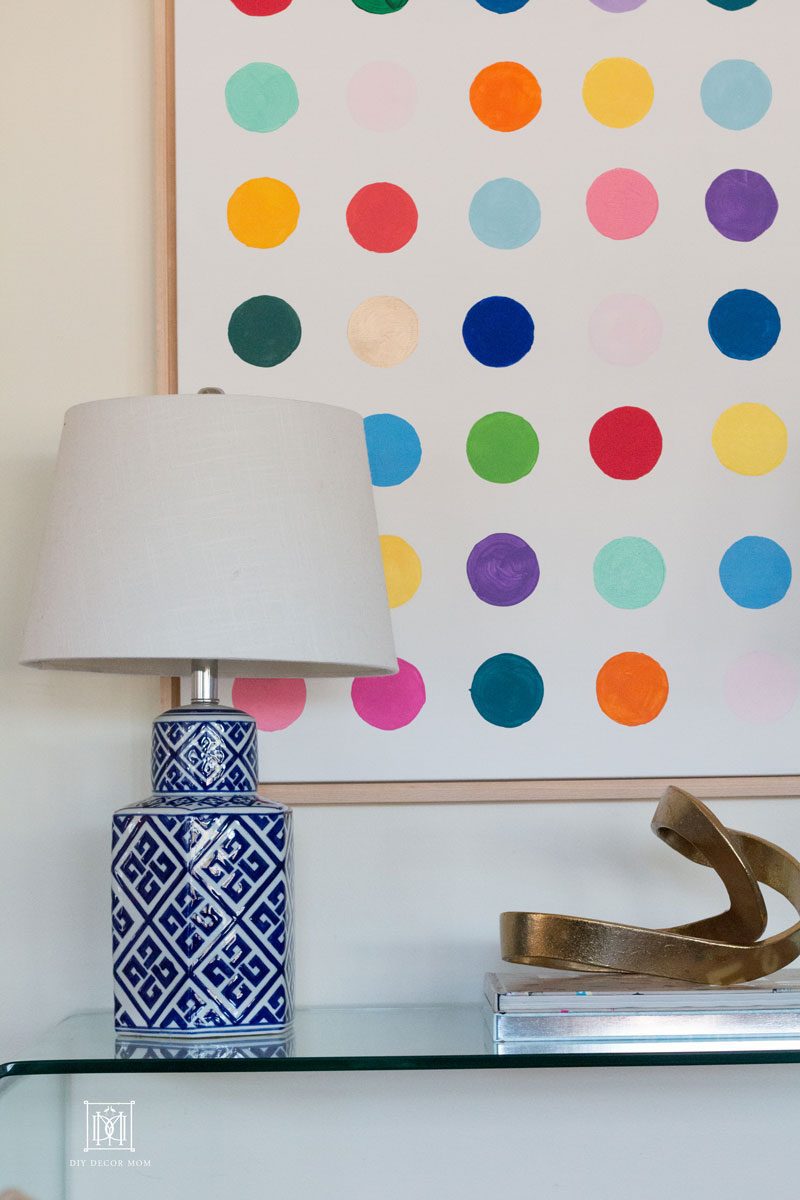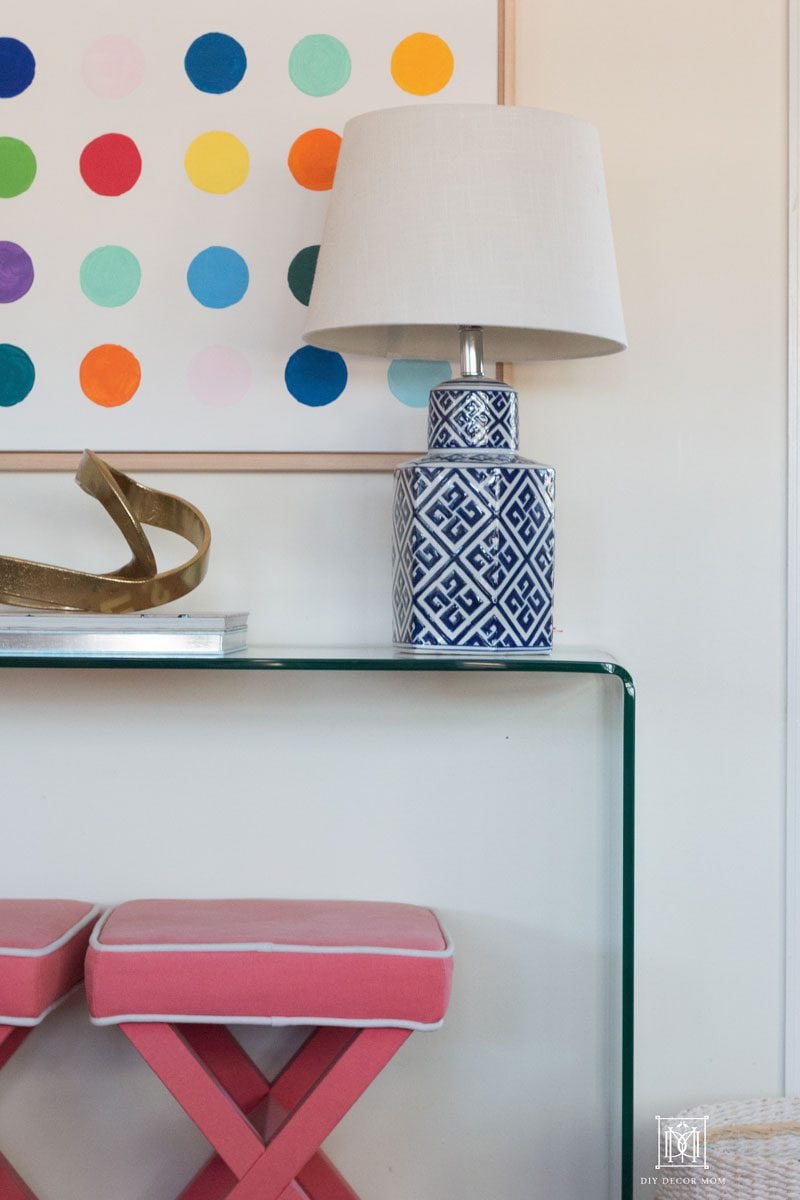 Here you can see how I styled it in our family room, with our glass console table. I love mixing the traditional blue and white with a modern abstract art like the DIY Wall Art above and putting it all together with a sleek glass console table. Mixing styles is my favorite way to make a space my own, and I encourage you to do the same in your house!
GET THE LOOK

Remember, you can see everything in my entire home here: Shop HOME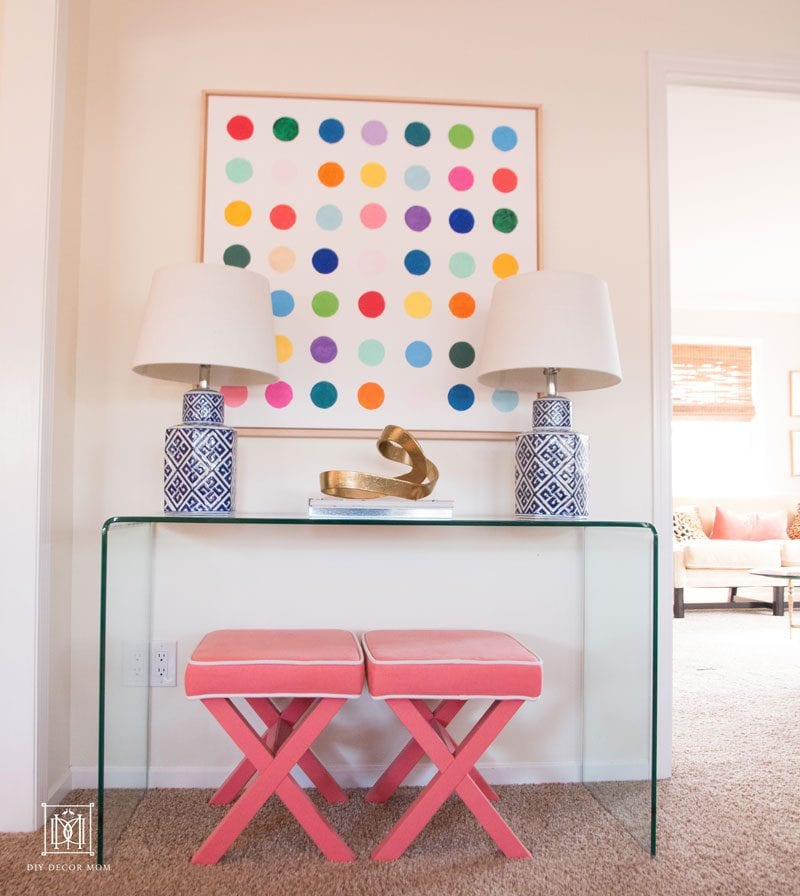 If you ever want some decorating advice, some encouragement, or some inspiration join my private Facebook group! At the very least, you should download my decorator's cheat sheet! It's all the numbers, formulas, and proportions you need to know to decorate your home!