Christmas Tree Decorating Like a Pro: Today I am joining the DIY Housewives again for another installment of inspiration. This month, we are sharing 12 great ideas for your Christmas trees! Like I mentioned in this post about our Blue and Gold Christmas tree, and this post on our simple mantel, we streamlined our color scheme this year to blue, white, and gold. Our tree is beautiful, but still interesting because of four components which I enumerate below.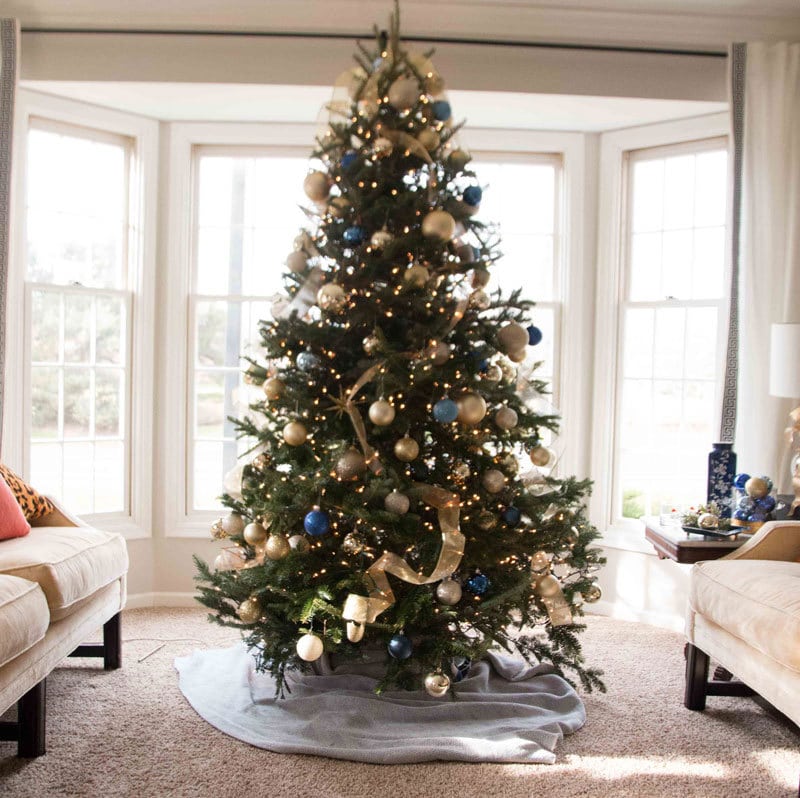 CHRISTMAS TREE DECORATING LIKE A PRO
CHRISTMAS TREE DECORATING #1: SELECT A COLOR SCHEME OR THEME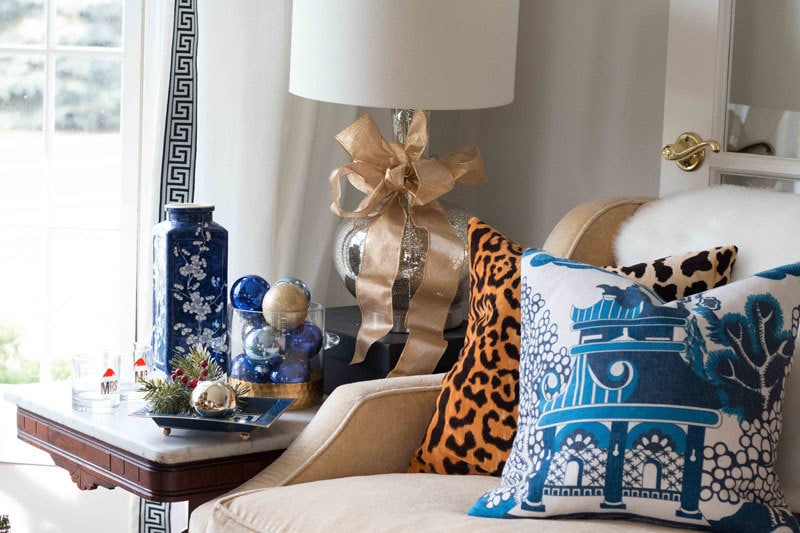 As fun as it is to throw every single ornament you want on the tree, if you want your tree to look like one in the department stores, you want some kind of overarching theme. If you want it to be a collected family tree, that is totally great too!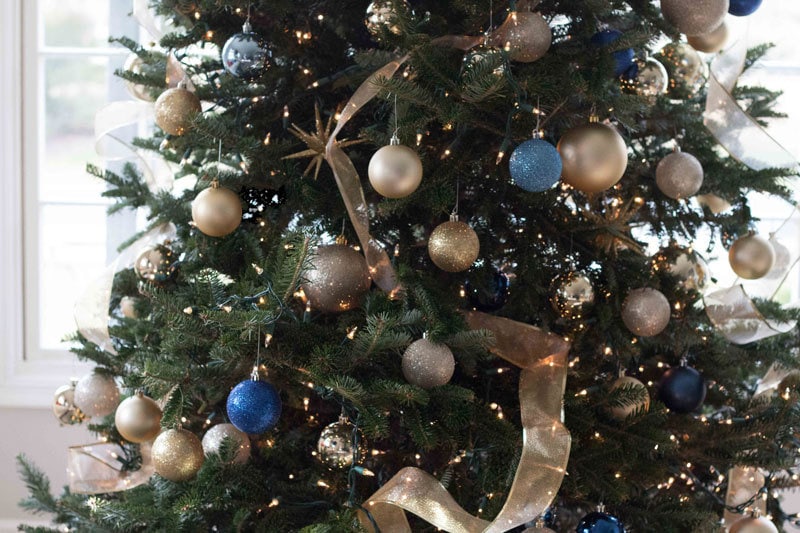 Growing up, my grandmother always had two trees–one fancy living room tree and one family tree with homemade ornaments in the library. This year, we did something like that in our house– the kids have a tree in the playroom which they got to decorate with their favorite ornaments (all kid and toddler-friendly) and the living room tree which is themed.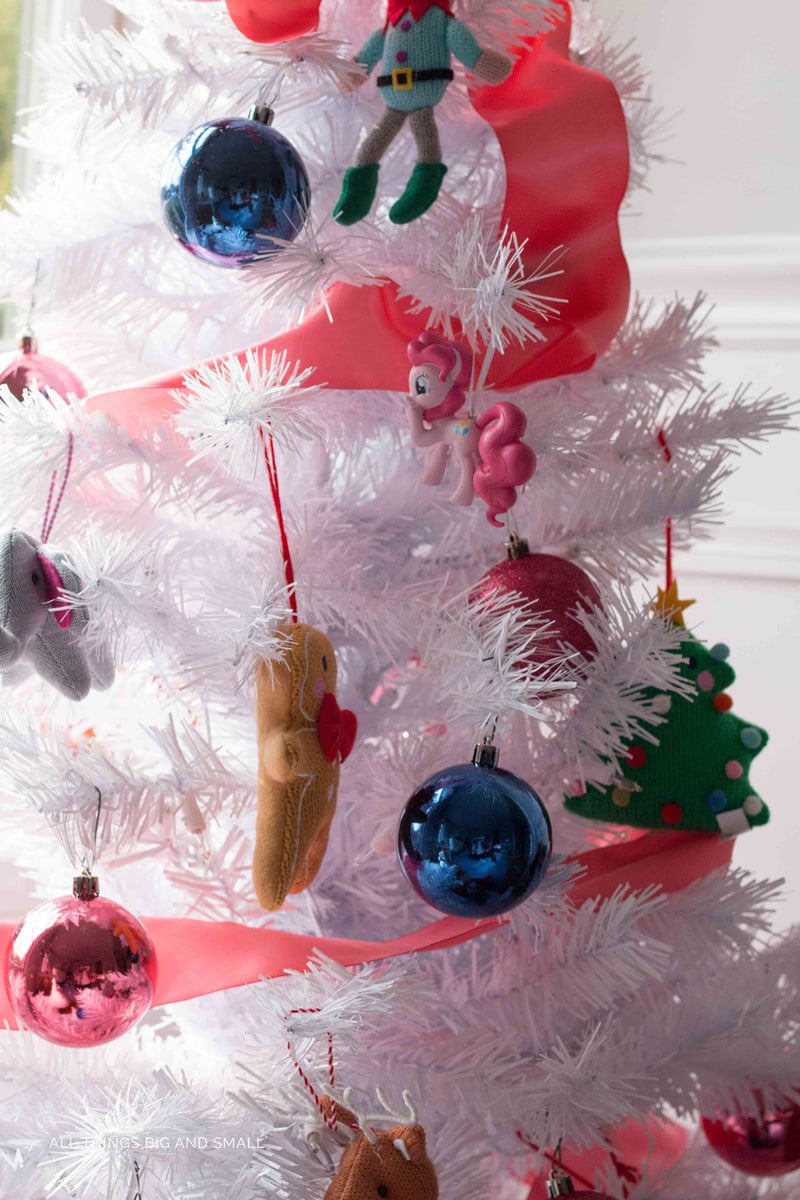 CHRISTMAS TREE DECORATING #2: USE RIBBON OR GARLAND TO CREATE MOVEMENT
You can see we structured the ribbon two different ways–vertically (with slight curves) in the living room and around the tree horizontally in the playroom. By using a ribbon that is the same color in your color schemes, it will look more pulled together. You can see we even made a "bow star" for the playroom.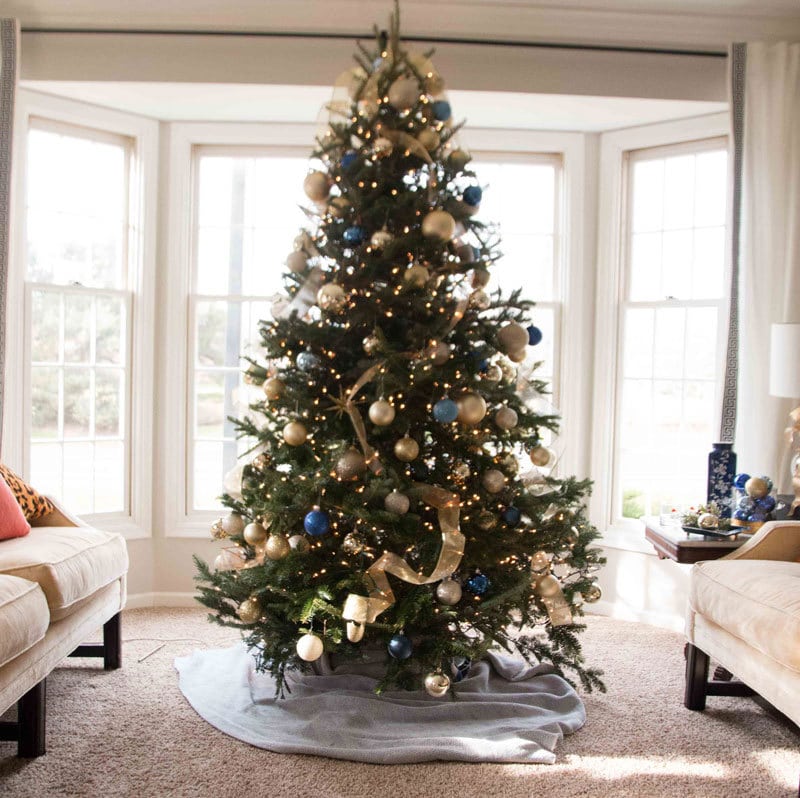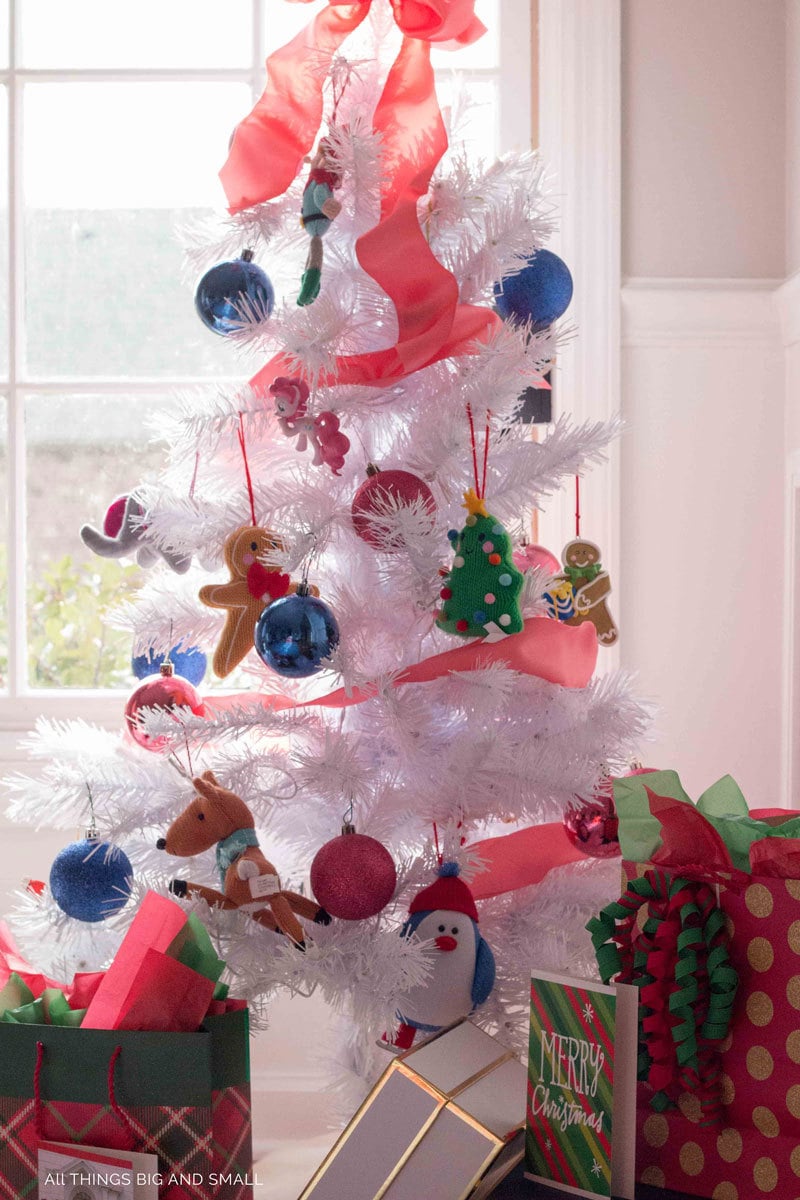 CHRISTMAS TREE DECORATING #3: TREE SKIRT
I spaced out this year and totally forgot to think about a tree skirt. Well, luckily since blue and white is kind of my jam, I had a blue and white throw that I pulled from our guest bedroom and turned it over and placed it under the Christmas tree. While it isn't really the right size (it should be a bit larger), when there are tons of presents stacked under there no one will notice!
(our tree from last year–we made a felt skirt for under $15)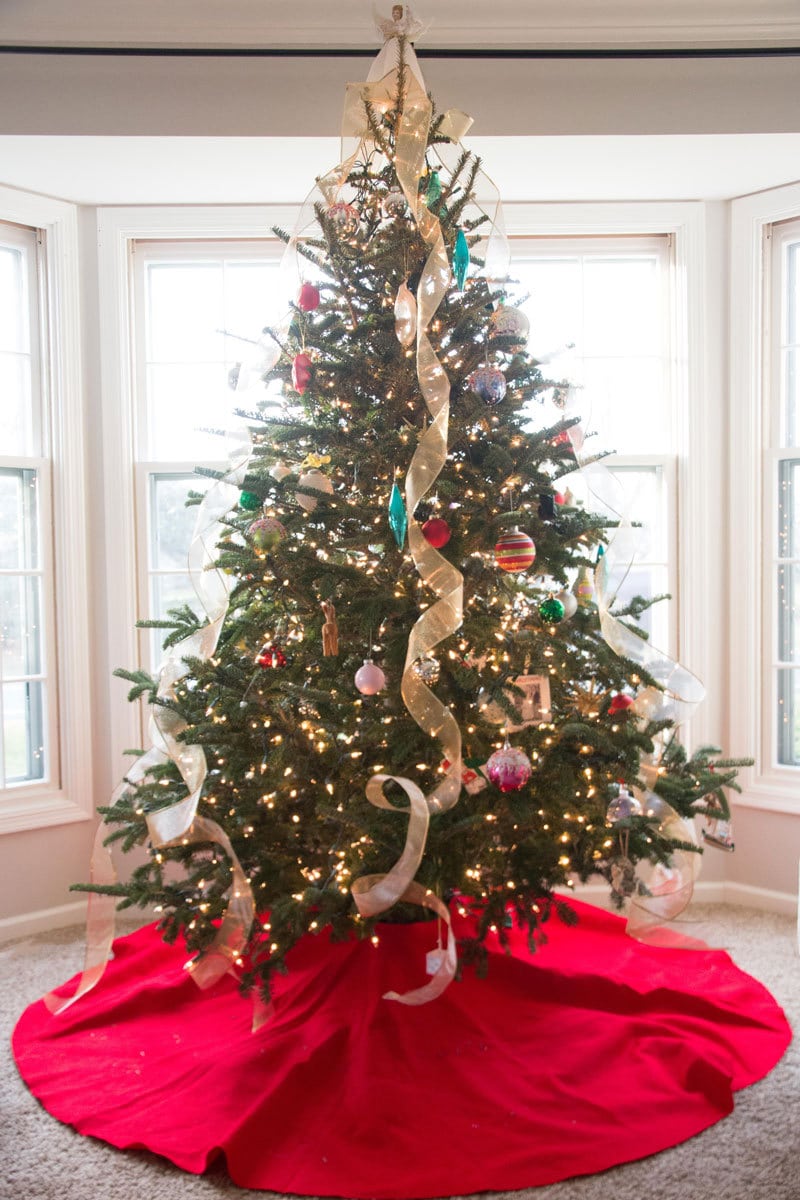 CHRISTMAS TREE DECORATING #4: BALANCE YOUR ORNAMENTS
When decorating your tree, put your similar ornaments on at the same time–that way, you can balance them out. I like to stagger them up and down the Christmas tree creating a sort of zig zag. That way, (ideally) you won't have three of the same ornament all in a row.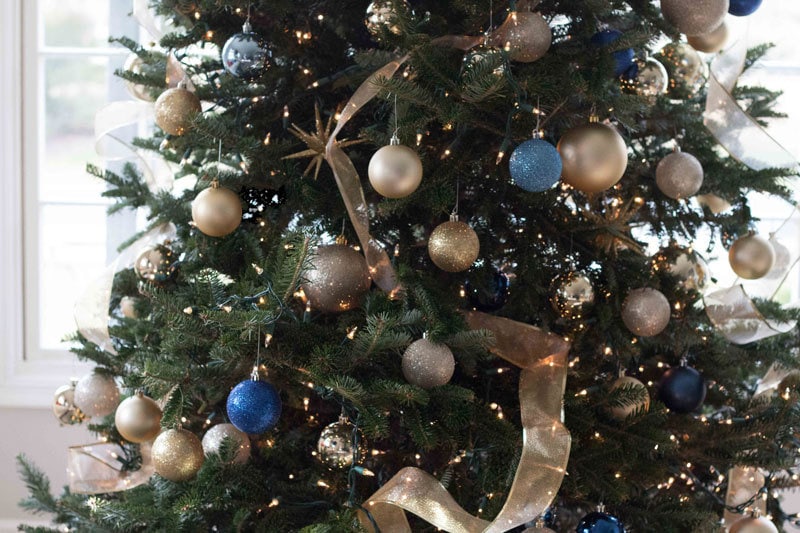 CHRISTMAS TREE DECORATING #5: LIGHT IT UP
Last year, with my being a miserable pregnant mess, my husband kindly volunteered to light the Christmas tree. 10 minutes later he comes into the family room and announces he is done! Dumbfounded, I followed him back into the living room in disbelief–how could he do it all in 10 minutes? Well, while it was completely lit there was nowhere near enough lights. He had used four strands of lights instead of the 10 I usually use. While it looked fine, it wasn't great. So I thanked him and added more (thankfully, he knows how crazy I am so he didn't take it personally!) We have a TON of lights on our tree. When in doubt, add more (but be safe and use the proper extension cords, surge protectors, and don't link them all together! I link at most three together so they don't short out!
So there you have it–four tips to decorate your Christmas tree like a pro! Now go see all the other amazing inspiration, tips, and tricks that the other DIY Housewives are sharing!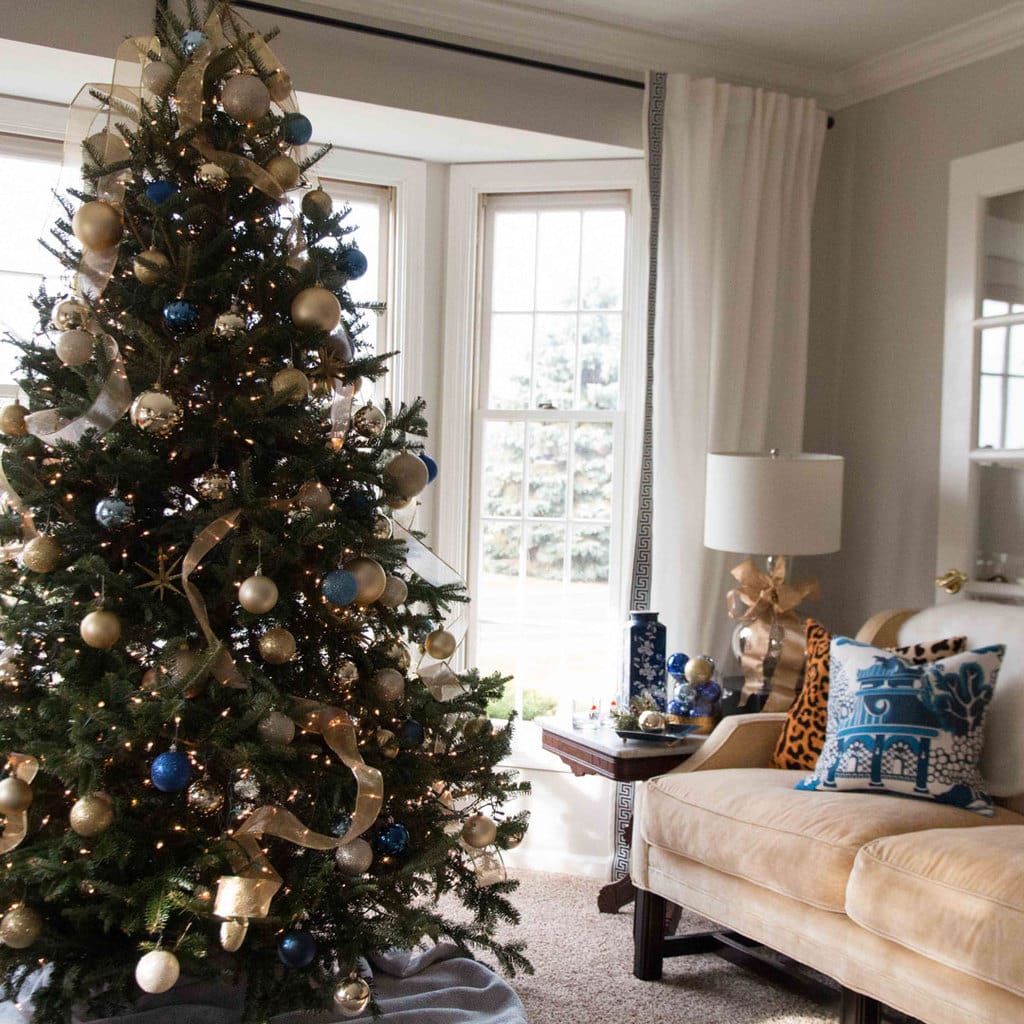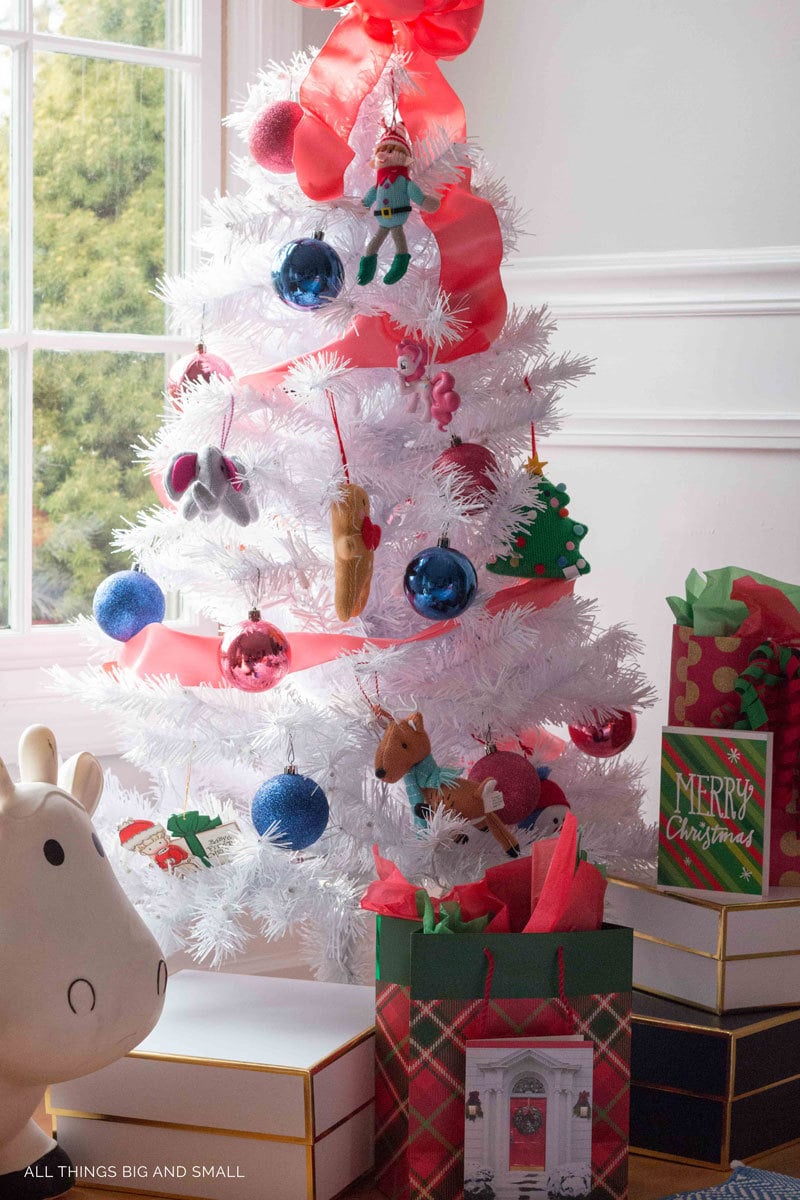 An InLinkz Link-up