I was asked by Carusele to participate in the #HallmarkAtWalgreens campaign, sponsored by Hallmark at Walgreens. Although I have been compensated, all opinions are my own.
Christmas is the busiest time of the year, especially for moms, and this year it is even crazier for us with three little ones, so I have decided to simplify and have a stress free Christmas. Don't worry! I'm not turning into a scrooge! But, I am making it a lot easier on myself, so I can enjoy the time with my family and not stress!
Here are three ways you can too simplify and make it a stress free Christmas:

HOW TO HAVE A STRESS FREE CHRISTMAS

STRESS FREE CHRISTMAS TIP #1: MAKE A LIST
I am a list maker–I make lists for my to do list every day and for my holiday to do list every Christmas season. For the holidays, I make two big lists–one for gifts and one for cards. I organize my gift list by person (we don't do adults in our families; instead, we just do the kids). And each kid gets four presents from us: something they need, something to read, something they want, and something to wear. Then Santa brings each kid one big toy. In the past, he has brought them a food stand, a dollhouse, and a toy barn. Limiting each kid to four gifts, keeps it simple and manageable. By writing down what each kid is receiving and how much it costs, I have a good idea of our budget as well, and can shop or order it all at once and I am happy to say I have 95% of my shopping done already.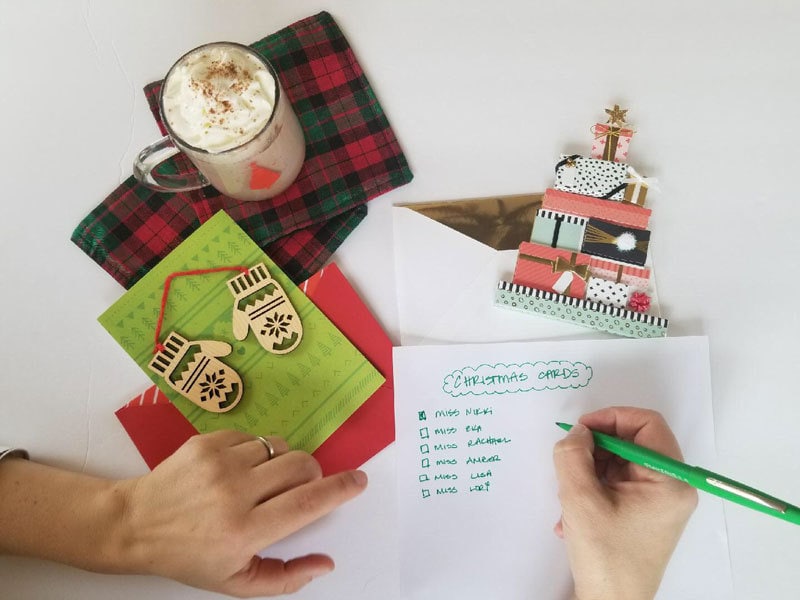 I also make a list of Christmas cards to send: we send out family Christmas cards to close friends and family, and then I also make sure to send out holiday cards that I purchase at Walgreens like Hallmark's Signature line for acquaintances and coworkers. I have a spreadsheet of all the addresses for our family Christmas cards so I can check them off my list and update the addresses during the year. And then I have a separate list for holiday cards that are purchased from the store–these go to teachers, coworkers, babysitters, and delivery men.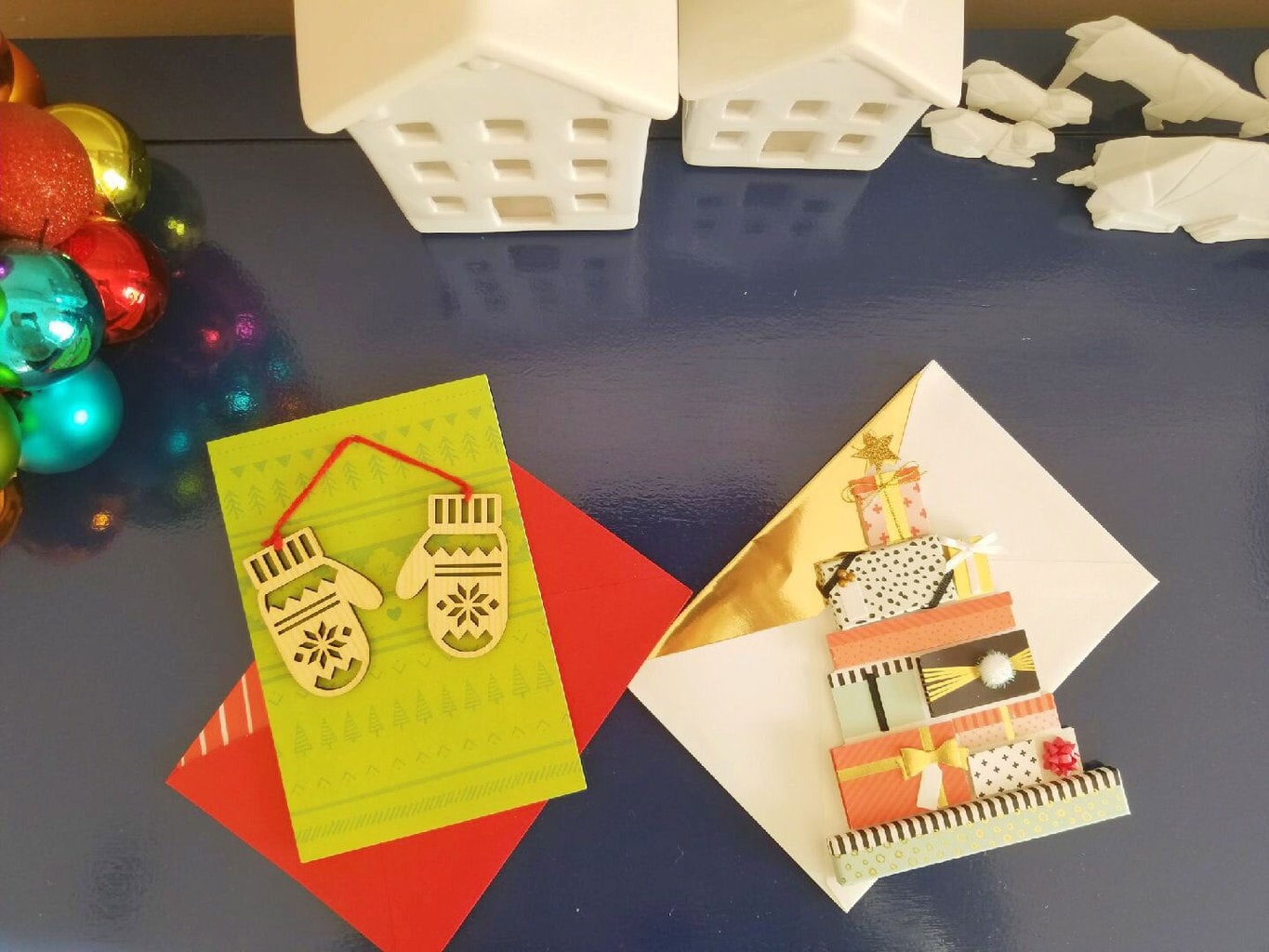 STRESS FREE CHRISTMAS TIP #2: STREAMLINE WRAPPING & CARDS
Wrapping presents can get really time intensive, and for little kids, unwrapping presents is often quite challenging. Instead of using wrapping paper, I like to use gift bags. Hallmark has a fantastic line of gift bags, tissue paper, and bows which make it really special (and easy for me!) Instead of spending a ton of time trying to tie the perfect bow, I can quickly pick up pre-made bows from Hallmark at Walgreens that make my gift bags look extra special!
At Walgreens, I was able to quickly locate the wrapping paper, gift bags, tissue paper, and holiday cards section. Hallmark's Signature Cards are all so adorable I wanted them all! You can grab a Text 2 Clip offer in-store for $2.00 off the purchase of 2 Hallmark cards (offer valid until 12/30)! If you are looking for gift wrap, there is a buy one get 50% off on Hallmark and Inspirations from Hallmark Gift Wrap through 12/16! And if you are looking for boxed cards, now through 12/16, you can buy one get one 50% off on Hallmark and Image Arts boxed cards.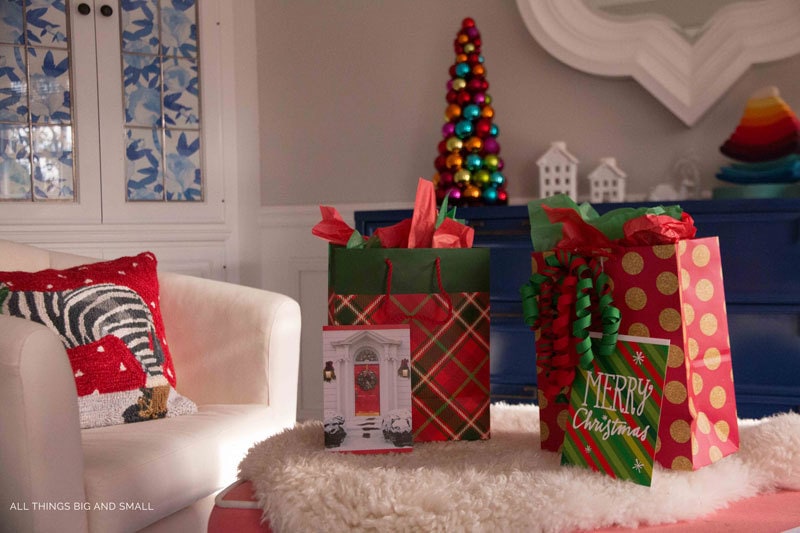 Ultimately, I chose two Hallmark Signature Holiday cards for our two regular babysitters and two different Hallmark Signature Holiday box sets (they are in sets of 10) for all the kids' teachers, our mailmen, package delivery men, and coworkers.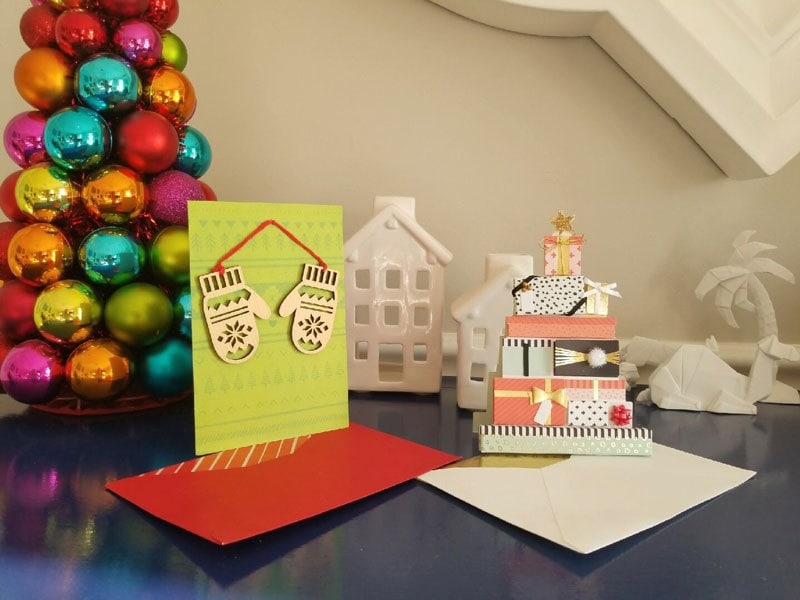 For our babysitters, I picked up a card with a pile of presents because our babysitter loves leopard print, plus inside there is a spot for a gift card! For our babysitter who is getting married, I picked out the card with the card with the wooden gloves holding hands–which is also doubles as an ornament!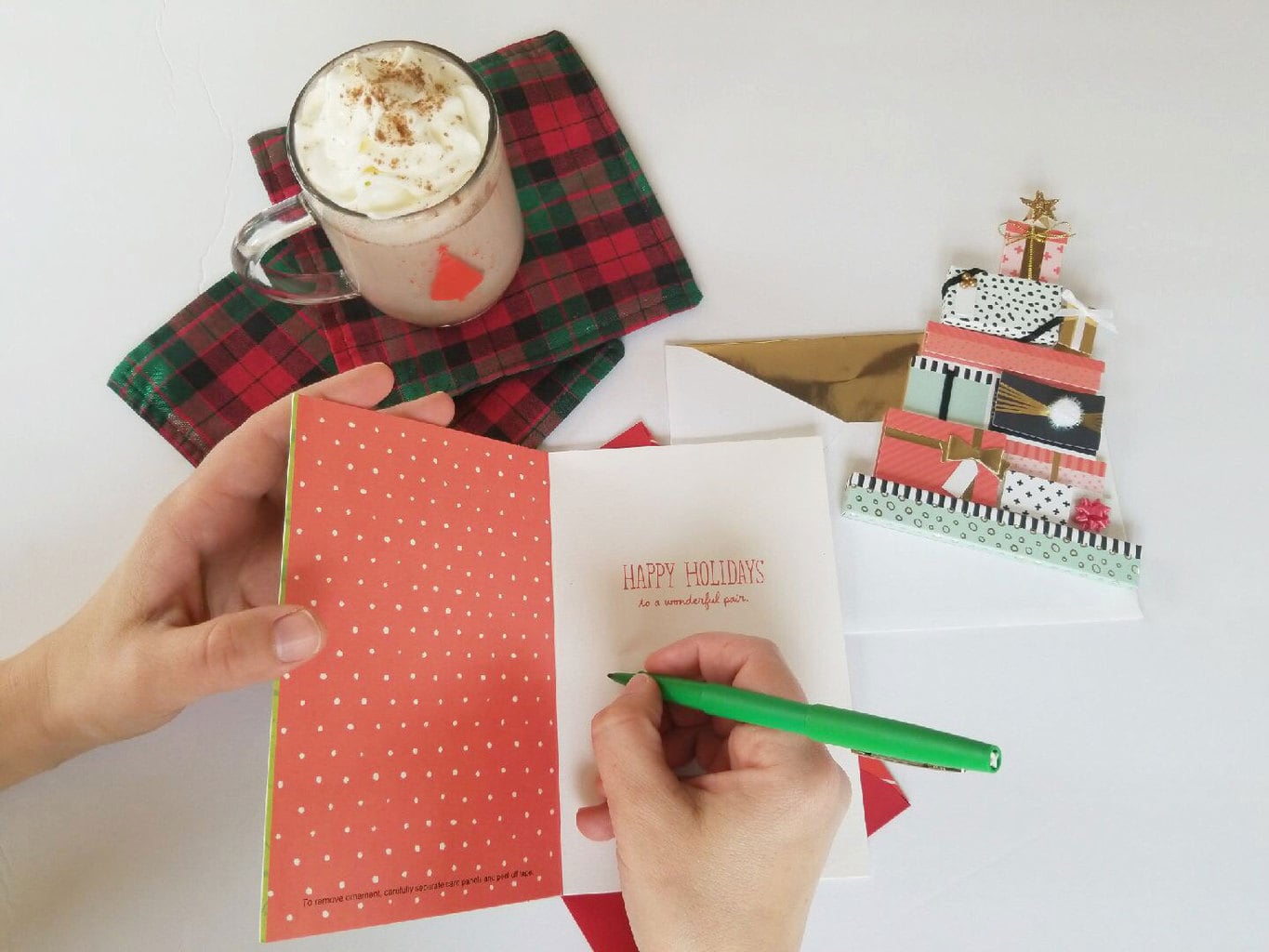 With the two sets of Hallmark Signature Holiday Card boxed sets, I have plenty of beautiful cards for everyone who makes our lives better–our teachers, our amazing neighbors, our babysitters, even our post workers and package delivery men! And by addressing all of the cards at once, I can easily check this item off of my to do list and relax the rest of the season!
STRESS FREE CHRISTMAS TIP #3: MAKE IT FUN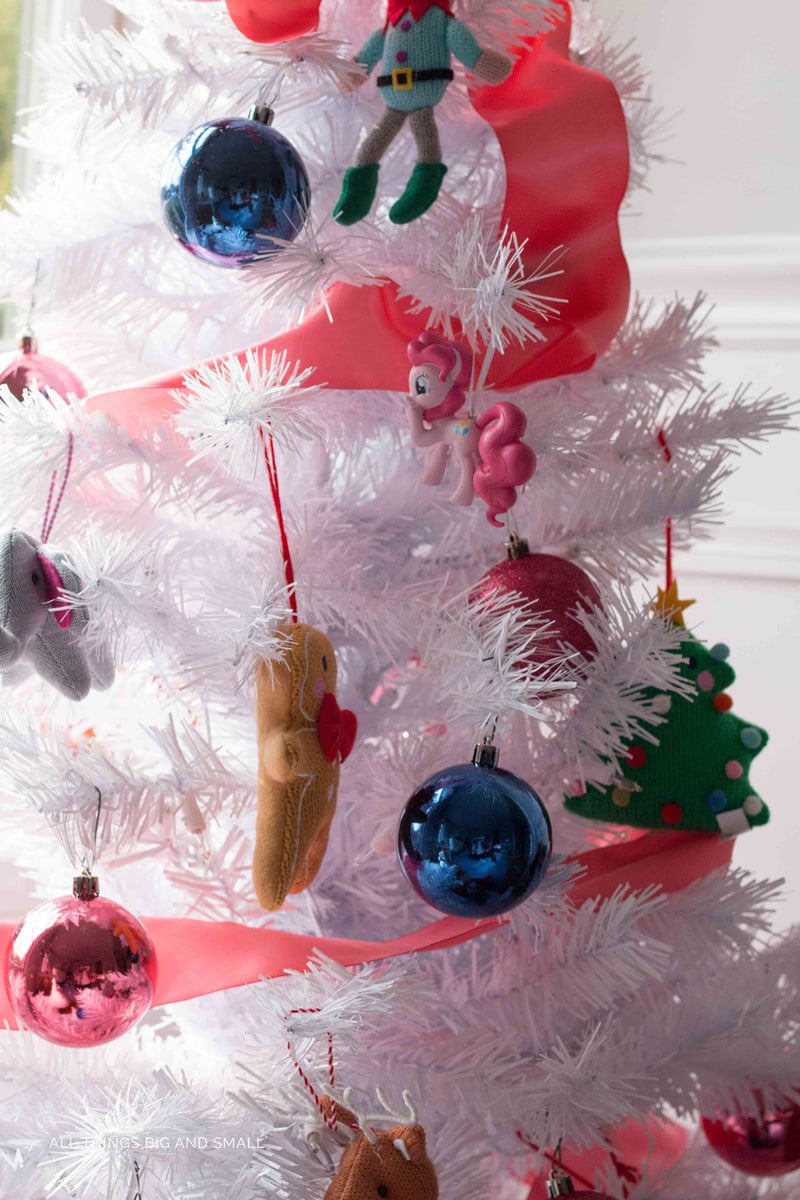 Decorating the tree doesn't need to be a big deal. This year, I decided to eliminate a lot of the work by editing the ornaments we put up. Instead of our usual ornaments, I decided that our main tree would have just two colors: gold and blue, and our kids' tree in the playroom will be our colorful and fun tree with kid-friendly ornaments. I don't need to worry about the kids touching the ornaments on the kid tree since they are all kid-safe. Plus, the kids get to pick out whatever ornaments they want for their tree, which they love!
Growing up, we always got to go to downtown Chicago to look at the lights and then were each given an ornament on Christmas day for our grown up tree. When my kids were babies, we started our own tradition–each year they would get their own ornament and hang it on the kids' tree. This year, Bowe went with me to Walgreens and was delighted to find a My Little Pony ornament to hang on the kids' tree. She loved getting the special one on one time, and I loved being able to share some special time with her!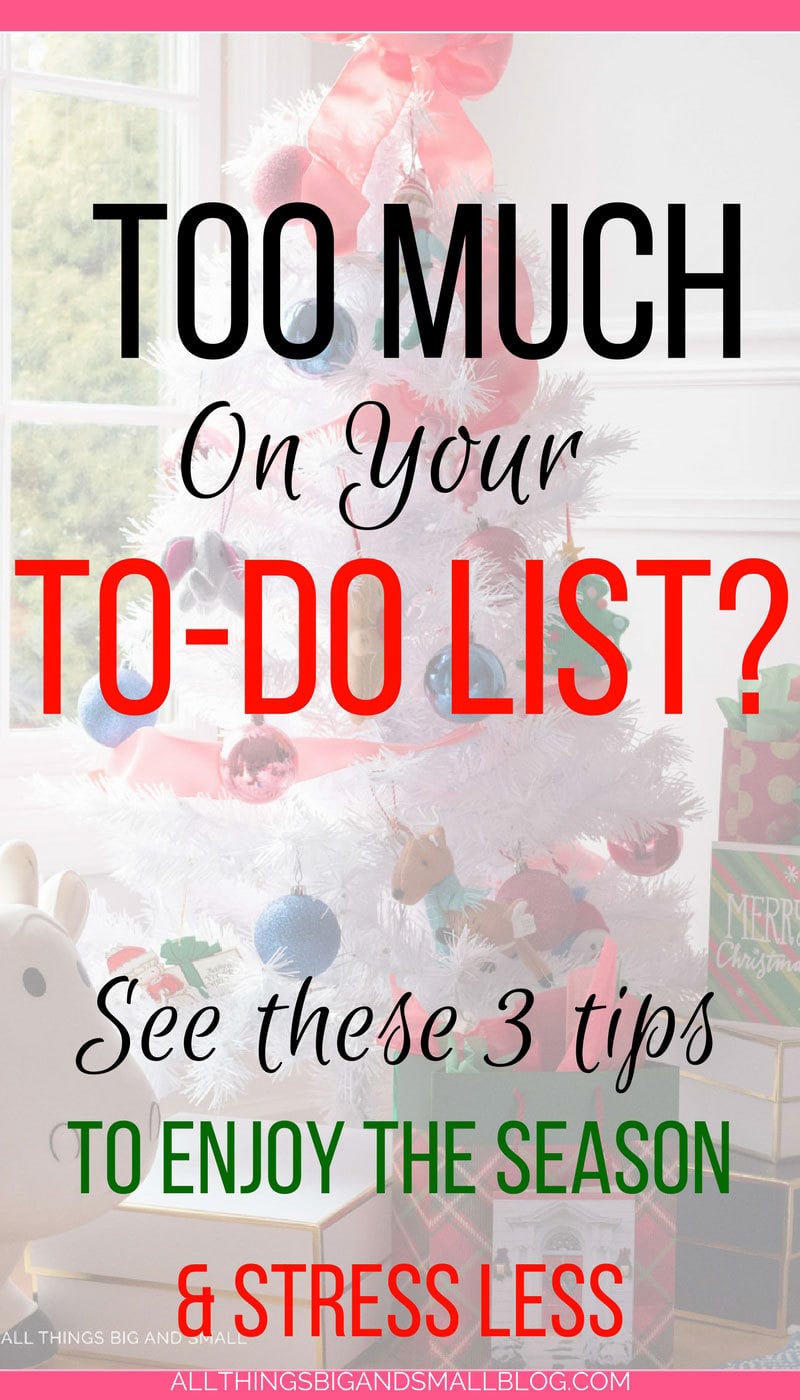 STRESS FREE CHRISTMAS – CONCLUSION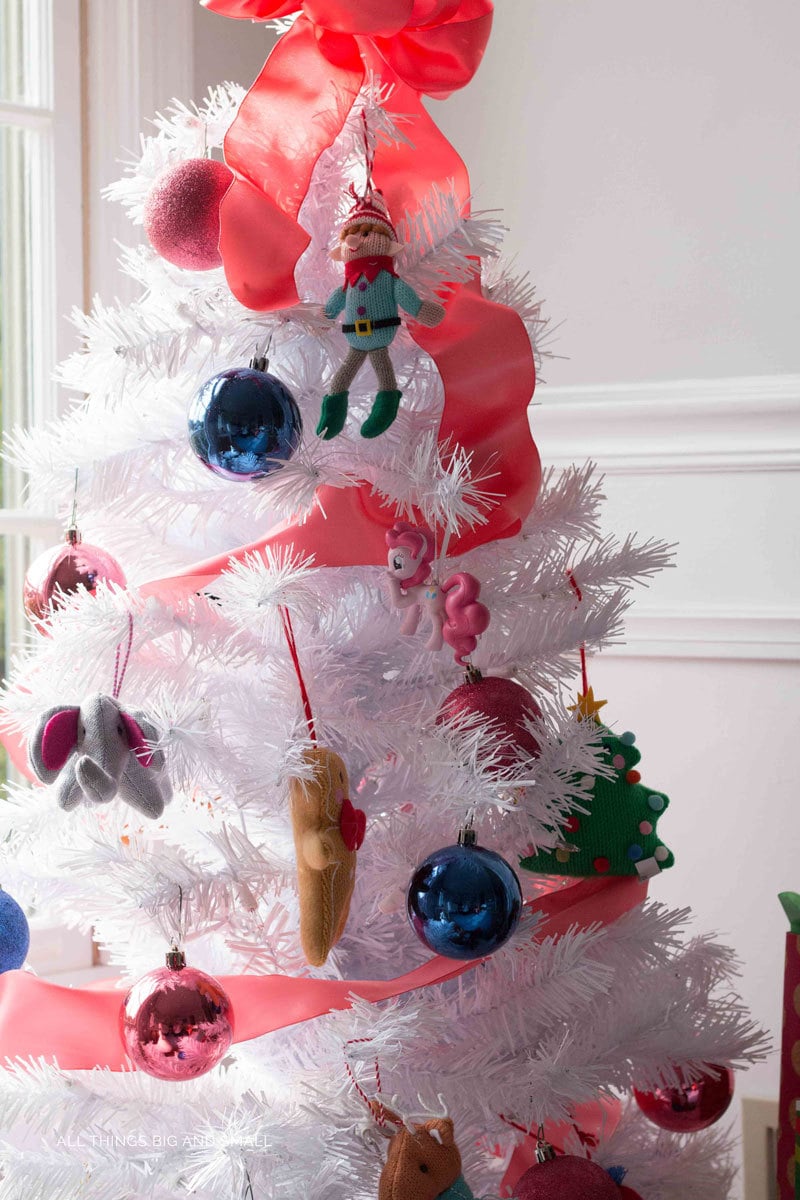 This year, we are choosing to simplify Christmas so we can have more time with our loved ones and concentrate on what matters the most–spreading the holiday cheer and goodwill! And with Hallmark's amazing selection at Walgreens, it is easy to streamline our holiday to-do list! Tell me in the comments how you make Christmas easier! Do you write lists, limit presents, streamline wrapping?
I was asked by Carusele to participate in the #HallmarkAtWalgreens campaign, sponsored by Hallmark at Walgreens. Although I have been compensated, all opinions are my own.