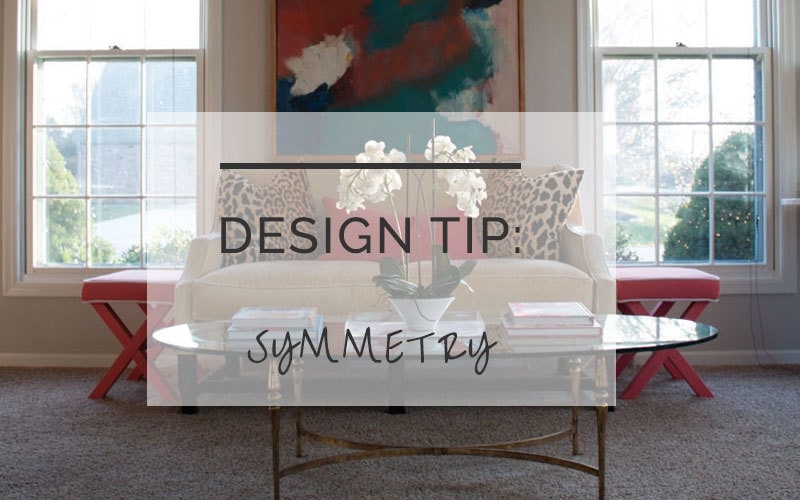 So I thought I would start a new little series–design and decor tips, in which I will share a decor tip that I have picked up through my own trials of designing our home. These are all classic rules; but sometimes implementing them stumps people. So I will break down exactly how we do it! This week, I want to talk all about symmetry, which is the number one rule of any decorator! And before you lament that you don't have good symmetry in your home (mismatched windows, furniture, no built-ins) I have three fixes below for you that all cost under $100!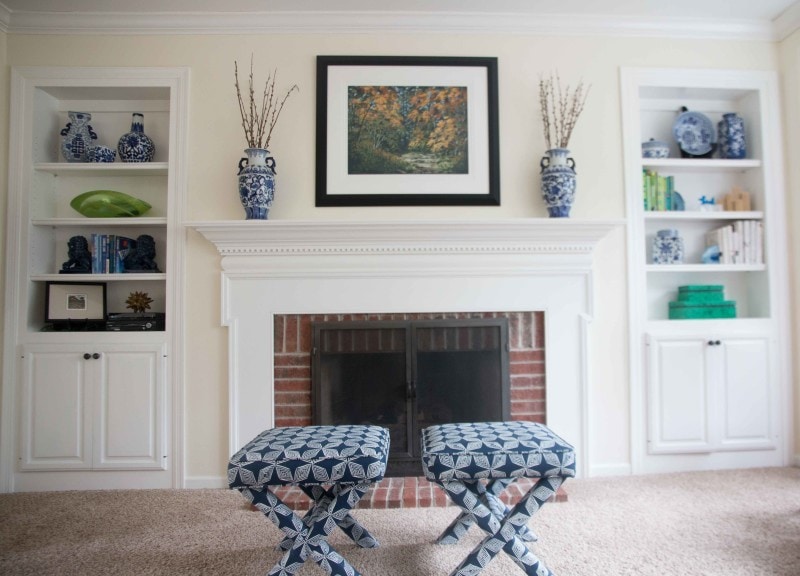 Take a look at your favorite images on Pinterest. Do you notice a theme? Look at how many different designers build their rooms around symmetry. I have compiled a list of three things anyone can do to employ symmetry easily and inexpensively in your home; because although built-ins are nice, for many people they are out of budget. So here are my top three tips to employ symmetry in your home!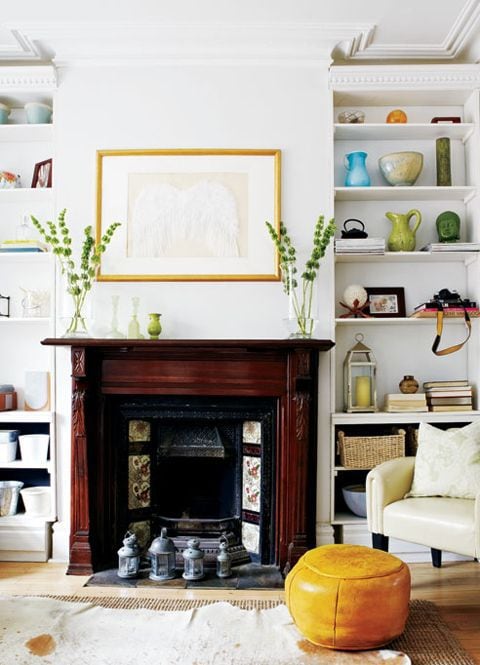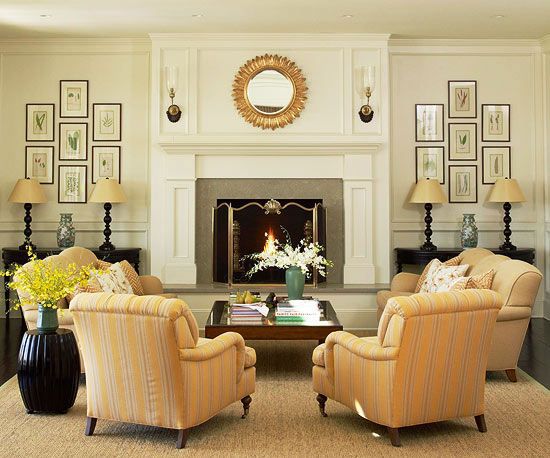 images from Better Homes and Gardens
Accessorize in Pairs:

In our house, I sought to employ the same tactics as the designers above. Although our room is not completely symmetrical (our large sofa is off to one side, and the TV is to the left of the bookcase), I tried to balance the accessories to calm the room down and create a sense of order. Although there is a lot of symmetry, it isn't boring. By mixing shapes and colors I keep it interesting and the bookcases aren't completely symmetrical. I found almost all of these blue and white vases at HomeGoods–the most expensive one costing only $29.99!
2.) Got a Light?
Matching lamps are the best. So whenever you find a lamp that you love, make sure to buy a pair, even if you don't have room at the moment! All of the lamps below are from HomeGoods. The bird lamps were $50 for the pair, and the blue and white lamps were $60 for the pair.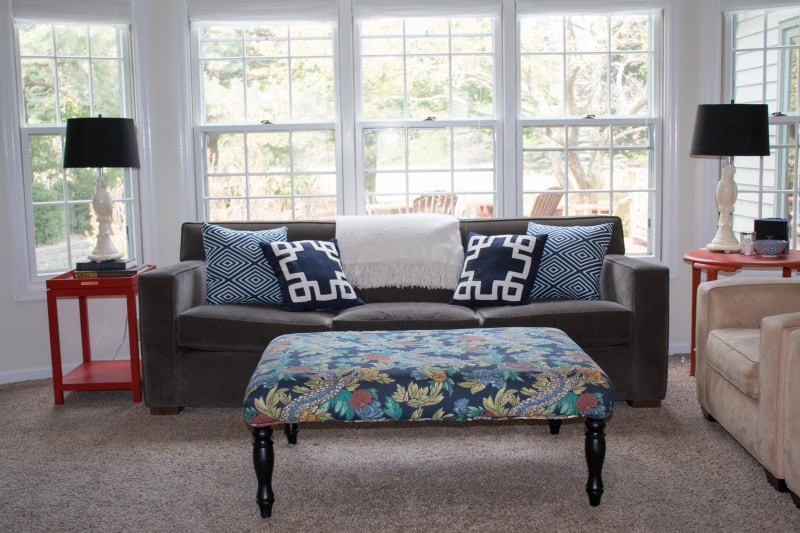 via Traditional Home
And a demonstration of just how much symmetry can help a room:
Before we made the switch to all blue and white pottery in the bookshelves, there was too much going on. The different colors on the bookshelves were too busy, and the yellow table by the Eames just didn't mesh.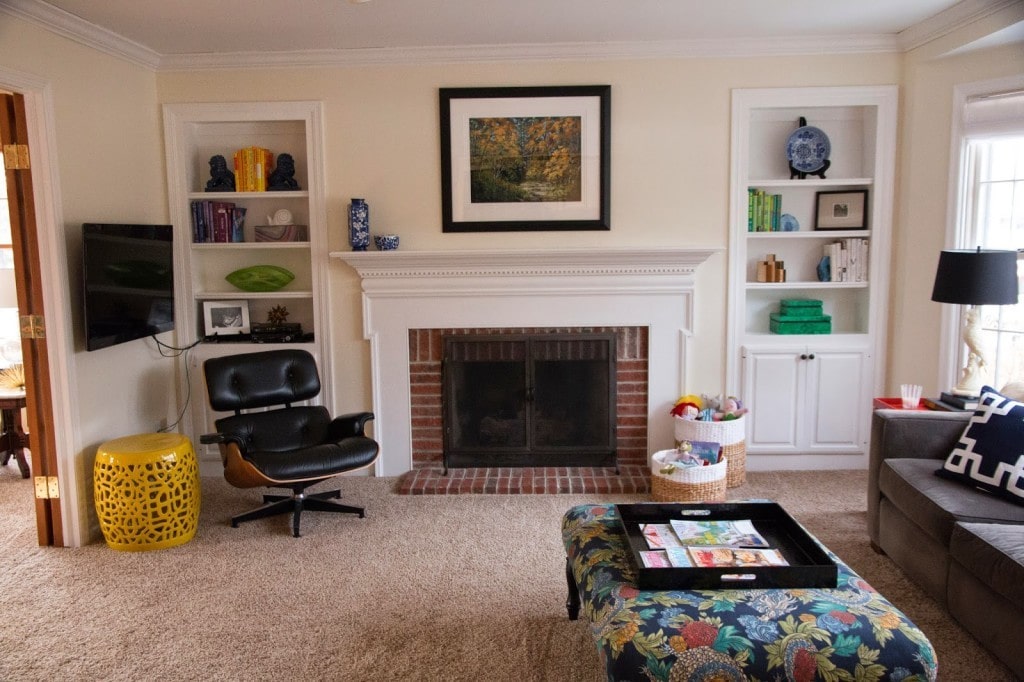 So I removed the table, and decided on a color theme for the bookshelves, using lots more symmetry. Hiding the wires to the TV didn't hurt the aesthetics either!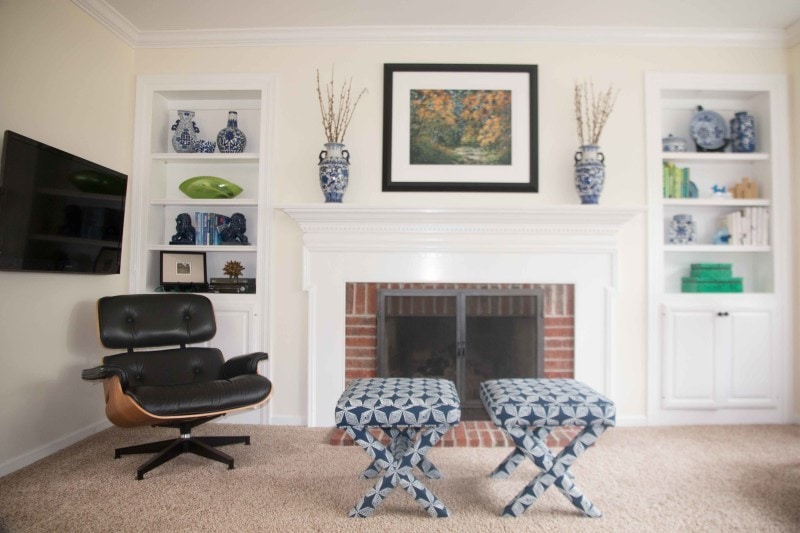 If you want to see just how far this room has come take a look at the image below: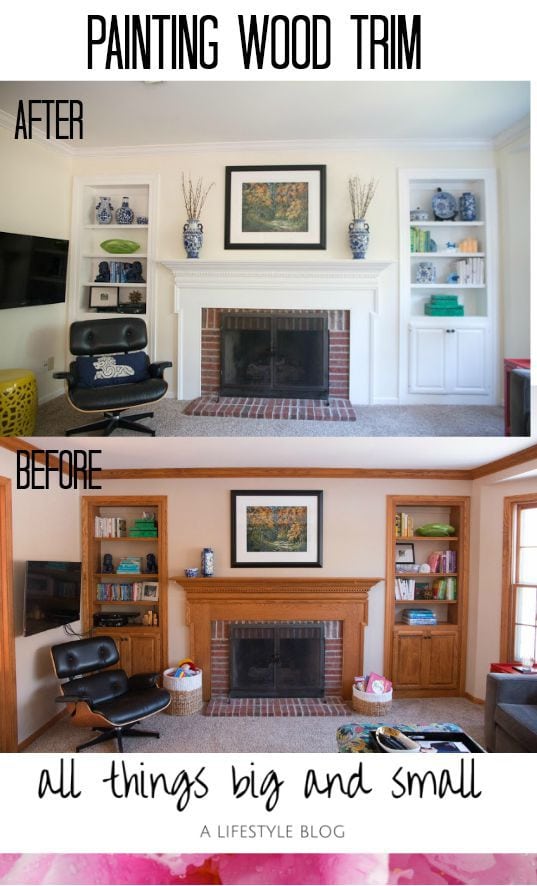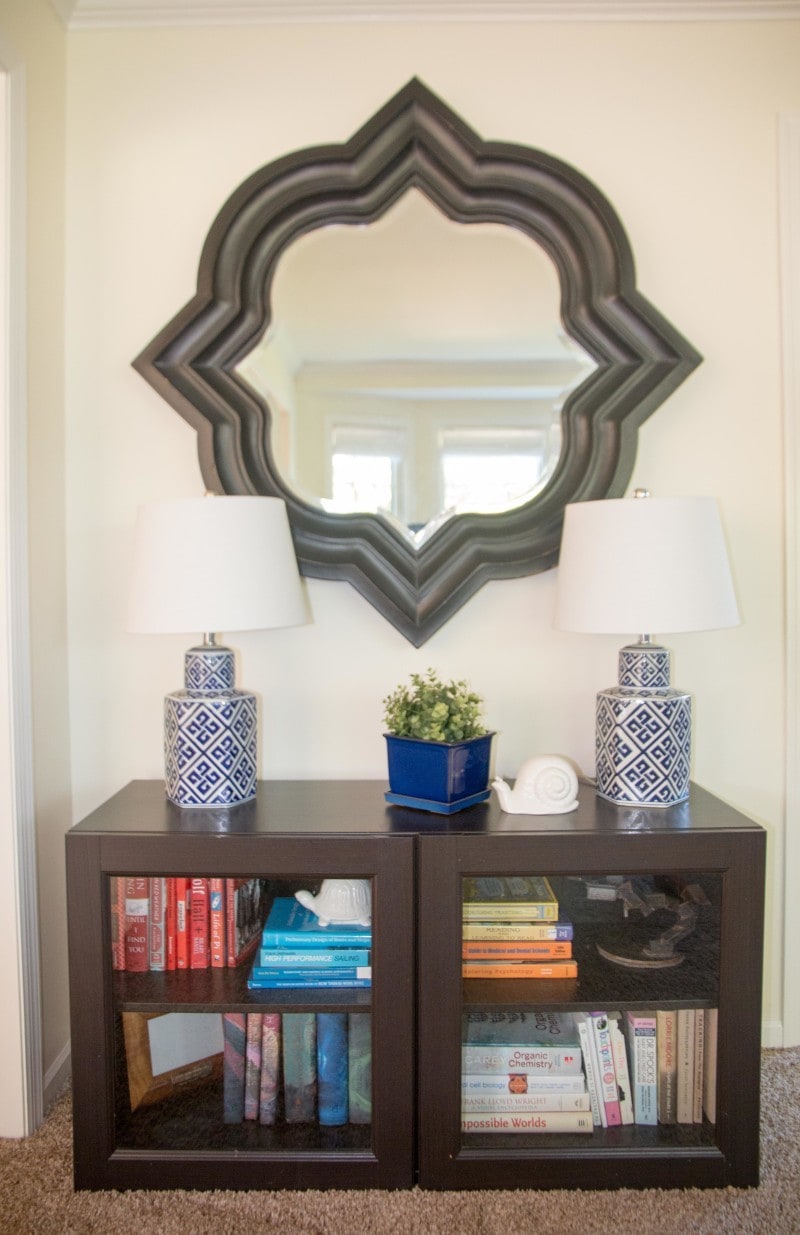 Matching lamps bring in the blue and white color scheme and lets your attention go to the awesome mirror. The white ceramic snail breaks up the stuffiness though!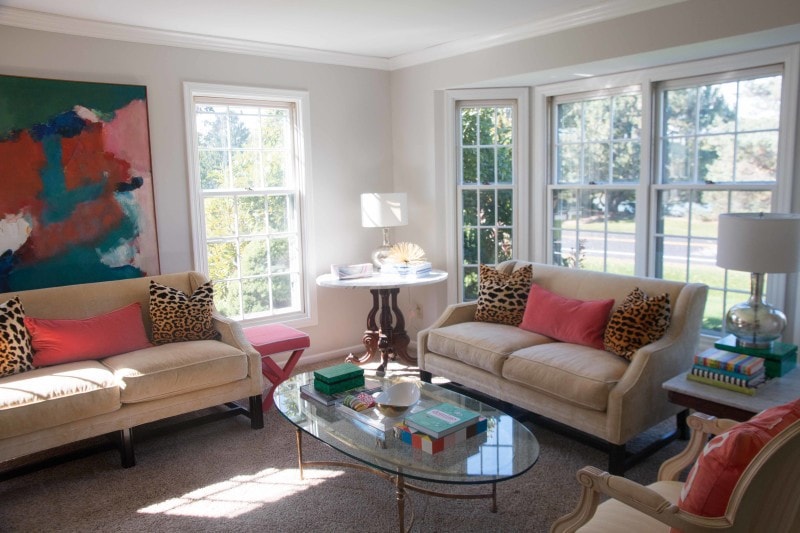 Another example of matching lamps…also from HomeGoods!
3.) Twinning = Winning
Even with furniture, buying pairs makes your whole decorating scheme easier. The couches match in our formal living room, as well as the stools and pillows. I bought these stools before we even knew we were moving. We had absolutely no place for them in our old house and E thought I was crazy. But, I knew that having a pair of them would come in handy one day. Target regularly has great little occasional stools like the ones below for sale in the spring. Pick up a pair of them and you can use them anywhere! I picked up the coral ones in spring 2014 and the blue and white ones in spring 2015!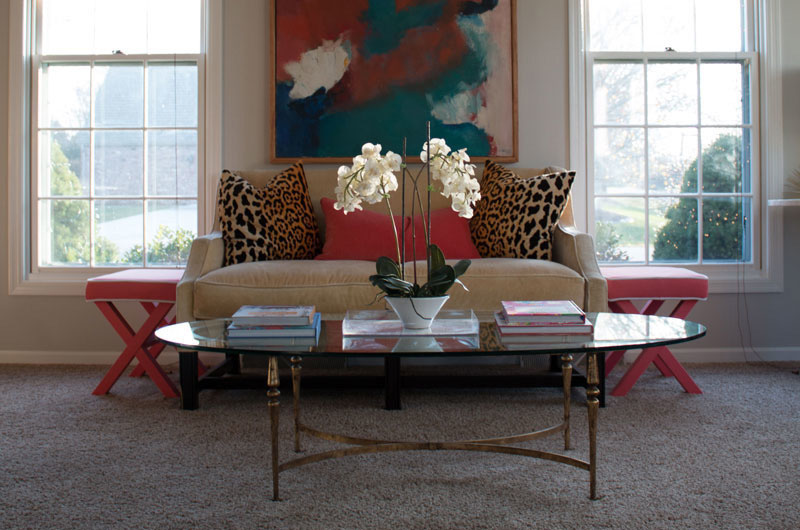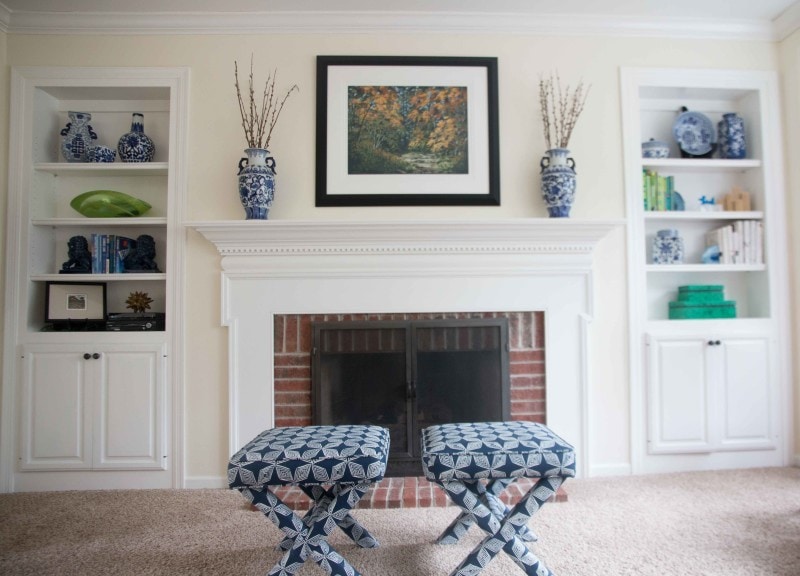 So please tell me, do you also pick up pairs of stuff even when you don't need them and drive your significant other crazy? How do you use symmetry in your home? What is your number one tip for decorating your home?