Easy Easter Tablescape: How to add a pop of color to your table and your home the easy way! I am all for entertaining. I love having friends and family over to our house to celebrate events, or just to enjoy a plain' old Saturday night. But, what I am not all about is stressing because life is too short! So when I find out the formula for an easy tablescape I can use over and over again, I am all in!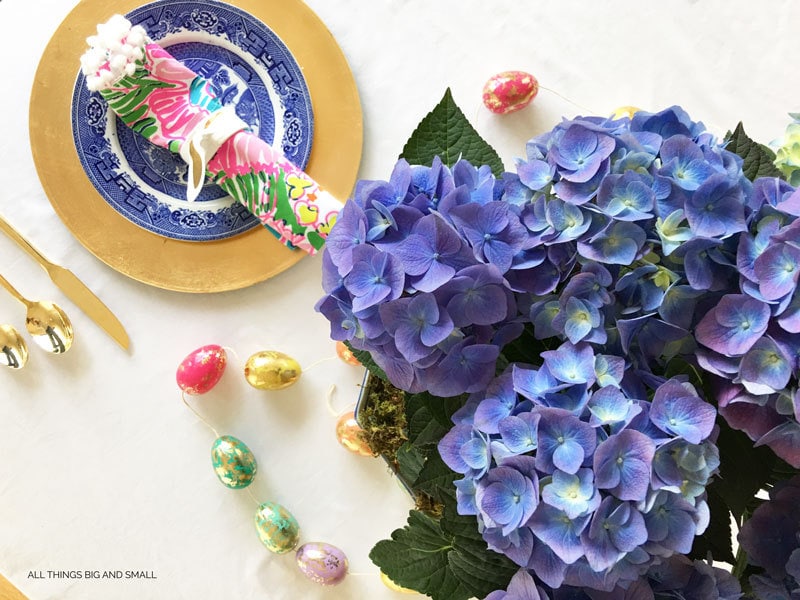 EASY EASTER TABLESCAPE
For this easy Easter tablescape that takes less than five minutes, you will need:
Easter eggs (plastic are fine–these only cost $3 for the strand)
Potted plant- buy Monrovia for the best quality
Decorative vase or bowl
Gold flatware–mine is really inexpensive and less than $20 a setting
Gold chargers – mine were under $2 each
Colorful napkins
Dinner plates (found at a flea market)
Fun napkin rings (I think I paid #$3 for a pack of six!)
Plain white tablecloth
As you can see, nothing on this table cost an arm and a leg! And a plain white tablecloth sets the pops of colors off wonderfully! Setting it up literally took five minutes, after which I was able to stage and photograph while B was watching a TV program and Jack was sleeping #winningatnaptime. Now just don't ask me to iron as I am obviously the world's worst ironer!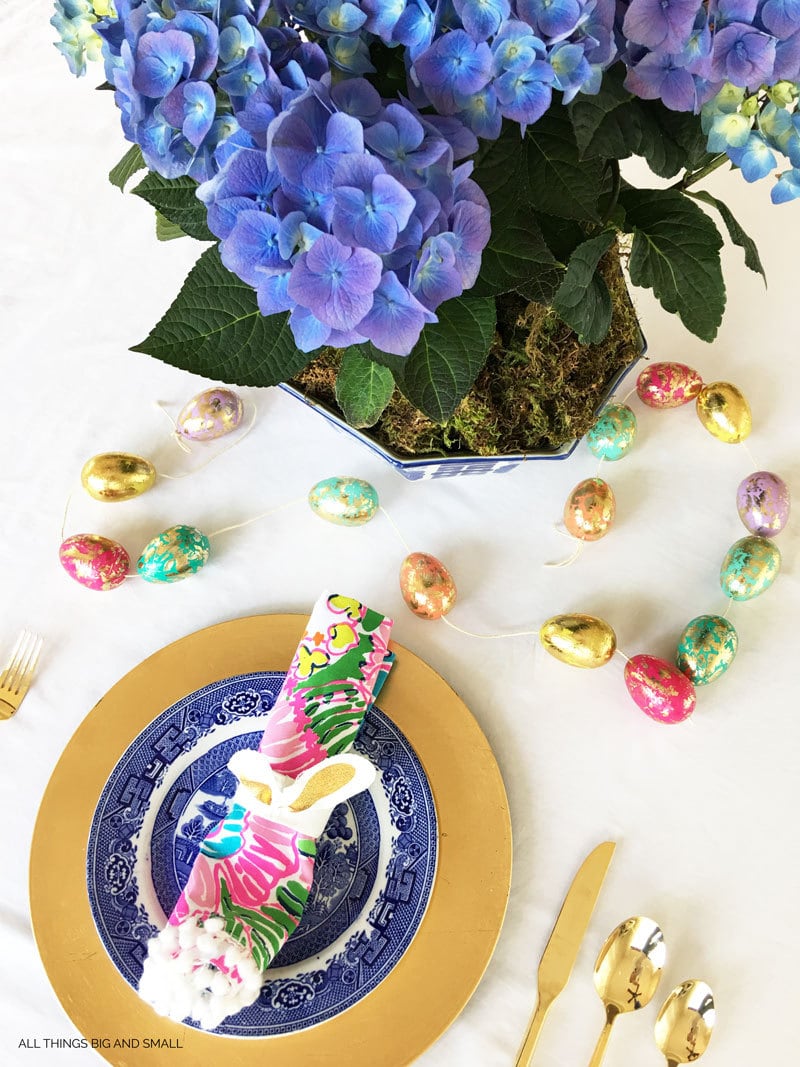 I love setting the table beautifully for big holidays; but, I am not ashamed to say that I pull out paper plates when we have over 20 people for a casual Saturday night. And since you all already know that I am not the world's best seasonal decorator–heck, we just got the kids favorite Easter window stickies up on Monday (a mere six days before the event); you might be surprised to find out that, I have been counting down the days to our Easter tablescape for a few weeks because I knew I could pick up some amazing plants from Monrovia at my local local garden center (or Lowes), and reuse them outside! Yep, being able to dramatically increase the amount of time I can display my beautiful blooms is a huge selling point for me–I want to get the most bang for my buck!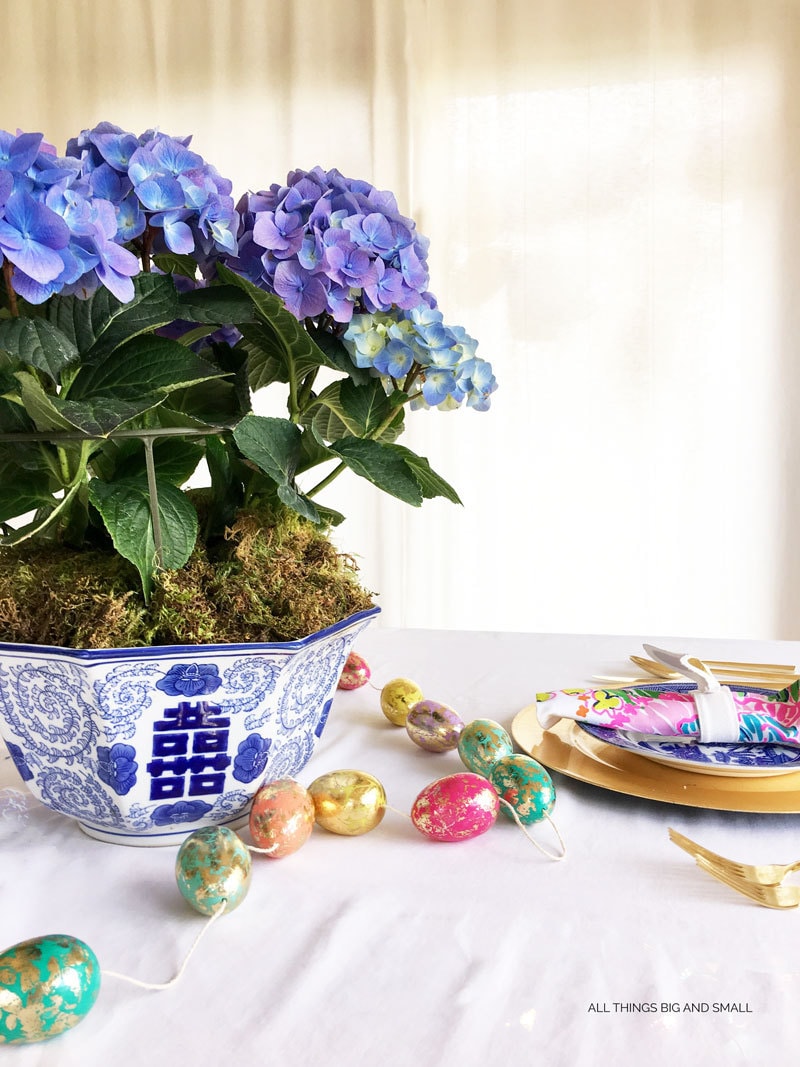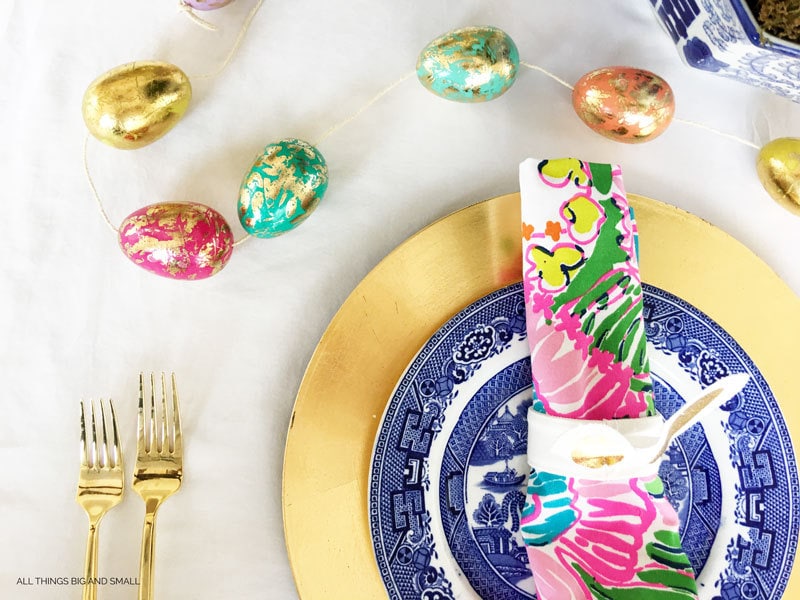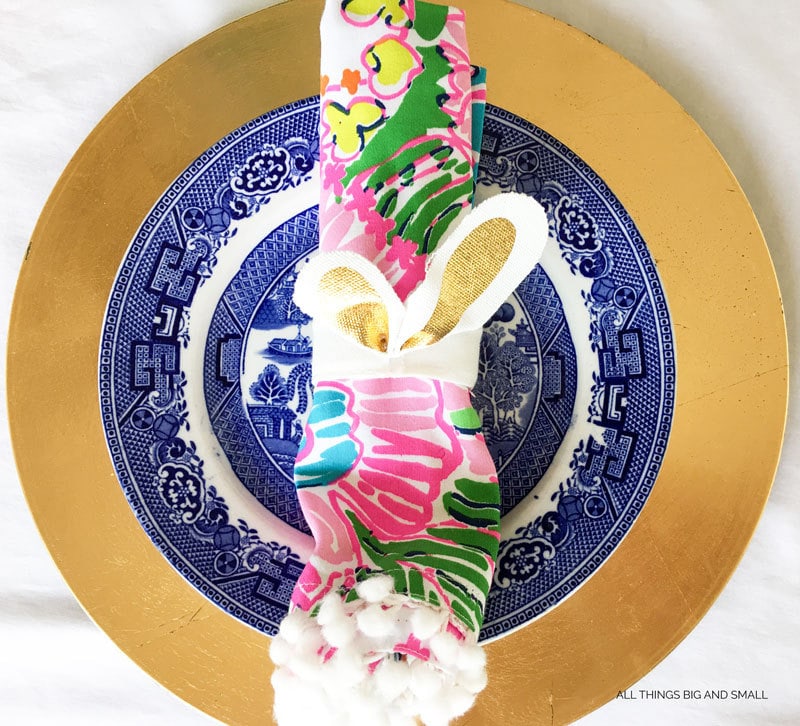 Since it is still quite chilly here along Lake Michigan in Wisconsin (we don't even have any daffodils up!) I knew it was too early to put anything not really hardy outside. So, I bought what I wanted (beautiful blue hydrangeas, repotted them in a blue and white bowl) and am going to use them all over the house before I replant them outside in a few weeks! My dream is to have a whole wall of hydrangeas along our garage since it is full sun. Then, I will be able to enjoy them for years to come because Monrovia grows the highest quality plants that last for years (even for people with black thumbs like me!)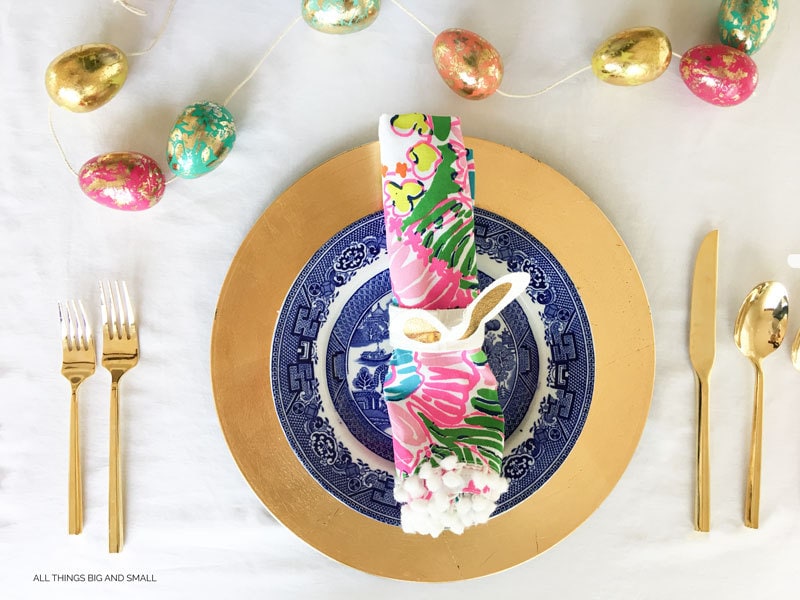 I plan to use one of the flowers as a centerpiece for our Easter table (the blue and white bowl really dresses it up), just add some faux moss to the top to make it look super luxe (and when you plant it outside take off the faux moss)! But, I also am using one as a styling accessory in our master bedroom! It gives the perfect pop of color against the black background of the DIY Mantel I refinished. And every time I see it, it reminds me that although it is cold outside now, summer and everlasting hydrangea blooms will come again!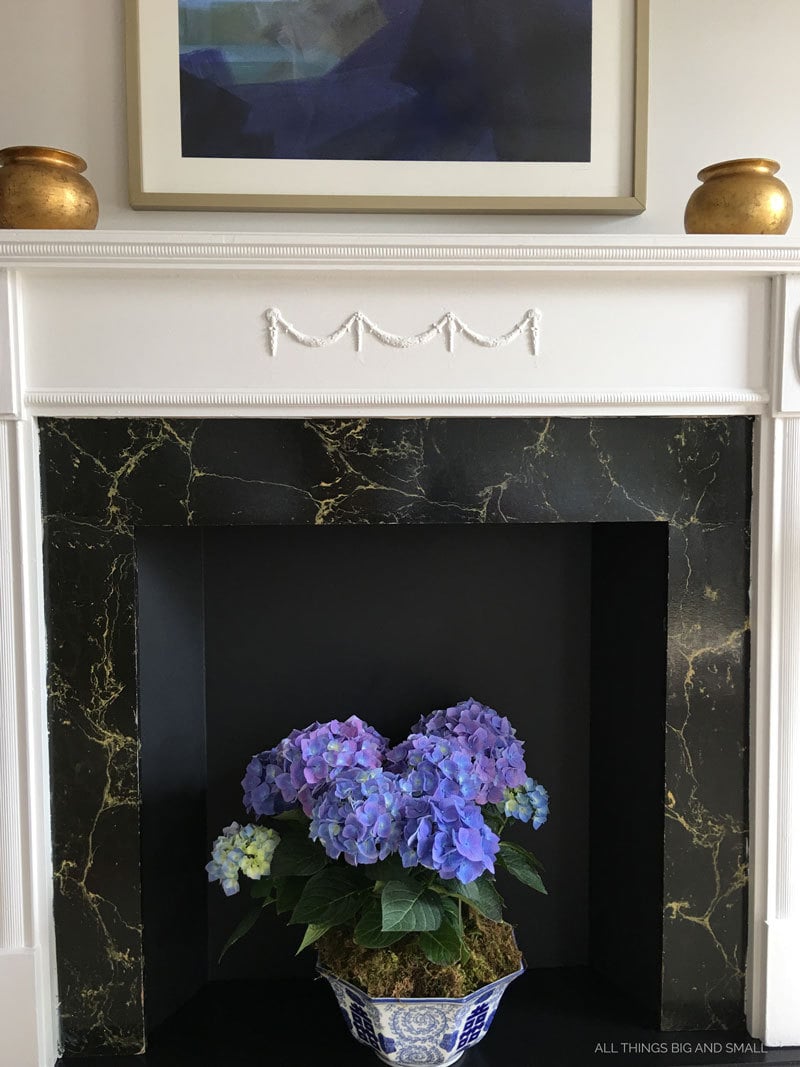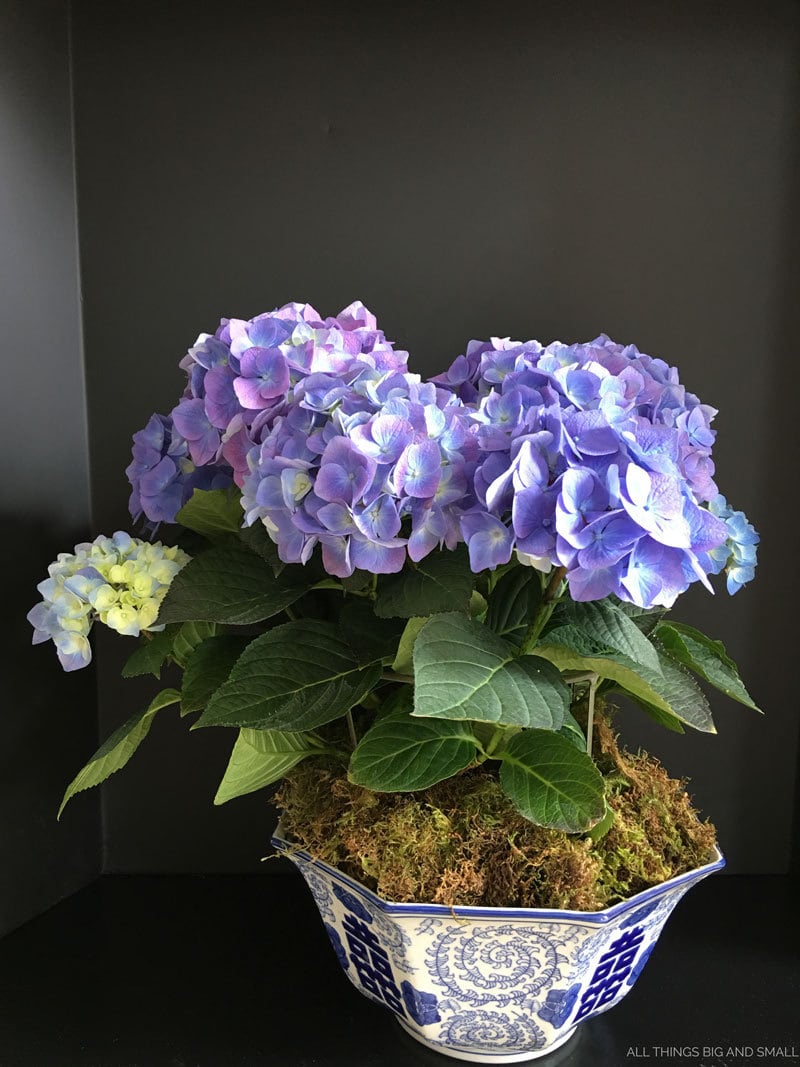 Even if you aren't hosting Easter this year, it is a great way to show your hostess that you appreciate her. Bringing cut flowers last maybe a week; but, bringing Monrovia flowers that you can plant outside will last years!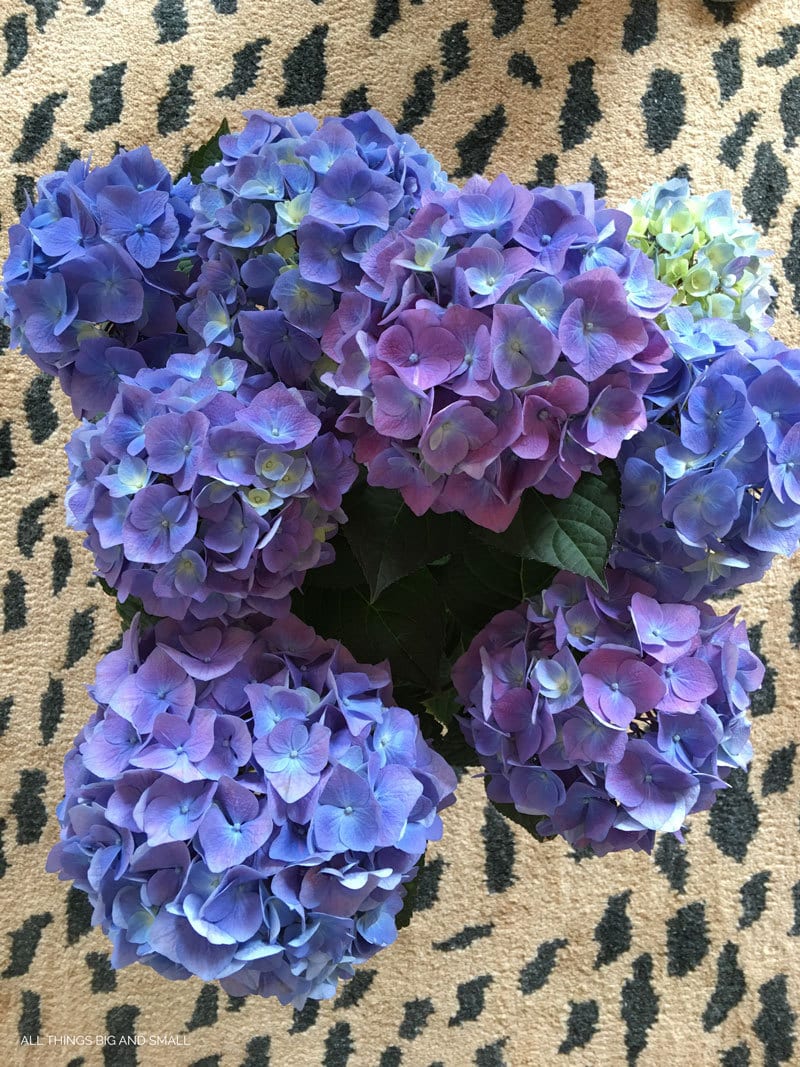 Now, if you are at all hesitant about planning a garden and selecting flowers, I hear you. When we moved into this house, I relished the fact that it was all evergreens and low-maintenance shrubs. But, then spring rolled around and I realized that I missed all my beautiful flowers and colors! Now that I know about Monrovia's newsletter and their online resources, I can easily find varieties that grow in my neck of the woods and are low maintenance (busy mamas rejoice!) Sign up for their newsletter here, and peruse their online store here–mamas, this is a great way to find out about which plants will work for you, and save you precious time with kiddos in the garden center! Tell me, what is your favorite spring flower that you can't live without and is it on your Easter tablescape?