This is a sponsored conversation written by me on behalf of SANUS. The opinions and text are all mine.
How to Decorate around a TV without it sucking the life out of your family room. Yep, there I said it. Most TVs in people's family rooms look like black holes above their fireplaces. Most people think they HAVE to hang their TV over their mantel; but, I am here to tell you that a) you don't have to hang it over your fireplace and b) you are going to enjoy your mantel more and your TV more if it isn't hung there!
Even though this conversation is sponsored by SANUS, I have to tell you that we bought our SANUS TV mount three years ago (back before I was really blogging) so our love for their mounts is real and I can say that after years of use! We love our TV mount and I am so happy to partner with brands that we use, love, and trust!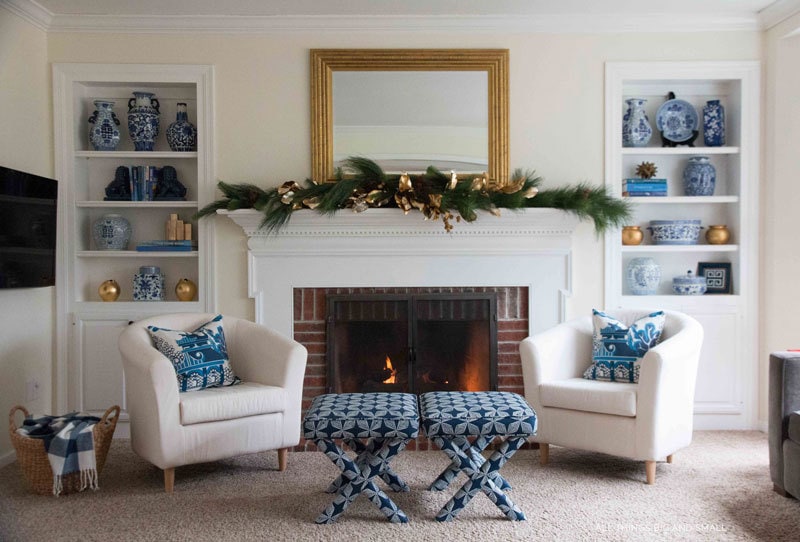 We all love our Smart TVs, they have become the heart of our many of our houses. We gather around them to watch movies, football games, live TV, and pre-recorded shows, and heck, we moms often count on them to entertain our children while we do other chores like dishes or laundry. #guiltyascharged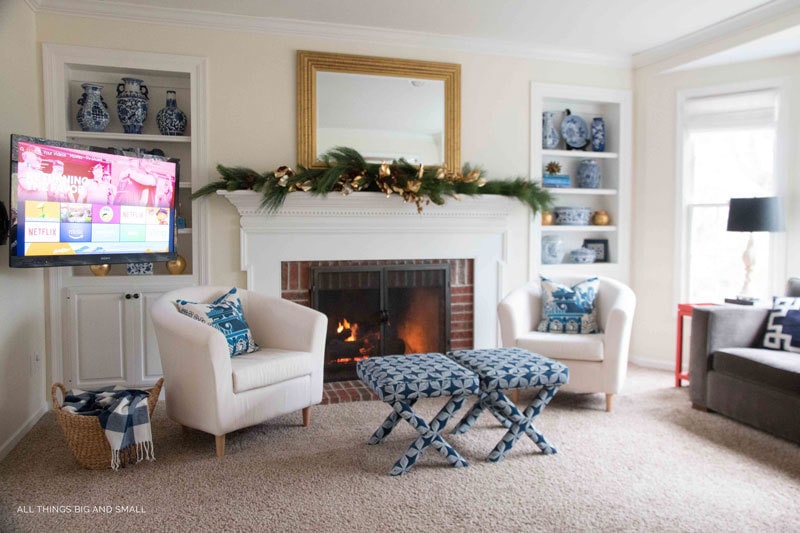 I don't mind our TV. In fact, I love our TV! Even without cable (we cut the cord three years ago–see tips on how to stream here) we enjoy whatever shows we want to watch, are able to stream live TV from public television stations, and even listen to music on it. With add-ons like streaming devices, we can even cast videos from our phones (my husband loves watching wood working tutorials), and we recently started streaming (kid-friendly) concerts for my aspiring rockstar daughter. At night, we often all will watch a nature show together with the kids (you can see us watching one in these photos!)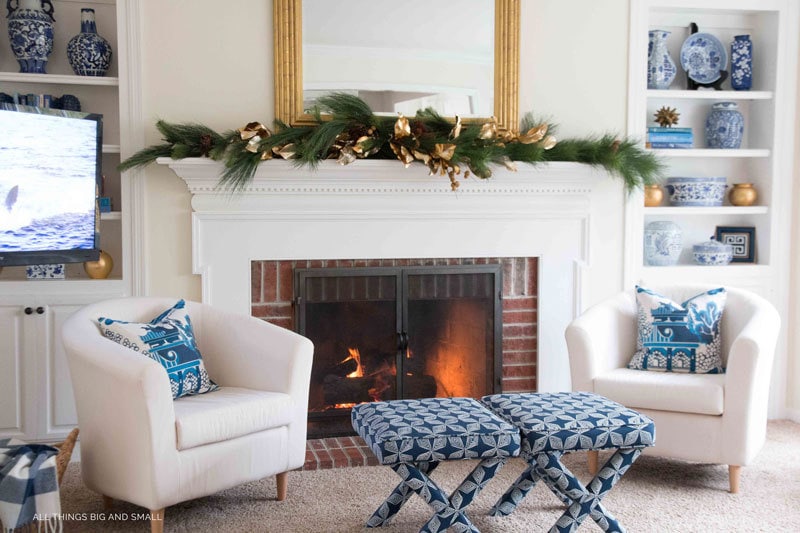 But, I stand by my rule: no TV over the fireplace. Why not?
HOW TO DECORATE AROUND A TV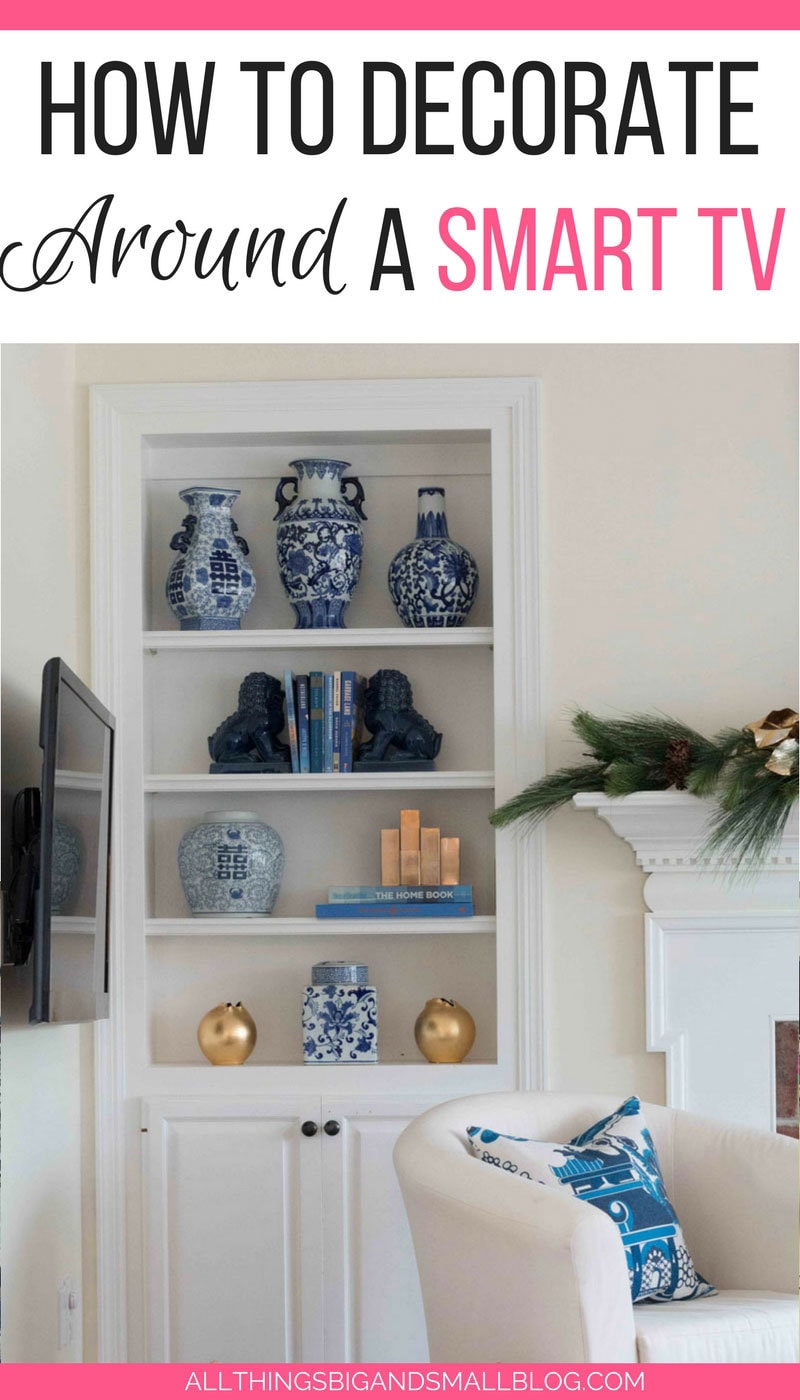 Don't Make it the Focus of Your Room
Traditionally, fireplaces were designed to be the heart of the home and room designs still reflect that. See how our room is laid out with our fireplace front and center. It is the focal point of our entire family room/ kitchen. If I was to stick a big black box up above the fireplace, it would miss a key opportunity for reflecting light and adding beauty. You see, when you have a mirror above the fireplace, you not only add interest to the room with the frame shape and size, you also reflect whatever light you have and visually enlarge the space through perceived depth.
*Designer Tip: Hang a mirror over your fireplace to visually enlarge your space and reflect light!
You seldom see a TV over a fireplace in design magazines. It's because any well-known designer understands the benefits of putting a beautiful mirror above the fireplace instead of a visual dead end like a TV. Instead, you can easily mount it to another less-obtrusive wall. We chose to mount it to the wall just to the left of our fireplace. It allows us to view it un-obstructed from our couch which is to the right of the bookshelves.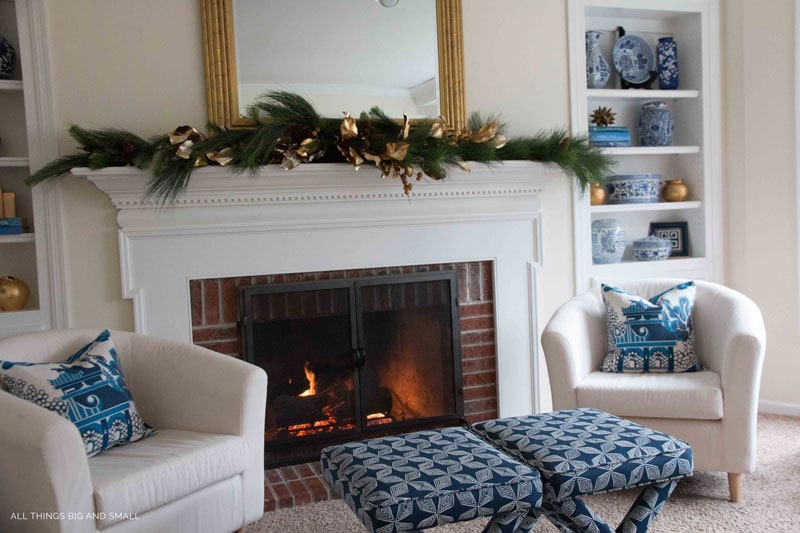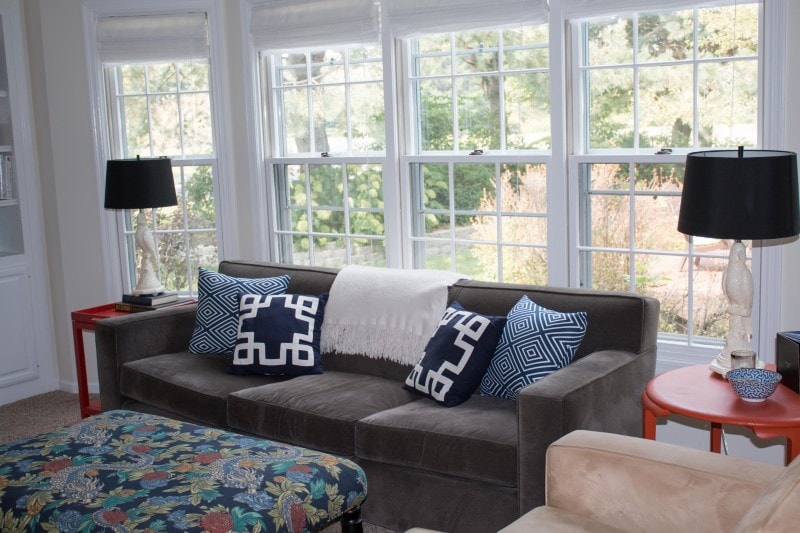 Add interest elsewhere. Our beautiful symmetrical bookcases decorated with blue-and-white ginger jars and pottery and gold accents are the focus of the room. We were even able to decorate for Christmas by layering a faux-pine garland with a faux gold magnolia garland. Play with symmetry to balance out the TV's presence (note: two white chairs, identical pillows, similar bookshelf arrangements).
Designer Tip: Add visual interest elsewhere by showing off what you love–whether it is photos of your kids, book collections, or pottery make that the centerpiece alongside the mirror!
The Optimal Viewing Height
Most fireplace TV mounts are too high for optimal viewing. You end up craning your neck to see above your fireplace, and even with angled mounts, it is not ergonomic. To find the proper height to hang your TV, check out SANUS Heightfinder, it can quickly tell you how high you should mount your TV. They even have a blog covering all of your questions regarding mounting Smart TVs including a blog post dedicated exclusively to answering the question "How high should I mount my TV?"
We hung our TV comfortably high enough so we could view it from our couch, from our chairs, and from our kitchen with ease (we have an open-concept family room/ kitchen) so we often will be cooking while the TV entertains the kids. Our full-motion mount allows us to angle the TV so we can watch it from our kitchen island, from the couch, or from the chairs, plus it goes almost flat against the wall when it's not in use!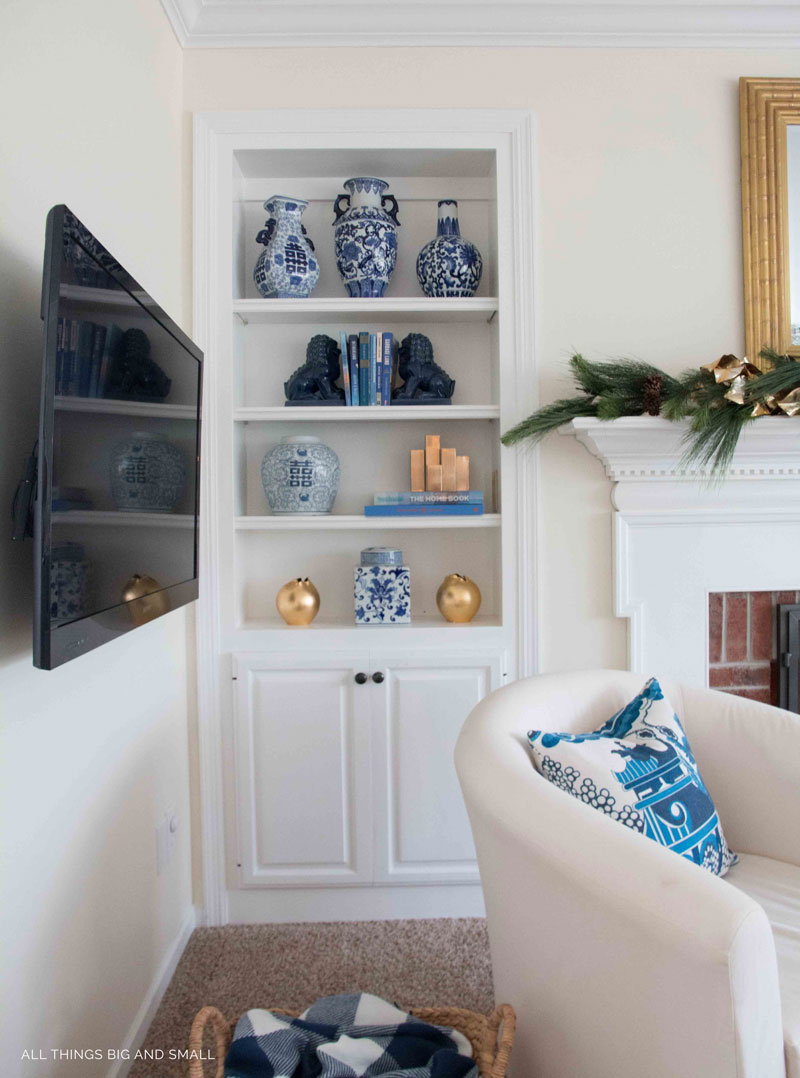 We find our kids often will watch TV on our white chairs in front of the fireplace, or on the couch. By putting the TV off to one side of the room, and grouping the furniture to support conversation (and not just TV-watching) we have a fully-usable family room that we love to entertain in.
Designer Tip: Create small gathering areas with furniture that support conversation. Don't be afraid to put chairs right in front of the TV with their back to it!
Frequently Asked Questions and Answers
"But, I have kids! They will touch it! It's just not safe any lower!"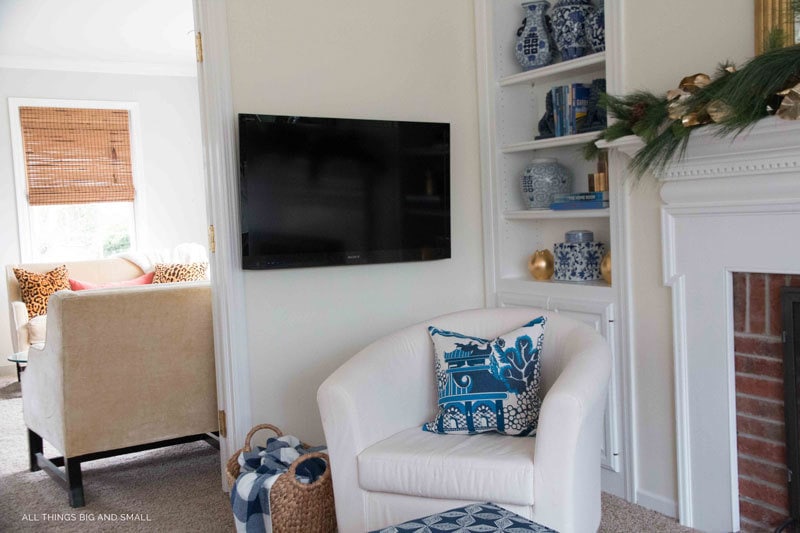 "How can I watch TV from my couch if it isn't perfectly centered in the room?"

With 90 degree swivel technology, you can easily rotate and position your TV to whatever angle you want to get the optimal TV viewing experience. We used the mountfinder on SANUS to easily determine which mount would be ideal for our space, look the best, and give us the most functionality. What I love is that we can easily fold swivel arm back and have the TV almost flat against the wall making it very unobtrusive when we aren't watching TV.
Once we received our mount, we were able to quickly decide the optimal height using the heightfinder here and within hours of our moving into our house we had our TV hooked up! #priorities
If you need help installing your mount, check out this post on how to mount your TV in 3 easy steps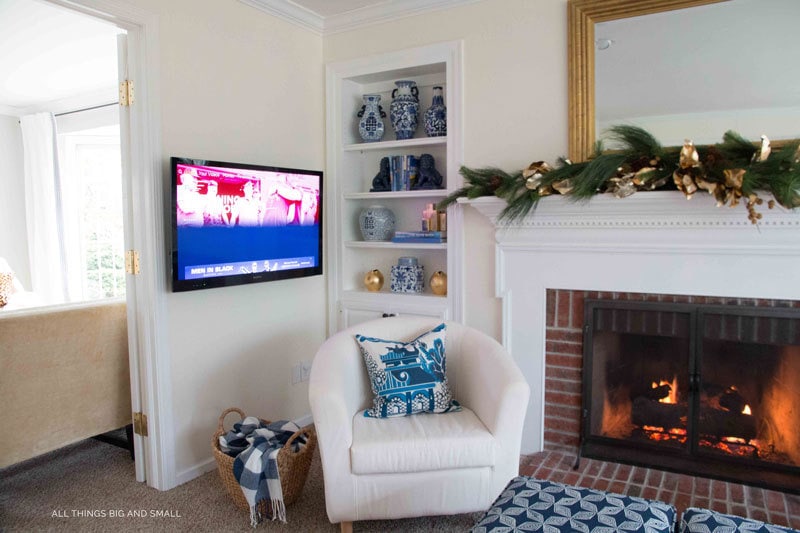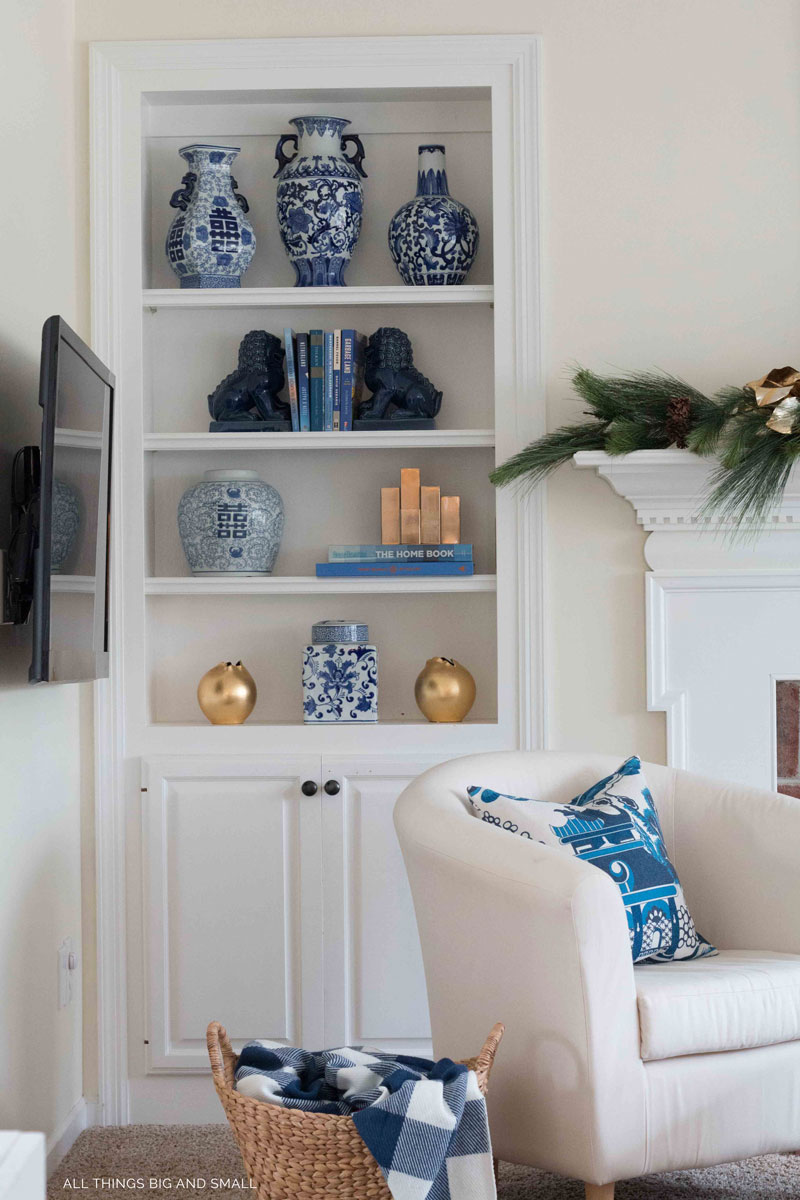 "How do I hide all the cords?"

It was an easy afternoon project for my husband, but we were able to hide our cords completely. For easy instructions, check out SANUS's blog post on it.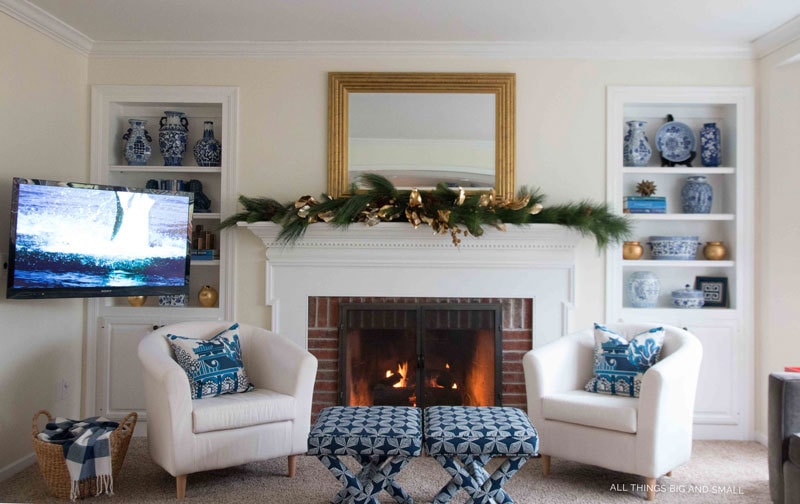 See, now you have all the flexibility to hang your TV wherever you want, so it is much easier to decorate around it! Make sure to check out SANUS on Twitter, Pinterest, Instagram, and Facebook!
Tell me where is your TV hung and do you like it there?
This is a sponsored conversation written by me on behalf of SANUS. The opinions and text are all mine.