Good morning! Today, marks the first day of the
Sunday Six!
On select Sundays, I will be interviewing amazing moms who have created homes that are not only beautiful but also kid friendly! Today, I am thrilled to introduce you to
The Heathered Nest
! If you don't already follow her, you are missing out because not only is Heather super talented but she is absolutely hilarious! She, her husband, Dave, and her three children live in a gorgeous home in Maryland that they are DIYing. You name it, they've DIYed it!
Alright, let's dive right into it–the most pressing questions on designing with kids!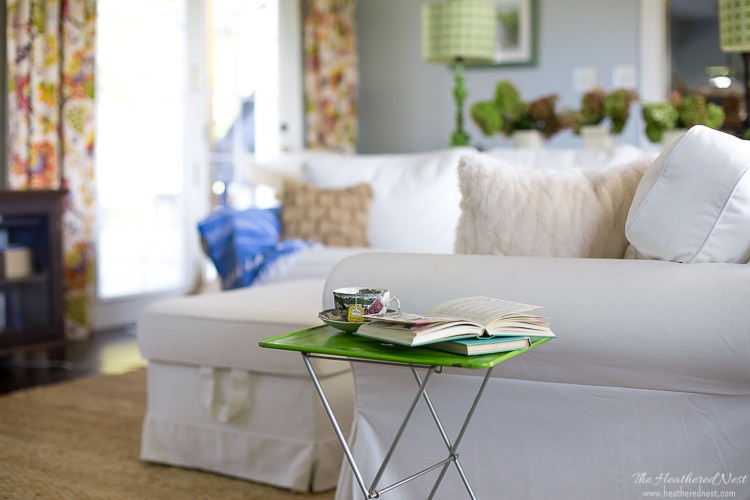 Light or dark couch with kids? Do you have any tricks for keeping furniture clean with kids and/ or pets?
People think we are crazy…and they are more or less completely correct, but we've ALWAYS had a white sofa with kids. Our first white sofa pre-dates our firstborn child. It was a white tufted, very modern, sleek and pretty expensive sofa. The problem with that couch was that it was tufted so the cushion covers nor any of the upholstery on the frame could be washed. It lives in the kids playroom right now. And it's definitely toast now. That kind of couch is definitely the WRONG type to have with kids.
But when we decided to buy a new couch, we still went for white. But this time, we bought a white Ikea Ektorp sectional. It didn't break the bank, and it has removable, washable slipcovers. That's the key to having a white couch with kids. Slipcovers. We wash everything when it's needed, and it's held up great! And for about $150, in a couple years when the thing looks too embarrassing to have people over, we'll spring for another slipcover!
I will admit I'm a stickler about a couple things in our home that make having a white couch pretty easy. First, I don't allow shoes on in the house. Second, snacks/food in our house are confined to the dining room or kitchen. Third, our only pets are guinea pigs, and if they are on the couch, it's in someone's lap.
Soft or hard ottoman/ coffee-table? Did you keep your old coffee table, buy or make a new one, or do without?
We've always had storage ottomans. We prefer those because they're less likely to hurt a kid when they're running around the house playing laser tag, plus, we love putting our feet up when we have two seconds to sit down. I don't think we've owned a coffee table since before we were married.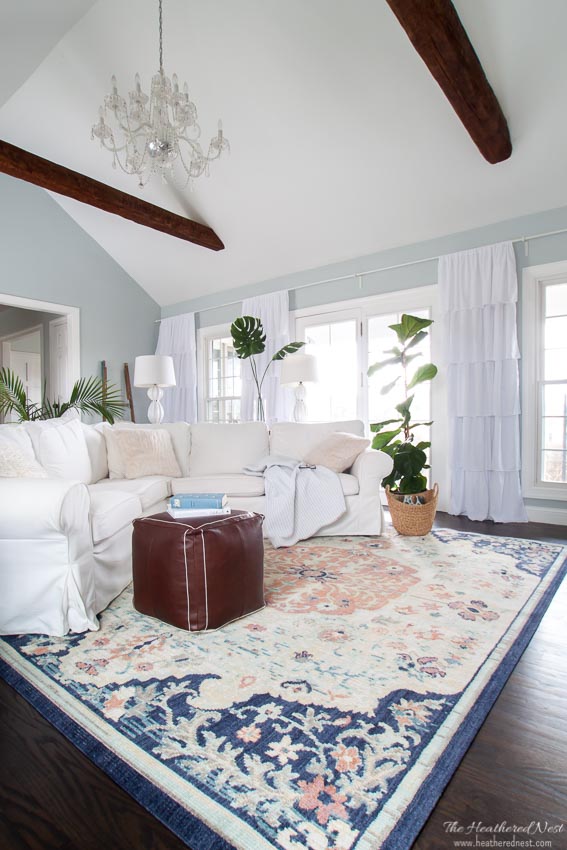 Patterned or neutral rugs to hide stains?
Hmmm. My favorite rugs are patterned, or natural fiber rugs like a chunky, nubby jute. We also have a cowhide rug that's super easy to keep clean and it hides dirt well. It's lightweight and sits in our foyer right now, so when I need to, I open the front door and give it a shake.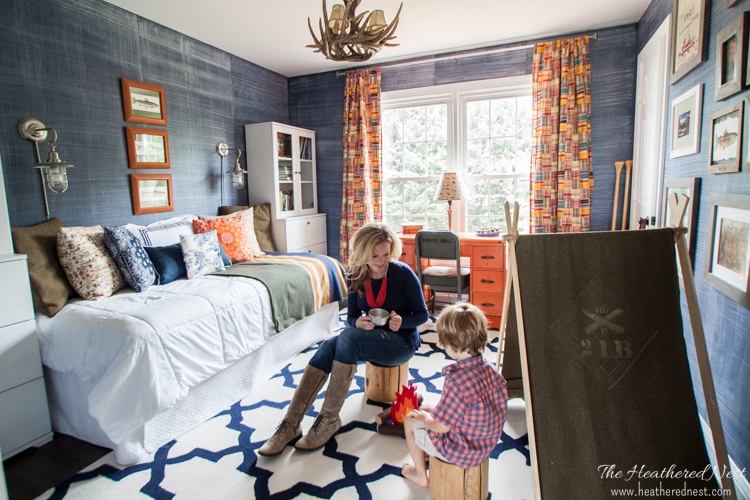 Where do you stash your kids toys? Do you have a dedicated playroom or another favorite storage trick?
Our kids toys are in almost EVERY room in the house, but we are super stealth about hiding them for the most part…with the exception of the playroom, and that's just a free-for-all. I think you have to have at least one space that you just kind of cave in and let whatever is going to happen happen. We can only fight so many battles, right?
My favorite toy storage items are our Ikea Pax wardrobes with plastic bins that slide in and out. And they have doors so you don't need to look at all the bins and clutter all the time. Those things are MONEY. We also have some fun rolling burlap storage cube ottomans that I got from Etsy. They double as extra seating in our family room and can hold a ton of toys as well. In the kids' rooms, they all have
simple DIY rolling underbed storage for toys
, and we store books on back-of-the-door storage racks that just hang over the top of the door frame. They work great and keep stuff out of sight.
What's your number one tip for kid-friendly decorating?
DON'T GIVE UP and live in a house that doesn't make you happy just because you have offspring.
I see friends all the time just kind of throwing their hands up and saying "we aren't going to even try to make our home look nice until the kids grow up" and it makes me sad because I KNOW it's possible to have a home you love WHILE having small ones at home. It takes a little bit of intentionality and planning, but that's really it. There are so many stylish storage options out there!
And I do believe giving kids a designated area to go wild with kid-ness is clutch. For instance, we have an area in the basement with a huge chalkboard wall and a whiteboard as well…so if they can get those urges to color on walls, they can do it! But in a less destructive way 😉
So many wonderful home decor, DIY and organizing bloggers have children, and they constantly share amazing ideas for making their homes beautiful. And most of the time their ideas don't require a big budget! Soak up some ideas and make it happen for you and your family!
What has been your favorite room to decorate with kids?
Oh I ADORE decorating the kids' bedrooms. They have always been my absolute favorite spaces to design. There are no rules in a kids room. You let your creativity soar and work collaboratively with your littles (if they are old enough to want a say) to make their space something they cherish. They are such fun spaces to create. Using lots of color, pattern, incorporating a theme but not in a cheesy way…that's my jam.
Here are our kids spaces: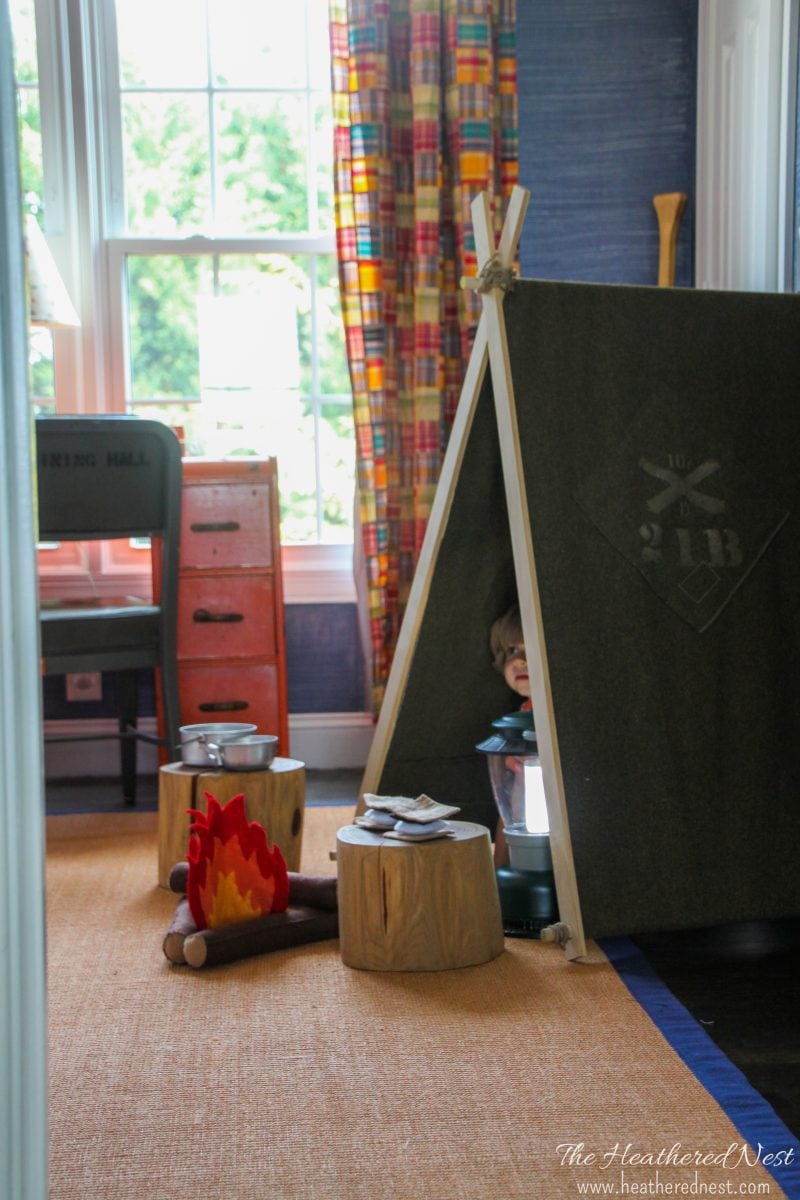 I told you, isn't she awesome! Make sure to check out Heather's blog,The Heathered Nest and see how amazing her whole house is! Seriously, I want to move in. And just might! Watch out Heather and Dave 😉