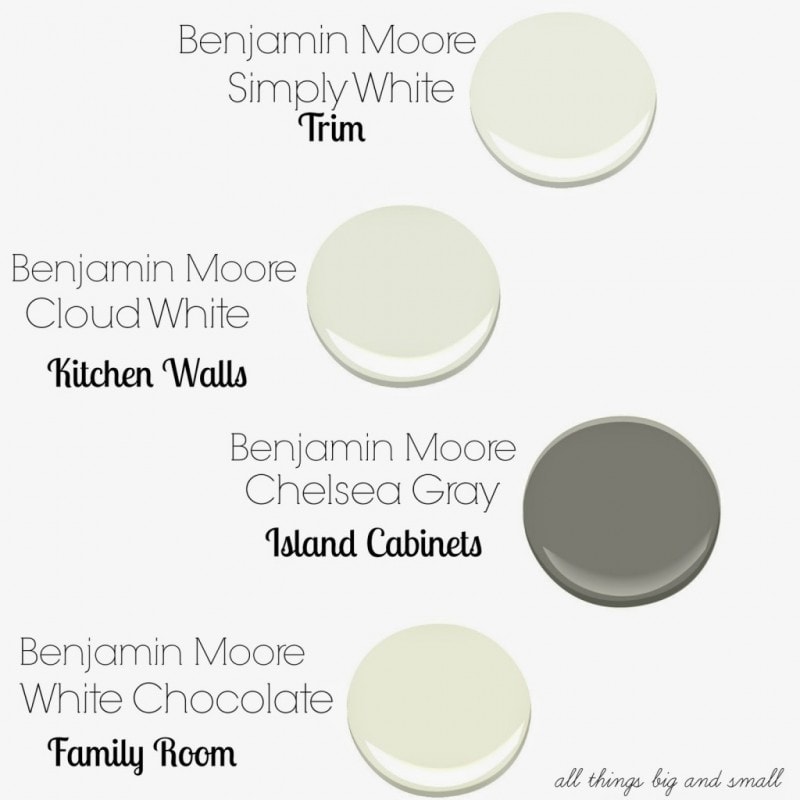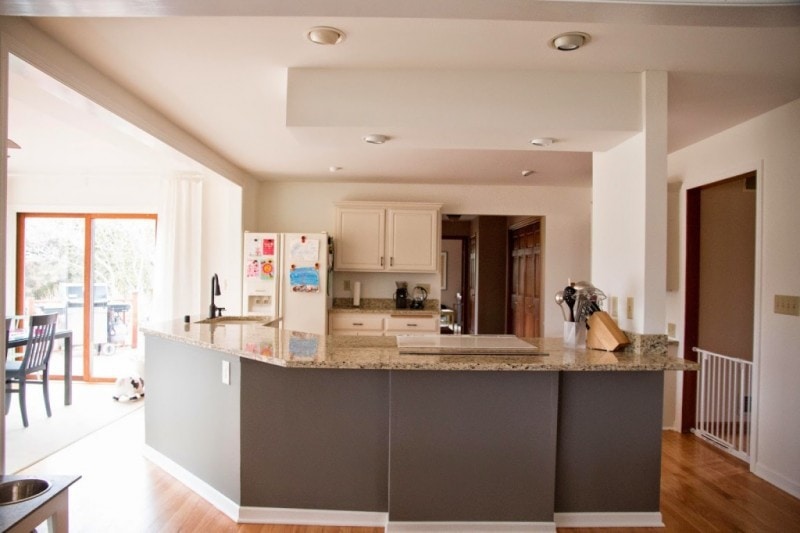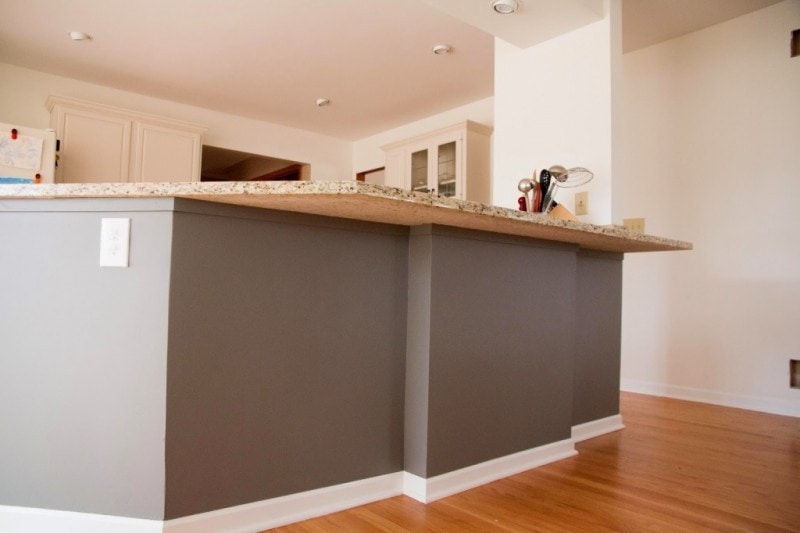 And here it was before…lots of brown trim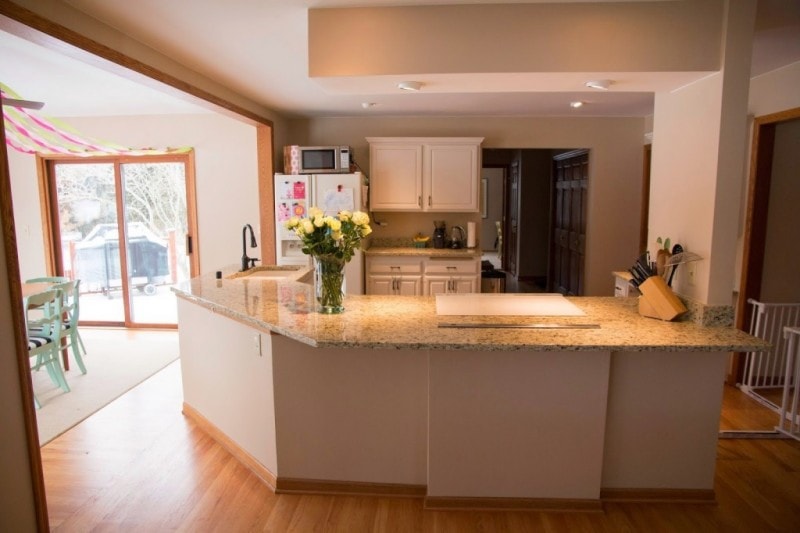 Progress (we still need to paint the actual sliding doors)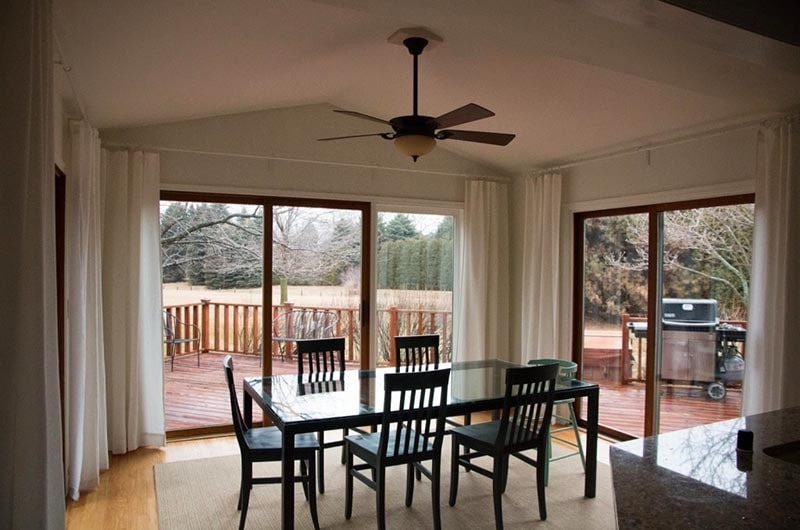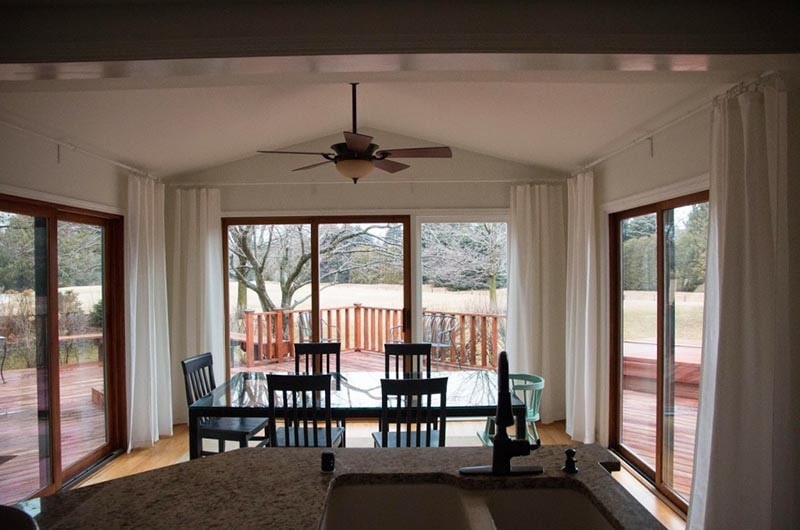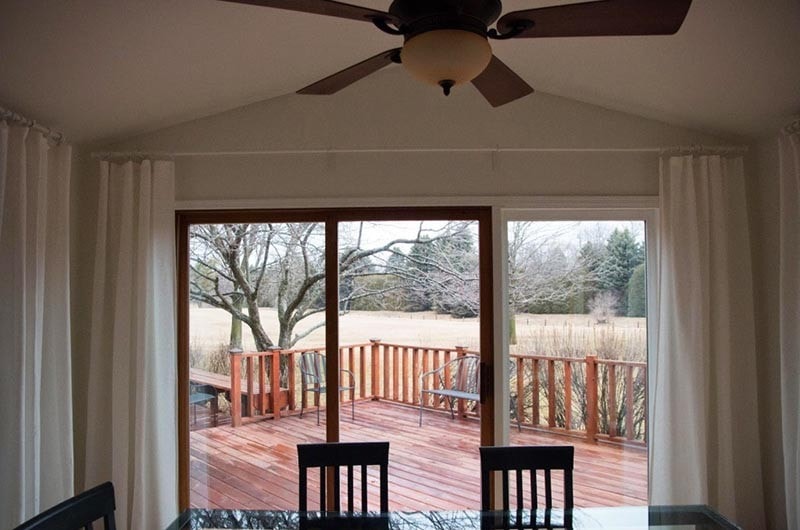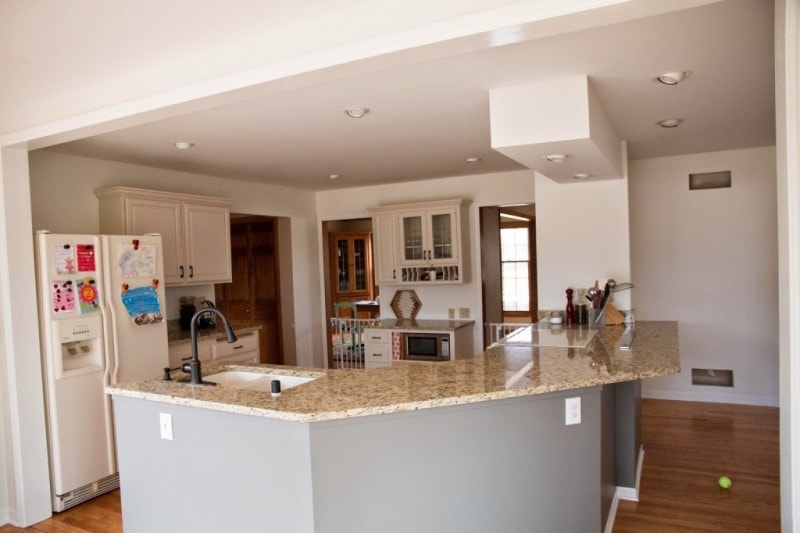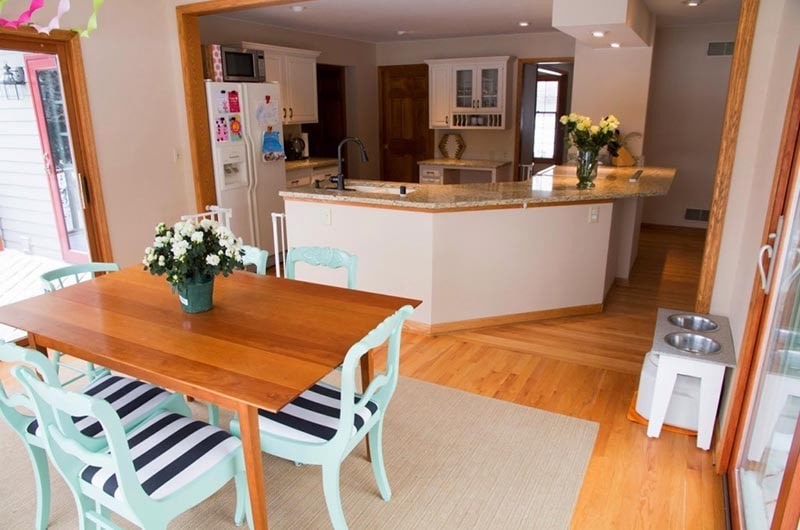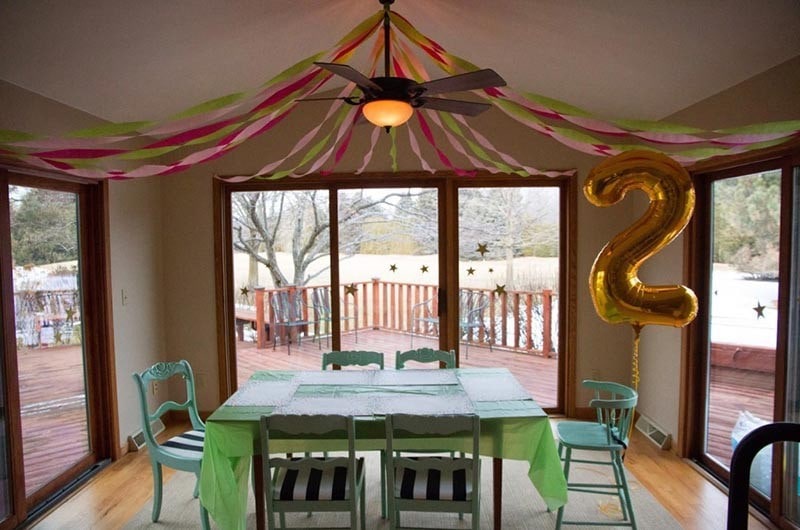 The details…
As far as color for the kitchen and eating room, I wanted to continue the colors in the family room which is right off the kitchen, but wanted it slightly lighter and with less yellow. So I chose White Cloud from Benjamin Moore. It goes well with our family room's BM White Chocolate, and goes well with the existing cabinet colors (they will eventually be repainted Simply White like the trim) or Chelsea Gray like the island.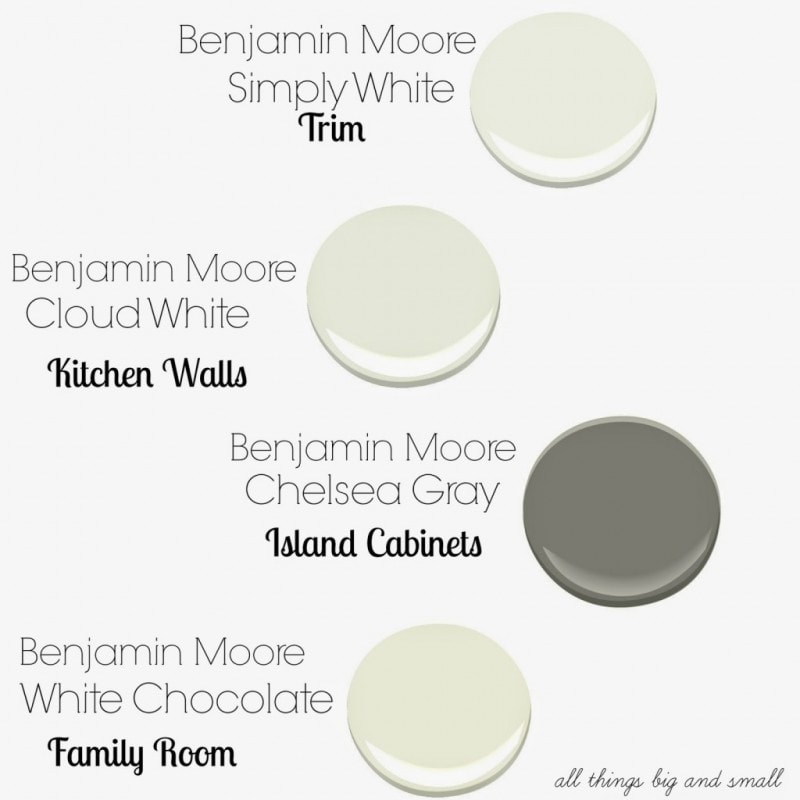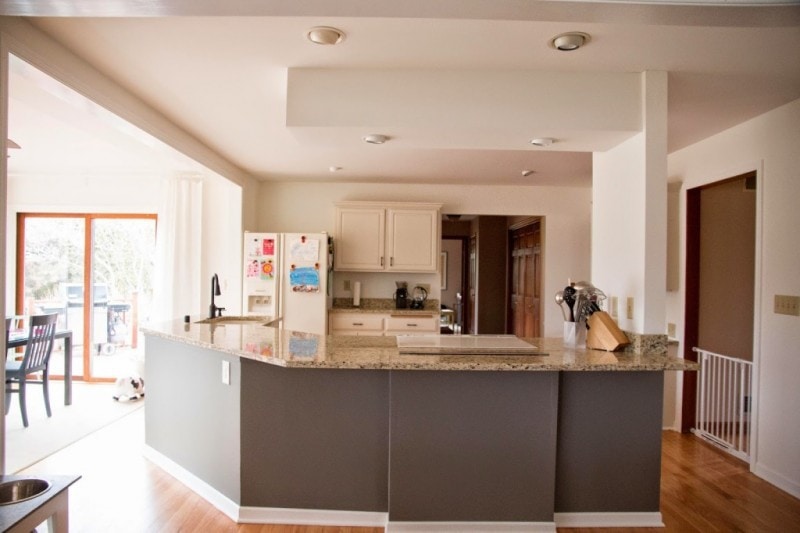 I absolutely LOVE how it turned out. The new colors really lighten the whole room and makes it feel like one big room. By adding a contrasting color for the island makes it feel more built in and substantial. Eventually, we plan on adding board and batten paneling to the outside of the island to make it look even better! Something like this: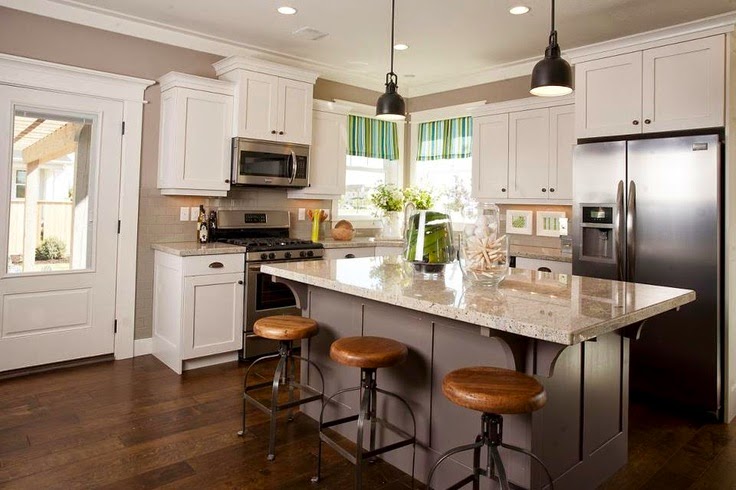 via pinterest
For now I think that our paint job made a huge improvement. For $140 we got two gallons of paint for the walls (Benjamin Moore White Cloud) in Natura (zero VOC) and two quarts of paint for the cabinets and island (Natura Chelsea Gray) and to color match the existing cabinets (which will be eventually painted either Simply White or Chelsea Gray).
Here are some inspiration images that I loved that helped me make my decision: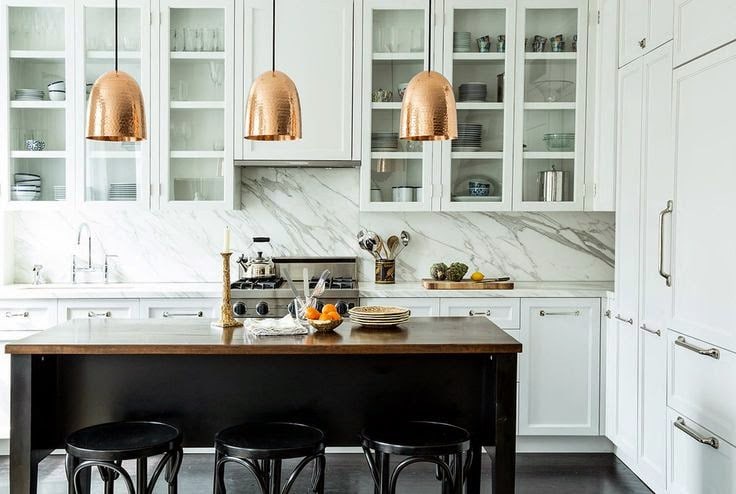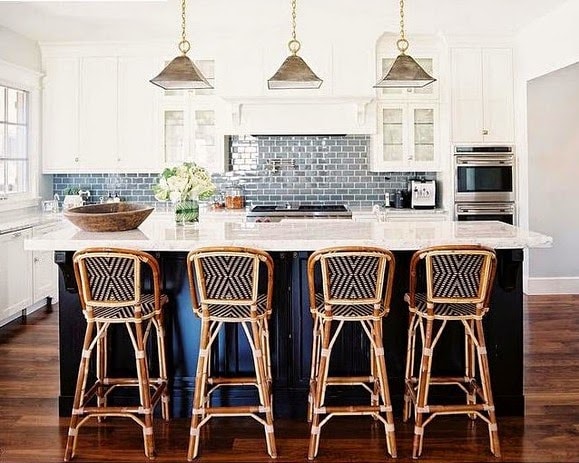 Patrick Kline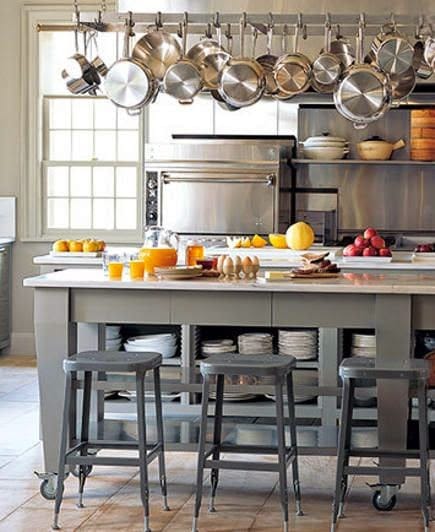 Martha Stewart Bedford Gray–one of my all time favorite kitchens
The granite is brand new and although it is not what I would choose (too brown), the gray island color makes it seem less brown. And who am I kidding? It is granite, I am soooo lucky to have a solid surface countertop! As long as it is functional we don't plan on replacing it. I mean it would be nice if it was more gray or marble-esque but that costs a ton of $$$ to replace that much countertop and it seems completely ludicrous when there are actual pressing issues that need to be fixed. So minimizing the brownish tints are what we are shooting to do with the grey and white paint.
To care for the granite I just use some homemade cleaner of castille soap and water. (Fill an old spray bottle with water and add 1/2 tsp castille soap.) I found the recipe here. I accidentally used vinegar and water on it for a month and then I found out that vinegar is too acidic for the granite and would strip away some of the finish. Oops! Luckily, I don't think too much damage was done.
Eventually, I would love to add subway tile to the backsplashes as well. But that is down the line too… Ahh the list is never ending, right?
We hung
Ikea Lenda curtains
again with the right hardware (this time around). Of course, the cost of hanging curtains is always more than you expect. I estimated it out on Ikea but when I arrived I realized that the curtain rod I wanted was out of stock and I needed more supports than I initially had planned. So below, I have included exactly what we bought so you don't think it was a $60 makeover (more like $140).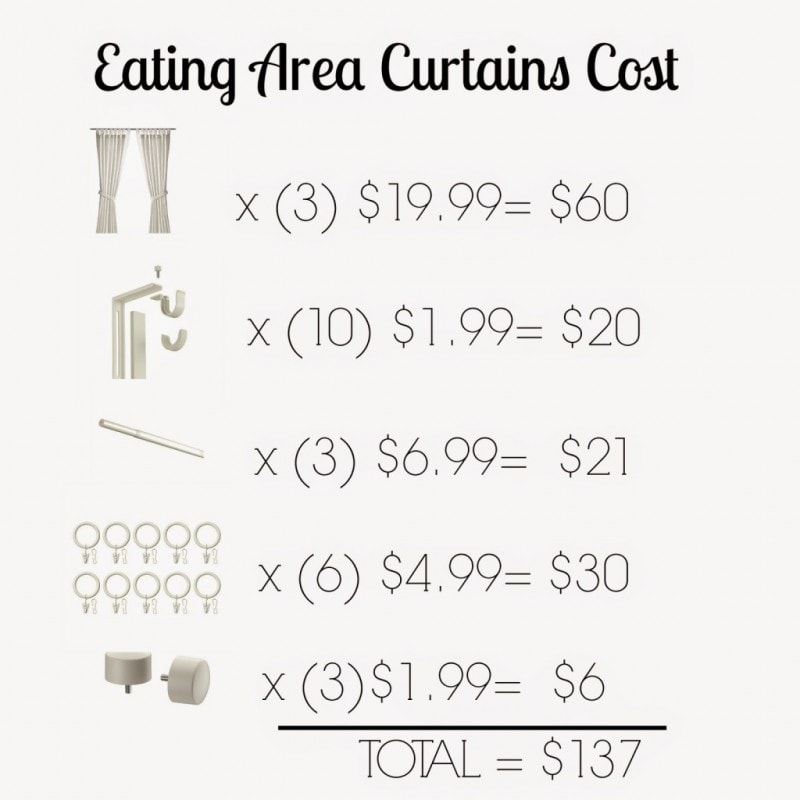 Again, we used
Lenda curtains
and cut off the tags, and instead hung them with Ikea rings on the Hugad rail (just like we did in B's room). We used 10
Betydlig
rod holders, three
Hugad rods
, three
Raffig finials
and six packs of
Syrlig
curtain rings. See this
post
to see what we did and how we did B's curtains. My patient and ever helpful mother-in-law ended up having to hand hem the Ikea curtains once they were hung. It is just one of those fun things we found out after hanging them. we may have accused E of screwing up the measurements of the curtain rods (which he didn't) but on day four of kitchen work all of our tempers were running a bit high. We felt so bad then when we found out that he had hung them perfectly it was just cheap curtains. There was a four inch discrepancy on a couple of them. Seriously, my mother-in-law was a saint because it took forever. I guess cheap prices come at a price… So word to the wise: iron the curtains before you measure them and expect to have to hem them if you aren't looking for pooling on the floor (which we didn't want because it is the kitchen and a high traffic area.)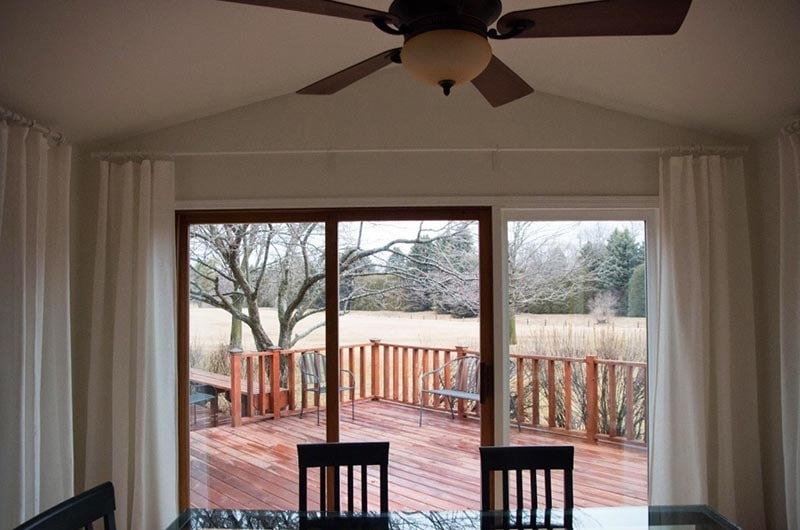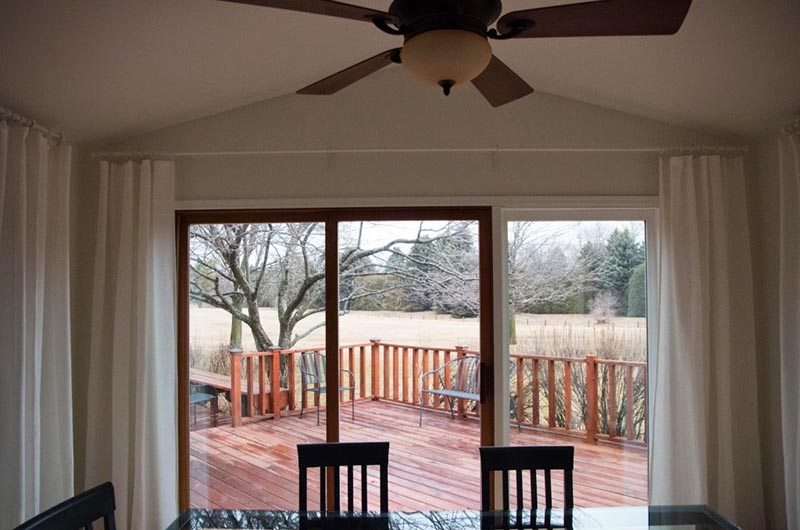 We also switched out the table with one that had been in our dining room since we moved. The poor old wood table was looking worse for wear after our toddler had been eating on it for 18 months and we wanted a bigger one anyway. So the wooden table has been temporarily relocated to the dining to wait for refinishing and a new home placement 🙂 We also ended up relocating the DIY chairs that I showed you here, with the chairs with ones that had been in our old apartment (see them in our old dining room here.)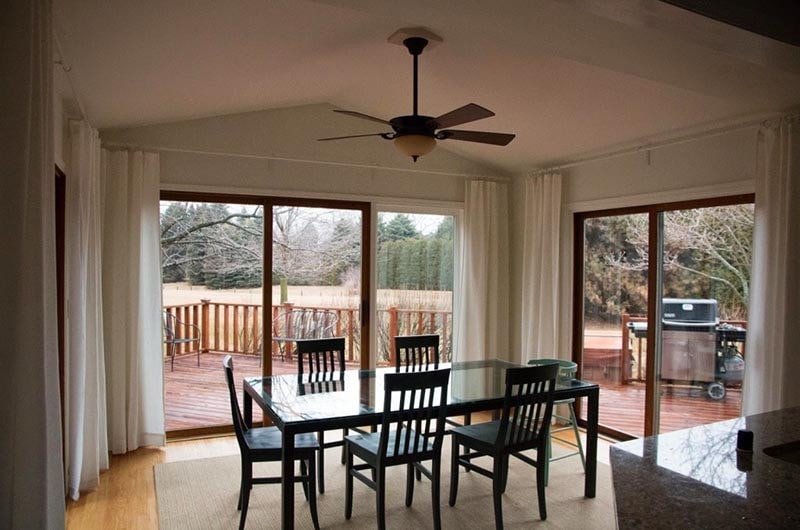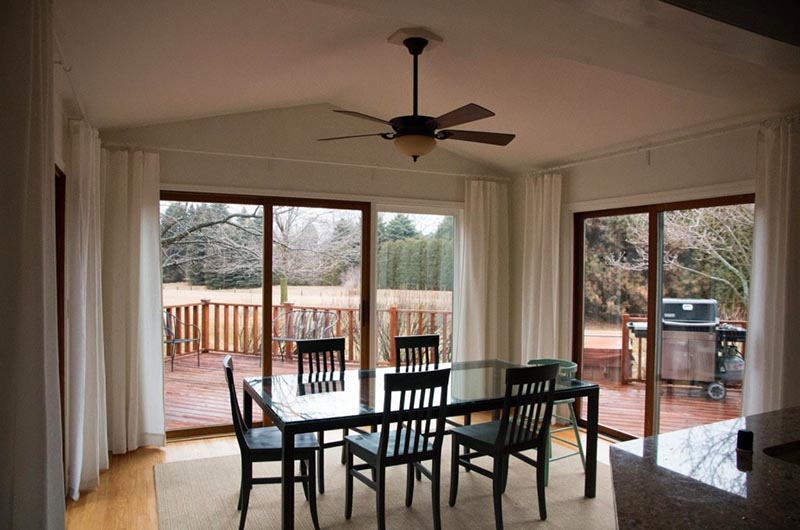 Overall, I think it makes a huge difference in the room. The light reflects off of the glass table (which we have found to be pretty indestructible for a toddler!) I love the ability just to wipe it off with a wet sponge because currently yogurt is finger paint in our house. And the curtains visually raise the ceiling of the eating area making it seem much bigger.
This spring, we still need to paint the actual sliding doors but we couldn't at the time because it was barely 30 degrees and I wasn't going to be leaving doors open in that weather for days. And we plan on replacing the ceiling fan with something that sheds more light, maybe a DIY chandelier? E really wants to build one so we just need to come up with an idea that would work for our space (shed lots of light and be cheap!)
Have you painted recently? We are painting the nursery this weekend and plan on that being the last room before Baby T2 arrives. And next week I will share our DIY upholstered rocker that my mother-in-law and I just finished last week. It was very budget friendly too! Here is a sneakity peek! Have a wonderful weekend!!