Hello there! Sorry for the radio silence. We have been busy painting and alternately, spending time outside. It is finally warming up here in Wisconsin, and we are trying to make up for the hibernation of the last three months. The good news is that I have some great new projects to show you. We repainted the kitchen and eating area, so you will see a before/ after on it (even though we are no where finished with what it will ultimately be.) I have to remind myself that the house will be in progress for many many years. We just have to do what we can afford and what we can, when we can do it. One day, I will share a list of all of our current plans along with the befores of all the rooms…
My grandmother gave me these dining room chairs after she repainted them. They were beat up wood and she painted all of them this pretty sea foam color (my favorite!) She was very kind to leave the upholstery undone so I could choose the fabric myself. These are the chairs we always ate on in her house growing up so I was a bit sentimental about them. I have 19 cousins on that side and I remember many a meal at her big kitchen table sitting in these chairs!
First, we took off all of the seats and numbered them according to which chair they were from. Most of them were the same but they weren't exactly alike. We also added new batting to the chairs because some of the seats really needed it.
Then we cut the batting for each seat out leaving a little extra on each side.
Next we lined up the seat with batting on the fabric. We allowed for a little overhang but not much to maximize our usage of the fabric.
My mother-in-law is showing here how she pulled the fabric tight on each side, putting one staple in each of the sides to hold the fabric taut.
Then we added staples to each side.
Next, my very important job was cutting off the extra fabric.
No baby bump here (just horrible morning sickness!) Oh I do not miss those first trimester days (but I could take the tan I had!)
And TA DA! The whole project only took a morning so it is a great inexpensive way to update some chairs!
And the line-up. I can't wait until our yard is this green again! But I have to say I am happy to say goodbye to most of the wood trim in the kitchen and eating-area! Check back in for the before and after on the kitchen!
Have you ever reupholstered a chair? I feel like this is a great project for a newbie like myself! And you can't argue with how inexpensive it was!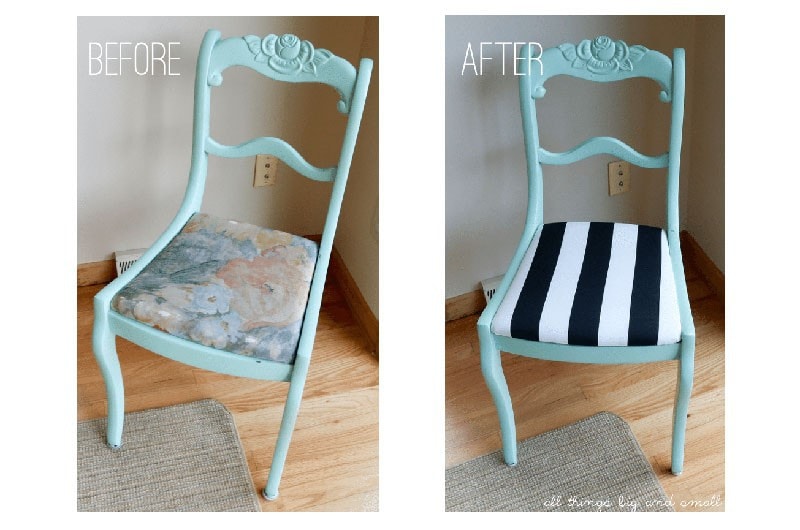 I have linked up with Not Just a Housewife and Best of the Nest at Dimples and Tangles!