As I was redoing the About Me page this past week, and building up a few new pages on our homes (aptartment and our current one) I realized I never blogged about our old apartment's kitchen! It was one of my favorite rooms in the house. So here I am doing it six months later. #bloggeroftheyearaward #punctualityismystrength


Our kitchen was itty bitty but we packed every bit of storage into it we could. We replaced the outdated (and chewed thank you Ella!) cabinets with Ikea Akurum cabinets and replaced the white laminate with a faux granite laminate. We kept the same appliances because it is a rental and added a dishwasher, which was a life changer! Remember, that the entire apartment was less than 750 sq. ft. and it had all three humans and two great danes living there! So this kitchen really worked its tail off!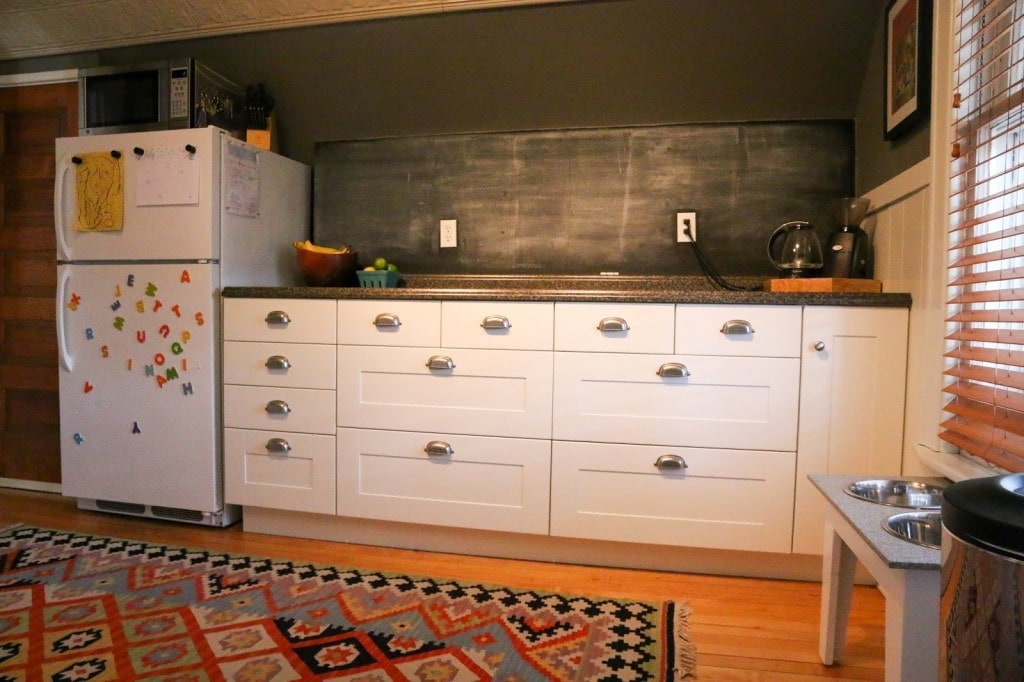 The pull-out drawers from Ikea were the best! I miss them in our current house because everything was so easily accessible! The hardware is Martha Stewart from Home Depot. I put in our Pottery Barn rug from six years ago to bring some life to the kitchen. The pattern hid so many spills it was amazing! It definitely was a good $175 spent for a 5×8 rug (which now lives in our basement.)
Nothing fancy here but that old stove made some great meals!
Our dish drying station. We added some Command strips to the bottom of the cabinet to dry off B's bibs. We also replaced the sink and faucet with ones from Overstock. I think it was the Vigo brand.
You can see the curtain to B's tiny bedroom on the left. When we moved to our new house we rejoiced that we could finally do dishes past 7:30 pm!
This faux stainless steel free-standing shelf from Container Store held all of our pots and pans. It was just the right size for the nook.
You can see that we were in the process of moving when I realized that I had to get some pics of the kitchen!
The original tin ceiling was still in place and remained untouched! I used Benjamin Moore Chelsea Gray on the walls with Benjamin Moore Paper Mache on the beadboard/ paneling. It matched the off-white of the Ikea cabinets really well.
We painted a magnetic chalkboard wall and used it constantly. We used Rustoleum's mixture but had to do at least four coats.
The little door to the right was our pantry. I am bummed I didn't take any pictures of it because it was seriously organized (much better than my current huge pantry.) E had built a spice rack which I still miss. Alphabetized spices in single rows= heaven!
The yellow door was the door to our back porch. I painted it to bring some fun color into the room. The dogs elevated dog feeder can be seen below the window looking out onto the porch. E built that one too after pricing out similar ones online and realizing that we didn't want to drop $200+ on a dog feeder.
The eaves proved a limitation for the height of the refrigerator so we had to use an "apartment sized one". Our full-size fridge in our new house always feels like such a luxury now!
E's coffee corner. If it has to stay out, at least it was contained in a Nate Berkus tray!
Close up of the elevated dog feeder and the garbage can. It's a glamorous life, what can I say?
For other rooms in our old apartment see these posts, it was so tiny but we loved it so much!
we never got around to photographing the master bedroom or the bath 🙁