PUMPING HACKS FOR BREASTFEEDING MOMS: Most breastfeeding moms will get to know their pump intimately in some way–whether they are exclusively pumping or occasionally pumping, the two will become good friends!
This is a sponsored post in partnership with Motif Medical. All thoughts and opinions are mine alone.
Even as an exclusively breastfeeding WAHM I pump every day so I can have the flexibility to leave my baby with a babysitter. Any which way you choose to breastfeed your baby–the key to a successful pumping relationship is making it as easy as possible and having the right gear. Here are the best 19 hacks for pumping moms that will make your life so much easier–all of which I have found to be incredibly helpful as a mom of four! And after trying out three different pumps, I've found the best one–Motif Medical 's Luna, which helps me extra more milk in last time!
PUMPING HACKS FOR BREASTFEEDING MOMS
Ok, let's just say it. Not many of us enjoy pumping–unlike holding your baby, it's not warm and fuzzy, or really very rewarding (aside from seeing all the milk you extracted which is amazing!) But, I like to think of my pump as an amazing tool that gives me freedom to leave the house, to go to business meetings, to take my bigger kids on a day trip to the city, to go out for date night! My Motif Luna, is the key to having this freedom as a mom.
Because I know firsthand, what happens when you exclusively breastfeed a baby who won't take a bottle–baby goes EVERYWHERE with mama for a year, which is really hard. Jack would not take a bottle, and it was difficult. So now with Caroline, I make pumping a daily activity and make sure my youngest will drink a bottle every day.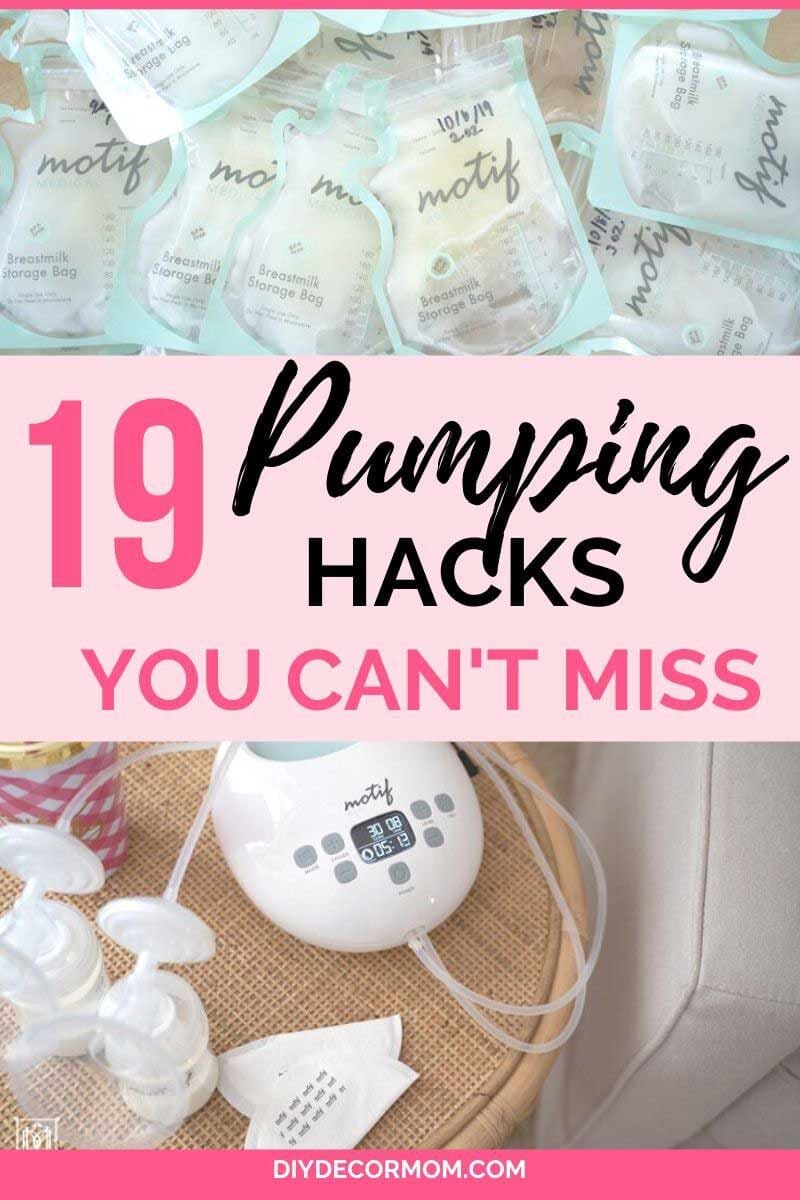 MAKE THE TIME FOR PUMPING:
Like anything, pumping gets easier and more productive the more you do it. When you first start pumping, you might be slightly disappointed by how much you pump (especially if you are exclusively breastfeeding.) That's normal–you will produce more over time! Your body has acclimated to feeding the baby just what it needs and not producing anymore.
So the first few days when you start pumping, you'll extract a little (which is nice;) but, the important part is telling your body to make more milk. Essentially, the first few days your Luna pump will be "calling" for your body to make more milk, so you can pump it, freeze it, and feed it to your baby later! And I will tell you–Luna does her job well and really fast!
Don't feel like you have time to pump?
If you feel like you don't have time for pumping…I get it. I had to pump after every single feeding session for an entire week when my fourth baby was 1-2 weeks old. Every 2 hours I had to wake her up, feed her, and then pump with my Luna to signal to my body to make more milk. It worked and my supply doubled; but, it was a brutal schedule not getting any sleep. Fortunately, it was only temporary.
After meeting with a lactation consultant we decided that I needed to pump to get my supply up, so Caroline could gain weight. I had my three older kids at home during the summer, and at least two were always crawling all over me. But together with Luna, I was able to double my supply within a couple of days.
In the end, I completely avoided having to supplement with formula, and Caroline has been gaining weight on track ever since. Now, I only have to pump once a day.
If you want to increase your supply and pump more milk faster, then first make sure you have the right gear. The Luna double electric breast pump is best (and it's free when covered by insurance–scroll down to #7 see how to get it free). Then make sure to try the rest of the 18 hacks below, which together helped me pump more milk in less time!
1: MAKE A ROUTINE OF IT
Establishing a pumping routine will help you produce more milk more quickly. Pick a time every day that works best for you, and write it in your daily planner or your phone. Mentally say "I will pump at THIS TIME, IN THIS ROOM." (And make a plan in your head for what your other kids will be doing if you have older children i.e. television program, coloring, playing…) More on that below…
2: MORNING IS BEST
Typically, you will get more milk if you pump in the morning. Your body has been producing milk all night long, and hopefully, your baby has been sleeping through some of it. Most moms report that their breasts are most engorged in the morning. Let your baby do her initial feed, and then consider pumping. Because I have to get my older kids to school (they are 0, 2, 4, and 6), I leave pumping to 9:00 when our babysitter comes. However, if the only time you can pump is at night, that's fine too! Just make sure to do it every day, so your body can respond. I keep Luna on the table in our nursery so I know it's there ready every single morning.

3: NURSE AND PUMP AT THE SAME TIME
Short on time? Nurse and pump at the same time! I know, it sounds super hard when you are just learning to hold your baby in the initial newborn period. So, this is best for an older baby who can support themself at the breast, and who can be held with just one hand. The trick is wearing a hands-free nursing bra, propping up your nursing chair with an extra pillow so you are slightly tilted forward, and using a breastfeeding pillow to support your arm holding the baby. It's a little more work to get set up initially; but, your body is already releasing milk on one side, so you'll find that your milk lets down a lot faster.
Again, having the right pump for the job will help you produce more milk faster. When I nurse and pump with the Luna, I am able to make about 3-4 oz. from one breast in pumping session (while Caroline feeds on the other).
HOW TO MAKE PUMPING EASIER
4 TIPS FOR MAKING PUMPING EASIER WHEN YOU HAVE TODDLERS
Now, most people will not have to pump 12x a day as I did with Caroline–more commonly, they will have to pump 1-2 times a day. With each situation, you face the inevitable: what do I do with my older kids when I am pumping? I won't lie…we did a lot of TV those first two weeks and we had a lot of help from family. But, I also invested in setting up a few quiet activities that the kids could do without my assistance while I pumped.

Here are some ideas that worked for us:
A busy book: depending on the age of the child, you can make it as complex or as simple as you'd like. Older kids can work on handwriting, younger kids can match shapes in a fabric book and tie laces.
Reusable stickers: my kids love playing with their reusable stickers. And once they are out of the wrappers, they are pretty hands-off. Buy a new one for each one of your children so it's something novel and only let them use it when you are nursing and/or pumping.
New books and/or library books. I request and reserve on average 10-14 books a week from our local library. Continuing to bring in new books keeps the kids engaged. Even if they can't read them independently, the kids enjoy looking at the pictures of new books. If you have a smaller child, buy an educational board book that you know by heart and have them essentially play "I spy." While you nurse, ask them to find an item/ animal/ person. This will keep them busy for a while.
Coloring books: depending on the age of your child (and their ability to follow directions) this may work, or it may not. My older kids will stay interested in a coloring activity for a good 30 minutes; but, my younger daughter (age 2) has a shorter attention span and requires supervision with crayons, markers, and pretty much anything that could write. In this case, a magnetic drawing board might work instead.
5: PUMPING AFTER FEEDING TO INCREASE SUPPLY
I explained above how Caroline, my fourth child, had trouble regaining her weight after birth. So we went to the lactation consultant per my pediatrician's recommendation. After weighing her before a feeding, and after a feeding at one week, we discovered she was getting only averaging about 1.2 oz a feeding when she should have been getting 2 oz.
So the lactation consultant recommended I pump after each feeding for about 10 minutes. A week later, after increasing my milk supply through supplemental pumping, she was getting 2.5 oz. a session–double the amount! And she was gaining weight. Without my Luna, I wouldn't have been able to increase my supply because Caroline simply wasn't "calling" for enough milk.
When you pump after a feeding, you aren't necessarily hoping to extract more milk (in our case, I would feed her the milk from the bottle which was easier for her to take in;) more importantly, you are telling your body to make more milk.
Over time, your body will respond and you will start extracting more and more milk which you can feed to your baby at a later time. In our case, my body started making more milk, and Caroline stayed awake longer and ate more. The pumping after each feeding was merely to stimulate extra milk production (something she was too tired to do as a sleepy 1 week old!) Because I was able to customize the settings with The Luna and find the perfect combination to stimulate a fast let down with the Massage Mode, then the Expression Mode, and I was able to adjust the speed and suction to get the right combo for my body and double my supply.

6: GET YOUR HUSBAND TO HELP
How can my husband help me pump???
Well, if he's got two hands…NO! I am completely joking!!! If he's got two hands, he can wash and sterilize all your pump parts! Plus, he can feed the baby the bottle that you just pumped.
Newborns are hard for dads–there's not a lot they can do. Give him concrete things he can do like washing, sterilizing, and giving bottles to the baby. He can help set-up diaper stations around the house and make sure that every room has a burp cloth, a diaper stash, and diaper wipes. He can bring you a glass of water and a protein bar! Believe me, men need a little instruction with how to be helpful. If you give them ways they can help with a new baby, they will gladly do them (most of the time 😉
Ways husbands can help with breastfeeding and pumping:

Wash pump parts and sterilize them
Administer bottles
Bring you a glass of water and snacks when you are nursing or pumping
Help with diapering and changing the baby
Burp the baby
Help you set-up a breastfeeding and/ or pumping station and keep it stocked with necessities
Watch your older children
Be supportive of all your efforts!
GEAR THAT MAKES PUMPING EASIER
So far, I've shared all the routines that make pumping easier; but, we haven't gotten to the actual stuff that makes pumping easier and more effective. Don't underestimate how important having the right gear is!
With my first, I tried to use an off-the-shelf pump and I had horrible results. I hardly pumped anything and it took forever! So I got my midwife to write me a prescription for a new pump (you should be eligible for a brand new pump free through insurance for each pregnancy), and I was able to get a real pump and it made ALL THE DIFFERENCE! I was doing the exact same things but I was pumping 2x the amount!
Over the last six years, technology has only gotten better. So if you have an old pump, dump it and get a new one. Although I liked my old pump, after trying the Luna from Motif, I have been blown away! I now produce way more milk in less time.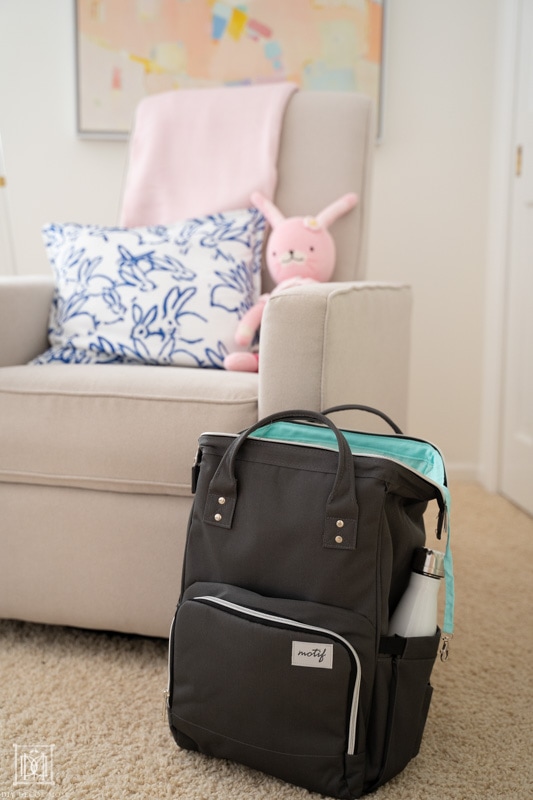 7: GETTING A NEW BREAST PUMP
My lactation consultant recommended I invest in a new pump with Caroline. Through my insurance, I was able to request a brand new pump free of charge for each new pregnancy, and it was time for an upgrade! When I heard about the Motif Medical Luna I was intrigued–I needed a new pump and loved the idea of shorter pumping times because of its increased effectiveness! It's hands-free and mobile (which means if the kids need my help and I am pumping, I don't need to unplug).
Here are the features that I think are most valuable in my breastpum, the Motif Medical Luna:
It is quiet–the 45 dB hum is so much quieter than my old pump. This pump is quiet enough to not wake up the baby!
Its night time mode with built-in LED night light with three different settings–perfect for pumping during the night. Do you know how annoying it is to have to take out your cellphone to use as a nightlight when you are pumping (or worse, turn on the lights!) The Motif Medical Luna thinks of all the pain points new moms have pumping, and solves them!
Easy-to-read screen: it's backlit LCD screen is easy to read (even when you are sleep-deprived and groggy!)
Best of all it extracts more milk in less time! With my old pump, I would have to sit down for a solid 10-15 minutes to get the same amount I get in 5-7 with my Luna. I can comfortably use the highest setting (which was painful with my old pump) which led to a faster let-down.
There are two different modes to help your body let down and express more:

The massage mode (the hand) mimics the fast nursing a baby naturally makes to stimulate let down.
The expression mode (the little icon with the clock) helps your body express milk as efficiently as possible.

It's easy to use and customize, so you can quickly find what works best for your body
Mobility: it's lightweight and under 2 pounds, so it's easy to pop in a purse!
Milk collection containers are easy to read, easy to use, and you can feed directly out of them!

Also, the handy automatic shut off is a lifesaver when you accidentally fall asleep pumping (obviously has never happened to me!) LOL!

HOW TO GET A MOTIF LUNA BREAST PUMP COVERED BY INSURANCE:

Use Motif's Health Insurance Lookup Tool, just select your state and your insurance company.

You will be matched up with a medical supplier that carries the Motif Luna Breast Pump and works with your insurance company.

Select their link and fill out their form–the medical supplier reps will get in touch with any additional information they need.
8: HANDS-FREE NURSING BRA
Buy a hands-free nursing bra. Most pumps are compatible with the hands-free nursing bras you will find online. Having two hands-free is essential when you are a mom of multiple kids (or just one and you need to give your baby a pacifier while you pump!)
9: TWO SETS OF PUMP PARTS
Why do I need two sets of pump parts? Well, while you don't NEED two sets of pump parts, it's really really helpful when you are pumping all the time! The CDC recommends washing your pump parts after each use immediately to reduce the risk of germs. Because I don't have the time to sterilize them in the middle of the day (or after each feeding), I like having two sets of parts. That way, even on days I pump two times, I only have to sterilize once!
10: INVEST IN A COUNTERTOP STERILIZER
If you are exclusively pumping or pumping a lot, you are going to find having a countertop sterilizer incredibly helpful. While boiling your pump parts is fine, it's a bit cumbersome. So make it easier on yourself and buy a countertop sterilizer!
11: PUMPING BAG/ STATION
Set-up a mini pumping station. Like a breastfeeding station, this pumping station will have all your necessary supplies and make it easy to pump anywhere. I like keeping my pumping supplies in the pumping backpack–I've had a few and I really like the Motif Medical Breast Pump Backpack. That way I don't have to repack it when I go somewhere. It's easy to keep all my pump parts, pump motor, and even a burp cloth in there. Its bottom half is insulated, which is perfect for storing breastmilk. And the top compartment is wipeable (a necessity) and it holds all my breast pump and supplies. It even has a wet wipe side pocket for easy access to wet wipes!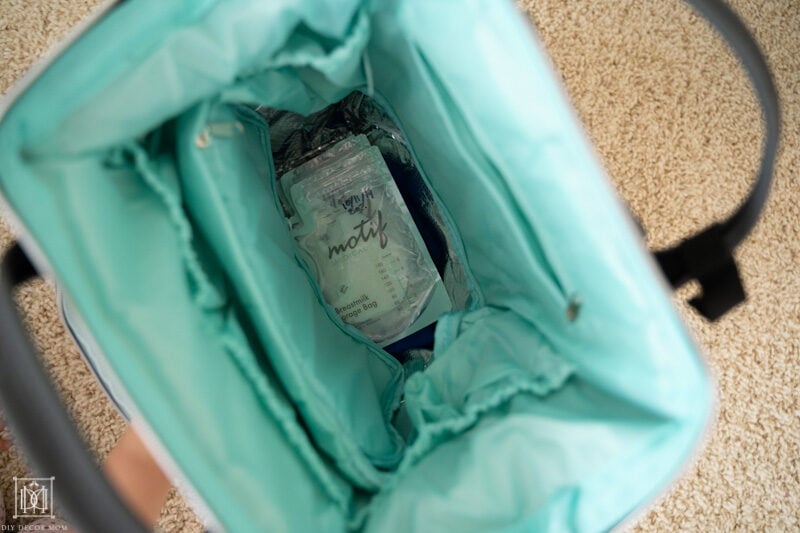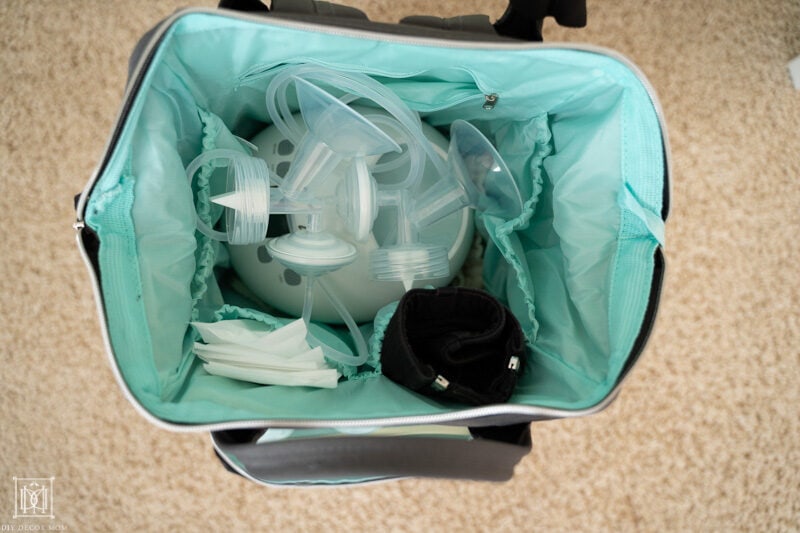 Here's a helpful list of all the things you should have in your pumping bag or at your pumping station:
Hand sanitizer
Burp cloth (I need to wipe off my breasts often after pumping)
Nursing pads
Pump
Pump parts
Resealable bag for pump parts after usage, and one that is sterile for storing them after sterilization.
Water bottle
If you prefer a tote bag more than a backpack, consider the Motif Medical Maylilly Tote Bag (it's super cute with its leather accents!)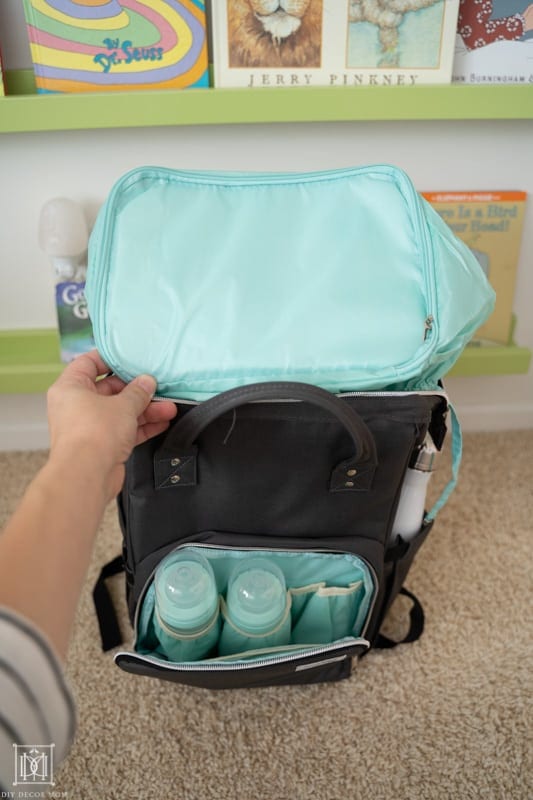 TECHNICAL THINGS YOU CAN DO TO EXPRESS MORE MILK PUMPING
12: MASSAGE YOUR BREASTS
With my first three babies, I had constantly clogged ducts. After seeing a lactation consultant, she recommended I take lecithin (ask your doctor if this is right for you). She also recommended that I manually massage my breasts to make sure that the baby was effectively emptying them. The same applies for pumping. If you feel milk gathering in a few places and not getting out, massage that part of your breast to loosen it up (particularly if you are prone to clogged ducts.) It's been shown that massaging your breasts while pumping (same as when nursing a newborn) can help increase milk flow.
13: SIT IN A COMFY CHAIR AND RELAX
When I initially went into the lactation consultant and demonstrated how I was nursing Caroline, the first thing she said, was "Anne, you need to relax! Your whole body is stressed!" She showed me how to make a comfortable nursing position. Sit in a supportive chair, use a breastfeeding pillow to support your arms (and the baby), hold her close, and have support for your feet whether it's a nursing stool or an ottoman. By doing all these things, you'll set yourself up for the most success.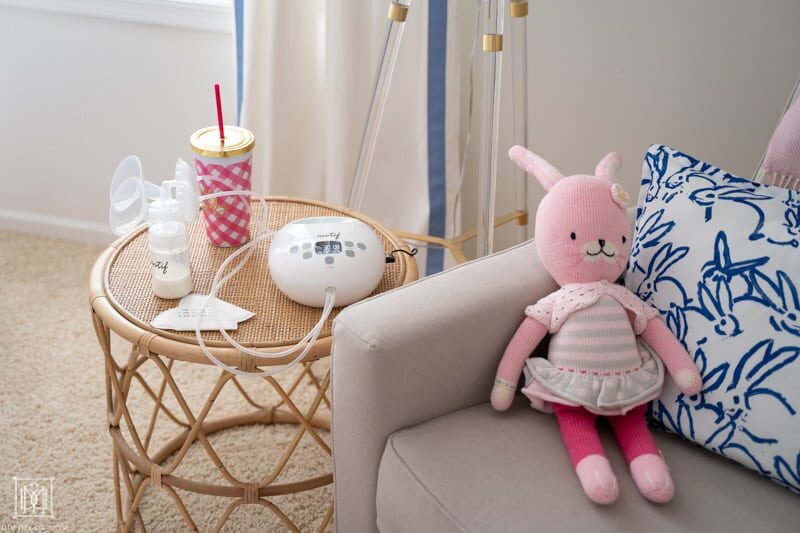 14: LOOK AT PICTURES OF YOUR BABY ON YOUR PHONE (or in real life)
If your're having trouble relaxing and letting down, some women have reported that looking at pictures of their baby helps them let down. Likewise, if you are pumping in front of your baby, glance over to them. It will help you mentally relax, and physically let down. Some women also say that watching videos of their babies helps them produce more milk when pumping because they can hear their baby babble. Plus, who doesn't love looking at their baby!
15: TRY DIFFERENT SPEEDS AND LEVELS OF SUCTION
With the Motif Medical Luna, you can customize the speeds and levels of suction that work best for your body. Everyone's body is unique, so what works for one person might not work for you. Test out different combinations and see what feels best. This is where having the right pump (and a customizable pump) like Luna is key!

16: POWER PUMP (AKA CLUSTER PUMPING)
What is power pumping? It's essentially tricking your body into thinking your baby is cluster feeding. Concisely put, power pumping is doing the following:
Power Pumping Schedule: (total of 60 minutes)
Pump 20 minutes
Rest 10 minutes
Pump 10 minutes
Rest 10 minutes
Pump 10 minutes
I won't go into it too much, but power pumping is a quick way to get your body to produce a lot of milk quickly. To effectively power pump, you need a double electric pump such as the Motif Medical Luna.
17: DRINK A GLASS OF WATER OR SMOOTHIE WHEN YOU SIT DOWN
Do you ever feel suddenly thirsty when you are nursing or pumping? Take it as a cue for what your body needs! Drink plenty of water when you are nursing, and you will find that you produce an ample amount of milk.
When I was struggling to produce enough milk, my lactation consultant recommended I have a protein smoothie to increase the amount of protein I was ingesting. By establishing a habit to pump and drink my green smoothie everyday at the same time, I knock out two birds with one stone!
TIPS FOR STORING YOUR BREASTMILK STASH:
FROZEN BREASTMILK GUIDELINES:

18:
FREEZE BREASTMILK FLAT &
STORE BREASTMILK IN A LARGER CONTAINER (empty cereal boxes, organizational containers)
Store your breastmilk in a long, flat container so it freezes uniformly. That way it will be easier and quicker to thaw. When I initially started pumping I'd freeze my breastmilk standing up in the freezer because I was nervous of it spilling. What ended happening is that it is harder to store compactly and it thaws unevenly and slowly. With Motif's leak-proof breastmilk storage bags, I don't have to worry about my breastmilk spilling in the freezer.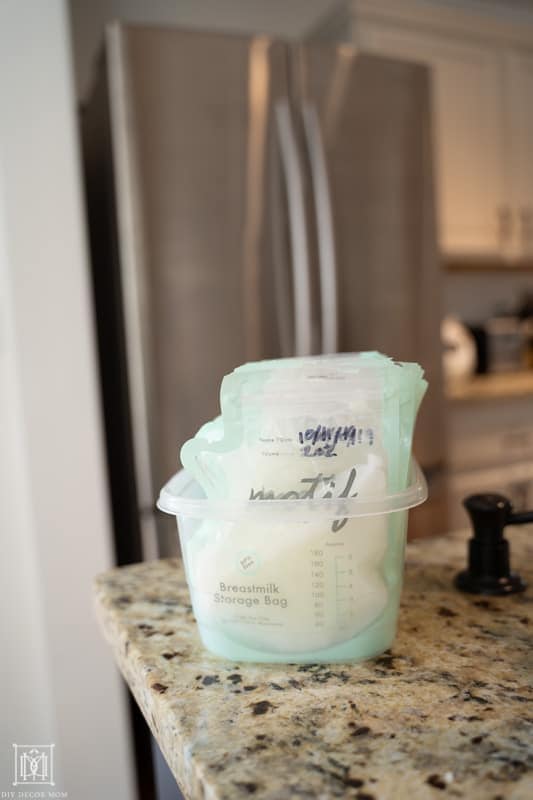 By corralling my frozen breastmilk bags in a larger container, they aren't floating around my freezer. Plus, I can keep them chronological (or reverse chronological), ensuring that the baby eats the oldest first.
19: STORE IN A DEEP FREEZE OR NOT IN THE DOOR of your freezer
This is another safety tip, the CDC recommends storing your breastmilk in a deep freezer and not your normal freezer. The reason they say this is to minimize the risk of it thawing and re-freezing (and harboring bacteria). If you don't have a deep freezer, don't fret. Just store your breastmilk deep in the freezer and not in the door. This will be the safest place for your breastmilk and minimize the chances of it thawing.

FREQUENTLY ASKED QUESTIONS ON PUMPING:
Why you should get a new pump…
To have the most efficient pumping sessions, you should get a new pump. Fortunately, with the ACA (Affordable Care Act) insurance companies are required to cover a breast pump for breastfeeding moms. You can find out how to get a free breast pump here with the Motif Medical supplier button.
What to look for in a pump…
The Motif Medical Luna is my favorite pump for several reasons: it has all the features you need in a pump double electric collection, a closed system, and portability. Plus, it has all the "nice to haves" you look for in a pump: night mode with a night light, auto shut-off, easy-to-read LCD screen, and lightweight portability.