Small Living Room Furniture Arrangement: Stumped as to how to efficiently arrange furniture in your small living room? These furniture arranging tricks from pro's will help you make your living room furniture layout and floor plans work better and look better!
*This post has been produced in partnership with Modsy. All thoughts and opinions are mine alone.
SMALL LIVING ROOM FURNITURE ARRANGEMENT
We consider ourselves very fortunate to have a formal living room and a family room in our house. Even though we don't use our formal living room as much as would like, it's nice to have a more intimate sitting area when we have friends over. The kids usually will play in the family room, and since the living room is adjoining it gives us just enough separation (and supervision!)
Plus, because the formal living room is pretty much off limits for the kids, it is one area in our house that is always tidy! The only problem is the room has been trying to figure out furniture arrangement. Because we have a major traffic pattern through the middle of the room, and a baby grand piano on one side, the sitting area is quite small.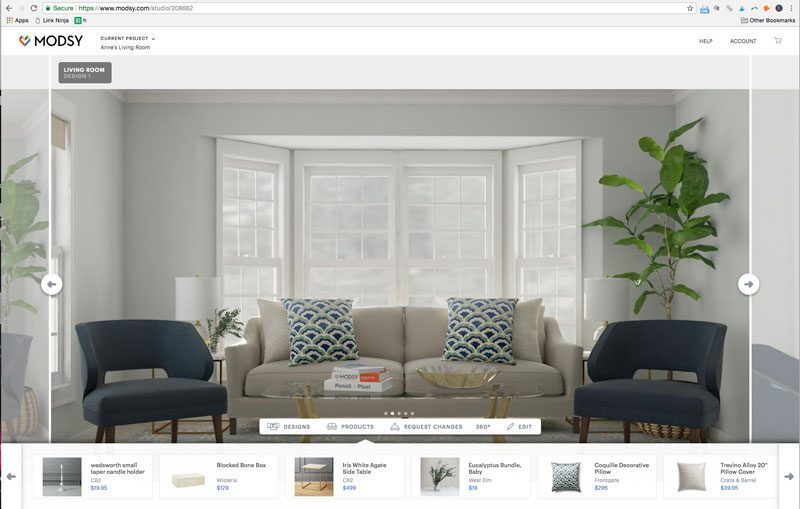 TRIALS IN ARRANGING FURNITURE IN A SMALL LIVING ROOM
Over the years, I have tried several different furniture arrangements with varying degrees of success. I knew when I learned about Modsy's 3-D visualization and designer help that they could help me with the furniture layout. And after using them, I have to say I am really impressed! To be able to see the room in 3-D with furniture in it was a gamechanger for me. And lucky for you they generously offered 20% off for my followers using the code DIYDECOR20.
But, before we get too far, I want to show you how the room started out and all the furniture layout iterations it's been through! This room has come a long way!
Phase I: See how it started out when we just moved into the house (and before we had painted). This was before getting the baby grand piano.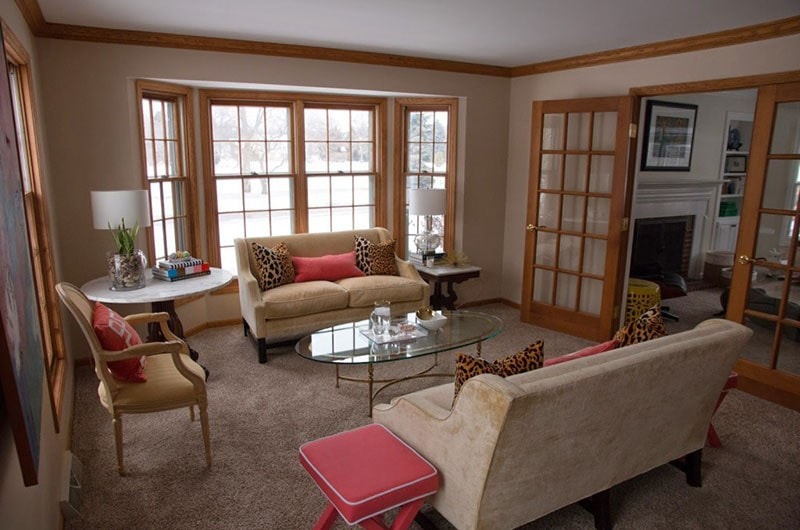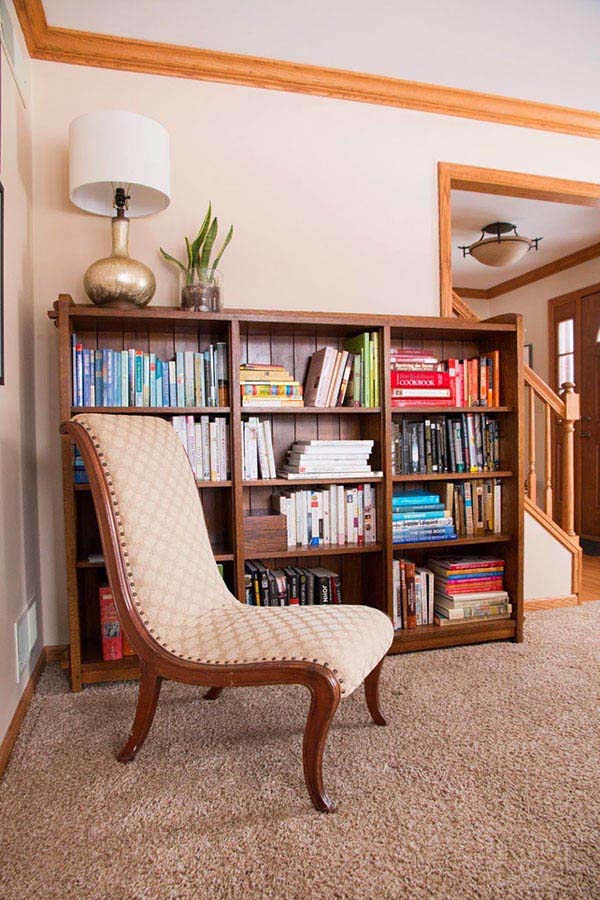 Phase II: Baby grand piano and asymmetrically-arranged couches. This was a more open floor plan but ill-suited for conversation.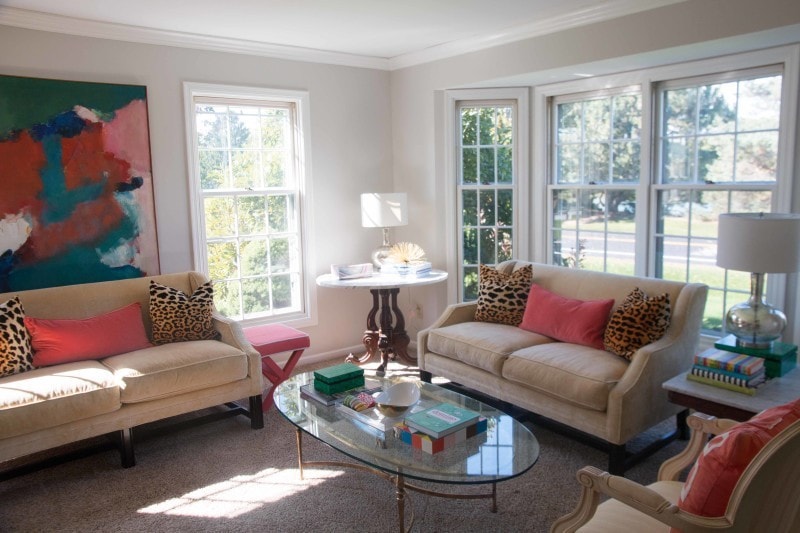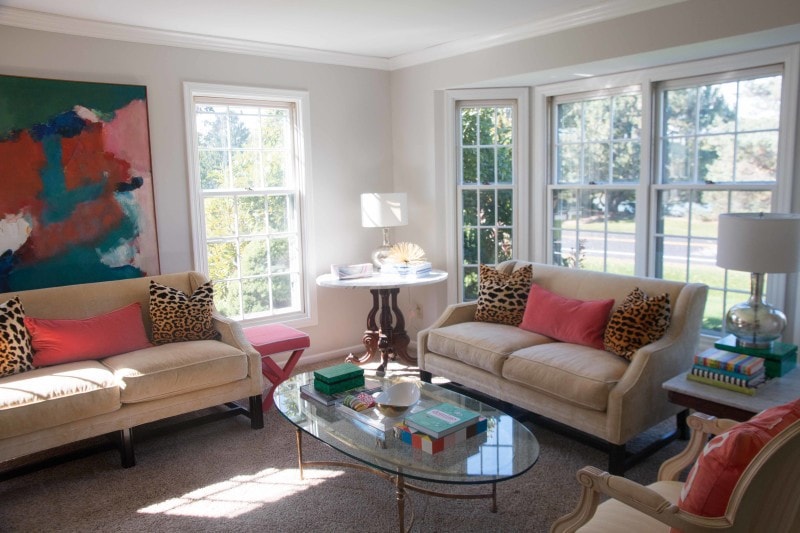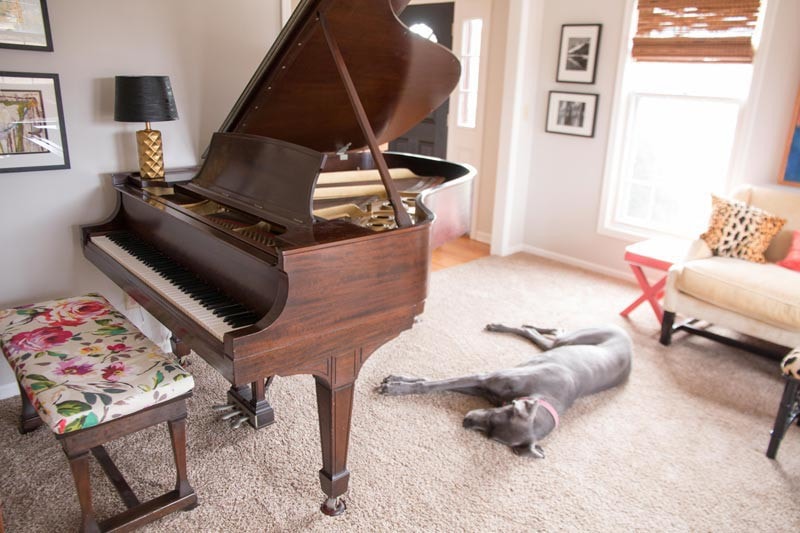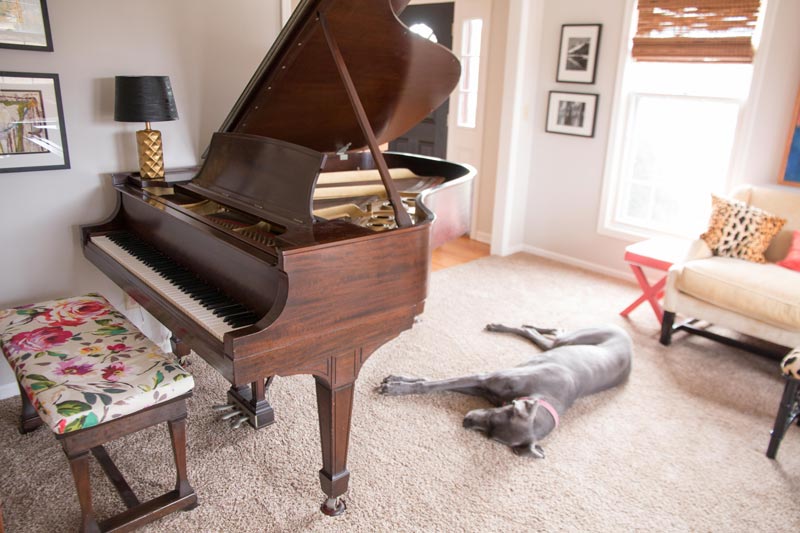 Phase III: The latest floor plan with a small sitting area to the right and a clear pathway. The only drawback is how chopped up the room feels and the sofa backing up into half of the french doors.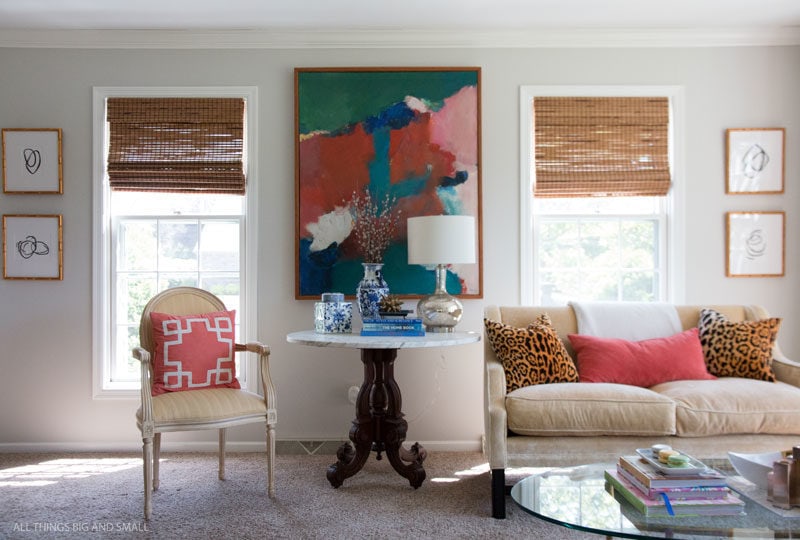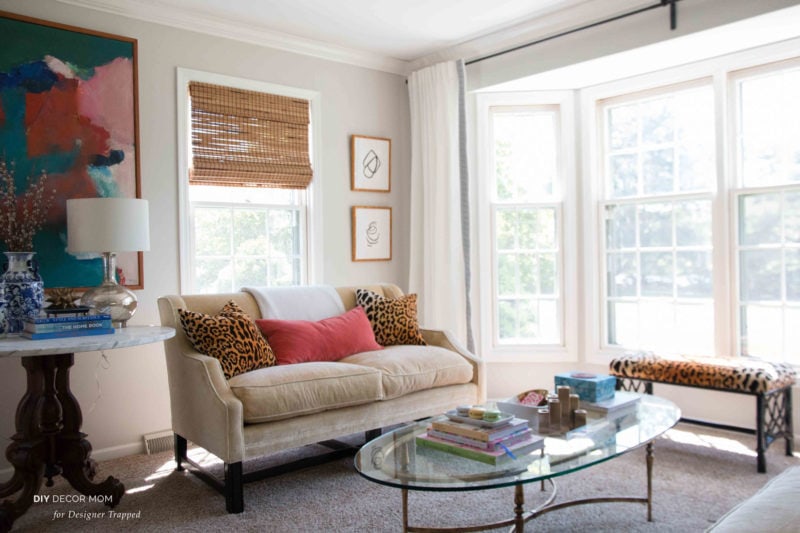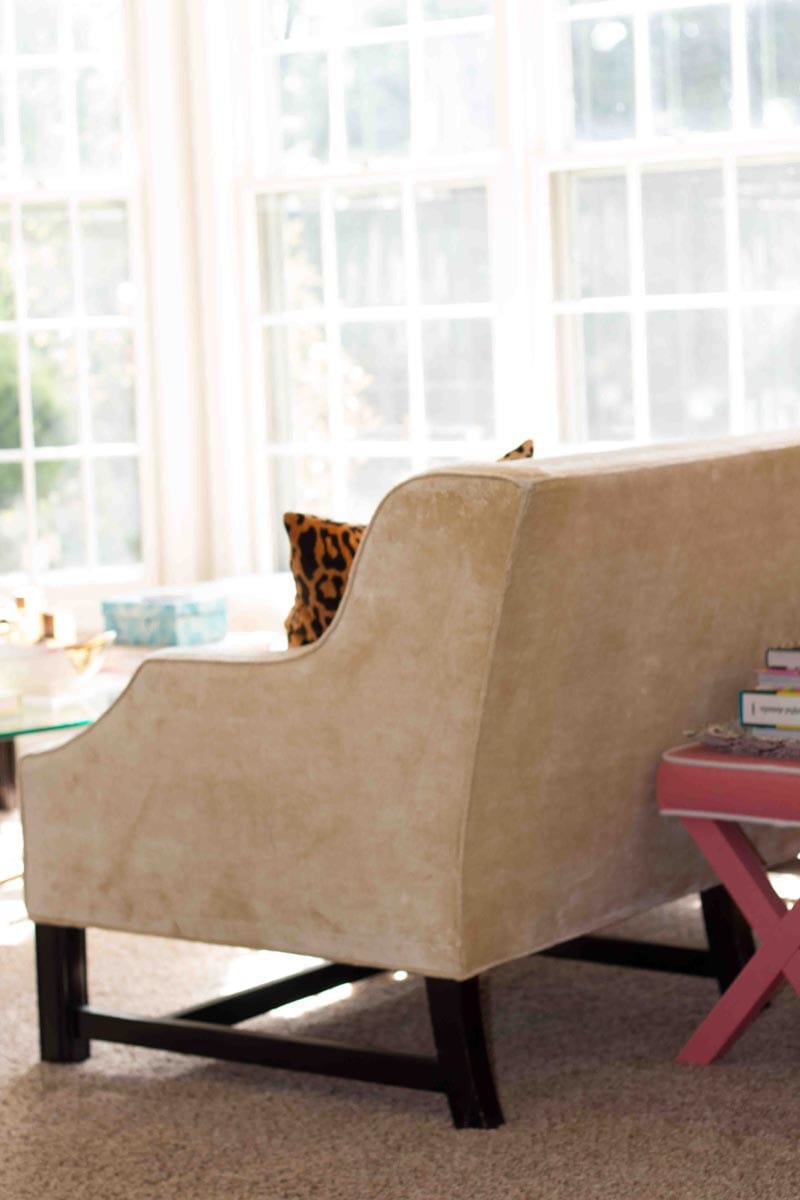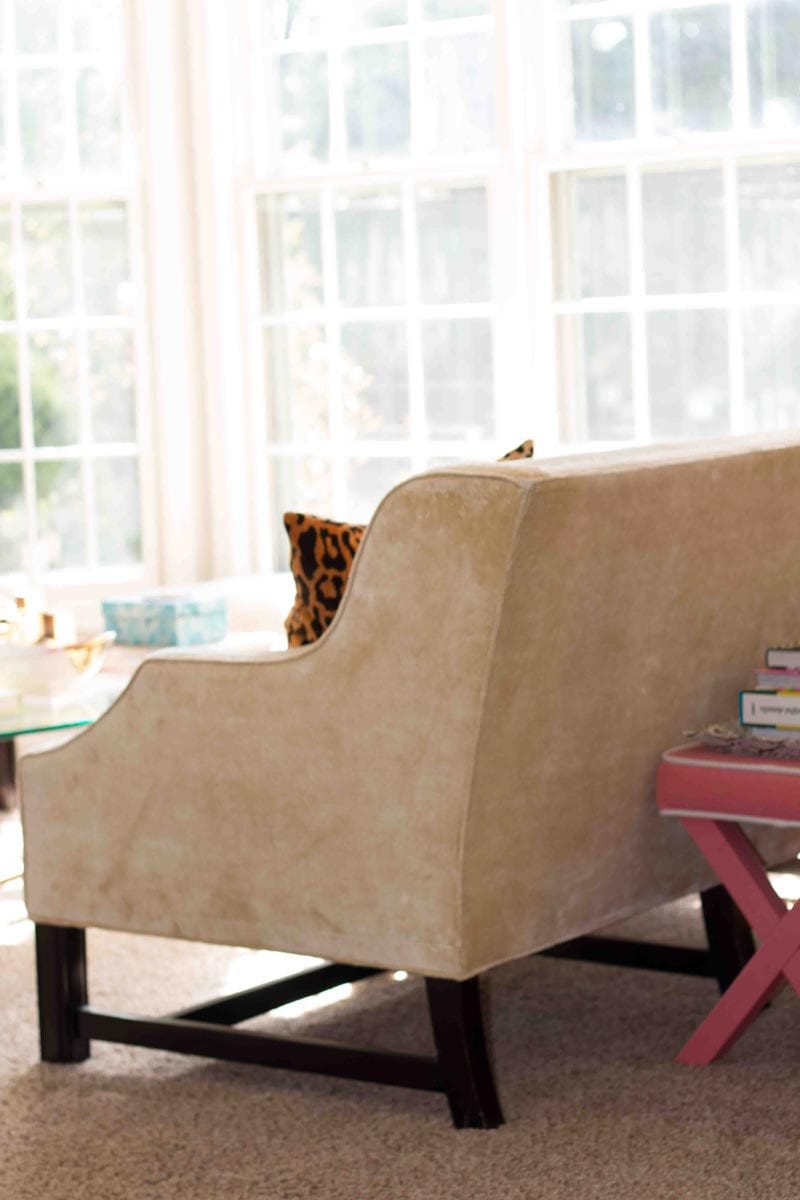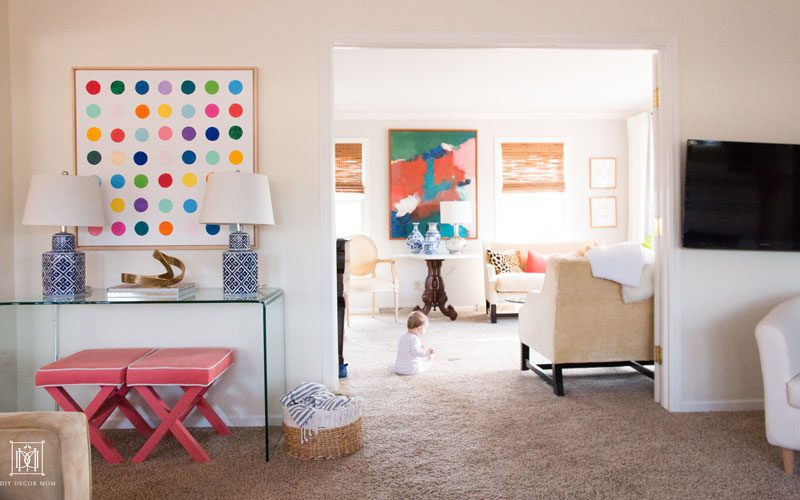 You can see that it's gotten quite better over time but still feels off. The current furniture arrangement has the sofa half in front of the doorway to the family room, and the couches aren't very comfy.
So after thinking about this for some time (and probably annoying all my family and friends with my asking "what should I do in this room?"), I asked Modsy's team to help me decide on a furniture arrangement. We agreed that a longer lower sofa should go in front of the bay windows and that two smaller chairs should angle out on either side of it.
This will create an intimate sitting arrangement while still keeping the room open and airy feeling. What they came back with was fantastic! Here's how the process went:
ARRANGING FURNITURE IN A SMALL LIVING ROOM DESIGN PROCESS
After taking a style quiz and answering several questions on my home decorating style, what I wanted in the space, and my budget, I submitted my photos of the space along with a floor plan, and a Modsy designer got to work! A week later, a Modsy designer provided me with two complete designs showing different furniture selections that would look good in the new furniture arrangement. These were completely personalized home design plans using my unique taste and style preferences.
By using real furniture (that I can then go purchase) and 3D visualization technology, I was able to see furniture in my living room without going through the trouble and expense of buying it, waiting for it, unpacking it, and inevitably returning it. And the best part was that I could shop for my home with hundreds of partners. The designer sourced pieces for the room from my preferred stores which I told her (Crate & Barrel, Pottery Barn, and Serena & Lily).
If you're looking to buy furniture or rearrange a room in your house, I can't recommend Modsy enough–it took the guesswork and stress out of buying furniture. For big investment pieces where you usually pay an arm and a leg for shipping, this is a no brainer because you can "try out" the furniture before you commit!
Here are the two design schemes they came up with:
Design 1: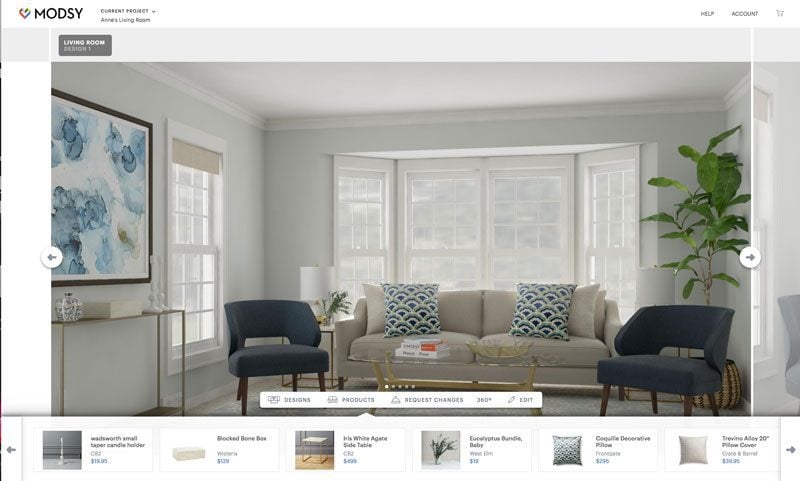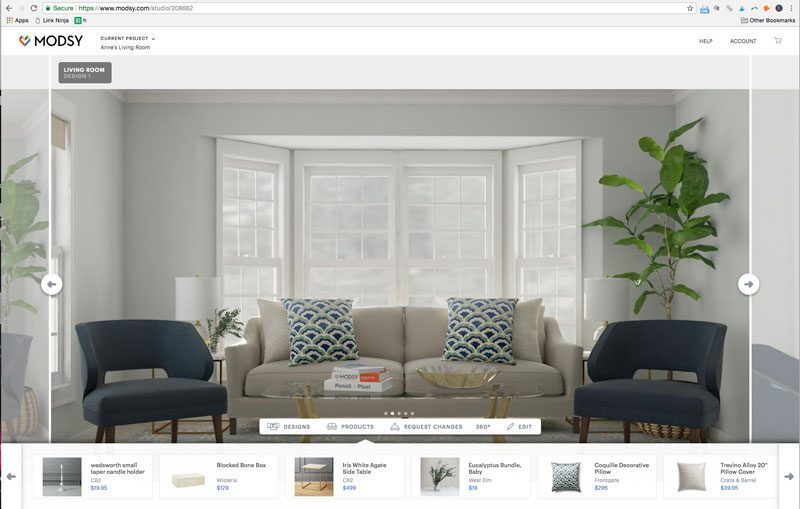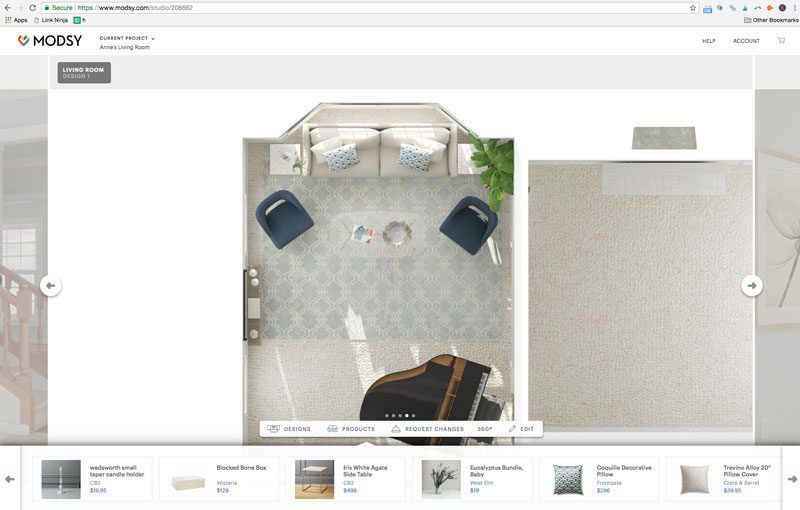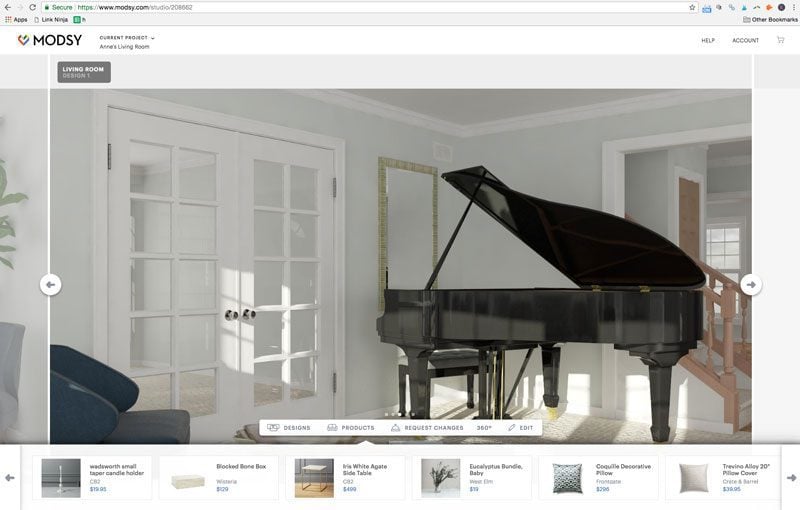 Design 2: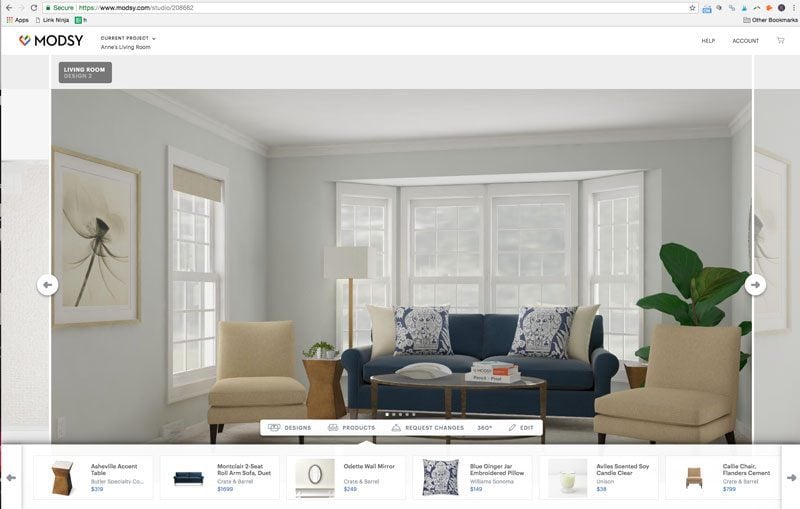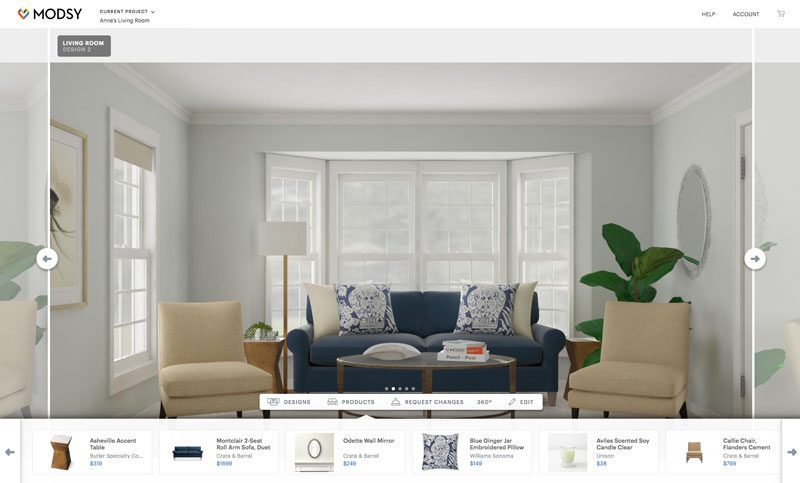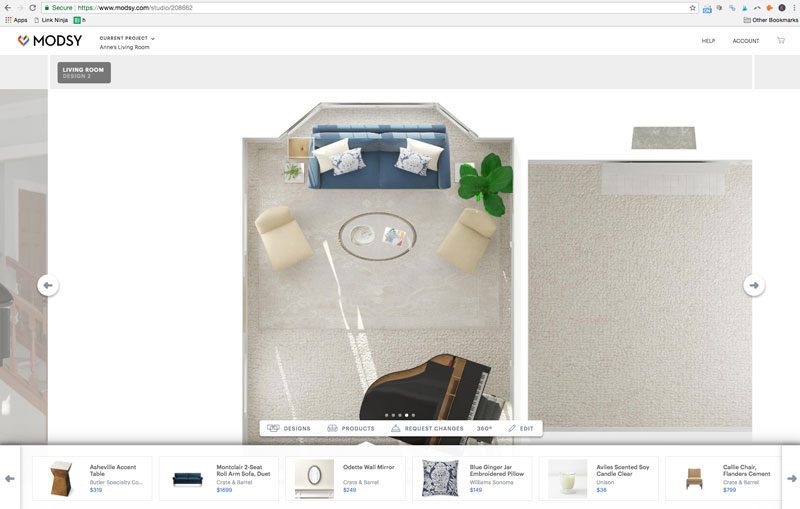 TIPS FOR ARRANGING FURNITURE FOR SMALL LIVING ROOMS
After seeing what the designers came back with, I was stunned. It was suddenly so clear to me what the room needed. So here's what I learned–all the tips and tricks from the pros!
TIP #1: CREATE DEFINED AREAS
Even though we have wall to wall carpeting in our formal living room and our family room, both rooms could benefit from some large area rugs to define the sitting areas. Visually, having an area rug gives the impression of defined areas for conversation and a walking pathway. While I wish we could rip out the wall to wall carpeting, it's not going to happen for some time, but we will be purchasing an area rug!
TIP #2: IT'S ALL ABOUT SCALE
Before, we had two moderately but small sized couches. What the room really needed was one large piece of furniture to balance out the baby grand piano. It's a misconception that small rooms need small furniture. Yes, small living rooms benefit from having some smaller pieces of furniture (look how good the accent chairs look in the designs above.) However, they are well matched with a large sofa. Don't be afraid of using a larger piece of furniture even in a small living room.
TIP #3: QUESTION EVERYTHING
It wasn't until I saw the designs that I noticed the large marble pedestal table was missing, and I realized that table is not right for the room! Question why you have certain pieces of furniture. Just because you own something doesn't mean you are stuck forever with it! The large circular pedestal table, while beautiful, wasn't doing our furniture arrangement any favors whatsoever. By using a narrow console table or none at all (like in Design 2) the room opens up and doesn't have that weird "no man's land" by the windows.
TIP #4: CALL IN THE EXPERTS
Sometimes you just have to look at a space with fresh eyes. With Modsy's 3D Visualization technology, the room looks completely different. I would never have thought to remove the curtains but it looks so airy without them! By seeing the pieces of furniture in the room beforehand, I now know that I don't want a navy sofa (even though I really thought I did!) You can save 20% off by using the code DIYDECOR20.
So tell me, are you struggling with a room makeover or furniture arrangement in a small living room? A small bedroom? A kitchen breakfast area? Comment below and make sure to take a look at Modsy's design tools and services. I was completely blown away by their service and the selection of products they offered!