Blue and White Bedroom: Looking for beautiful blue and white bedroom ideas and inspiration including the best blue paint colors, blue and white bedding, and blue master bedroom? Then this post is for you!
BLUE AND WHITE BEDROOM
You might guess from my house that I like the colors blue and white, especially navy and white. Our blue and white bathroom, our blue boy nursery, and even our hale navy guest room our some of my favorite rooms in the house. (See all my favorite navy blue paint colors here.)
But by far, our blue and white master bedroom is my best makeover to date. Recently, we added some new blue and white bedding which makes the room even better! And if you want to get the look, I've collected the best blue and white sources for you!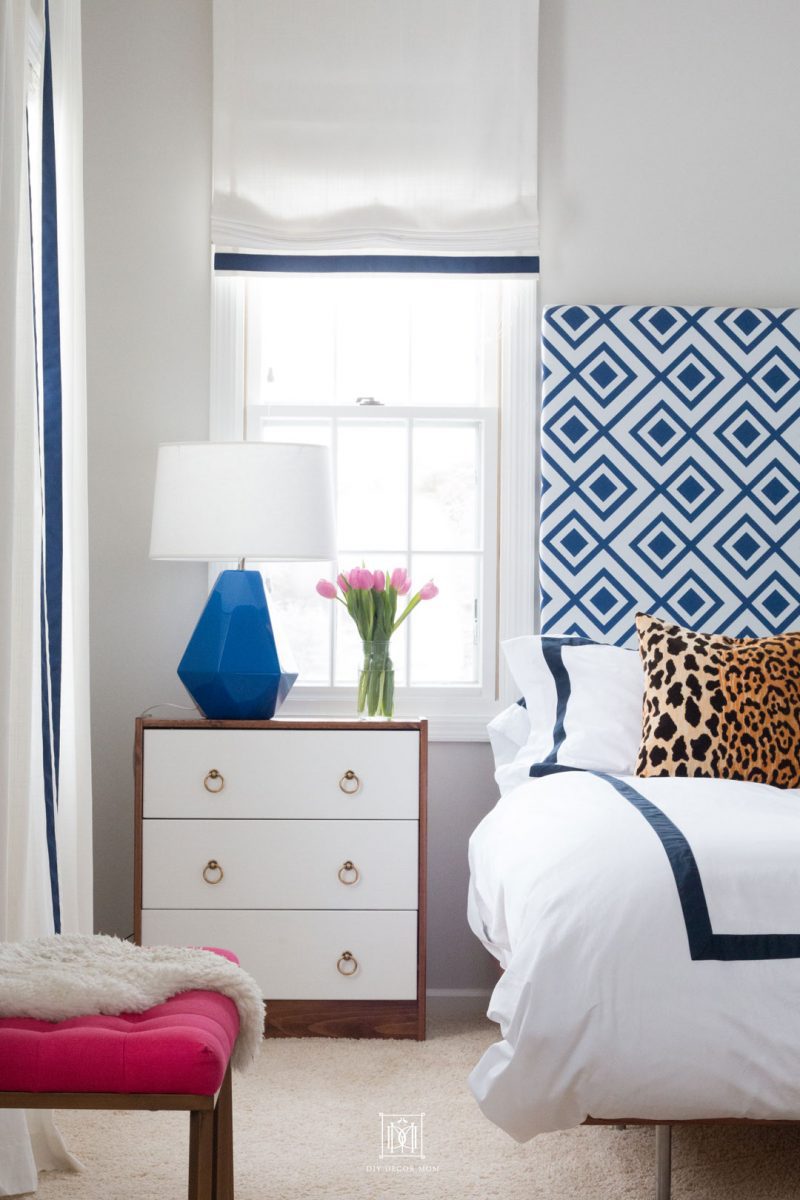 Between the blue and white curtains, the blue and white DIY Upholstered Headboard, and the blue and white bedding, it's pretty clear the room has a color scheme which allows us to bring in fun patterns like leopard for throw pillows (see how to mix fabric patterns here.)
*this post contains affiliate links at no additional cost to you see blue and white master bedroom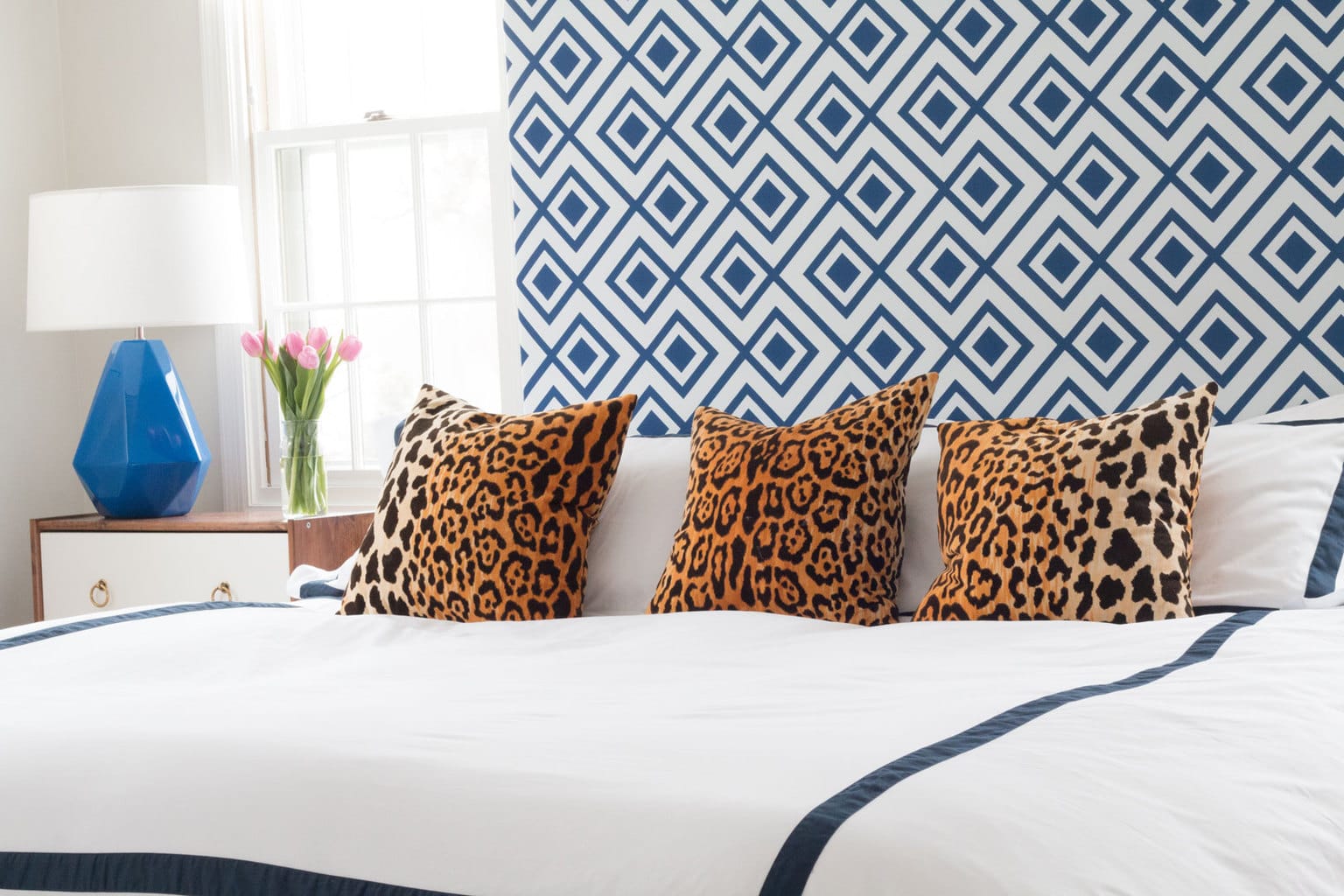 (see my DIY Leopard pillows here or buy them here)
TIPS FOR PULLING OFF A BLUE AND WHITE MASTER BEDROOM
While the walls are light gray (Benjamin Moore Classic Gray), the DIY Curtains and DIY Roman Shade grab your attention and make you think the room is all about blue and white. The color is brought in with all the textiles in the room namely the curtains, sheets, blankets, and the home decor items like blue and white lamps and blue mirror. This is a great way to have a blue and white theme without committing to blue paint which can be hard to nail down.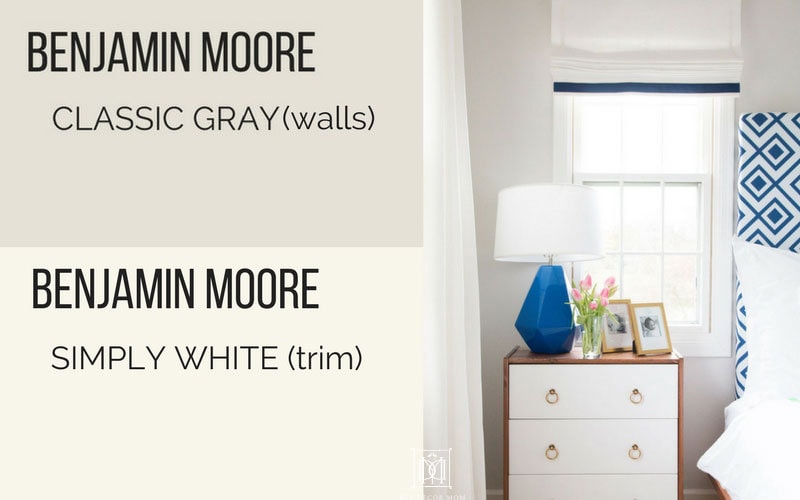 By keeping the color scheme to blue and white with pops of pink (I had green and white monogrammed bedding before), the room is more sophisticated.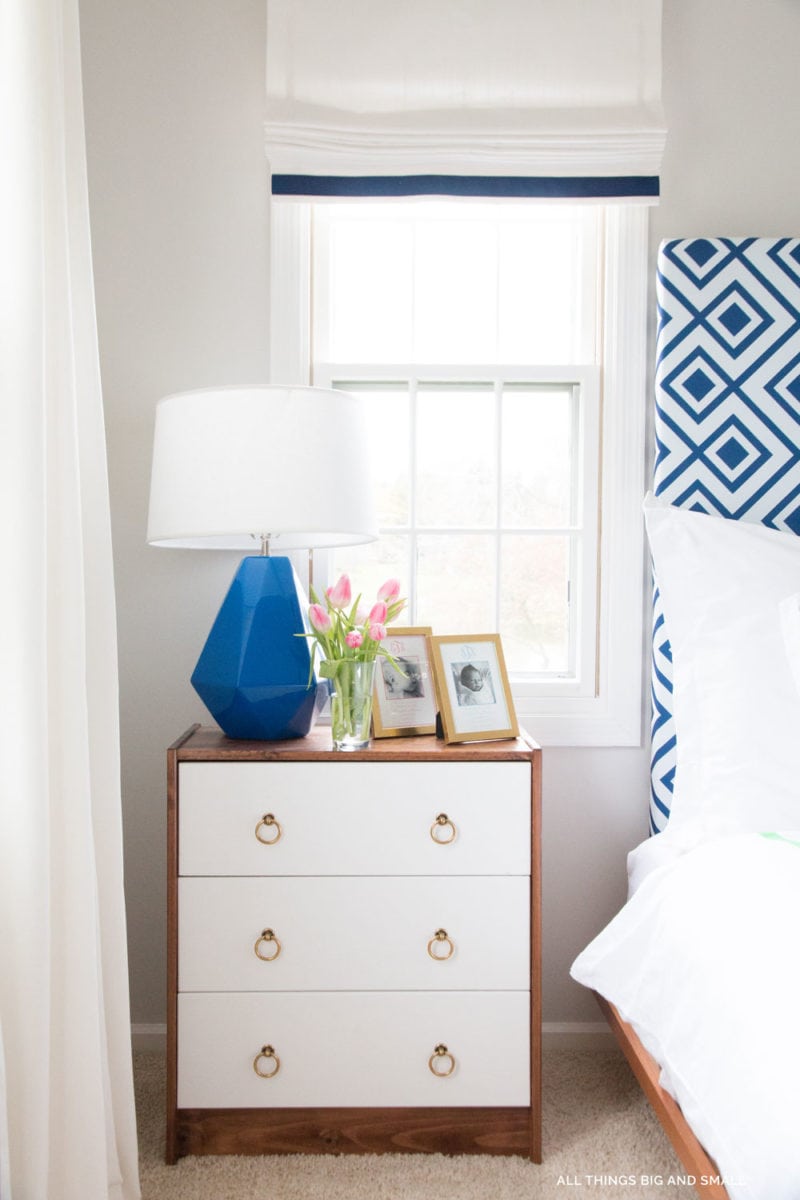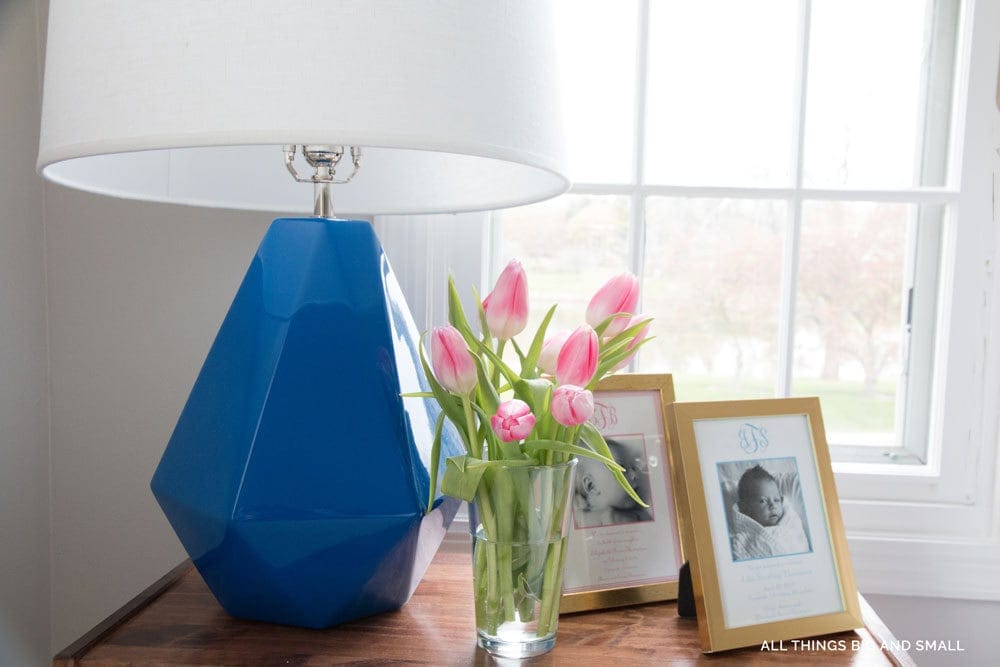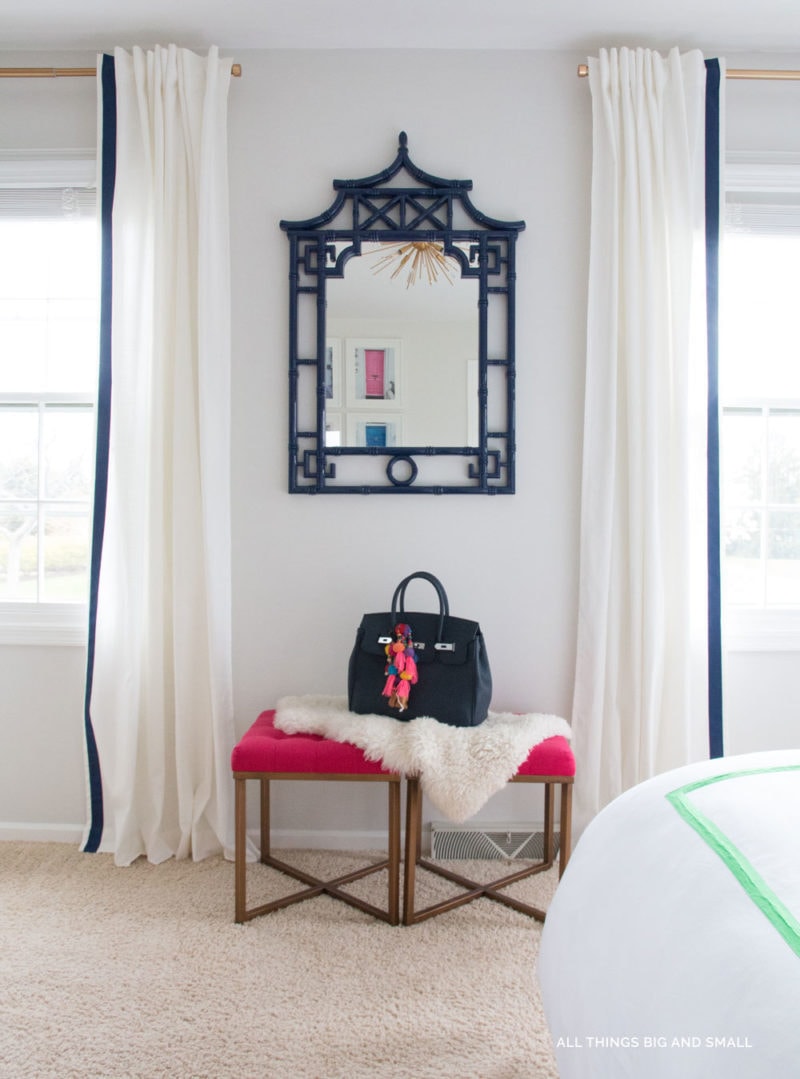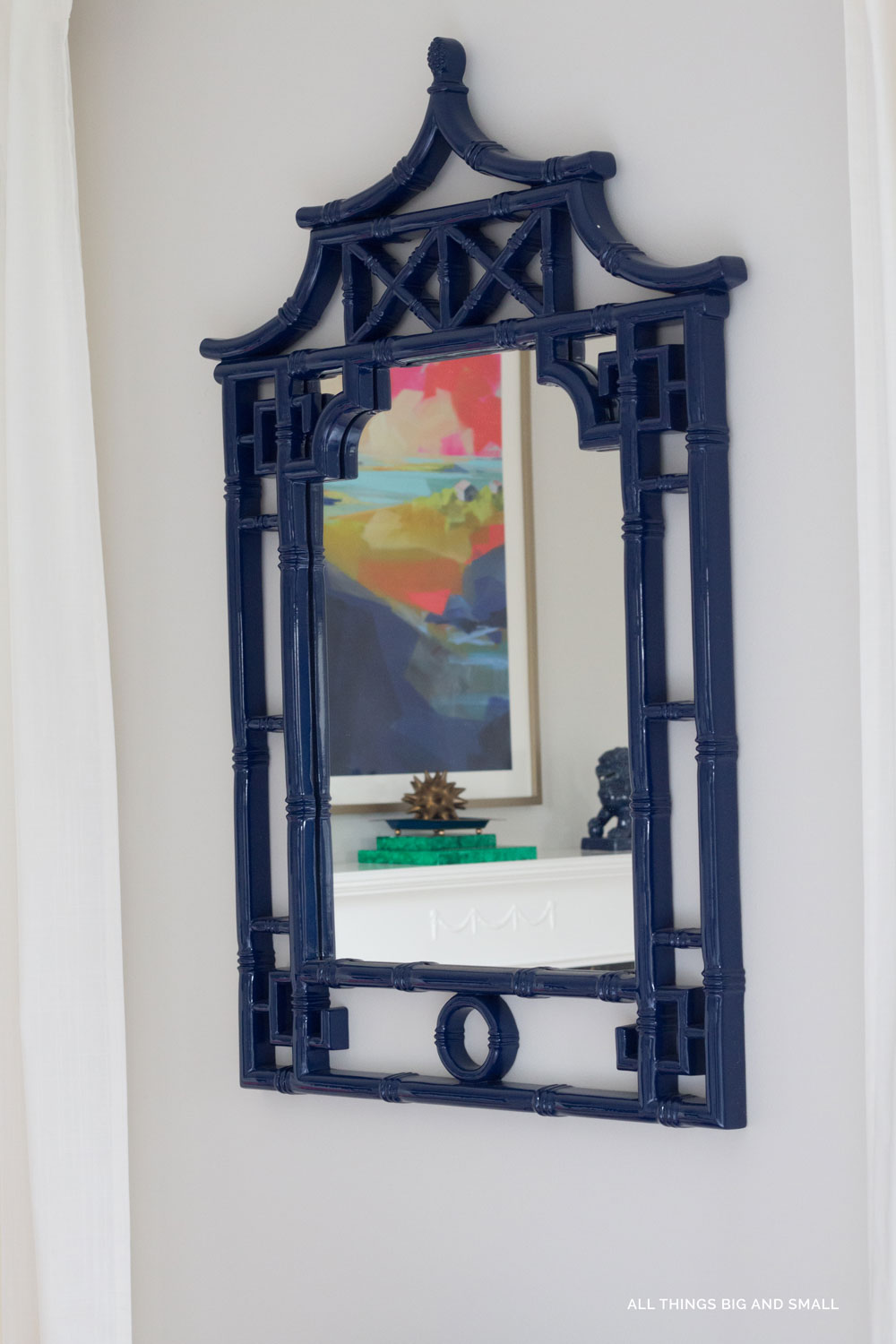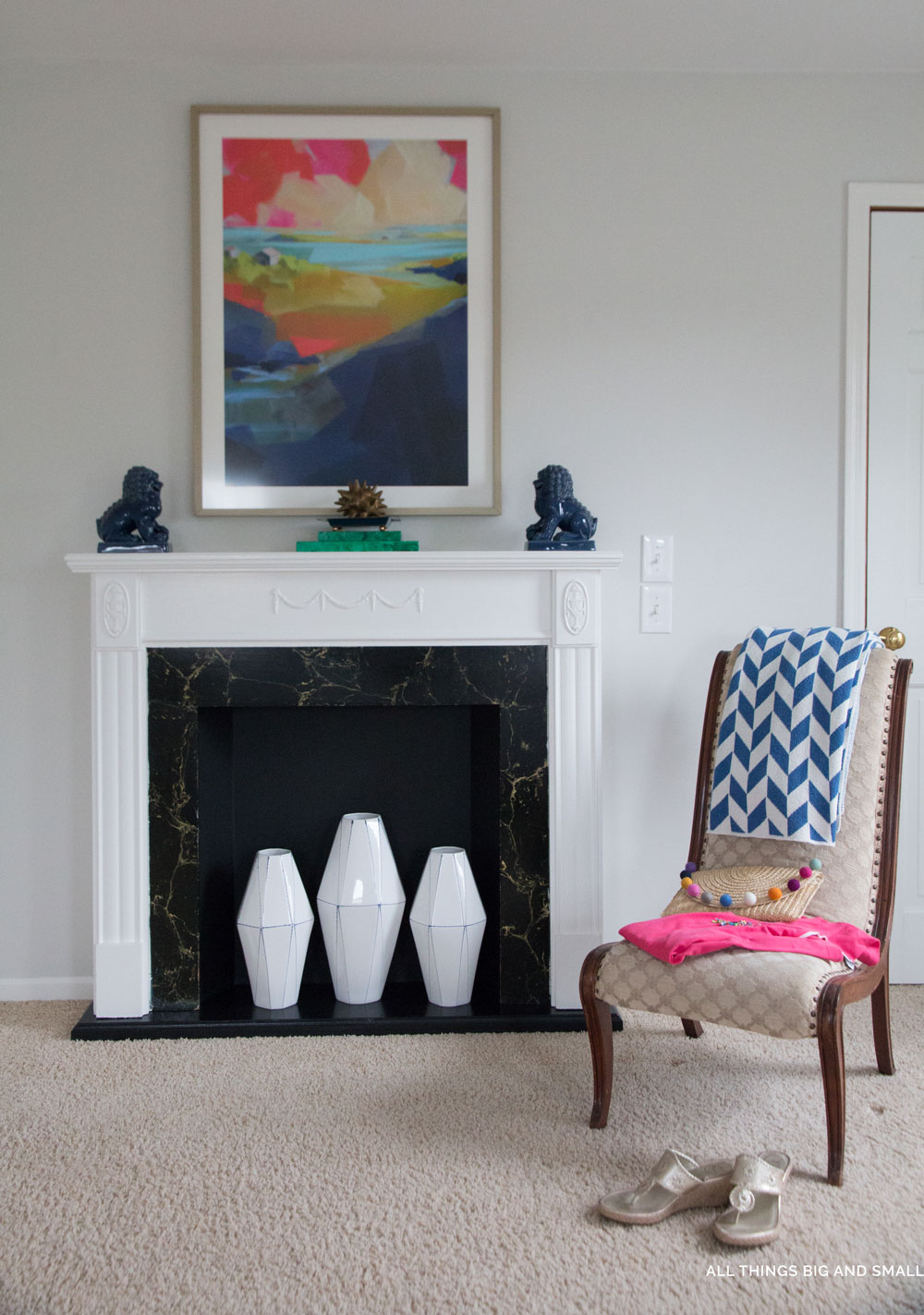 SHOP THE ROOM
Get the look of the room by clicking on the products below!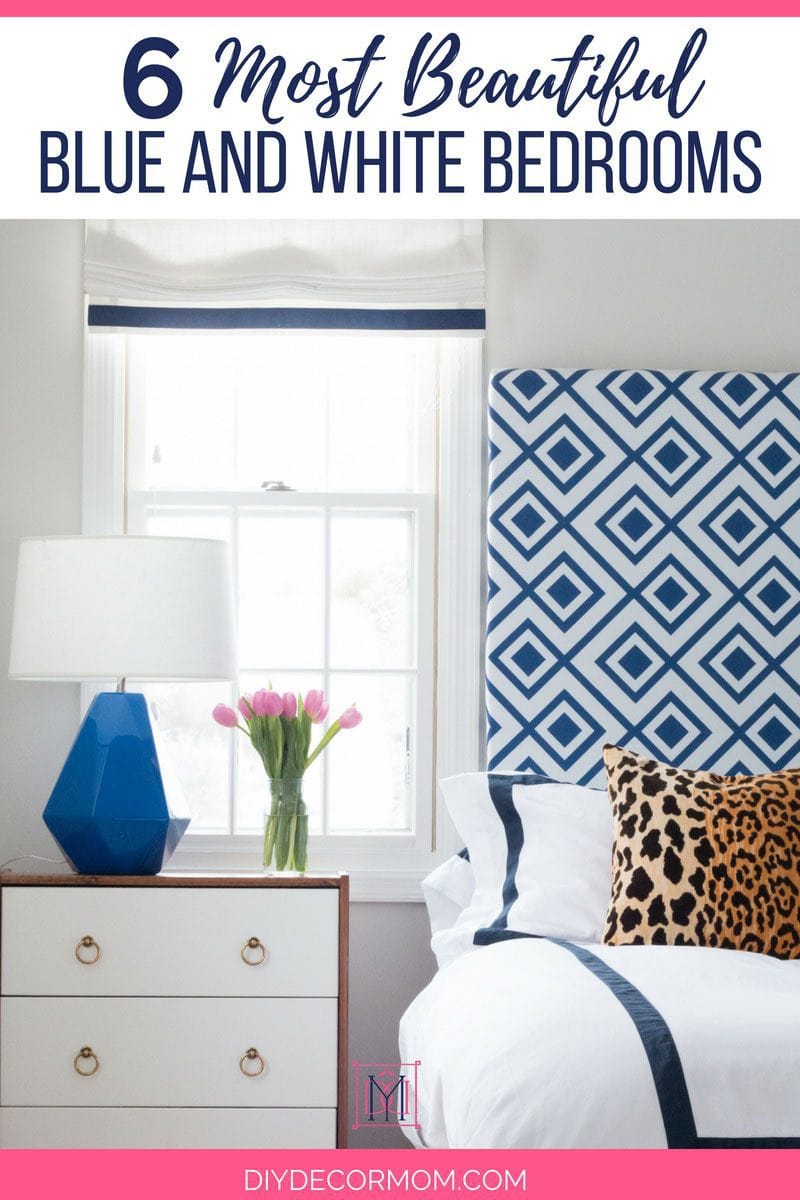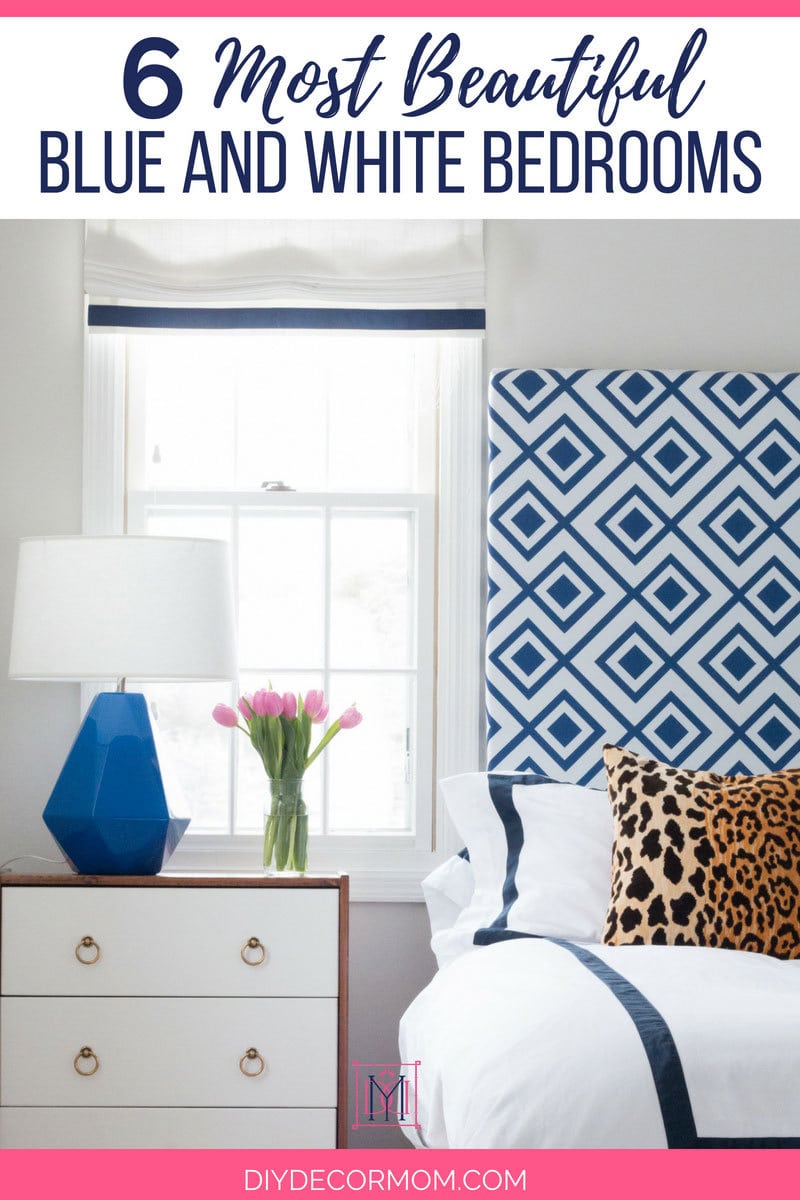 NAVY AND WHITE BEDROOMS
If you do want navy walls, one trick to create an airy blue and white bedroom, is to contrast it with lots of white. We used white curtains to lighten the room significantly and used all white bedding as well. On the right side of the room, you can see the entire wall of closet doors which we painted white to lighten it up as well.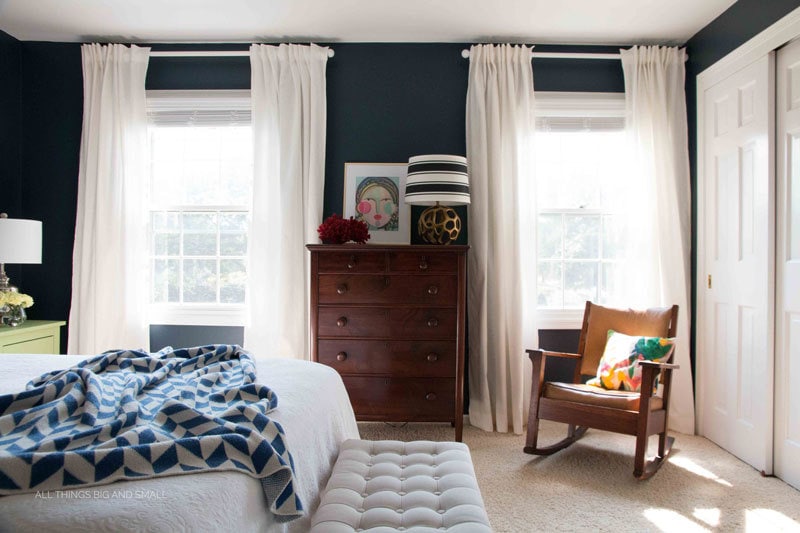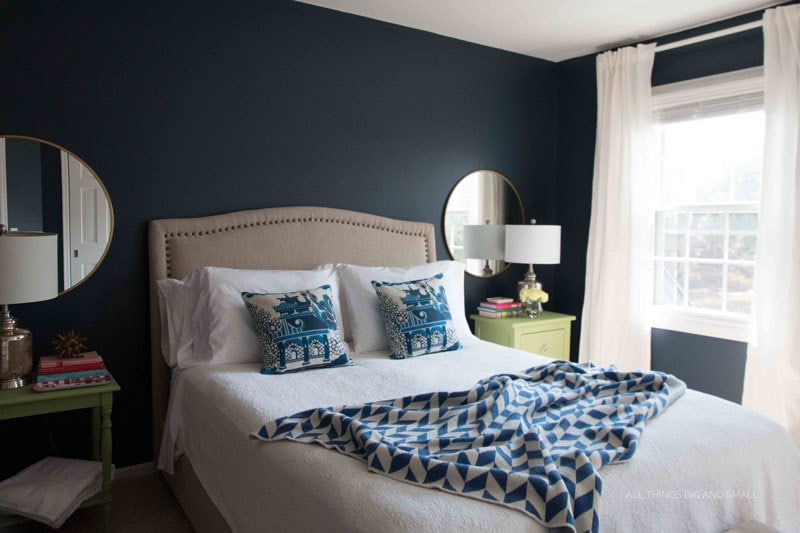 BLUE AND WHITE BEDDING
In all three rooms, we used blue and white throw blankets and blue and white throw pillows which are a great way to try out "blue and white theme" without committing to wall colors or curtains.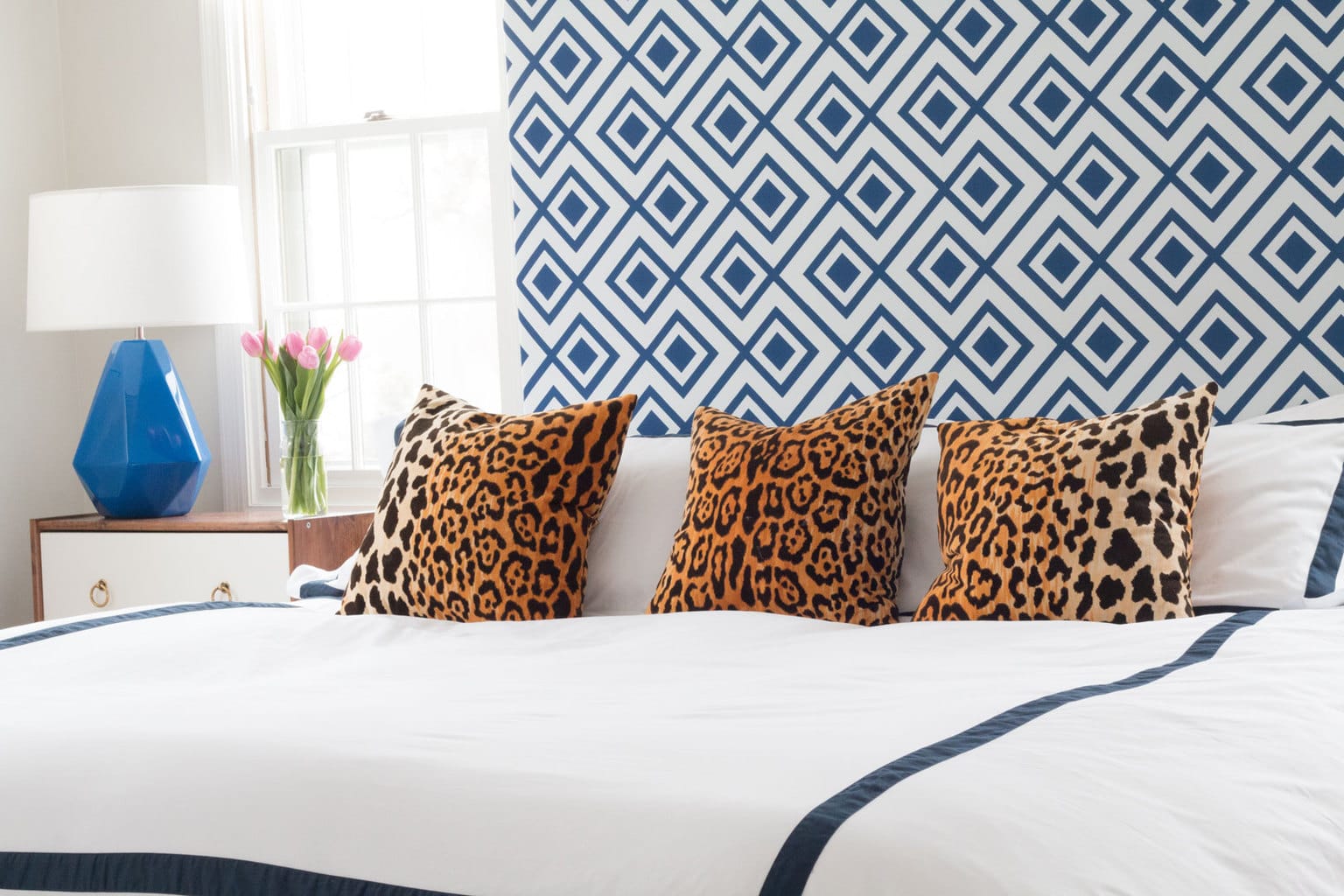 Here are my favorite blue and white bedding sets–remember to mix it up! I love a crisp border duvet with white sheets, some fun blue and white throw pillows, and a contrasting blue and white throw blanket! (You can see I love blue and white bedding as I have it in my son's nursery as well!)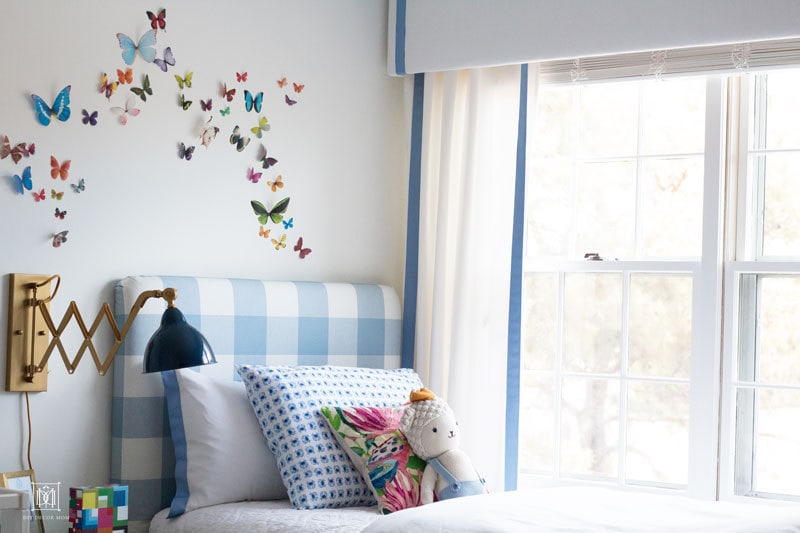 BLUE AND WHITE THROW BLANKETS
Adding a small blue and white throw blanket is an easy way to add the colors without having to paint–and it's an inexpensive way to see if you like the look!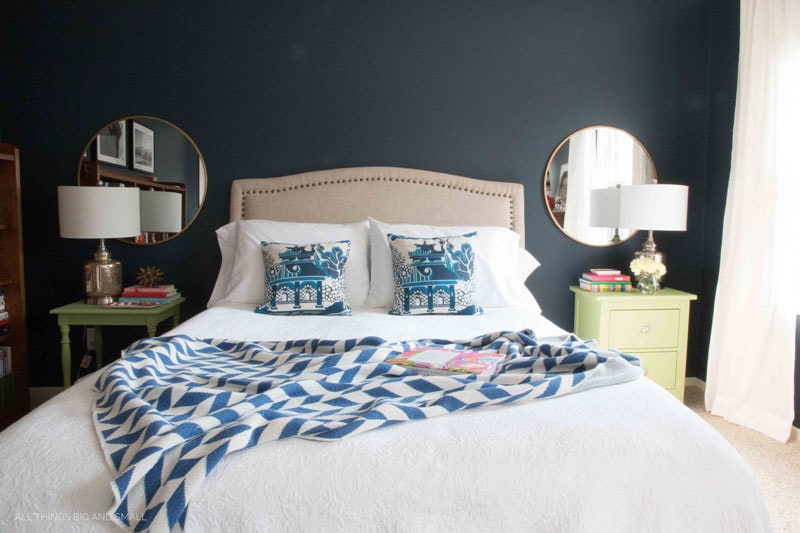 BLUE BEDROOM IDEAS
Want more ideas for creating a gorgeous blue and white bedroom? See these beautiful blue master bedrooms by clicking on the photo and going to the blogs below!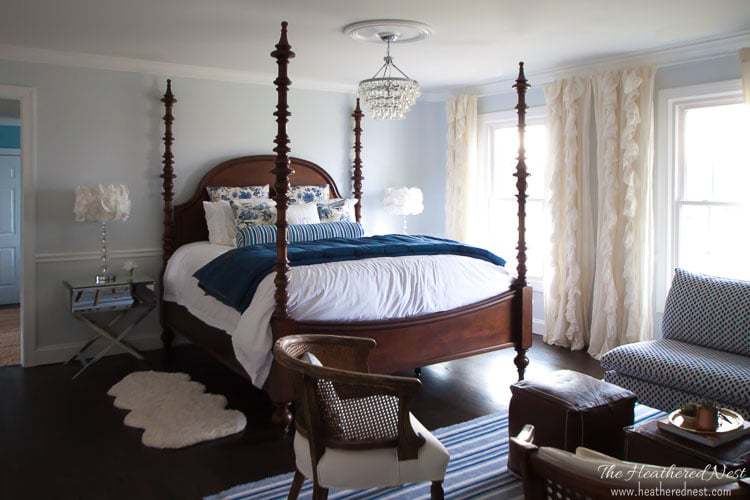 Blue Master Bedroom by The Heathered Nest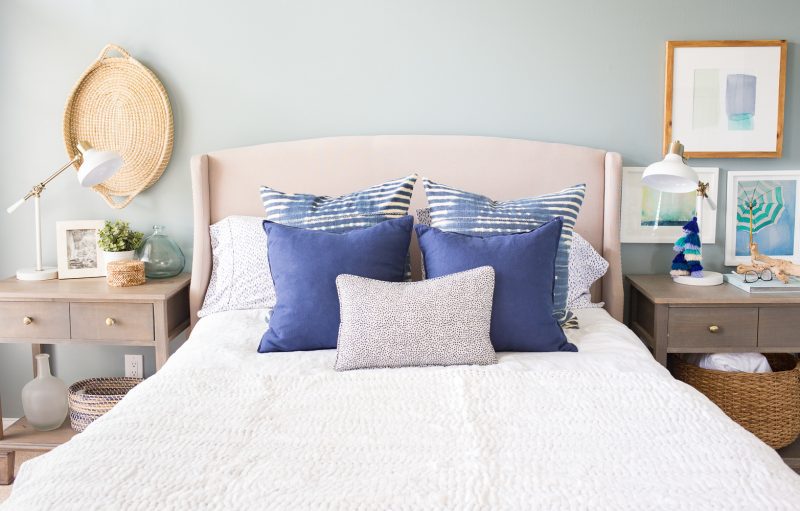 Making Home Base's Blue Master Bedroom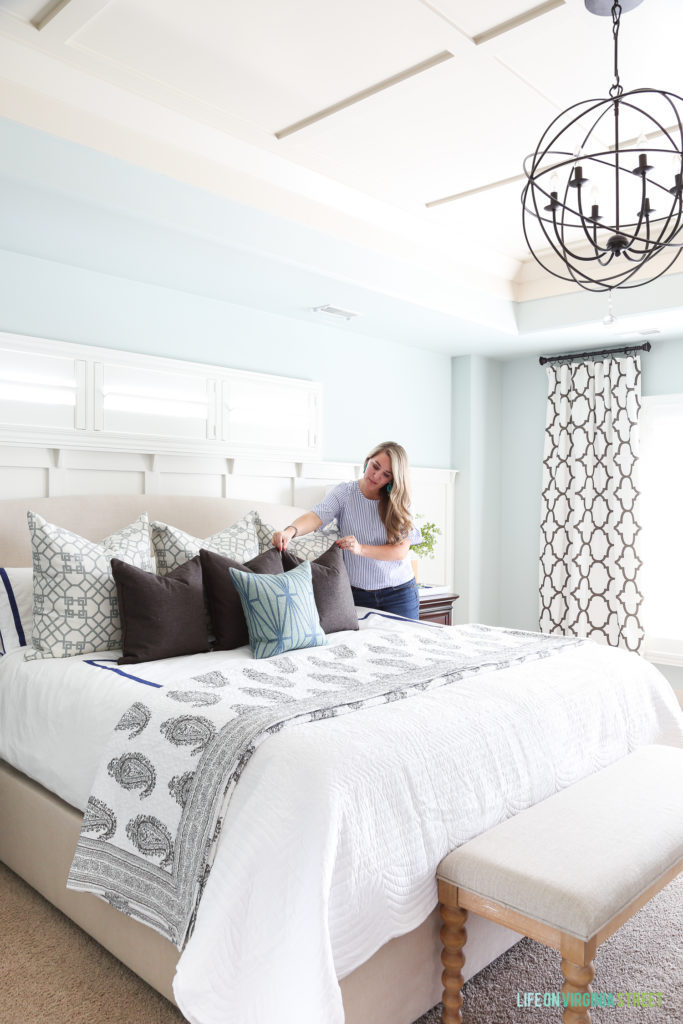 Life on Virginia Street's blue and white master bedroom with blue walls
WANT A BETTER DECORATED BEDROOM?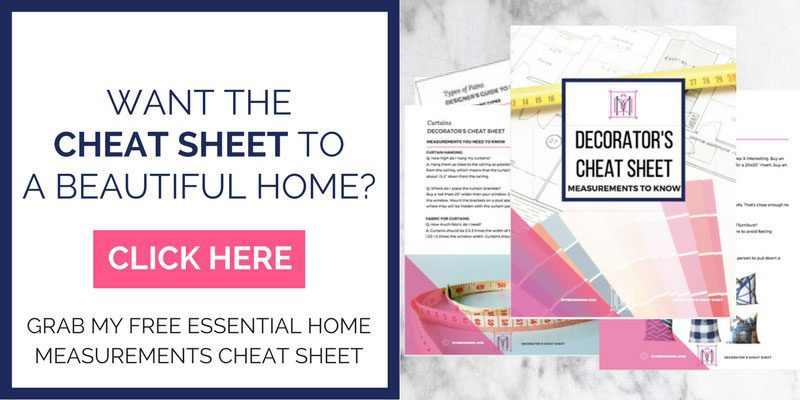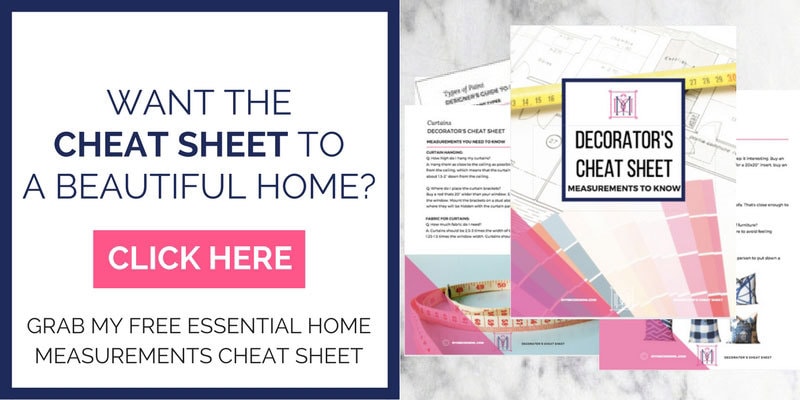 I've spent years learning how to decorate, and even my blue and white master bedroom is a learning exercise! I didn't get it right the first time around and there are definitely a few things I wish I did differently. But, after learning and failing over the years (you don't want to see how bad my first living room was), I've gotten better and learned a lot.
I've also learned that there are decorating formulas. If you stay with the same proportions and follow these formulas, rooms feel good and work well! We all know when a room just isn't "working." It doesn't feel right.

You question whether the coffee table is too small, or it's too many patterns going on…or if you have too few or too many throw pillows. "Do I need new lamps? or is my furniture arrangement wrong?" We've all been there that's why I've put it all together in a Cheat Sheet.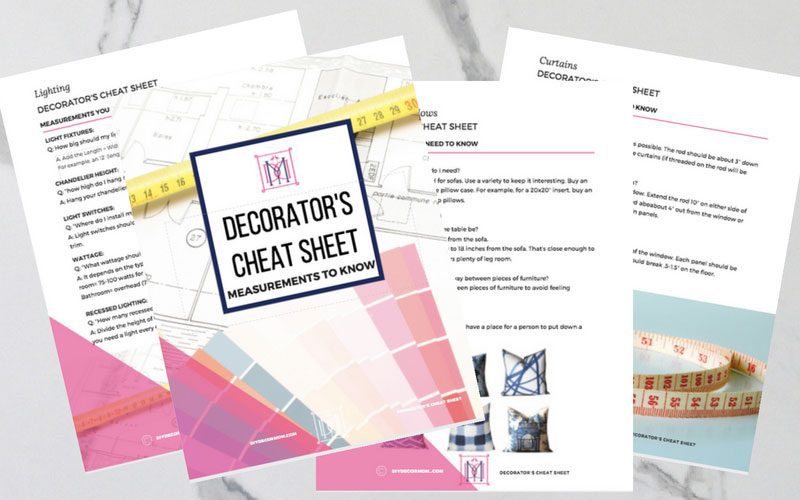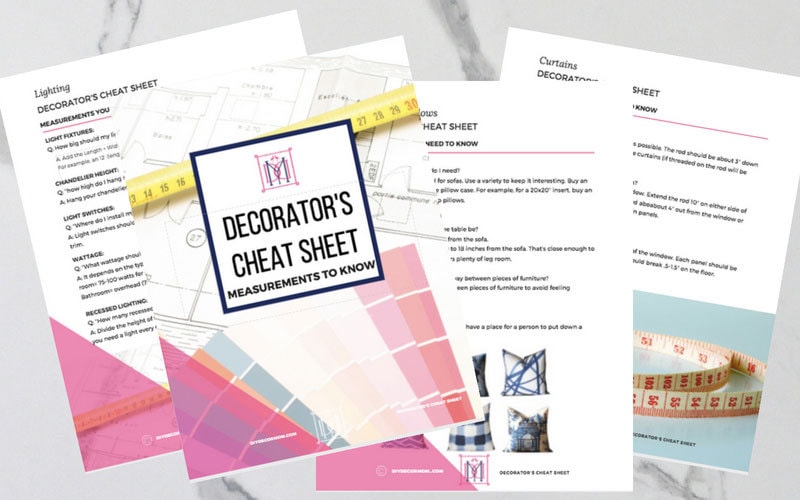 Everything I've learned over the years and collected from expert designers, taking notes out of House Beautiful, reading home decorating coffee books, and poring over decorating blogs. I've taken the best of everything and put it into The Decorator's Cheat Sheet. I cover home essentials measurements, lighting guides, how to mix fabric patterns. All in a three-page cheat sheet you can print out anytime, or hey, just read while you're in pick up line.
Just look at how far our bedroom has come!
It went from looking like this when we moved in (we did not choose the wall colors)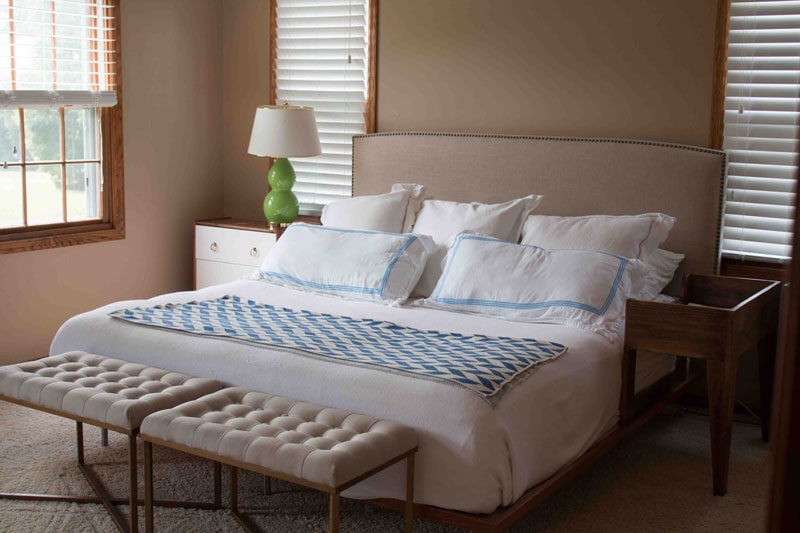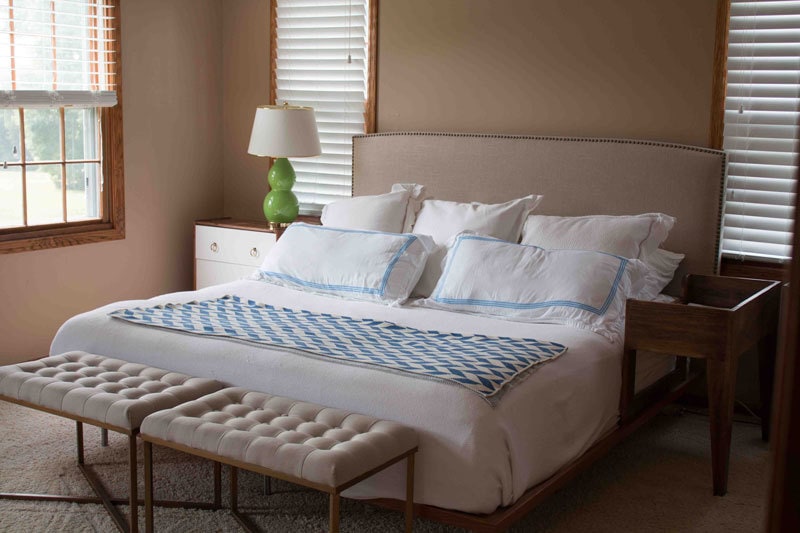 To this…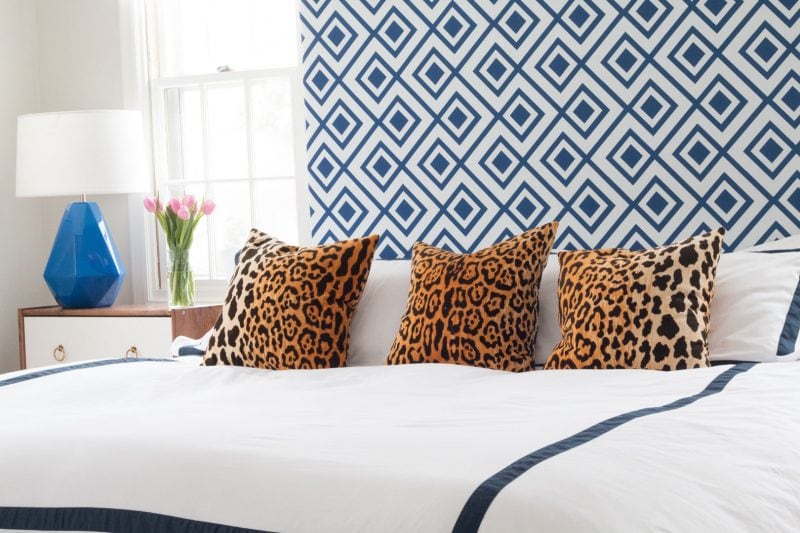 Figure out what you're doing wrong in your house and fix it with these formulas!
DON'T MISS THESE GREAT POSTS…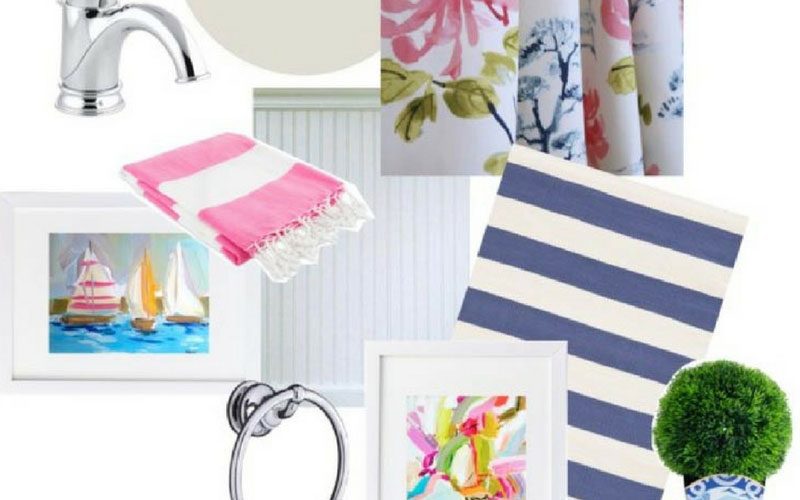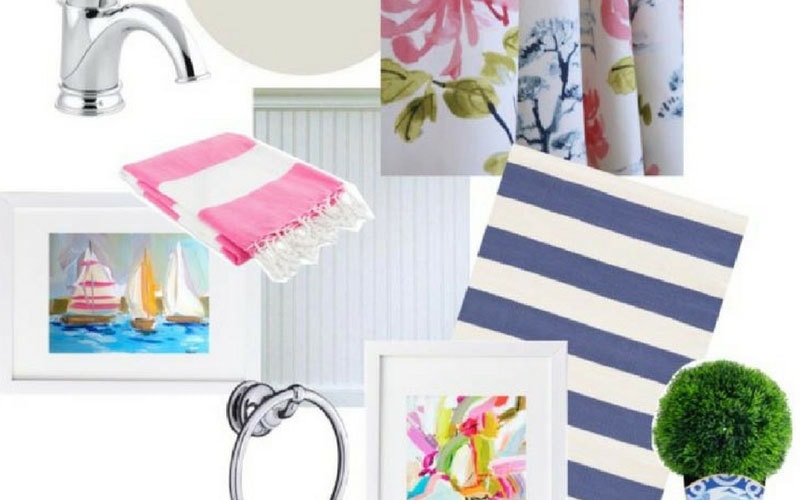 BLUE AND WHITE BATHROOM MAKEOVER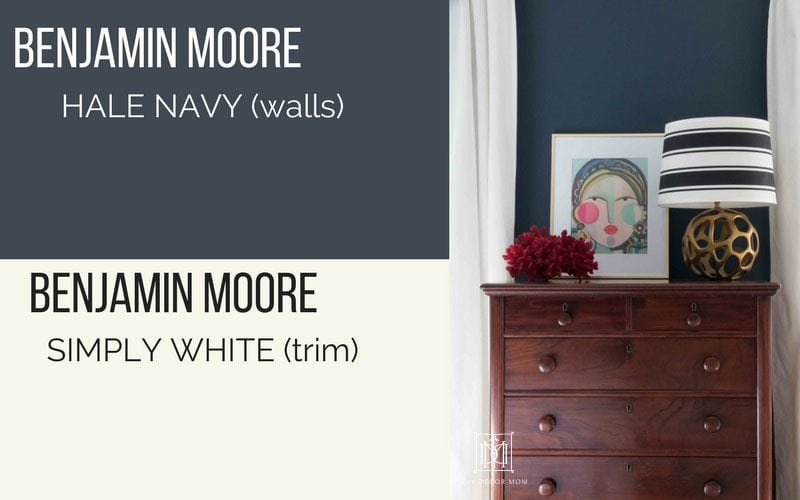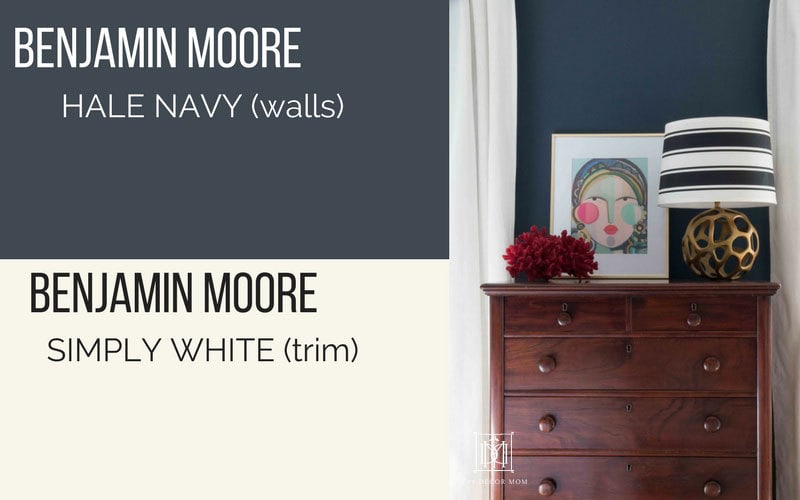 BENJAMIN MOORE HALE NAVY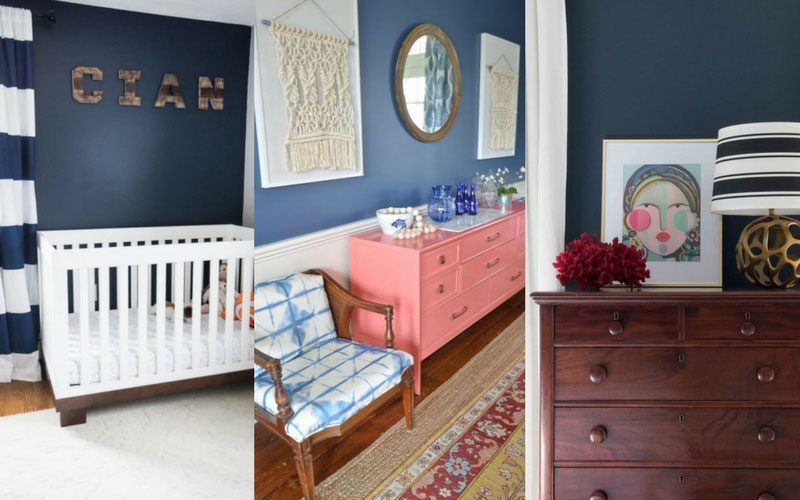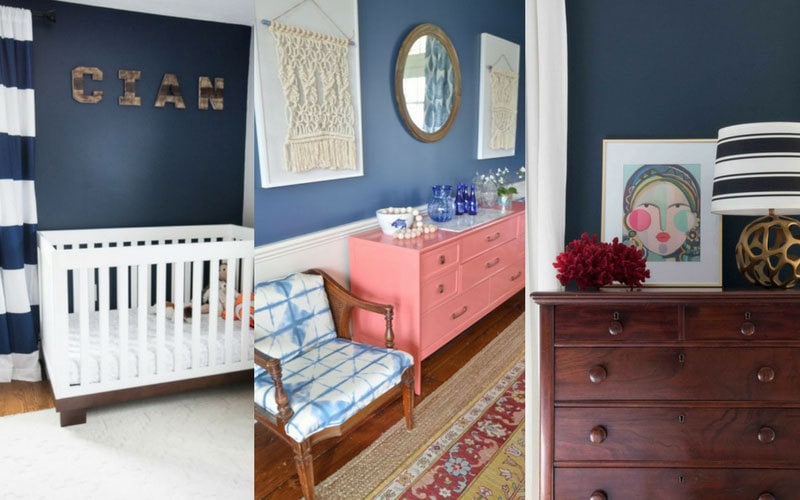 BEST NAVY PAINT COLORS