This post was sponsored by S&W Beans as part of an Influencer Activation for Influence Central and all opinions expressed in my post are my own.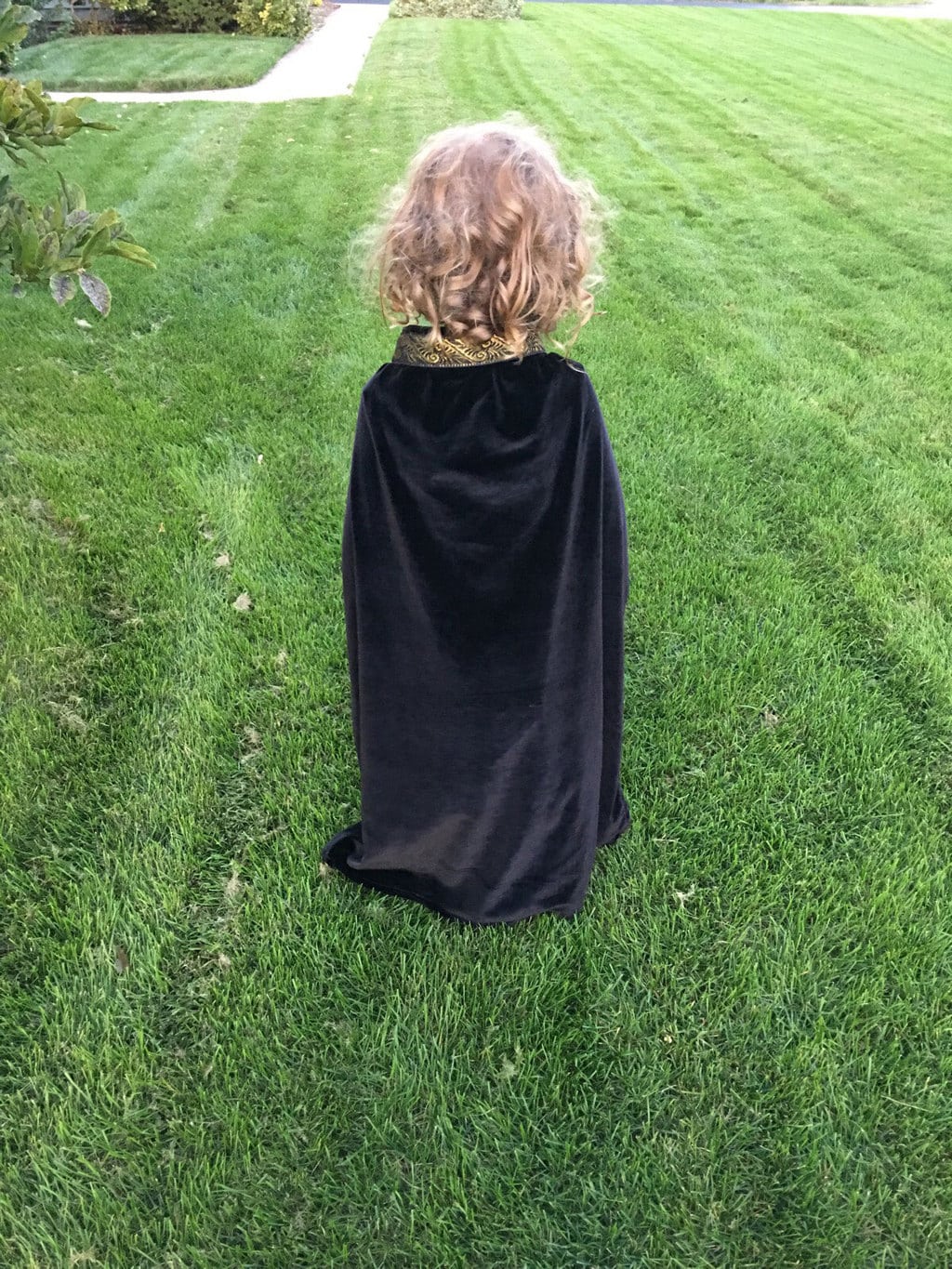 I thought I had it all figured out when B was little. It was simple–I just fed her what we ate every night. And she ate without abandon. She loved spices, garlic, and anything with greens in it and was open to trying anything new! But, then she grew up and hit the terrible twos, and begin to assert her independence and newfound dislike of most vegetables (this also coincided with the birth of Jack!) Thankfully, she maintained her love for all things meat and beans, so I know she is always covered with protein. But, being the sneaky health-conscious mom that I am, I still always try to get her to eat dishes I know she will like and that are super healthy and fill her up with vegetables too!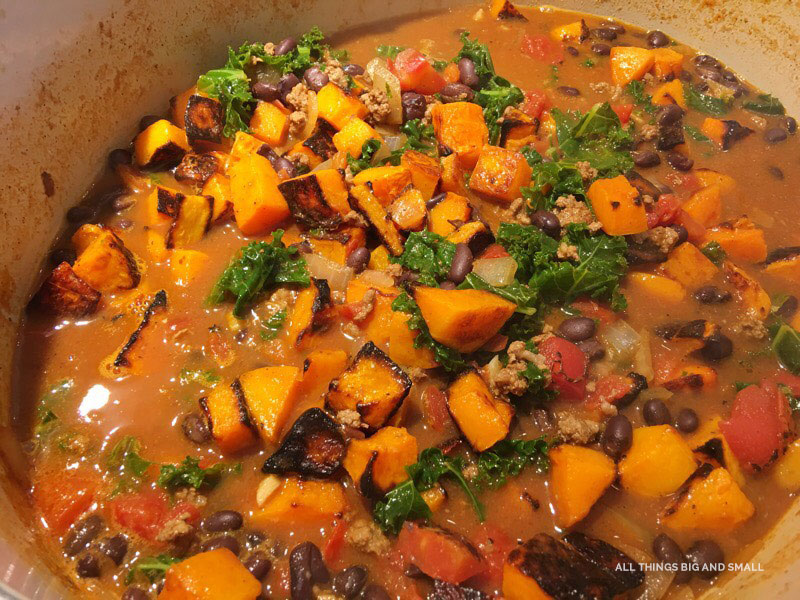 Sometimes, it just comes down to being a little creative with the names. Lately, one of our favorite weeknight dishes is "Superhero Chili." We tell the kids that it is so good for you that it makes you strong like a superhero. We talk to them a lot about what is good for you (what makes you grow big and strong) and what is just a "treat." So, when I stumbled upon this old favorite recipe of our's I knew that "Black Bean Chili with Kale" could be easily renamed and tweaked to appeal to our two little superheroes! We talked about what is in the chili, and how it helps your muscles and bones grow. And I absolutely love that it is an affordable meal to boot! As much as my kids would love eating just meat every meal, I know that neither our budget nor their tummies would allow for that. So, I supplement protein with vitamin rich black beans from S&W. I love that absolutely everything in the chili helps their bodies and minds develop! And they get a kick out of growing before my eyes (or so I pretend they are!) Also, referring to the kale as "Dinosaur Kale" has completely changed their attitude with it! I tell ya it's all about the presentation!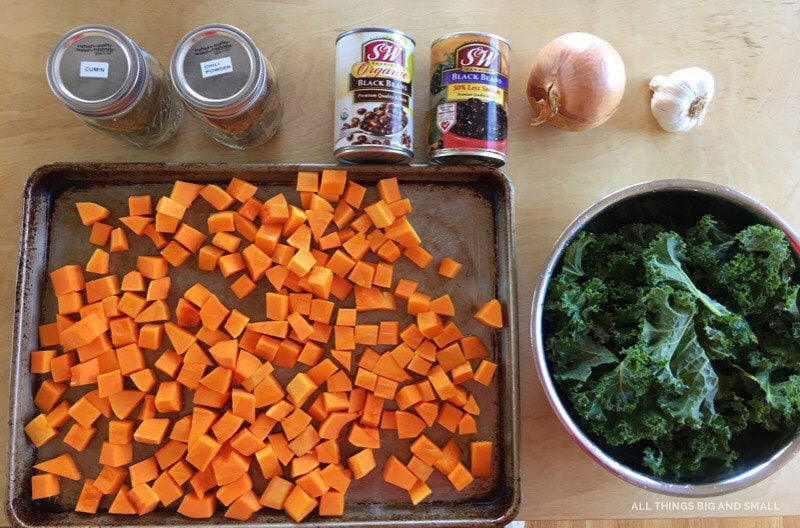 Tip for fellow busy mamas, I find that doing all the prep during lunchtime or after Jack has gone to nap, makes for an easy evening. All I need to do is grab the pre-chopped ingredients and put them in the pot! While I am cooking, I usually let the kids watch a program since it is the roughest part of the day (everyone is tired and cranky!) Lunchtime prep is essential because if I put prep off until 4:30, it is going to be a disaster of a night since the kids need to eat at 5:00-5:30 and start melting down past then. So this is the perfect meal for busy mamas with hungry little ones (and hungry husbands!)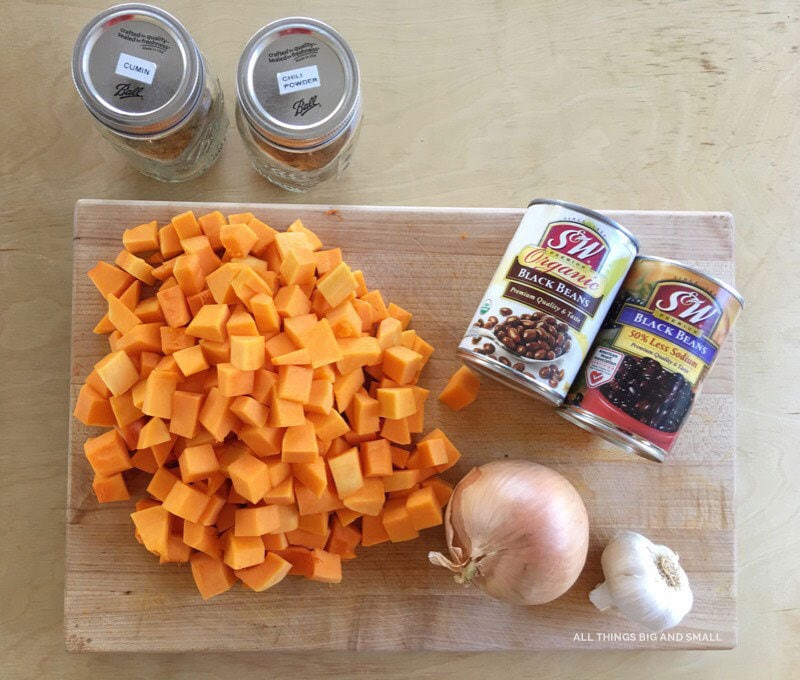 I love S&W Beans because it has the highest standards in the industry, and has been an expert in the industry for more than 120 years. And you know how important appearances are to toddlers–S&W Beans look great and taste great! If it doesn't look delicious to my two kiddos, they aren't going to eat it! And being a health-conscious mama, I love that they have low sodium (50% less sodium than regular) and organic options! For more great recipes, make sure to check out S&W Beans on Pinterest! Beans are a huge part of our weekly diet and provide tons of protein and vitamins for our two little superheroes-in-training (and my protein-loving husband!) Click HERE to save on your next S&W Beans purchase–it makes this economical weeknight meal even more budget-friendly!
IF YOU LIKE THIS, PIN IT!

Weeknight Superhero Chili
Ingredients:
2 T. extra virgin olive oil
4 C. yellow onions, chopped
5 garlic cloves, minced
4 C. peeled butternut squash, chopped 1/2″ pieces
1 lb. ground chuck
3 T. chili powder
4 t. ground cumin
2 – 15 ounce cans of S&W black beans, rinsed and drained
2 1/2 C. chicken broth
1 – 14 oz. can fire-roasted diced tomatoes in juice
4 C. chopped kale (I like Diono or Tuscan kale best)
Optional- top with shredded cheese
Directions:
Preheat oven to 425. Drizzle extra virgin oil and salt and pepper over the 1/2″ cubes of butternut squash. Place in the oven on a cookie tray until golden.
Meanwhile, heat extra virgin olive oil in a large pot or dutch oven over medium- high heat. Add in the onions and saute until they are nice and translucent, about 7 minutes. Add in the garlic and saute for another 2 minutes until fragrant. Brown the ground chuck. Add chili powder and cumin, and stir for 30 seconds to 1 minute.
Stir in chicken broth, diced tomatoes, and beans. Bring to a slow boil (approximately 15 minutes). Add in the squash and the greens and lower heat. Simmer until the kale is tender and bright green. Season with salt and pepper. Serve to family!