Today, I have the pleasure of introducing you all to my dear friend, Addie Gundry of Easy Elegant Entertaining. Addie and I met freshman year at Connecticut College, and have kept in touch ever since! She is the author of several cookbooks, a Food Network star, and tastemaker behind Easy Elegant Entertaining, and contributor to Martha Stewart. Her wedding was featured in Martha Stewart Living, and she has cooked alongside Bobby Flay! Oh, yeah, and she's a mom too!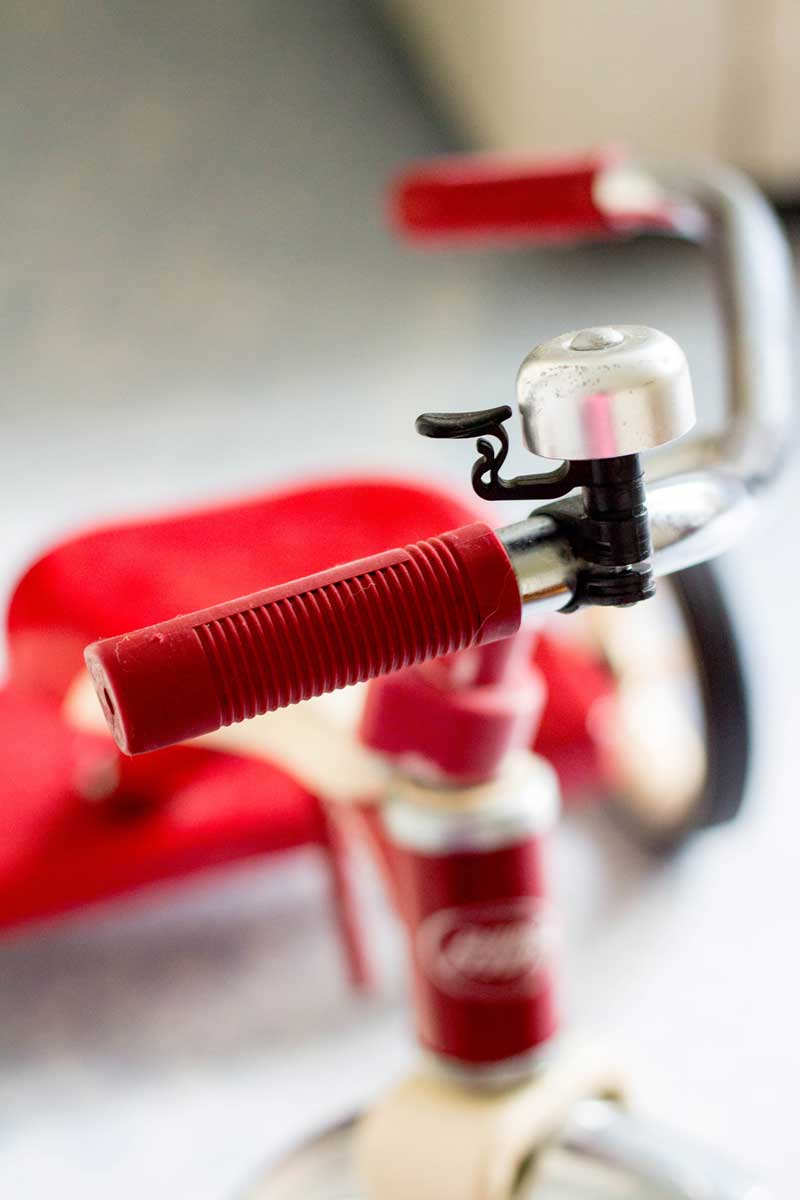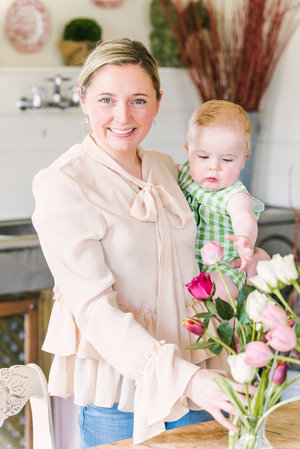 I would be super intimidated if I hadn't known her for 12 years! She is seriously the sweetest lady, and has the most exquisite taste! See her amazing home, style, and entertaining tips here at Addie Gundry!
I am so excited to share her adorable son's nursery today! So let's get down to the questions!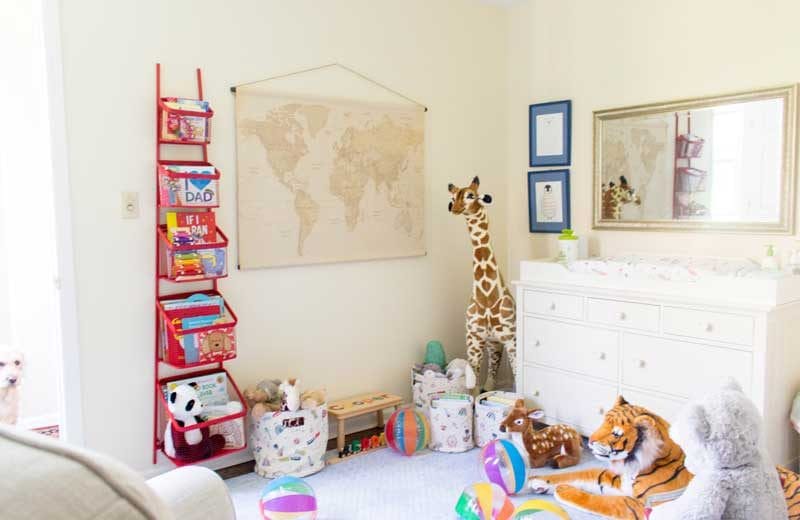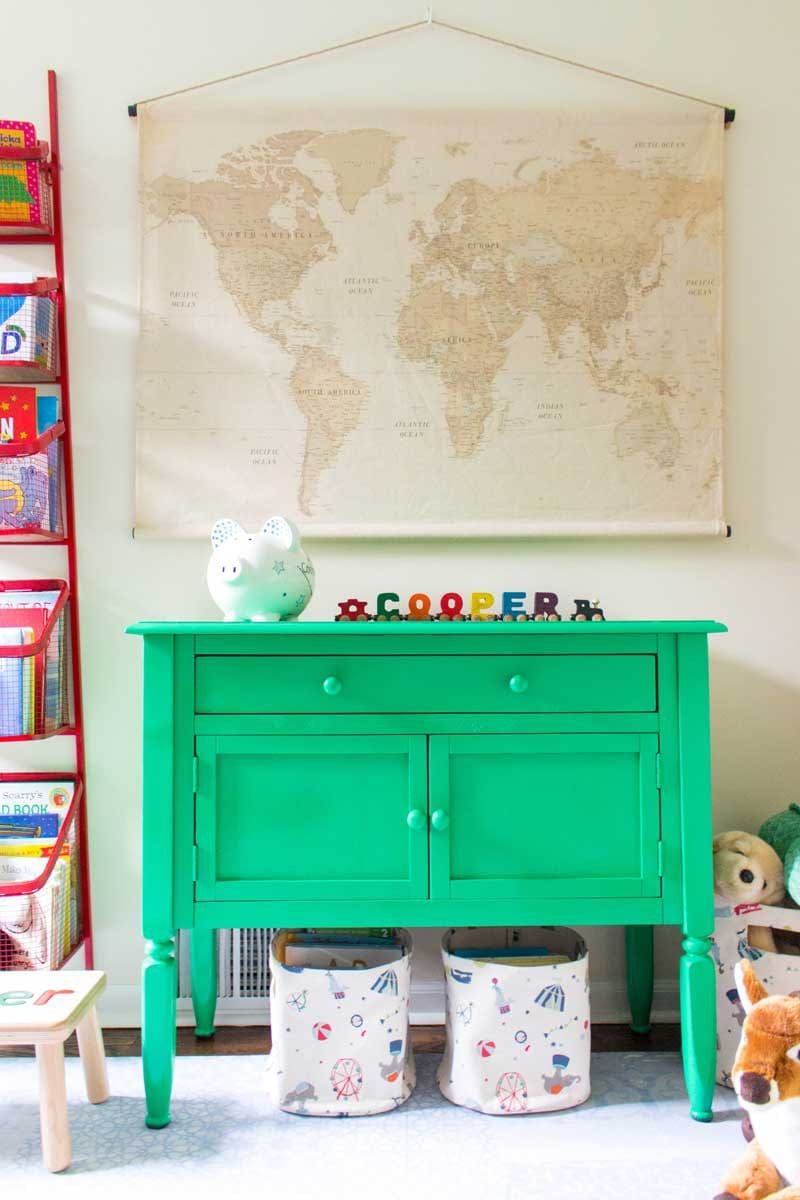 What was your initial design scheme for your nursery? Did you start with a theme in mind?
Our little nursery started out quite simple. When I was pregnant I began with all things light and airy, very neutral, and super sweet. Our house is very neutral and so I tend to design in that direction. My favorite color is white, which you wouldn't guess after taking a look at Cooper's room! I often say he brightened up my world, and that he sure did.
(here are some pictures of her nursery before her beautiful son, Cooper, arrived)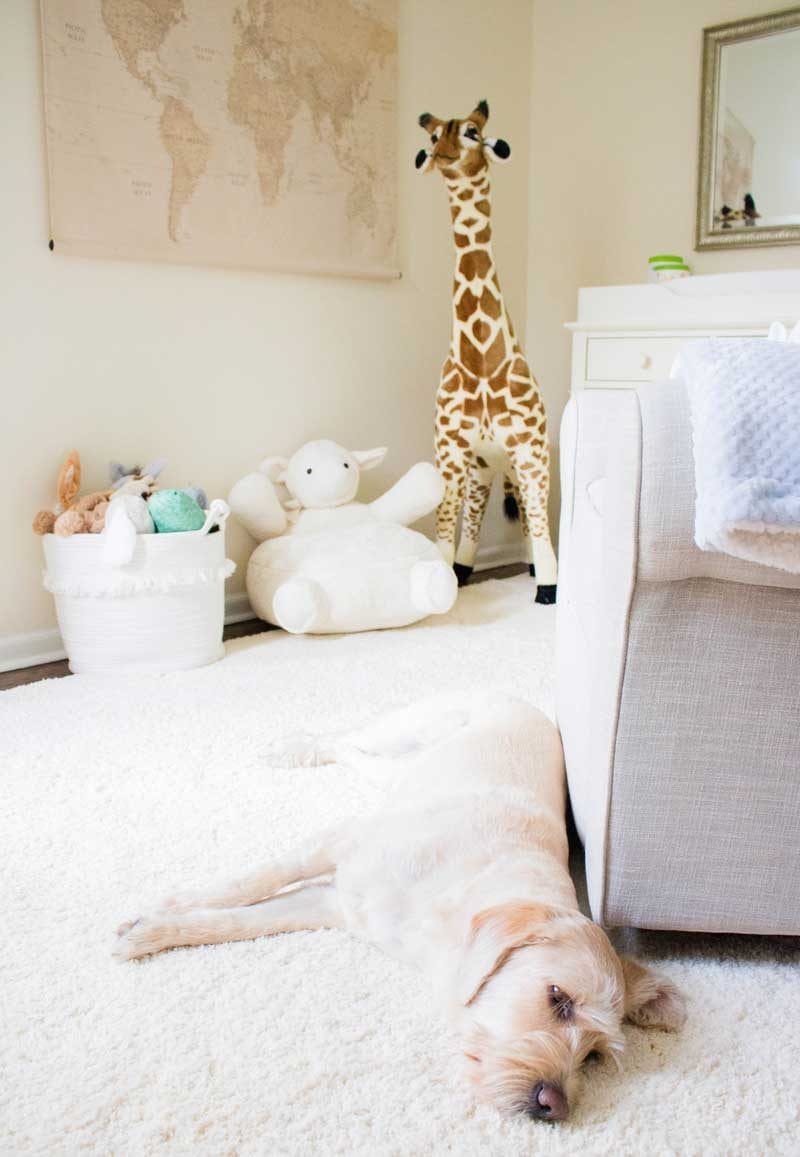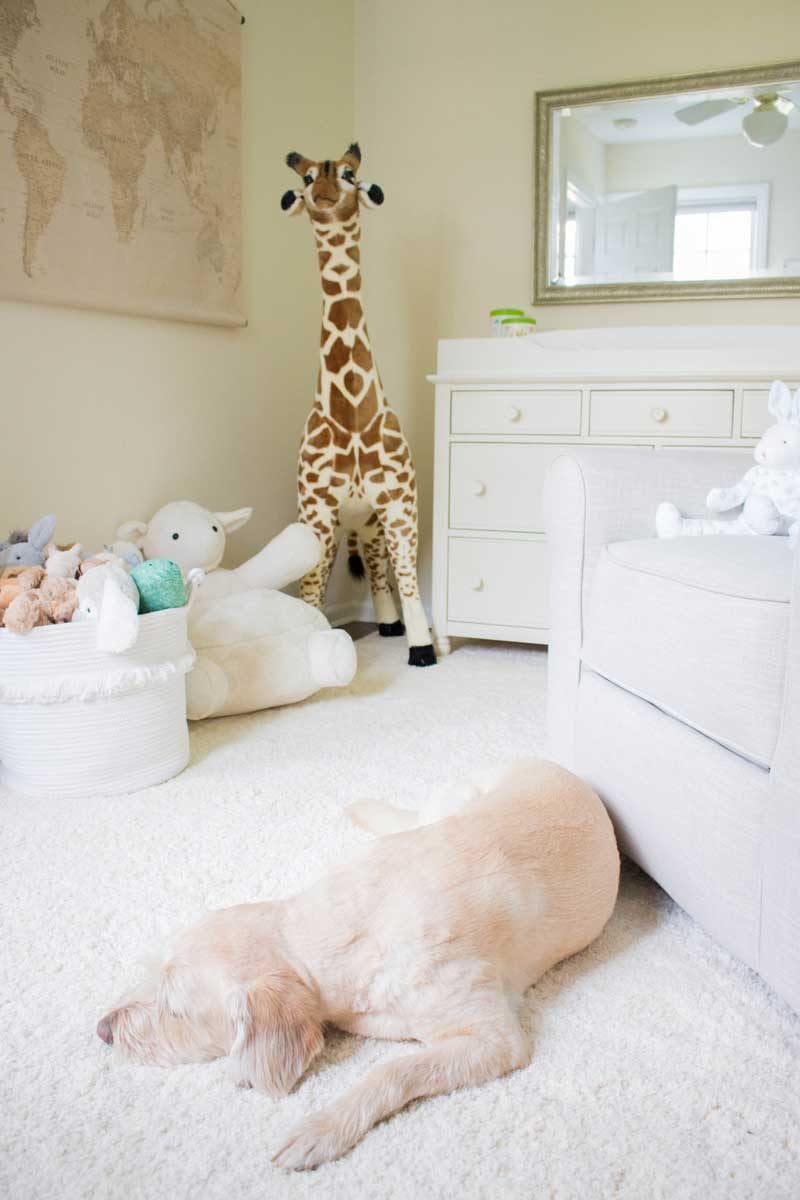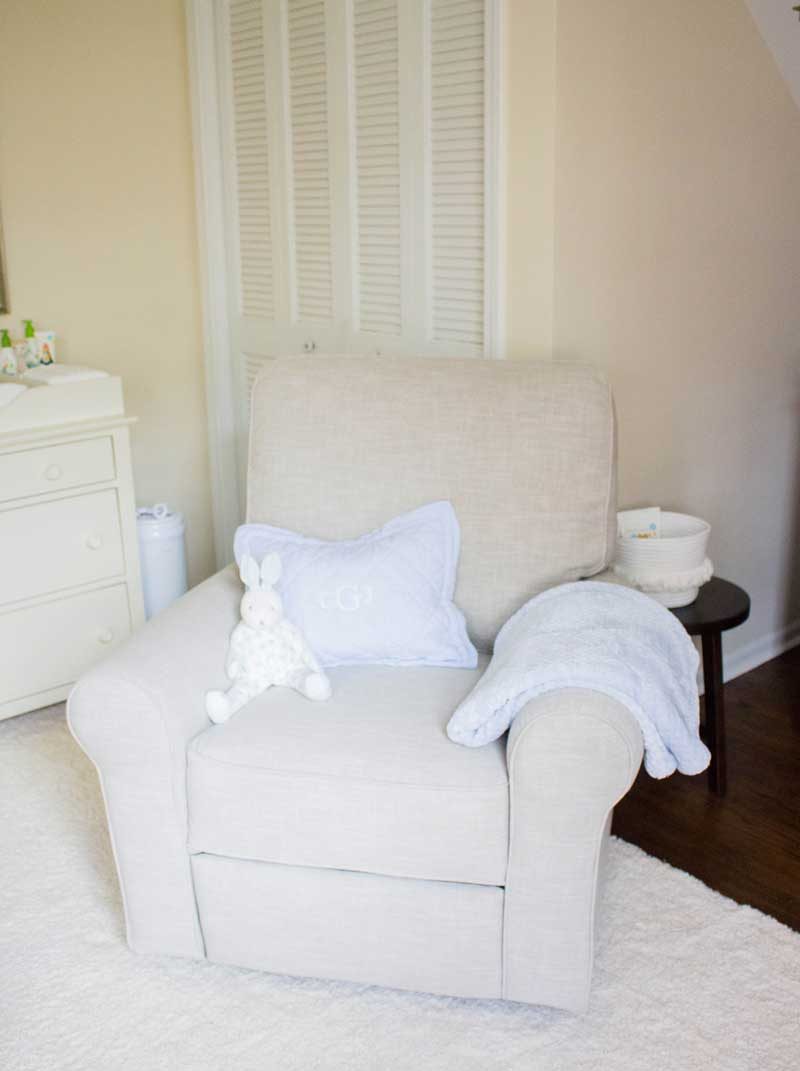 So this crazy thing happened. We had a baby, we met him, and he was spectacularly wild! Cooper James was born on September 25th of 2017 and this boy has captured our hearts with his curiosity and demeanor, his continuous smile and contagious giggle. His light and innocent room wasn't up to par with the playful boy inside. I changed my tune and wanted it to be magical, dancing with fun. I want animals and color, spectacular spirit, balloons and beach balls. The famous line you hear at the circus is, "Come one, come all", and this welcome phrase reminded me of our happy boy who smiles at everyone.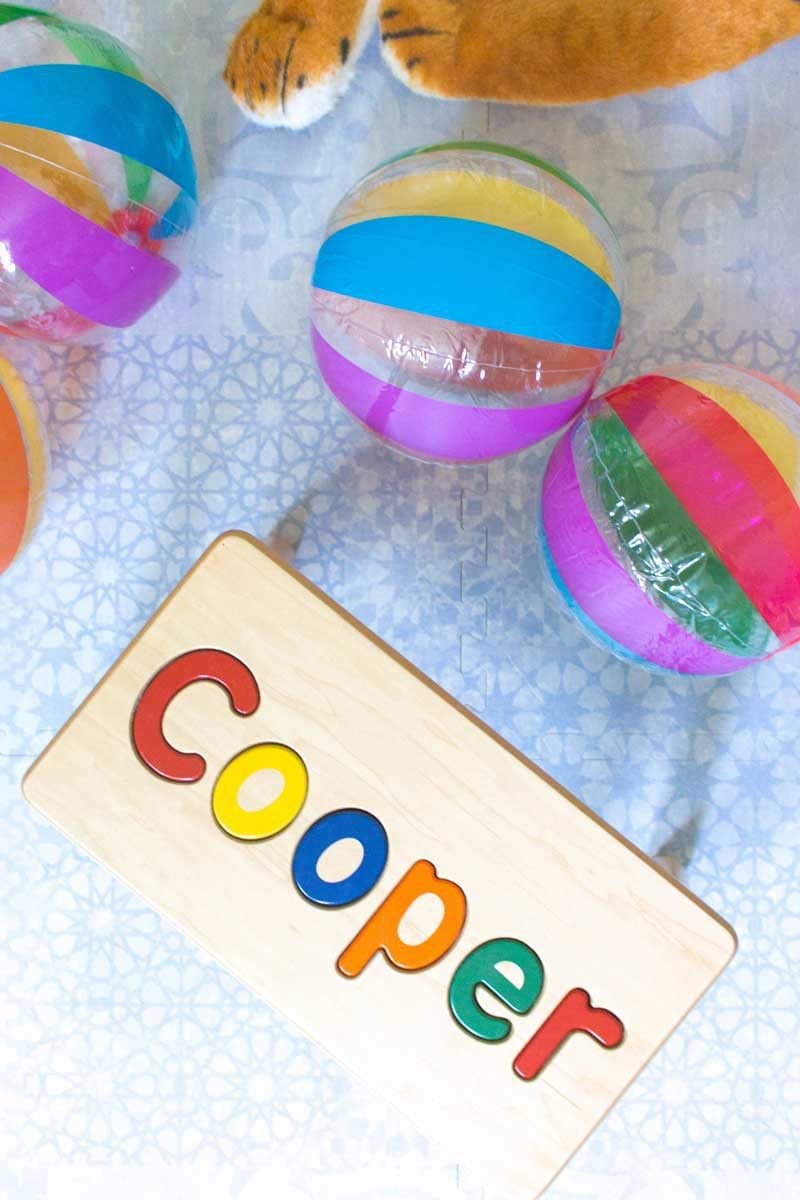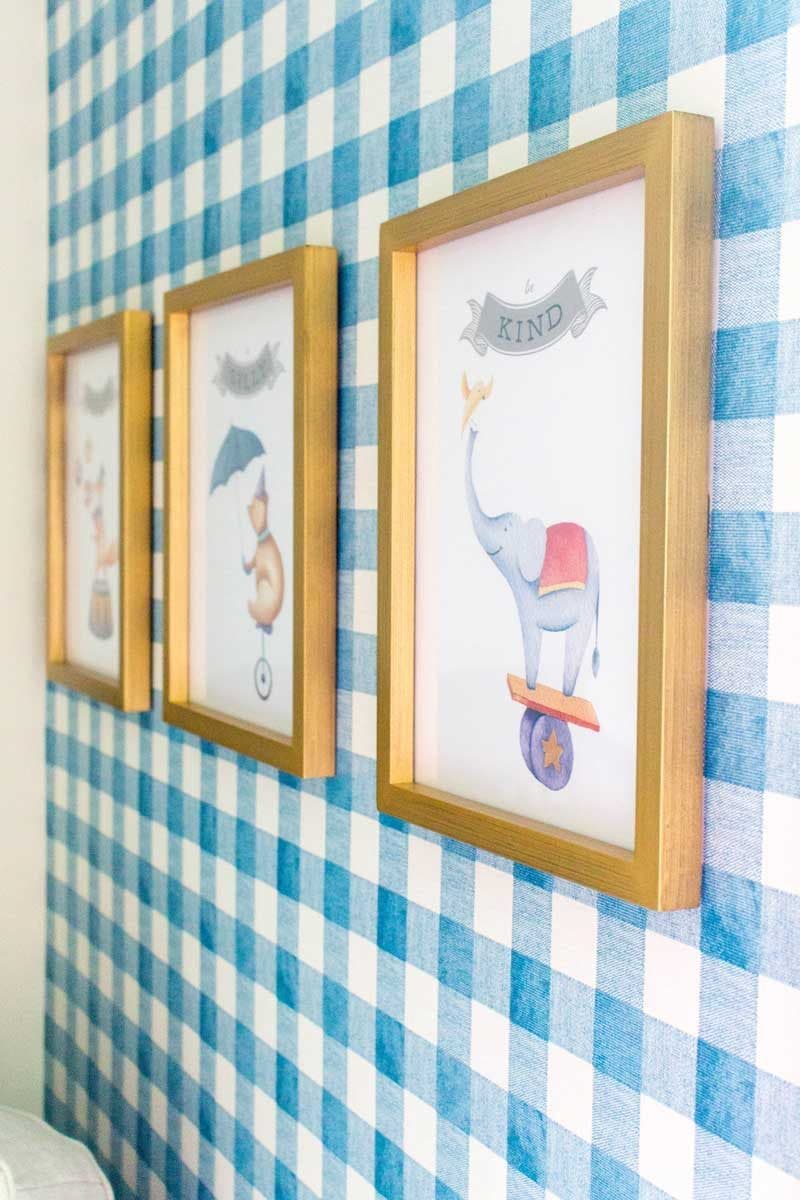 Cooper greets me with a smile when I peek over his crib in the morning, beams at servers and patrons at a restaurant laughs at Paisley, and my favorite – his grin ear to ear walking down the pew in church. The magic of the circus and the spectacle it creates felt like a perfect starting point for his new nursery decor!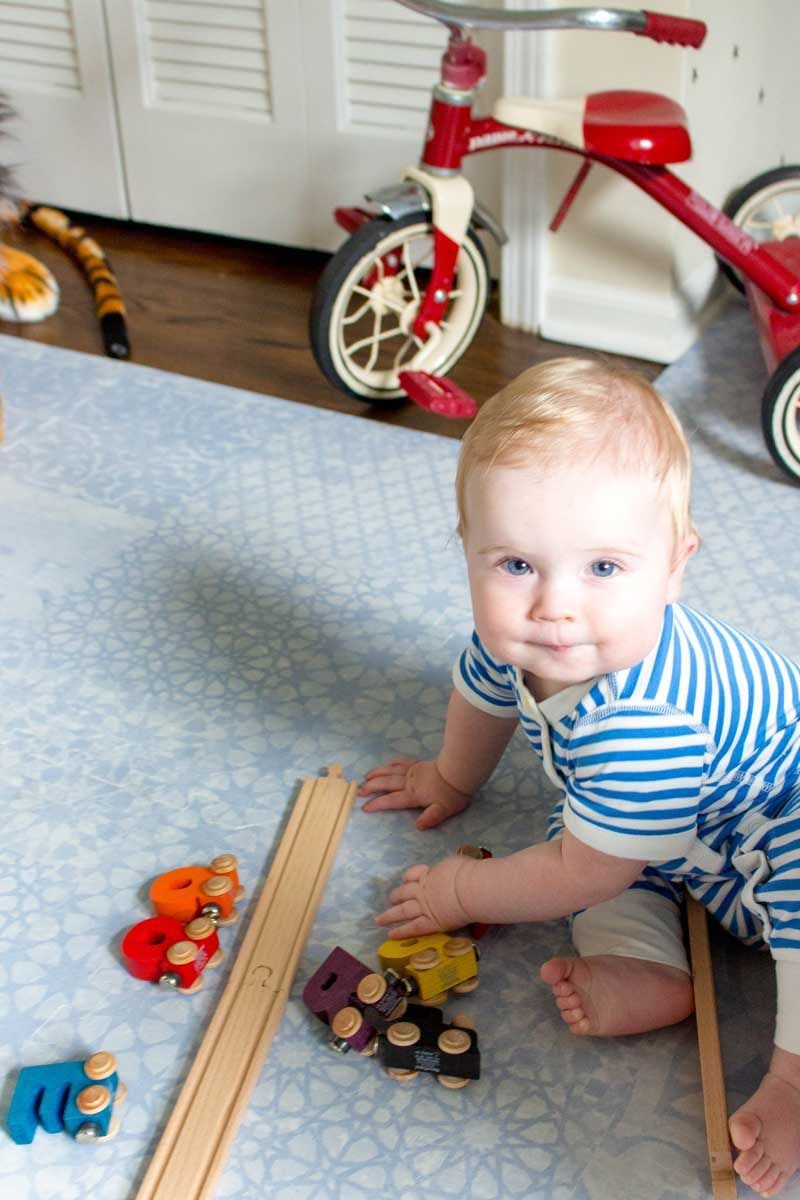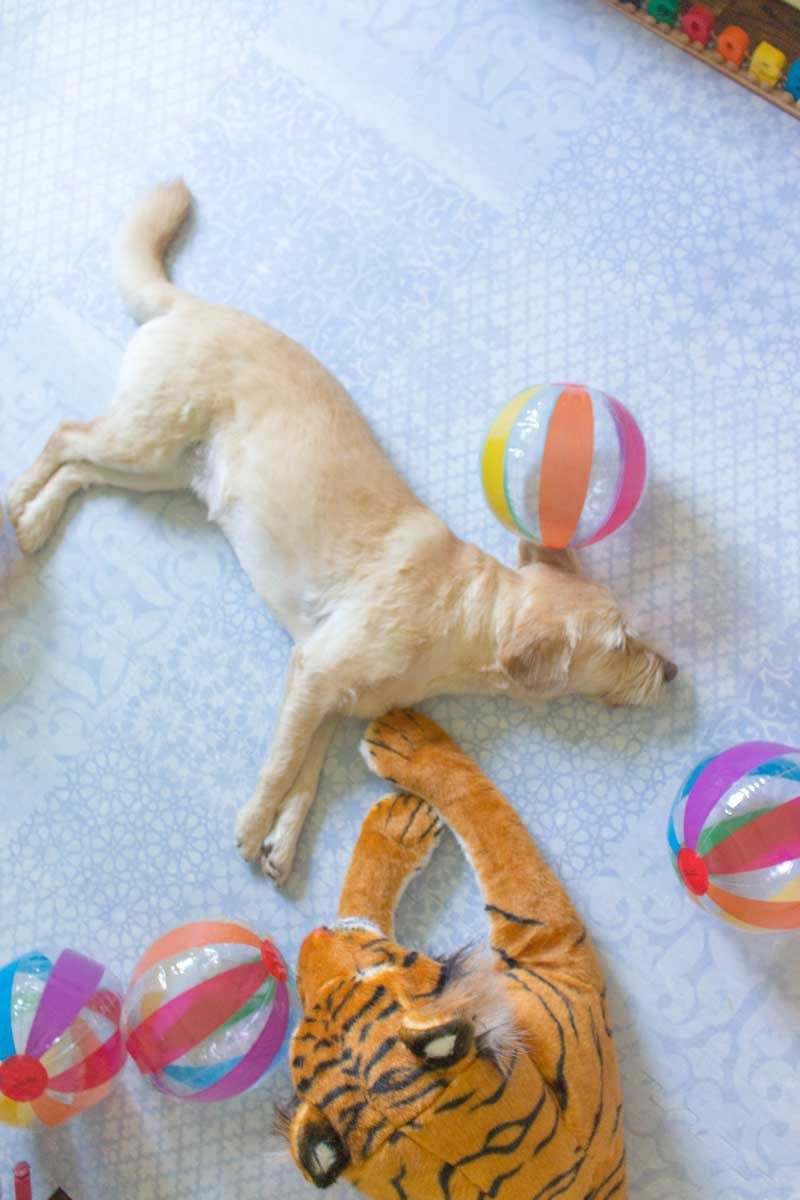 How has your nursery design evolved? What has changed since your baby was born?
When looking at my nursery now, it looks completely different from when we first designed it! As a first time mom I had no idea what it would be like to have a baby, now almost toddler, and found that his room needed to be a bit more functional and a lot more playful!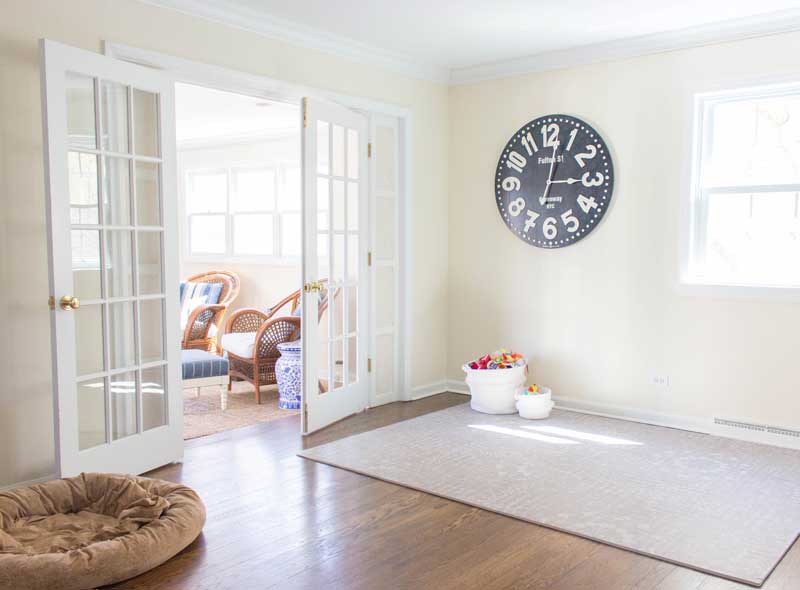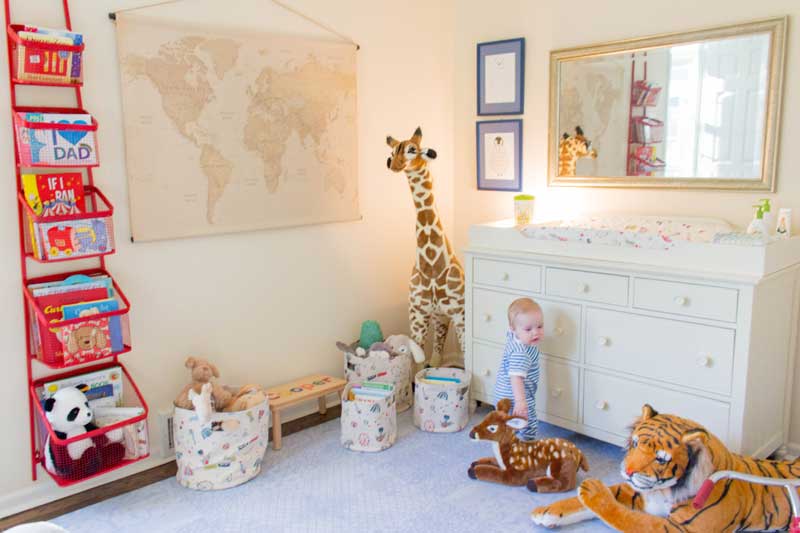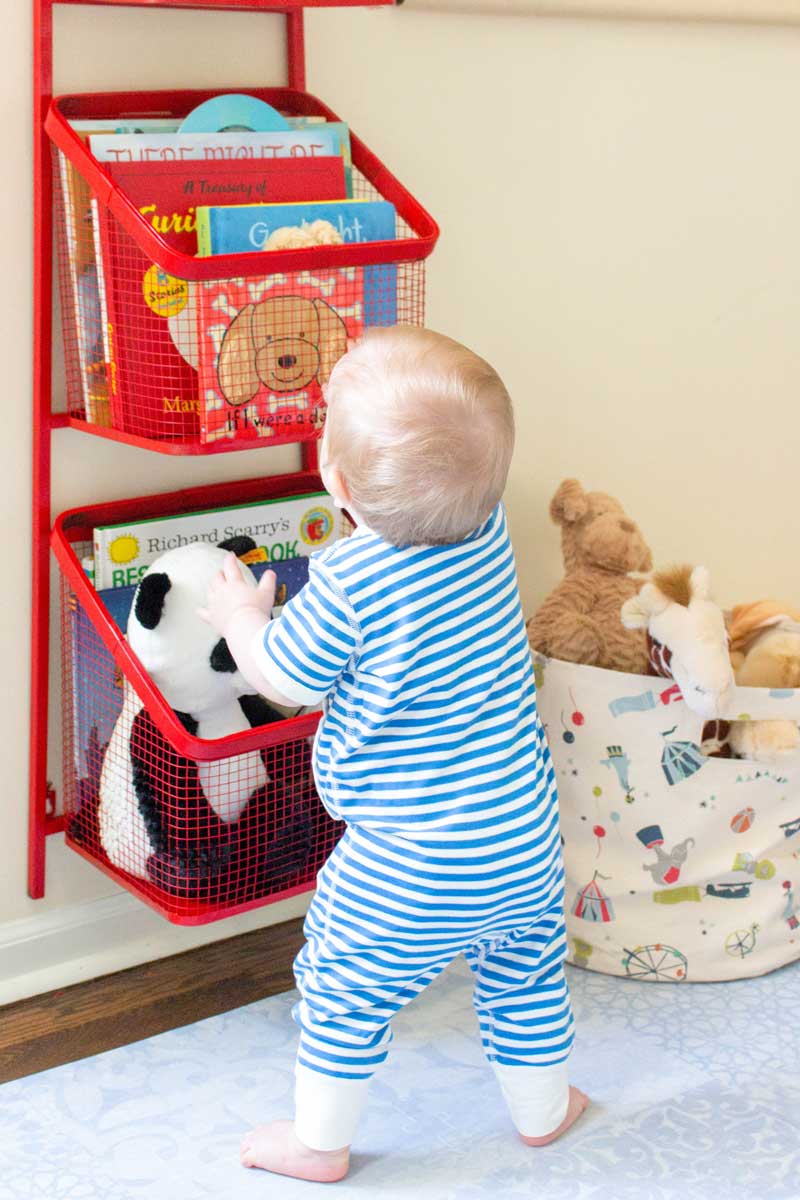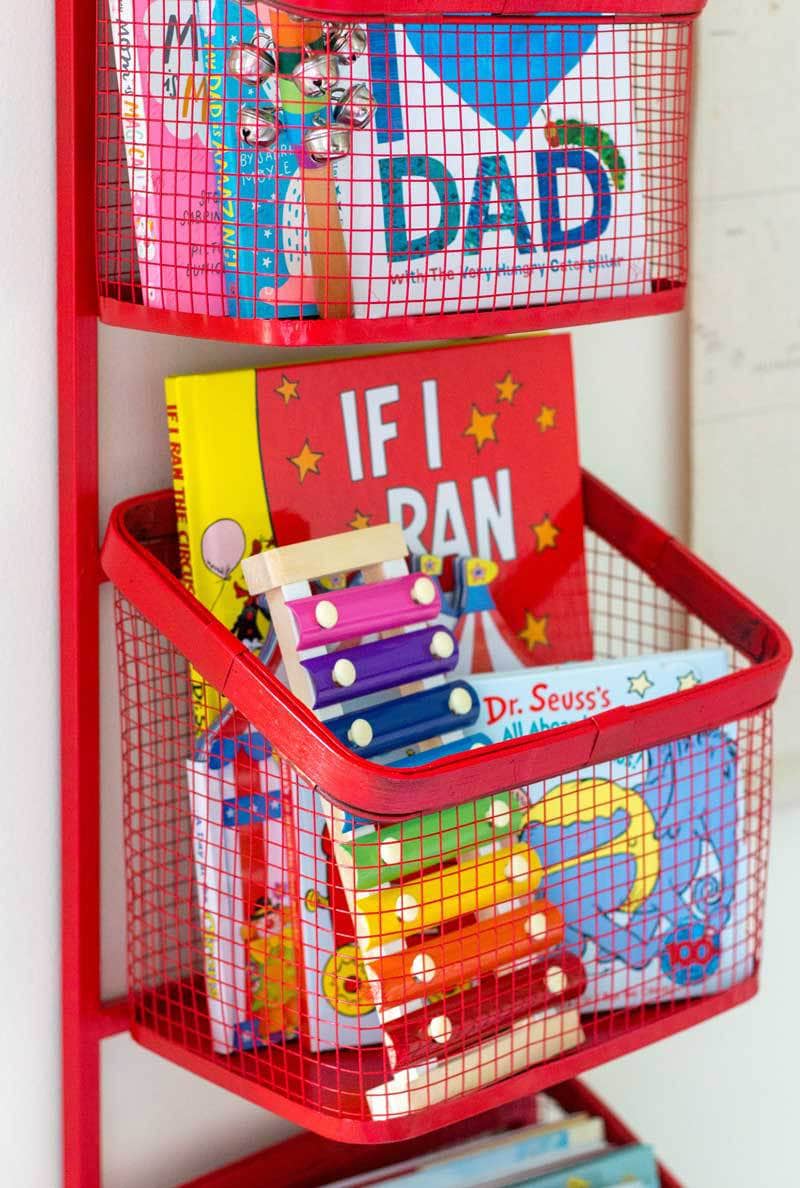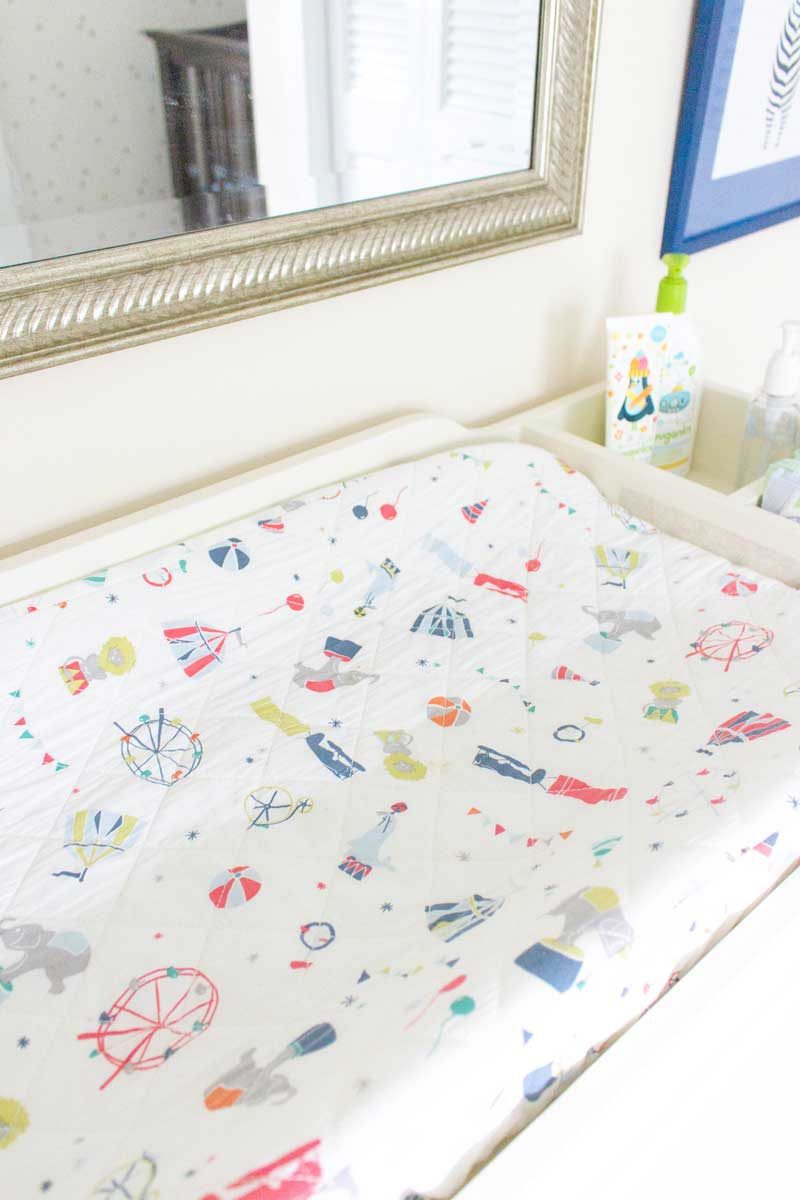 Many years ago people began using the word "circus" as a metaphor for extraordinary disorder. Audiences were dazzled by constant activity, craziness so to speak, and although the circus produced a crazy show and attracted tons of people making a town chaotic, in fact the circus itself has always been tightly organized. The movement of people, animals and supplies across the country by railroad was incredibly disciplined. On multiple occasions in the late 19th and early 20th centuries, the Army followed circuses to learn "up to date methods of moving men, animals and baggage." What I love about this story is that something so spectacular and chaotic, can still be organized and deliberate. I wanted to leave behind the white and create patterns and colors to emulate this controlled chaos.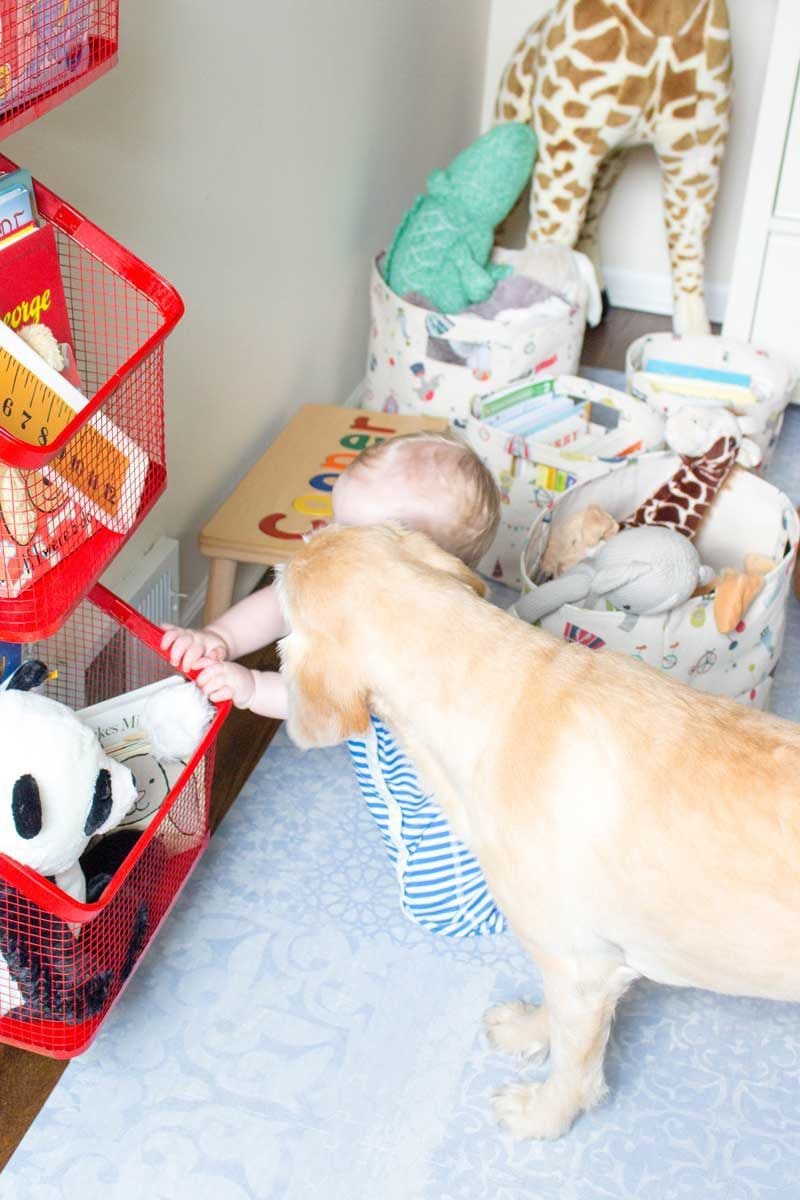 Cooper's room is quite tiny and so attempting to pack it with color could get tricky. I decided to focus on two main colors (blue and red) and fill the rest in with pattern and texture. I was immediately drawn to Pehr's design. The elephant riding a bike really cracked me up, because I once heard, and now confirmed, that Alcohol was the vice of choice for elephants. They drank beer and wine but preferred bourbon and Tennessee whiskey when they could get it. Elephants were wild! Wild animals, check! This led me to the stuffed ones.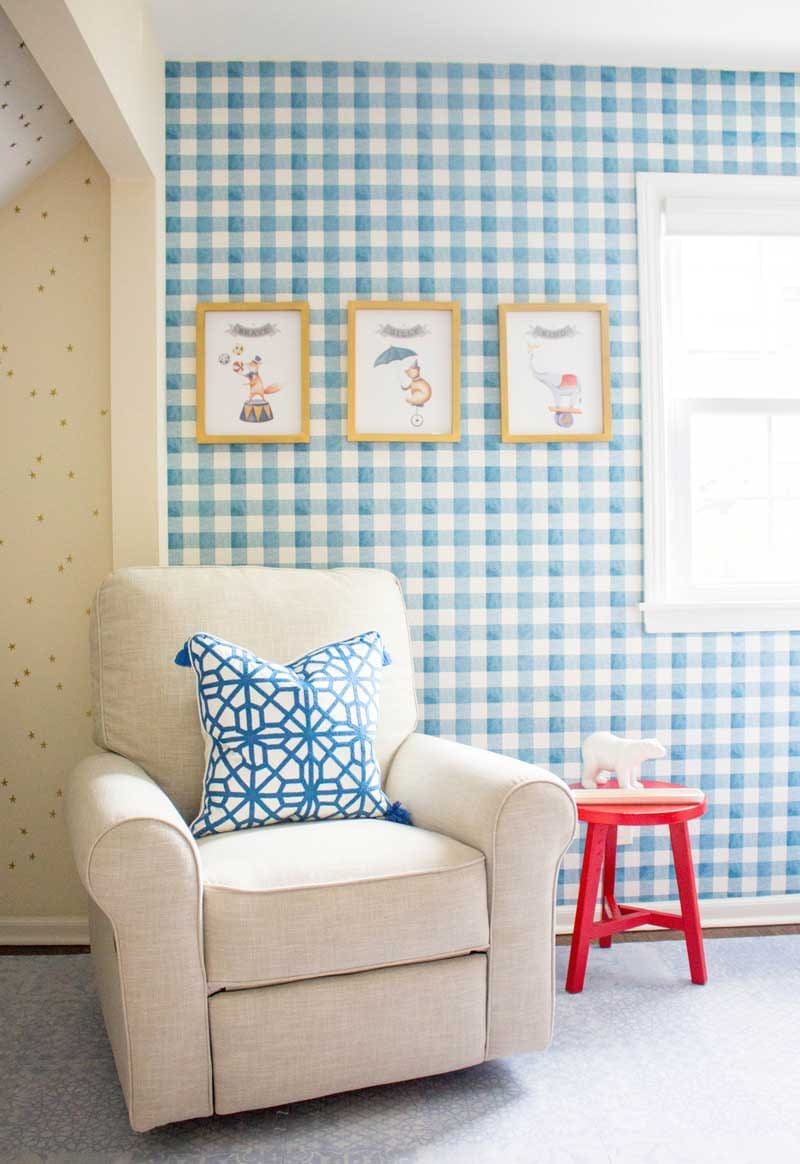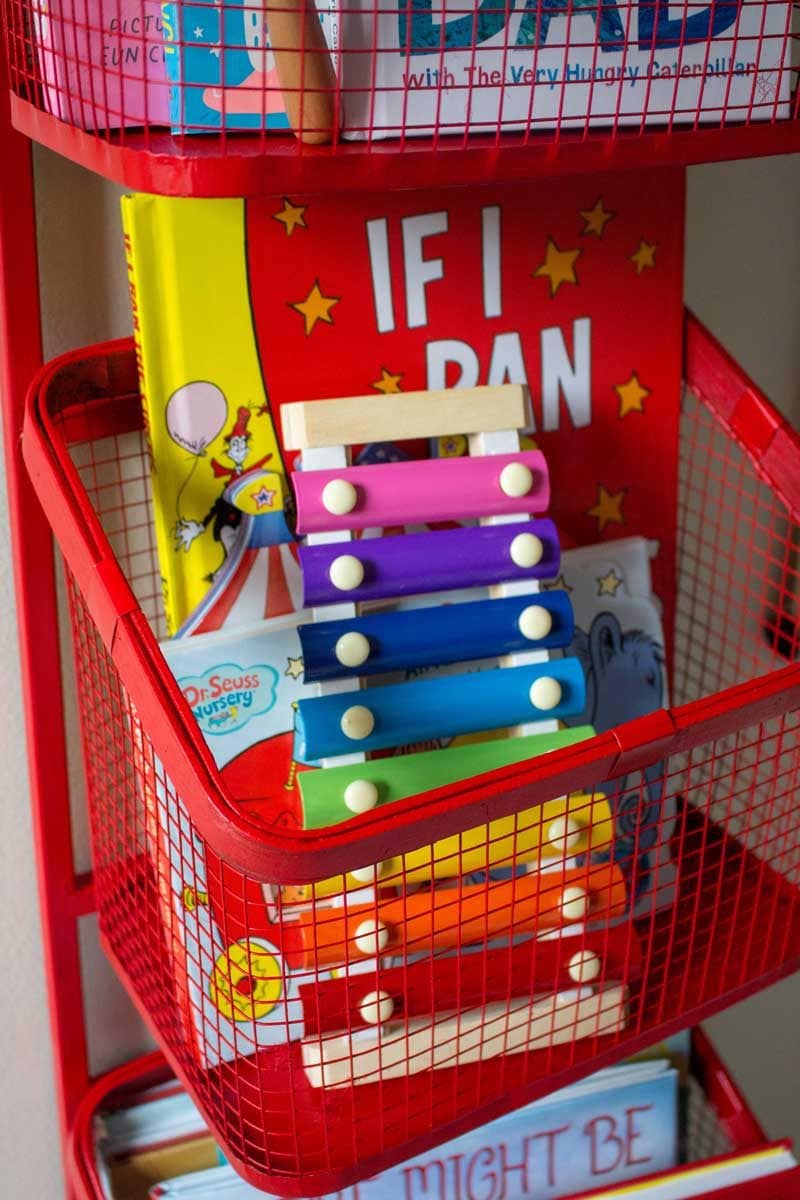 We received so many stuffed animal gifts and these canvas containers are perfect for holding them all. The giant giraffe was a gift from my best friend, one of the first items in Cooper's room. The giraffe needed a friend, so along came the tiger. I wanted to keep some innocence and friendliness to the space, as these wild animals can be scary, so I added a deer! I am starting to sound like a circus leader!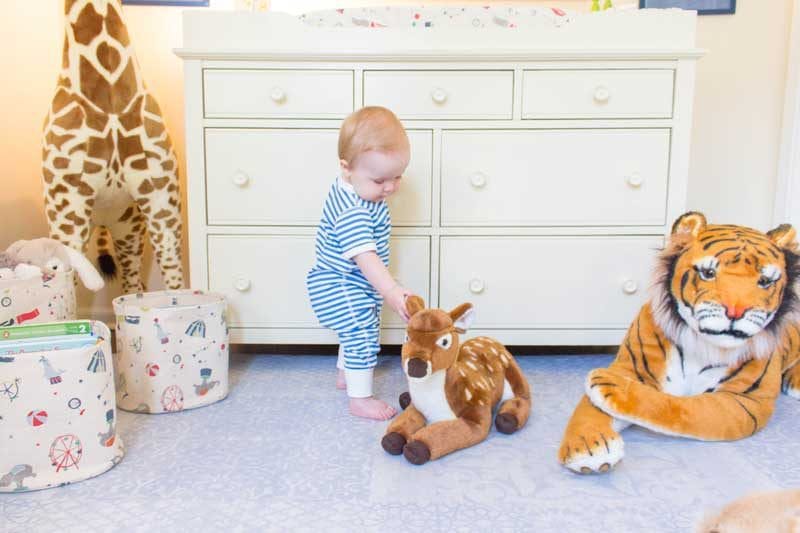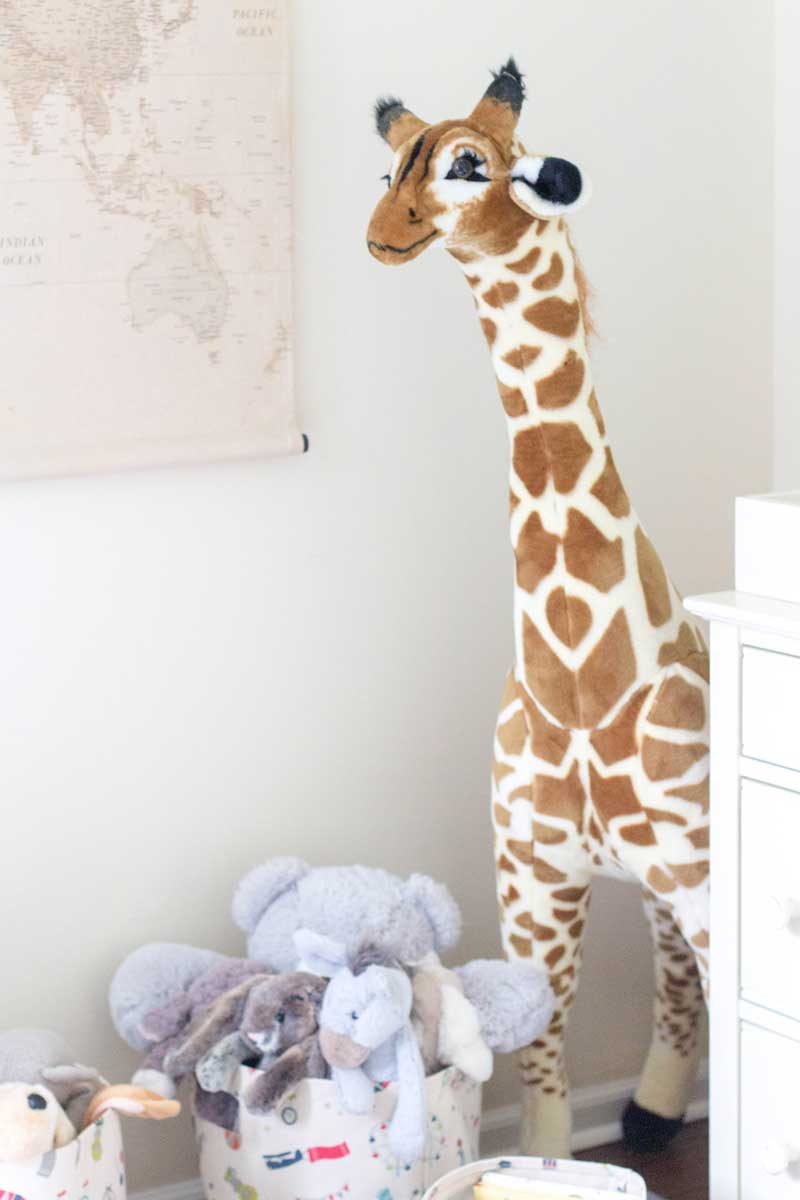 What would your top tip for new moms decorating a nursery to be?
Creating a room for someone is really special. Loving every inch of that space, customizing colors and choosing permanent decor is fulfilling. I can't tell you how much I have loved creating a circus for Cooper. Every morning it makes me smile and I love watching him explore and play in his little magical space. And so my two tips are the following. Enjoy EVERY second of it and love EVERY inch of it. There is no rush. Cooper is almost one and I have just finished his room! I think when you are pregnant you sometimes rush to get it all done but I have found that taking my time and finding the right pieces and projects and allowing myself to let it evolve has been a lot of fun. I have enjoyed every second of it. And, I enjoy every inch of it. To the point where I look in a corner or on a shelf and say, "what should go there" and I find that "perfect" piece!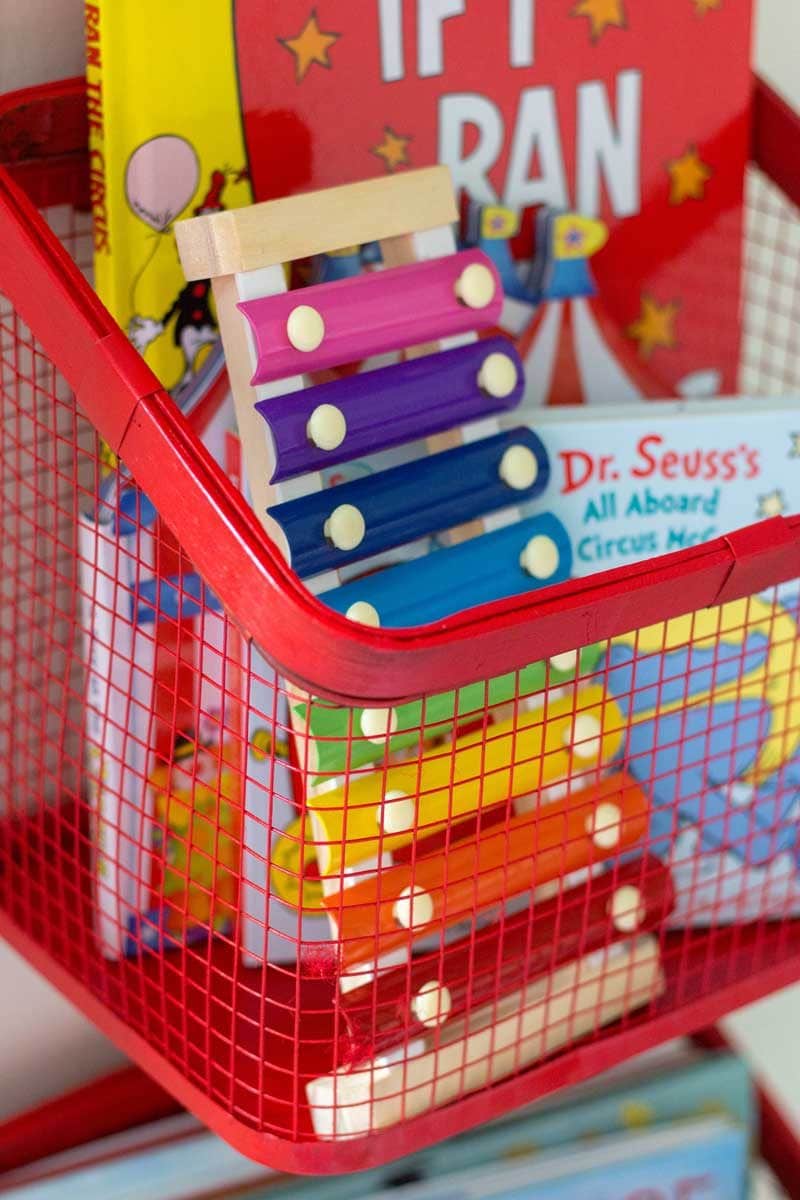 Oh, and another tip: don't see color. If you find a toy, a piece of furniture, a frame, imagine what color it can be not the color it is. I became a spray painting maniac (leads me to my next question and answer) and I find that it is so much easier to decorate when you can change the colors!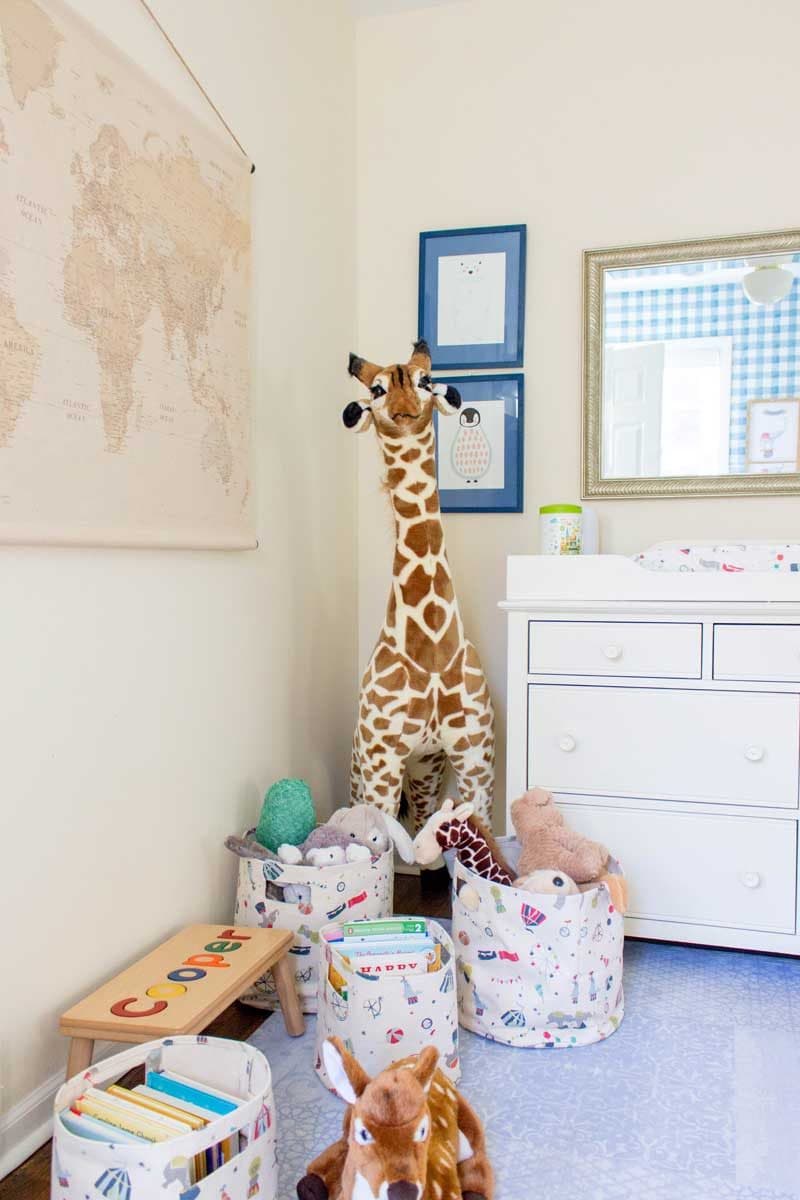 What parts of your nursery did you DIY?
Spray paint is my very good friend! From the side table and bear standing on top to the bookshelf, the elephant on the door, the diaper dresser and the frames – everything started white, black or brown and became bright and bold! I also put up the wallpaper on our accent wall and it was much easier than I thought it would be! I put up the vinyl stars above his crib.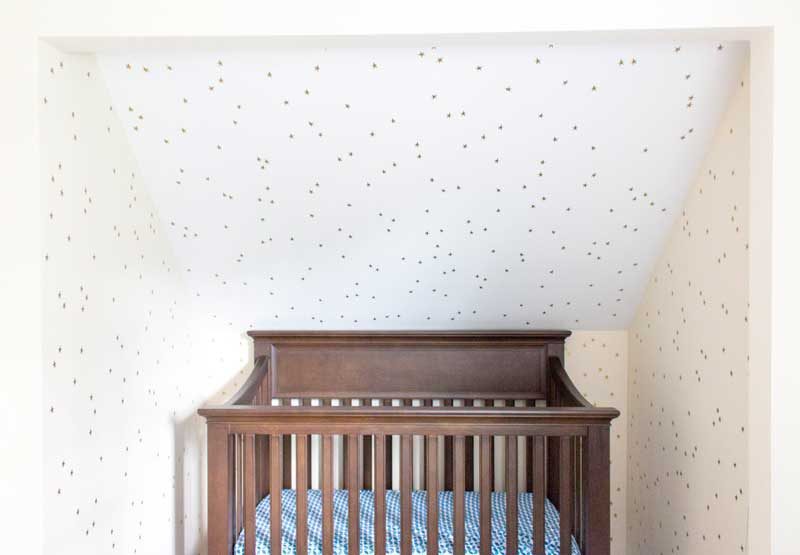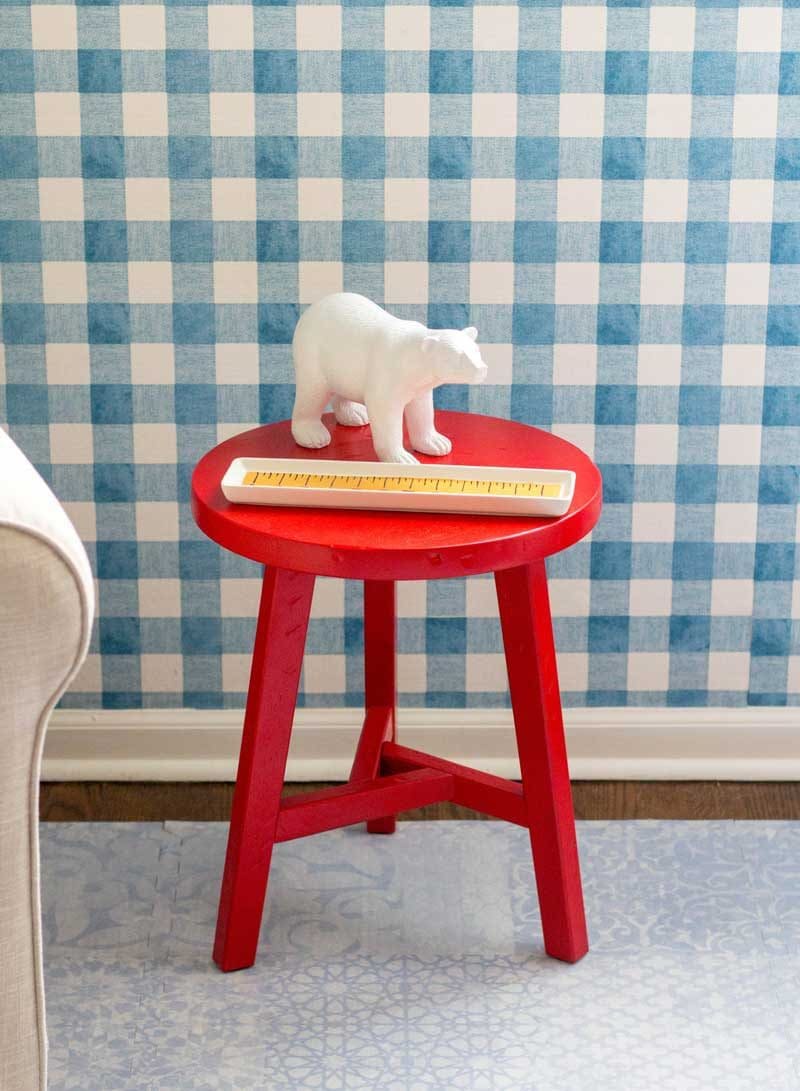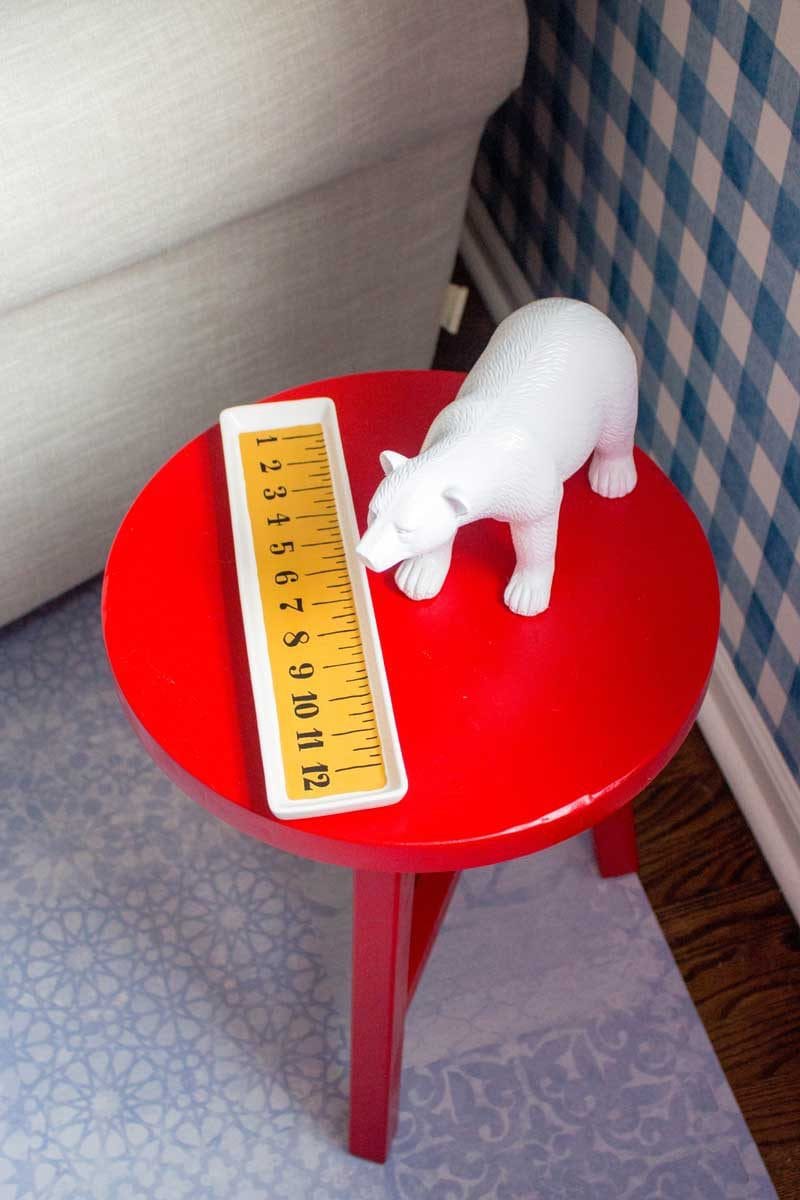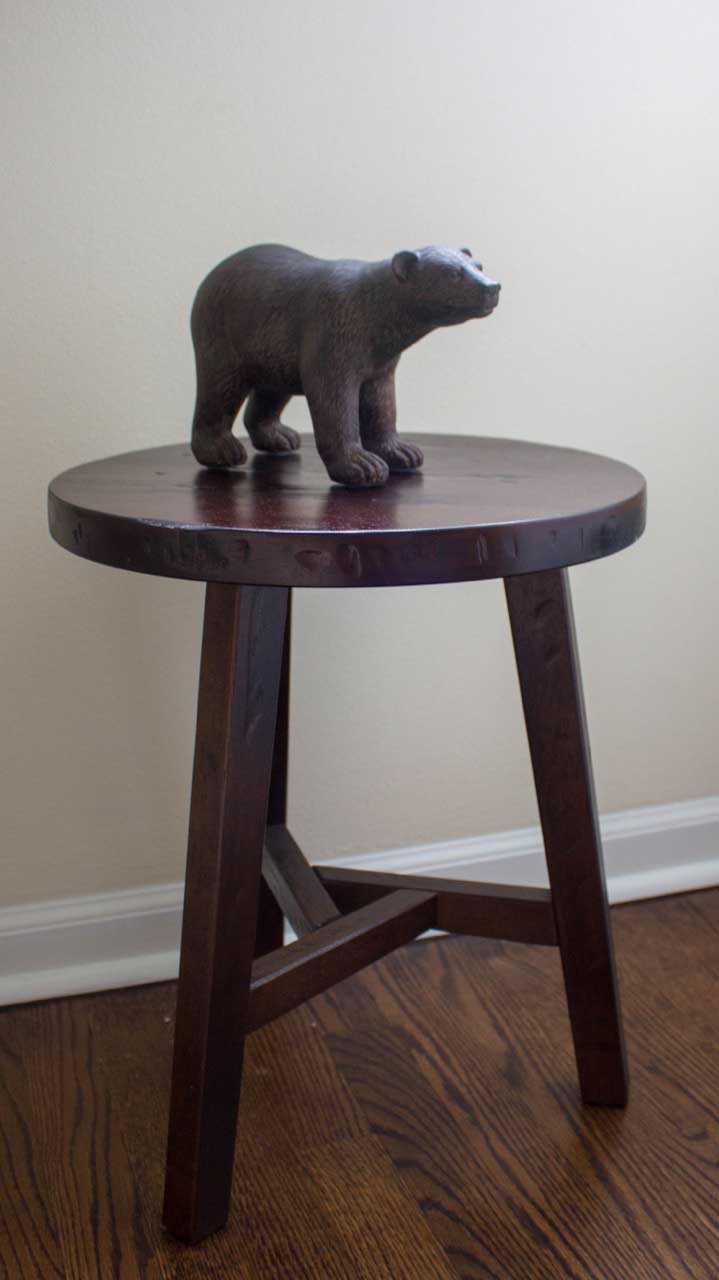 (look at how far this table and polar bear have come–she has such a vision!)
I think my favorite DIY project is his "bookshelf". People sometimes think that the circus is a form of escapism, but in reality the circus celebrated the realities of the world. The circus was at times the first place that Americans encountered new technology and Circuses staged spectacular reenactments of current events. To me the circus is as educational as it is fun, and this reminded me of illustrated books. We have a million, and I love them. I could buy ten books a day, there are just SO many! I wanted to have buckets of books, plus a way to display some of my favorite on the wall. I knew that a shelf would be tricky, as he climbs and pulls things down, so I found this cool old "chicken coop" basket display that was brown and rusted. I knew I could nail to the wall, making it safe and practical. I of course then spray painted it red!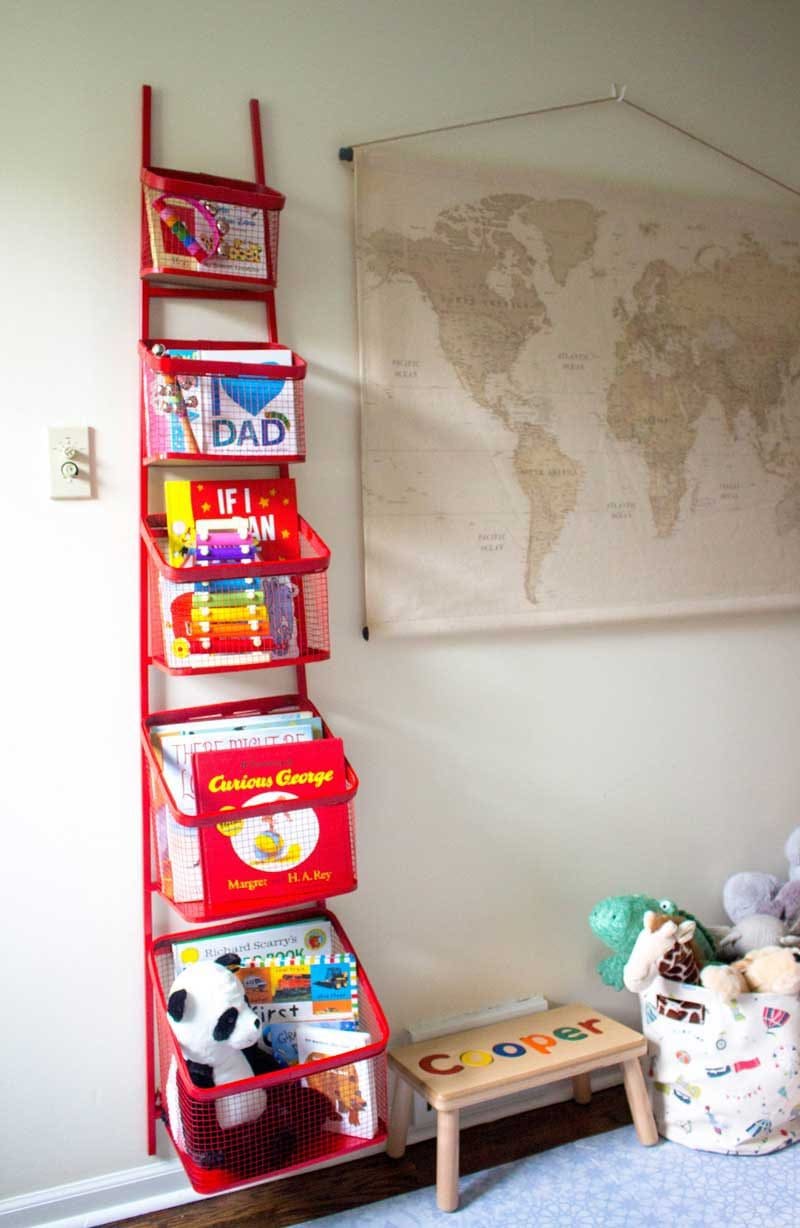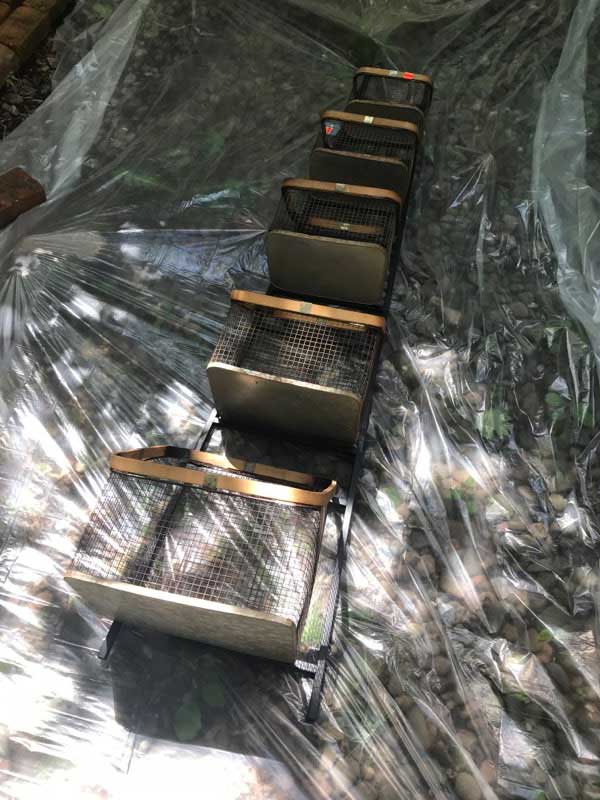 (love how she saw this wire bookshelf and knew she wanted to add a pop of color!)
What is your favorite part of your baby's nursery?
This is a hard one! I have to say that Cooper's alcove for his crib looks like it was made for just that. I put up about a hundred or so gold stars and I imagine the animals and circus talent laying on the grass after a long day and big show, gazing up at the stars. This little room came with this little alcove that was perfectly made for a crib, and for stars. This was a no brainer and feels truly magical.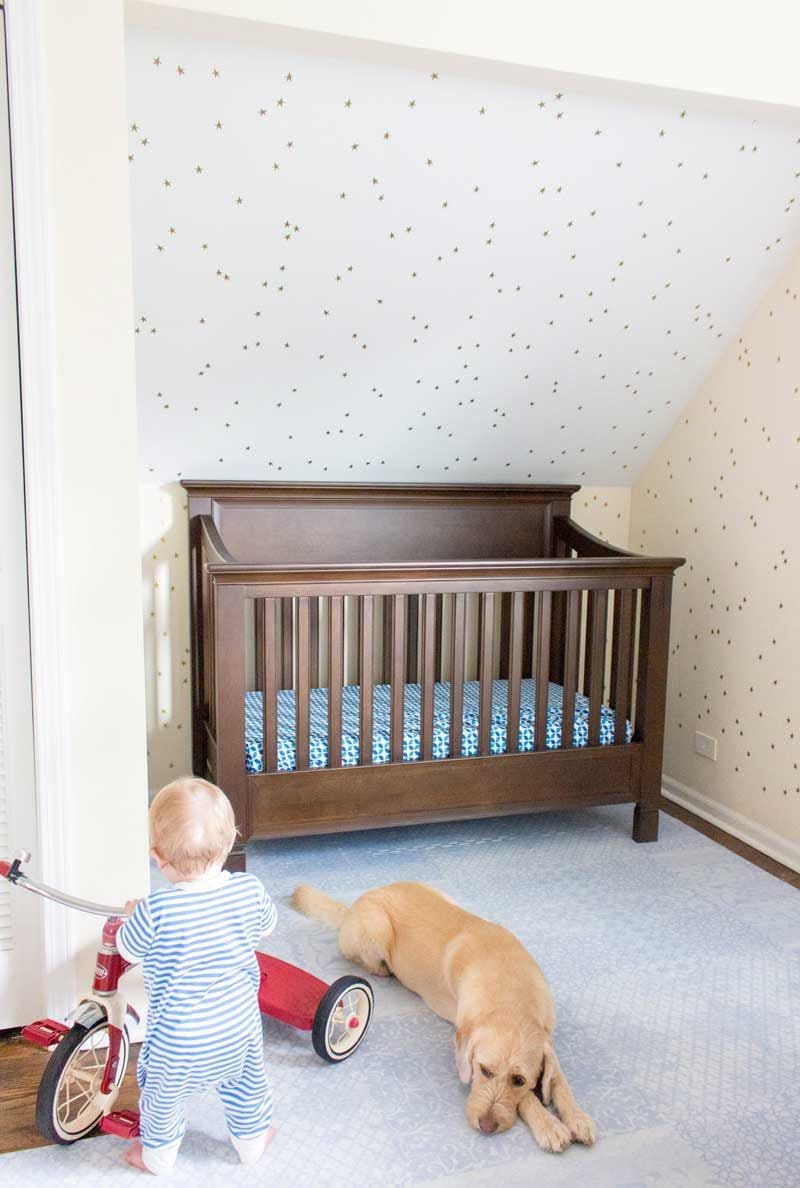 I also really love the art. I do not usually gravitate to art or clothing with words as I think they can sometimes be silly or tacky. But, when I saw these prints I really loved them. Cooper is so silly, being kind is the most important quality to teach and have, and I have always found him to be brave, whether at the doctor's office or his first day at daycare. I loved these images and words, and they felt like they fit.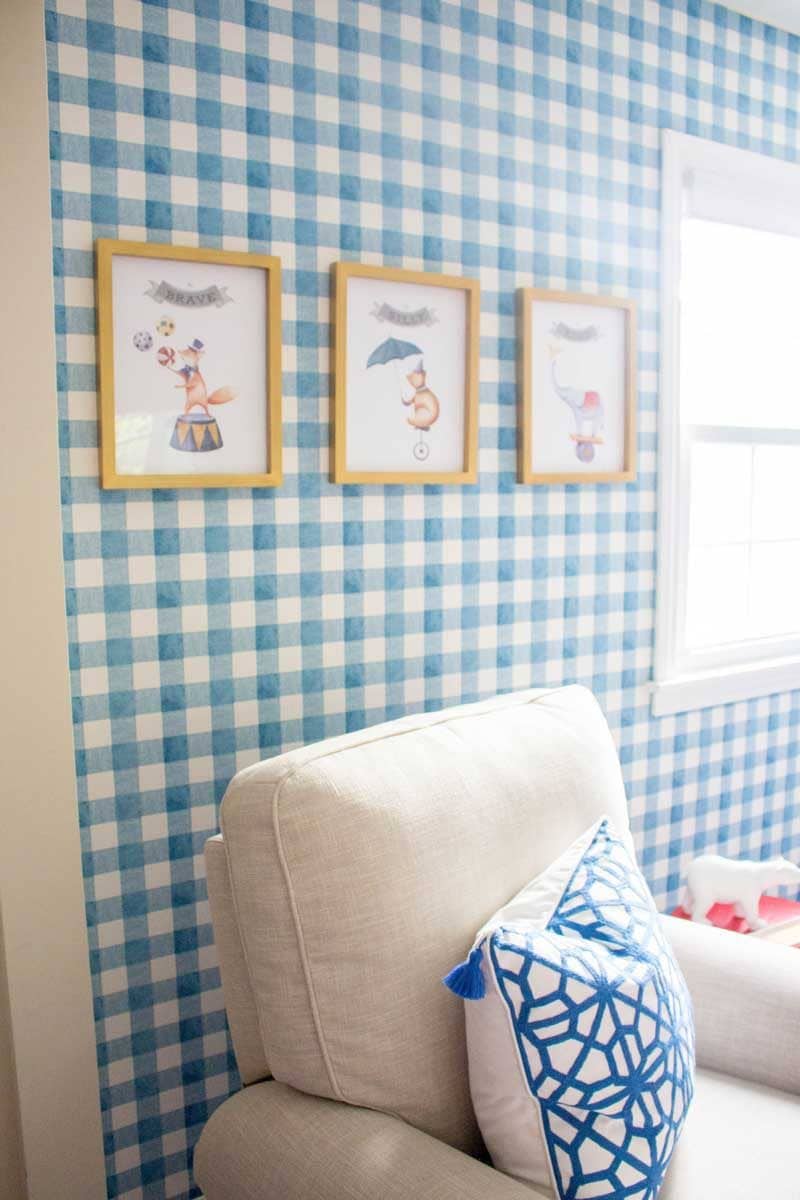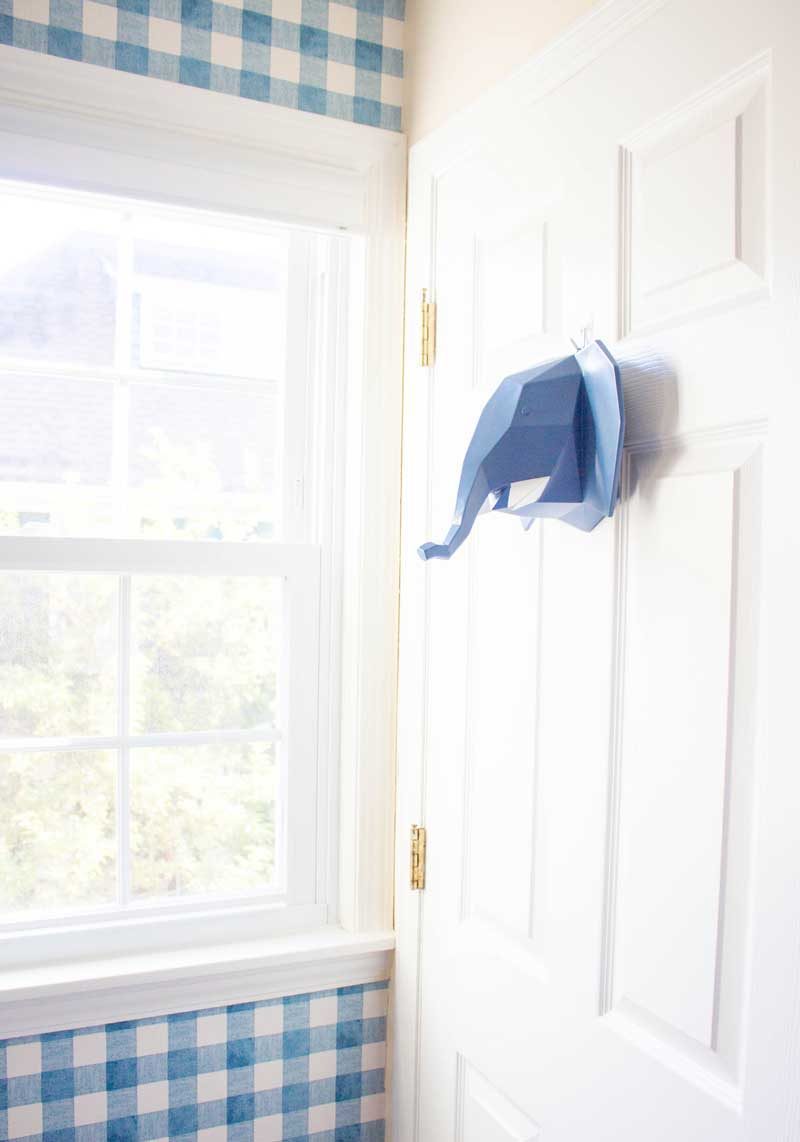 Has your decorating changed since having kids? What changes have you made in other parts of your home?
My favorite story is the tale of the white fluffy rug! Let's just say that there is no room for a rug at a circus! So we started out with a plush shag WHITE rug. Like, was I crazy? Talk about a first time mom fail! How on earth I thought that would stay clean is beyond me. And to be clear, it did not stay clean. One morning I spilled an entire cup of coffee on it and another day Cooper spit up after eating carrots. My white rug became slightly black and orange! I knew I did not want to replace it with another rug, because this would inevitably happen again! When decorating I think people assume rugs are the only way to get style and pattern, but I am here to tell you that there is another option! A foam mat. You may be thinking, what? But it is true. Little Nomad makes the most beautiful foam play mats that look like rugs. We covered Cooper's room WALL TO WALL with one and I am never looking back. In fact, I spilled coffee this morning and wiped it right up!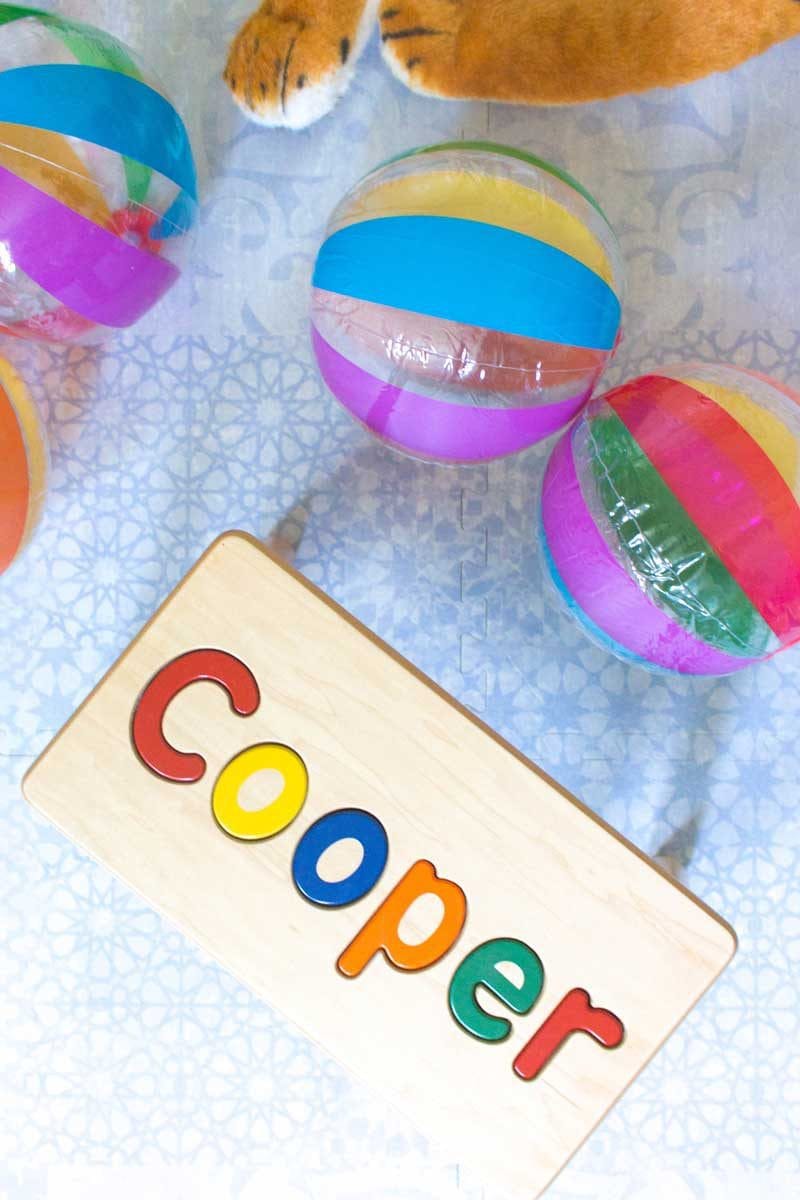 Long story short, I think my style has gone from pretty to practical. I have found ways to make practical pretty. Our house looks a little more minimal because we have had to move things. From a nice tray on our coffee table to low placed picture frames, we have had to adjust and move things up! Height is our friend.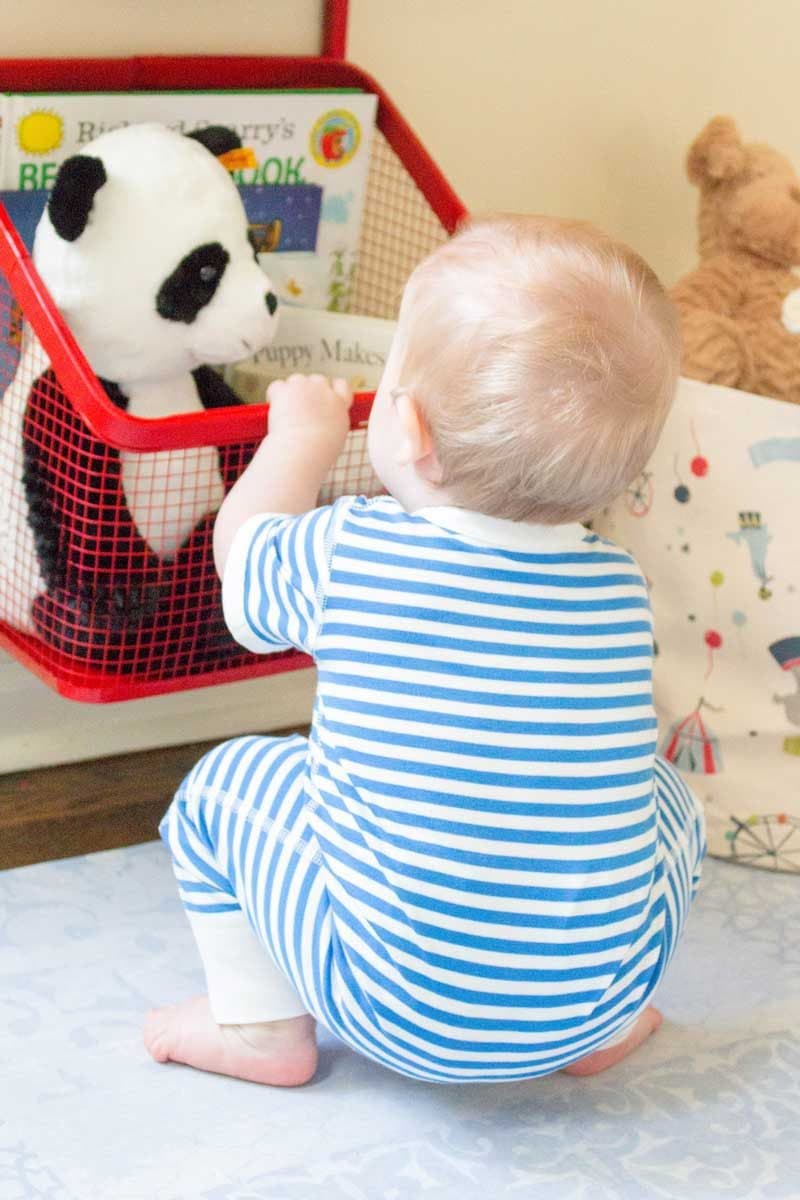 Do you have any favorite mom products that make life a little easier with little ones?
As mentioned, I love my Little Nomad playmats! Cooper's room is covered and we have one in our family room as well. They look like rugs and are a beautiful way to keep things clean and safe. Forget that neon mat!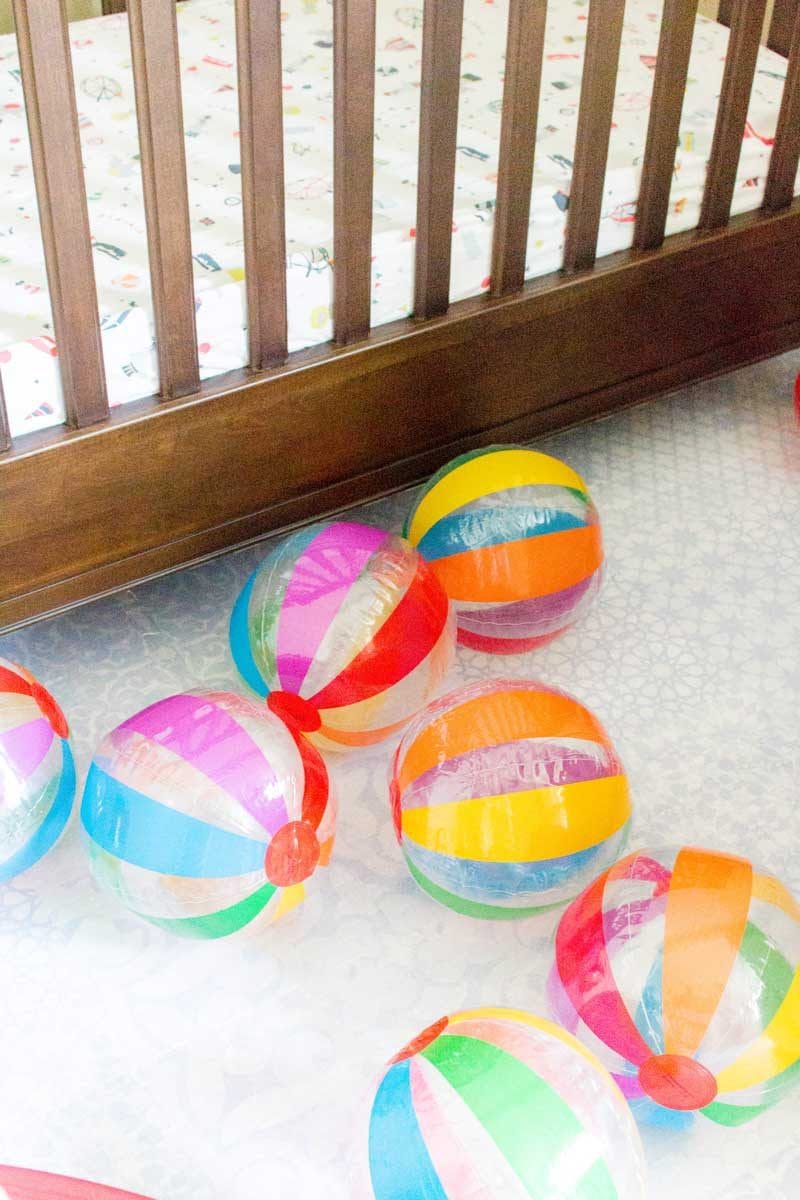 When I transitioned from breastfeeding to formula I found that the Baby Brezza Formula Pro was super helpful. Imagine a Nespresso machine but for formula. With a press of a button you have a bottle, that is warm and perfectly mixed! See how she uses it here!
When Cooper was very little (newborn to 4 months) I used the Dock-A-Tot all day long! It was such an easy way to get him to nap in the same room that I was. I loved having him close and found it very helpful.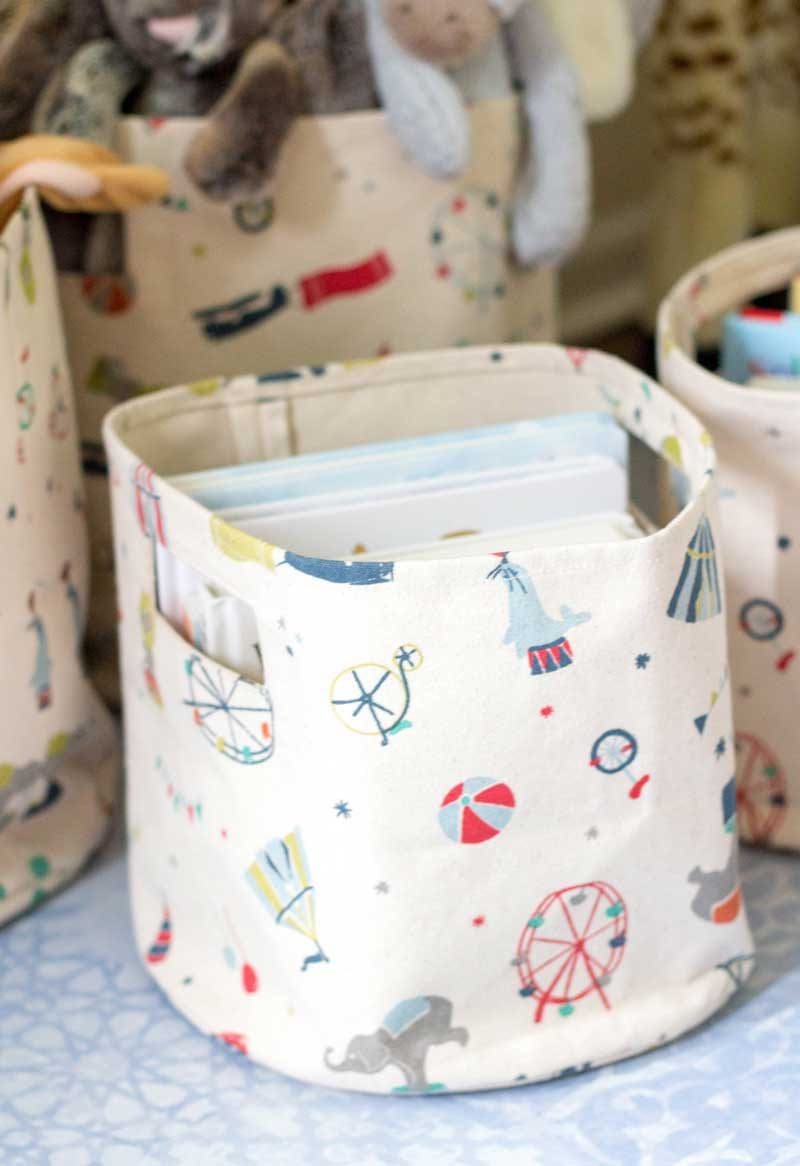 Muslin swaddle blankets! You can't have enough of them. I use them at the pool, as a blanket, to clean up messes, and so-on. I always have one in my purse.
Tervis wine tumblers. Is that appropriate to say?! I used to sip out of a nice stemmed glass and found that was not too practical anymore. Sitting on the play mat with multiple toys and a dog and a wild baby I found that my wine tasted better in an ice cold tumbler 😉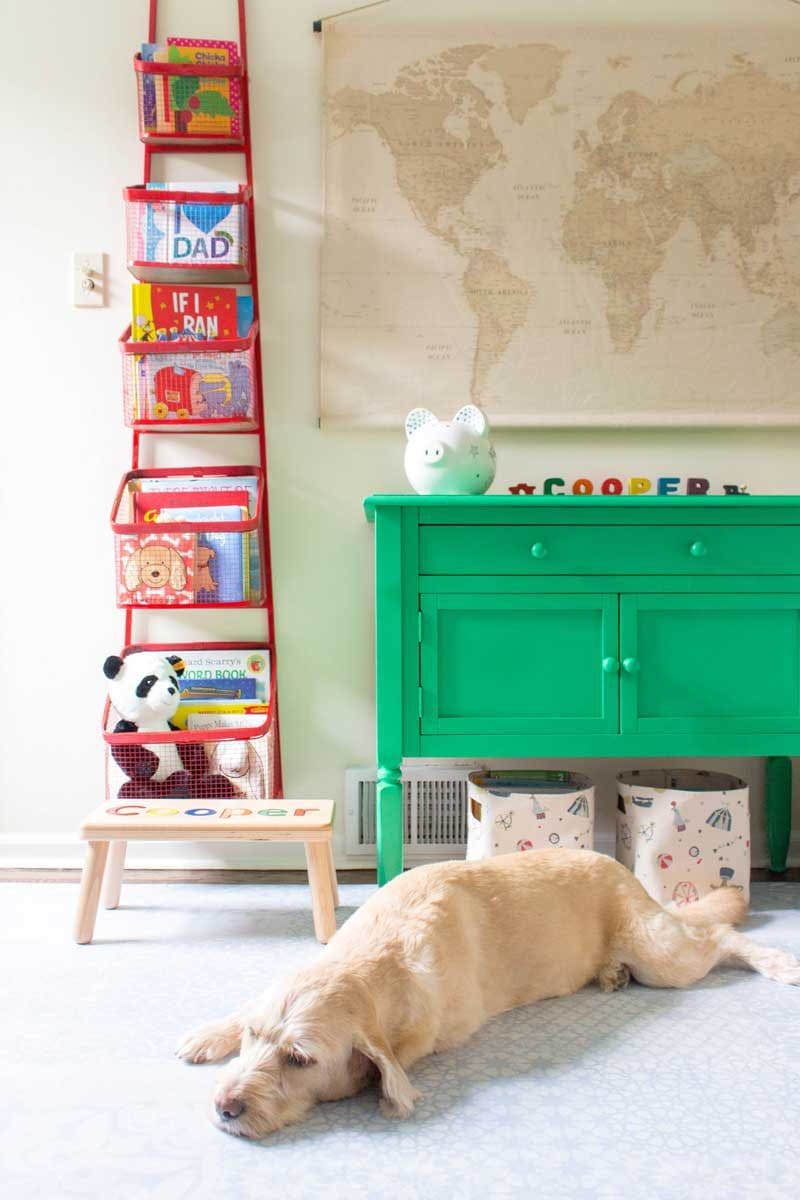 Another tip is to ACCEPT all hand me downs from friends and family. In the beginning, I didn't think I wanted much from people because I was excited about buying new things but I found that you can't have enough toys and if someone offers you a stroller, take it!
Thank you so much Addie for sharing your amazing nursery! Make sure you see more of her home and her gorgeous entertaining–seriously swoon-worthy at Addie Gundry!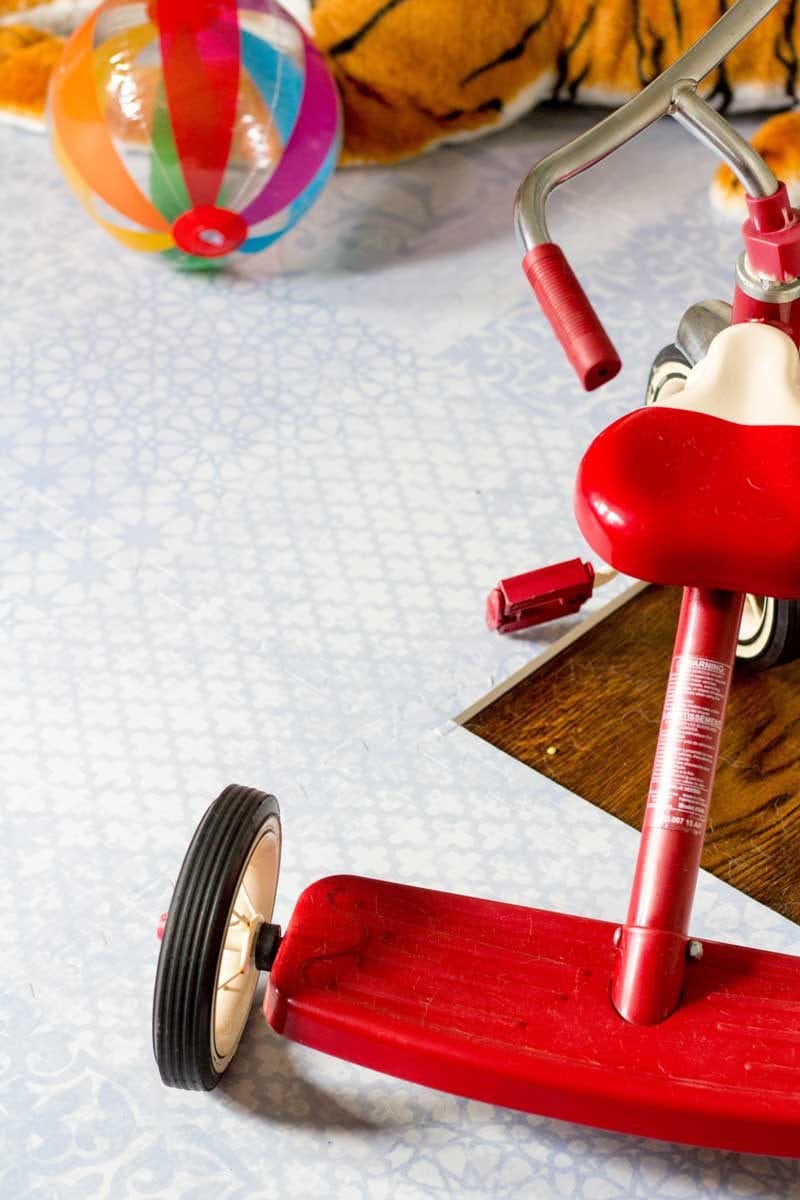 Make sure you check out Addie's gorgeous blog here–she shares the cutest children's book snacks (seriously, click here to read it– you will not believe how cute it is!) Plus, here are adorable ideas for baby shower gifts!
Sources:
Rocker: Pottery Barn Kids
Crib: Pottery Barn Kids
Dresser: Pier One Imports
Changing Table Top: Babies R Us
Bookshelf: Hobby Lobby, then painted with Rust-Oleom
Foam Mat: Little Nomad
Wallpaper: Wayfair
Bed Sheet, Changing Table Cover, and Canvas Bins: Pehr Designs
Elephant Door Hanging: Hobby Lobby, then painted with Rust-Oleum
Be Kind, Be Silly, Be Brave: Etsy: The Graceful Goose Studio
Frames for Be Kind, Be Silly, Be Brave: Pottery Barn
Animal Images: Etsy: Dekanimal
Frames for Animal Images: Walmart
Map: Hobby Lobby
Star Decals: Etsy: The StickUpKid
Green Table: Garage Sale, then painted with Rust-Oleum Meadow Green