Now that it is officially summer, we are hitting the pool as much as possible! With two kids four years old and younger, it certainly isn't as relaxing as it once was, nor is being super pregnant (and I don't think reading by the pool is anywhere in my near future;) but, I still think it is really fun and doable as long as everyone has their floaties on! It is seriously the best way to tire out the kids, and with swim lessons starting next week for B, we are there every single day.
I have found with having two kids at the pool alone, that being prepared and bringing the right stuff is the key to success. You don't want to have to run home for anything.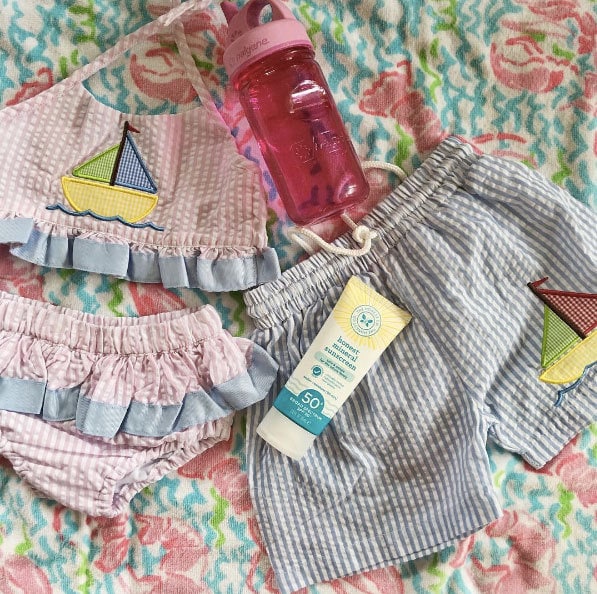 *contains affiliate links see my full disclosure policy here
I keep my pool bag packed in our laundry room on the floor. I use this bag still for everything (I have used it for eight years!), and then have a smaller bag for our sunscreen, and our pool toys. By limiting the amount of wet stuff, it helps keep everything cleaner! We usually walk to the pool, so I hang their floaties off the back of the stroller and use this clip to hold my pool bag. The kids ride home in either their wet bathing suits with towels, or I change them there.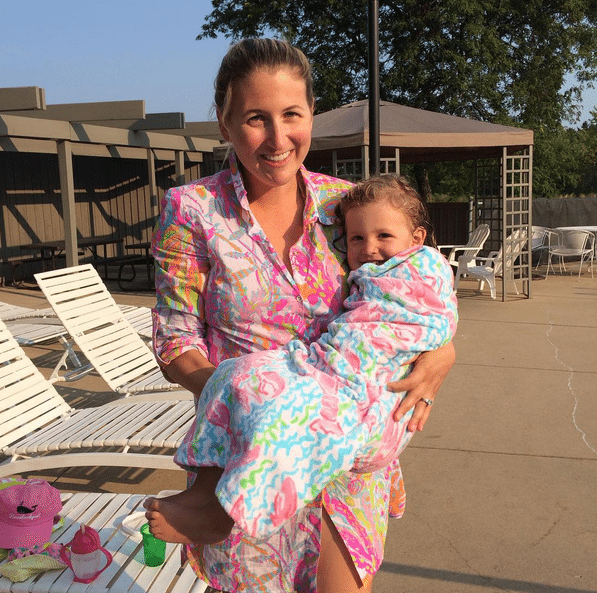 (a pic of me with B last year when I wasn't 9 months pregnant!)
WHAT TO BRING TO THE POOL:

boats/ papasan float/ goggles–their replacement policy is unbeatable/ torpedoes/ treasure chest/ sinkers/ rings/ boom box/ swim aid– perfect for learning swimmers/ pool ball/ baby floatie/ sunglasses– again, their warranty rocks/ puddle jumpers– this is what J wears/ produce bags– I use them for all our wet toys for the pool and beach/ cooler- love it and use it all the time!/ the cutest floatie you ever saw
Alright, you always need towels! I love having matching towels so we can always tell our towels apart from other peoples. As you may have seen on Instagram, I still am loving my Turkish towels! They take up 1/4 of the space of a traditional towel and are still really absorbent and they are soft! I picked up mine from here last year during their Memorial Day Sale.
Floaties are my saving grace. J is nowhere near a competent swimmer; but, he is eerily comfortable in the water it. And B is really close to not having to wear floaties, so we have her use the swim aid– (it's the same one they use in classes and super cheap.) So we have the rule that she always has to have it on when she is in the water if myself or my husband are not in there with her and 1:1.
I forgot to include this, but keeping hydrated is so important. I like to fill up my S'well bottle every day and always make sure to bring it to the pool with me. I make it my goal to drink at least two of them. I will also bring the kids water bottles.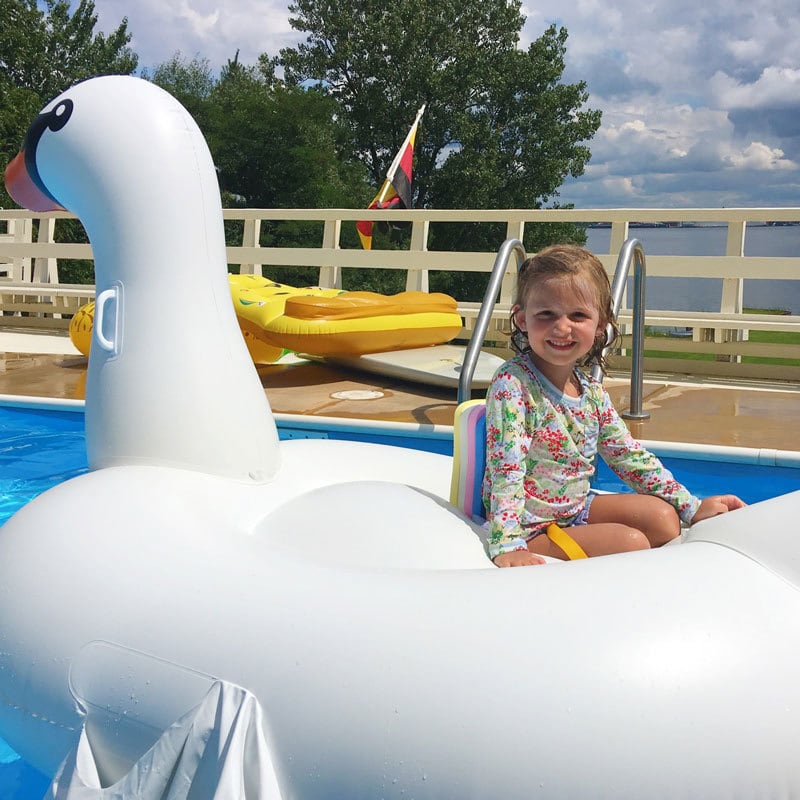 Last year, I soon found out that the key to keeping kids occupied at the pool when you don't or can't be in the pool with them at all times comes down to two things: rules that they stay in the shallow end, and the right toys. With B, I can sit on the side of the pool; but, with J I have to be right in there. B only gets to play with these toys at the pool, which means that they keep their "specialness." This treasure chest has been a winner with B and all the other kids two years in a row now.
And we all know that a good pool round up would not be complete without a doughnut float right? We have that one, but now I am dying to get a flamingo floatie! Now, tell me, what are your favorites for bringing to the pool with kids?
And as far as what they wear, my favorites are definitely rash guards. Although I loved their smocked swimsuits, when we go to the pool in the middle of the day, I always make them wear the full rash guards so I can save doing so much sunscreen. I go to Hanna Andersson for some of our's, and then get the rest from here. Each kid gets two rash guards with bottoms as an outfit, and one extra swimsuit per season, and a waterproof sun hat. And when they are babies we always buy two reusable swim underpants. The rule is to change them RIGHT before they go in the pool–otherwise, you will get peed on!
Linking up today with Annie and Natalie!