This is a sponsored conversation written by me on behalf of SSM Health St. Mary's. The opinions and text are all mine.
Honestly, giving birth is one of the hardest yet most fulfilling things I have ever done. Few things in life are more emotional than meeting your babies, and the oxytocin and endorphins I experienced after giving birth made me (almost) forget all the pain I had just been through! I go from cursing the entire experience during labor, to saying that I can't imagine not having more kids afterwards!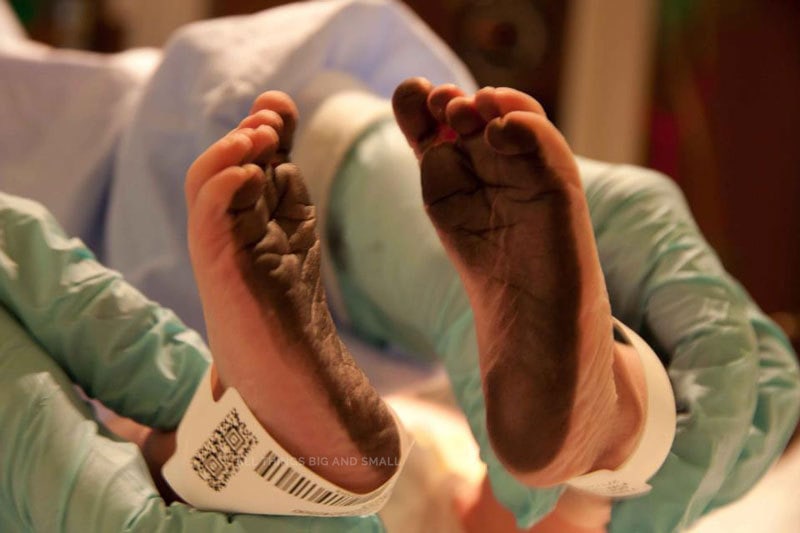 I chose to give birth naturally each time, and couldn't be happier with my experiences (however different they were!) From four hours of pushing with Bowe, to five minutes of pushing with Jack, to 10 minutes of pushing with Brooke they couldn't be more different. Even Jack and Brooke's deliveries were vastly different because Brooke was sunny-side-up and was a lot harder to get out, whereas Jack just came right out! Each one was different, and each birth like each kid was special in its own way.
Although the deliveries were quick, I did most of the laboring at home with each–where I am most comfortable. I always headed to the hospital whenever contractions went consistently to 3-5 minutes (although for me, it always went from seven minutes apart to two minutes apart within a half an hour.) You can imagine how uncomfortable I was driving an hour and a half with contractions 2 minutes apart with Jack!
With Jack, we barely made it to the hospital. We were so lucky that he wasn't born in the car! We had thought we'd have a lot more time after Bowe's long push time (four hours). Well, we were wrong! Jack came out within 20 minutes of us pulling into the hospital driveway! We didn't even have time to wait for valet to park the car (the valet wasn't there)–so we had to leave the car in the driveway, after the triage nurse told us to. Jack was born within 10 minutes after getting into the delivery room. So right after Jack was born, my husband held him, kissed him, and then rushed out to the car to park. Thankfully, he was back within 20 minutes–it sure is a story to remember (and not repeat with a third child!)
Before I go any further, I want to qualify this all by saying that I consider myself incredibly lucky to have three healthy uncomplicated pregnancies and births, and understand that not everyone gets to experience it. I also understand that many women do not want an unmedicated birth, and that I completely understand and respect that! It is such a personal decision, and you have to do what is best for you!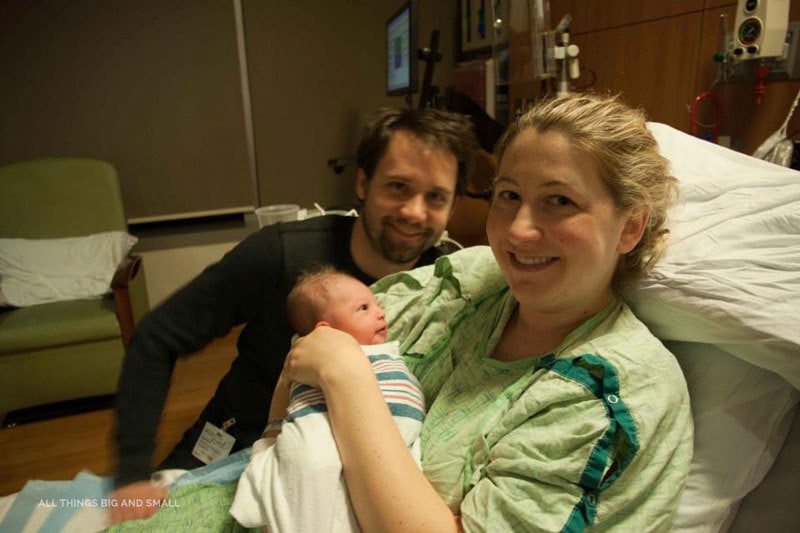 (After showing up to the hospital at 9.5 cm, and then 4 hours of pushing we had Bowe.) You can see the exhaustion on my face! I had labored with her at home for about eight hours before going in.
For Bowe, we elected to use a midwife and a doula. It was an amazing experience, and I would recommend using a doula to anyone who wants some extra support and guidance at your birth (especially for your first child.) Because we were traveling an hour and a half in the car with Jack (from Wisconsin to Chicago, where our chosen hospital was) we chose to skip a doula, but still delivered with the same midwives. And this time with Brooke, we used a local OB/GYN in Wisconsin, who was fantastic as well at our local hospital which is 10 minutes away–there was no way we were driving farther than necessary with my history of quick labor like I had with Jack!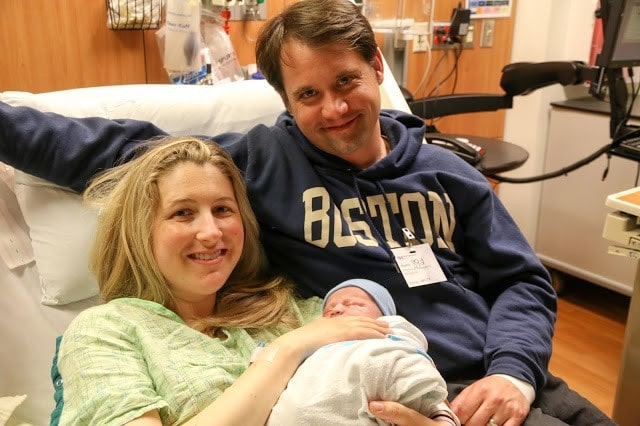 Jack was born under 20 minutes after we pulled into the hospital–but, I had labored for about three hours consecutively (seven overall). The easiest labor I have had–and it shows!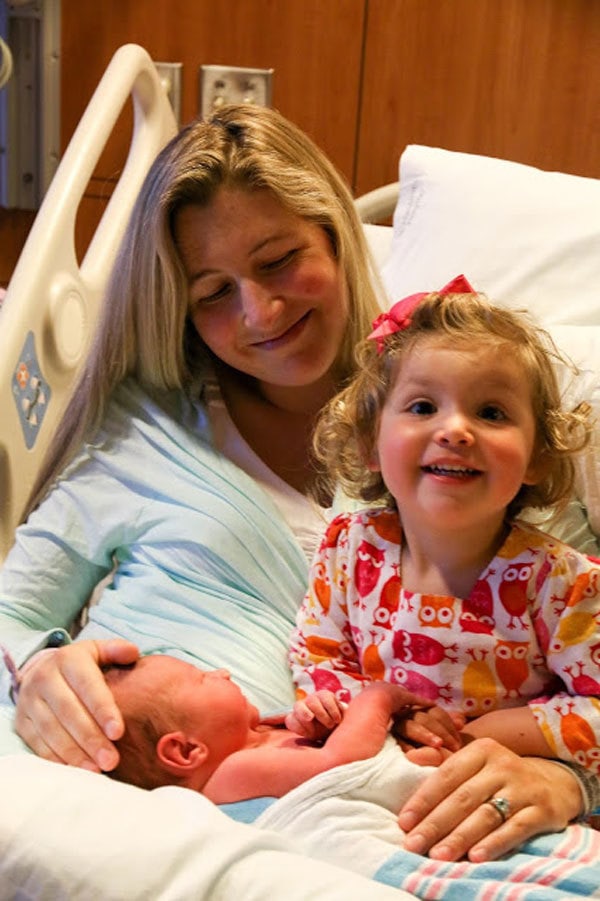 Here is Bowe meeting Jack the next day!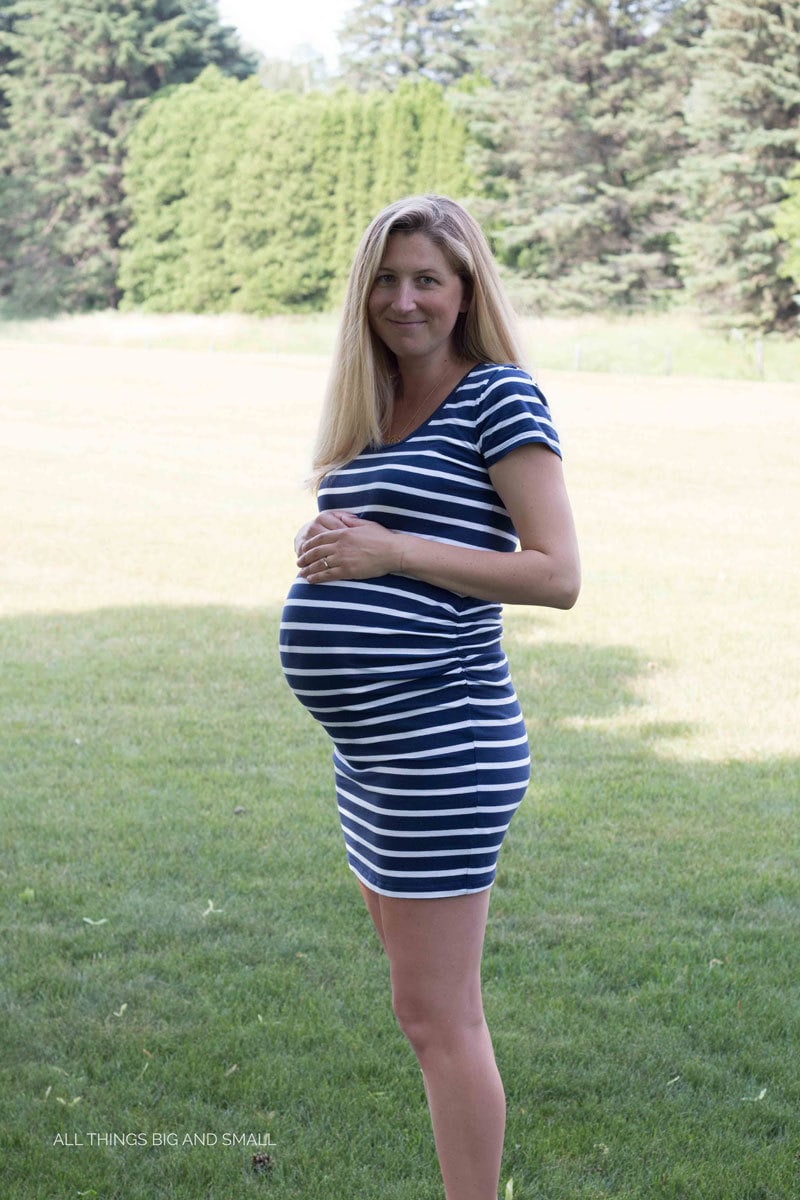 37.5 weeks pregnant with Brooke (a week before I gave birth)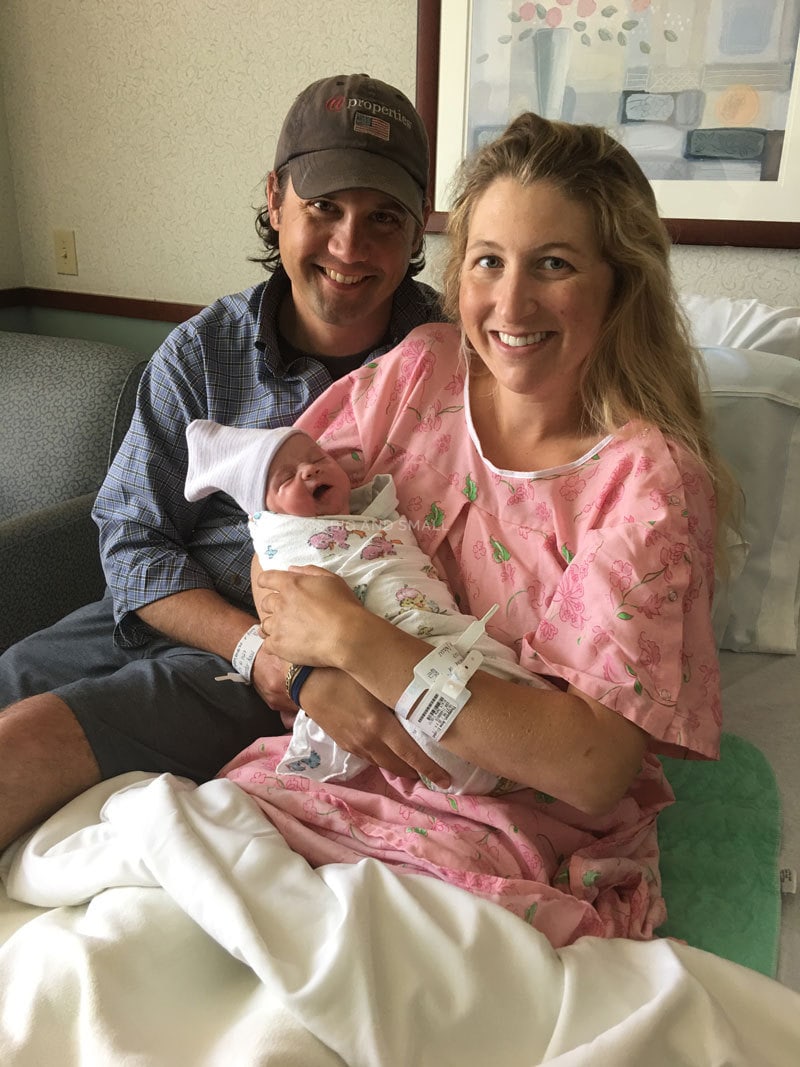 And with Brooke, I delivered within 25 minutes after arriving at the hospital as well! I labored for three hours at our house before going into the hospital.
While, I would have loved to use midwives again, we didn't have any certified-nurse midwives within the short driving distance we considered safe.) You see, with Jack and Brooke, I gave birth within 20-25 minutes of entering the hospital (what is considered a precipitous labor) so a car ride over 15 minutes was not something I was comfortable with. Finding a hospital that you are comfortable with is so important! Whatever you choose, you want to trust the facility, the doctors, and the health providers there. I knew, I wasn't going to be comfortable with anything farther away because of the risk of giving birth in the car if my water spontaneously broke.
I truly wish I lived closer to SSM Health St. Mary's. If it weren't an hour away (and I didn't have such quick labors) I would have given birth there. Why? Because they have everything at the hospital that is important to me (and ironically, all the reasons I stayed home to labor because our local hospitals didn't have these options.)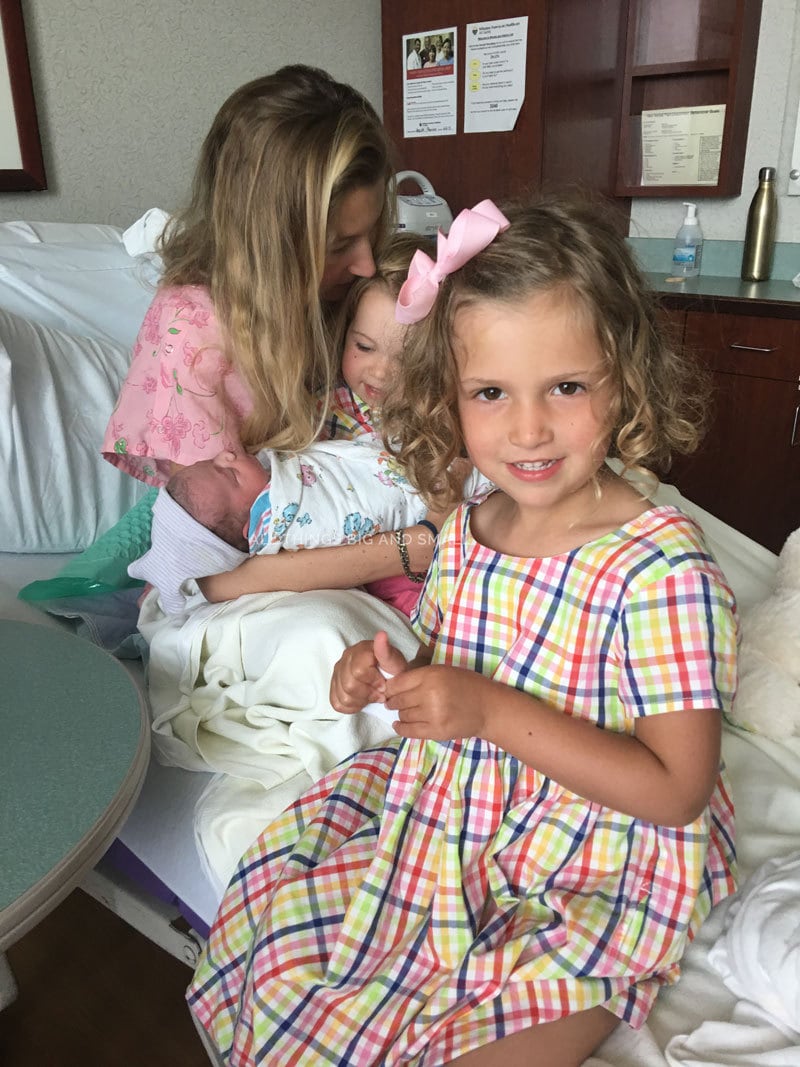 Jack and Bowe meeting Brooke–excuse the hair (or lack of hair and makeup) I didn't even have my hospital bag in the room yet (we had left it in the car in the hurry to get into the hospital!) Thankfully, I had taken a shower when labor began first thing in the morning!
You see, St. Mary's Family Birth Suites pampers expectant moms with delivery rooms with soaking tubs (so nice to have for laboring), room for families, and flat screen TVs! The recovery rooms have full-size beds, a place for dads to sleep, and a baby-bath sink and warming bassinet! Evan would have loved to have something more comfortable that the fold-out he slept on the first two times (consequently (he slept at our house after Brooke's birth). They even have aromatherapy to provide relief when desired!
And for moms like me who always seem to worry about the worst-case scenario, they have a Level III NICU and access to 24/7 maternal fetal medicine specialists if necessary. Personally, this is a huge factor and the reason I chose one hospital over another for Bowe and Jack's births. St. Mary's Family Birth Suites specializes in natural deliveries, and has a lower unplanned C-Section rates than other Madison hospitals (all important factors in my opinion for choosing which hospital.)
All of this is to say how important it is to decide early on in your pregnancy what is important to you, and to find a hospital that supports your values and will support you in your birth plan. For me, taking classes and doing a lot of reading on different options and approaches for birth early in my pregnancy with Bowe helped a lot. After deciding what was important to me, I chose my hospital, and then my provider–even though it meant traveling farther. In my third trimester with Bowe, Evan and I took a birthing class and a breastfeeding class, in addition to meeting and hiring a doula, which helped me know what to expect when I finally gave birth.
Like I said above, birth is the most amazing experience in the world, and is incredibly personal–so finding a support team and a supportive hospital is paramount! Look at different hospitals near you, and if you are in the Madison area, consider St. Mary's. Find out more about them on Facebook, Twitter, and Instagram!
But ultimately, do what is right for you–whatever that might be! For me, it was a natural child birth in a hospital location–but it is up to you! So please tell me, did your birth fit your birth plans? What was important to you in choosing a hospital?
Comments submitted may be displayed on other websites owned by the sponsoring brand.