Do you love where you live? Even though we technically live 1 hour outside Chicago, we still consider it our city. We will always be Chicagoans through and through, and we visit it all the time (as both our parents still live there.)
After both growing up in the suburbs of Chicago (me in Wilmette, and my husband in Oak Park), meeting there, going to college and graduate school, marrying there, and then moving to the suburbs (Oak Park) to start a family–we have a lot of connections to Chicago. I know I will never feel like I know and understand another city as well as I get Chicago. After living in Lincoln Park for two years, and then Oak Park (the first suburb to the west of the city) for four and a half years, we have definitely spent a lot of time in the city.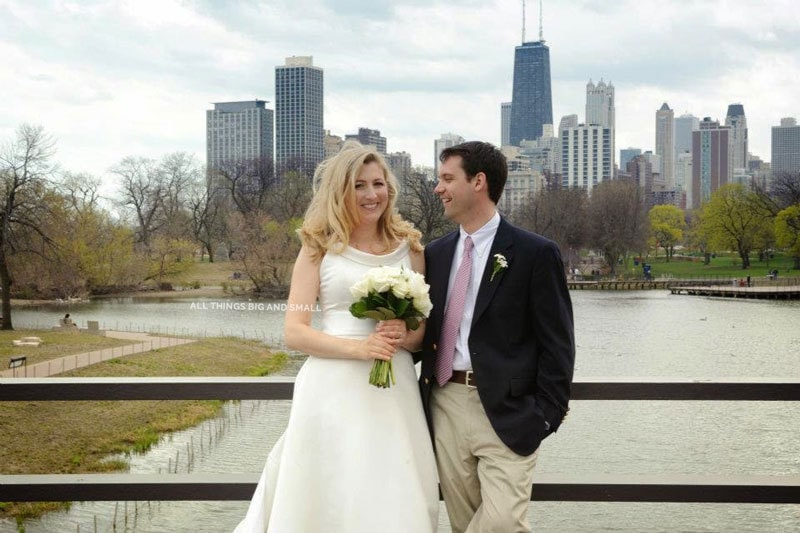 We still love bringing our kids there as much as possible, and actually even maintained our zoo and museum memberships because there are so many activities to do, places to see, and experiences to have. So I am going to share a bit about our favorite spots that make Chicago such a great place to raise kids!
It's A Zoo!
No, not really! However, there are two amazing zoos in the Chicago area. The Lincoln Park Zoo is a classic, and we go every holiday season to see the Christmas lights. The zoo is admission free, you just need to pay for parking (or find street parking.) When we lived in Lincoln Park, we went to the zoo every weekend. It is easy to walk right through the zoo along your way to the lakefront. Lincoln Park is an amazing area of the city–tons of shops, restaurants, and parks. Chicago's lakefront parks are one of the best advantages to living in the city.
We also love going to the Brookfield Zoo in the suburbs as well. For a family membership, it is very reasonable and within a few trips, you save money. Parking is free for members. Brookfield Zoo is much more spread out (it is in the suburbs, so real estate is not at a premium.)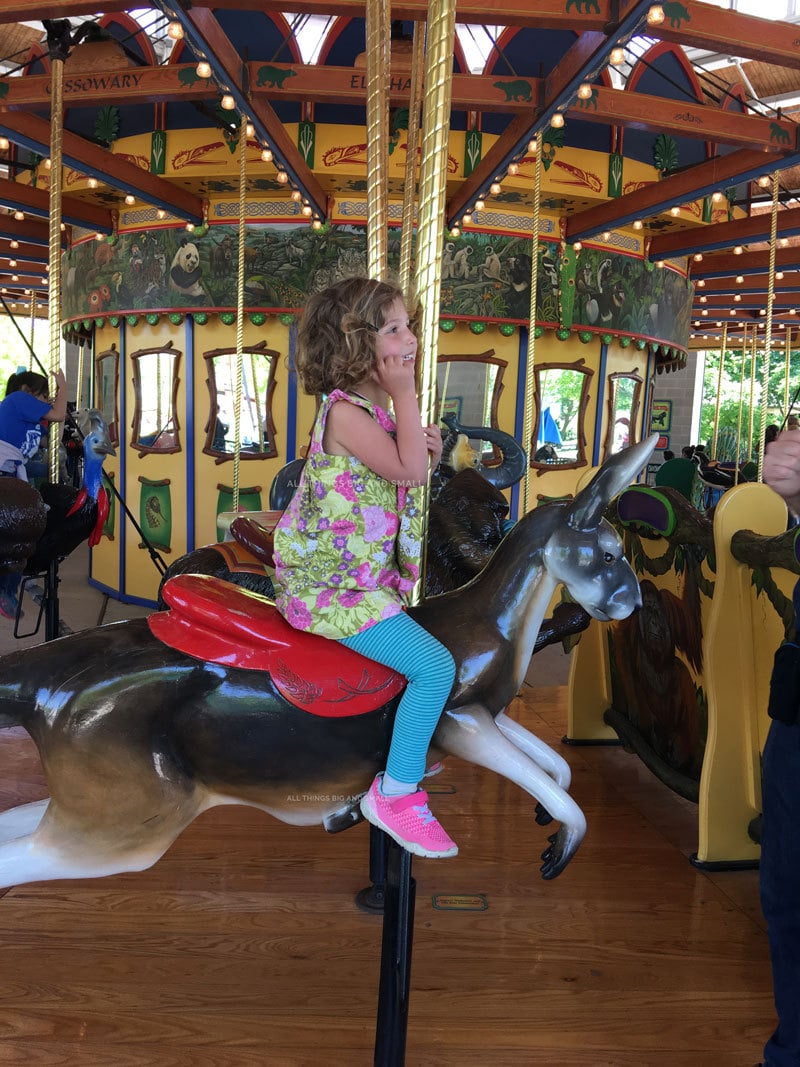 Our favorite carousel–no trip to the zoo is complete without it at the Brookfield Zoo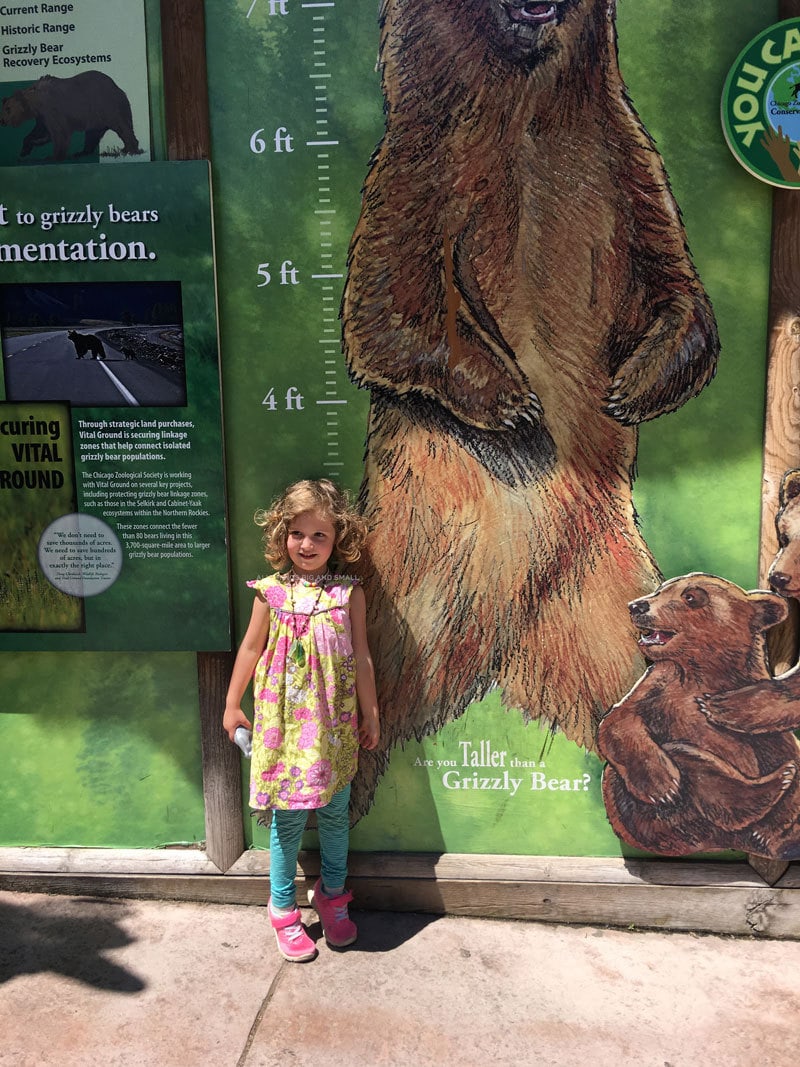 We always have to see how tall we are compared to the bears at Brookfield Zoo
The Art Institute of Chicago
Downtown, you cannot miss the Art Institute of the Chicago. We often will take the train in from Oak Park to the museum to walk around for the morning (even with kids!) It is so fantastic to expose the kids to art from an early age. I am always amazed at their interpretations of the art. The last weekend we spent in Chicago, we took the kids to the new armor exhibit. B absolutely loved all the knights protecting the princesses (we told her some stories) and Jack loved seeing the life-size horses and armor. When you are going through the galleries, try to ask the kids to find animals, or pictures they can relate to. B loved the Degas paintings, and Jack had a ball finding "moo cows" in as many as he could!
Peggy Notebaert Museum
Another kid favorite in the heart of Lincoln Park (right across from the Lincoln Park Zoo) is the Peggy Notebaert Nature Museum. Admission is free on Thursdays for Illinois residents but donations are encouraged. When we lived in the city, I would regularly bring the children I nannied there, and then when I had B, I did the same. Their butterfly exhibit is amazing, and there are tons of hands-on activities (including a water table–consider yourself warned) for toddlers. If you live in the city, it is easy to get there with public transportation and a stroller or you can always find parking on the street (although you might have to walk, so bring the stroller!)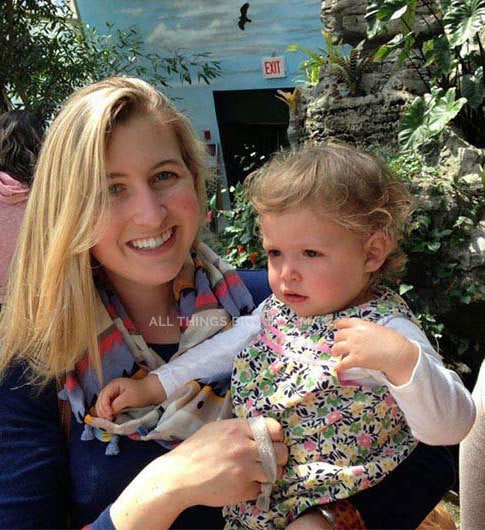 I swear she loved the butterflies 😉 She just didn't want to be picked up for a pic–a shot of B and me at the Peggy Notebaert Nature Museum
Lakefront
Chicago's lakefront is one of its most amazing qualities. The lake is easily accessible with the many miles of bike paths and walking paths, the open parks, and the yacht clubs. From Fullerton Avenue, I think you can have one of the best views of the city looking at the skyline. And if you want to go to the beach, hang out at North Avenue beach. We will always feel connected to the lakefront, as we met teaching sailing at the yacht club, and then four years later we got hitched there!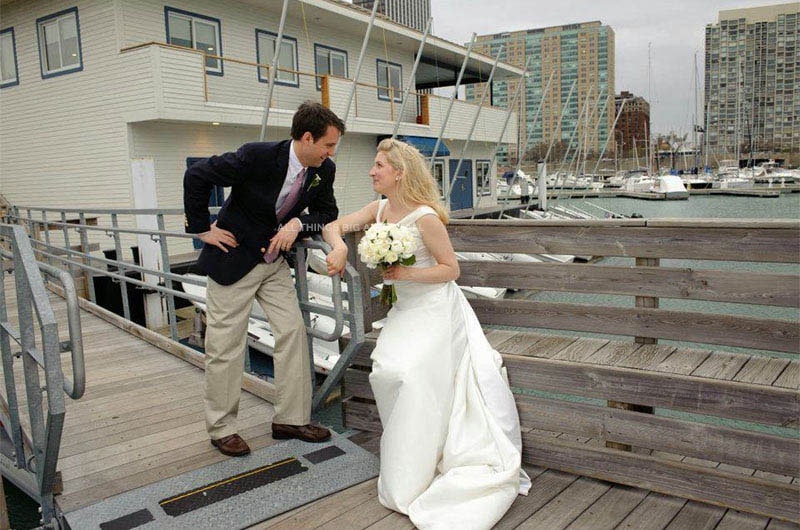 Chicago Yacht Club Belmont Station–where we met, and then had our wedding reception years later
Museum Campus
From the planetarium to the science museum, the nature museum to the aquarium, Chicago has an amazing assortment of world-class museums that appeal to every interest. For our kids, the aquarium is their favorite place to go, although when they are older we are going to start going elsewhere as well. With three of the museums situated together on Museum Campus, you could easily make a day going to all three (or just one or two!)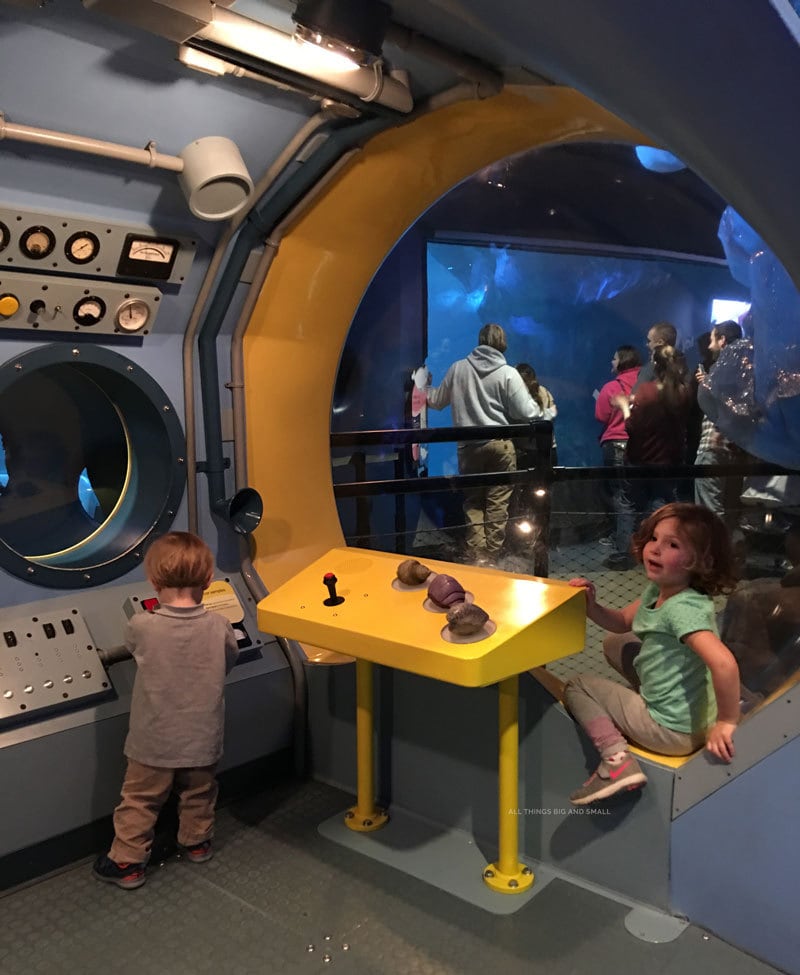 The kids LOVED the submarine at the Chicago Shedd Aquarium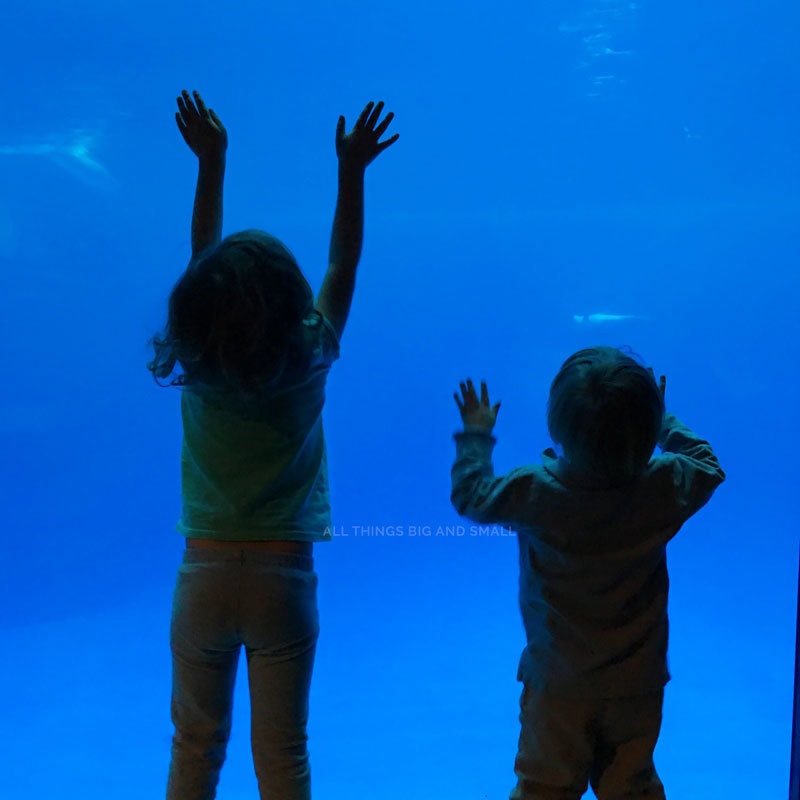 We loved watching the dolphins and the beluga whales from the underwater viewing station at the Shedd Aquarium
The Insider's Favorite Neighborhoods
As far as neighborhoods go, you can't go wrong with any of them. From Logan Square to Old Town and everything in between, there are tons of family friendly areas that abound with parks and kids activities.
Lincoln Park is always close to my heart with its plentiful parks, restaurants, and zoo, and my olds school. Armitage has and Halsted are some of the best shopping areas in the city.
Lakeview is fantastic as well, and some of my favorite Thai restaurants are there, as well as access to the lake with Belmont Harbor and Montrose.
If you go a little farther north, there's Wrigleyville which is known for the Cubs. It's a very festive neighborhood with tons of Cubs fans–so be ready for the crowds on game days!
Andersonville is another gem that is on the north side. There are great restaurants and even better antiquing!
To the north-west, there is Lincoln Square which is also fabulous. They have a great little shopping area, tons of parks, and a really great family scene.
South of Lincoln Square, there is Logan Square–wide open boulevards and a fantastic dining scene (some of the city's best restaurants!) It is very young and hip!
South of Lincoln Park, you will find Old Town (where my sister lives). More concentrated than Lincoln Park, it has a fantastic shopping area as well, and access to all the parks. On Saturdays, you will want to head to the Green City Market which is an amazing farmer's market.
South of Old Town, you have Gold Coast. Not as many families live in Gold Coast as they do farther north (it can get pricey) but the shopping is amazing–you are right next to Michigan Avenue–and the proximity to the hospitals and the lakefront is very convenient.
Finally, going west, you can find the West Loop. Historically known as the "restaurant district" complete with "restaurant row" aka Randolph Street it still boasts a large concentration of the best restaurants in the city. My husband used to work there in an engineering design firm, and he said that the restaurant business is still thriving, especially with all the meat being brought in on Fulton (across from his office.) In the last four years, it has gone under even more development and is a hopping scene for companies. Families living there have amazing access to the city (just walk straight East to downtown) and for shopping and eating out.
Now, this is by no means a comprehensive list of all the best neighborhoods–these are just our favorites that we know well! Make sure to add in the comments any that I missed and why you love living there!
For more fantastic neighborhood tips check out ForRent.com's neighborhood guide on Chicago! We love living by Chicago for all of these reasons and consider ourselves so fortunate to visit so often! #lovelivinghere #onlylocalsknow