Affordable Throw Pillows: Best Sources for Designer Accent Pillows for under $25. I love my designer throw pillows as much as the next gal; but, with our budget there is NO WAY I can throw around $80-100 a pillow. Even though my kids are good with taking care of things I am not insane–with two kids under 4 (and one on the way) I am not going to leave hundreds of dollars of "targets" out on my couch! So when I found these designer affordable throw pillows (most of the fabrics retail for $80-120/ yd) for a finished pillow case for under $25 I was amazed! I mean, I can hardly afford to buy these fabrics by the yard–much less a finished product for that little money!
It is more economical to buy these designer throw pillows than make them yourself! And after DIYing a number of pillows (I made pillowcases for our leopard pillows and even those came in at $40/ pillow!) You could purchase the same ones for less than $25 here. As for inserts–my favorite inexpensive sources are from here (they are most economical in store though–about half the price). They are duck-filled down and cheap!
*affiliate links have been used at no additional cost to you. See my complete disclosure policy here.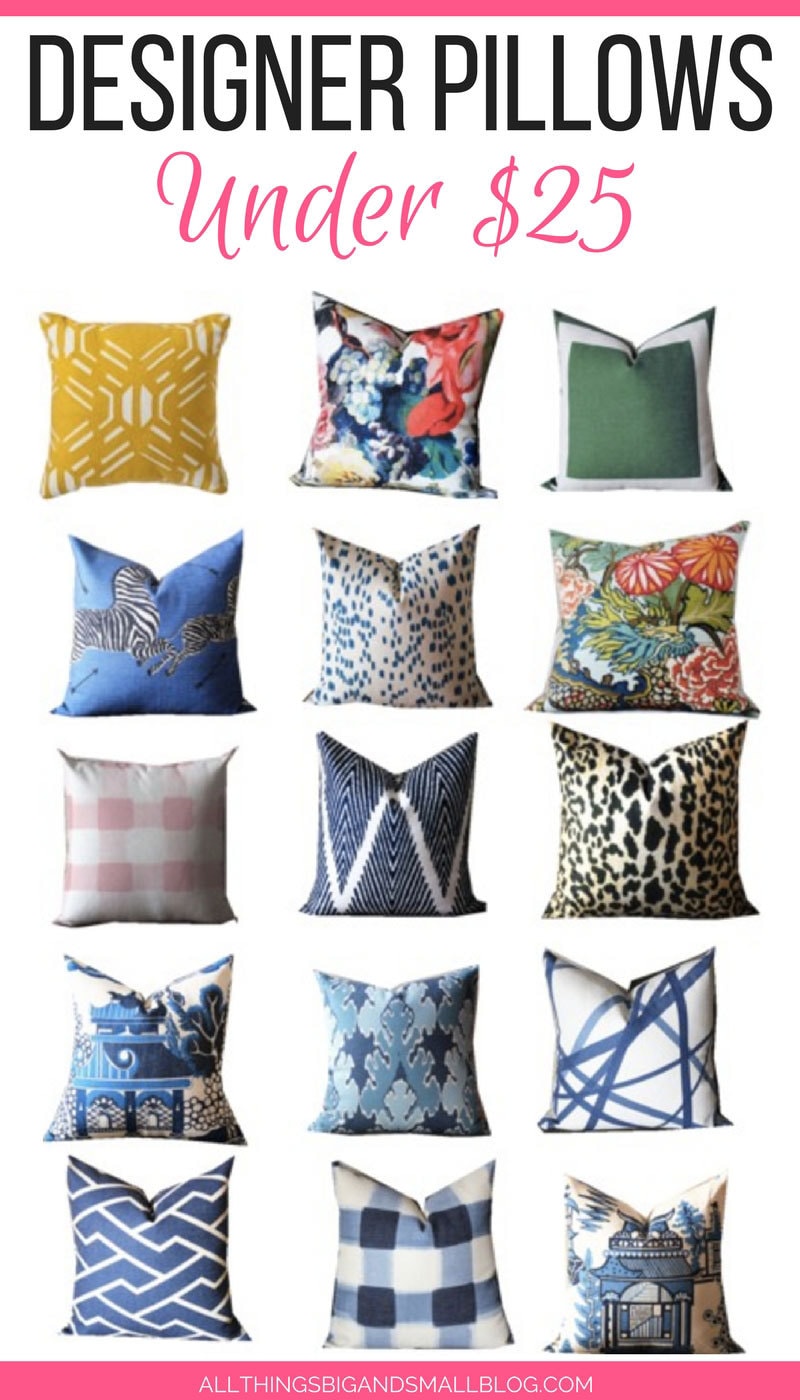 yellow pillow/ floral top row / green solid border
scalamandre zebra print/ blue les touches/ chiang-mai dragon
pink buffalo check/ blue chevron/ leopard
willow pattern blue chinoiserie/ blue bengal bazaar / (kelly wearstler) abstract print
blue geometric maze/ blue buffalo check/ chinese nanjing pagoda print
AFFORDABLE THROW PILLOWS
WHERE TO FIND THEM:

As much as I love to DIY, if I can find them for less and not have to pull out the sewing machine, I am happy to hand over the money. These are my favorite sources for affordable throw pillows:
CLICK ON THE PILLOW YOU WANT, AND IT WILL TAKE YOU STRAIGHT THERE!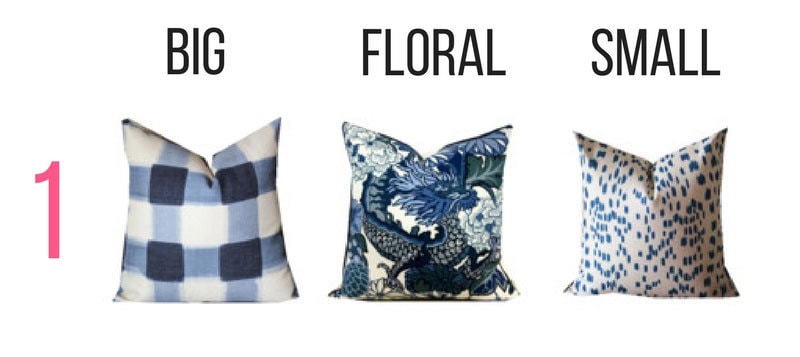 caitlin wilson buffalo check/ schumacher chiang mai dragon/ brunschwig & fils les touches
How you style and mix your pillow patterns and colors makes as much difference as the pillows you pick. For an entire post on how to mix patterns, check out my guide here. But, I will give you a short lesson below:

Note the combination above. It is a great blue and white throw pillow combination that would look fantastic on any neutral sofa! Let's just say, that I would love to have these affordable throw pillows in my family room!

First, you find the big pattern you want. This is a great starting point–a fun play on the traditional buffalo check.
Next layer in your statement piece (your floral or busy pattern.) Schumacher's Chiang Mai Dragon in blue and white is a perfect tie-in because it has so many shades of blue.
Finally, add in Brunschwig & Fil's Les Touches, which is a small scale pattern and you are set.

TIP: By keeping it all in one color way, you can combine more patterns–just adjust the size of the patterns to make it cohesive.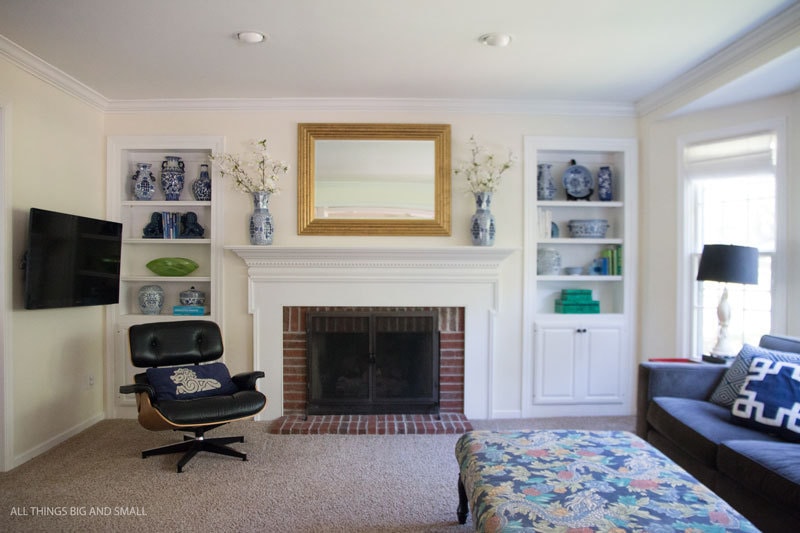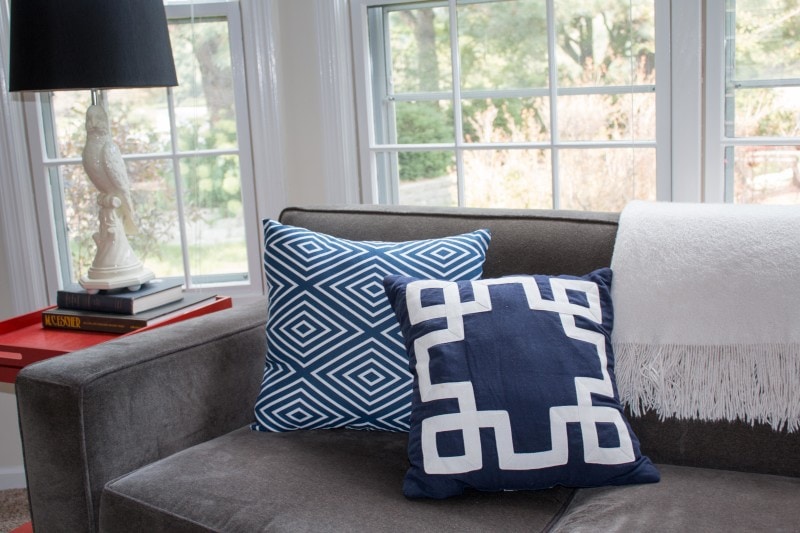 leopard animal print/ green solid pillow with border/ designer's guild orangerie
For our second combination of affordable throw pillows:

First, I add in a leopard animal print. You know I love them (and heck, they are one of the most popular DIY posts I have ever done!) Leopard is a neutral in mine (and Jenna Lyons' opinion!)
The central piece of this ensemble is the Designer's Guild Orangerie fabric (right pillow). The floral pattern ties in with anything, and picks up the green in the solid pillow, and plays well with the leopard.
Third, you add a solid color with a nice border. You will see, it is very similar to our living room color-way shown below (except I have coral velvet pillows in lieu of the green.)
TIP: Leopard is a neutral 😉 Use animal prints sparingly–they make a big statement but are wonderful!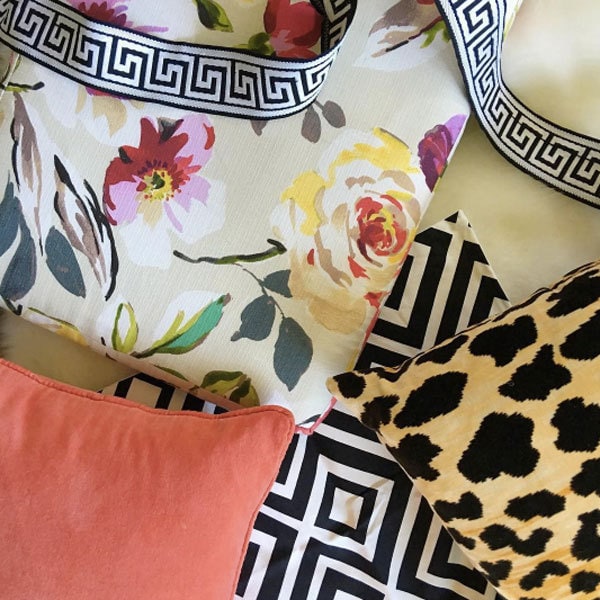 lee joffa's willow pattern chinoiserie/ kelly wearstler channel/ scalamandre zebra print
Another blue and white affordable throw pillows combination. You might remember these pillows from our master bedroom makeover. While I would love to layer more and more throw pillows on our bed, my husband has put the kabosh on it 😉 Nevertheless, I can dream.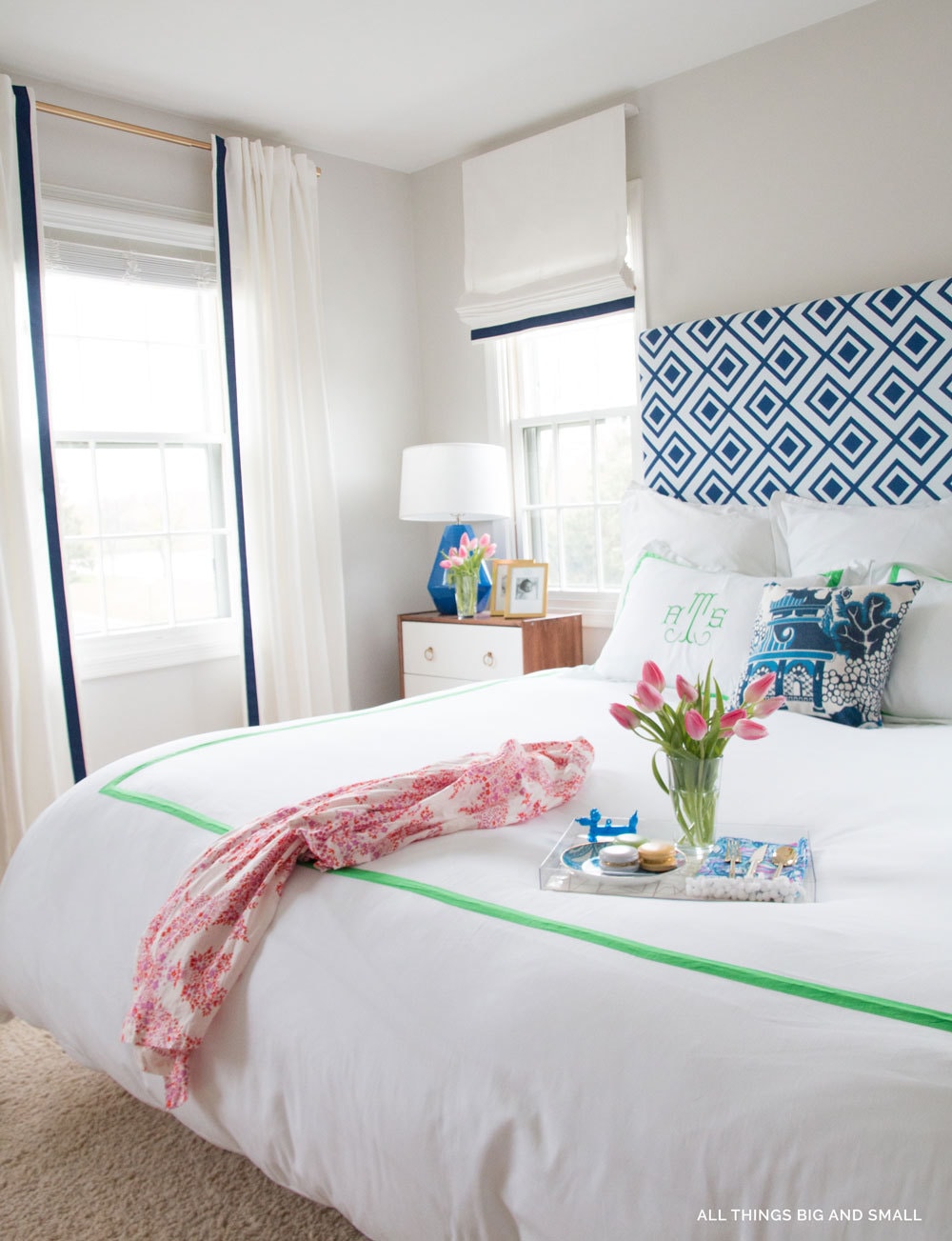 yellow geometric pillow–super inexpensive/ schumacher's chiang mai in turquoise/ caitlin wilson pink buffalo check
And finally, another multicolor affordable throw pillow collection.

The classic Chiang Mai in turquoise (what my DIY ottoman was based off of!) is the foundation for this combination.
Add in Caitlin Wilson's take on buffalo check in pink (or any other color) for a large-scale print.
pair it with a yellow inexpensive one (in a smaller size) and you have a great design combo!
TIP: Vary the size of the pillows–my favorite is using 20x20s and 18x18s and a lumbar pillow or bolster. 24×24 is another great size. I just try to find the ones I can fill with Ikea down fillers.

HOW TO MAKE THEM…IF YOU STILL WANT TO DIY:

Here is my favorite tutorial on making affordable throw pillows. Like I said above, my leopard throw pillows actually cost more for me to make than they would buying from this shop; but, if you want a specific pattern or fabric and can't find it, I would totally recommend DIYing it!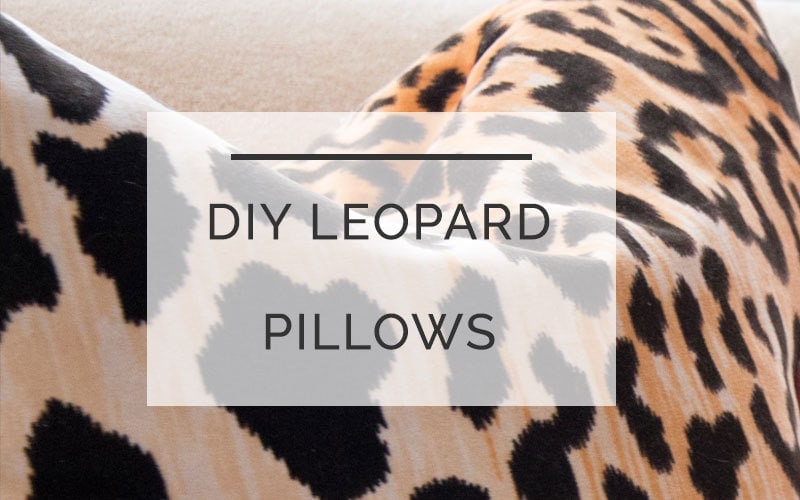 And the price point on these cannot be beat! If you have an old pillow and just want to recover it, it's a great way to DIY one, or buy a new pillowcase and save some moolah!