DIY Curtains: Looking for a step-by-step making curtains tutorial which will teach you exactly what you need to make your own curtains? Keep reading! I'll share all my tips and tricks for DIY Curtains plus share tons of curtain ideas you'll love–and none of it will break the bank!
Making DIY curtains is one of my absolute favorite ways to save money while decorating a room. Let's face it–curtains can be expensive, and when you are talking about 6 yards a window, it can seriously add up!
DIY CURTAINS
*affiliate links have been used, read my complete disclosure policy here
WHERE TO FIND FABRIC for MAKING CURTAINS
My absolute favorite–and easiest source for fabric for curtains is Ikea. You cannot beat their prices for plain white curtains. Heck, you don't even have to go there anymore to buy them (moms rejoice everywhere!) They also have some pretty nice looking velvet ones these days as well!
I always buy this one because it has a sewn in pocket rod hole, that makes my curtains look like they are pinch-pleated when they aren't! And, you don't have to buy separate rings for the curtains then too! Yard for yard, it comes down to about $4/ yard and they are already sewn for you, which is a total bargain! Full disclosure–you are going to have to hem them properly. They are horribly uneven! But, it is totally worth it! All I do then to zhush them up is add special trim. It is my favorite trick that makes them look so much more expensive than they are!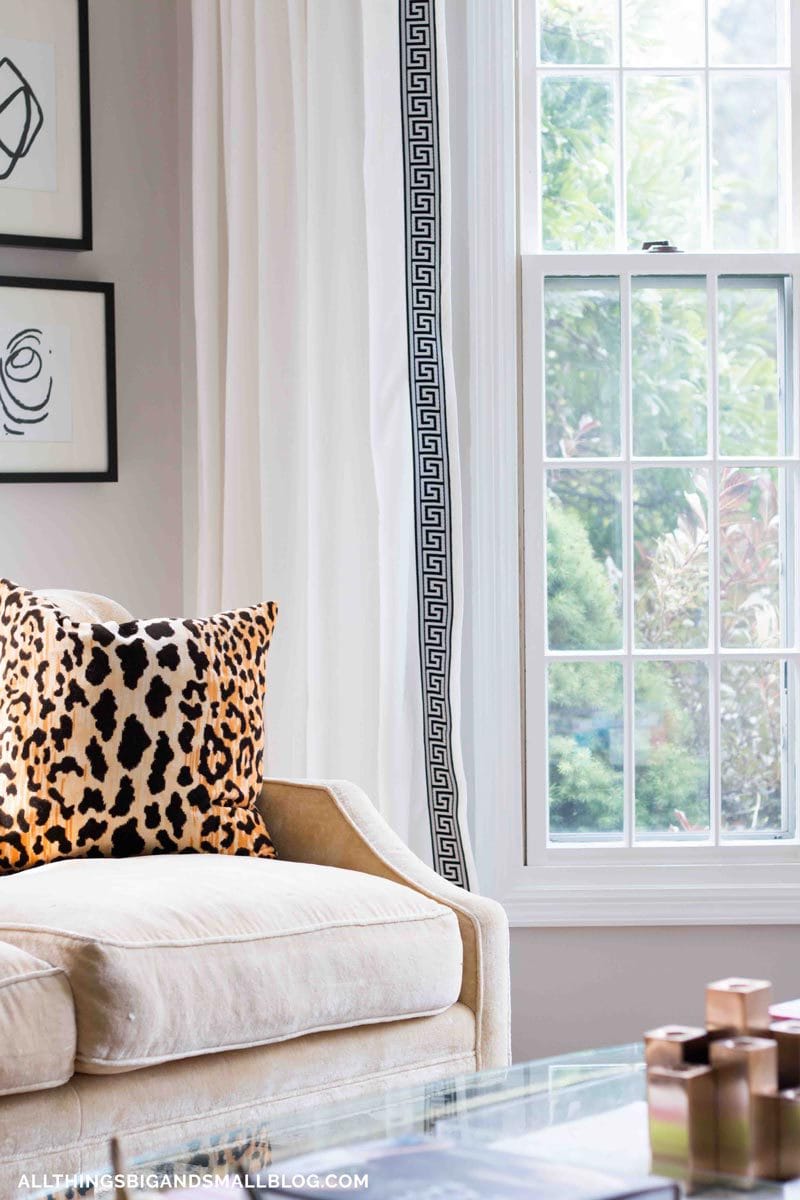 (DIY Greek Key Curtains made from Ikea curtains)
My second favorite source to find inexpensive curtain fabric is to use printed bed sheets, and printed tablecloths. I made our fixed roman shade for our kids bathroom out of an $18 tablecloth and it turned out wonderfully (and it is a dead ringer for the fabric that usually costs upwards of $120/ yd!) Currently, this palm print tablecloth has me all excited to redo our kitchen curtains! This printed sheet would be adorable for a little boy's bathroom or bedroom! With sheets, you are going to want to use lining fabric, which is very inexpensive (or just use an old sheet like I do!)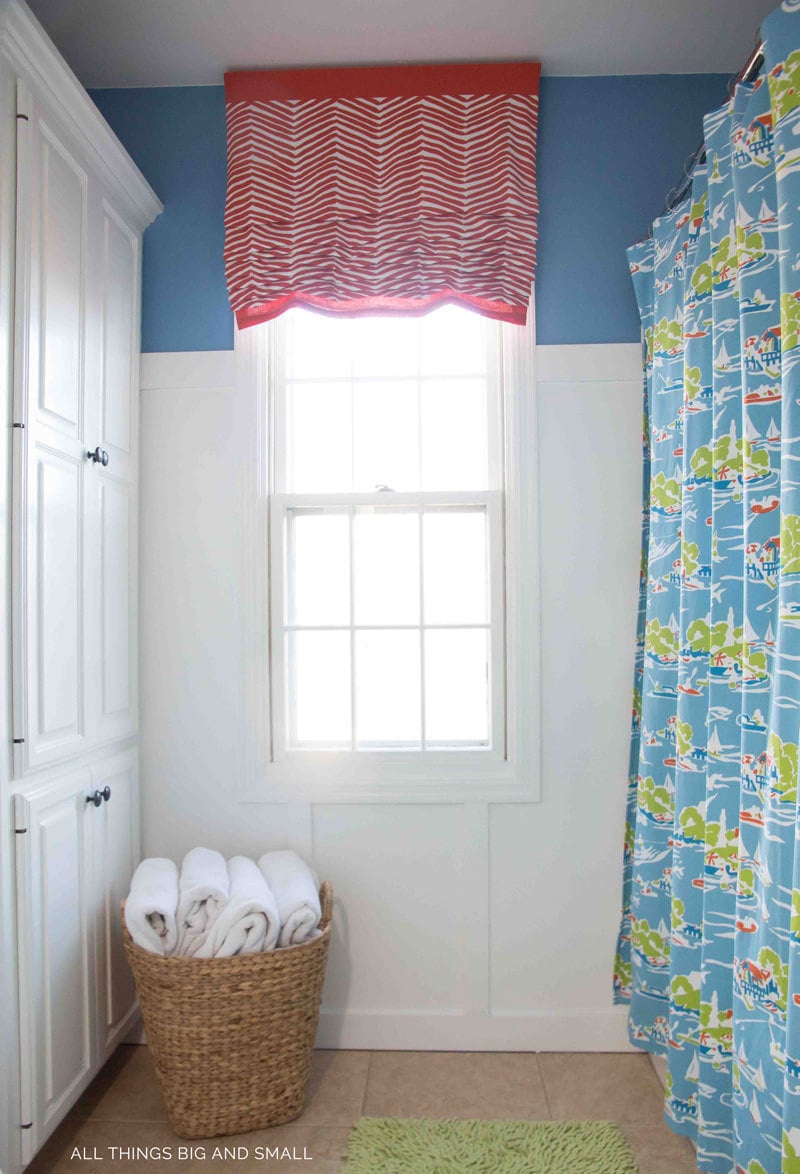 (DIY Fixed Roman Shade for $18)
HOW TO MEASURE FOR DIY CURTAINS: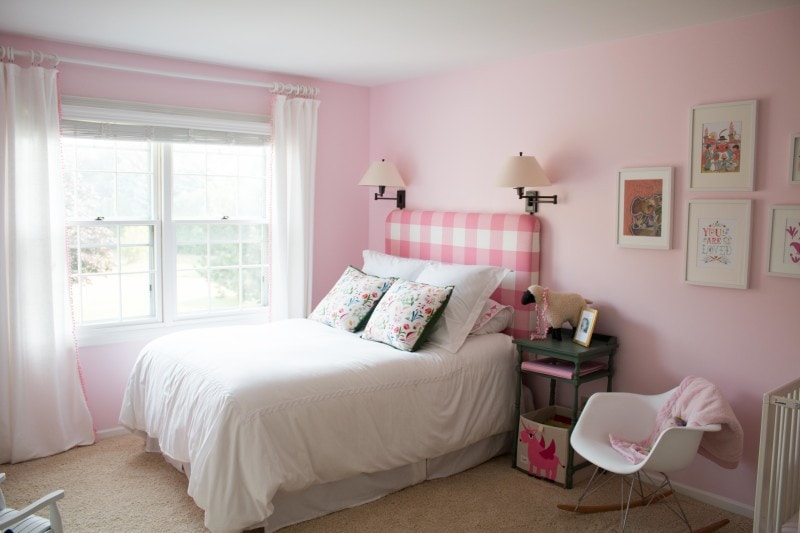 You can estimate about 3 yards per curtain. And the rule of thumb is that you want your curtains to be 1.5x the width of the window. Now, that being said. I never do that. It just doubles the price. What you can do if you want them extra plush is to double them up! Buy two panels for every one side of the window. This is good to do for huge windows, like those in my daughter's bedroom (shown above, which look a little undersized for the width.) I probably should have done that myself. But you can see with standard windows, one panel per side is fine (shown below.)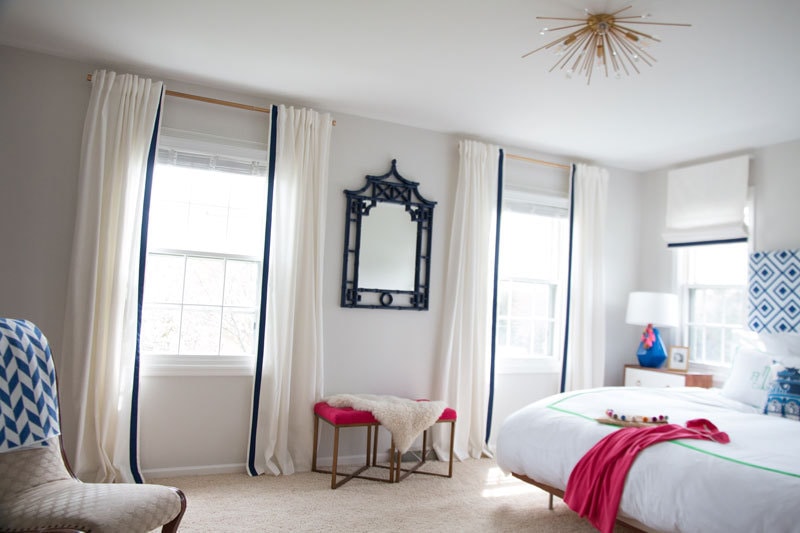 I always buy 96″ curtains and then hem them a bit so they just pool a little on the floor. And don't think we have tall ceilings–we have 8 ft. ceilings but, I ALWAYS hang them higher than the window.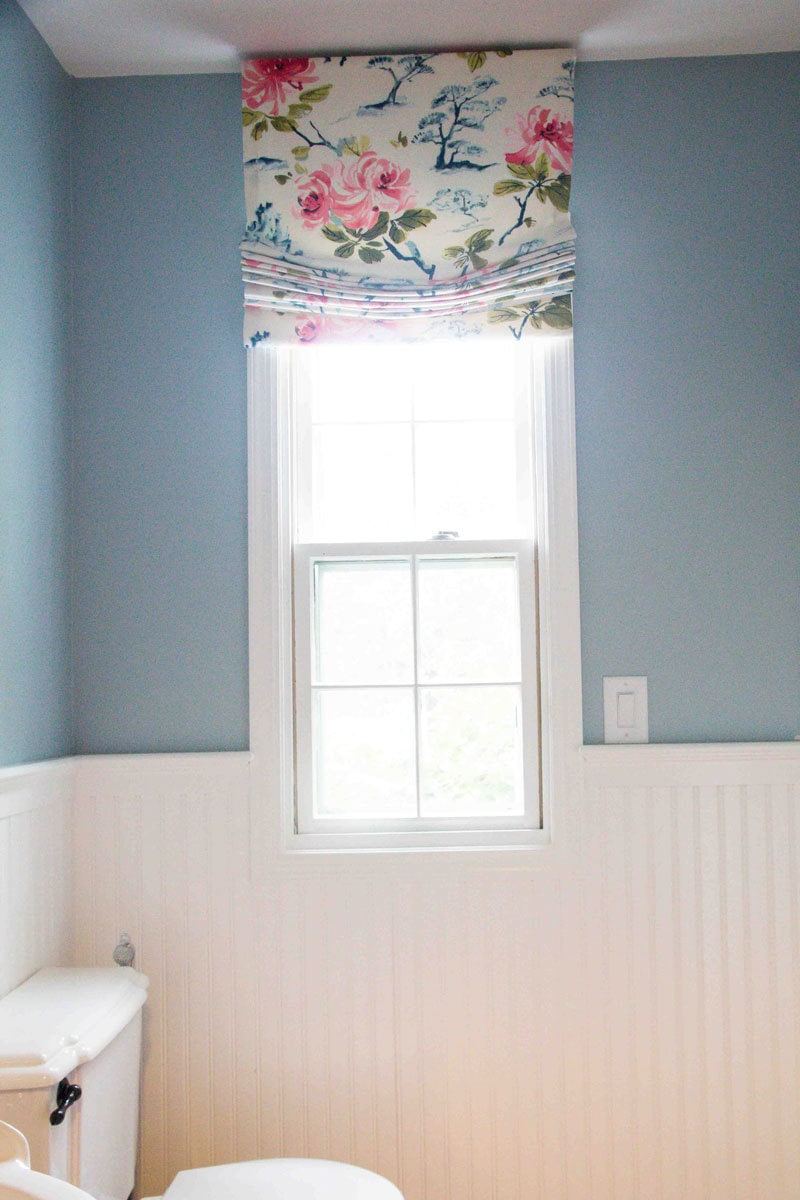 DIY Roman Shade Step-By-Step Tutorial
For a Roman Shade, you are going to want to measure the length of the window from top to bottom. See my detailed instructions here. I always put my roman shades up to the top of the wall, and over the entire width of the window; but, it is up to you–many people just make them for the inside of the window frame. For our master bedroom, I hung our DIY Curtains and our DIY Roman Shades at the same height to make them look more cohesive.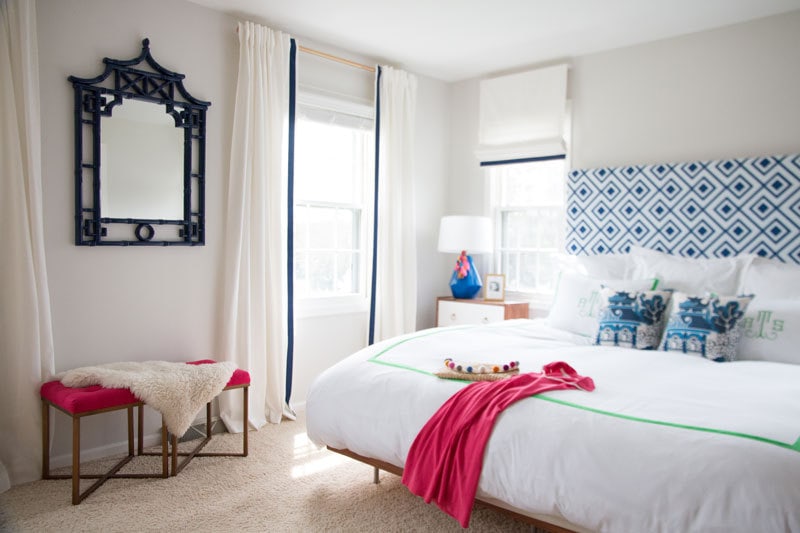 HOW TO HANG DIY CURTAINS: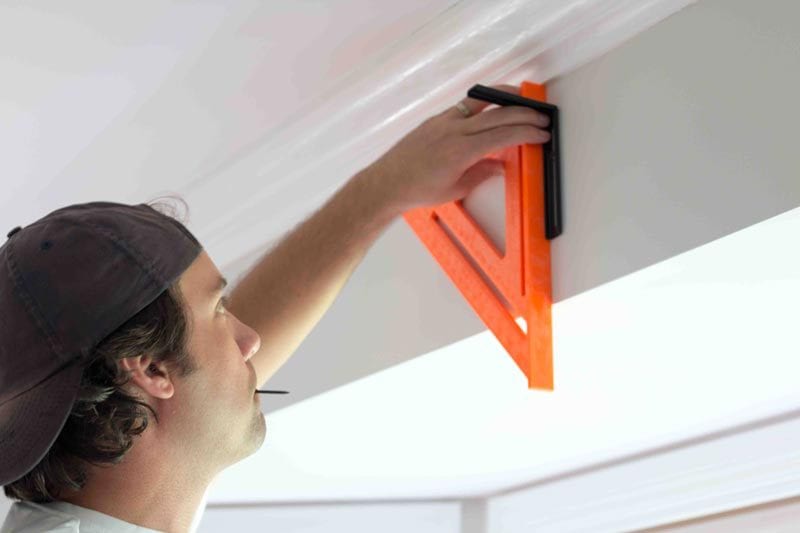 ALWAYS HANG THEM HIGH AND WIDE! HIGH AND WIDE! Got it? Guests come to our house and compliment how big our windows are. They are standard size but they look huge because I take the curtains all the way to the ceiling, and about 7-10″ on either side. This makes the windows appear much larger than they are, and tricks your eye into going all the way up to the ceiling which makes the ceilings look taller! I have to say, having this little guy helps sooooo much with hanging them! It is so much lighter than other ones out there! It is by far our most often used tool!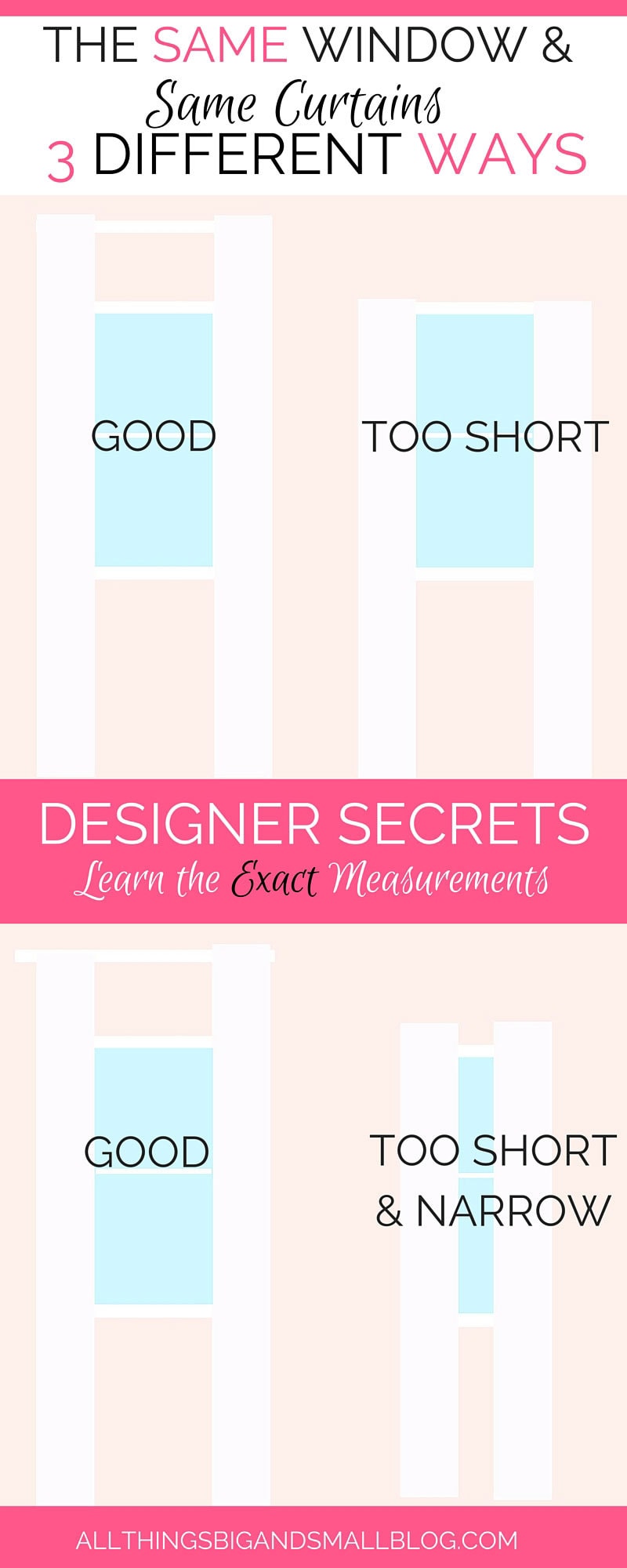 Here are my favorite tools for hanging curtains–they make life soo much easier!

BEST DIY CURTAIN PROJECTS:
4 different ways to make Ikea curtains look super luxe:
DIY Pom Pom Curtains – a dead ringer for ones that retail for $89 a panel (that is $180/ window)! Mine cost $35 total. This is a great beginner DIY Curtain project!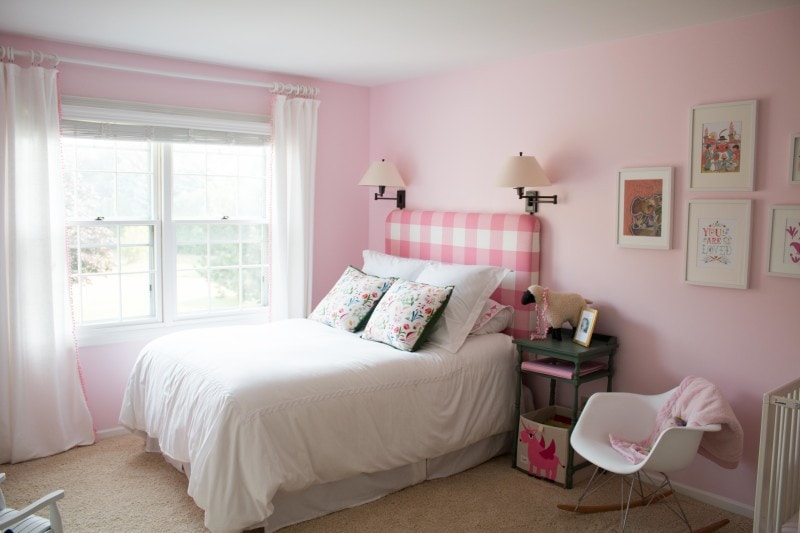 2. DIY Greek Key curtains – $80 vs. what retail elsewhere for $480! Very similar to the DIY Curtains project above, and a great look for less!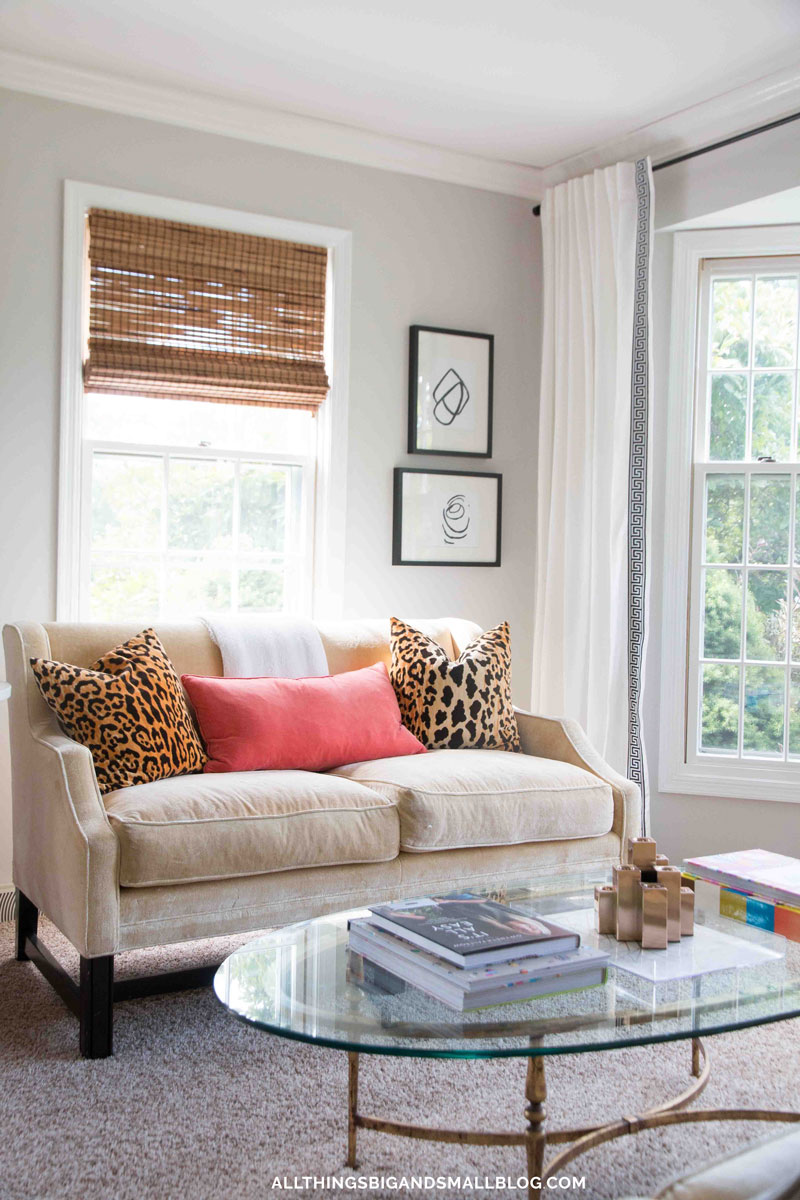 3. DIY Pelmet Box and Border Curtains: my version of what retails for $120 without the pelmet box!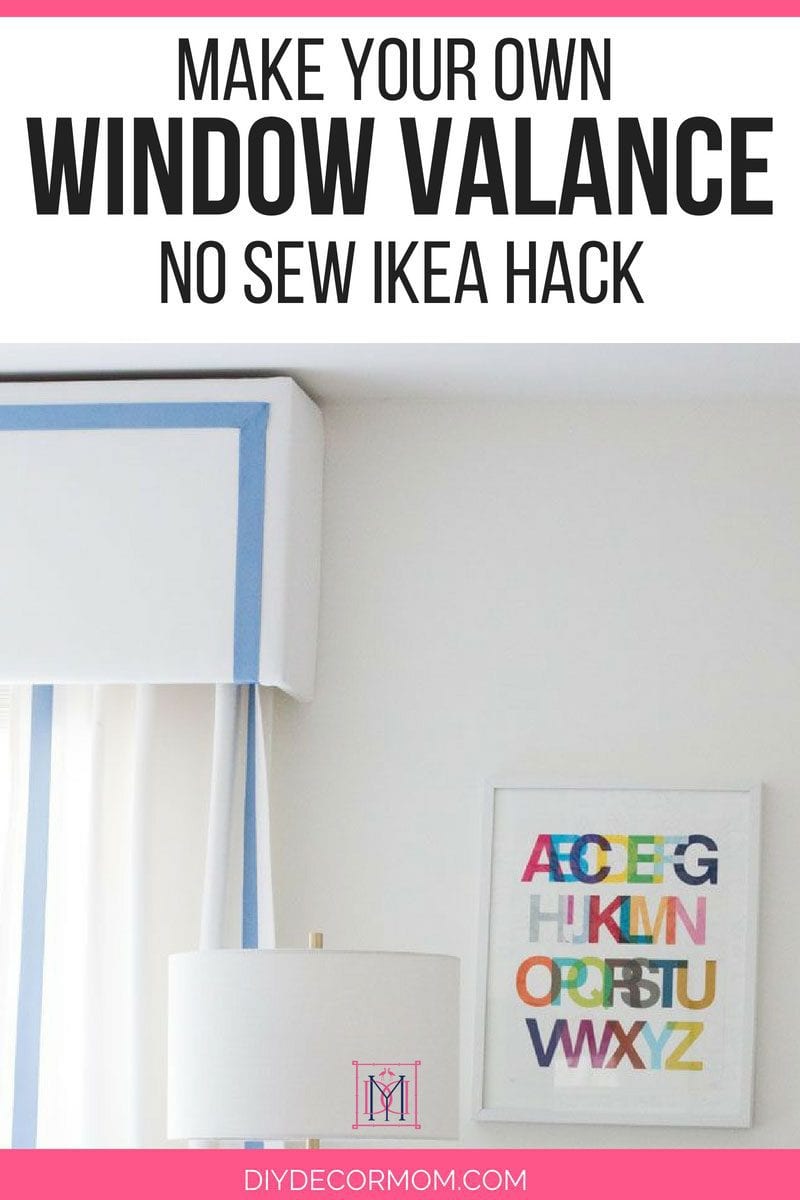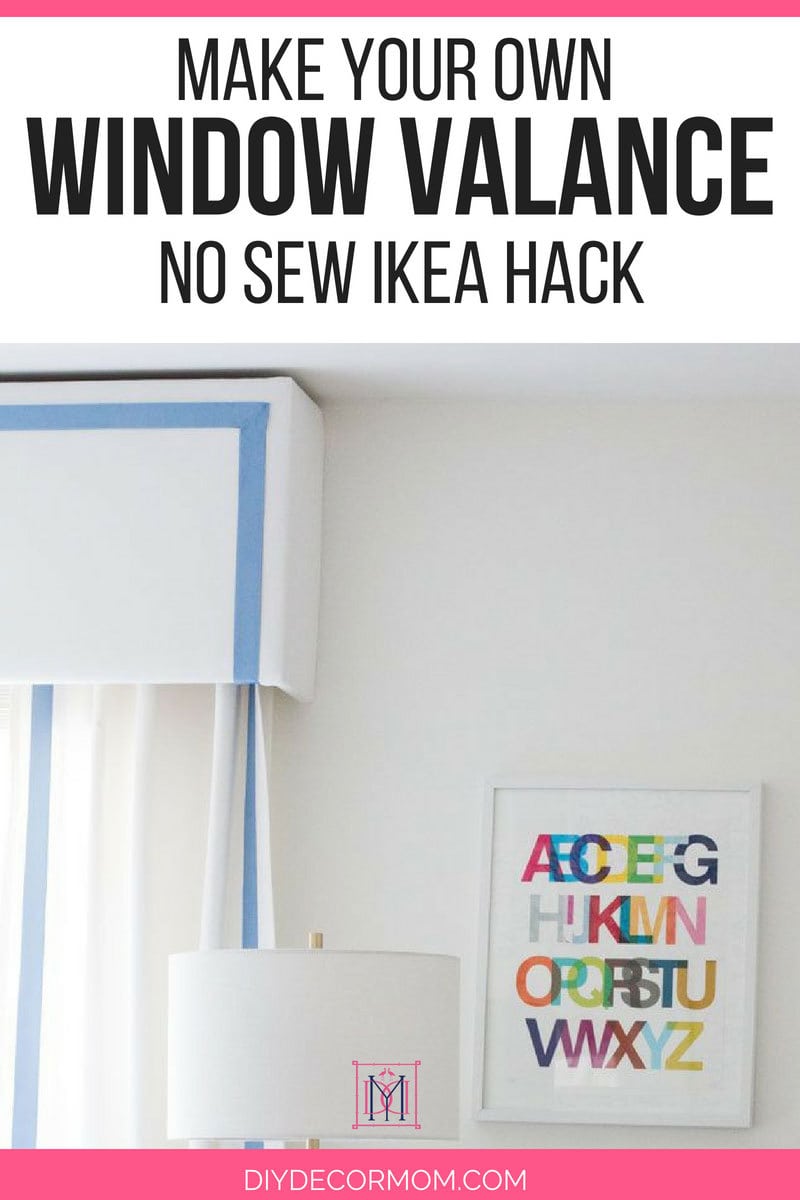 4. DIY Navy Border Curtains with Gold Curtain Rods– I found this look for less curtain rod and it is awesome! Plus, it has free 2-day shipping! #winning. I used this inexpensive navy ribbon (seriously, the cheapest source I have ever found and it has free shipping). The panels are Ikea Rivta (same as above), and I used one panel per each window for the Roman Shades as well.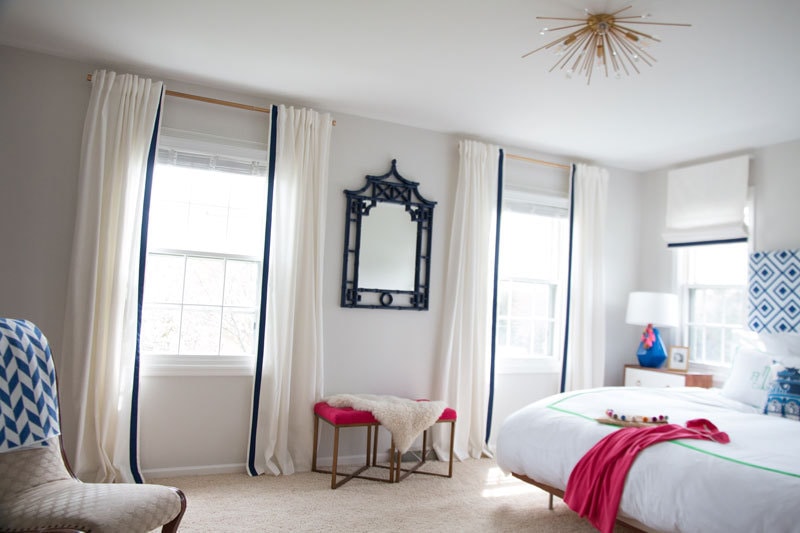 DIY CURTAINS- ROMAN SHADES:
DIY Roman Shades – The most beautiful curtains to date that I have ever made.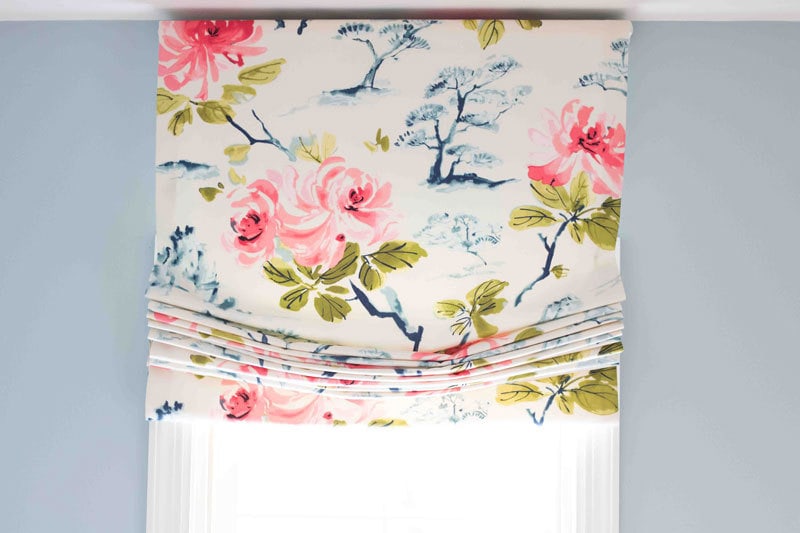 DIY Ikea Roman Shades- followed the same directions as above and used this fabric and this ribbon. NOTE: They are not pure white, more like a creamy white. It goes with most whites, but next to stark white you will notice the difference. You can see the slight difference between the Roman Shade and the DIY Headboard fabric below.
4 TIPS: HOW TO MAKE DIY CURTAINS LOOK EXPENSIVE:
1.) Add trim to inexpensive fabric!
2.) Let them pool just a little bit on the floor
3.) Add fancy curtain rods--they are an upgrade from the Ikea ones and look just like ones double the price!
4.) Make them plush–double up on Ikea curtains width wise (use two panels per side of window) to make them seem extra luxurious!
AND IF YOU DON'T WANT TO DIY THEM…OR WANT SOME INSPIRATION
Here are my favorite curtains on the market right now. None of them are exorbitantly priced, and you might notice several were my inspirations for my DIY curtains! To see more info on each of the products, just click the picture!
*affiliate links have been used at NO ADDITIONAL COST TO YOU, please read my complete disclosure policy here