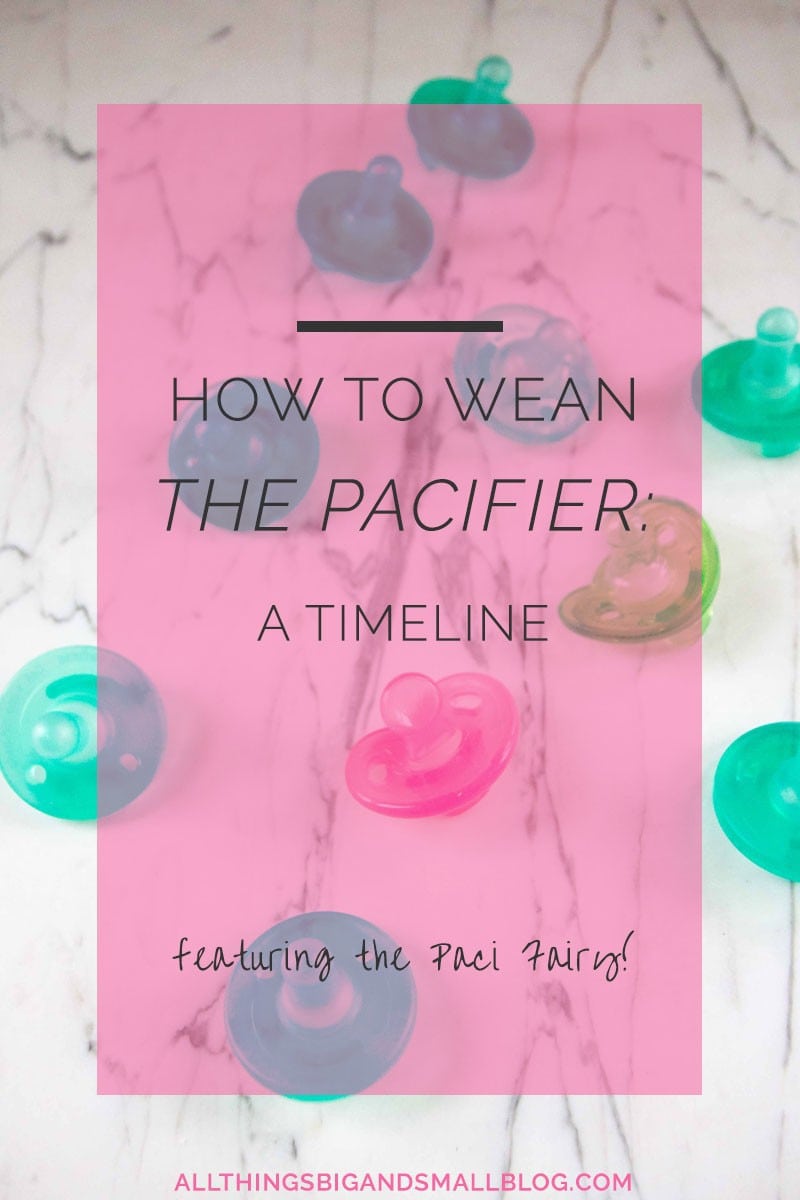 Thank you all for such wonderful support last week. I swear there is nothing harder than hearing your child cry (even when you know there is nothing physically wrong with them.) I promised a recap on our pacifier weaning process, so here it is, along with some helpful tips I think helped us make the transition. I made notes at what we did at each age (we started really gradually at 12 months, and then really didn't do much until 24 months.)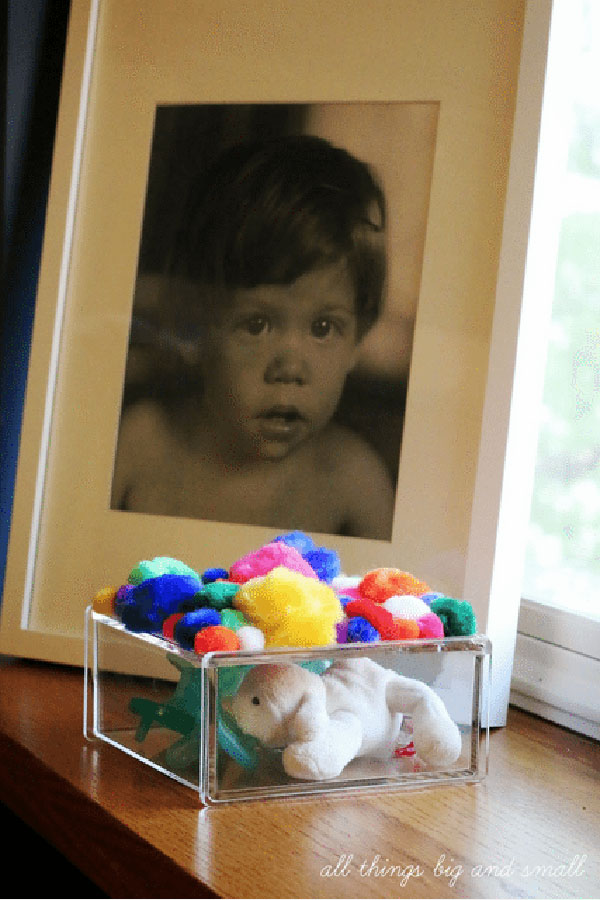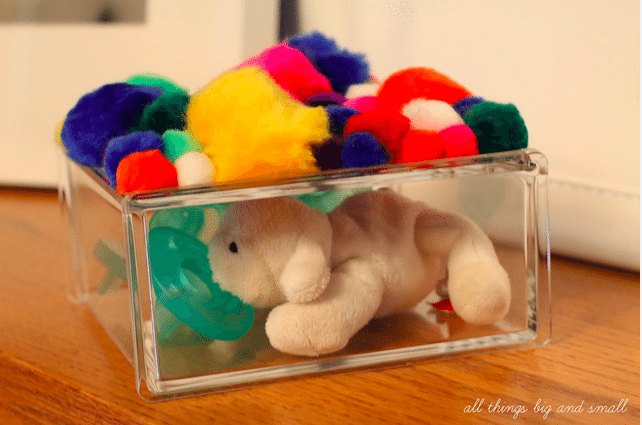 12 MONTHS…
I started weaning the pacifier slowly trying to only let her have the pacifier during her naps, nighttime, driving long distances, or when she was sick. In our apartment, it took a lot of discipline making sure she couldn't get the pacifiers out of her crib whenever she felt like it, so when I finally made our pacifier pom pom box it was the perfect solution. We started a ritual to put away all of our pacifiers in our crib once she woke up into the box. Then conversely, when she went to bed, she would get to pick them out of the pacifier box. She loved the routine.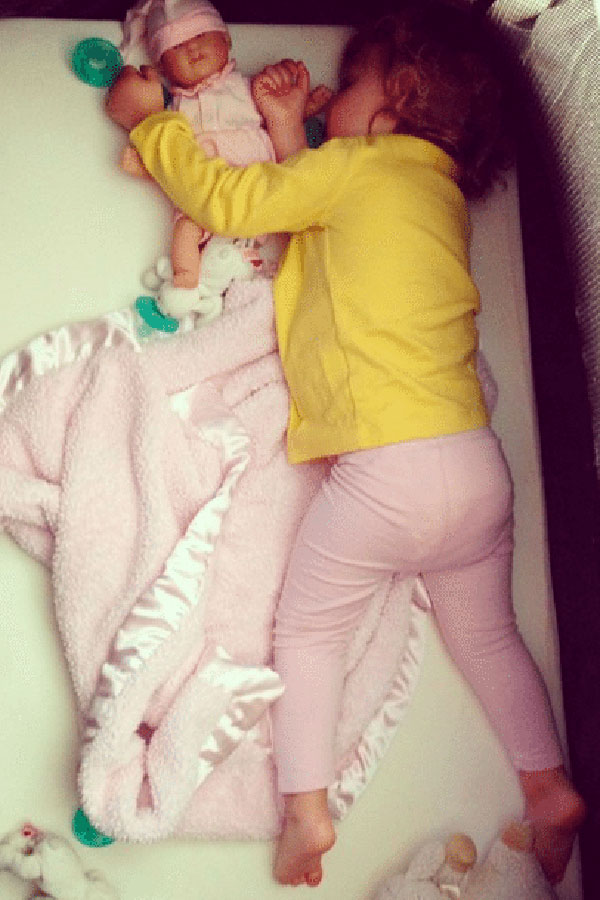 B asleep in her Baby Bjorn pack n' play at 20 months (how many pacifiers can you count?)
23 months: We slowly started decreasing the number of pacifiers B slept with. At one point she was sleeping something like 8 so we started gradually decreasing them, until she was only sleeping with two and a WubbaNub "Wubba."
24 months: We accidentally misplaced Wubba and she didn't seem to mind so even when we found him, we never gave him back. She was content with her two pacifiers in her bed. We took this as a good sign. because it was one less thing to wean. We also started actively saying when she was ready for bed, instead of saying that she was going to be so cozy with her paci's, "you're going to be so cozy with all of your friends (stuffed animals)." Then we would list them: Elephant, Lamby, Sleep Sheep, Princess Marie…you get the picture she has a lot of buddies in bed with her!
25 months: Once she was better from her virus and had had a week to recuperate, I decided to take the plunge. We were advised to wean the pacifier from our doctor sooner rather than later for her teeth. Already, she had a little misalignment from the pacifier usage. We had always hoped to stop the pacifier by age 2 so it was a good time. In addition, I wanted to give her a big enough time gap between when she was weaned of pacifiers and when the baby came (and had lots of pacifiers) to minimize any regression or pacifier sharing problems.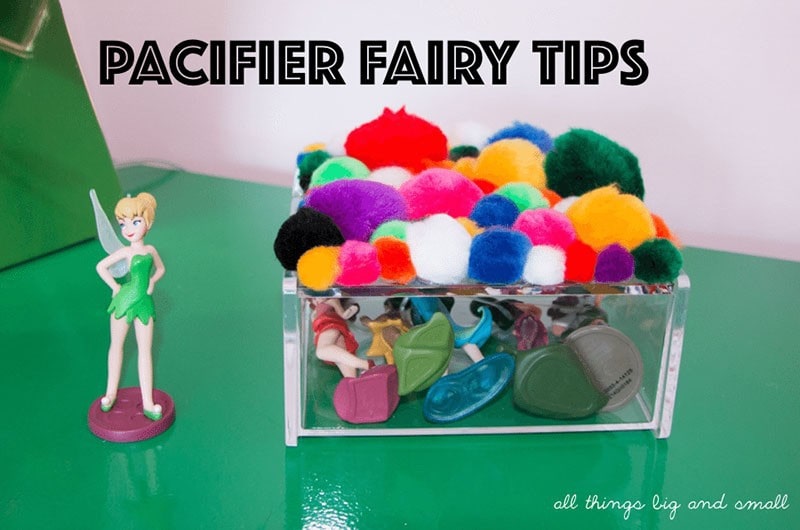 For two weeks before the Pacifier Fairy visited, we would often remind her whenever we took out the pacifiers that the Pacifier Fairy was going to come and take away the paci's but she would leave her some wonderful big girl toys instead. By the end, I knew she was understanding because she would grab the pacifiers and say "Mine" (her new favorite word.)
The night before the PF visited, we talked about how it was her last night with her pacifiers but that the pacifier fairy was going to come the next day and bring her fun toys.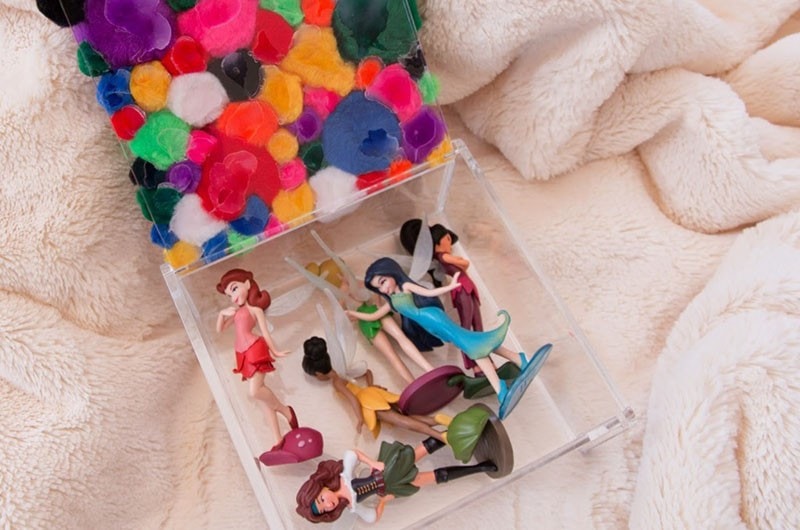 The night of, while E was giving B dinner, I slipped upstairs and unpacked the PF's present (seven Tinkerbell fairy friend figurines). I bought them on Amazon for about $14 so it ended up being $2 a pop. Right before I took all of the pacifiers away for good, I brought down the pacifier pom pom box with the pacifiers in it and asked B to say goodbye. She said goodbye easily (not sure if she really comprehended what was going on meaning they were gone for good.) And again, we said the PF was coming and going to bring her presents.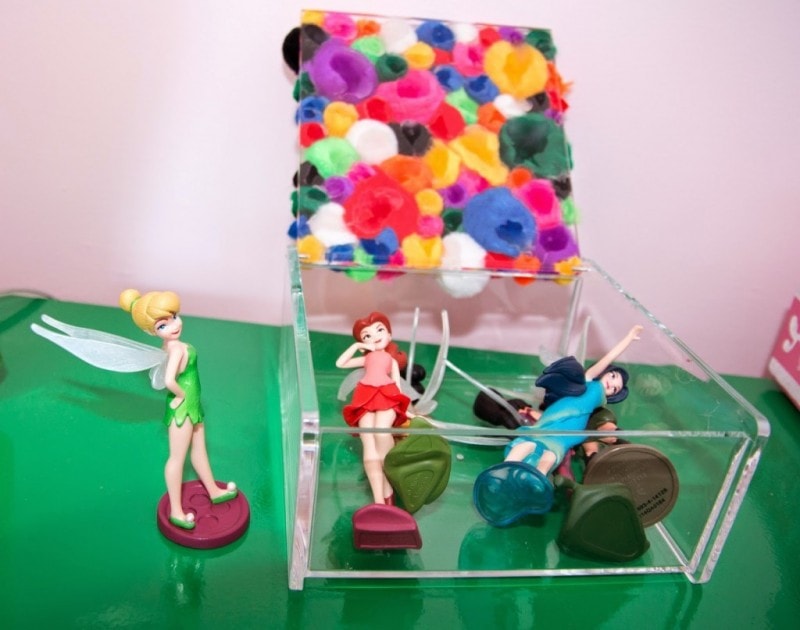 After dinner, we did our usual routine and then when it was time for a bedtime book and paci instead of grabbing the pacifiers, we showed her what the PF had left. She was ecstatic and spent 15 minutes playing with the fairies. It wasn't until we closed the door to her to go to sleep did the crying ensue…
First night: she cried for 1.5 hours and then woke up two times in the middle of the night but went right back to sleep. She kept on asking for the paci, and I would explain to her that they were all gone that the PF had come and taken them. She wasn't pleased. Luckily, no fairies were beheaded (I was afraid she was going to throw them across the room with her anger.) Thankfully, no fairies were harmed during this transition. And although the reviews online complained about their lack of quality we haven't had any issues with the wings or parts of the fairies coming off.
Second day/ night: nap cried for 1.5 hours (then slept for 1.5 hours). I would go in a few times and reassure her that we loved her and that she had all of her other friends to keep her company. Eventually every time she fell asleep. That night she cried for 30 minutes and woke up one more time but went right back to sleep (she was cold.)
Third day/ night: nap cried for 20 minutes (a sweet sigh of relief on my part), and 15 minutes at bed. She still woke up once during the night but went right back to sleep after I tucked her in (all of her covers had come undone.)
Fourth day/ night: nap cried for 15 minutes, no crying at bed. Slept through the night!
Fifth day/ night: no crying during nap, no crying at bed. Hallelujah!
Overall, it was a hard couple days (especially the first three) but I am so glad that we did it and glad that we chose to do it when we thought it was good for B. I felt like for her at least, the longer we waited, the more traumatic it would be. At two we felt that she was old enough to comprehend yet still young enough to adapt. I know friends who waited 'til closer to three and it went a bit quicker, and other friends who said it took longer so it is such an individual thing.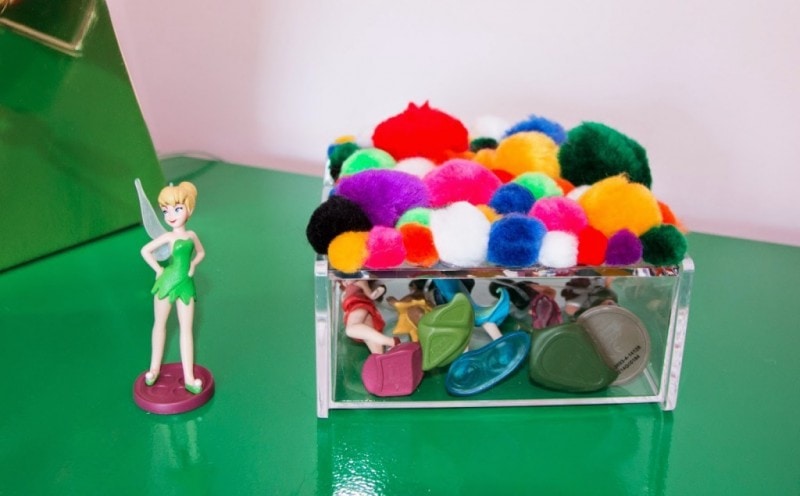 How about you? Did you wean your baby/ toddler of the pacifier? It was something I had dreaded doing since she started loving them (when she was a newborn) and now on the other end, I am so relieved that it is done. But I also am not as nervous as I once was about pacifier weaning a second child. It wasn't as horrific as I thought it would be and she is back to normal after five days. One week later she is her bubbly self and not asking for the pacifier at all. Great success 😉 Bonus points if you got that reference!


*affiliate links used