This post was sponsored by Lowe's as part of an Influencer Activation for Influence Central and all opinions expressed in my post are my own.
Halloween Mantel: When I think of Halloween, I don't immediately think of elegant vignettes. Instead, my mind goes right to the typical over-the-top orange and black cheesy décor. But today, I am challenging you to think of Halloween differently. It doesn't have to be a holiday we either skip altogether or reluctantly decorate for! There are easy ways to make an elegant Halloween vignette for your mantel mesh with your normal decor taste! Lowe's offers great values on the latest in décor trends for Halloween this fall and makes it easy to amp up your home's spooky spirit this Halloween without sacrificing style! See how I used their Halloween decor and Fall Harvest decor below!
HOW TO CREATE AN ELEGANT HALLOWEEN MANTEL
PUMPKINS: GET CREATIVE
The first thing you will want are monochromatic pale white pumpkins. You can buy them new every year (which can add up quickly) or you can purchase these adorable white pumpkins once (linked above–just click on any of the white pumpkins in the pictures!) and save money year after year! Lowe's has an extensive assortment of faux pumpkins!
Unlike real pumpkins which you need to worry about decaying, washing, and purchasing every year; these large white pumpkins are artificial! What I love is how light they are; yet, they look incredibly realistic!
To style the pumpkins remember three things:
Create groups of odd numbers:

Use groups of three–they look more natural than groups of two or four
Create clusters of pumpkins

Vary the height and size:

These faux white pumpkins come in three different sizes in the painted white variety. I chose to get two of each size, to have the most flexibility styling (tall pumpkin, middle pumpkin, short and wide pumpkin)
Create a stack by layering several on top of one another by stacking them and attaching with some painter's tape!
I sprinkled in small pumpkins around the entire mantel (see them on top of the mantel, and in the bowl above.)

Colors:

I love the white pumpkins available in Lowe's Halloween Decor section!
But remember, you can always change the color of a white pumpkin very easily with the use of some gold spraypaint. I love Rustoleum's Metallic line which works really well on artificial pumpkins.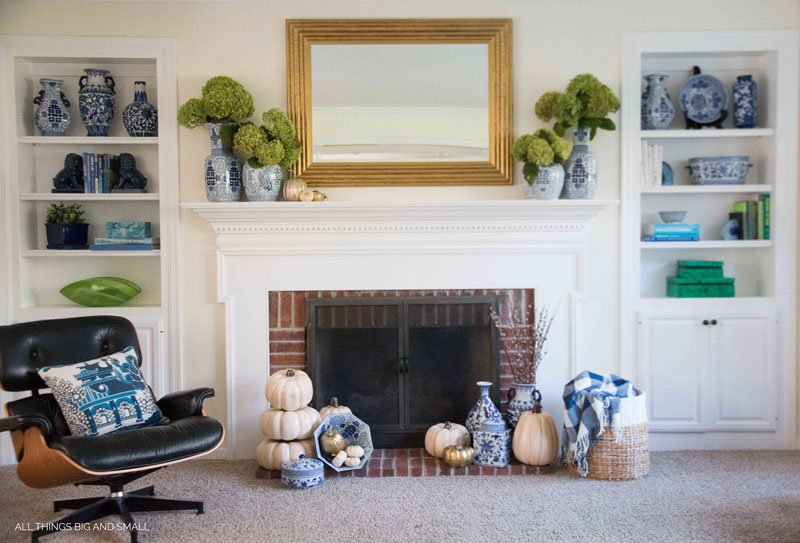 STICK WITH A THEME:
You can see three main colors in the vignette above (Blue, green, and white) with a touch of gold. But the main stars are blue and white.
If I had introduced orange or green pumpkins into the mix, it would have been too much going on. Remember, you can always change the color of a pumpkin easily with spraypaint. I picked up white mini pumpkins and orange mini pumpkins in Lowe's Garden Center and then changed the color with Rustoleum Metallic Spraypaint. It is such an easy and cute way to personalize your Halloween mantel!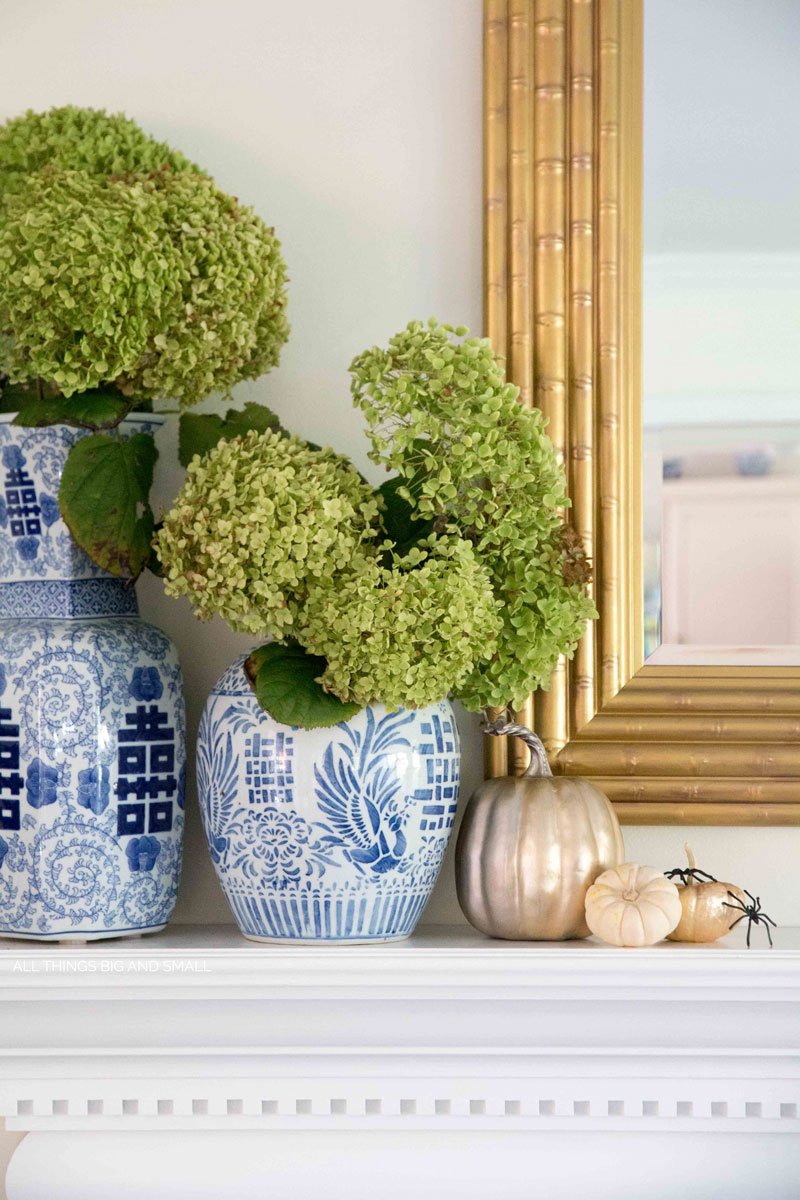 ADD FUN ACCENTS:
If you look closely, you can see some creepy crawly spiders on top of several of the pumpkins on the Halloween mantel. It is a subtle nod to the spooky side of Halloween while still being elegant! These spiders came from the faux Spider Web linked here!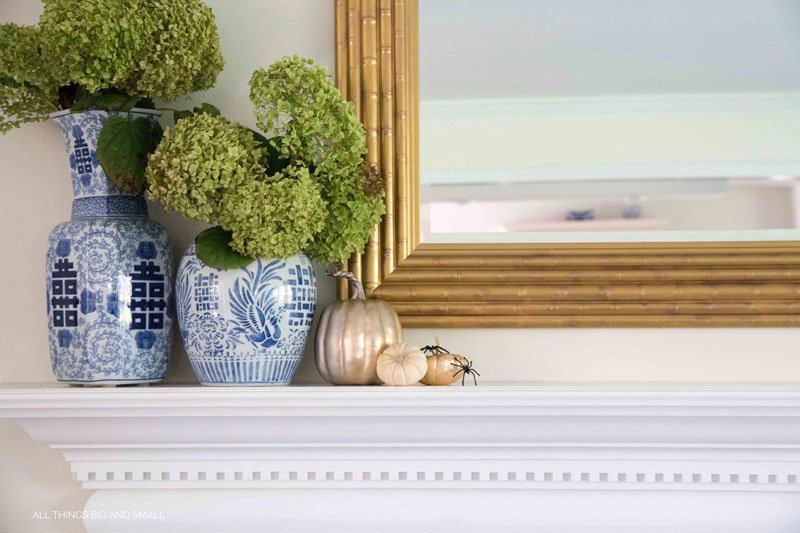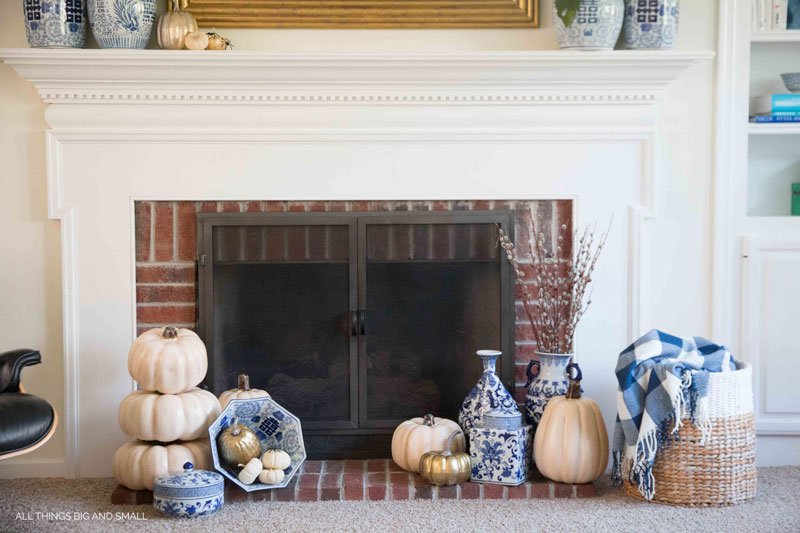 PLAY WITH SYMMETRY:
Symmetry puts our mind at ease, and while it is really good to have in design; too much of it can be boring. I experimented with some asymmetrical groupings to keep the Halloween mantel vignette interesting. You can see one stack of tall pumpkins on one side, which is balanced on the right side of the mantel with taller blue and white pottery.
On top of the mantel, I kept it mostly symmetrical by using the same blue and white pottery on both sides. The large Eames chair is balanced by a smaller woven basket with a visually interesting blanket on the right.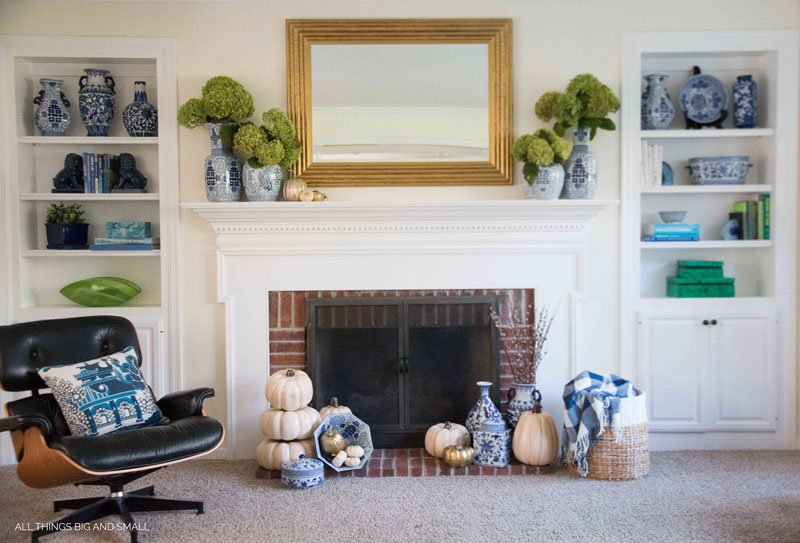 USE WHAT YOU ALREADY HAVE:
As you can tell, orange and black is not my cup of tea. I love blue and white pottery and just because it is Halloween, doesn't have to mean my entire design scheme has to go out the door! Instead, I embraced my love for blue and white and just added in gold and white pumpkins! Think about adding neutrals if you already have a lot of colors going on! Lowe's has a fantastic section of neutral and tasteful Harvest decor as well!
Tell me–have you ever created a Halloween mantel? Do you love orange and black? Or are you a bigger fan of neutrals like me?