Fall Bucket List with Baby: Looking for a fun list of activities for families for fall? These 13 activities for babies, toddlers, and preschoolers are perfect for families to do. Make sure you print out the free Fall Family Activities Bucket List! No need to wait for Halloween to have fun this fall!
FALL BUCKET LIST WITH BABY
*This post is sponsored by Meijer. All thoughts and opinions are mine alone.
**This post was originally published Sept. 2018, and has been improved and republished!
There are tons of fun fall activities that you can't miss out on, so I created a Fall Bucket List for Families. It's time to enjoy the autumn season especially if it's your baby's first (or second fall!) Print this Fun Fall Bucket List with Baby to check off all your favorite fall activities! Just don't forget your diaper bag! (I listed helpful tips for getting out of the house with your baby for each one!)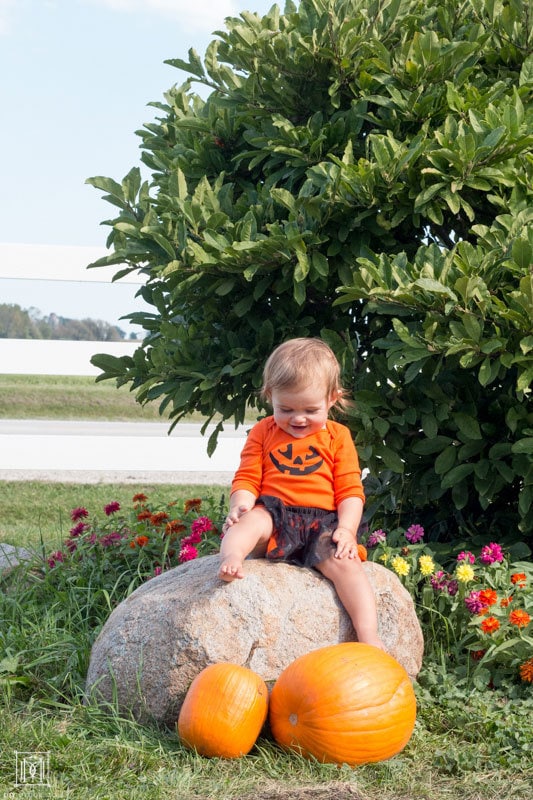 FALL FAMILY ACTIVITIES TO DO

Decorate for Fall: Bring out easy to reuse pumpkins, cut some pumpkin shapes out of craft paper, and decorate your house for Halloween! My kids think it is hilarious when we decorate with fake spiders and make the house "spooky." We even made a giant spider for the outside on our lawn which our kiddos talk about year round. You can always grab lots of your Halloween decor at Meijer!
Go to a pumpkin patch and takes lots of pictures! We all love those adorable pumpkin patch pictures of babies. What is a little harder in real life is a) finding a U-Pick pumpkin patch and getting your baby to smile while they sit in the dirt! Give your baby something to hold whether it's a snack like Happy Baby Stage 2 Apples, Pumpkins, and Carrots…or a pumpkin to put their hands on.
Dress up your baby in their first Halloween costume! Remember to have a sense of humor because your baby may or may not like being dressed up at this age (hence, our just baby and diaper pictures!) Brooke wasn't having me put anything on her that day! Just remember to change their diaper RIGHT before you go Trick or Treating! We love Meijer's natural diaper selection, especially their Pampers Pure diapers which are so soft on Brooke's skin. Meijer carries all the major natural diaper brands including Seventh Generation, Honest, and Pampers Pure so you can find something that is just right for your baby!
Go apple picking! Let them eat their first "just picked" apples and cider doughnuts! There's nothing like freshly picked apples in fall! Try going early in the morning so you don't run into nap time. Plus, everyone is in a better mood (mom included) early morning!
Pick out your favorite fall outfits for them! Meijer has an adorable assortment of Halloween-themed outfits for babies (see their baby section here)! This little Halloween-themed onesie was too cute for words! And I loved dressing Brooke up (when she was in a better mood) in her Halloween onesie and tutu!
Decorate their first pumpkin for Halloween! I decided to get all crafty when I was pregnant with Brooke and let the kids paint their own pumpkins with finger paint thinking I had outsmarted the world. WHOMP WHOMP WHOMP. What happens when you put their new pumpkins outside? EEEKS! Yep, all their beautiful work is washed away. Instead, have kids experiment with washable acrylic paint and easily washable (or no clothes–yep, you guessed it–babies in diapers yet again!) Make a simple outline for their first initial with tape! It looks pretty and will withstand rain! Meijer has a fantastic assortment of both real pumpkins, and paint that you can pick up all at once when you grocery shop! Seriously, it is my favorite store because I can get absolutely everything I need in one place!
Go for a hike in a local state park! We love getting our kids outdoors as much as possible. I am happier outside and so are they! Don't worry about going for super long walks or hikes. Whether it's a beautiful leaf peeping weekend or just a regular Saturday morning, get out and go!
Go Trick or Treating or just have fun answering the door with your baby! They will think it's the funniest thing ever to see everyone dressed up! Pro tip: Turn off your lights after a certain time of the night and disconnect your doorbell if you are worried about it keeping your baby up. We disconnected our doorbell four years ago and have never looked back since! My kids happily snooze through late trick or treaters.
Go for a walk in your local Arboretum. Arboretums are the perfect place for new walkers to practice their stuff or just to ride in a stroller. Plus, it's an easy way to get to see lots of colorful leaves for mommy and daddy!
Start a fire in your fireplace! (Of course, follow fire safety and don't let your baby near the fire!) Or you can have a fire in your backyard fire pit and roast s'mores! Who says you can't have s'mores after summer ends?
Enjoy fall foods together like squash, pumpkin, and cider doughnuts (who said you always need to be healthy!) My mom always joked that we would turn orange from how much squash, carrots, and sweet potatoes we ate as babies. And as a mom of three, I can tell you, the thought always crosses my mind too! My kids cannot get enough fall foods! Pick up your favorite fall foods at Meijer! They have a terrific assortment of baby food brands like Sprout, Happy Baby, and Plum Organics! Remember, you can always use the ShopMeijer App here! You can see Brooke was a big fan of Plum Organics so much so that she ended up spilling it all over her hands. Thankfully, I had my Seventh Generation baby wipes ready to clean it up. And she wasted zero time emptying the pack for me! I told you, being a mom truly requires a good sense of humor!
Play in a big leaf pile (or at least let them experience them!) My first baby, Bowe, HATED the leaves. She found them scratchy, Jack couldn't care less, and we will see with Brooke.
Bake an apple pie and let them have their first bites! Meijer carries the best fresh produce and you can't compete with the taste of farm fresh apples for apple pie! There is nothing better than seeing babies enjoy your family traditions. My family was never a big cake family. We were a big pie family. My mom's apple pies are family lore. Now every fall, we make apple pies as a family (SHHH don't tell anyone but my husband is WAY better than my mom!) My husband's secret tip is sprinkling a little sugar and True Goodness cinnamon spice with two tablespoons of butter on top of the apples–it tastes amazing!
Find a family tradition and have fun with it! We love trying to fit in as many fall bucket list activities as we can in October and November before the holidays start. But, doing so requires me to be really smart about my time.
You all know I always shop at Meijer for all my baby essentials and groceries. With their delivery service and pick-up service, they make it super easy for busy moms. By getting everything I need at one store, I save myself so much time with errands. This is time that I get to spend enjoying fall with my family (and not sitting in a car!) And that's why I love Meijer so much! Not only do they make it easy for moms with their amazing products and services–but, they actually help me do my job better and have more fun!
This is a sponsored conversation written by me on behalf of Meijer. The opinions and text are all mine.