NURSERY REVEAL: Looking for an adorable nursery reveal? See what improvements we made for our nursery for our fourth baby, and see what new baby product I can't live without!
NURSERY REVEAL
*This post is sponsored by The Happiest Baby. All thoughts and opinions are mine alone.
I am so excited to share Caroline's sweet bunny-themed nursery with you today! We wanted to make our old nursery into a girly nursery that was fit for the newest member of our family. And while Brooke's (my second daughter) nursery was amazing, I had to keep it largely gender-neutral because we weren't sure if we were going to have a boy or a girl next. So when, we found out that we were expecting another baby girl, I fully embraced the pink! Read on to see how I updated the space the third time around and see how it started here as a baby boy nursery. Plus, read about why we love our Smart Sleeper!
*This post contains affiliate links at no cost to you. See my disclosure policy here.

SNOO SMART SLEEPER
Why we chose a SNOO:
My kids have historically been horrible sleepers. None of them slept through the night regularly until they were weaned at 14-15 months. Even at 9 months, my kids would still be waking up every four hours–and with Jack, every 2 or so. It was hard on me and hard on the family. The effects of sleep deprivation are real! Half of new parents sleep fewer than 6 hours which, studies show, causes the same mental impairment as being drunk.
With all of our kids, we'd always followed Dr. Harvy Karp's recommendations of the 5 S's (swinging, swaddling, sucking (pacifiers), shh (white noise), and sideways (when being held), and it always calmed my kids. It was the only thing that would calm Bowe down when she was a newborn! (Sidenote: If you only read one book for the newborn stage–read The Happiest Baby!)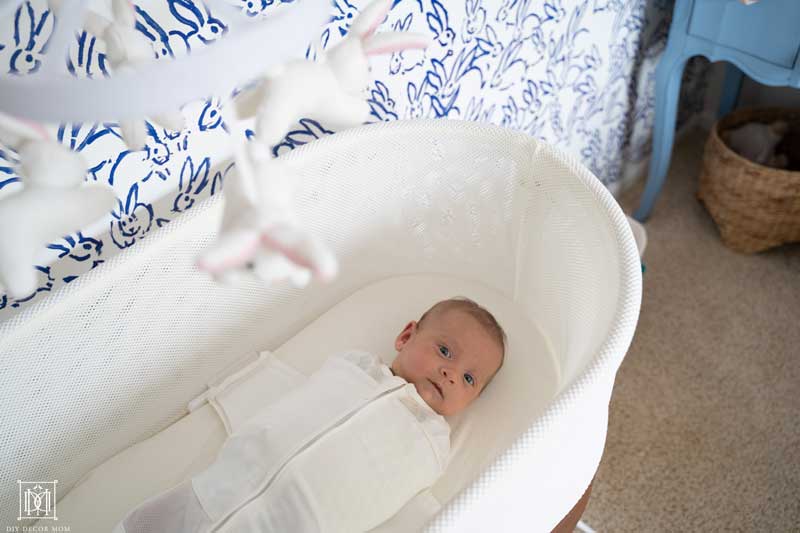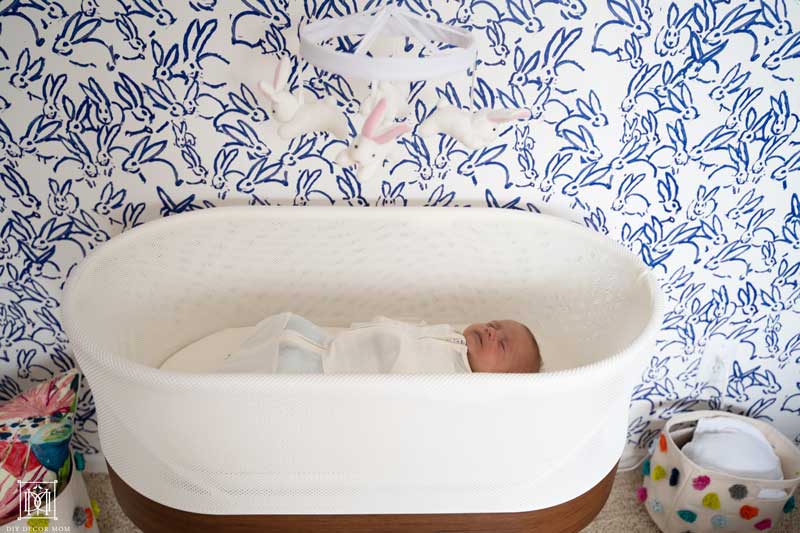 The only problem was that at the time of my older children's birth's there weren't safe options for implementing it in their cribs while they slept. It isn't recommended for your baby to sleep in a swing, and you typically can't swaddle a baby once they start rolling over. I wanted a safe way that we could use the 5 S's while they slept to help them sleep–and help them learn to sleep longer periods of time.
This is when the SNOO comes in because it solves both these problems.
It's the safest baby bed ever made–its Snoo Sack (a new swaddle that securely attaches to the sleeper preventing rolling over) ensures that the baby doesn't turn over when it is used properly. It also has a flat surface that the baby lays on, so it is always sleeping on its back which helps reduce the risk of SIDs.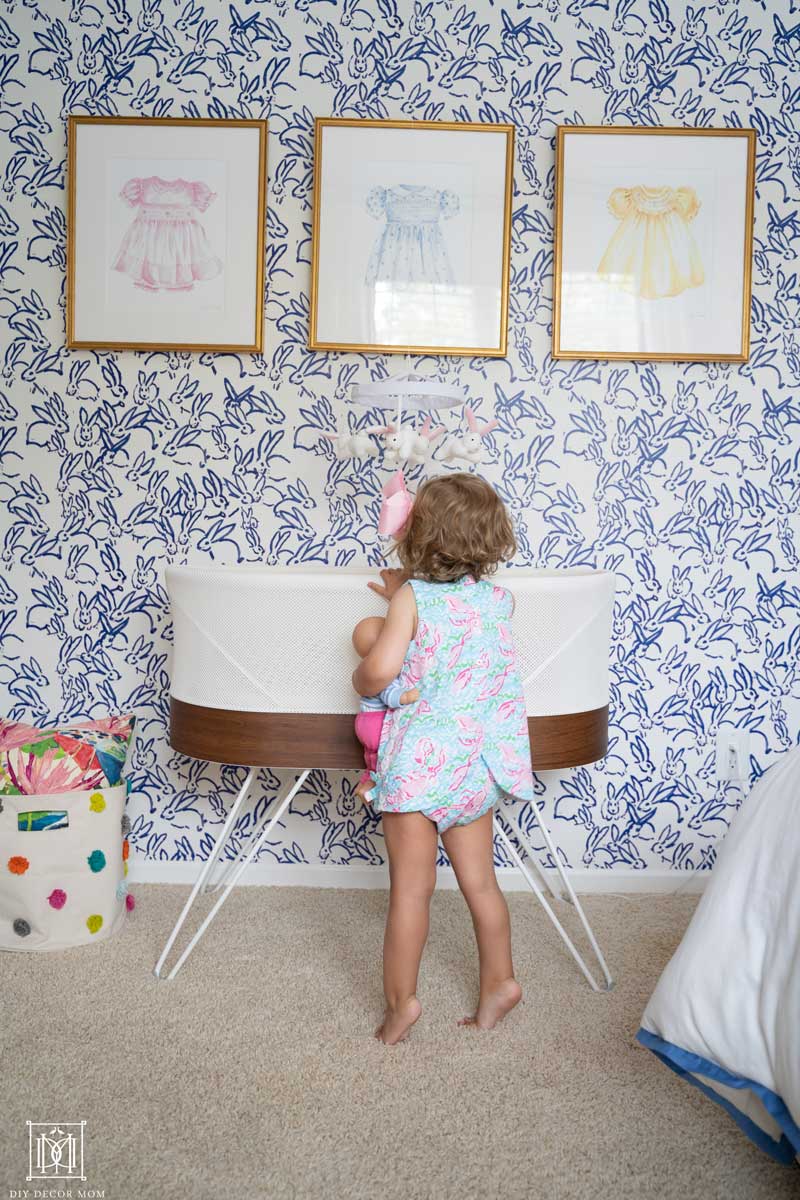 THE SNOO is a smart sleeper meaning that it actively works to imitate the womb with its rhythmic sensations, its smart swaddle, white noise, and the smart technology that works by turning on the baby's calming reflex. When it hears the baby crying, it will actively try to soothe her by increasing the swinging motion and/or the white noise (the same way a parent would.) Often times, that alone will work to calm the baby down.
Our SNOO has helped Caroline learn to sleep longer and string together longer periods of sleep. By 6 weeks, she is reliably sleeping 6 hours a night several times a week! The SNOO has helped me determine when Caroline is actually hungry versus when she just needs to be soothed. And the nice thing is that I can see all of her sleep progress in the SNOO app's Sleep Log which has been hugely helpful (because I am not good at writing things down!) This way, I've been able to watch her progress and string-together more and more sleep time. Read all about the SNOO App here!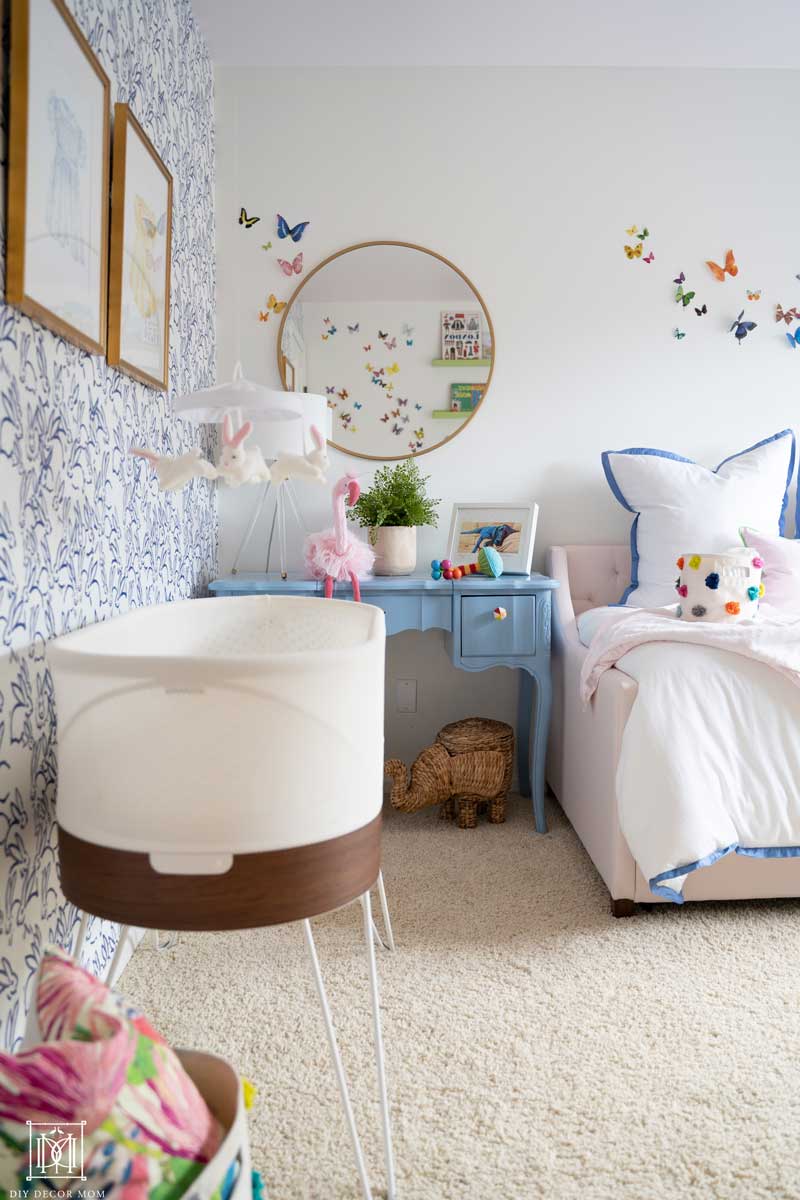 I think of the SNOO as an investment in my health, the baby's health and sleep habits, and the cheapest baby nurse around! At $1,295, it comes down to $7 a day for the baby's first six months! Or you can use a SNOO rental which comes out to only $112/ month or about $3.70 / day! )
And lucky for you, I've am going to be teaming up with SNOO to offer a $500 giftcard giveaway to The Happiest Baby this January!
BUNNY-THEMED ACCENTS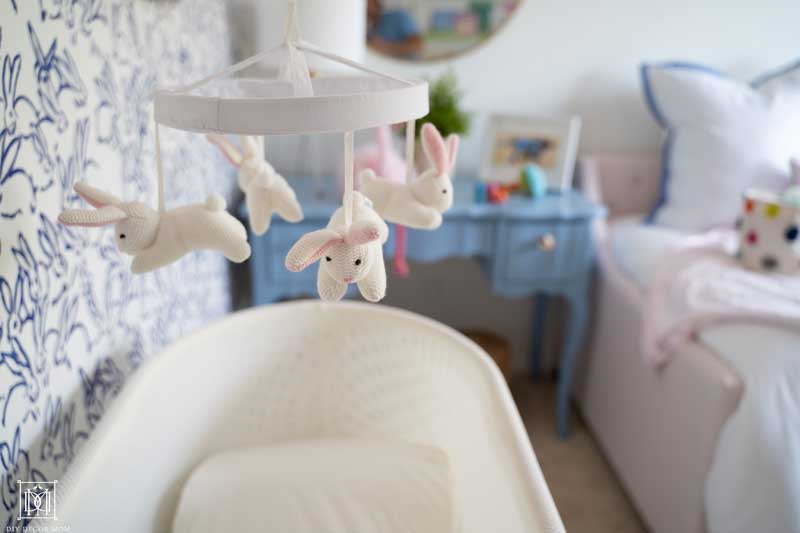 Like so many people, I've always loved the books Runaway Bunny and Goodnight Moon. You might be able to tell that already by the wallpaper. I added a few more bunny accents here and there with some bunny stuffed animals (I tied this bow swaddle around its neck,) some bunny crib sheets, and a bunny mobile (see all sources at the bottom of the post!)
PINK PAINTED CEILING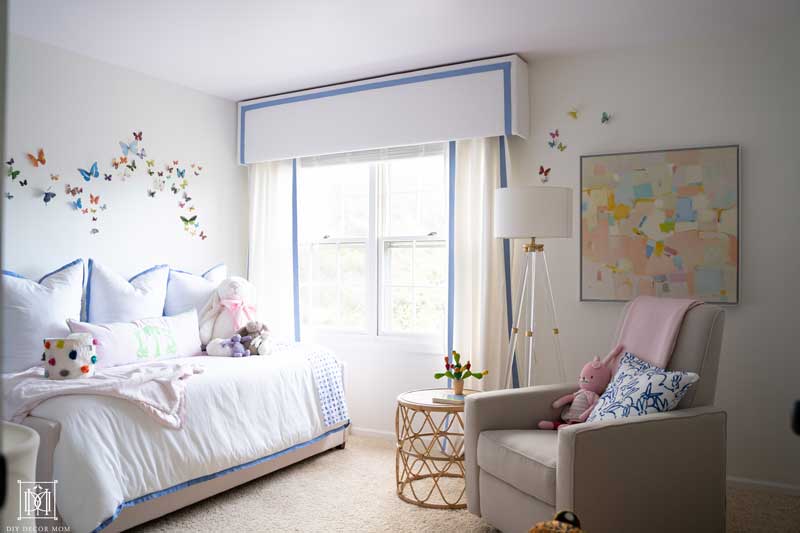 We loved the blue and white bunny wallpaper (get the almost identical look here); but, I wanted to add more pink to the room, so the room read more girly. While a pink rug would be fantastic, our high pile wall-to-wall carpeting would have made it difficult to avoid bunching and it would have been harder to clean, and to open the door (the carpet as is, has just enough clearance for the door to swing open!) So, I looked up to the fifth wall–the ceiling to impart some pale pink goodness to the room. We ended up using the same pink paint as the Brooke and Bowe's room (Benjamin Moore Romantic Pink at 25% strength/ dilution).
WATERCOLOR ARTWORK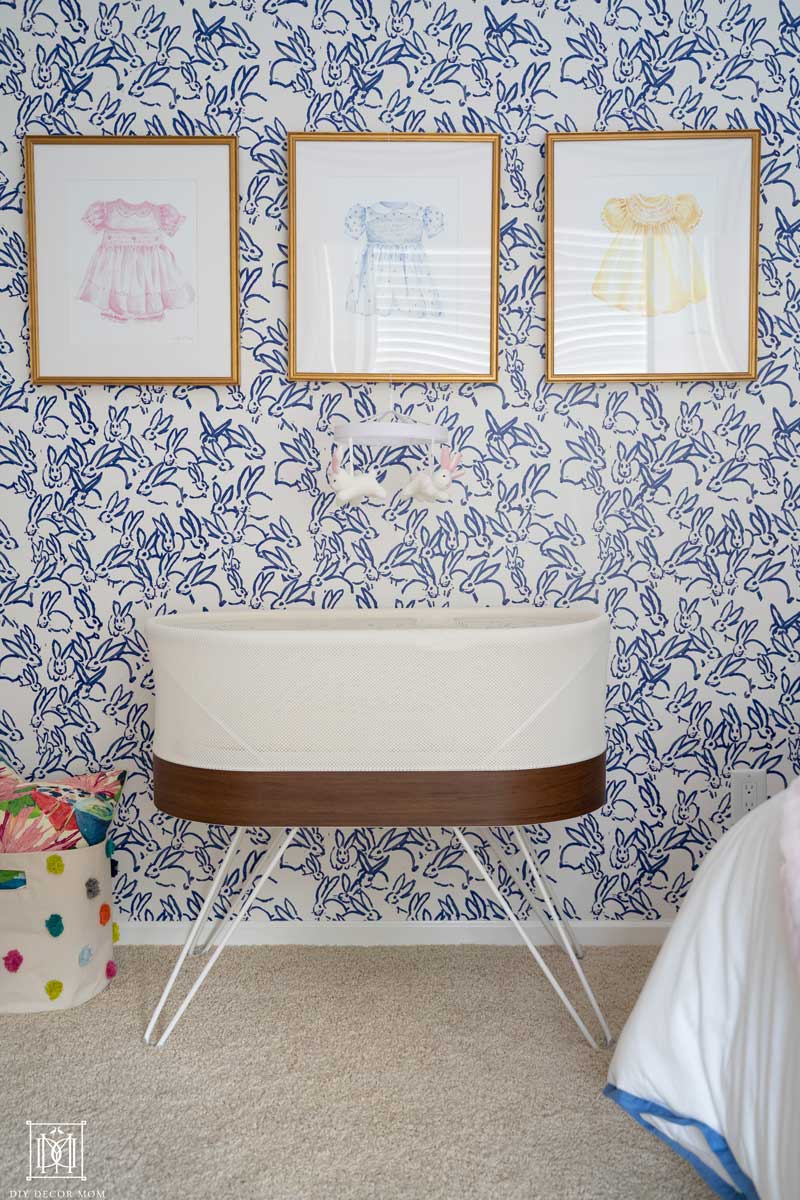 I purchased the three watercolor girls dresses from Jennifer Ashley Designs, and had them framed by Framebridge. I love thinking about how the three smocked dresses are like our three girls.
GREEN BOOKSHELVES
We also decided to add a little more color with the DIY book ledge (tutorial coming) and some butterfly 3-D wall decor. I used the same butterflies as we have on the other side of the room–two packs was sufficient for two walls of butterflies.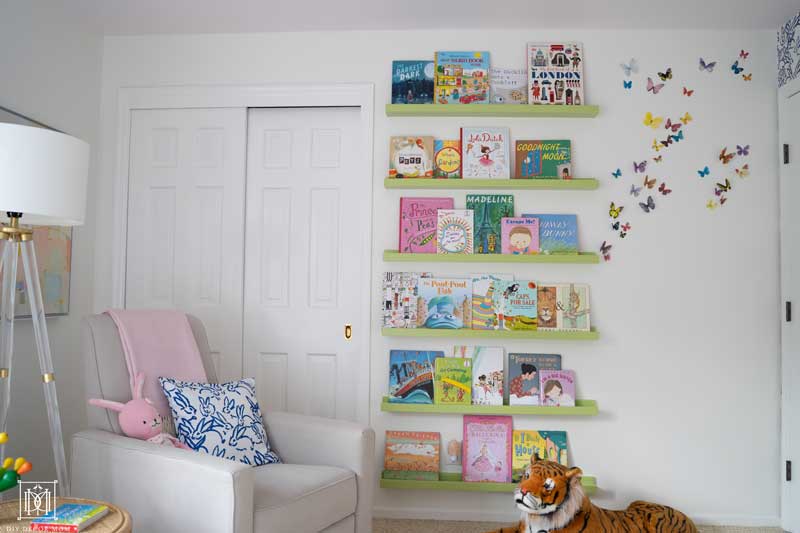 PINK UPHOLSTERED DAYBED
To add some extra sleeping room (as well as Caroline's eventual big girl bed), we bought an upholstered daybed trundle. There is an extra mattress underneath, so this room can sleep three kids!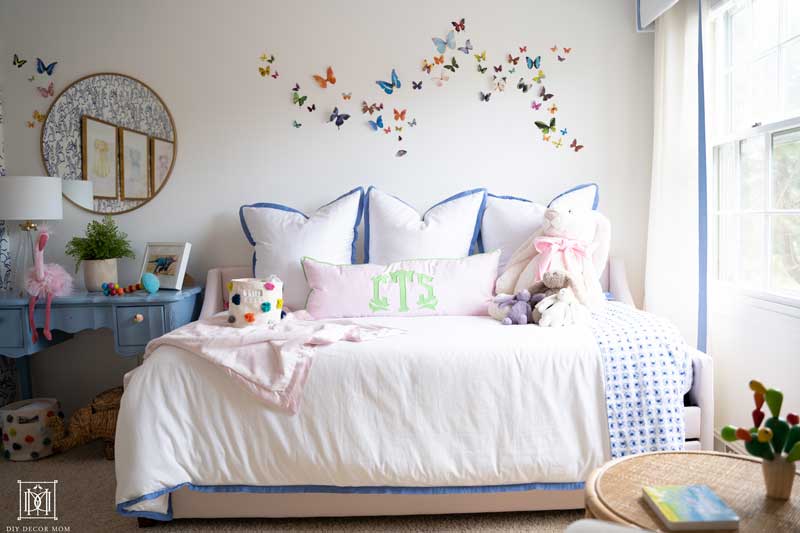 WHAT WE REUSED
Even though it looks very different, I used all the same bedding, rocking chair, and lights I had been using elsewhere in the house. We also used the vintage desk as a changing table. While I thought about getting a new changing table, the dimensions are so small that the one we had, was all that fit.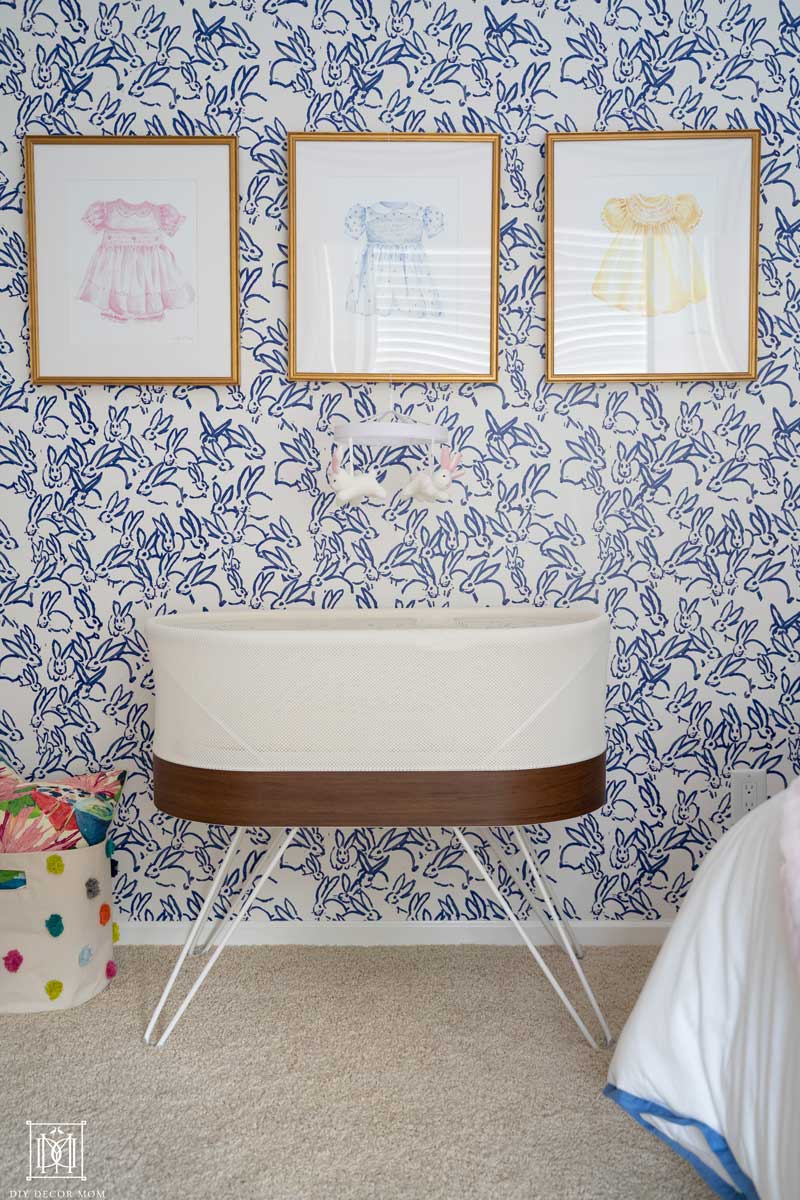 ARTWORK
We also added some new artwork to bring more pink into the room. The colors tie in well with the green bookshelves, the blue and white wallpaper, and the pink daybed.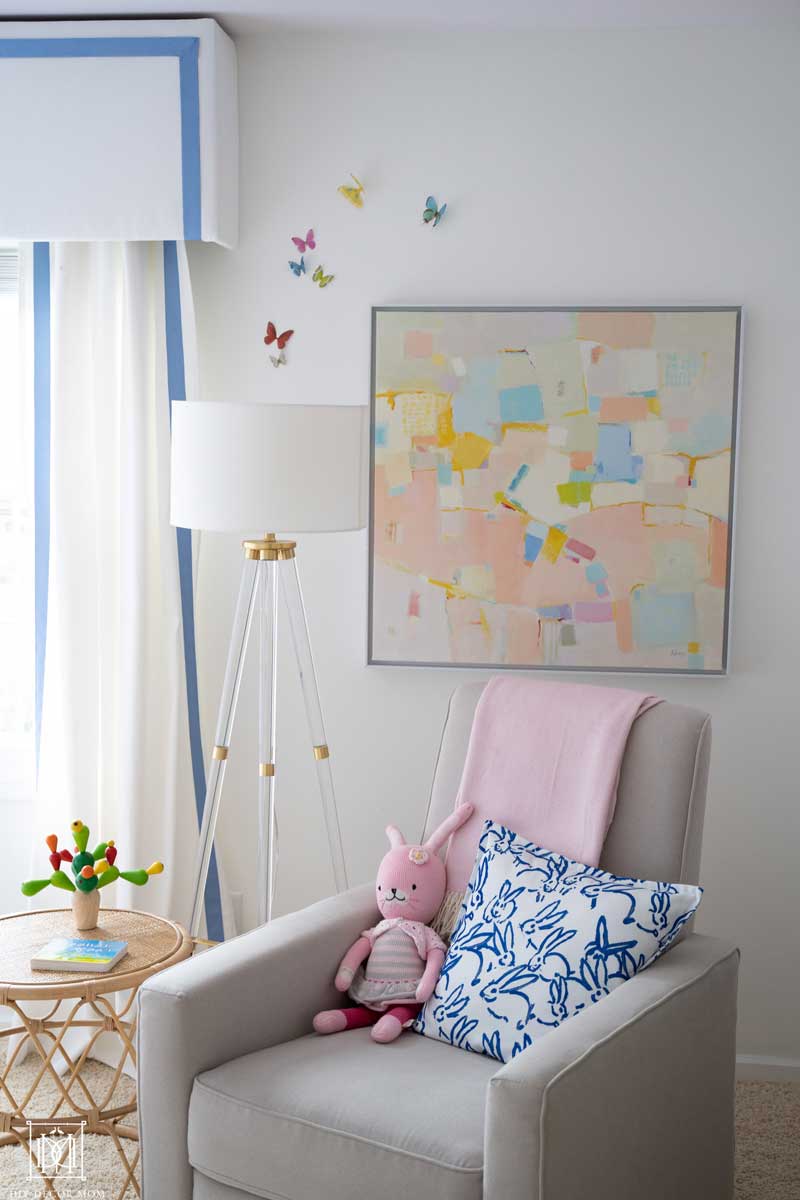 SHOP THE NURSERY

NURSERY SOURCES
Paint colors: Walls- Cloud White by Benjamin Moore
Blue table- Benjamin Moore Soft Jazz
Shelves- Benjamin Moore Stem Green
Ceiling- Benjamin Moore Romantic Pink 25% strength
Monogrammed pillow
Changing table- vintage
Frames and watercolor print artwork- Jennifer Ashley Designs
See how the same room has had three different kids in it and get more nursery inspiration with these posts: