Master Bedroom Updates and Plans: Looking for some inspiration for your master bedroom? See what tiny changes we've made that have made a big impact, plus what we're planning on DIYing in the next few months!
MASTER BEDROOM UPDATES AND PLANS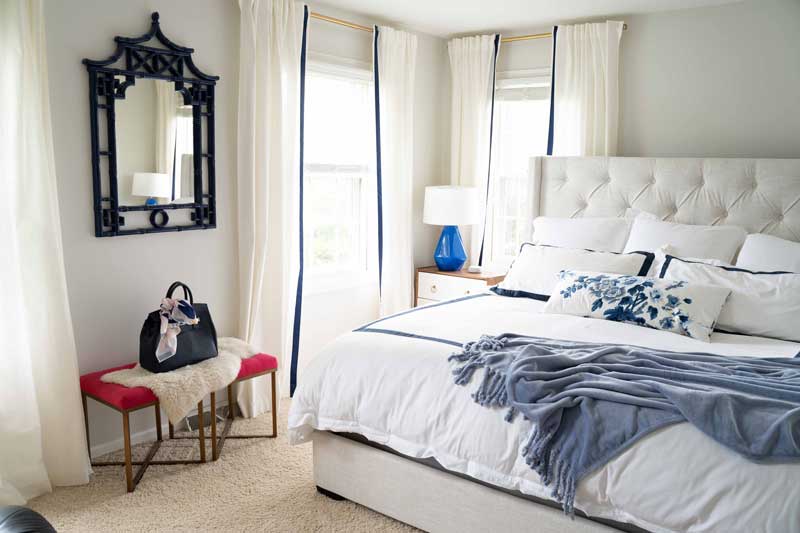 In the real-life of DIYers with lots of small children, none of our room reveals or makeovers go very quickly. And that's ok. It's just the phase of life we are in right now. Like my tagline "DIYing between diaper changes," we are constantly balancing work life and home life. And it's never a perfect balance. Lately, life has taken more of a priority (hello newborn phase!) and summer; but we are slowly dipping our toes back into home improvement.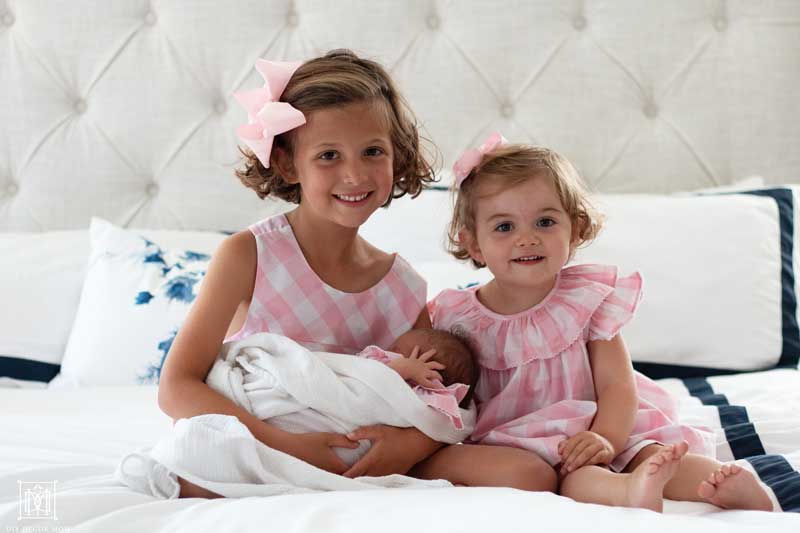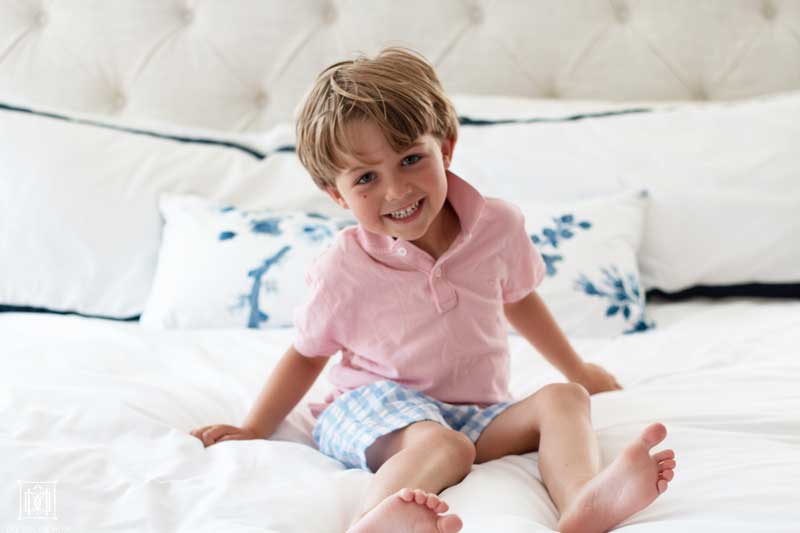 Here's what we've been working on in our master bedroom, and all the plans I have for making it an even better space in the future!
*This post contains affiliate links at no cost to you. See my complete disclosure policy here.
UPHOLSTERED BED FRAME AND HEADBOARD
One of the first improvements we made was buying this upholstered bed frame. It was on sale for less than $500, and I had been eying it for months. We'd previously made a DIY Upholstered Headboard which was lovely; but, I wanted something more neutral going forward. Buying a bed frame (and not just an upholstered headboard) made it possible for us to buy a new mattress with a box spring as well!
See this older post on what it looked like before we made the changes: blue and white bedroom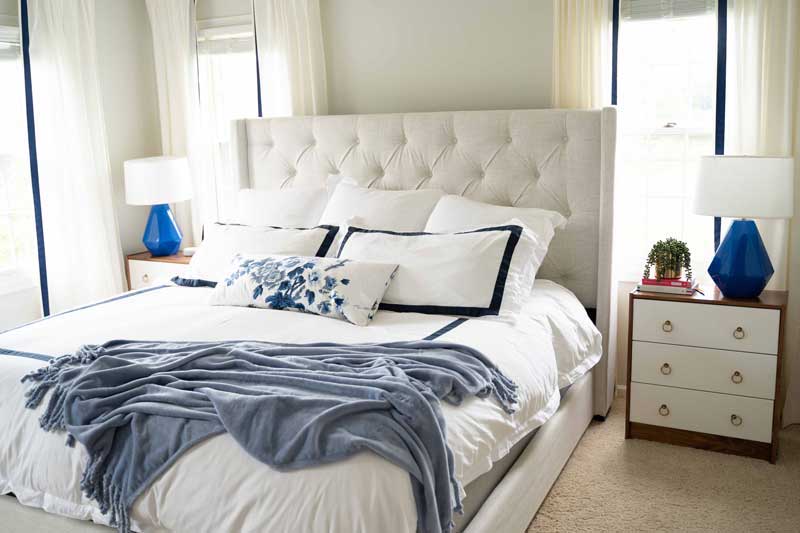 NEW MATTRESS
Although I wasn't crazy about it at first (it definitely took some adjusting to) we love our Sleep Number mattress. (This isn't sponsored at all.) I was so used to a really really soft mattress, that it took awhile to adjust to a firmer mattress. We ended up adding a mattress topper as well (we bought this inexpensive one) online because it cost less than $200. We knew this going into the mattress buying process. We could have bought the next step up with a mattress but it would have cost an additional $900 (adding 30% to the price of the mattress), so we opted for an inexpensive add-on that we could purchase ourselves and save the $900!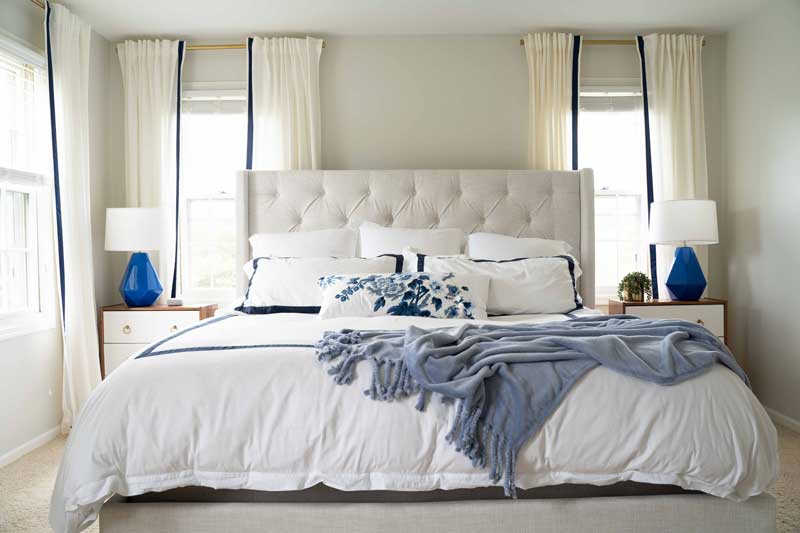 NEW CURTAINS
Although I loved our DIY Roman Shades, we ended up relocating them to our master bathroom and our kids bathroom. They look wonderful in there, and I prefer the long drapes in our master bedroom. Since we have a king size bed, the bed frame doesn't perfectly fit in between the two windows. So with the curtains covering the sides of the windows, it softens the effect. This is a great trick to use if you have either uneven windows or your bed just doesn't fit! Curtains hide a plethora of issues! (We made our room look more symmetrical with this DIY Window Valance Box) in the nursery!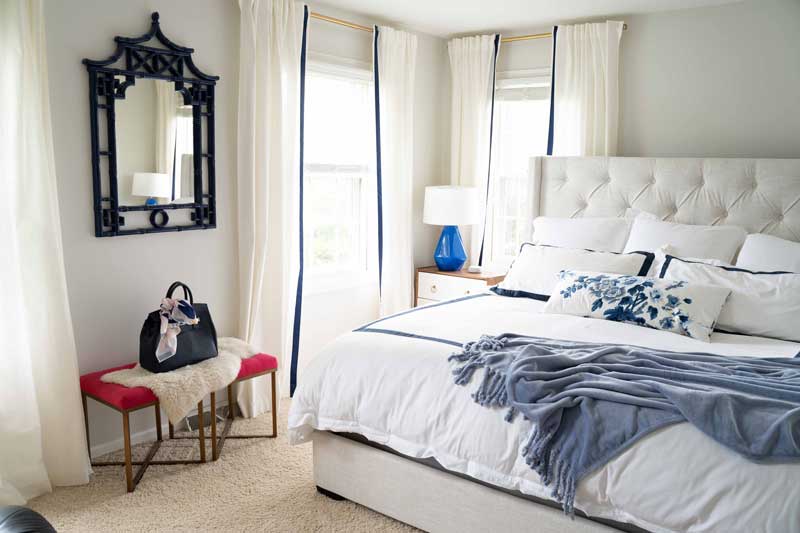 See: DIY Curtains Here
NEW THROW PILLOWS
One of the best ways you can revamp your room is by adding new throw pillows to your bed. We elected to buy one custom long lumbar pillow that spans the king size bed instead of multiple small pillows. This pillow was custom made by this Etsy hop using this fabric. I bought this insert to give it lots of fullness! It will coordinate with the wallpaper we are planning on installing on the opposite wall.
Ultimately, I want to hang a small mirror above our bed and have it reflect the Schumacher wallpaper on the opposite wall as well!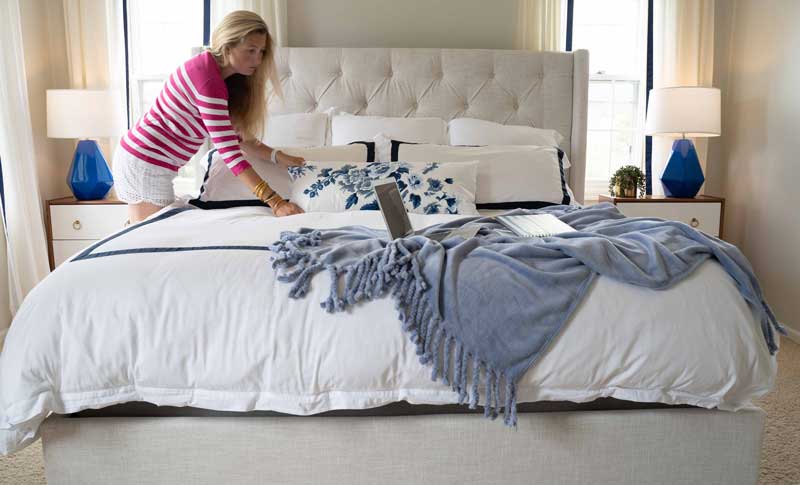 WALLPAPER
You all know I love wallpapering. Even though I would have loved to wallpaper all of the walls in our bedroom, it would have been prohibitively expensive. So I saved the money and we are going to only wallpaper one wall. This will be the focal point of the room.
Related: See a detailed tutorial for How to Wallpaper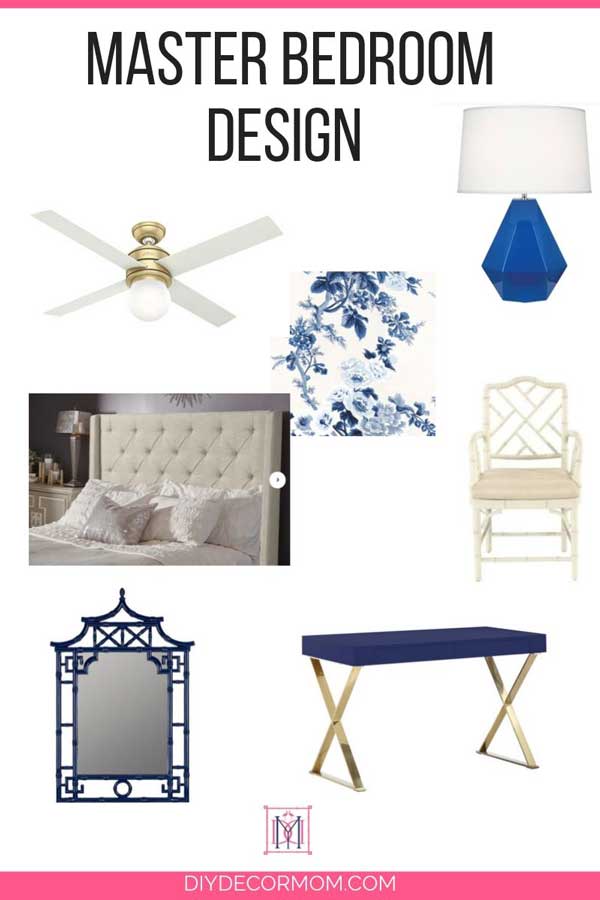 fan/ wallpaper/ lamp/ bed (similar one here)/ chair/ mirror/ desk
This is my idea board for the rest of the room. You will see that we have a number of items already, but I still need to purchase a desk. I am going to reupholster a chinoiserie chair I recently got off of Facebook Marketplace for the desk chair, and I cannot wait!
DESK
We currently have a faux fireplace in our room, but it's just for looks. We have a TV above it which seldom gets used. We are going to take out the faux fireplace, wallpaper the wall, and put a nice desk with a chinoiserie chair that I can work at. This desk (or a similar desk) will give me a dedicated work space outside of our downstairs office (which sometimes gets a little loud with the kids home!)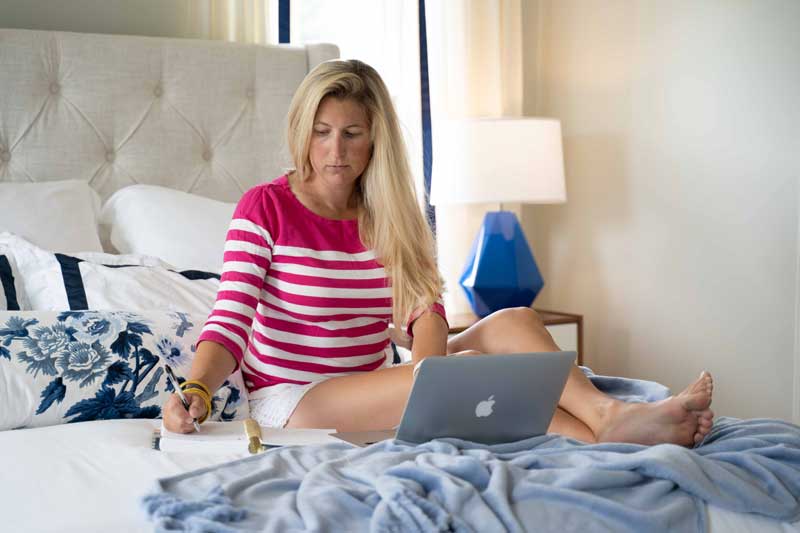 NEW FAN
Although I loved loved loved our flush-light above our bed, our room gets so hot during the day, we really missed our above the bed fan. And yes, my husband is totally sayng "i told you so" to me right now. As much as I hate the look of ceiling fans, when you are 9 months pregnant and it's July, you want a ceiling fan to cool you down! I've rounded up the best ceiling fans that aren't ugly in this post, if you want to see some more options!
Sources:
Wall color: Benjamin Moore Classic Gray
Trim color: Benjamin Moore Simply White